On 2 Sept 2015, I spent the morning at the Puget Sound Naval Shipyard in Bremerton, WA photographing the donation of the 85 foot turntable to the Chehalis-Centralia Railroad & Museum. I arrived at the turntable at 7:15 AM. The Navy was going to cut the turntable into scrap if someone did not take it off of their hands. The C-CR&M had been working for six and half years to acquire the turntable. On 2 Sept both groups came away happy. The Navy paid to have the turntable removed from the pit. C-CR&M funded to have the 70 ton turntable transported the 65 miles to Chehalis. They plan to construct a pit and return the turntable to operation at their railroad.
The first photo shows the turntable which had not been rotated in ten years. The aircraft carrier Kitty Hawk can be seen in the background. The craft carrier on the right is the Independence. Both ships are in the inactive fleet.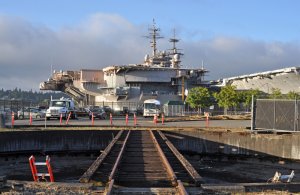 The 550 ton capacity crane was allowed into the shipyard where it quickly and efficiently set up for work. On the first tug from the crane, the south end of the turntable rose, but the north end would not budge. The second photo shows the crew asking for port-a-powers to nudge the north end a bit. In a few minutes, the table swung free.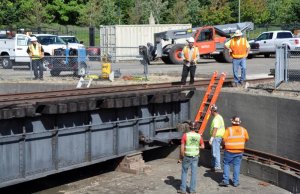 When the heavy haul truck was positioned, the 85 foot turntable was swung to the trailer.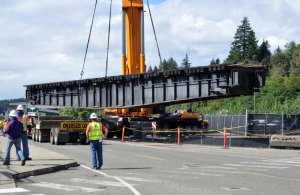 The last photograph shows the loaded truck leaving the shipyard for its trip to Chehalis. It left the shipyard at 12:45 and made an immediate traffic backup on Highways 3 and 16. I got to pass the truck on my drive home. The turntable was off loaded in Chehalis on the 3rd of Sept.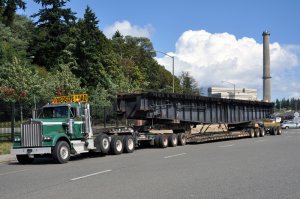 Dan Simmering