Hi,
We commence a short Alpine crossing east to south-west on heritage trails...
Video for this part:
August 19 2018
Steam trains only operate a few times during summer months on the NÖVOG Schneeberg rack railway which had been steam-only until 1999.
Engine Z5 "Puchberg" (Krauss/Linz #4215 / built in 1900) smoking uphill between Puchberg main station and Hengsttal stop with the name-giving mountain in the background.
August 15 2018
ÖGEG 77.28 hauling the "Kaiserzug" special to Bad Ischl passed by Traunkirchen on Traunsee in Salzkammergut region.
To the left: I visited Salzkammergut again this year, on
October 20 2019
. The second Schafberg rack railway service of the day departed St. Wolfgang at 10:50 a.m. towards the middle station Schafbergalm.
To the right: I visited Achensee rack railway from Munich on
September 16 2018
. That morning, one of the regular Zillertal railway steam trains also ran. So, my first photo spot was Strass im Zillertal. Loco #5 "Gerlos", class Uh (Krauss & Co. Linz #1521 / built in 1930) approached.
Steaming into Ziller Valley.
On the way to Maurach, my postbus was held up by "Almabtrieb" (ceremonial driving down of cattle from mountain pastures into the valley in autumn). However, no need to hurry as only one train pair was operating on Achenseebahn.
Engine #4 "Eben am Achensee" / "Hannah" (Floridsdorf #704 / built in 1889) had been a donor of spare parts since WWII until it was renewed in 2008.
Reversing for the rack free section from Eben to Achensee.
I met Catholic saint Notburga procession towards the church of same name next to the station.
More about the rather unknown local saint (in German, please select translate):
http://www.sagen.at/texte/sagen/oesterreich/tirol/alpenburg/notburga.html
September 13 2019
The last railjet from Vienna - RJX 168 - took me to Zürich HB Friday night after 11 p.m. I came across this Twindexx-tram-meeting on the way to the hotel.
Nightlife at Sihlquai/HB stop.
September 14 2019
I returned to the main station before 6 a.m. after a very short sleep. I had booked a Saver Day Pass on the SBB app, a good deal purchased a few weeks ahead and sometimes it even pays off bought shortly before the day of travel at these ticket prices.
I boarded EuroCity 311 to Milan, reversing at Rotkreuz due to construction work on the Lake Zug eastern shore line until December 2020.
Change to the other platform at Arth-Goldau for Interregio 2309 Basle SBB - Erstfeld.
Everyone ran past the heritage rake at Erstfeld to reach RE 4315 Erstfeld - Bellinzona. Former ÖBB 1st class Schlieren coach 50 81 17-35 017-5 had been procured by Verein Depot und Schienenfahrzeuge Koblenz (DSF) in 2019. The "Elephant" showed its head out of the loco shed.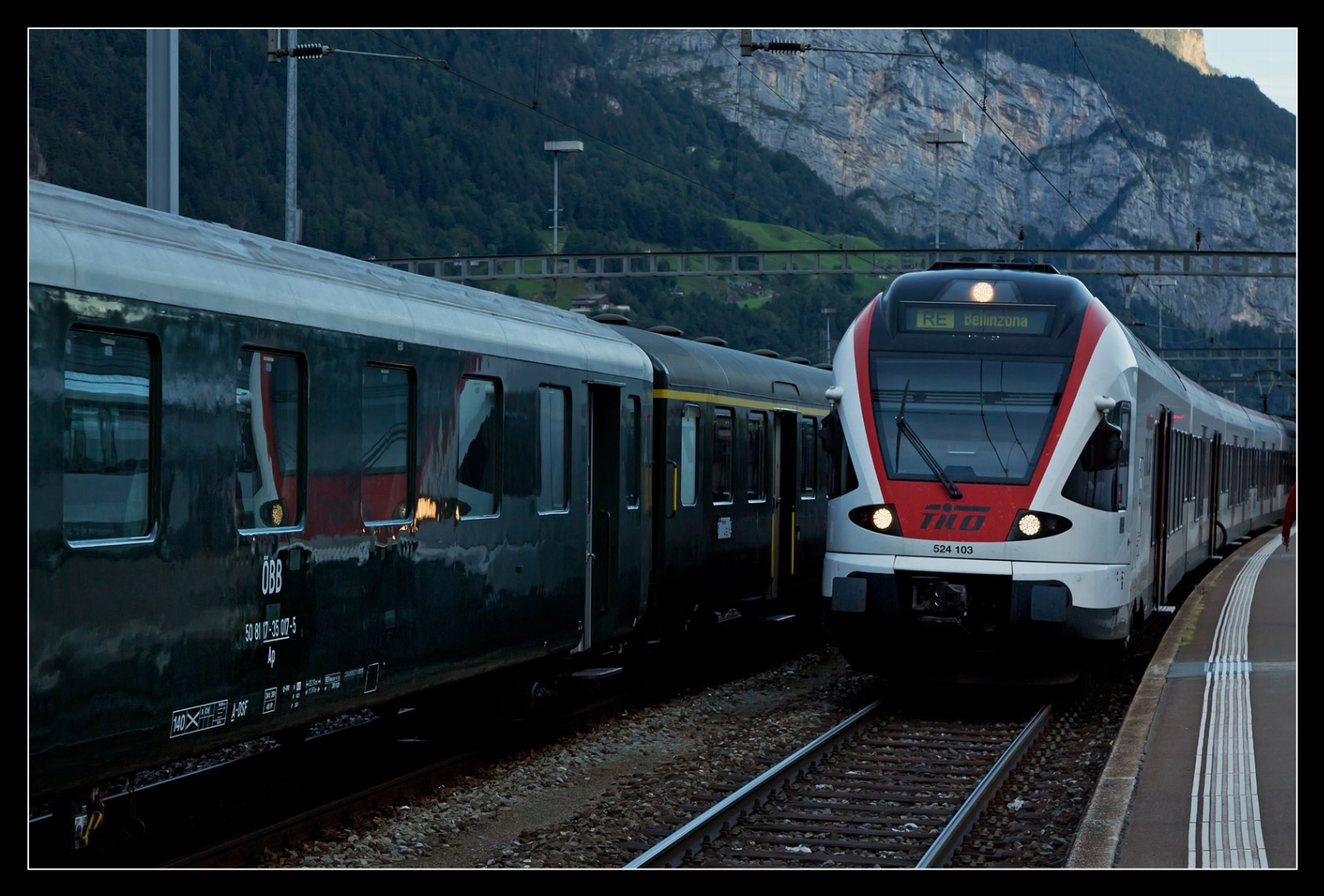 I took the bus from Göschenen down the northern Gotthard pass ramp to Wassen and learnt about road closures due to the "Alpabzug" (the same as "Almabtrieb" in Austra) festivities around noon. After stocking up on Rivella at the supermarket, I marched uphill to the second railway level. The valley still was in the shade, I waited here for a while. Suddenly loud engine noises could be heard and this rustic vehicle came down the farm road. Who was on board? The same "Alp-Öhi" I had captured here five years before still mowed steep Alpine pastures with his scythe while smoking cigars!
Picture from 2014:
http://raildata.info/zeug/herl230.jpg
The accompanying trip report:
The Land of Railroad Magnificence 2/2 (50 p.)
http://www.railroadforums.com/forum...-land-of-railroad-magnificence-2-2-50-p.10285
A TILO (Treni Regionali Ticino Lombardia) FLIRT going uphill at 9 o'clock as RE 4317 Erstfeld - Lugano.
IR 2313 Luzern - Airolo on the Mittlere Meienreussbrücke. There was a fantastic mood listening to proper alphorn blowers in the village (see start of the video).
IR 2315 Luzern - Airolo at 11:11 a.m. encountered a spectacle hardly possible anywhere else: every driver sounded the horn passing the portal of Maienkreuztunnel, in return the Swiss flag was swung at the house next to it.
The scene on video:
Re 420 159 hauling PE 3092 "Gotthard Panorama Express" Lugano - Flüelen on the upper level downhill from Göschenen, you can spot it again on the lowest Wassen level.
A flag was waved back from an open window.
View to the 2nd level with 9797 ft Chli Windgällen in the background.
"Gotthard Panorama Express" on the Middle Meienreuss Bridge with Wassen "Alpabzug".
Fitting sounds:
Out of the Wattinger loop tunnel across Reuss River into the famous photo curve.
A group of photographers waited for the slightly delayed steam train. Below Wassen it took an almost Eritrean stop to build up steam. The show commenced at 11:50...
I sprinted to the portal of the Obere Entschigtal-Galerie. C 5/6 2978 "Elephant" approached around the corner under watchful eyes.
This view seems more harmonic to me than the mass spot: two times on the second and once on the third level.
The whole run-past on video:
I quickly walked downhill to the village centre. Shuttle buses to Göschenen operated more often due to the festival. So, I actually managed to catch the scheduled photo arrival.
4K-video-screenshot.
Almost entering the Gotthard Tunnel, opened in 1882 it is 35 years older than the loco.
Matterhorn Gotthard Bahn (MGB) R 634 arrived on the Schöllenen Gorge rack railway from Andermatt across the Reuss.
The "Elephant" shunted to get water at the same time.
102 years old, the last steam engine ever built for the SBB.
A functional water crane facilitated taking water within a few minutes.
Meanwhile, I boarded R 641 uphill to Andermatt.
R 530 from Visp arrived.
The Schöllenenbahn train had efficiently disappeared into the shed and reappeared again just as quickly.
Additional coaches were shunted by Schöma diesel Tm 2/2 4971 (built in 1960, 1980 ex Itzehoe cement works). Its sister engine and four carriages had run away empty into the gorge crashing in 2016.
R 549 took me to Realp where it exactly met the arriving Furka auto shuttle. I walked towards Dampfbahn Furka-Bergstrecke (DFB), a new depot is just being erected next to Golfclub Andermatt Realp.
A few old vehicles can be found at the heritage station, including this car of the Vietnamese Tháp Chàm - Đà Lạt rack railway from where a few of the DFB locos had been procured (again). Maybe also a preview for the new year... :0)
A little more than an hour after snapping the last "Elephant"-pics, I managed to capture another engine under steam: HG 3/4 #1 "Furkahorn" (SLM #2315 / built in 1913) left Realp loco shed to take over the afternoon train. After electrification of the Furka-Oberalpbahn in 1941, it had been sold to the French colonial regime of Vietnam in 1947 and repurchased again in 1990.
2:20 p.m. departure to Oberwald viewed from the bank of Reuss River near the depot.
This scene on video:
Towards Furka Pass.
R 553 departed at 2:51 p.m. to Visp.
I travelled back to Andermatt by R 538 formed of an MGB Stadler KOMET EMU - the first I had seen. R 843 from Disentis/Mustér could be spotted through the window descending from Oberalp Pass. On the way we crossed a Glacier Express at Hospental.
Meeting of trains at Andermatt a few minutes later.
R 646 emerging out of the gorge at Göschenen.
Found on the mainline platform ("(use) brains while lifting" sticker in Swiss dialect).
IR 2428 Airolo - Zürich HB met R 653 to Andermatt at the Gotthard Tunnel.
RE 4331 Erstfeld - Chiasso took me to its terminal. View at stabled trains out of the door at Biasca.
Arrival at Swiss border station Chiasso under construction. Again, I stocked up on Rivella before leaving to Italy.
TILO connects Tessin region seamlessly with Milan. At sunset, I boarded a crowded FLIRT to Milano Centrale where we will continue our travels next year following the motto: "South of the Alps". But next: calendars.