Hi,
The video accompanying the trip:
https://www.youtube.com/watch?v=FKJad_c9CkM
In August 2014 I spent a few days with friends and family in Austrian Salzkammergut region. However, I was so little focused on railroads at the time, that the others had to remind me of an ÖGEG (Austrian Society for Railway History) "imperial" special to Bad Ischl – the former emperor's summer residence - on
August 15 2014
. We experienced the spectacle with a wink in the crowd – only I managed to smuggle myself amongst the few photographers. Steamer 78.618 historically does not quite match the era of good old "Franz Joseph"... ;-)
On
August 16 2014
we visited Hallstatt.
The number of class 1142s in service was noticeable, no matter if they operated REX trains to Stainach-Irdning or locals to Obertraun-Dachsteinhöhlen. I only spotted one Talent EMU per day, otherwise class 1144. That weekend 1142.575 in old blood-orange livery with vintage logo hauled REX 4422 and REX 4429, here the latter.
Salzkammergut-drizzle alternated with sunshine, but this could not deter Asian tourists on an excursion boat.
We steamed back to the railway station on the opposite side of the lake with a typical Austrian view of the train and the yellow press... ;-)
Next morning, on the beautiful
August 17 2014
, we started our Alpine tour from Bad Aussee, at Mitterweißenbach we met REX 4422 with 1142.575 again.
Without "Sparschiene" (a saver ticket) we rode from Attnang-Puchheim to Salzburg, where we used the Bavaria day rover ticket to board a Meridian local to Munich – it takes only little more time than the Railjet express.
At Chiemsee the rake consisting of 4 Stadler FLIRT class units was boarded by hoards of muddy festival visitors, which did not bode well for our tight connection at Munich to alex (Allgäu Express). Additionally, the dispatcher decided to let our train arrive on platform 10 outside the station hall, not platform 11 in the terminal building, which meant running three lengths of the structure to track 27 also situated outside. We made it to alex last second thanks to a friendly conductor/buffet attendant in the last car. We checked into our hotel in Kempten, then I quickly walked to river Iller bridge to catch Sunday-only EuroCity 1290 to Zürich. The rest of the day was dedicated to sightseeing at Kempten and enjoying Allgäu beer traditions – avoiding the Allgäu festival week just ending that day. Monday morning,
August 18 2014
, I departed early to Immenstadt and walked towards the Alpsee lakes. At Little Alpsee I encountered a wonderful mood accentuated by ground level mist. ALX 84140 München - Lindau rushed past me after having been parted at Immenstadt, the second half headed for Oberstdorf.
I climbed around on the meadows along Big Alpsee to catch more of the morning mood with Alps in the background.
EC 196 München – Zürich came by, the wind picked up and a slight cloud cover appeared. I could not use the direct path going up as it was completely muddy and had been trampled by herds of cattle, but a footpath also led along the road here.
After a short ride to Martinszell, summer weather had gained the upper hand again. Two northbound loco-hauled express trains pass here within only minutes: behind InterCity 2084/82 to Hamburg, IC 2012 "Allgäu" Oberstdorf - Magdeburg approached double-headed by class 218.
Allgäu idyll with typical vehicle class.
At noon we fetched our luggage from the hotel and treated ourselves to a taxi, as you would have to pull the suitcases through the least interesting part of Kempten again. The otherwise silent cabby only seemed glad that the festival week was over. Once again we took the alex - where we shared the compartment with two merry pensioners – and soon approached miniature-Venice Lindau via the railroad dam. We continued by EuroCity, which was taken over by a SBB Cargo class Re 421. After we had crossed the Rhine, finally the land of railroad magnificence was reached!
Indeed... ;-)
A double decker regional express (RE) took us from St. Margrethen to Chur, where we had immediate connection to the Rhaetian Railway (RhB) meter-gauge Albula-RE.
Of course we had followed the RhB landslide accident all over the news just a week before closely, but the line already had been opened again two days ago (August 16). We passed the accident site (see video at 15:10) at a temporary speed restriction – the hostess of our well-known hotel Grischuna at Filisur thought the reports had been exaggerated. Yet what could be seen definitely defied that – only vertical would have been steeper, and the trees were a huge stroke of luck for the one car that fell off the tracks after the landslide. At Filisur I quickly walked to the Landwasser-Viaduct viewpoint for the two freight trains usually meeting at 6:30 p.m., not always at the same station, but always reliably at that time. Ge 6/6 II 705 "Pontresina" hauled freight 5157 uphill across the famous viaduct.
Ge 6/6 II 707 "Scuol" was operating the Albula regional express trains all the time during our stay. The trains met at Filisur like clockwork, the postbus also awaited its passengers.
Ge 4/4 III 641 in "Coop supermarket" ad livery rolled down Albula Pass with RE 1164 St. Moritz - Chur.
A (Rivella-)break...
Getting up early was no problem, especially since legendary Hotel Grischuna (Rhaeto-Romanic for Grisons) is located right next to the station. Our ordered packed breakfast never arrived at our room – in the evening we found out, why: it was a case of mistaken identity, someone else had just taken it. As compensation we were served Filisur Röteli (cherry liquor).
Punctually at 6:35 a.m. on
August 19 2014
R 1141 to Chur picked us up at Filisur. The sky looked nice, but a rainy day had been forecast.
We changed at Chur for the postbus to Flims Waldhaus, the oldest postbus route in Grisons. From Flims Waldhaus you can walk on a touristic route to Lake Cauma, where you could swim (obviously not that August, due to the cold weather) and which can be reached by a self-service cable car.
We marched on until the edge of the Rhine gorge, Ruinaulta, came into view. Down in the valley RE 1233 Disentis/Mustér - Chur - Landquart - Scuol-Tarasp was about to arrive at Versam-Safien station.
While we were hiking to the Rhine gorge, clouds still covered the 10000 ft high peaks around Safien Valley.
First stop was "Il Spir" - "The Swift", an observation platform suspended above the rock face.
http://en.wikipedia.org/wiki/Il_spir
A complete view of Ruinaulta opened up. Here the Anterior Rhine had eaten its way through the Flims mountain creep about 10000 years ago. RE 1220 to Disentis/Mustér just emerged from Chli Isla tunnel approaching Versam-Safien. In higher resolution you could also spot the postbus driving downhill from Safien Valley meeting the trains, always sounding the posthorn in corners.
Panorama of several 10mm-portrait-photos.
Down in the valley you can spot a combined railroad/hiking trail bridge connecting Isla Bella to the left and Chli Isla to the right between Rhine loops. Freight train 5225 to Ilanz was just traversing it.
We ended the session at the observation platform in time until a French-speaking tour group of pensioners arrived. Along the path into the gorge I discovered this viewpoint towards Versam-Safien station, which is just being reached by RE 1241 to Scuol-Tarasp. In the background you can spot the rocks actually called "Ruin' Aulta" eponymous with the gorge (Rhaeto-Romanic: "Ruina" - quarry; "aulta" - tall).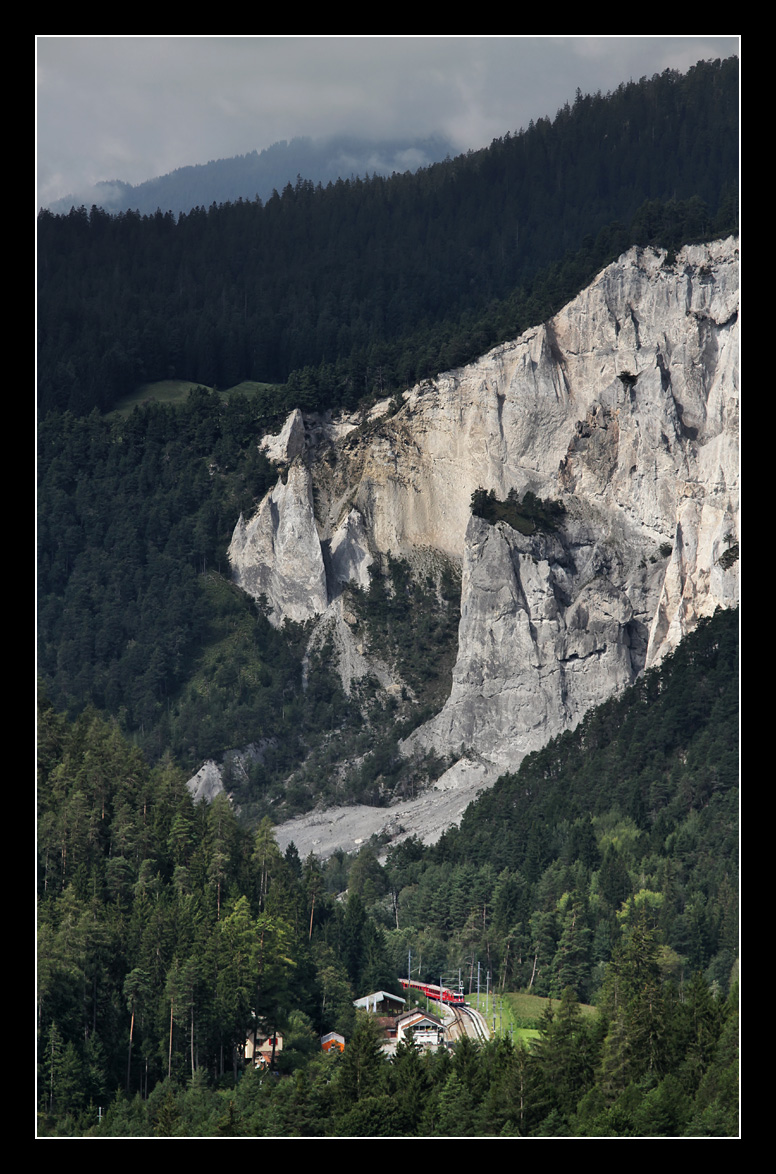 Super-wideangle panorama of the same view. By the way, no path is continuing to the right as we are situated right at the edge of Ruinas sut Crestaulta, above which "Il Spir" is suspended.
Via combined railroad bridge we reached the other side of the river. This photo was taken from the top of Chli Isla, which has to be crossed on the regular hiking trail as there is no passing of the rocks along the shore. Two crazy people were mountainbiking over this foot-wide ridge.
Below us RE 1245 to Scuol-Tarasp was about to enter the tunnel, hauled by Ge 4/4 II 615 "Klosters".
At Versam-Safien we boarded the next train to Disentis/Mustér. Ge 4/4 II 618 "Bergün" in Edelweiss Air ad livery just had taken over Glacier Express 904 Zermatt - St. Moritz from a MGB (Matterhorn-Gotthard-Bahn) engine. In the background you can spot the peak of Pizzo del Sole.
15 minutes later RE 1257 left Disentis towards Scuol-Tarasp, with the dominant Benedictine monastery in the background.
A few moments later Ge 4/4 II 613 "Domat/Ems" passed my spot hauling RE 1257, of course a perfect "sandwich" opportunity... ;-)
As soon as you leave Disentis towards Chur, a wonderful view into the Cadi, the upper part of Surselva, the valley of the Anterior Rhine, opens up. RE 1236, having just departed Sumvitg-Cumpadials, approached through the multi-layered landscape past villages, barns and haystacks.
Just seen from the distance, now Ge 4/4 II 628 "S-chanf" heading RE 1236 approached my position, only two curves from its terminal Disentis.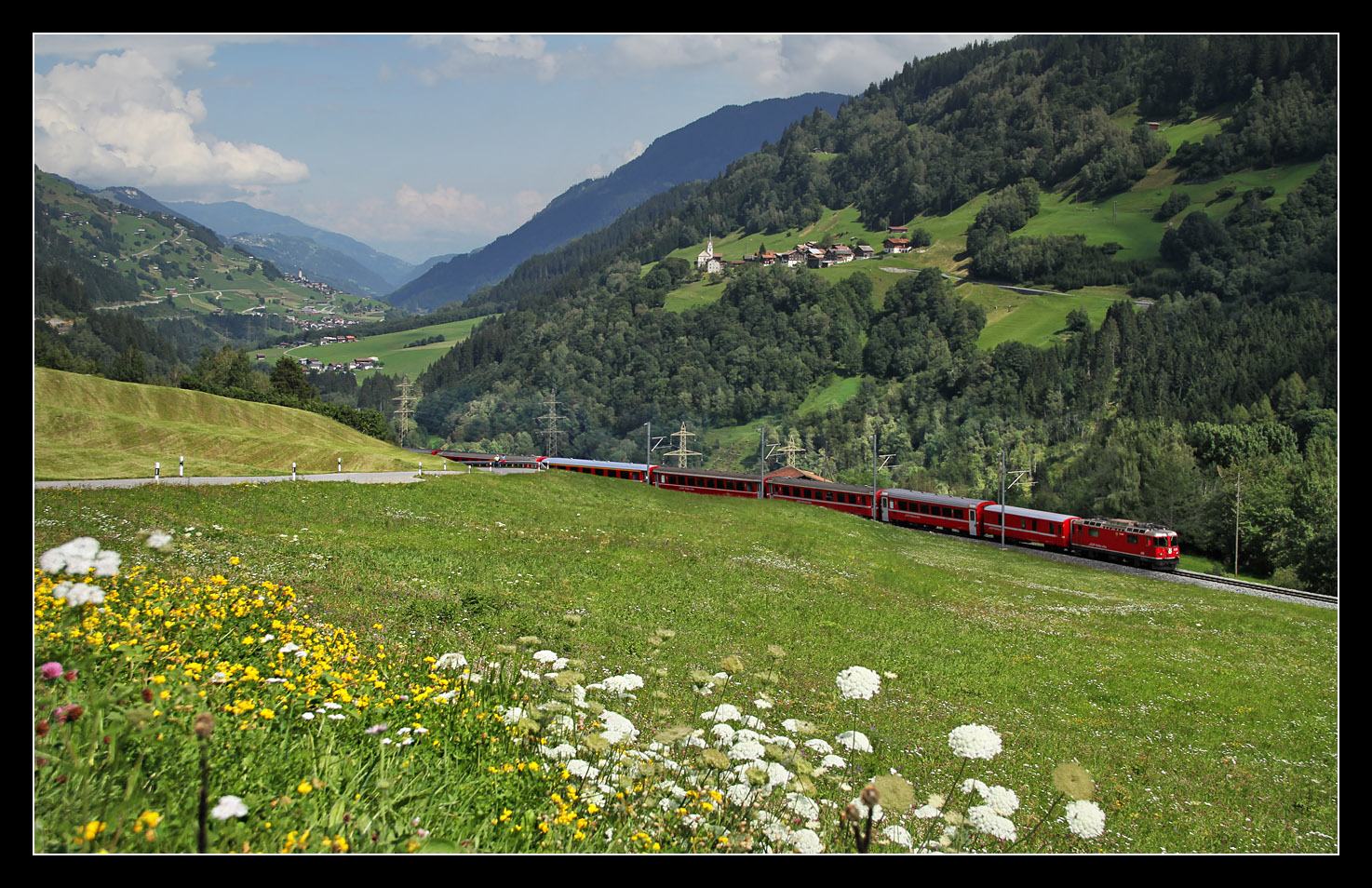 Half an hour was left for the engine to reverse and for me to catch RE 1261 homewards.
Busy shunting at Ilanz.
Like the day before Ge 6/6 II 707 hauled Albula-express trains, this time RE 1157 one hour earlier. With such a beautiful train a classic view of the freshly joined Rhine Valley at Reichenau-Tamins definitely is an option.
I obviously was not the only one on the train... ;-)
We arrived at our base Filisur with slight delay due to the temporary speed restriction. This time of year the evening sun reached the valley wonderfully.
Should we interrupt our after work beer for the freight crossing at 6:30 p.m.?
Ah well, one more flower pic...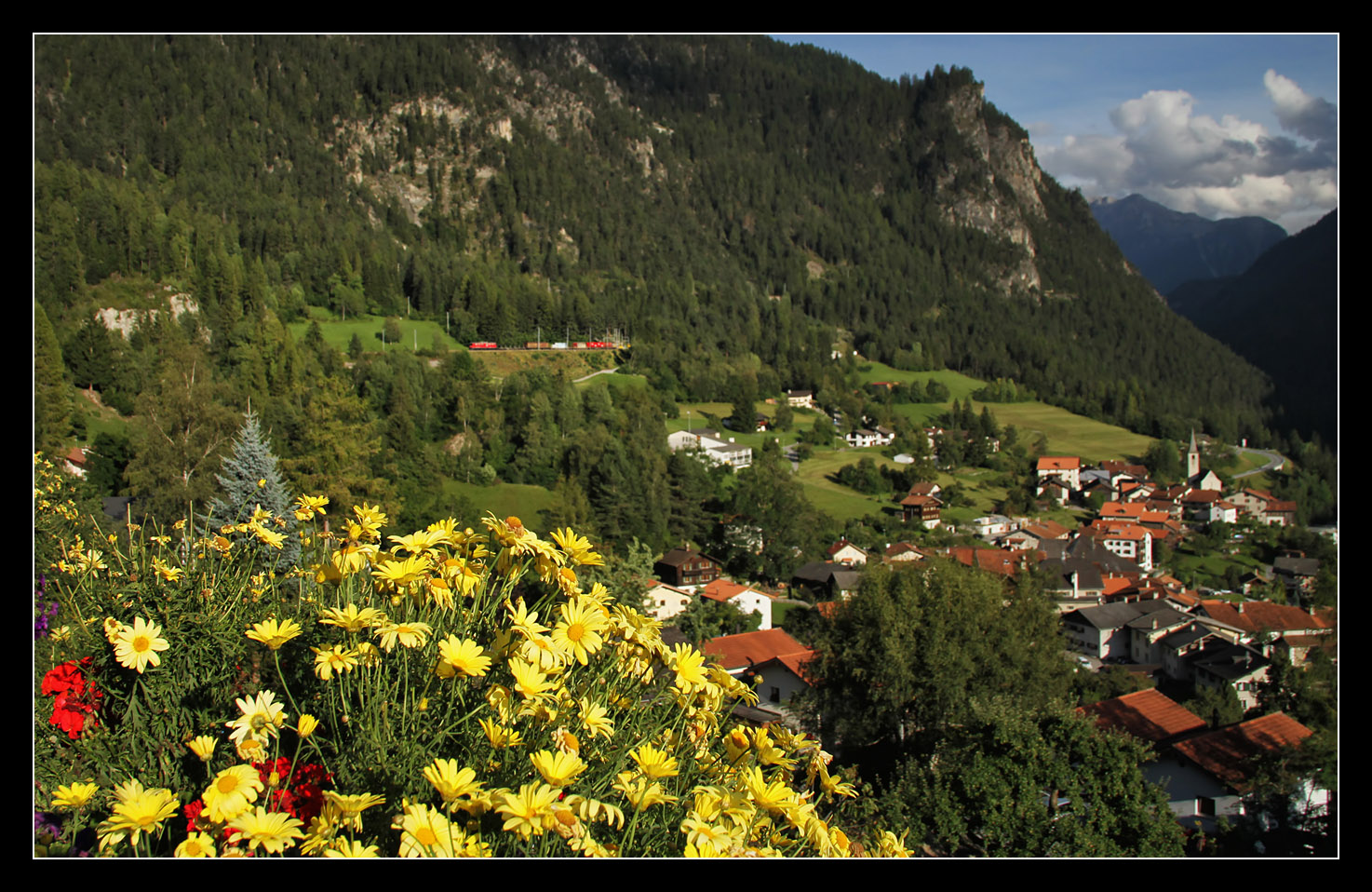 August 20 2014
had been forecast as full rainy day – what to do? Well, into the high mountain area! It was raining practically everywhere, just not at the locations we visited...
At Ospizio Bernina station we got off and hiked along Lago Bianco in dense fog. We crossed the watershed between the Adriatic and Black Sea, walked around Lej Nair, then suddenly this view opened up...
R 1636 Tirano - St. Moritz was formed of "older" class ABe 4/4 III EMUs, all in all three pairs were in service that day, the rest of the trains was hauled by omnipresent new Stadler Allegra class EMUs. Lej Pitschen was passed during the descent to Bernina Lagalb.
R 1621 to Tirano climbed the final grade from Bernina Lagalb to the highest point of the RhB network.
On the way to Bernina Lagalb the obligatory mountain pasture was traversed.
We leave the realm of Alpine flowers...
... and shortly visit rather Mediterranean vegetation at Brusio.
Around noon an hour-long short photo session is possible at the well-known place. Bernina Express 973 to Tirano, hauled by ABe 4/4 III 53 and 54, is passing downhill between two uphill local trains.
The train has been prolonged a slightly virtually... :0)
View across Brusio, from the left R 1656 Tirano - St. Moritz approached the station.
See you for part 2/2!