Hi,
To the previous part of the series:
Sicily 2016 - 2: Giardini-Naxos (50 p.)
http://www.railroadforums.com/forum/showthread.php?52744-Sicily-2016-2-Giardini-Naxos-(50-p-)
To the video:
https://youtu.be/L8L4FAom1hI
The timetable for this part:
Code:
-------------------------------
Wed, March 23 2016

Taormina-Giardini dep 10:01 +5  RV 3851


Siracusa arr 11:50 +7

Siracusa dep 13:56  R 12834 -> Gela


Noto arr 14:29 +8

Noto dep 16:12 R 12847


Siracusa arr 16:45

Siracusa dep 18:20  RV 3862 -> Messina Centrale


Taormina-Giardini arr 20:00 +20
March 23 2016
Shortly after 10 a.m. we had boarded RV 3851 at Taormina-Giardini and travelled southwards, to Baroque and Antiquity of Syracuse and Noto. On the way we encountered two freight trains and a class D345 diesel in classic livery switching at Catania freight yard. After crossing the plain of Catania you reach a lovely coastline, but soon the surrounding changed and we approached the industrial south-east of Sicily. At Augusta the railroad traverses the lagoon on a dam, looking towards the dry docks of a shipyard.
Afterwards the line cuts across the largest refinery complex of the island for several miles until we finally arrived at Siracusa terminal. We marched along a modern avenue towards the excavation site of ancient Neapolis. While we just had seen large industrial sites, Sicilian trade still is taking place in very small structures - for example craftsmen working in open street shops.
We started our visit of the archaeological park together with some "loving archaeo-cats" and plenty of Austrian tourists. ;0)
The large, flat Greek theater had been carved out of the rock.
iPhone-panorama, as several other pictures here.
Spectacular antique quarry Latomia del Paradiso, at the bottom of which you can find a paradisiac garden nowadays.
The "Ear of Dionysius" is a 75 feet high artificial cave with special acoustic properties. iPhone-vertical-panorama.
One of the largest Roman amphitheaters is also located inside the park.
Subsequently I started my own tour while the others visited the equally interesting archaeological museum and the old town center.
ICN 1962 Siracusa dep 1:35 p.m. - Messina - Salerno - Livorno - La Spezia - Genova - Milano Centrale arr 10:45 a.m. was ready for departure.
At that time two local trains were leaving for the branch line to Noto, Modica, Ragusa, Gela and Caltanissetta in quick succession. Sadly otherwise traffic is sparse, so I only could go on a short trip to nearby Noto. All spotted trains were consisting of good old class ALn668 Fiat railcars.
A pitiful exterior state of E656.074 in front of the overnight express to Milan.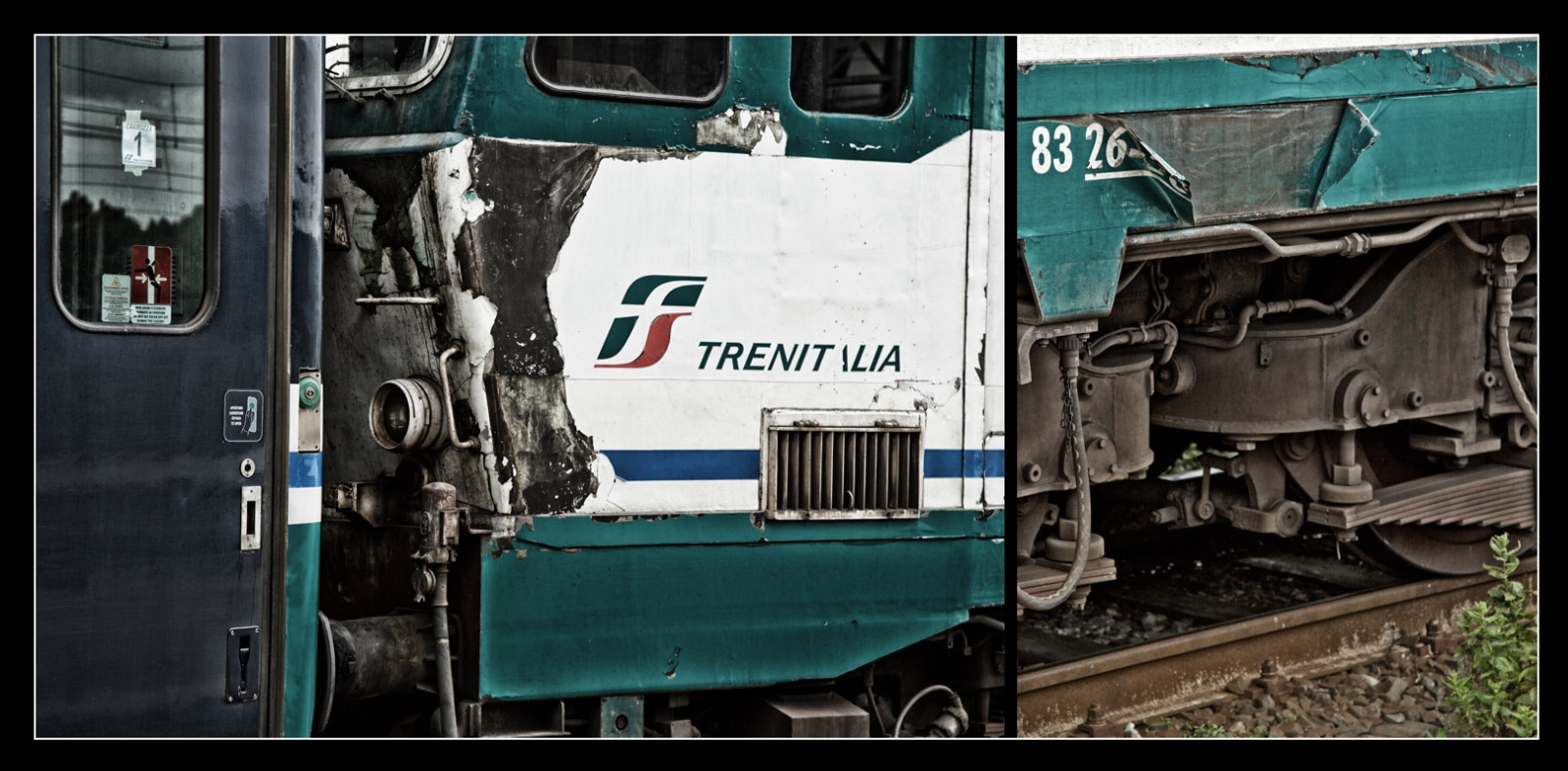 My train R 12834 towards Gela was waiting to the right, I boarded it after the sleeper had departed.
Southwest of Syracuse the landscape changes again entirely, across citrus fruit plantations along the coast you can already see the rocky Monti Iblei hills in the background.
We soon reached Noto in a typical Italian branch line setting.
At least old infrastructure is not immediately demolished here, even if the old loco shed was in danger of collapsing...
I had planned to take the shot of the following train, R 12832 to Pozzallo, from a hillside position opposite the baroque town. But the road leading there deteriorated significantly with large puddles and bulk garbage blocking the way - until I finally had to turn around when a small river was not crossed on a bridge but would have to be forded. Luckily I found this spot featuring a lovely view of the station in time.
Of course the railroad traverses the river on a nice bridge.
Instead I had more time for sightseeing in Noto. The background of the Sicilian Baroque is a destructive earthquake in 1693 leading to several towns having to be entirely rebuilt:
https://en.wikipedia.org/wiki/Sicilian_Baroque
Street view of the baroque center.
Climbing the hill I encountered many decorated houses.
The complete Noto ensemble with Cathedral San Nicolò finished in 1770 to the left and Palazzo Ducezio to the right.

The interior of the dome, part of which had collapsed due to erosion in 1996 and since been reconstructed.
Chiesa di San Francesco next to Chiesa del Santissimo Salvatore, both part of former convents.
Typical residential facades.
It was time to return to the station, my train returned from Pozzallo at 4:12 p.m.
Another view of the fascinating landscape.
At Syracuse yard one overnight train was being prepared for its evening departure with a class E656 at each end.
Old abandoned EMUs in front of massive pilgrimage church Santuario Madonna delle Lacrime for 11000 visitors, the largest in Sicily.
I rejoined the others, to save time we took a taxi to the old city.
Syracuse center is situated on Ortygia peninsula, that's why evening moods over water are possible even on the east coast.
https://en.wikipedia.org/wiki/Ortygia
https://en.wikipedia.org/wiki/Syracuse,_Sicily
Freshwater spring Fonte Aretusa is said to be the first source of papyrus in Europe. Today you can still see plants in this large ornamental pool, southern Sicily is the only region in Europe where they grow naturally.
I walked through the narrow streets towards Dome Square.
The core of the cathedral is formed by an ancient temple of Athena, a Byzantine basilica, a Norman church and above all a baroque facade glowing in the evening sun.
We moved back to the station, against a strong, cold wind.
20th century Fontana di Diana on Piazza Archimede, named after the most famous son of the city.
A large yacht on the canal dividing the peninsula from the mainland.
Before we reached the beautiful station we bought delicious dinner to eat on the journey back from a delicatessen store.
Our four-car RV 3862 was quite empty, and we had a compartment to ourselves. Due to a delayed train meeting near Catania we returned to Taormina 20 minutes late.
Next time we will finally visit Circumetnea narrow gauge railroad, promised! :0)