Hi,
To the previous part of the series:
Regional Rail Express - 8: Debrecen (50 p.)
http://www.railroadforums.com/forum/index.php?threads/regional-rail-express-8-debrecen-50-p.13618
Videos for this part:
July 29 2018
Sunday morning at 5:27 a.m. I reached Haláp - one stop ahead of Vámospércs. 418.321 and 418.198 pulled Sz 6810 to the Hungarian border station with Romania, Nyírábrány.
Mist rose from the meadows and fields at sunrise. The settlement south of the railway could only be accessed via an unpaved road.
Towards the village centre.
The mood is nice - so would be a train.
Ah - there it is.
A passenger was already waiting the whole time for the train towards Debrecen.
FOXrail Sulzer 609 008 hauled containers to Romania.
Sunrays and ground-level mist turned the Puszta grove into a fairy tale forest.
Sz 6817 Nyírábrány - Debrecen approached from Vámospércs at 6:30.
418.198 returned alone providing a lovely departure spectacle:
Luxurious infrastructure at the station.
At 6:55 a.m., 418.326 with IC 1406 "Corona" Braşov - Budapest-Keleti rushed past.
I was about to depart at 7:29 a.m., 418.177 - in charge of international local trains like the day before - approached hauling Sz 6812 Debrecen - Oradea.
We met 418.321, which we had seen in the morning, with Sz 6827 Baia Mare - Debrecen at Hungarian border station Nyírábrány.
After a not so short ride, Romanian border station Valea lui Mihai (in Hungarian: Érmihályfalva) was reached at 9:22 a.m. - including one hour time difference.
A main attraction is the group of semaphore signals of Austro-Hungarian Monarchy heritage.
We already know FOXrail 609 008, noted.
Colourful meeting of trains while I had to wait inside until a friendly border officer had checked my ID.
Then, I could get off and admire the collection of classic diesel power.
820 361 had shunted to the other end of R 6812 for the journey to Oradea.
Parade of Sulzers including 601 213. Notice the subtler font of the newly introduced UIC numbering on the loco front than in other parts of Romania.
After border control, I did not have enough time to reach the level crossing hundreds of metres away. In 90 degree heat with full luggage I marched into that direction, immediately meeting the first horse-drawn cart, and just made it to capture this village road view of the train departing to Oradea. The signs on Strada Vörösmarty Mihály are new, the double level crossing barriers of the two lines towards Episcopia Bihor / Oradea and Debrecen still good old technology.
Five minutes later, 418.177 returned to Hungary, the line to Oradea in the background.
GM-modernized "Jimmy" 640 922 stood perfectly for the signals, thanks to the diverted InterCity.
I walked to the edge of town through typical old Hungarian village streets, mostly unpaved. I particularly like the abundance of public fruit trees, most were ripe just at that time.
From the train, I had found a nice spot at the level crossing of Strada Octavian Goga featuring a view across the Puszta towards Hungary. It also offered a convenient place to wait in the shade. Sz/R 6822 Debrecen - Satu Mare arrived at 11:17 behind 418.325.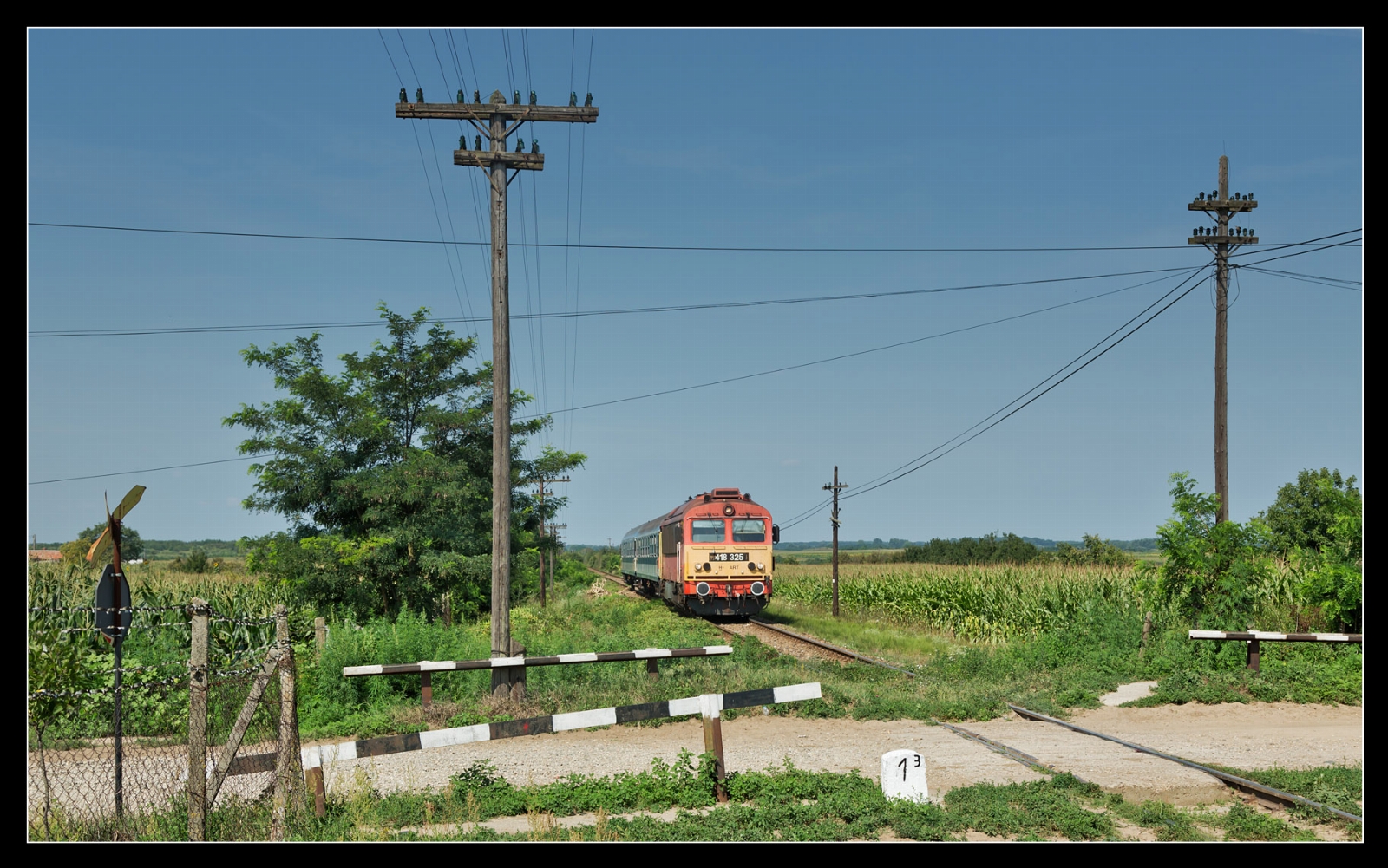 Definitely a MÁV train in Romania.
We already have seen Magyar Magánvasút Faur 429 009 at Debrecen.
Just as I prepared to change to the other line, 418.325 was being transferred back.
I liked the scenery at Strada Charles Darwin - however, didn't put up the video tripod in this poorest corner of Valea lui Mihai.
The GM approached with IR 1367 "Hargita" Budapest-Keleti (dep. 6:07 a.m.) - Braşov (arr. during the diversion 2:07 a.m.! - perhaps time-wise the longest daytime train route in Europe) at 12:49.
A boy was herding some goats next to me.
Welcome to THE country of express trains on regional rail lines!
I hurried to catch - to my shame, but the rail connections were lousy – the 1 p.m. bus at the "Kry-Bel"-bar in the town centre. I made it in time, but nothing came... we will solve this mystery soon.
At least I now had time to explore the well-kept centre.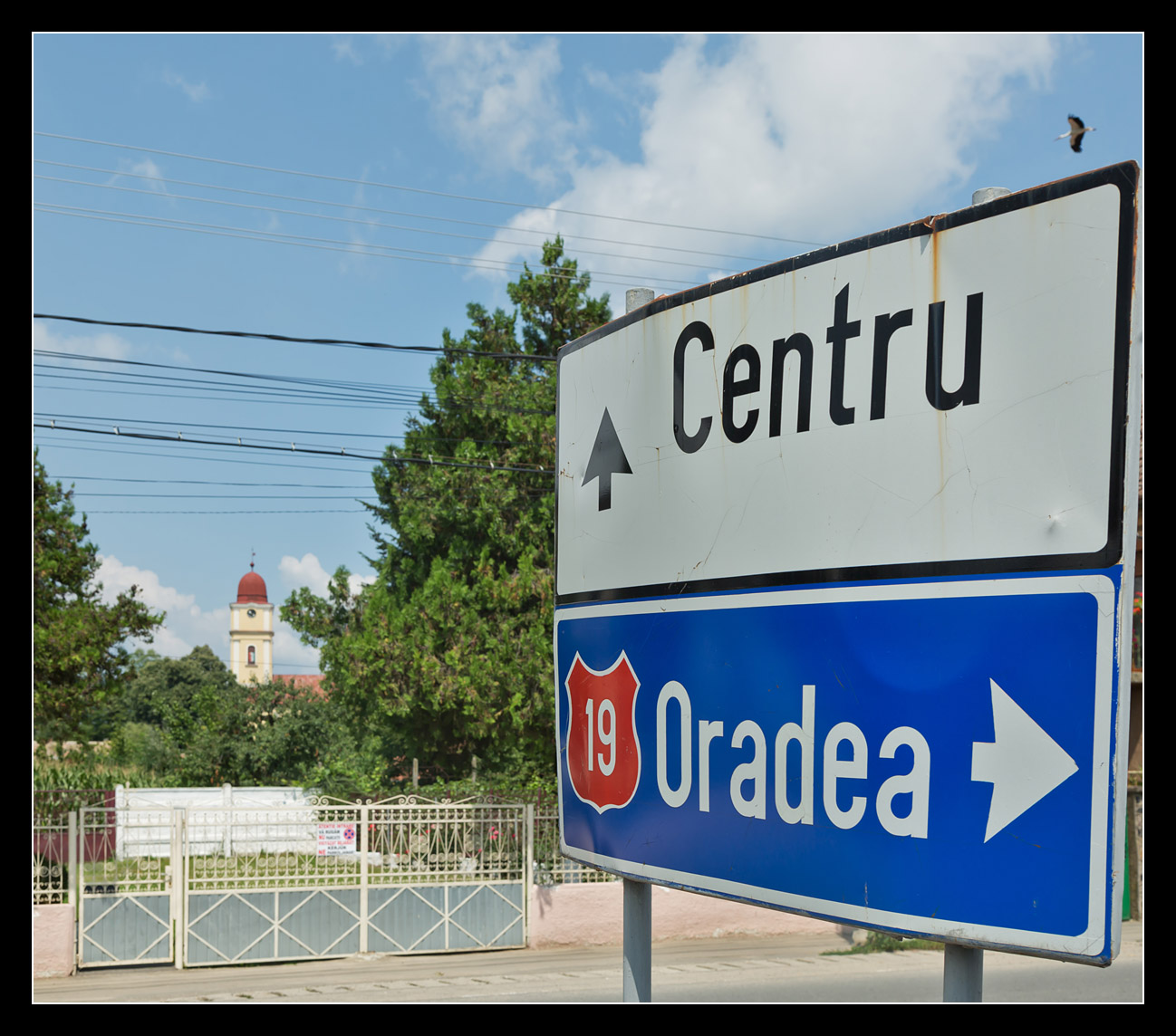 Hungarian flag on the tower of the reformed church. Some art nouveau elements could be found as well.
The synagogue.
Stork offspring.
If someone would like to buy a classic Dacia 1310 Berlina. ;-)
I walked to the roundabout of Drum național 19 Oradea - Satu Mare - Livada. Really, there was a bus station here. And what else? A second "Kry-Bel"-bar!
At 3 p.m., I boarded a small bus on the route Oradea - Satu Mare - Baia Mare. At least I found a seat. We paused at Satu Mare, which turned out to be a mistake as the bus heated up to about 100 degrees. Then, we picked up more and more people, so the driver subsequently had to leave passengers behind at following stops.
I would not have thought that it would be possible, but we arrived at Baia Mare at 5:45 p.m., perfectly for me directly next to platform 1 of the main railway station.
IR 1642 to Bucharest about to depart at 5:52 in front of gigantic thunderstorm clouds - even bolts of lightning could be occasionally seen in the background.
You can watch the departure on video from minute 6:00. Considering the clouds, I quickly walked to my Eurohotel on Bulevardul București towards the centre...
July 30 2018
... as the next day I had to depart already at 4:30 a.m. - according to my C.E.T. body clock even 3:30 a.m. The nice receptionists had prepared packed lunch for me, I walked on the shortest path through blocks of flats to the station.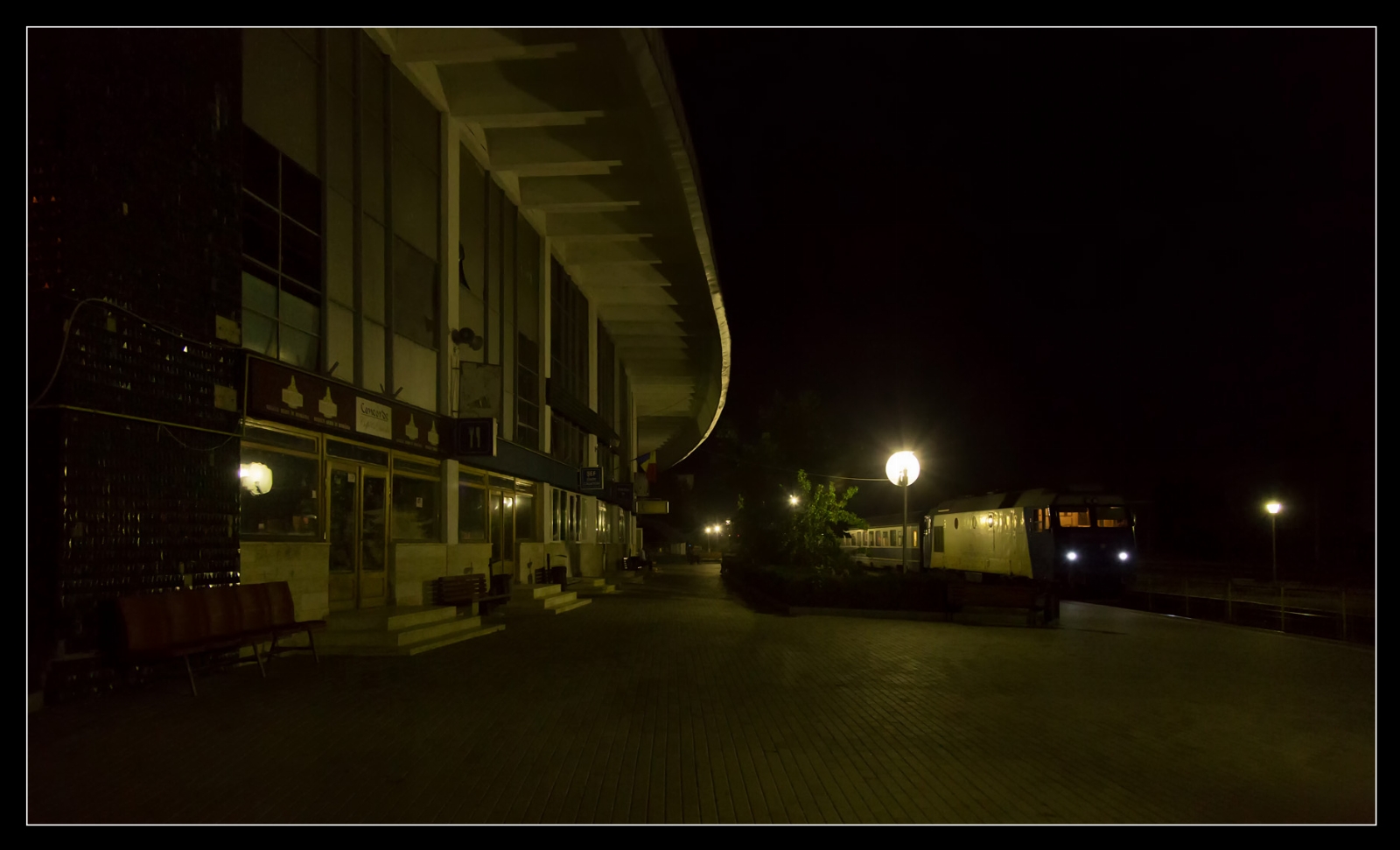 The driver took care of his "Jimmy" before hauling IR 1746 towards Bucharest up to Dej under a relatively full moon - a lovely day could begin. I sat down in a compartment and was joined by a family of five - soon, they would have more space as I was not about to travel far...