Hi,
To the previous part of the series:
Regional Rail Express - 56: Lake Balaton III (50 p.)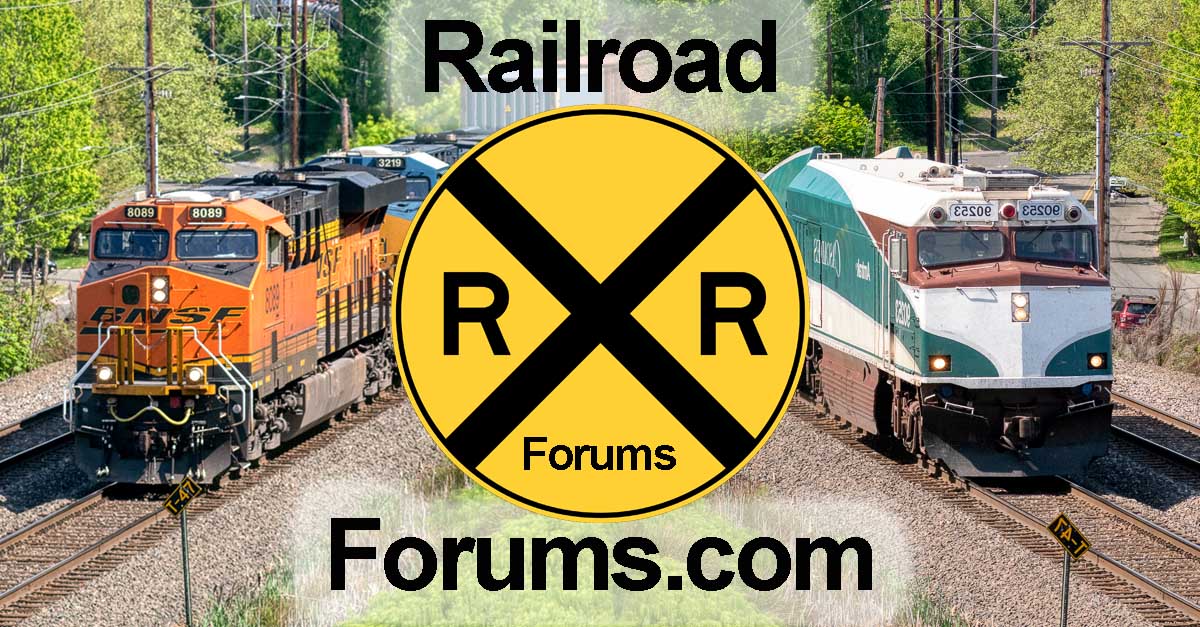 Hi, To the previous part of the series: Regional Rail Express - 55: Lake Balaton II/Istria V (50 p.) https://railroadforums.com/forum/index.php?threads/regional-rail-express-55-lake-balaton-ii-istria-v-50-p.20402 Videos for this part: July 14 2019 M61 001 hauling a freshly painted...

railroadforums.com
Video for this part:
July 9 2021
We return to the slopes of Badacsony table mountain above Badacsony town. IC 19796 "Kék Hullám" Budapest-Déli - Szombathely passed by 10 minutes delayed at 8:15 p.m. along the Lake Balaton northern shore.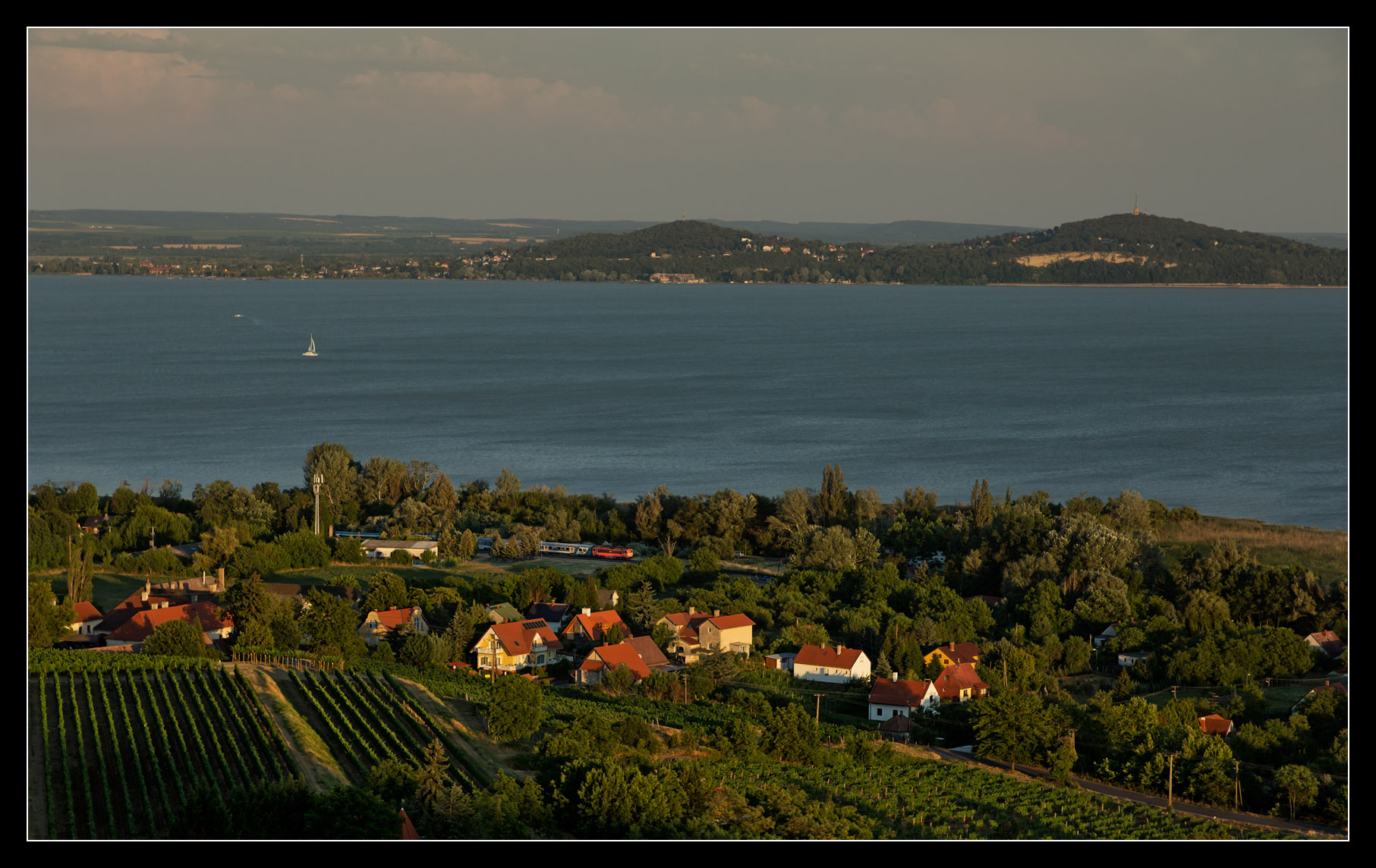 Only the largest boats ventured out due to strong winds.
Tatra trucks on the after a long drought extremely dusty vineyard road.
The shadow of Mount Badacsony had reached the northern shore five minutes later, an ÖBB Vectron electric hauled a container freight towards Croatia on the southern shore line.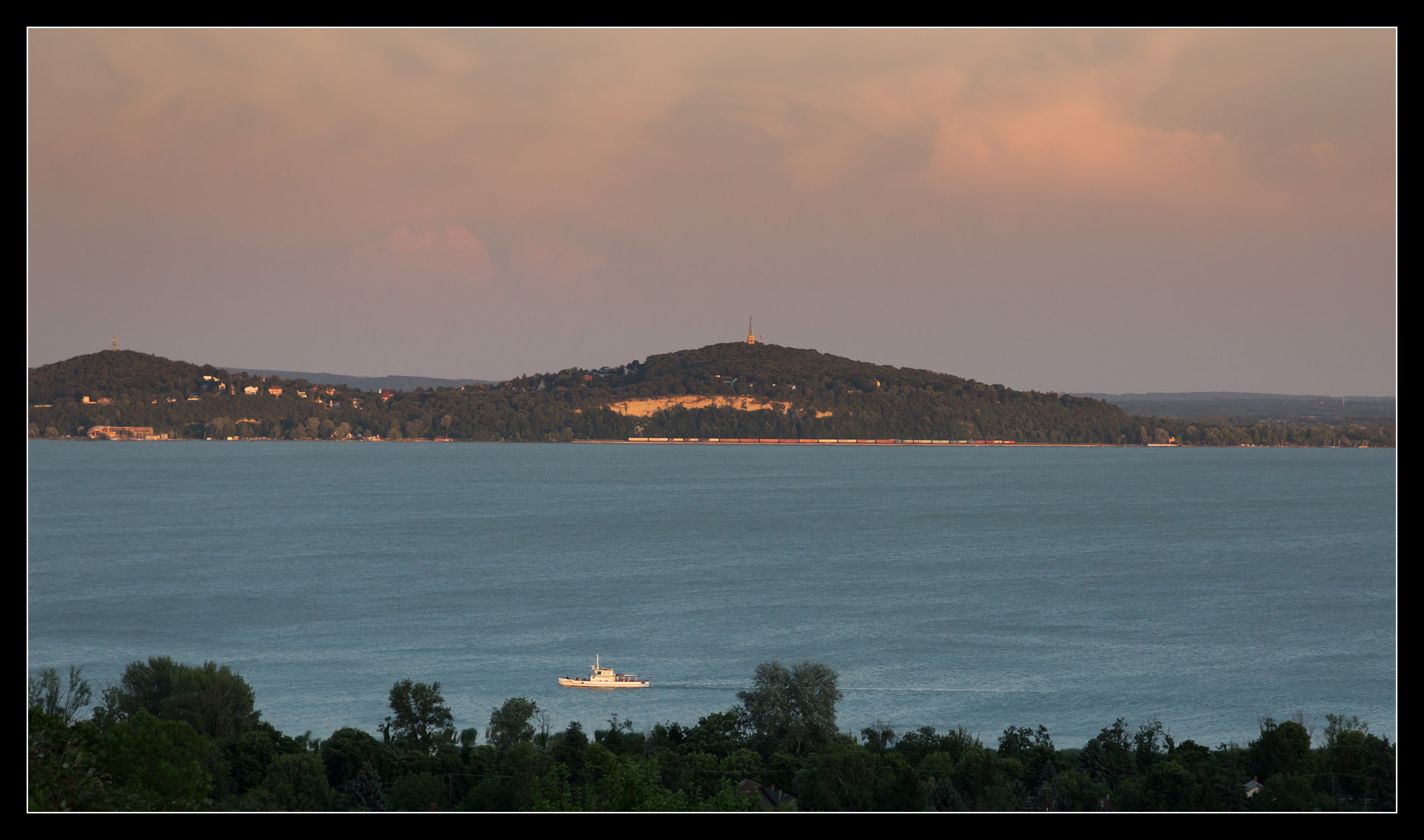 July 10 2021
VESz 19744 Balatonfüred - Tapolca took me to Badacsonytördemic-Szigliget next day after noon.
Bzmot... errrmmm 117 180.
VESz 19733 to Balatonfüred met our local at Badacsonytördemic-Szigliget.
Departure panorama.
I walked uphill to Szigliget village where you come across roofs made out of lakeside reeds.
Above: Panoramic image between 1289 feet high Gulács to the left and the Badacsony to the right featuring IC 19703 "Kék Hullám" Tapolca - Budapest hauled by M41 2103 in heritage red livery.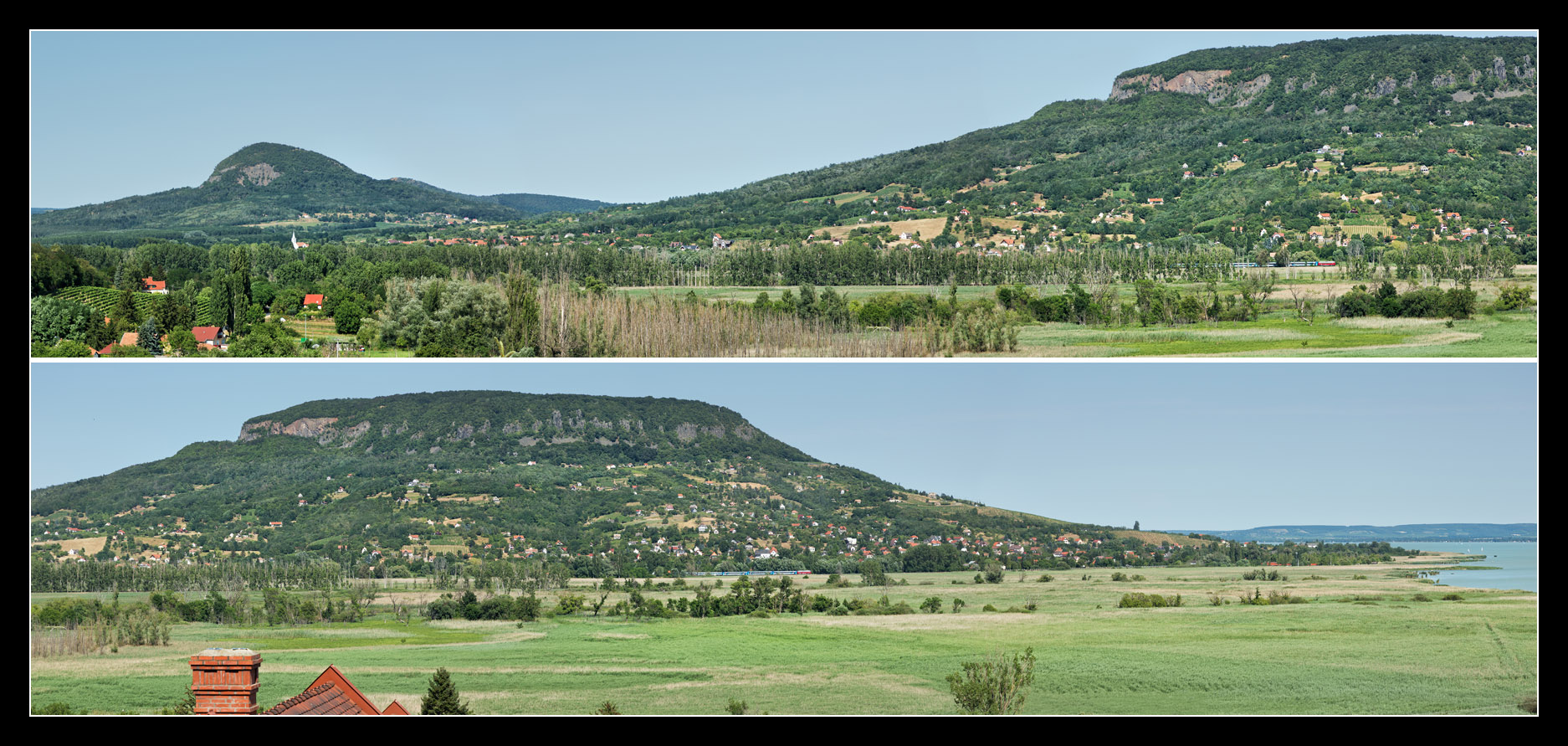 IC 19794 "Kék Hullám" Budapest - Tapolca reached Badacsonylábdihegy halt half an hour delayed.
Even newer houses are being constructed with a thatched roof.
Strange art nouveau-like mosaic on the way to Rókarántó hill.
Long distance-Gy 1973 "Tekergő" Tapolca - Szolnok returned pulled by M40 219.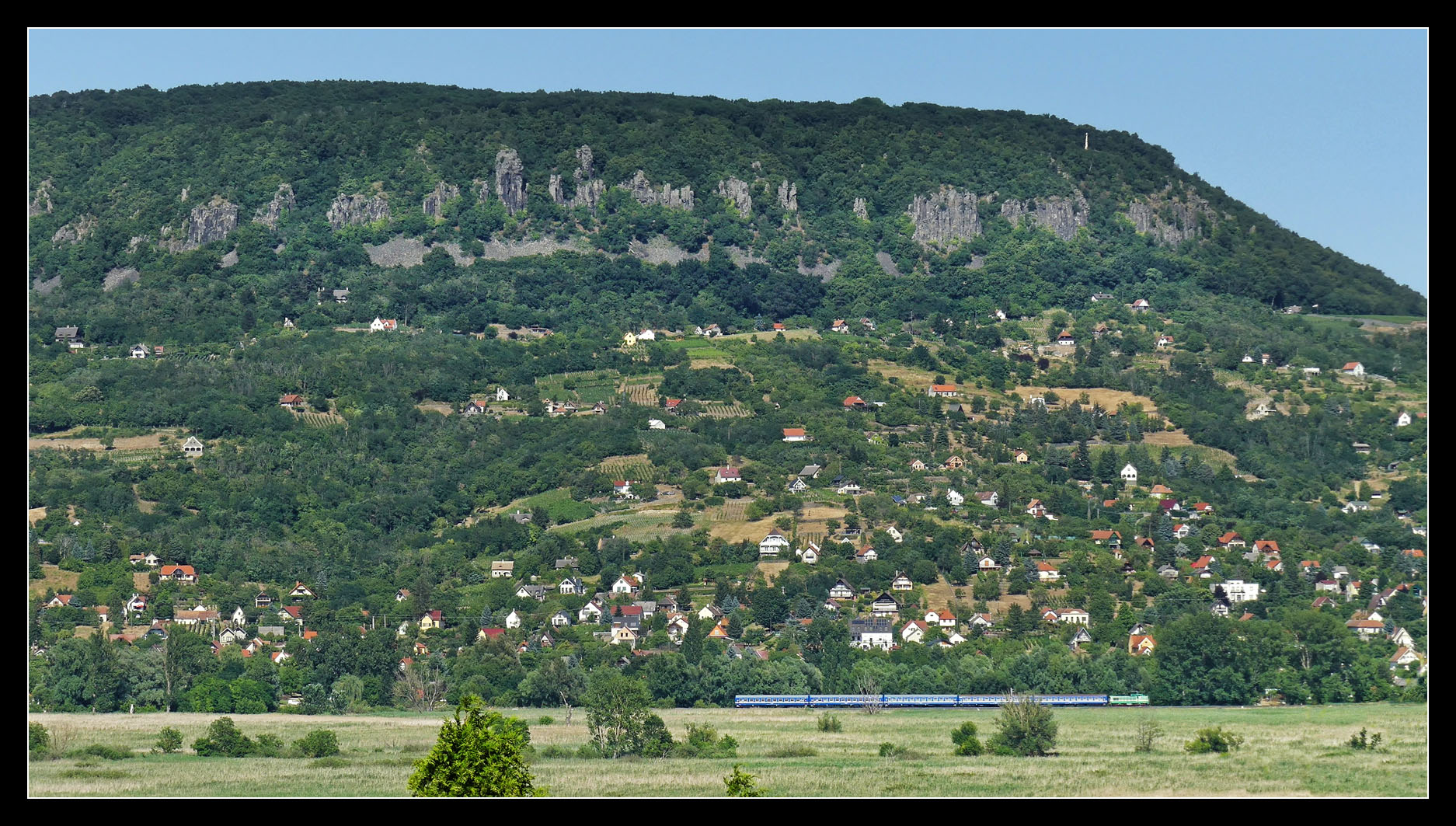 Chapel on top of Rókarántó.
Village view on the way down.
I quickly marched to the station and theoretically should have missed VESz 19736 Balatonfüred - Tapolca - but voilà!
NOHAB-Badacsony-panorama.
IC 19793 "Kék Hullám" took me back to Badacsony at six o'clock in the evening.
IC 19706 "Kék Hullám" Budapest - Szombathely thundered past hauled by an M41 double header.
VESz 19731 Tapolca - Balatonfüred...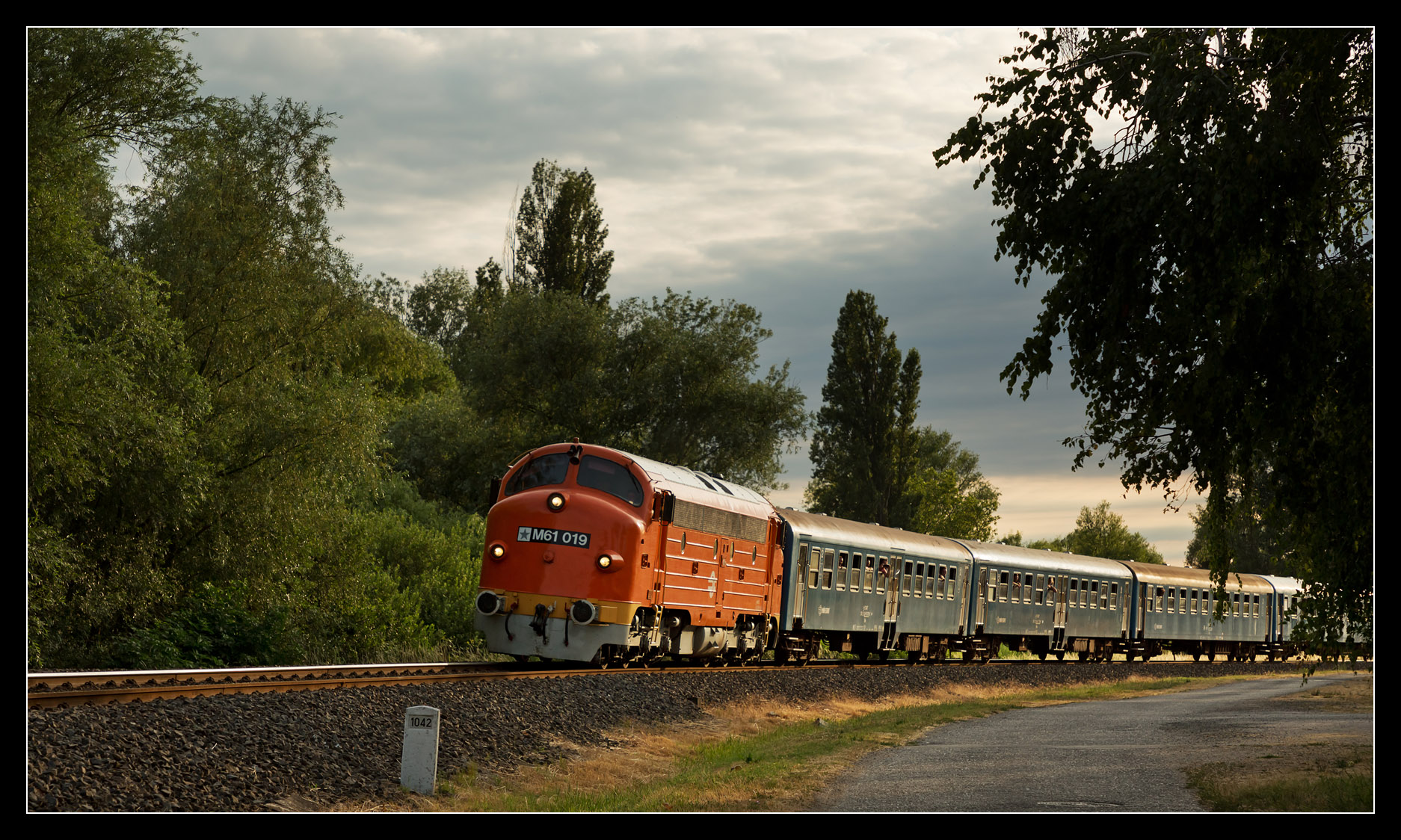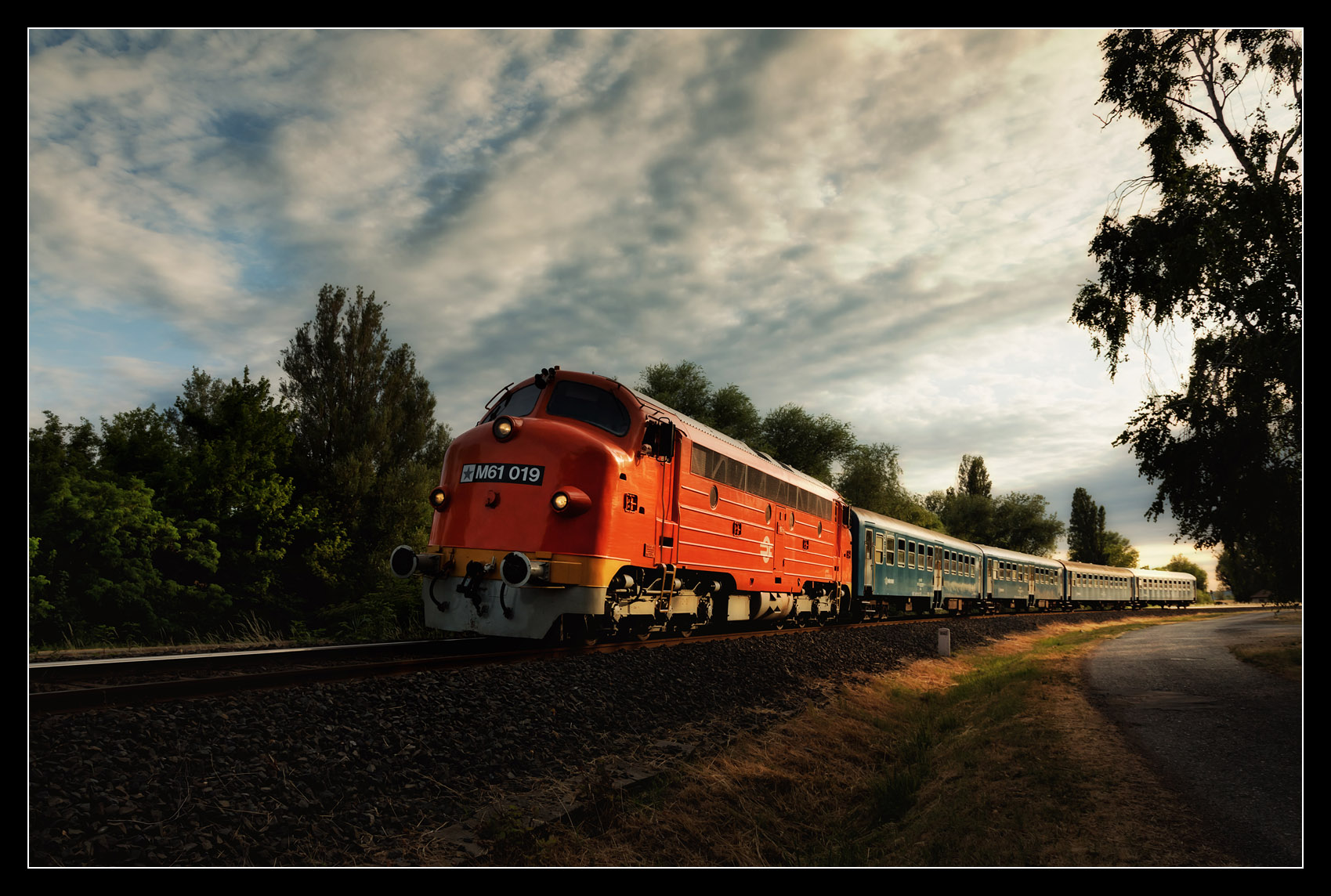 ... and VESz 19746 Balatonfüred - Tapolca concluded the day in a glorious fashion.
July 11 2021
M61 019 with the first train Sunday morning at 4:55 a.m., VESz 19749 Tapolca - Balatonfüred.
The platform was located just a few steps from the door of my room at Hotel Halászkert. So, I could immediately return to bed for some more sleep.
View through the trees to the end of the pier.
I prepared for departure, it rained a while in the meantime. The sun returned for IC 19707 "Kék Hullám" Tapolca - Budapest at eight o'clock.
This opened up new photo opportunities.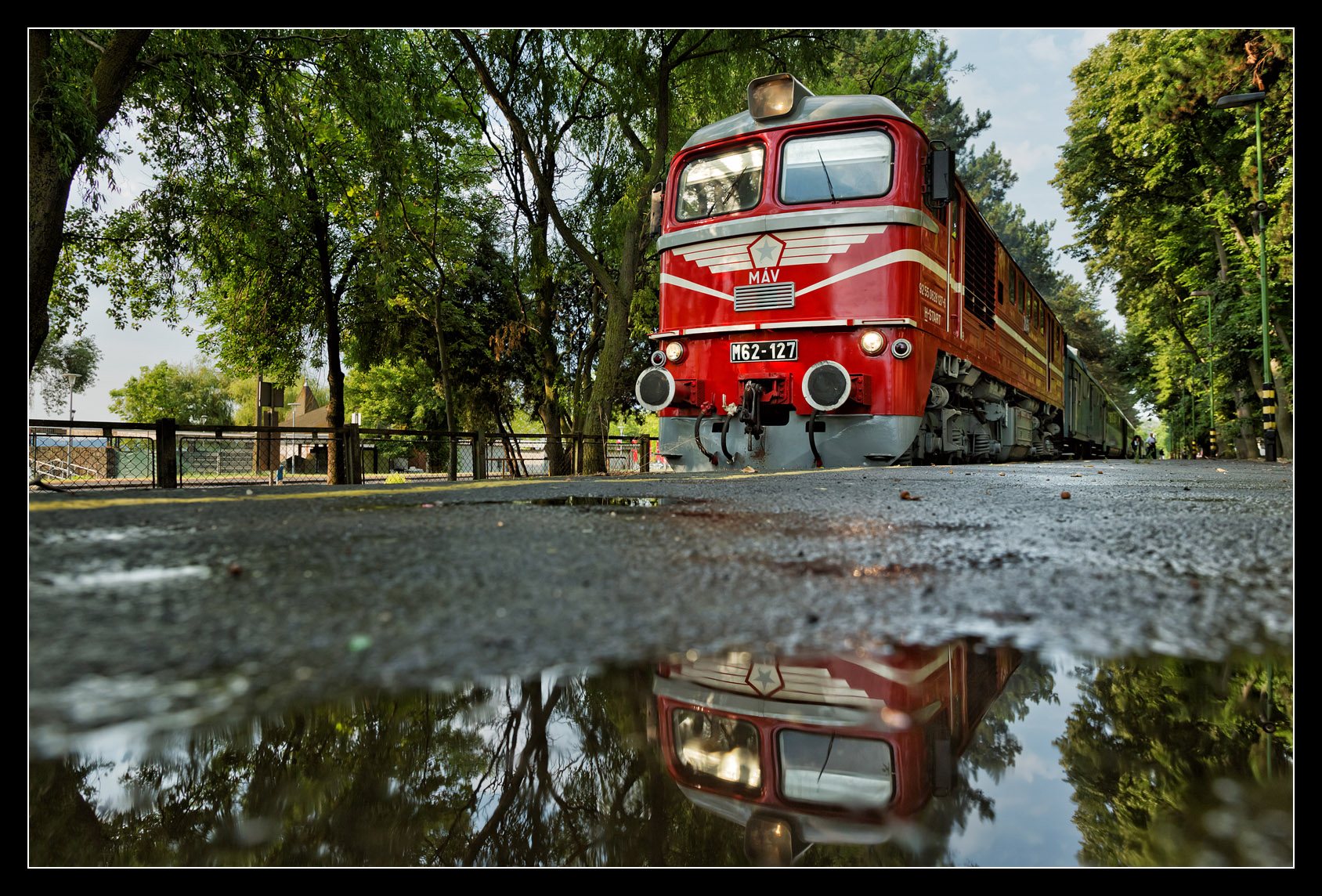 I boarded VESz 19732 to Tapolca.
July 11 2015
Six years earlier, we had this vineyard view from Szent György-hegy hill towards Gyulakeszi village and 1233 feet high Csobánc with castle behind it.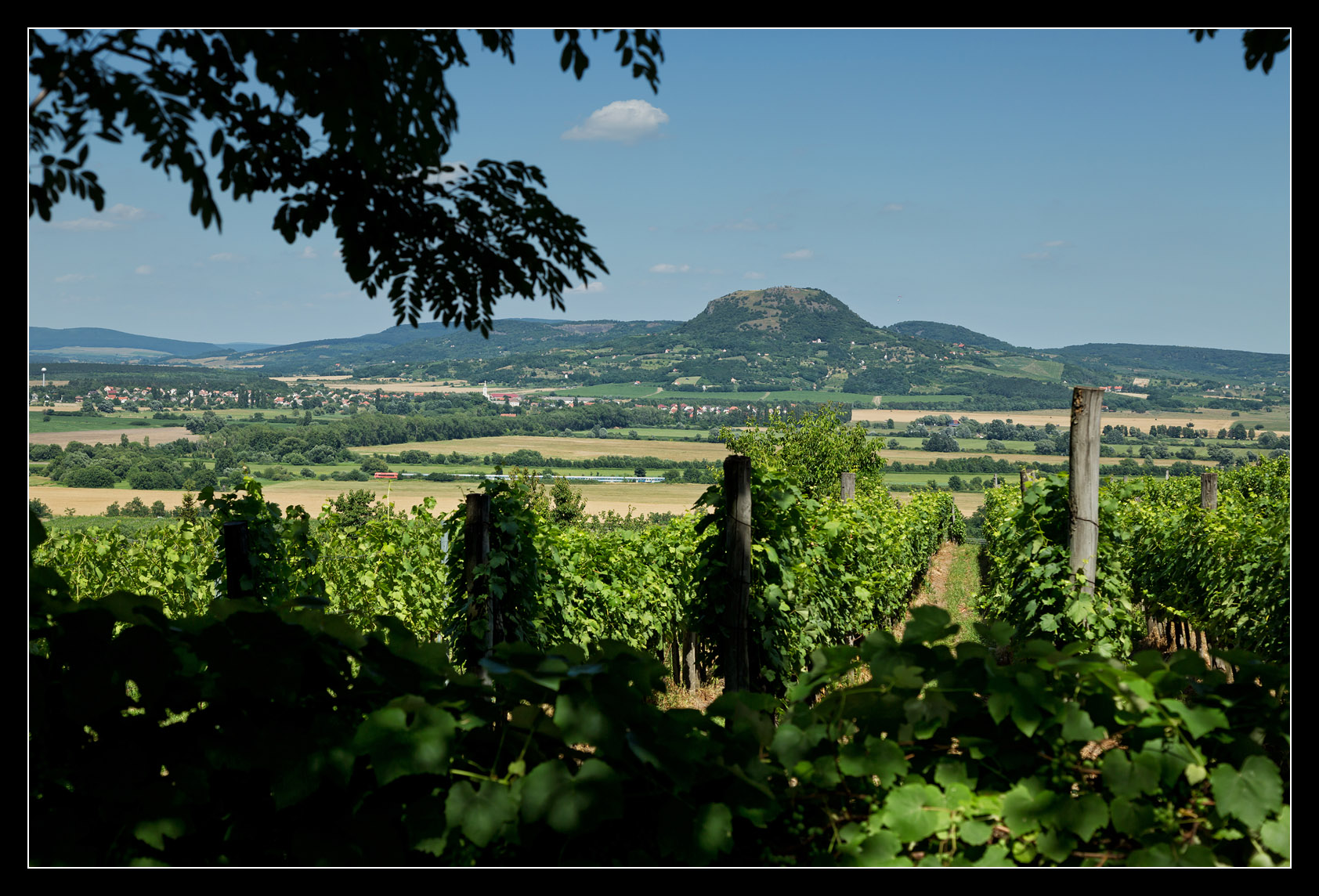 The return of M61 017 to Budapest shortly before 3 p.m. in front of the Tapolca skyline.
July 9 2021
M41 parade while changing trains at Tapolca.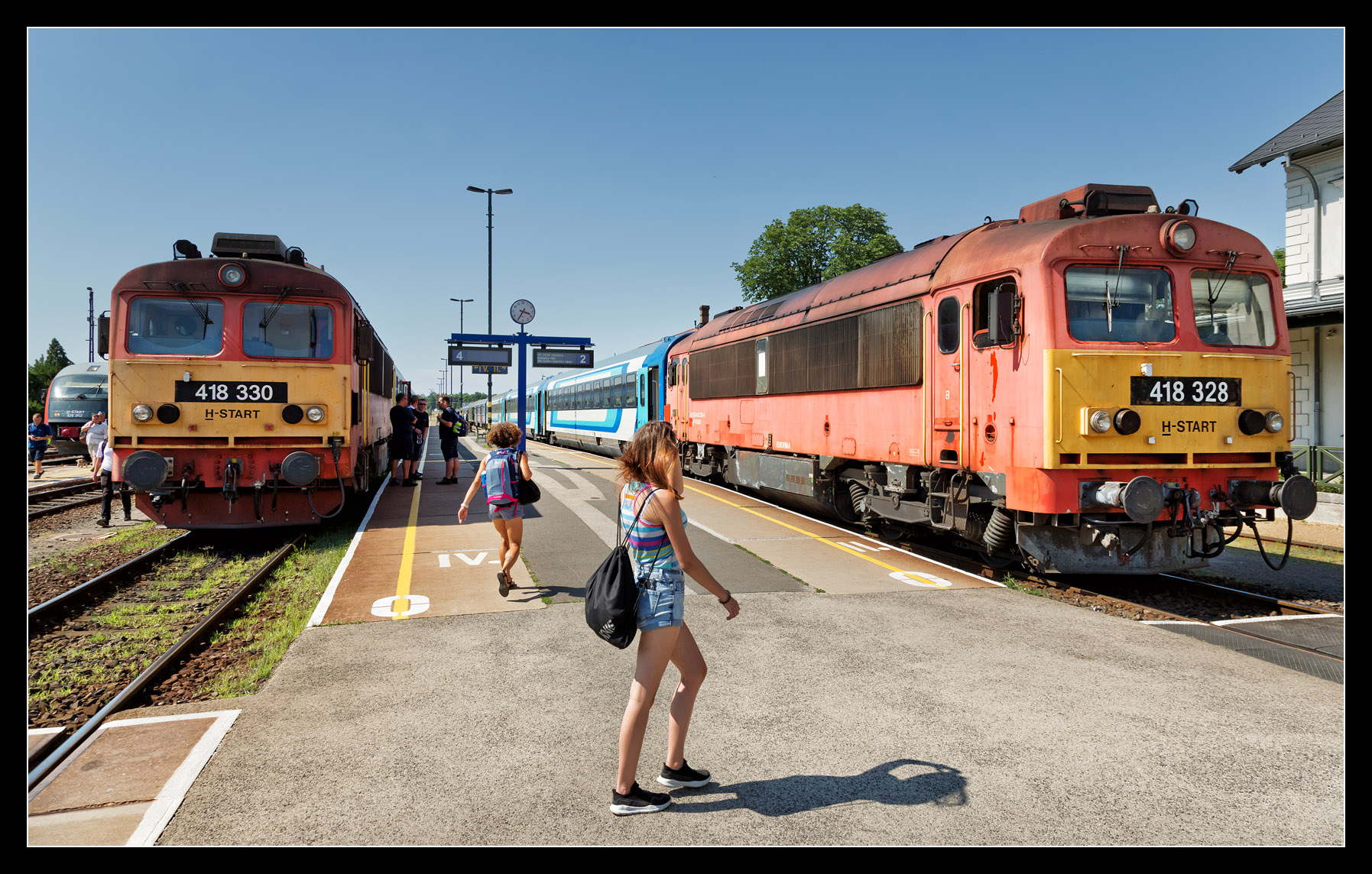 July 11 2021
M61 006 - which had failed the day before - stabled in front of the enginehouse.
If you definitely want to see a NOHAB during you Balaton stay without special trains, you can always visit the "nose" of M61 004 which had collided with a tree felled by a storm near Badacsony in 1999. The full story (not quite up-to-date, the monument was moved from a Budapest museum to this former water tower at Tapolca station in 2015 / in German, please use autotranslate):
Beiträge und Informationen rund um die NOHABs aus Deutschland in die Welt
www.nohab-gm.de
That Sunday of the retro weekend, NOHAB M61 001 took over local services hauling the green push-pull train. Despite rain showers all around, Tapolca stayed sunny during my visit.
IR 9690 "Helikon" Kaposvár - Győr reached the station punctually at 8:38 a.m.
S 19699 Szombathely - Keszthely hauled by M41 2330.
M61 001 departed with VESz 19747 to Balatonfüred.
Everything fitted together for an almost authentic historical scene: the water crane, Bzmot 117 343 in heritage livery plus M61 006 in the background completed the illusion.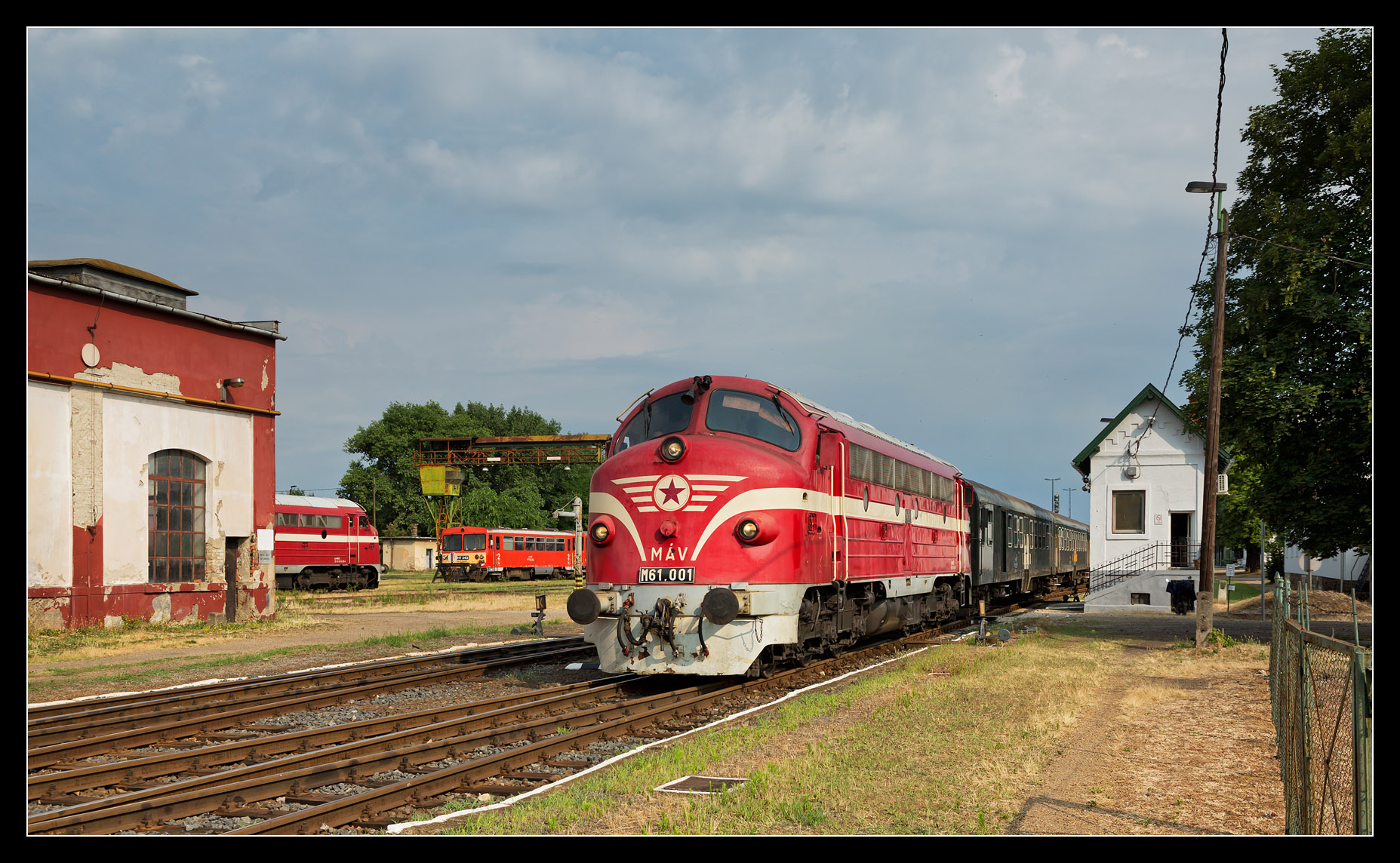 Souvenir stall for the retro weekend.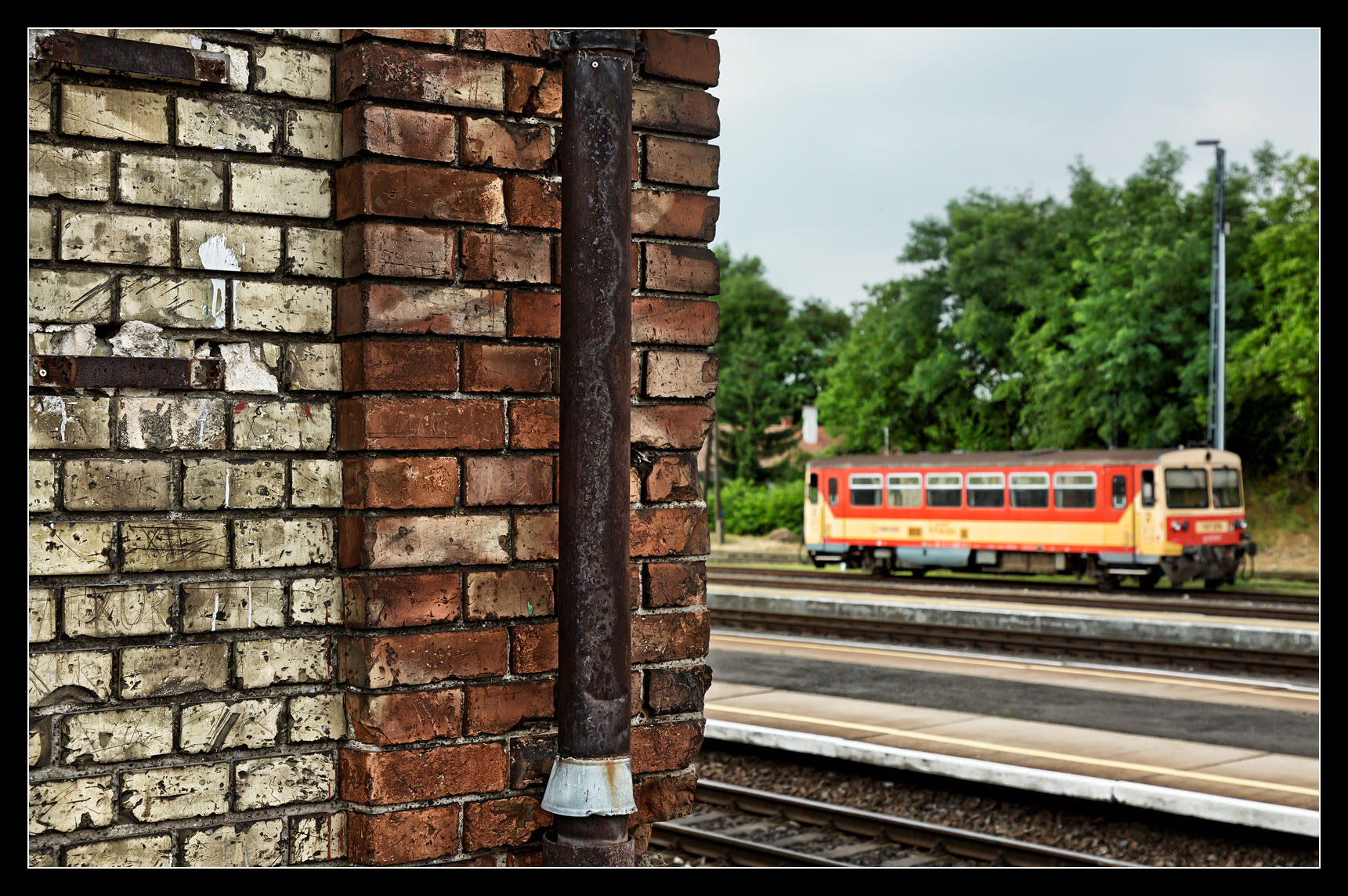 M41 2103 had taken over IC 19797 "Kék Hullám" Szombathely - Budapest again...
... and departed with some noise:
Next time, we will pick up the trail of "Istria" again...