I was passing through Marysville, WA, a small city about 35 miles north of Seattle. As I came up on the BNSF main, I saw a Loram Rail Grinder working the tracks. They're a rare beast to see, in fact this was my first time seeing one in person. I quickly made my delivery and doubled back to see if I could get some video.
I was on a tight schedule but managed to grab some quick video. Here are some screenshots. Video will get posted in my regular "Railfanning Urban Seattle" thread later. It was raining, so these were taken from inside the car so as not to soak my camera.
One interesting thing is that I always pictured a rail grinder just slowly driving down the track doing it's work on the rails. Instead, they worked a large road crossing by driving back and forth several times over the same section of track. I sprinted ahead of them to find a spot to park. When I caught them, they were again working a section of track at a road crossing, driving back and forth a half a dozen times over the same section of track.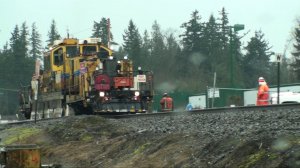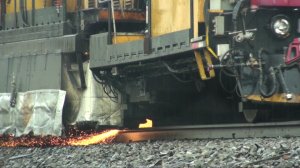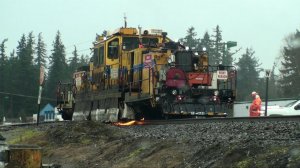 Todd