Bonjour,
this is the final installment of my Tour de France. The last stops of my trip where Toulouse and Besancon.
Toulouse
Toulouse has two Métro and two tram line. The metro is of type VAL and uses rubber tires
Line A on the bridge across the motorway near terminus "Balma-Gramont"
As "Balma-Gramont" station is underground, a ramp connects it with the bridge
I happen to catch two types of rolling stock.
Three minute headways between the trains made my job pretty easy. No long waits between trains. The announcements in the metro were in two languages: Frensh and Occitan. Several signs showed street names in both languages too.
A must with VAL trains: Platform doors.
There were different version of interieur design. Here is one them. As it was almost impossible to catch an empty train, I did not manage to take a picture of the other designs.
"Cab" view. Unfortunately, we did not pass another train.
Stickers on the platform doors reminded the riders to behave. My favourite: "Volume is good for you hair, for public transportation: no so much"
Some stations had artwork. An installation in station "Palais de Justice"
This station offers a transfer to the tram. Both tram line end here. A tram is waiting for its departure time
Tail tracks covered with green
Nightfall at the "Palais de Justice"
Looking for the next tram stop or metro station? These sign will guide you
Tram stop design.
Tram on the "Pont St Michel" bridge approaching its next stop "Cheval de Fer"
The tram line that runs to the airport passes over the motorway using this nice looking, modern bridge.
The airport is located in the suburb town Blagnac. The industrial park seem to consist mostly of aircraft industry. A lot of buildings had the Airbus logo. Even the partnership with a German town is "advertised" with a tribute to aeronautics.
As last tram picture: A look inside.
Apart from tram and metro watching, I did some sightseeing two. Looks like two churches, but it is one building: The Cathedral St Etienne.
An example of the brownstone architecture that dominates Toulouse: The "Halles aux Grains"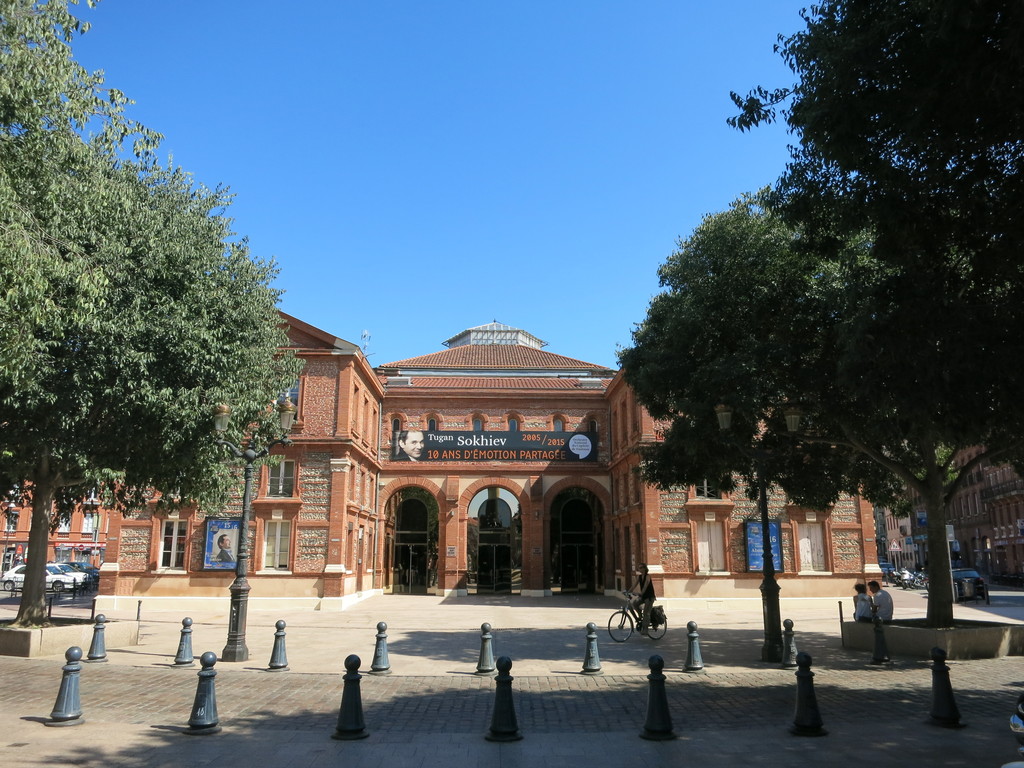 The "Pont Neuf" spans the Garonne river.
For relaxion, take a few minutes and enjoy the green in the "Grand Rond" garden.
Or do you prefer a stroll along water: Try the "Canal du Midi".
As I am a computer scientist who had to deal with character encoding issues in the past, this made me smile.
That's it about Toulouse. Now on to the final leg of the trip: Besancon.
Besancon
My brother suggested a visit to Besancon, because he had go there on business and liked the city. So I trusted his judgement (and he was right, it is a nice place). This stop over had an additional advantage: I could split me journey home into two segments. Instead of ten hours on the train, first 6 hours to Besancon and the next day four hours home.
My TGV leaves the TGV station "Besancon-Franche Comté TGV" (located on the LGV Rhin-Rhône high speed line)
Artwork in the station
Unlike most TGV stations located outside of cities, this one has a rail connection to the city. TER shuttles run to Besancons Viotte station
Besancon has two tram lines. The railway station is served by one of these two lines. Buses and tram are painted in turquoise colour. Tram at Gare Viotte
Both lines at "Hauts du Chazal". In the background the depot.
Once again, a tram in a roundabount (near stop "Allende")
Nice mix of blue and green (near "Allende" too)
A look inside. In contrast to most modern trams in France, these are not build by Alstom but by Spanish company CAF
Tram at stop "Canot". The building in the background is the "Cite Universitaire"
The river "Doubs" surrounds most of the city centre. On the hill above the city is a Citadelle.
A wooden dragon on guard duty in front of the Citadelle
A look unto the city. On the right the tower of Cathedral St Jean
I want to close the series with another church window: There must not always people et al be shown. A pattern could be just as nice (at least that's my take).
This wraps up two weeks on the road (or better on the rails ;-)). It was a lot of fun and I enjoyed every minute of the trip. A lot of sightseeing, tram and metro riding in addition to a lot of fine dining and wine made for a great holiday. Apart from a bit of rain in Tours and Besancon, I managed to stay ahead of any bad weather. Mostly, it was sunny with about 30°C .
I hope you enjoyed my little trip best of.
Take care.
Charly