Bonjour,
for part two I have compiled mixed pictures from trips to Aubagne and Avignon.
Tram d'Aubagne
Depending on which train you take, Aubagne is 15-25min train ride away from Marseille. Since September 2014 a tram running there again. The network consists of one line. A ride end to end takes about 10min, trams are running with 10min headways. Like riding the busses in Aubagne, riding the tram is free of charge.
I stumpled upon the Tram d'Aubagne by accident, when I was browsing
http://carto.metro.free.fr/
. This page is really helpful, if you want to plan tram or métro sightseeing in France (and some other countries in Europe and abroad).
The trains are pretty colourful. Tram at terminus Aubagne station
On the inside, red is the dominating colour
Tram approaching Aubagne station
The terminus on the other end of the line is "Le Charrel"
Station design
More trams taking a sun bath in the maintenance yard next to "Piscine" station
One half of the line is running on rails in a concrete bed. The other half, runs over red gravel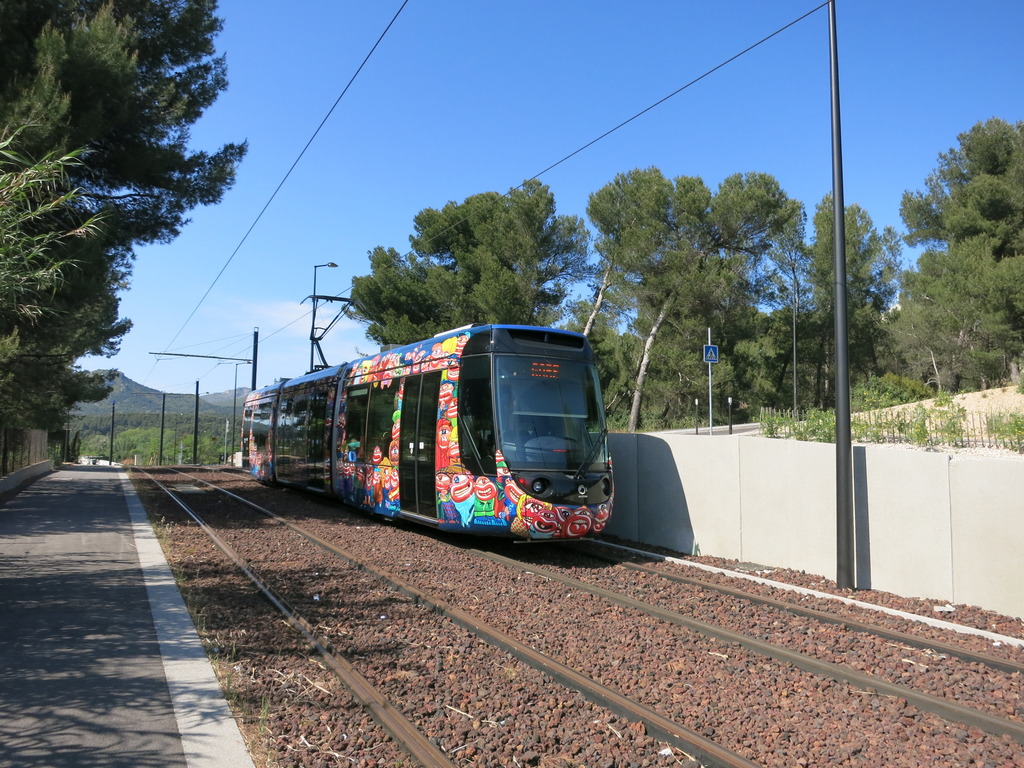 Trams passing each other in front of the church
My take on the Augabne tram: small, but quite exquist. I am curious how it will turn out in the future. Further expansions of the network were planned, but have been shelved after the local elections.
Avignon TGV
I used the TGV to make the half-hour trip to Avignon TGV station. From there, you can hop on a TER train, which takes you to Avignon Centre in less than 10min.
The two sides of the station have different designs
A northbound TGV is approaching
Impressions from station hall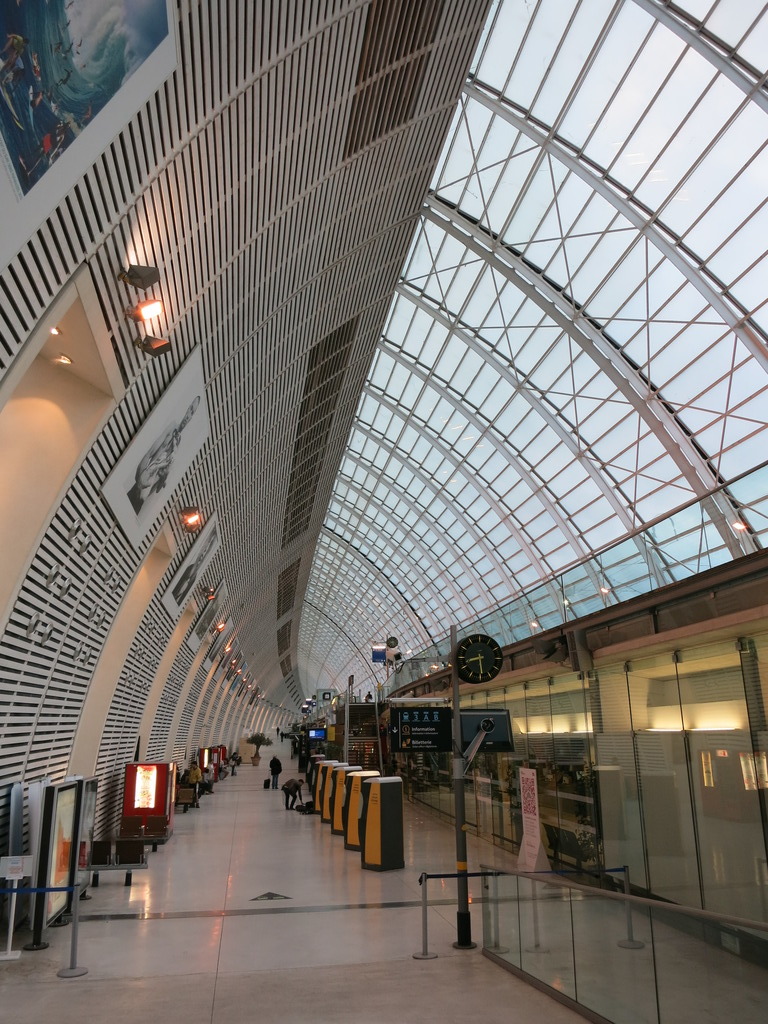 The platform for northbound trains
View from the southbound platform to the station hall building.
Nice gimick: Were is my train at the moment
A different type of intermediate stop ;-).
Train 9725 is mine: An AVE. A look into a 2nd class coach
A few days before, I used the AVEs 1st class. The leather seats were a lot classier than the ones in 2nd class.
Sunset over the high speed rail line
Avignon Sightseeing
Avignon offers a lot of sights to see. First among them: The papal palace.
And of course: "the bridge" (You may start singing now ;-)).
Great peace of architecture: The opera house.
Massive and impossible to overlook: the surrounding wall.
Really worth the 20min walk: The gardens of "Abbaye Saint André" in neighbouring "Villeneuve-lès-Avignon". They offer a great view of Avignons "Rocher des Doms" with the papal palace and the cathedral (and around the town square there were several nice bistros with reasonable prices, where I enjoyed my lunch).
I would like such a little house on the hill (but I guess its a bit above my paygrade)
These barrels made me smile.
Thats it for part 2. I hope you liked this little picture compilation.
Cheers
Charly