Hi,
To the previous trip report part:
Cuba 2003 XI... On the Road back through Cuba (50 p.)
http://www.railroadforums.com/forum...2003-XI-On-the-Road-back-through-Cuba-(50-p-)
February 28 2003
We left our old city center accomodation in Havanna already early in the morning to return our rental cars.
Good morning, Havanna!
The drive to the other end of the island had left its traces; our rental company was situated right next to a cheap copy of fast food chain "Rapido" - "Rapidito".
Subsequently we took a cab to Havanna international airport.
Once more we flew via Nassau.
Cubana also had modern airplanes at its disposal, leased from San Salvadorian TACA.
However, we were queueing to get on a good old Soviet crate. Still, the passengers clearly did not come from Soviet times, you noticed clearly that we were returning to more obese regions.
As on the flight to Cuba we took our seats on a Yak-42, featuring a wonderful view at the turbines decorated by confidence inspiring screws. We already thought it would be our last flight in this type of plane...
... when my cousin went to the toilet midflight, suddenly a fainting female tourist collapsed into her arms right in front of the door. The lady's travel companions subsequently asked out of some reason that she should be returned to Havanna for treatment... this provided us with the third Yak-42 flight, nine flights overall on this journey, my record so far!
As side effect we had to skip the day on Paradise Beach, in return gained another look at the lovely Havanna concrete skyline.
In the afternoon we finally touched down at Nassau airport.
The captain of our Yak-42 was being greeted enthusiastically by his colleagues.
The immigration live band performed in front of a sparser audience without the full lineup this time.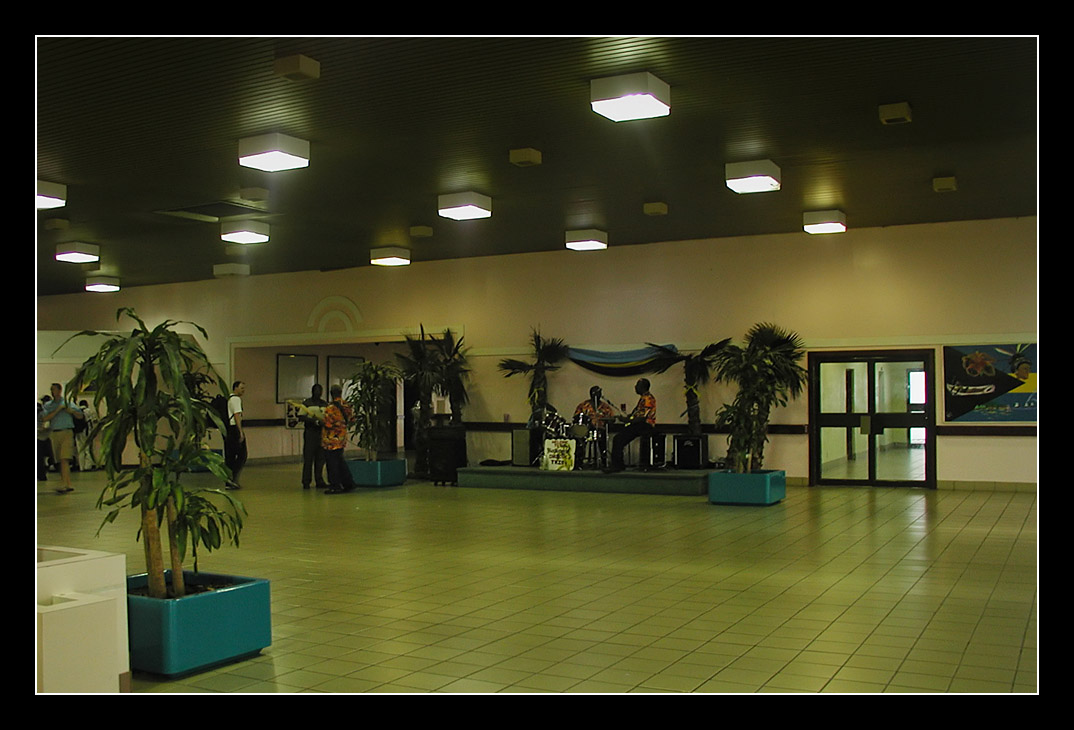 After checking into our hotel from last time, El Greco, we took a cab as fast as possible through Nassau downtown towards Paradise Island.
Hope it helps! ;-)
On the bridge to the island we enjoyed this view of cruise ships in port.
Hotel Atlantis sat enthroned above it all.
We still caught a breeze of Paradise Beach.
In the evening we explored the surreal kitsch of Atlantis.
Inside gambling hell... ;-)
Well... maybe this gentleman could overthink his hair and moustache styling in front of a mirror next time... ;-)
Dinner among fish.
The hotel entrance had not been designed any less pretentious.
In the evening we drove back into town.
We ate dinner at the more modest "Senor Frog" in Nassau looking at the cruise ships moored at Prince George Wharf.
Self portrait on the last Caribbean evening of the trip.
March 1 2003
Next morning I left the hotel to go shopping.
Yoyo, it's the Bahama-PD!
As one souvenir I pinched a Nassau phone book from the hotel for a female friend who had a crush on an island resident with unknown address and phone number. For someone else I carried one gallon of Gatorade - in the hand luggage! Even 1 1/2 years after 9/11 this still was possible...
For a last time I visited the town beach which was almost exclusively used by locals.
Despite the nearby port the water seemed crystal clear (perhaps including a few drops of oil).
Around noon we took a cab to the airport for a short hop to Miami - no problems to be expected there, right?
Not a bit of it! We had to wait almost two hours for the delayed 737-200 from Miami!
As we finished boarding we already feared for our connecting flight to Europe. At least US immigration already had been completed in Nassau.
Open cockpit doors - obviously still no problem.
Thankfully we soon afterwards saw Miami appear - Miami Beach in the center, downtown to the far left, a row of cruise ships inbetween.
For final approach the plane had to perform an additional turn towards the Everglades. You can see well how square after square of artificial suburbs had been carved out of the swampland.
Baggage had not been checked through and the conveyor belt did not start for ages. With only 45 minutes to spare we finally reached the Air France counter. Of course we were immediately lectured that we should check in 2 hours ahead of boarding - but when we mentioned our delay, they shut up.
Our not very clean monster for the Atlantic crossing.
It did not start well: dinner was delayed two hours because of bad weather while we rumbled through turbulences above the Bermuda triangle.
March 2 2003
Weather stayed turbulent throughout the night, next morning we landed in rain at Paris Charles de Gaulle.
Interesting Terminal 2F (not the one that collapsed soon afterwards).
An A320 to Munich awaited us.
Dreary weather following the Caribbean feeling.
After a very soft landing at Munich we first had to pick up our minivan and winter jackets. Someone else was being greeted in a creative way...
As we had to change into a smaller car in Linz and it probably would be the quicker way home for me, I was dropped off at Linz main station. At that time some locomotive classes and liveries still could be seen that are not around today anymore.
I had just missed one train to Vienna, so I waited an hour for the next InterCity from Salzburg which back then partly still where hauled by German class 101s.
Grey weather, everyday commuters - I wondered if anyone was interested that I had been to Nassau yesterday, to Havanna the day before that?