June 20, 2015 Trip to Control Points on the Seattle Subdivison Part IX
33. SBCS at Vader. Vader was upgraded to 50 MPH #24 ICS swing nose frogs switches, also. Surprisingly, the only crossover not to have a train go through while I was at it.
34. Amtrak #14 northbound through the new high speed crossovers at Ostrander with the whole plant in the background.
35. NBCS at Ostrander. Years ago, I was running a freight northbound and the intermediate signal two miles south was Clear. As I rounded the curve at 40 MPH, track speed, Ostrander was RED, STOP. I quickly brought my train to a stop but still passed the signal. It took about 40 minutes to get it all sorted out that it was a circuit problem up at MP 85 that caused my indication to drop to STOP before I got there. In the meantime, a northbound BNSF intermodal came up behind us and stopped. Finally, we were on our way. I mention this because, due to the delay, that intermodal was on our blocks all the way up to Nisqually where their rear few cars got broadsided by a southbound Union Pacific freight in the control point as it was being run by a student engineer. Had I been delayed a few minutes longer it would have been ME being hit!
36. New cantilever for the SBCS at Kelso South. Notice the bagged signal heads which will be for the new Main 1 which will begin a couple miles farther north in Kelso. Both of the old cantilevers were still standing. The old SBCS had their signal heads removed. The old NBCS had their signal heads bagged. This will be a big triple crossover when its done in a couple of years. They still have to build a new bridge down near the crossing at Longview Jct over the Coweeman River.
33.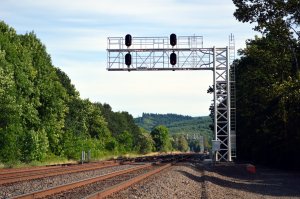 34.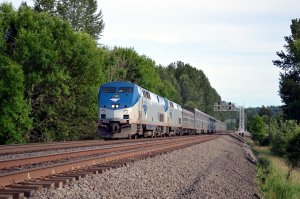 35.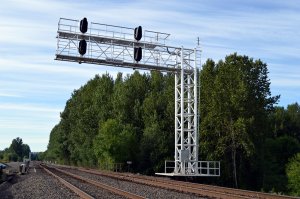 36.