Hi,
To the previous part of the series:
Smoking East '03-'16 - 21: Goodbye from Chernivtsi (50 p.)
http://www.railroadforums.com/forum...t-03-16-21-goodbye-from-chernivtsi-50-p.13155
The video for this part
For this year's Easter holidays I had vaguely planned a spontaneous trip to Romania. I checked the possibilities and found a deal to reach a place which I had wanted to visit for a long time.
Before the trip, spring temperatures soared to nearly 55 degrees but then: the forecast... Freezing? Snow? In mid-March?
March 19 2018
In still snow-free cold we punctually boarded the Air Moldova Embraer 190 to Chișinău (German: Kischinau) at Vienna Schwechat airport.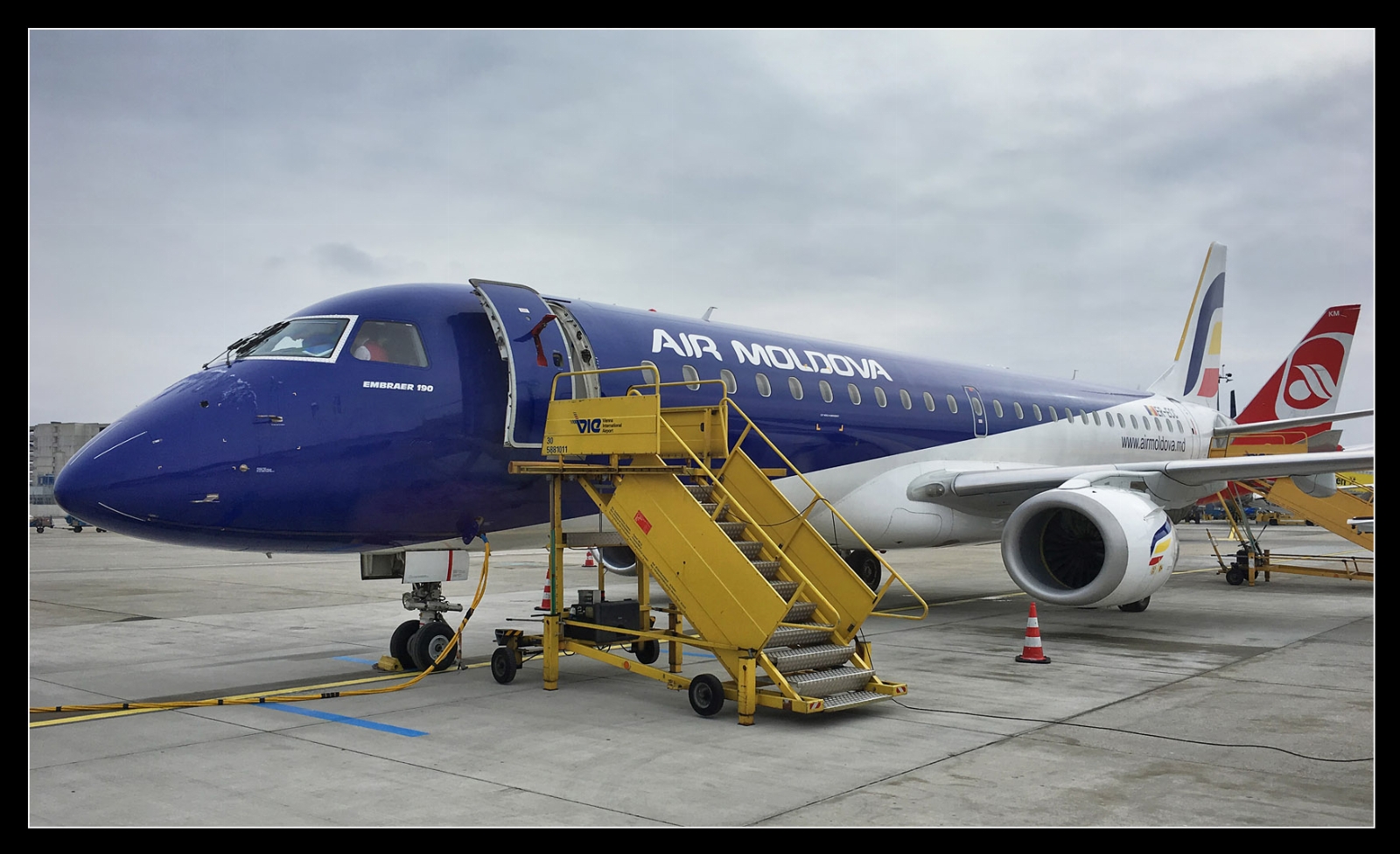 Our twice-weekly flight 868 mostly traversed cloud cover until the Carpathian Mountains were reached. We landed at a snowy Chișinău airport. The Saturday before it still had been warm, on a webcam you could follow the snow cover forming around Sunday noon within just a few hours.
More about the city:
https://en.wikipedia.org/wiki/Chișinău
To be able to get out into the countryside I had booked a car at Hertz via Rentalcars, we received a Kia Rio, which felt a little low for Moldovan street conditions, especially in winter. On the airport road - dodging the first potholes - we reached the high-rise "city gates" of Bulevardul Dacia.
At first we stopped at the main station to purchase a ticket for onward travel, then checked into our "Shadow Boutique Hotel and Spa" north of the railroad line. We had to climb three floors to our room, but the view was worth it. The sun shone, sadly you cannot just choose to take rail photos in Moldova as only a handful of trains operate per day. Later in the afternoon we drove out of the city for the first train, the results will be shown in the third report which will be ordered thematically. In the evening, we enjoyed local produce from the nearby supermarket. The bread wreath tasted especially nice, there also were stuffed vine leaves on offer - no wonder in a wine region which also had been part of the Ottoman Empire.
March 20 2018
Originally, Tuesday was scheduled as excursion day: I had planned to drive almost to the Romanian border. Dense snowfall into the evening hours rendered this endeavor futile. In return, we experienced "Siberia light" which provided very photogenic moods.
That way I could comfortably take a first peek outside at half past nine in the morning. Trolleybus stops were the only strips of pavement being properly cleared of snow, here Circul station.
More about the trolleybus operations can be learnt here:
https://en.wikipedia.org/wiki/Trolleybuses_in_Chișinău
and here:
http://transphoto.ru/city/174
To the right, ZiU-682V-012 #3777 from 1989 in ad livery, to the left, one of the new BKM 321 buses delivered by Belarussian company Belkommunmash, #1291 built in 2011. The first number denotes trolleybus-depot 1,2 or 3.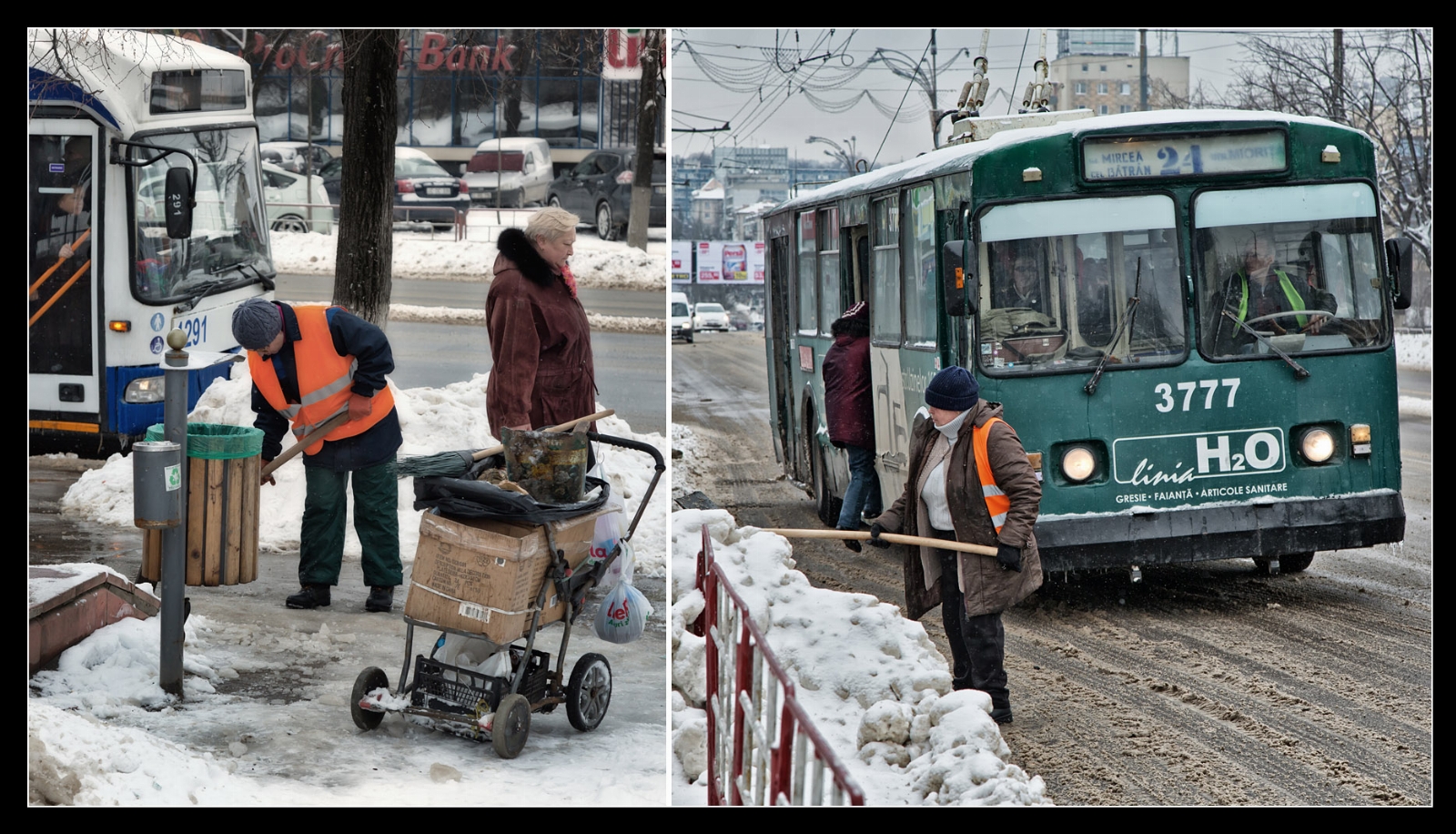 The former state circus built in 1981 was located on the other side of Bulevardul Renașterii Naționale ("national renaissance"). Nowadays, it is unused with a small arena next to it still active.
I walked to the bridge across the railroad.
Punctually at 8:50 a.m., local train 825CH to Ungheni passed by. Its first stop Visterniceni is situated right behind the corner.
CFM class D1M DMUs only seem modern on first sight. Actually, these are old D1 units modernized in 2012 by Electroputere in Romania - easily recognizable by the typical roof section. It crossed another train at Visterniceni which again will be shown in the third report part.
View along Bulevardul Grigore Vieru towards the center, #3010 is a ZiU-682V from 1985. The bridge also crosses Bîc River - you are asked to "love your river!".
Two BKM 321 reflecting in the window of the cafe next to the circus.
Surprisingly, we did not need the services of this gentleman on this trip.
Waiting for a Marshrutka... at 10:50 a.m. we had had breakfast and returned to the bridge on our city sightseeing tour. Snow fell densely and transported us back in time to...
... Siberia in the 1970s?
Express 047TSCH on even days to Moscow departed from the main station at 10:50, hauled by B-unit of CFM double loco 2TE10L-1250. Theses engines had been constructed 1961-77, the "L" stands for Luhansk, in Russia the last had left regular service in 1998. Since the end of March, scheduled times have changed. According to recent reports, 2TE10L still are active in Moldovan passenger operations.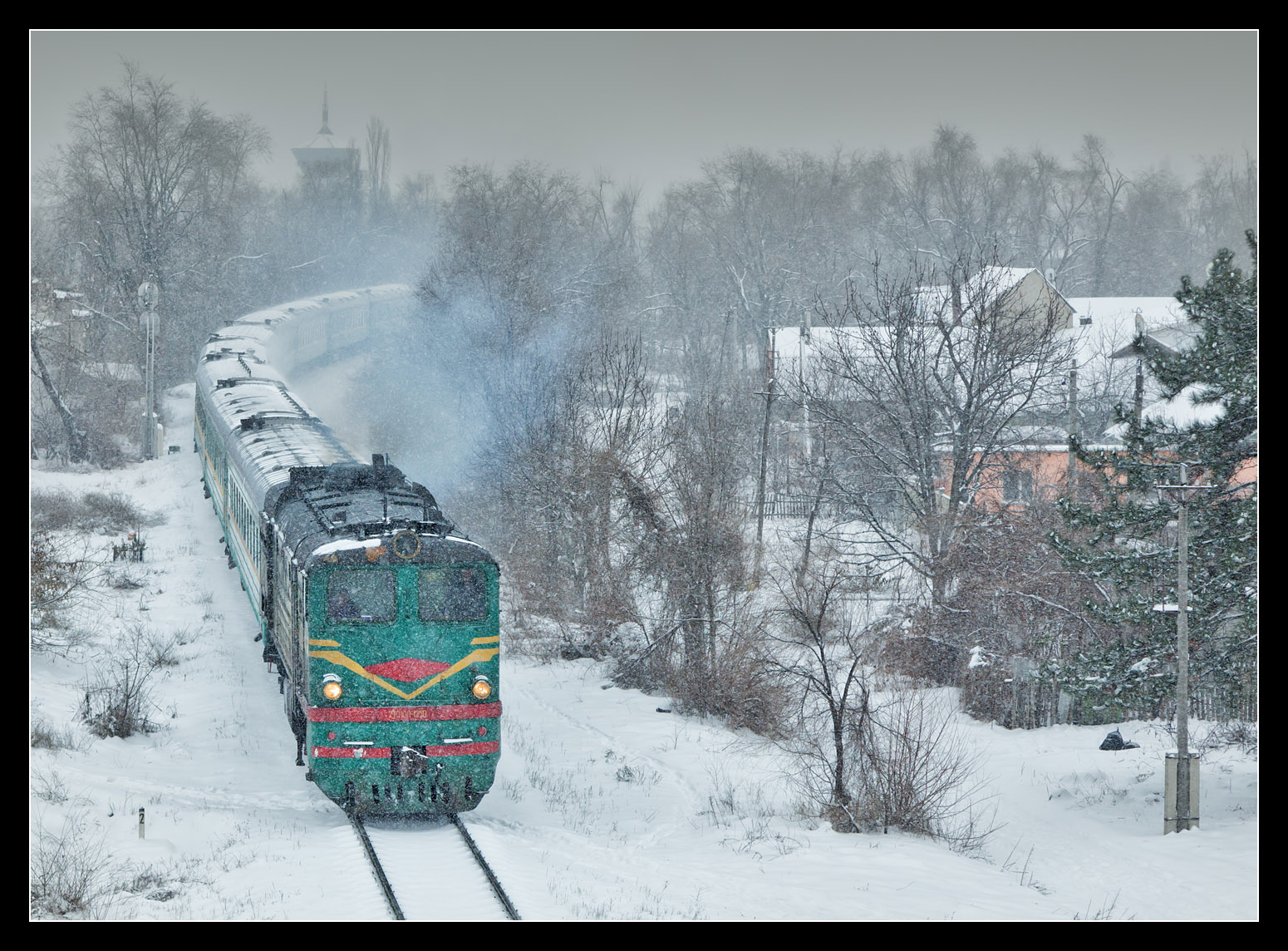 Trolleybus-special-panorama: to the left below, a trolleybus was being towed along Strada Calea Moşilor, to the right on top of the bridge, a driving school.
Left out from the panorama, a scene like in a thriller: the police pulled up under the bridge and stopped three identical new cars without license plates.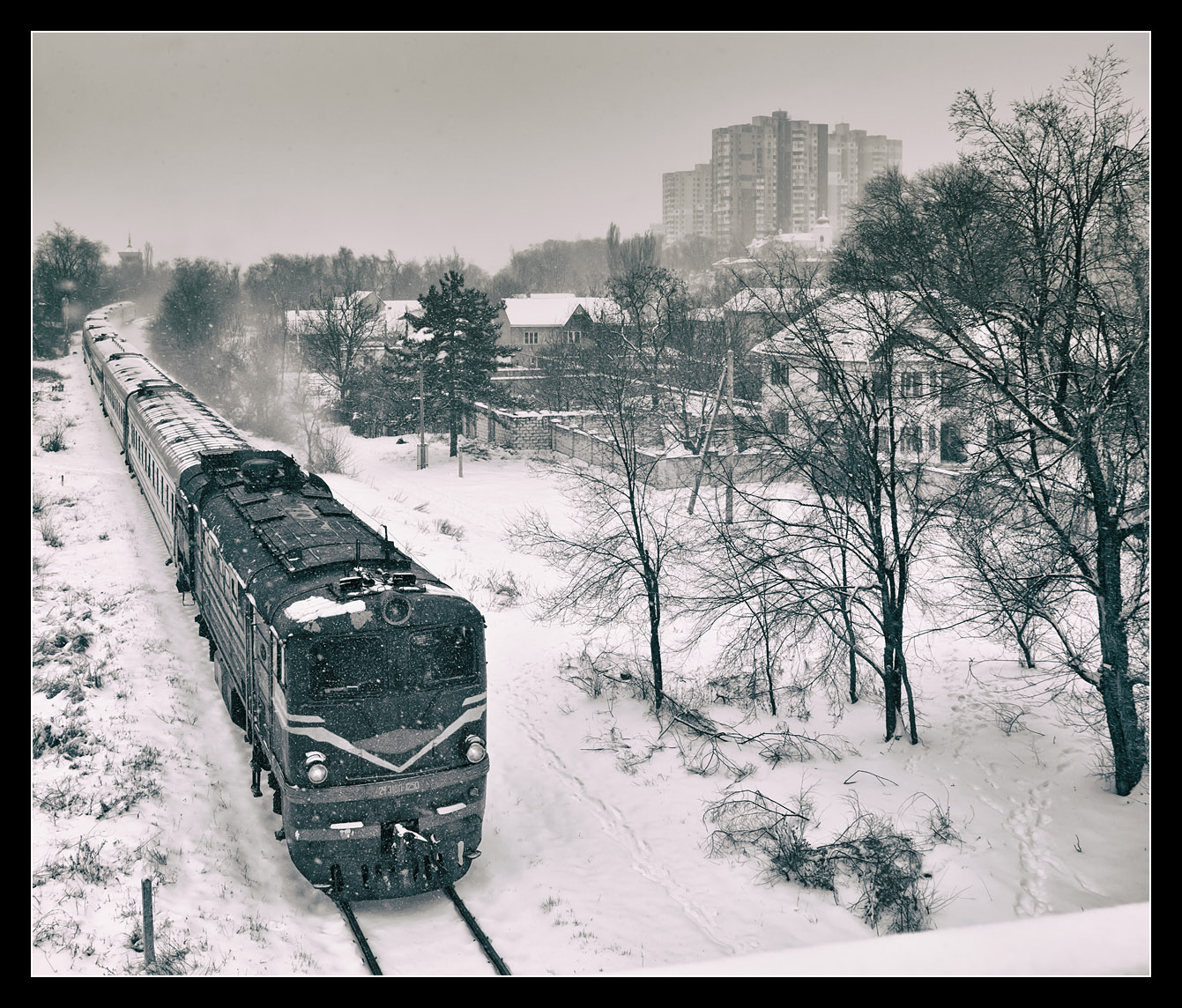 The cars all wore classic green with yellow stripe and were in good exterior condition.
ZiU-682V10 #3735 from 1986 approached on the snowy boulevard. You have to imagine that next to regular buses and marshrutkas (minibuses) this is the only mass transport available to a city of 700000 inhabitants. At least the trolleybuses worked robustly under wintery conditions.
We followed the boulevard towards the center, to the right ZiU-682V-013 #3792 built in 1990.
A BKM 321 advertising free WiFi on board.
This dental clinic had found the sweet spot between a patisserie and a sweets shop.
This is the business quarter of the country, "coffee" and "business lunch" awaited customers at every corner.
Strada Eugen Doga pedestrian zone.
Cathedral Park was just being cleared of snow. The bell tower stood separately.
Nativity Cathedral had been erected 1830-36. Inside - photography not allowed -, the mood was intense as many icons had been set up to be kissed by worshipers.
"Arcul de Triumf" - actually "Holy Arch" - had been constructed in 1840 to celebrate Russian victory in the Russo-Turkish War of 1828-29. Behind it, Piața Marii Adunări Naționale (Great National Assembly Square) with the Moldovan government building.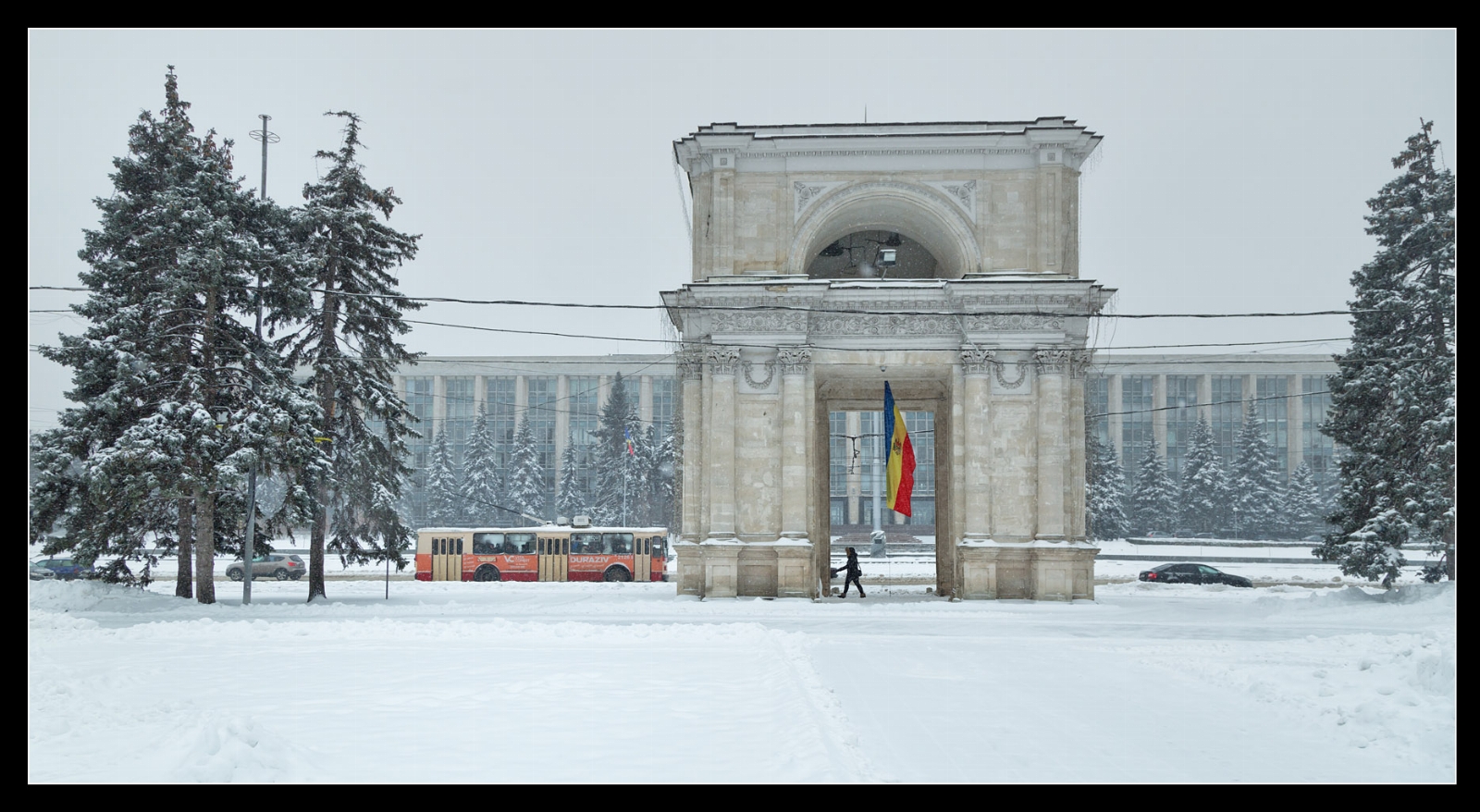 View from the square along Bulevardul Ștefan cel Mare și Sfânt. RTEC 62321M1 #2401 is also the Belkommunmash-model but finished at a Chișinău factory in 2013.
VMZ-5298.00 #3865 had been outfitted as a prototype with battery.
Stephen III the Great, also known as "Ștefan cel Mare și Sfânt" – so, great AND holy, will be our constant companion through the historic principality of Moldavia.
To the right Alexander Pushkin, who had lived here in the 1820s and loathed the city. However, it had been a different Chișinău - the one we can see nowadays was for the most part newly constructed by Soviets after WWII and a destructive earthquake in 1940.
Central City Park Stephen the Great.
We ate lunch at the "Penthouse Café" where as a nice feature living pine trees had been included in the winter garden. After warming up with soups, I took a veal entrecôte - which was affordable here.
One of the relatively rare Škodas, 14TrDT/6M #3815 built in 2001.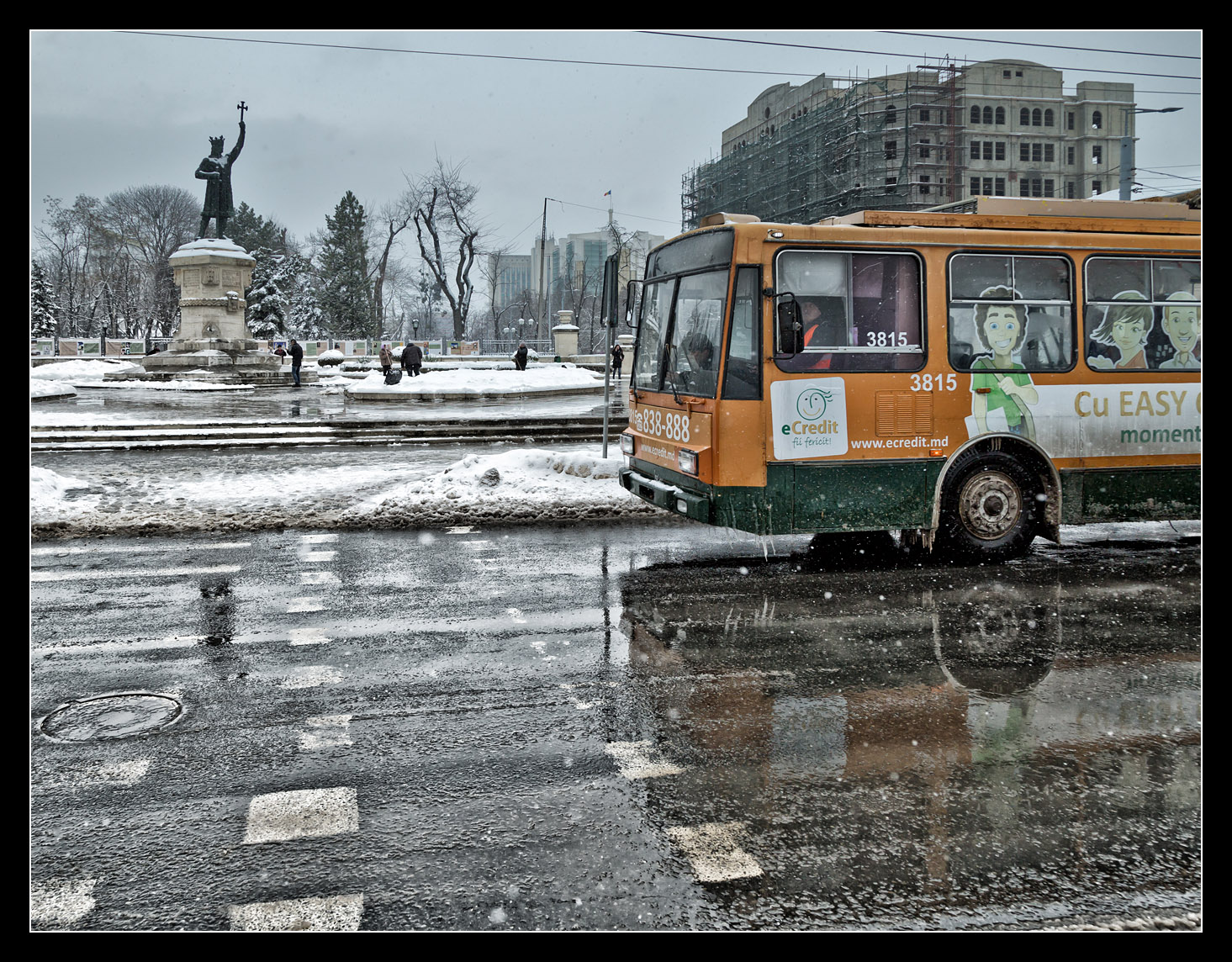 The government building of the Republic of Moldova: note the state insignia not only including an eagle but also an aurochs with star between the horns - which we will encounter later in historic context. We will also discuss the entwined history of the regions Moldavia, Bessarabia and Bukovina in greater detail.
In front of city hall adorned with EU-flag: BKM 213 #1279 from 2005, one of the few articulated buses here.
The lions in front of the organ hall were just being cleaned from snow, sadly we were not allowed to take a look into one of the most beautiful rooms in town.
"Art" in snow.
Central market.
A Moldovan leu was worth about 5 cents or one quarter Romanian leu.
An old Ikarus bus, to the right a recycled street sign.
A weapons store where weapons are forbidden...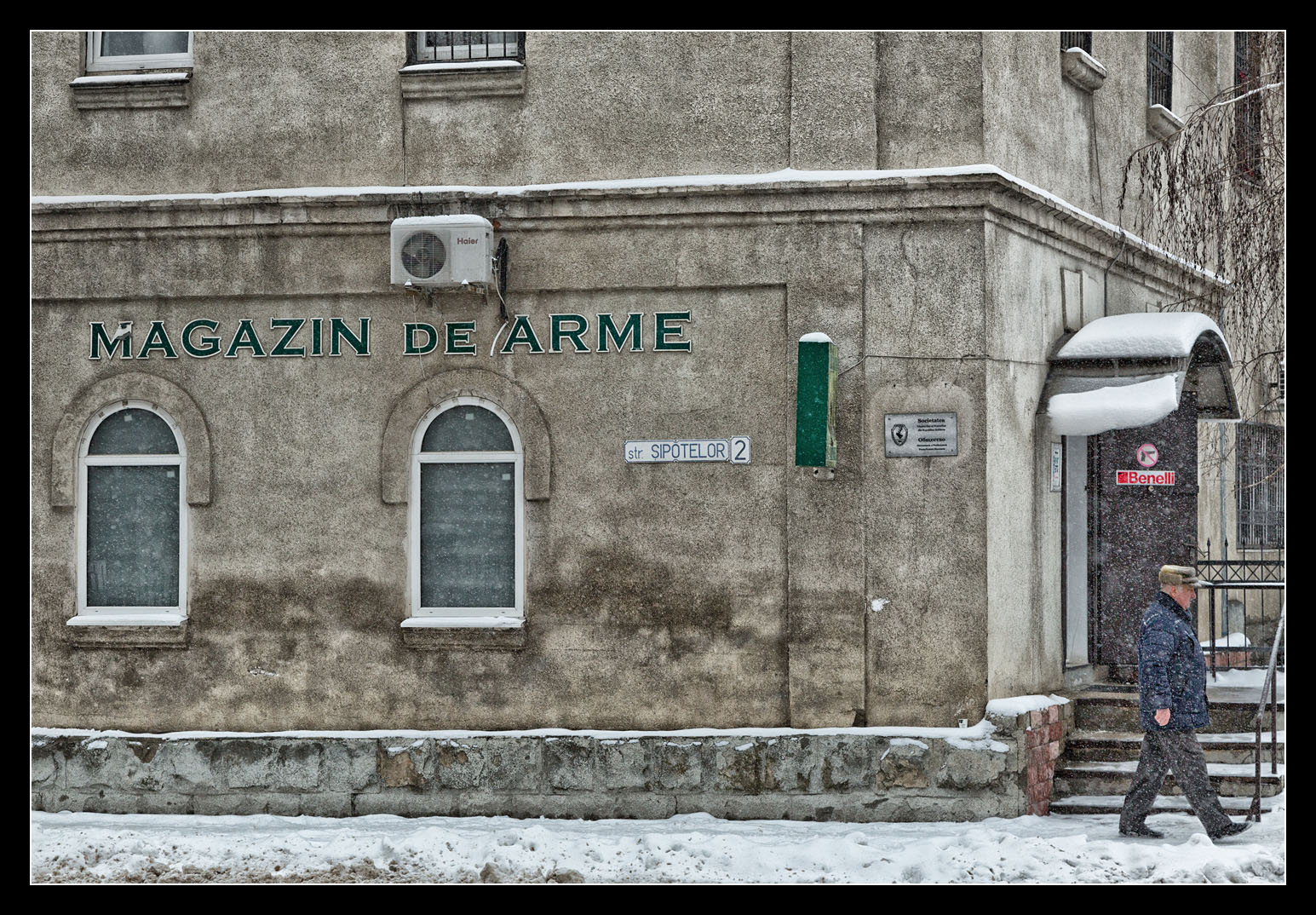 We passed some clinics and creative car tire art.
"Pericol de electrocutare" and icicles probably do not mix well.
Rush-hour at our home station Circul.
Despite the snowfall, I still took railroad photos that evening - next time!