Hi,
To the previous part of the series:
Winter in Romania 2015 - 7: Moldovita Monastery (50 p.)
http://www.railroadforums.com/forum...in-Romania-2015-7-Moldovita-Monastery-(50-p-)
Link to the video:
https://www.youtube.com/watch?v=7RcNqeNYQUo
February 19 2015
Thursday morning for a change we rode a 1960-built railcar numbered as 003 into Vaser Valley.
I captured this candid setting with three horse-drawn carts at Valea Scradei from a steep slope above the garden of an elderly lady whom we had visited before. At least in the lower part of the valley high clouds were dominating, but it also had a positive side as we had been to most spots in winter sunlight. That way we did not have to care where usually there would be shade.
Another advantage of a railcar: Different from steamers run-pasts were not necessary as you can capture an optically identical shot while stopped. Here at the short street running bit of the Vaser Valley Railway.
Black and white sheep.
Little sleds were used for transport - and as elevated photo positions for tour guides (not in view ;-)).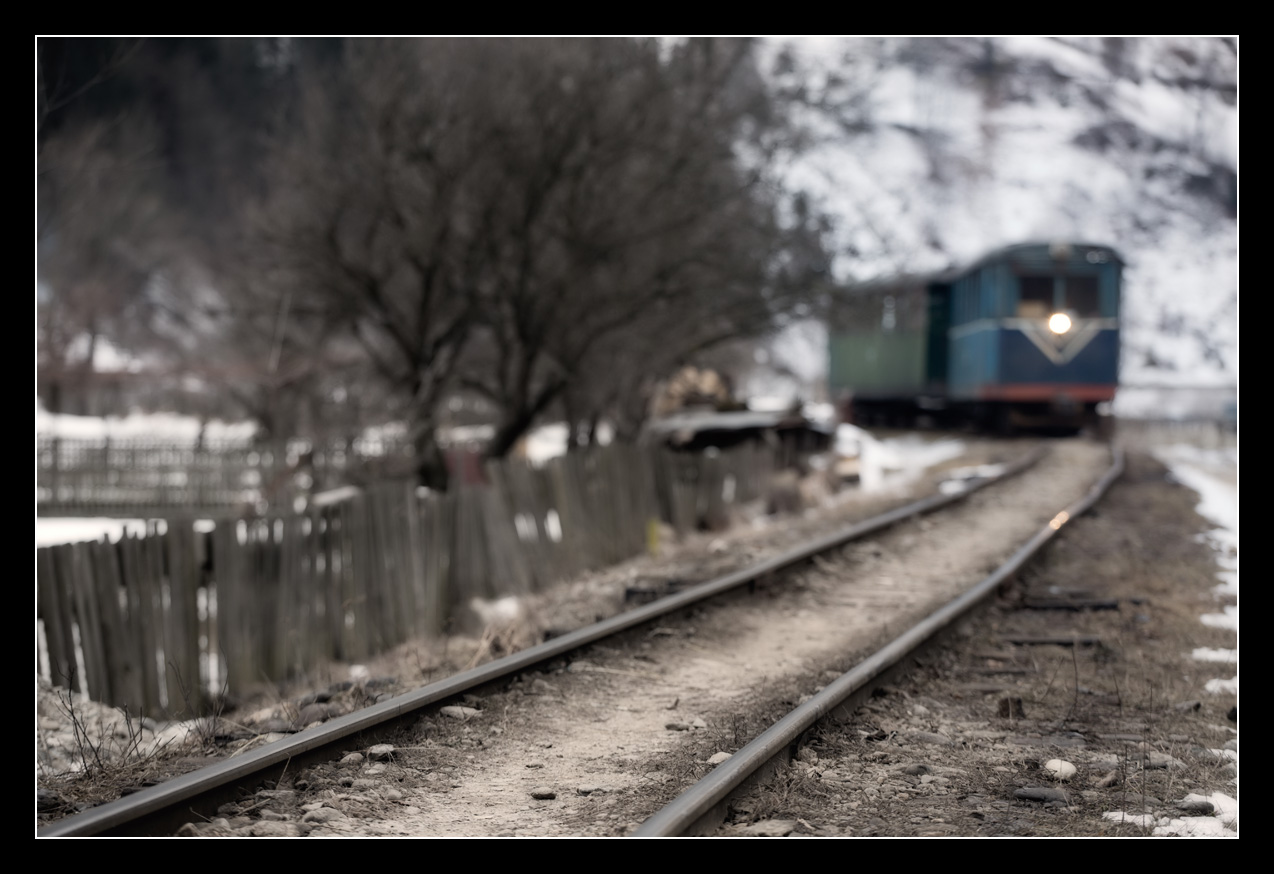 Elsewhere door posts had been decorated (or protected) by insulators, at this nice lady's home it was yogurt cups.
Quiz question:
Of which particular item are there two in this photo (hidden from view)? The solution can be found below the picture.
We already thought that early in morning that it would be one of the shots of the day. By the way, the Sprite-bottle was not filled with refreshments but motor oil for the chainsaw...
Solution:
Railcar and tractor were propelled by the same engine type: 65 HP strong U 650 by UTB (Uzina Tractorul Brasov) which had been produced for decades until the factory finally was closed in 2007.
View of the cab of railcar 003, probably one of the few worldwide where the driver is not sitting at the windscreen but further back due to the position of the transmission. The lever to the front left is the gear shift, the clutch pedal to the left, accelerator pedal to the right, the brake is like with all Vaser Valley vehicles just a manual crank.
For a better insight into the workings of this ingenious machine see video from minute 50:46 including cabride.
No forest railway vehicle is complete without wood-burning stove, even if political pamphlets had escaped incineration until now - everything is burnt, even plastic bottles.
We traversed a wobbly "bridge" to the lumber site opposite Novat, at the same time the horse-drawn carts we already had spotted arrived.
The orange Tatra-lorry we had witnessed the days before was in service again, too.
Heavy duty for animal and human at the river crossing.
Probably no backside stays dry crossing the Vaser River...
A "train" into the opposite direction.
I don't wish for a cuddly toy from a machine, but a 1960s railcar! ;o)
We returned to the wobbly bridge behind Novat Delta where we let the railcar pass one more time.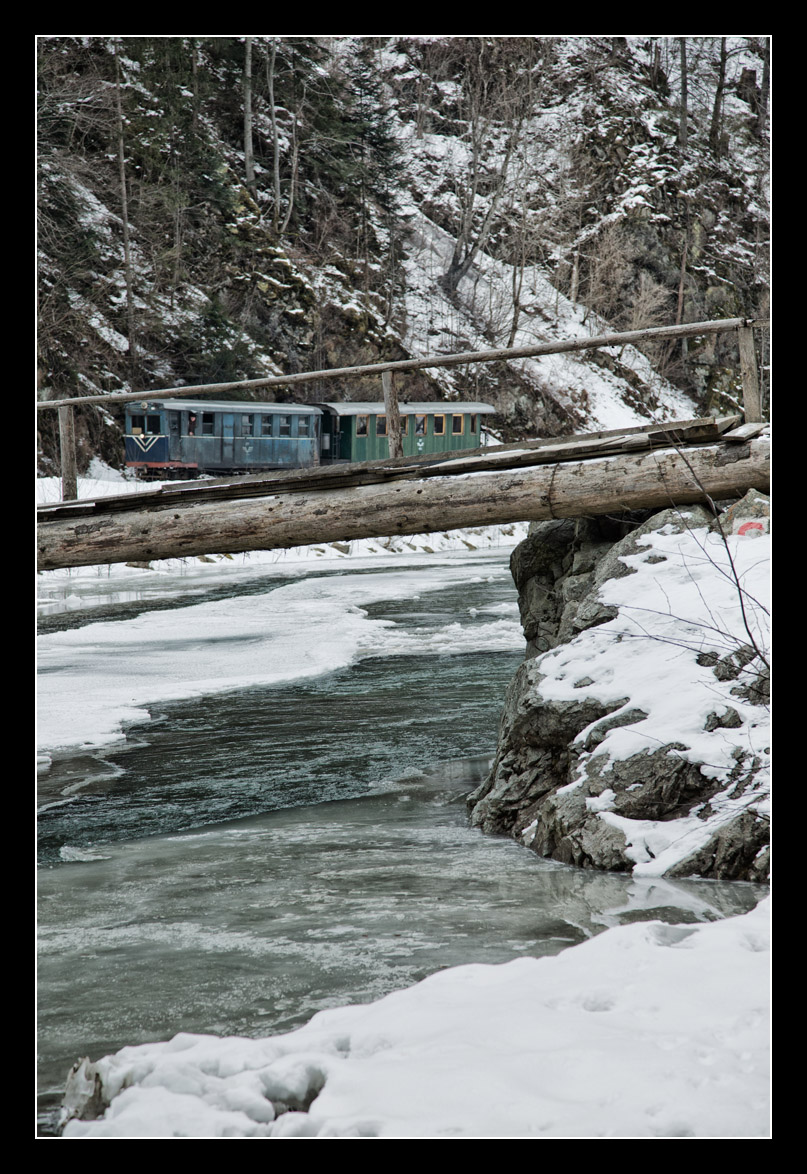 Then crossed back to the other side.
We arrived at Cozia and met a production train. Notice details like the tarpaulin above the cab window.
87-0015 hauled a long row of over 20 wagons downhill - you can still spot the train at the hut furthest back.
Departing Cozia we had left the cloud behind us and enjoyed at least some sun that day.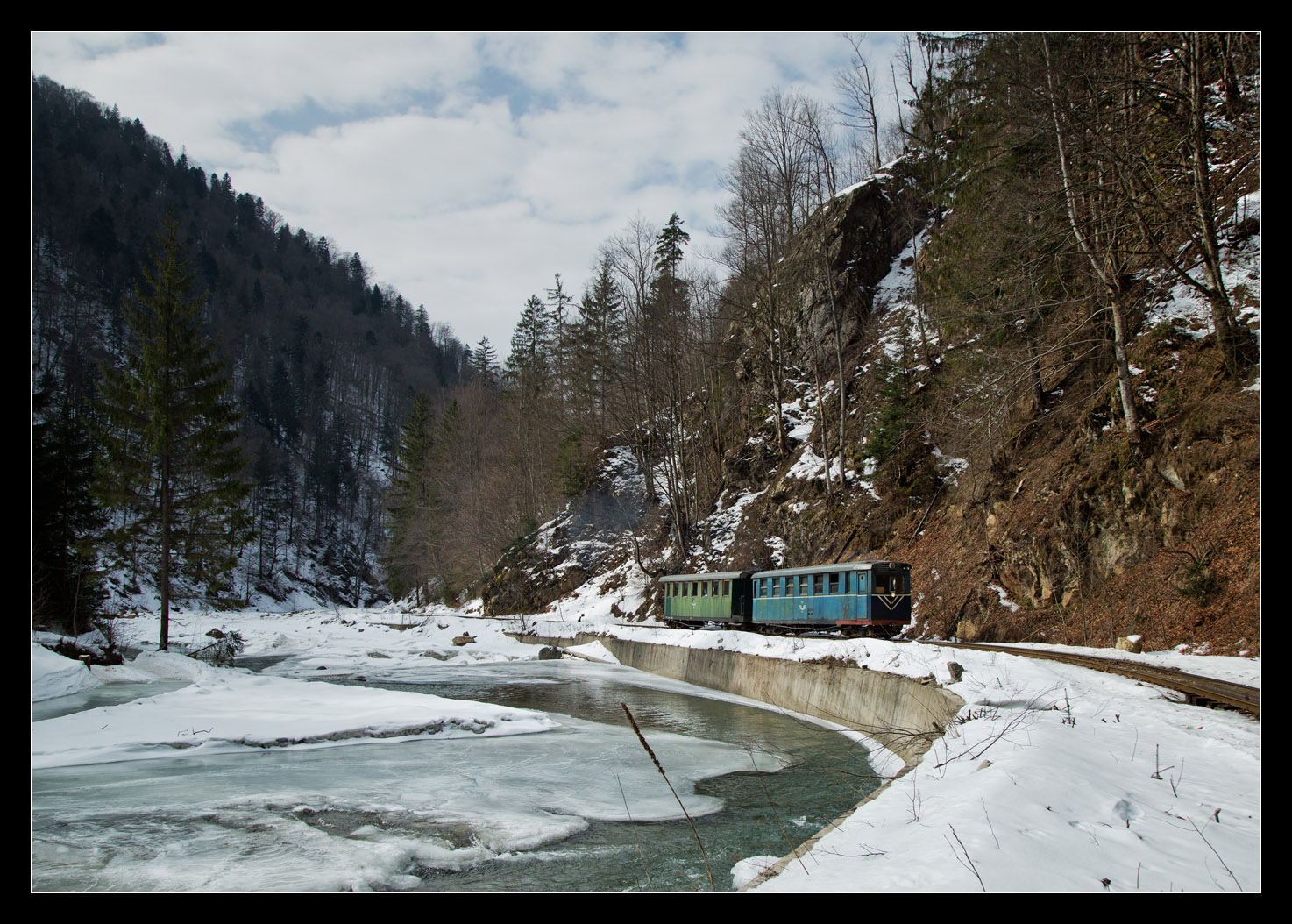 Panning shot past ice falls.
"Welcome to Vaser Valley"
Our railcar passed the "entrance" to Vaser Valley at the private siding Novicior.
87-0032 met us with the second long Viseu-bound production train of the day at the loop behind Paltin.
View from the same spot at railcar 003.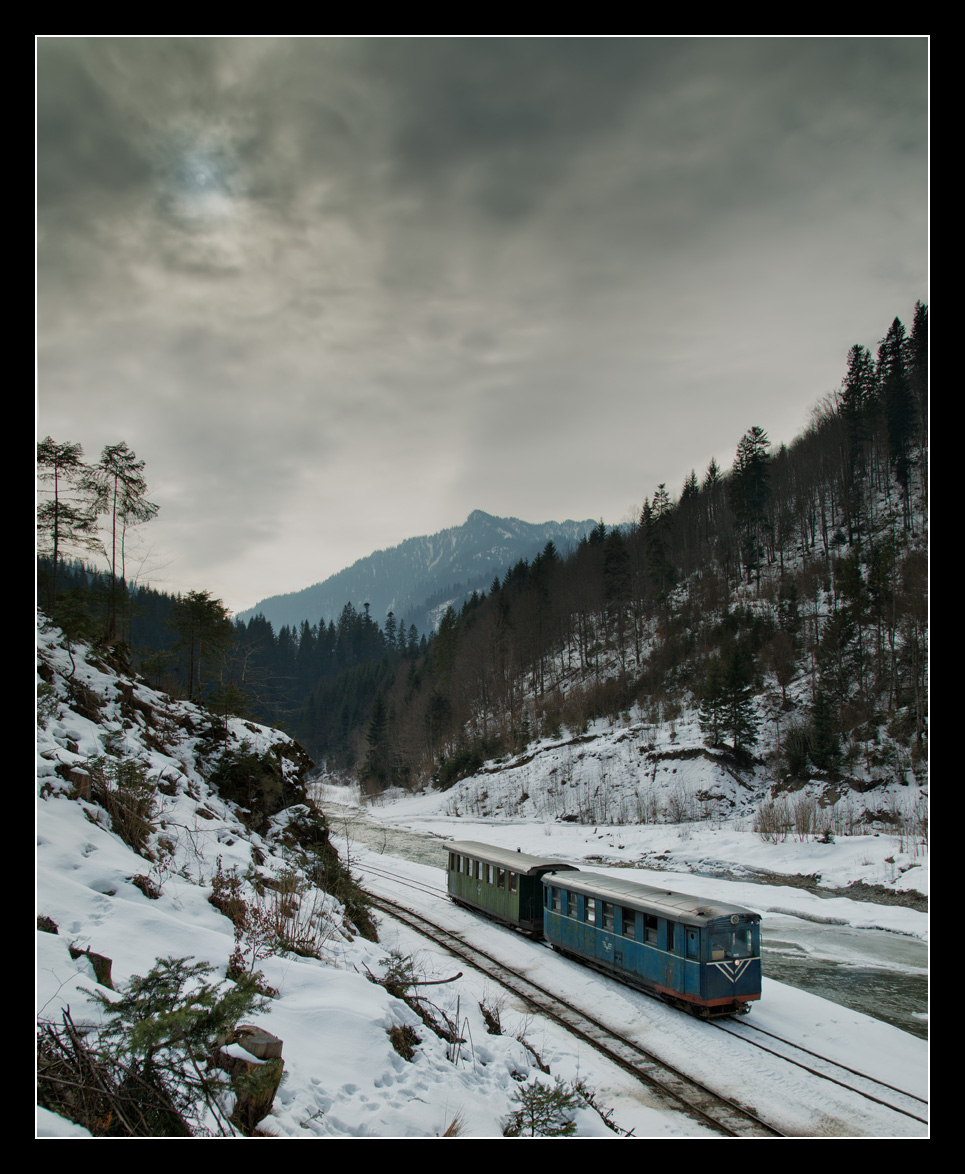 At the entrance to the first tunnel behind Bardau we met a track walker.
Departing the first tunnel.
Normally I am no friend of flash photography, but in case you catch the flash of somebody else... inside tunnel #2 of 3.
Crossing Vaser River between tunnels #2 and #3.
Inside the bear's den - the railcar had slight trouble getting into gear inside tunnel #3.
We reversed shortly later at Botizu.
Once more we had excellent lunch service, the leftovers were at first ignored by Puffi...
... only to enjoy them soon afterwards with a bowl of water.
Driver and brakeman(-reflection) in a moment of relaxation.
After reversal at Botizu we rolled downhill through this canyon-like section.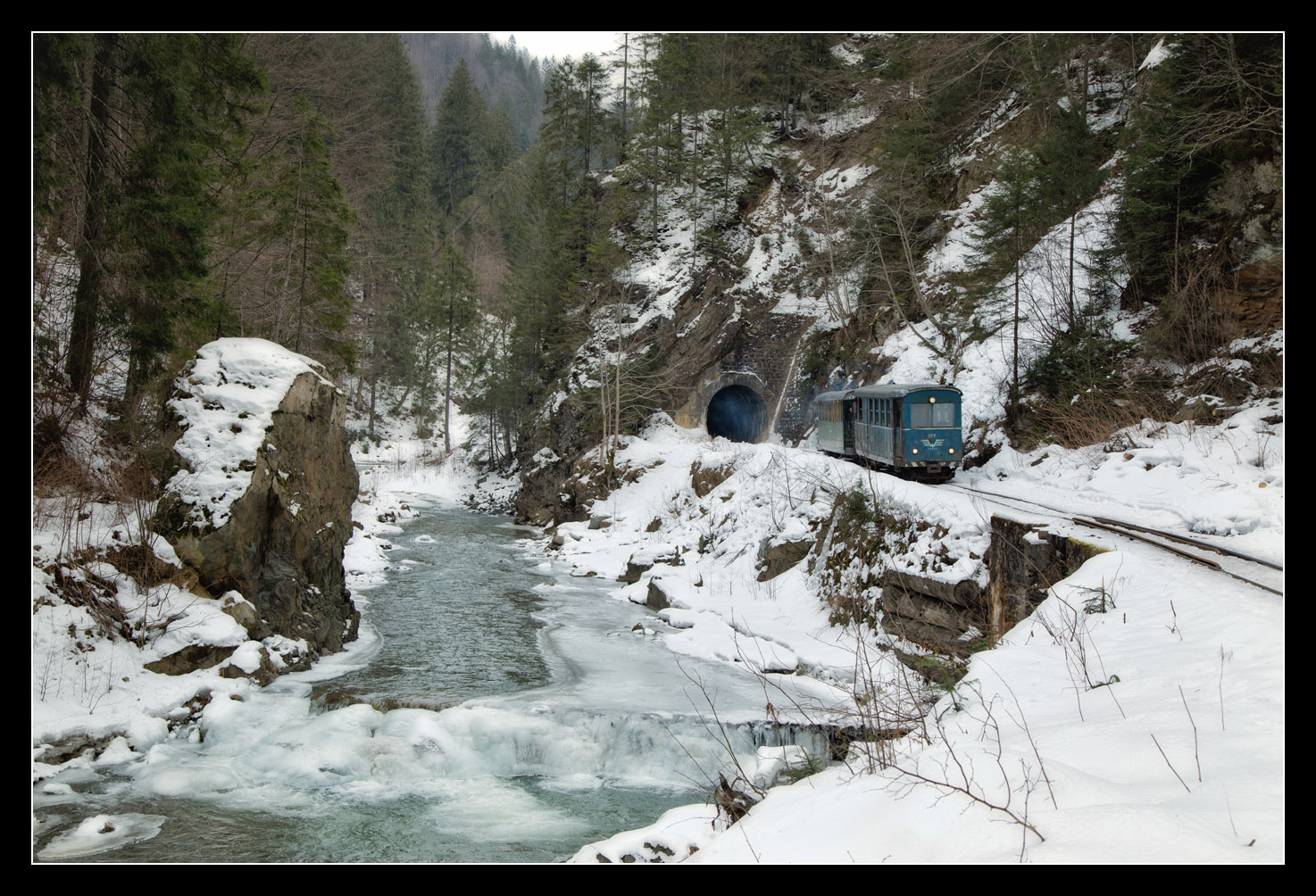 The highlight of railcar 003: there is only a cab at one end - that way the engineer had to spend the whole ride down in this position at least protected by a tiny windshield.
Return to Novicior.
Once again we had to wait until the lumber was loaded.
Draisine repairs were necessary.
We transported this piece - we had seen something like it along the way once before - from Bardau. It is an auxiliary bogie for draisines.
Now we had a load in tow, sometimes the (formerly) 65 HP of the railcar had to be put to work properly even downhill. Entering Cozia.
Our train passed the well-known icicles.
Again we traversed our favourite bridge and met these mountainbiking kids. Even a dog used the bridge and waited cleverly until we had crossed it.
My ID-less companion now had to depart to Bucharest to get an emergency passport at the Austrian embassy. While waiting for the overnight train he received lovely hospitality from our local guide and was invited to eat dinner with his family. That way - despite of hefty additional expense - he could at least enjoy having travelled the whole way back home by train.
February 20 2015
Next morning before we started our last photo charter day of the trip I managed to capture a few truly human scenes of proper jobs on the Vaser Valley Railway.
As already witnessed in China or Bosnia - welding is my favourite, you just should not overdo it as photographer as there is danger of damaging your eyes.
Teamwork pushing articulated wagons.
Next time at first we will experience some O&K steam for a change, then not only witness the 5th but also the 6th loco under steam of the tour!