Hi,
To the previous part of the series:
Winter in Romania 2015 - 4: Lumberjacks around the Campfire (50 p.)
http://www.railroadforums.com/forum...015-4-Lumberjacks-around-the-Campfire-(50-p-)
Link to the video:
https://www.youtube.com/watch?v=7RcNqeNYQUo
Resources about the Vaser Valley Railway:
Official page of the railway including information about rolling stock and hotel train
http://www.cffviseu.ro/content/en
Map
of the line, please click to enlarge
http://www.cffviseu.ro/content/en/railway
More information about the railway and its history
http://en.wikipedia.org/wiki/Mocăniță
http://de.wikipedia.org/wiki/Wassertalbahn
(in German)
February 16 2015
We continue our trip down valley already past Cozia station after having stayed overnight at the school/lumber camp. Our 764-435 "Bavaria" was pulling a proper train of lumber wagons as it negotiated Glimboaca loop.
From Novat Delta we raced an orange heavily loaded Tatra-lorry which was swaying wildly on the bumpy forest track (roads only exist from here on in Vaser Valley). Soon afterwards we took pictures from a hillside. The train could not push back due to overall weight and construction of the articulated wagons, that's why we always had to walk ahead.
We marched on to this spot probably still showing flood damage, but at least you managed to enjoy the full length of the 7-wagon-rake (about a third of the length of regular production trains). However, strong squalls had set in, my flimsy video tripod almost was blown over. Thankfully I found a hollow in the ground protected from wind to put my microphone recorder into.
We had planned to take the last landscape shot of the day from a hilltop cemetery of the Zipser people - the former German-speaking population of Maramures - but on one hand it already was too late for it, on the other the path seemed impassable in wintery conditions (you can spot it in the background). Additionally, the other photo charter was already on our heels. So, we took the last photo from an impromptu spot down in the valley which turned out to be quite nice, I liked this going away shot best.
Subsequently we returned for the second overnight stay in the hotel train including warm shower - albeit located in a container outside - and once more a four-course-dinner.
February 17 2015
Tuesday morning we were greeted by a tasty breakfast in the dining car - although I did not eat much. My friends ordered two fried eggs each which as a highlight were served by our nice waitress directly out of the pan.
Draisine-car on a plinth in front of our steam train. That day we started one hour later - at 8:30 a.m. - as more spots would be in the sun.
The train was hauled by 764-408R "Cozia-1" (Reghin #605 / built 1985) which we already had seen the day before with the charter of the other "photographers". 12 engines of this class had been produced 1982-1987 by tractor factory Reghin after plans from Resita. The unreliability of the 30 years older Resita originals had made it necessary, that way these probably are the newest European steam engines not made for touristic or heritage purposes.
Today the waitress from the hotel dining car also accompanied us during the day providing even better service around the clock. Constant companion was Afinata - homemade blueberry schnapps produced by the railway company itself. Later we would get served an industrially produced stronger version of it, this self-distilled one was fruitier, smoother but still potent and not too sweet.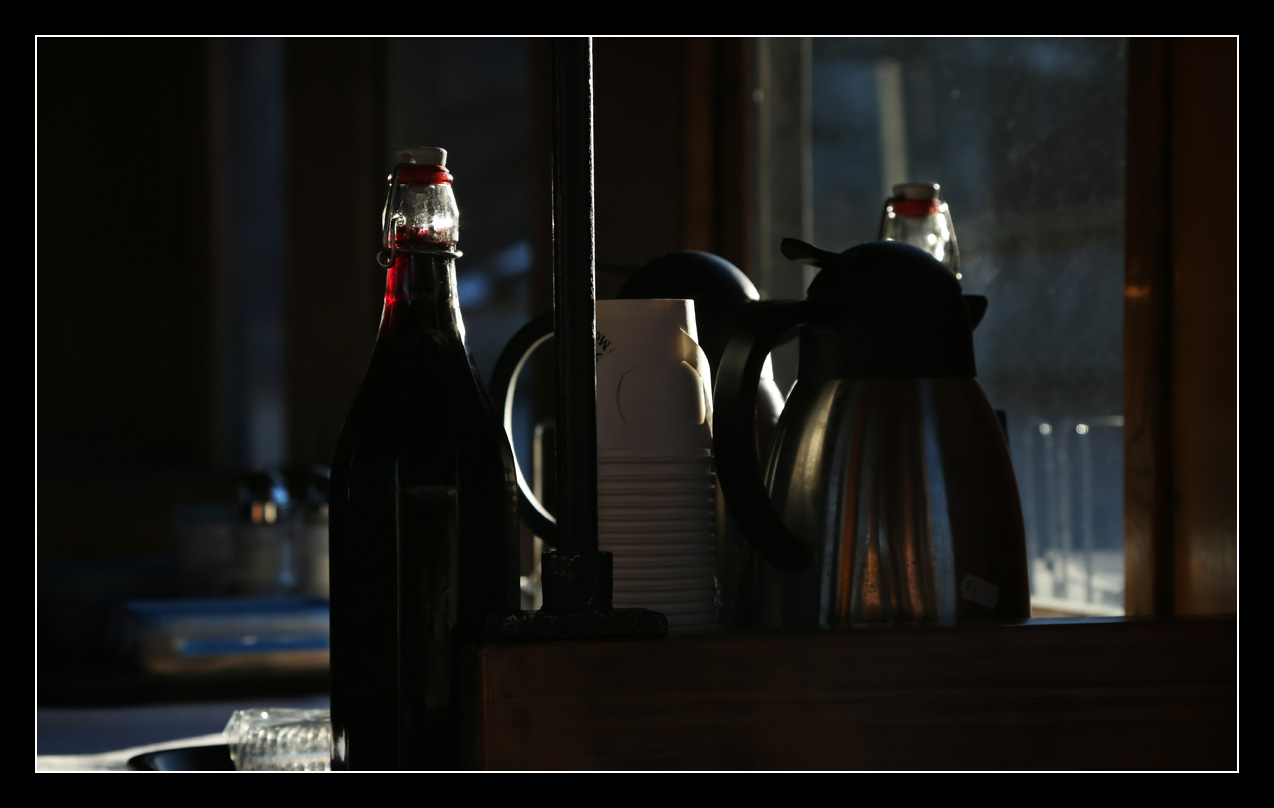 We stopped first before reaching Valea Scradei where the tracks were also used as walkways to the surrounding homes - train traffic is not too dense here.
In the background you can spot the new church spire in this part of town.
Steam shadows - that's why winter steam is best!
The sun still had not reached the bridge of Valea Scradei, so we took a small detour to the already known magazin alimentar for a supply of the high-proof coffee. Before our transfer ride I could take a photo with this lovely wooden house ensemble. Also note railway crossing signs probably erected for giraffes...
From the garden of an elderly lady, who was so kind to lead us past the yard dog, I had this view of the bridge. I desaturated one new brightly red roof a little.
Contre-jour for the second photo run.
Wooden house view near Novat.
Of course we stopped again at the Novat Delta. Already from the train we had spotted horse-drawn carts, here they could cross the river through a ford from the lumber mill opposite. However, these were people who - put carefully - planned to help themselves to some wood. That's why I rendered them unrecognizable, the picture still is completely real. Due to the river crossing the horses' legs were dried not to freeze in the winter air. After the photo shooting our guide slipped our (human) models a little something, as we did with everyone who interrupted their activities and posed nicely for our pictures.
For once I managed to use the tele lens.
Our lovely wintery field from before already had suffered substantially due to the other photographer group. Warm temperatures did not help as well.
Gusts of wind set in from time to time that day, so I will limit my images from here to this previously unseen perspective.
These signs and corresponding derailers are spread out along the Vaser Valley Railway to avoid runaway vehicles.
As promised, this time we show the icicles in detail!
Due to the wind we needed some tries to get the smoke right.
At Cozia we were forced to wait as a production train had derailed in front of us. At first a batch of loaded articulated wagons rolled downhill as if moved by an invisible hand. Luckily you can shunt along almost the complete line just by gravity. Then came 87-0032 with the accompanying wagon and more lumber in the background. Next, the diesel reversed onto the line again followed by our steam train which then shunted to the side behind the loaded lumber train, and the diesel could be attached to the downhill end - this action can be followed best on video (see link above) from minute 33:20.
Dispatcher on the Vaser Valley Railway - by the way - is a young man who himself travels along the line and is supposed to do his job very well. He remembers every position of every train. Relevant information is conveyed via radio, trains run on sight at a maximum speed of 9.3 mph. Specials have highest priority, we probably caused the highest number of crossings as we moved against the flow of production trains most of the time.
Voilà, as the title says: "Cozia-1" at Cozia station.
At Paltin, terminal of tourist trains, I framed this shot with the balcony of a log cabin. The amount of new money in Romania could be judged by the number of empty champagne bottles standing in a corner.
View at Paltin museum.
At the next loop we once again took our lunch break.
Bear tracks in Vaser Valley - as the biologist of our group, who just had had a very close encounter with a grizzly in Alaska (full frame @ 70 mm) a few months earlier, confirmed.
87-0033 followed with a downhill production train, bear tracks in the foreground again.
Even TAFs were transported on narrow gauge.
A photo run-past a while later at the same spot.
Waiting at Bardau for...
... a draisine van - this time a narrow gauge TV!
A group of forest workers negotiated the loop.
Our steam train pulled ahead.
No steam to be seen in this picture, just the exhaust fumes from the "Balkan Goat" - as these Romanian-built TV vans had been called in Eastern Germany - speeding away.
These were no lumberjacks at Bardau...
... but Kalashnikov-wielding hunters! We were advised not to get too friendly with them.
Another blue Ford-Transit-draisine with the sonorous registration number "auto drezina 04" was approaching.
Since it already was 3 p.m. we reversed to pick up a loaded wagon from private Novicior lumber siding. What we did not count on: they only had begun loading it, in this case of course using heavy machinery. The whole affair cost us another hour.
Only one more time we managed to capture the train in glorious evening sun, departing Cozia.
Without stopping we rumbled all the way back to Viseu where our ride for the day terminated behind a long production train.
A short night-time photo session was planned this evening. After showering I heard that everything was supposed to be ready, so I briefly returned into the cold.
Lovely shunting at the sawmill, stars were already glittering in the dusk, planes on the horizon.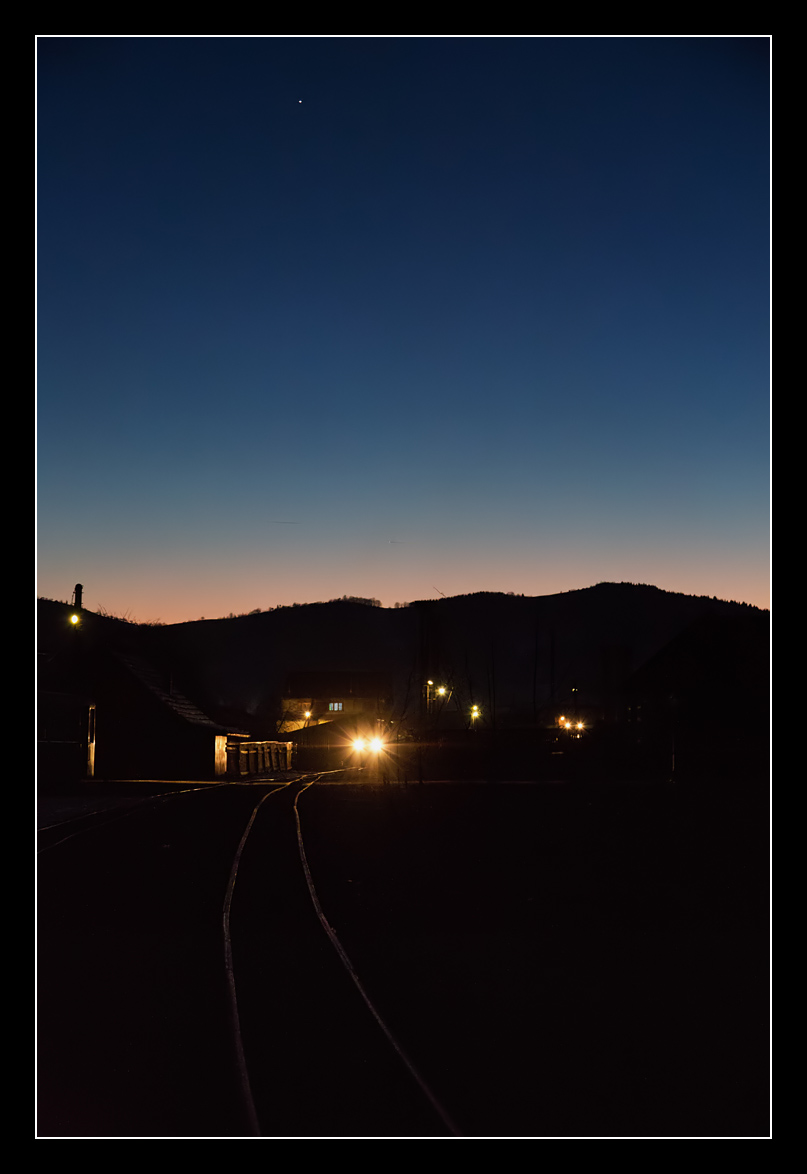 A few of the photographers had gathered in front of the loco shed.
The four steamers we were about to experience under steam on this line: Orenstein & Koppel-built "Mariuta" to the left, "Cozia-1" from that day still under steam, "Ioana" and "Bavaria", our loco the previous two days.
Our savvy loco driver quickly arranged two diesels - 87-0033 was being pulled from shunting duties - so they could illuminate the scene.
Soon I had enough and returned to the evening menu at the dining car. On the way I captured this scene: hay was just being loaded from a horse-drawn cart (consisting of a vertical haystack) onto the narrow gauge hay wagon as 87-0033 rumbled past back to its shunting duties. Once again, as so often, the horses took off in the midst of it but soon were caught again. As you can see this scene almost required night vision goggles, the human eye could not discern much more.
Next time we will experience something completely different - the long day trip to the Moldovita narrow gauge line!