Hi,
To the previous part of the series:
Winter in Romania 2015 - 1: Sibiu - Cluj (50 p.)
http://www.railroadforums.com/forum/showthread.php?50840-Winter-in-Romania-2015-1-Sibiu-Cluj-(50-p-)
Link to the video:
https://www.youtube.com/watch?v=7RcNqeNYQUo
The timetable for this part:
Code:
Fr, Feb 13 2015
-------------------------------------------------------------

Cluj Napoca dep 12:40 R 3627 -> Huedin Desiro

Gârbau arr 13:12
Gârbau dep 15:09 R 3629 -> Poieni Desiro


Macau arr 15:15
Macau dep 17:58 R 3630 Desiro

Cluj Napoca arr 18:32
February 13 2015
We return to the ever more crowded platform of Cluj-Napoca station. Shortly before departure time but still punctually R 3627 to Huedin consisting of two Desiro units was shunted to the platform. Everyone - from pensioners returning from shopping in the city to schoolchildren - boarded the train at once. Amongst the elderly you could hear a few people speaking Hungarian. My destination was Gârbau (Hungarian: Magyargorbó / German: Görbau), during a census in 2011 45% of its population claimed to be Hungarian. By the way, â is being pronounced like that:
http://en.wikipedia.org/wiki/Close_central_unrounded_vowel
. The special story behind it is that the communist regime had abolished the letter â in favour of the identical î in 1953 - for a short time Romania even was officially called Romînia - , this reform has been reversed in 1993.
In the meantime I travelled westwards on the double track diesel mainline through a wide valley which seemed to be magically divided into two completely different sides. North-facing slopes glittered in white snow, while it had completely melted on the other side. Also, you can find a very distinguishable, barren steppe landscape here, probably due to deforestation and sheep grazing.
After the local train had continued its journey, passengers dispersed into all directions at Gârbau. One feature which already has attracted several rail photographers to this spot can be seen in the background.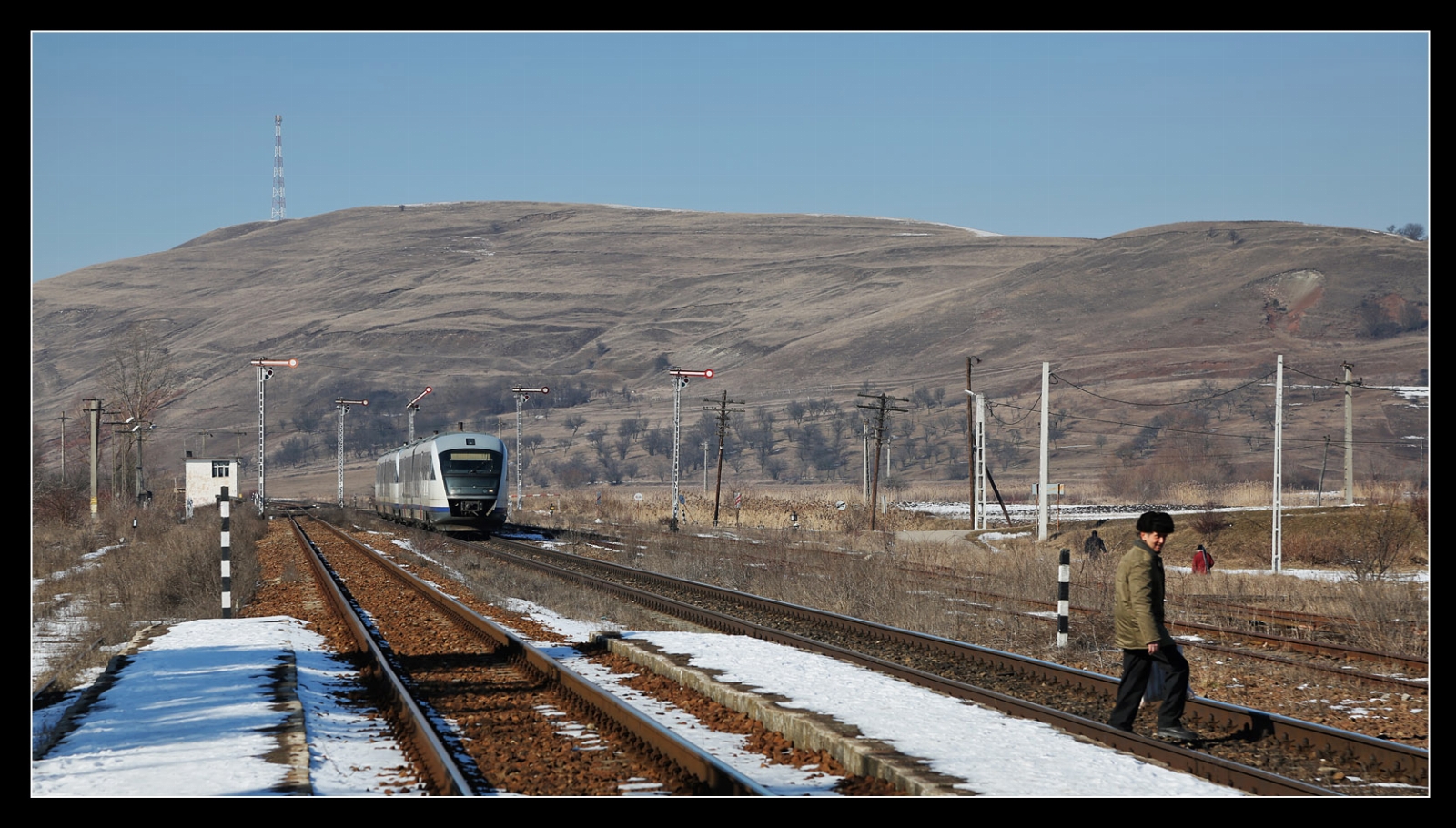 Scarce seating accomodations.
I had spotted some track workers arriving from the Cluj side, this hinted again at some maintenance activities.
I marched along an unofficial path to the Eastern signalbox. The workers cleared the tracks - obviously the yard was not as much out of use as it seemed to be. A point away from the mainline was thrown and whoooosh - the vehicle rolled towards the station with momentum.
Soon the signal was set and something blue approached...
Here I still could use the 7D in parallel with tele lens, in Vaser Valley it would be needed elsewhere.
GM 65-1300 rushed towards me hauling IR 367 "Harghita" Budapest - Brasov.
The view into the curve may not have been optimal, but this was the only way to include all semaphore signals in one image. A step to the right and I would have fallen down a steep, icy embankment...
A wonderfully blue rake consisting of two Hungarian MÁV (one dining car) and four Romanian CFR-coaches.
There still were some old Dacias to be spotted in this area.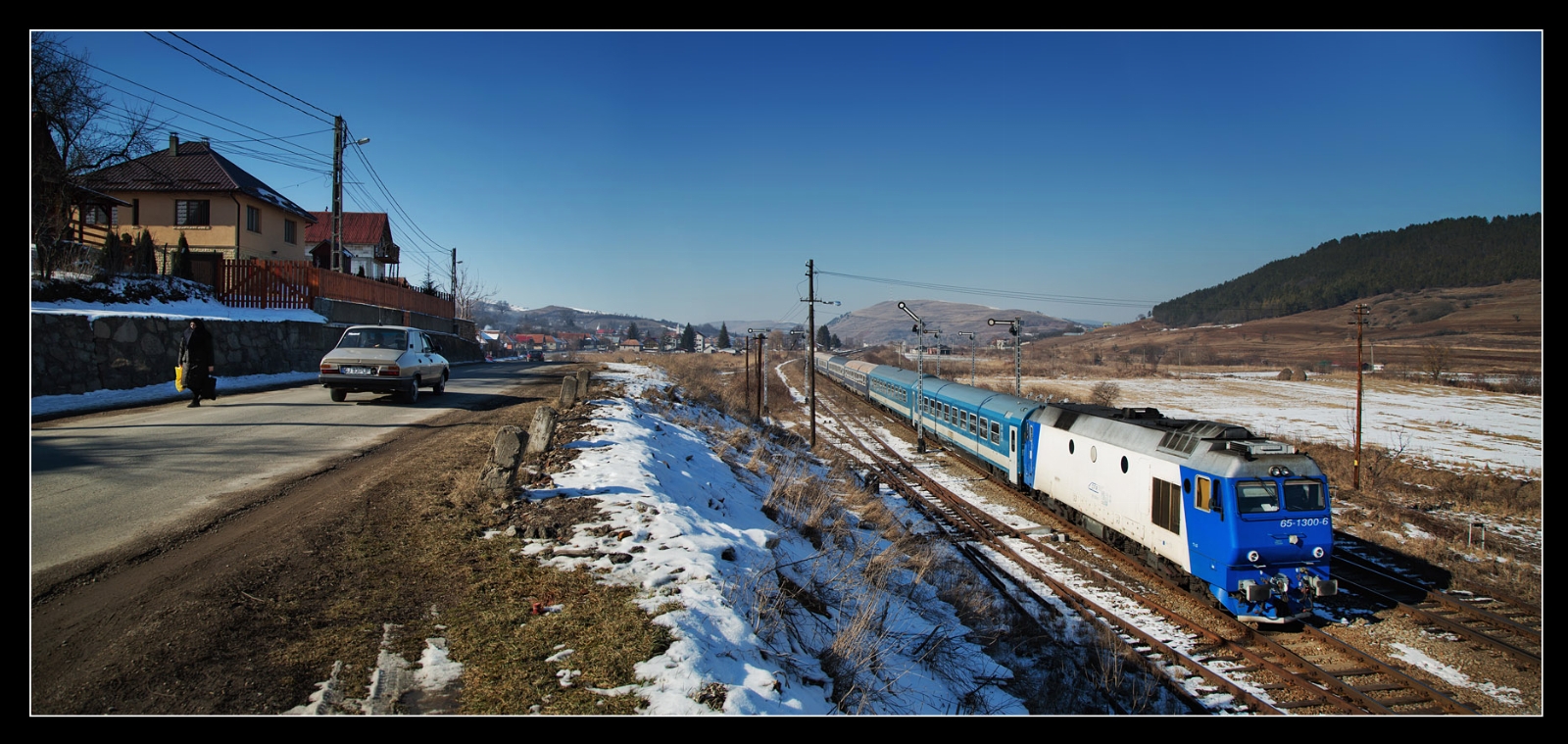 Colourful Gârbau.
IR 1533 Cluj - Oradea as a Desiro DMU (CFR class 96) rattled across the points, to the enjoyment of the local youth. The Romanian state railways had received 120 units between 2002 and 2007, more than half had been constructed in Romania. At Cluj depot I saw that many stabled Desiros, I was wondering why not all domestic CFR trains were just consisting of them...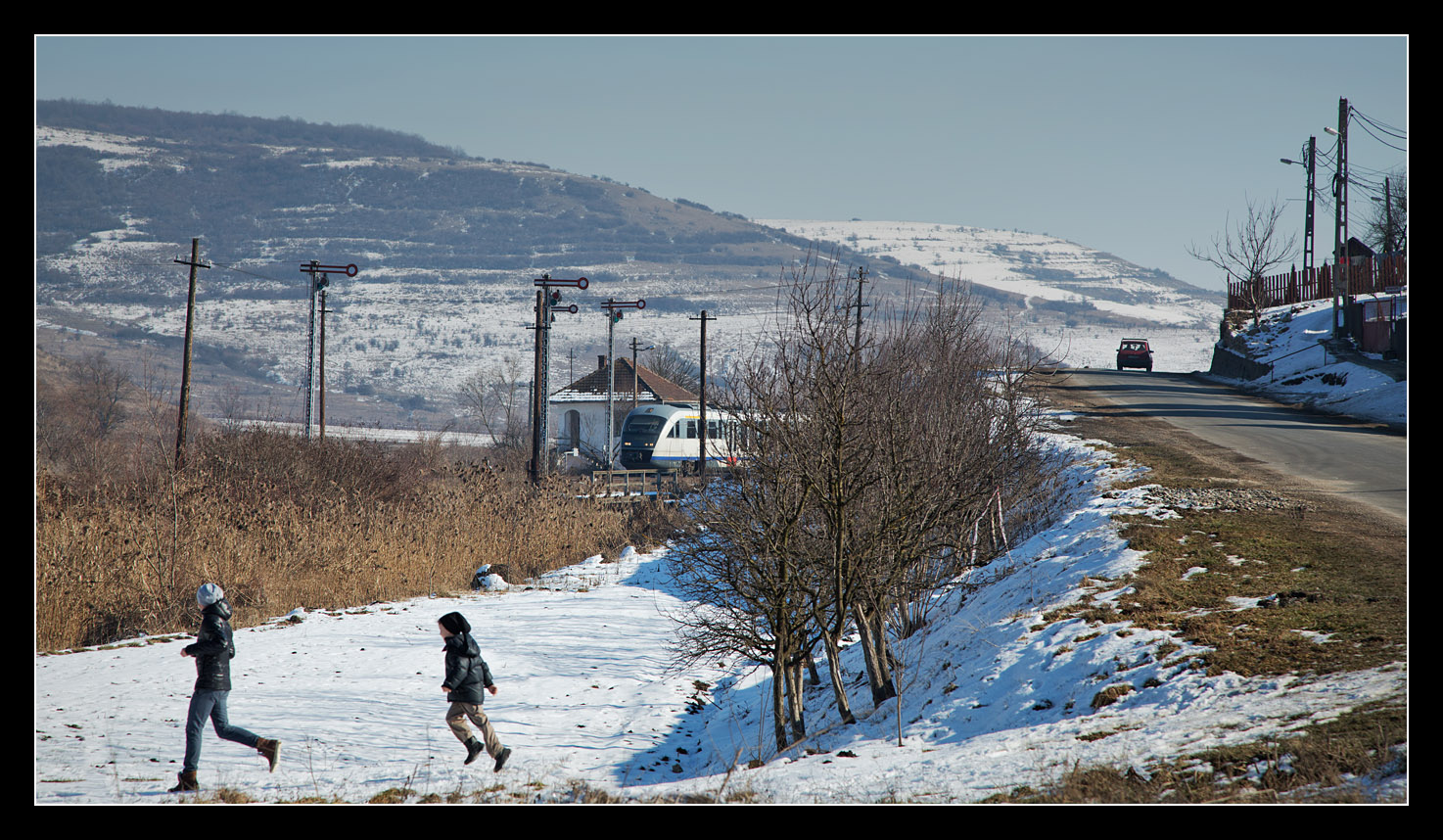 A horse cart to the right met the modern age.
Not in the European online timetable, but on CFR timetable sheets and on the TFC homepage you can find times of private Transferoviar Calatori (TFC) services. "Calatori" are passengers, it is also the name of the CFR passenger traffic company.
R 15204 Oradea - Cluj partly running as a semi-fast service was stopping in Gârbau at 2:14 p.m.
After we have seen modernized CFR ex-DB class 614s at Sibiu, this TFC 76-1404 is in original state.
Both variations seemed to have problems closing the doors...
The train into the opposite direction, 15205 Cluj - Oradea, passed by as TFC 78-3222, a former Dutch NS DH2 "Wadloper". This class had been built 1981-82 by Düwag in Germany.
I returned to the station - view at the village centre.
I liked the structures of the barren hills, they reminded me of the highlands. It was better that they were not covered in snow, otherwise they would have looked too ordinary.
Three minutes before my departure R 3628 with well-known units returned from Huedin - luckily it was punctual like most trains. I used the chance to once more capture the Western semaphore signal group with a tele lens. The destination display was not correct, the service terminated at Cluj.
The rear also did not promise the correct destination.
Shortly afterward R 3629 to Poieni approached, of course also consisting of Desiros.
Obviously some of the displays had been frozen in time...
I squeezed into the door area of the even more crowded train, but it did not matter as I only was about to travel one station. On the way we crossed Nadas River on two nice bridges, inbetween the train was following a temporary speed restriction along the other valley side. After six minutes we had reached glamourously-sounding Macau halt.
Of course you had free choice of spots in this open landscape, especially in winter and early spring as long as the grass along the rails usual for Romania has not cropped up yet. However, first I liked the view from near the station a lot, so I stayed and planned to climb a hill later. At first I expected IR 362 "Biharia" Cluj - Budapest, but as the scheduled time had significantly gone by I became sceptical as the rest of the traffic was operating mostly on time. I knew that on the Hungarian side there were rail replacement buses operating due to maintenance and I had read on ERG that some trains had been completely cancelled. It did not matter much as another express was supposed to follow 40 minutes later, I just would have to find some other train for the view from above.
At 4:15 p.m. long distance-IR 1833 Iasi - Timisoara approached across the bridge 5 minutes late.
65-0920 in noble express-livery hauled the partly modernized trainset.
I quickly packed my things and marched along the main road to gain another perspective at the bridge. A farm track practically led up a treeless hill, I just needed to climb above the trees and electric line. Once there TFC R 15207 Cluj - Oradea was already approaching. To the left in the background what I was calling "Highland-Pass".
No human beings had been here since snow fell apart from me, just hares.
The DMU arrived at Macau halt, the village is situated about a mile away in a side valley. Further back you can see the romantic industry of Aghiresu (Egeres / Erldorf), gypsum works could be found here, until 1971 also a coal mine.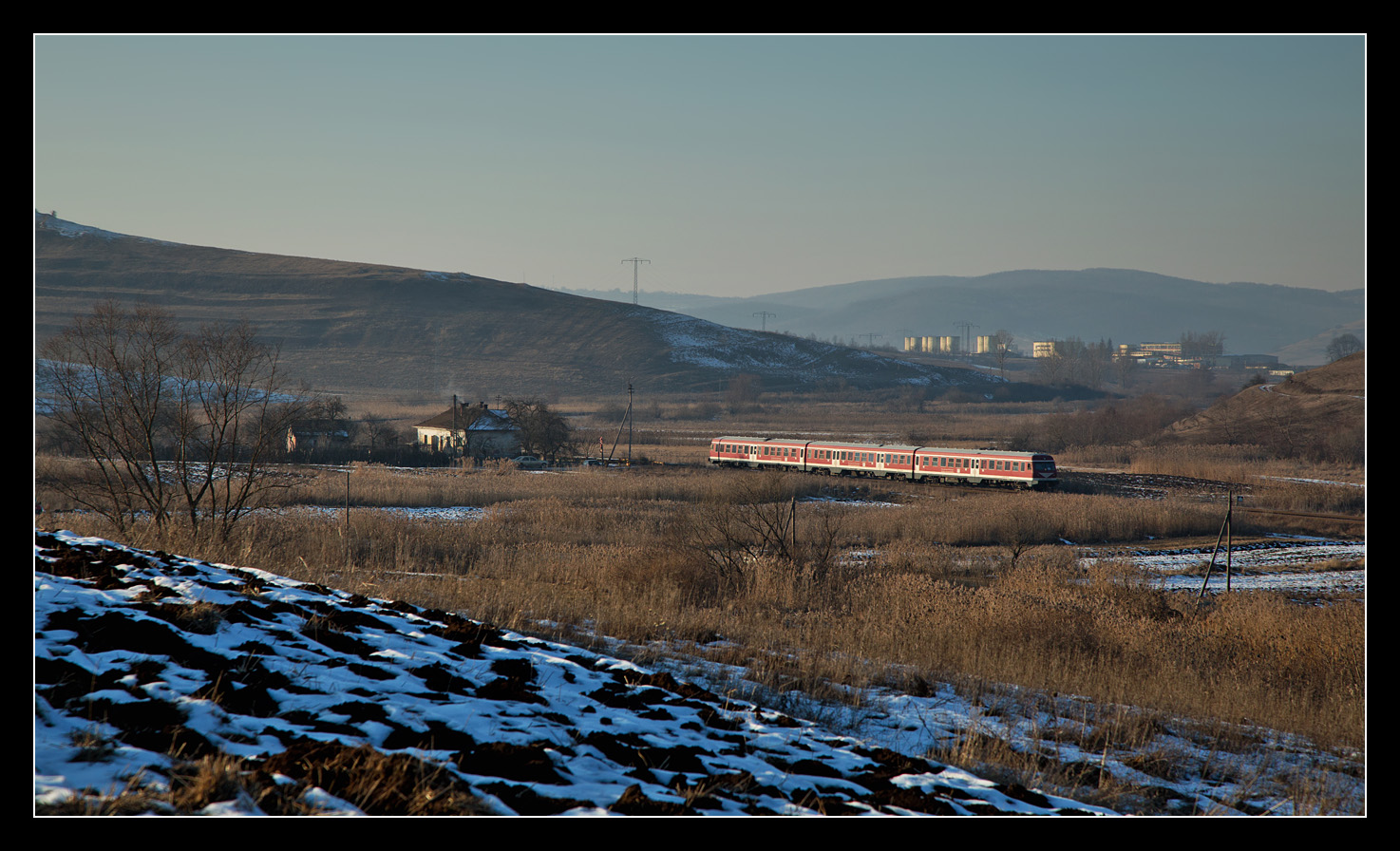 I waited lineside closer to the bridge. I did not speculate on IR 363 "Biharia" from Budapest, as the train had not run into the opposite direction, but a glint going away shot of the local could work. Or maybe a freight train might pass by - there was no scheduled eastbound passenger traffic for almost three hours, not that the line was running anywhere near capacity.
There came - a westbound freight train! Cutter 60-1317 of CFR Marfa (freight company) was chugging past me with delighted engine crew in perfect evening light.
Another possibility of a glint shot.
A properly long empty, probably too heavy for a single cutter in loaded state.
Transport routes.
It was close with the evening light for the expected local Desiro.
There came - a GM with coaches! Thanks to the speed restriction I had plenty of time to sprint across the field for another view at bridge and Highland-Pass.
Already known 65-1300 returned from Cluj to Oradea hauling R 3075. Next minute the sun had disappeared from the spot.
I slowly walked back to the station, half an hour still had to be endured in the ever colder shade.
From the neighbouring private home - part of the former station buidling - emerged this young lady - that's what you call a direct connection to the big city! Where is my train to Cluj?
The double units I already had travelled with returned as R 3630 from Poieni.
Only one more chap from the village came by, then we entered the significantly emptier Desiro - I had four seats to myself.
After arriving at Cluj I bought provisions for the next day, then climbed the hill again in the cold - thankfully without heavy luggage. Suddenly I heard a familiar engine noise behind me, turned around, set the camera to nightime preset and voilà: a mysterious image of a Trabi in Cluj "village". Next I enjoyed a shower - now I knew how it worked - and had plenty of time to relax as you do when going on a winter tour.
February 14 2015
Around 9 a.m. I got up and tried to eat a relatively healthy breakfast. In Romania about every vegetable is pickled, for example paprika filed with sour cabbage seemed rich in vitamins and quite tasty. The plan for the day consisted of the transfer to Viseu together with the photo charter group. If I had gone there by rail I would have had to depart at 3 a.m. for a 9 a.m. arrival or would have arrived only later in the evening. So, I called a taxi at the reception at 11:15, it turned up within two minutes. We partly followed the tram tracks northeast and passed one terminal. Next we came across a postapocalyptic scenery: high-voltage pylons had been put up so the top part was right above the ground with power lines buzzing dangerously low overhead. To access the airport we had to change to another main street and traversed a suburban settlement. Now we followed the trolleybus route and railway line past Cluj-Napoca Est station, from where the airport is already reachable on foot, then turned into the terminal. Including tips the taxi ride cost just 30 lei, about Euro 6,75. In the arrival lounge I noticed that the Lufthansa flight from Munich was slightly delayed, probable arrival at 12:10. So, I looked for a bench - the first choice was not optimal with an a/c blowing down my neck and coughing small child nearby, the second choice seemed better. Shortly before 12:30 the first potential candidates appeared, and finally a familiar face. We - 19 in total - packed our luggage into a R.G. Holz-owned VW-minibus. R.G. Holz is operator of Viseu de Sus sawmill and since 2003 owner of the Vaser Valley Railway.
We followed the railway mainline to Dej, apart from a class 80 shunter no train could be spotted on the way, however. At a petrol station I bought a reserve of mineral water as you never could know if there would be more shoppong opportunities over the weekend. From Beclean pe Somes the road towards Salve became rougher, then we turned north into Salauta Valley along the line to Sighetu Marmatiei and the Ukrainian border. Soon the railway climbed above us, often you could get glimpses at viaducts. At Dealu Stefanitei we saw some stabeled loaded lumber cars and also a Romanian-type semaphore signal. Afterwards we crossed a pass into Maramures region, the railway is led through a tunnel here. At Sacel - where the railway line describes a long horseshoe curve at the apex of which the road to Viseu crosses through an underpass - we saw another long train loaded with lumber standing and a cutter coupled to the northern end. Sadly it was hidden behind too much shrubbery for a proper photo. After crossing another pass we reached a better road through Viseu Valley. We followed the abandoned standard gauge branch line Borsa - Viseu de Sus (Upper Viseu) - Viseu de Jos (Lower Viseu). Most participants of the tour had book private accomodation away from the railway, Viseu de Sus itself seems to get ever more touristy. Bed & breakfast can be spotted on every corner, there also is a new three star hotel. At first the mainly Japanese part of the group were dropped off at a place near the narrow gauge station, others followed.
Us two Viennese and one more travel companion had decided to reside in style in the hotel train "Carpatia Express" next to the narrow gauge station/sawmill! :0)
"Hauled" by 150.216, another Resita copy of a German class 50.
The regular Vaser Valley Railway "production trains" are diesel hauled since 2006 - but still going strong on the last operational Romanian logging railway! More about it in the following reports. As mainline diesels, but also for heavy shunting at the sawmill mainly class 87 Faur L45H engines are used.
The sawmill area.
They tried to brighten up the large gravel lot between hotel train, narrow gauge station and sawmill, but it can never be sufficiently achieved as lumber trucks have to reverse here. No worries, by the way, this is not yet the narrow Vaser Valley - we were about to have plenty of snow until the end of the week!
Who is photographer, who logger?
By Swiss organization "Aid for the Vaser Valley Railway", which handed over responsibility to locals in 2012, a very successful tourist operation with tens of thousands of visitors per season has been established here - despite massive destruction after floods in 2008. For example coaches from Swiss Wengeralp-Railway have been procured to cope with the demand - and have been refitted with wood-burning ovens and chimneys which I suspect are not entirely original.
Tourism and timber industry next to each other.
We gathered for a group meeting in Café/Museum Elephant and made the acquaintance of local home-produced hard liquor. In another room an exhibition about the deportation of Jews can be visited there. Later we returned to the hotel train where everyone would meet for dinner.
It consisted of two sleeping coaches and one dining car, all constructed in GDR for Czechoslovakian CSD, their last railway company owner being Slovakian ZSR. We occupied compartments 3, 5 and 8 in the coach next to the dining car, spread out nicely. You could use the space in winter as you have plenty of clothes to dry. In total I was about to spend 8 of 11 nights of the journey in sleeping cars, not a bad average.
At half past six a tasty four-course dinner was served - us staying in the train had to expect this every evening of the trip - oh well, my plan to slim down had to be postponed!
Only strange occurence: always when I sat down in the dining car, I expected the train to move...
Next time we will start full steam ahead!