Hi,
I created a
multimedia-slideshow
about winter steam in Vaser Valley, to be found here (please set quality to 1080p / full screen mode):
https://youtu.be/79c4UxSwW1w
To the previous part of the series:
Winter in Romania 2015 - 9: 50 Percent OK (50 p.)
http://www.railroadforums.com/forum...inter-in-Romania-2015-9-50-Percent-OK-(50-p-)
Link to the video:
https://www.youtube.com/watch?v=7RcNqeNYQUoo
The timetable for this part:
Code:
Sat Feb 21 2015
-------------------------------------------------------------


Viseu de Jos dep 18:20 R 4134 -> Cluj


Beclean pe Somes arr 20:26



Sun Feb 22 2015
-------------------------------------------------------------


Beclean pe Somes dep 0:23 IC 406 Corona


Budapest-Keleti arr 9:15

Budapest-Keleti dep 11:10 RJ 64 -> München


Wien Meidling arr 13:55
February 20 2015
We return to Viseu de Sus shed on Friday after the final photo charter of the week. Resita 764-449 was shunting to keep O&K 764-211 company.
Almost authentic regular steam era.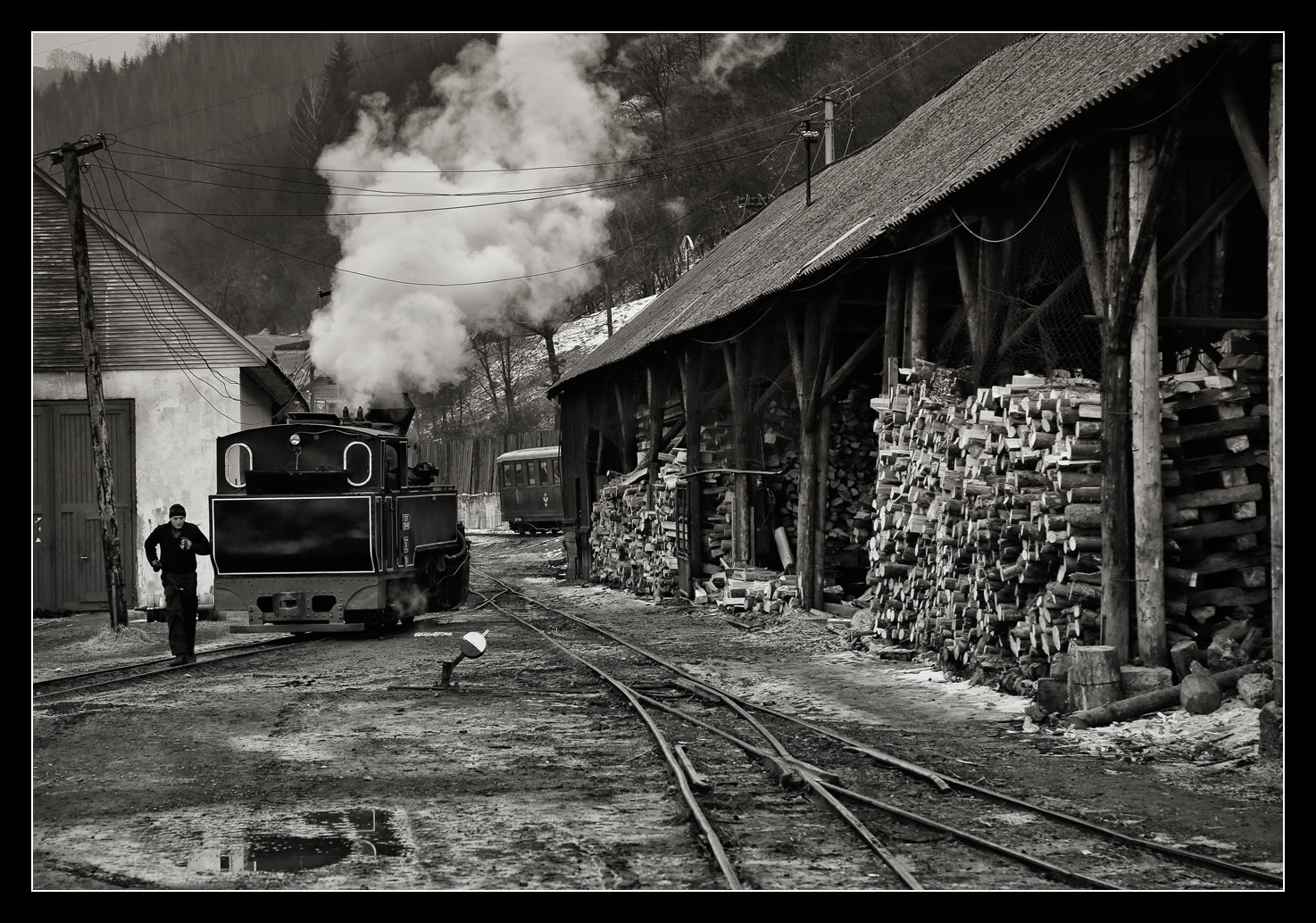 "Ioana" next to "Mariuta" in front of the depot.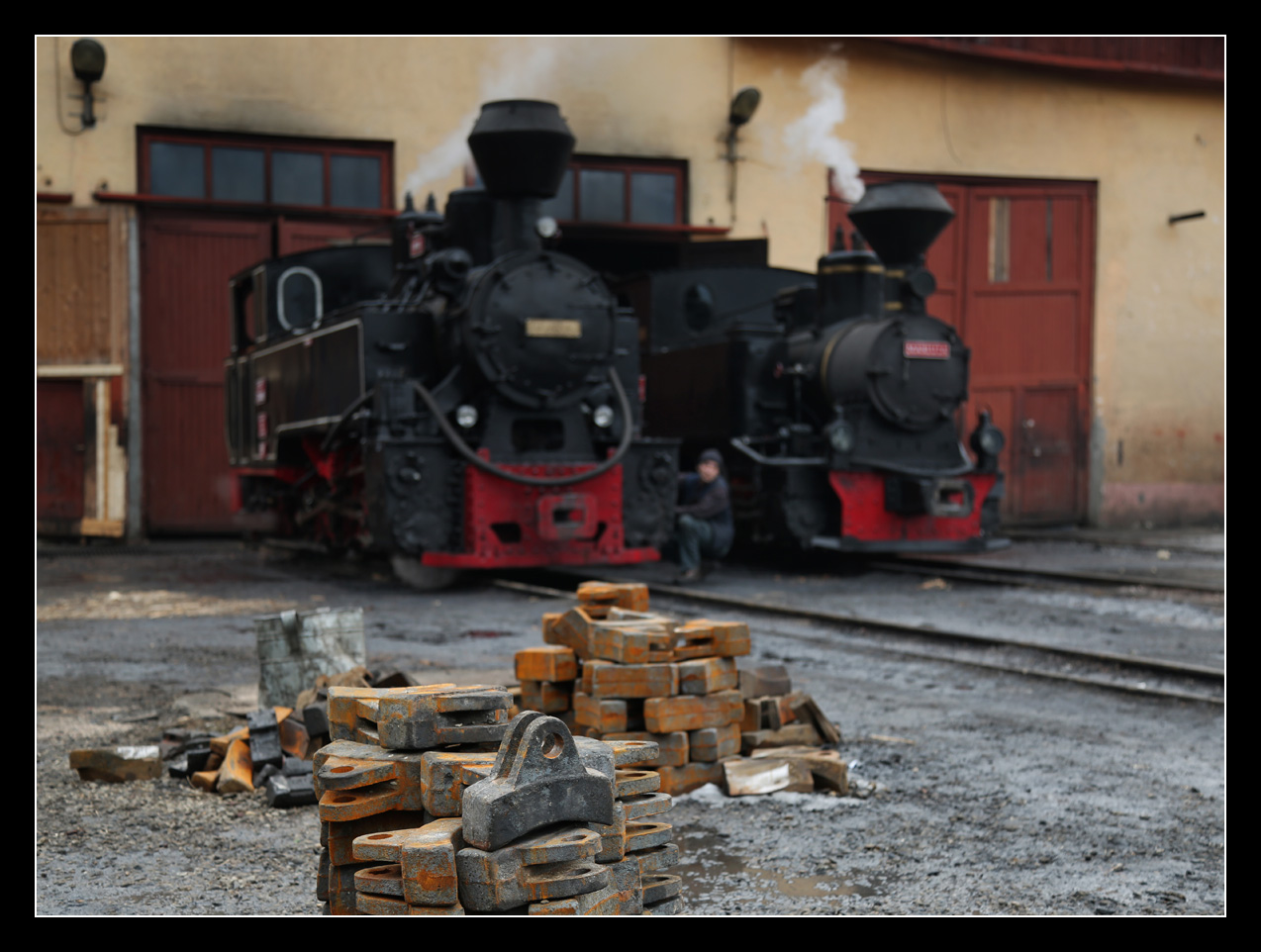 87-0033 hauling the first production train of the day.
Even giant TAFs are being transported on narrow gauge, loading and unloading worked quickly via transportable ramps on the flat wagon. Another ramp could be found used for narrow gauge vehicles.
87-0033 on the way to the loco shed.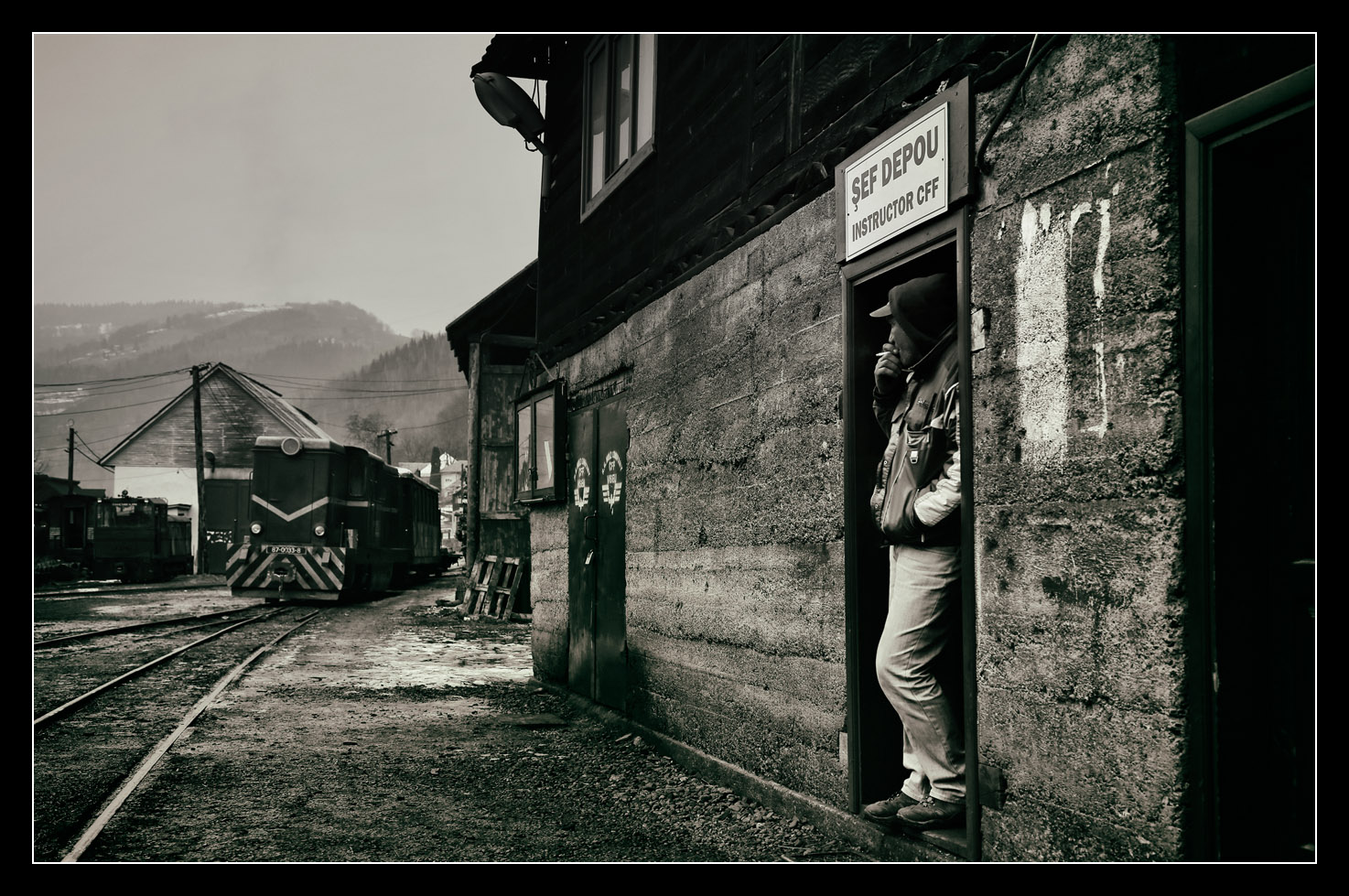 At the compound you could find derelict steamers, another one of the blue railcars and some draisines.
"Cab view" of the Augsburg police van, sadly without blue lights and the driver's seat was also missing.
The draisine in the background is former Austrian ÖBB KL X 626.142 of builder's yard Wels.
This old lorry on rails sadly is not operational anymore, the Russian-built small railcar to the right was just being prepared for duty.
The gate was opened - notice the condition of the rails!
Meeting of horse-drawn cart with British Ford Transit-draisine at the level crossing outside the railway compound.
The driver of 764-408R "Cozia-1" hauling the train of the other tourist group had to endure the shame to derail on a broken rail he had been warned about - obviously the defect was not located exactly at the suspected spot. Since such an incident is daily business on the Vaser Valley Railway, the train managed to continue soon. Still, it arrived with some delay.
I was standing above the steep garden where the poor horses were driven up pulling the already known cart with missing axle to load compost. After this picture I tried to walk downhill, but due to snowmelt it was so muddy and the grass layer so thin that my weight pulled everything out and I slid down almost the complete hill. Just the only tree in the vicinity saved me from sliding to the bottom. While I was hanging on to it the laughing workers were showing my travel companion the garden exit to the street above...
Already during my glissade the small blue railcar was approaching on the way with railwaymen to mend the broken rail. The camera also slightly had been dragged through the mud, but I still managed a few shots.
Walking back the worker - seen here to the far left - shouted after a short look at me: "Catastropha, Sheffe, Catastropha"! Oh well, only my skiing jacket and trousers had become dirty which both would not be needed anymore on this trip - I just could bag them to clean properly at home...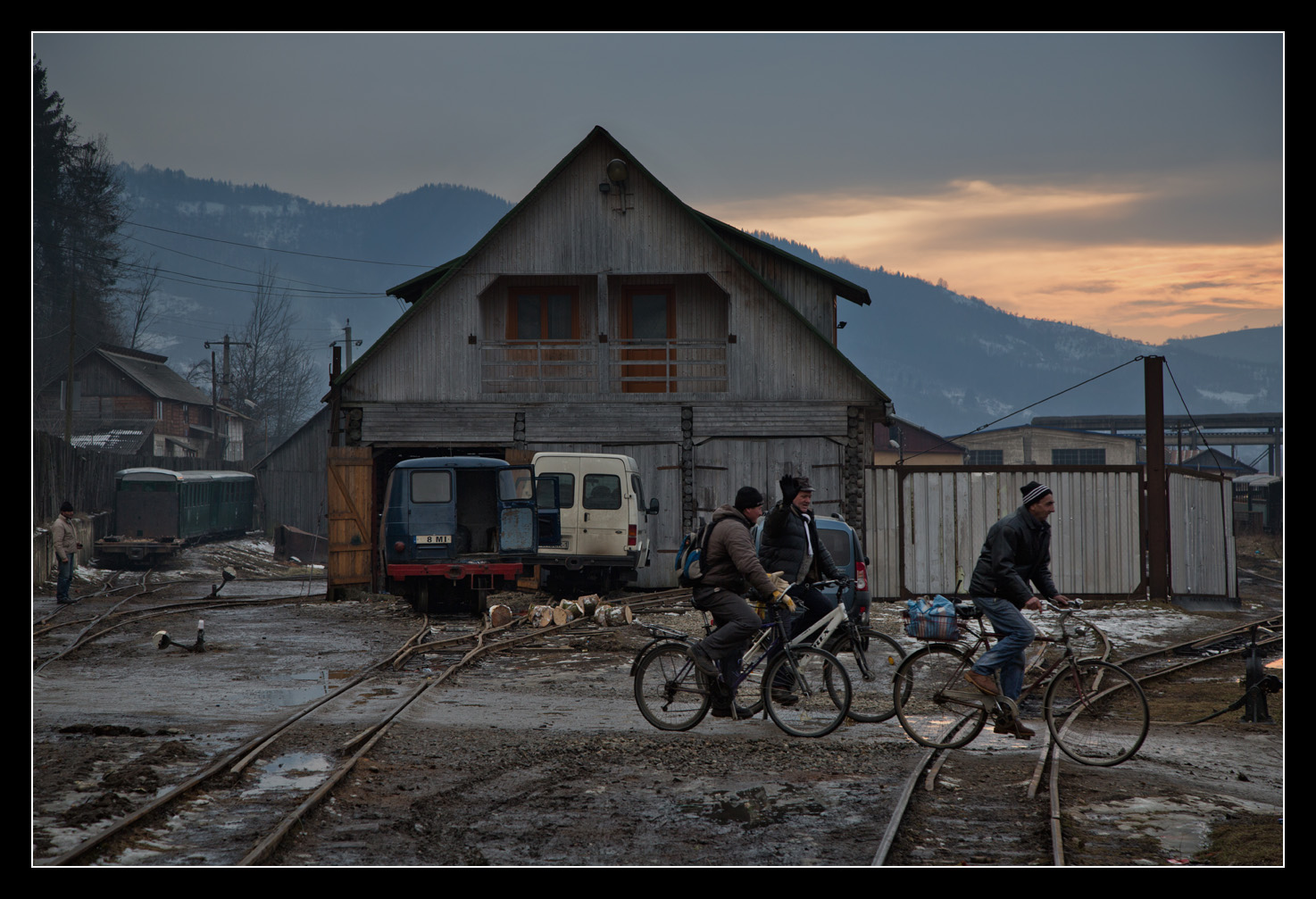 764-408R pushed its rake back to the depot - together with the evening mood in the background this is the final steam photo of the tour.
At the lumber loading site 87-0033 was shunting next to a "Balkan Goat" - this time on rubber wheels!
View along the long line of wagons towards the sawmill.
Subsequently we last two tour participants organized an excursion by taxi next morning. We were warned of horrible sums this endeavour might cost. But a short call to a cabbie revealed a price of just 100 lei for a 45 mile drive and one hour waiting, about 16 pounds...
Later that evening the group assembled for a farewell dinner at the dining car.
February 21 2015
Saturday morning we got up a little earlier than the others. Sadly the hope to take pictures of the serving of fried eggs in the pan quickly vanished as our good waitress obviously anticipated our move...
At 7:30 a.m. we departed, the rest of the group was about to follow the same route, but directly to Cluj airport. We left Maramures region across Pasul Setref, then shouted "photo stop" at our friendly rustic cabbie - and enjoyed this magnificent panorama of several mountain ranges.
The railway Salva - Sighetu Marmatiei traverses the mountain through a tunnel, we suspected that the corresponding telegraph lines had been laid over it. At Dealul Stefanitei station we spotted a Romanian type semaphore signal with pointy tips, I thought it would be my only chance to take a picture of one through the car window...
Our destination was Romuli village - now we have left Maramures and arrived in northern Transylvania, Bistrita-Nasaud district.
The main attraction of the place can be spotted in the background, but several side attractions were trotting around the corners - it would have been heaven for our horse whisperer!
House entrance.
Village street of Romuli, slowly the sun was shining through the layer of clouds.
Fascinating details everywhere.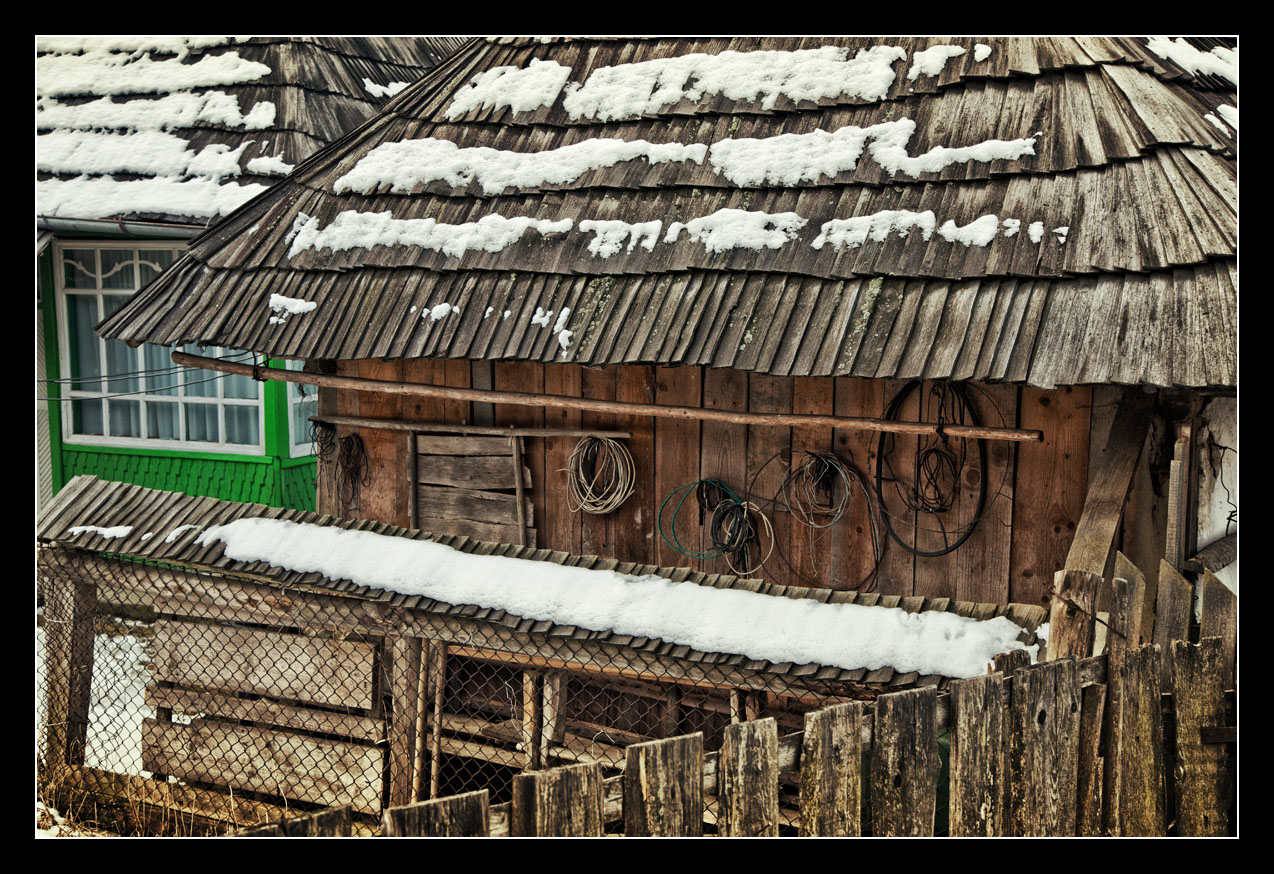 Road into Strâmba River valley.
Now to the main attraction (including side attraction): the big railway bridge across Romuli. We searched for viewpoints from the hillside, but it is dominated by private property where of course guard dogs are just waiting for you. Due to the many motifs trotting through the village it was not really a question of where to take the shots anyway.
Since only one passenger train is running in daylight during the winter season you hopefully will forgive me if the train appears in several images... ;-)
We speculated that the train would be hauled by a classic cutter as they almost exclusively operate on this line. The train accelerated uphill from nearby Romuli halt - but did not sound like a cutter. A GM approached pulling R 4135 Beclean pe Somes - Sighetu Marmatiei including through coaches ex Timisoara from IR 1843.
In the village the river/creek is traversed by a wooden footbridge where I had set up my video tripod - the train did it at a higher altitude.
Horse-drawn carts passed by almost every minute. Also noticeable was a black flag hanging from the house (behind horse's ears)...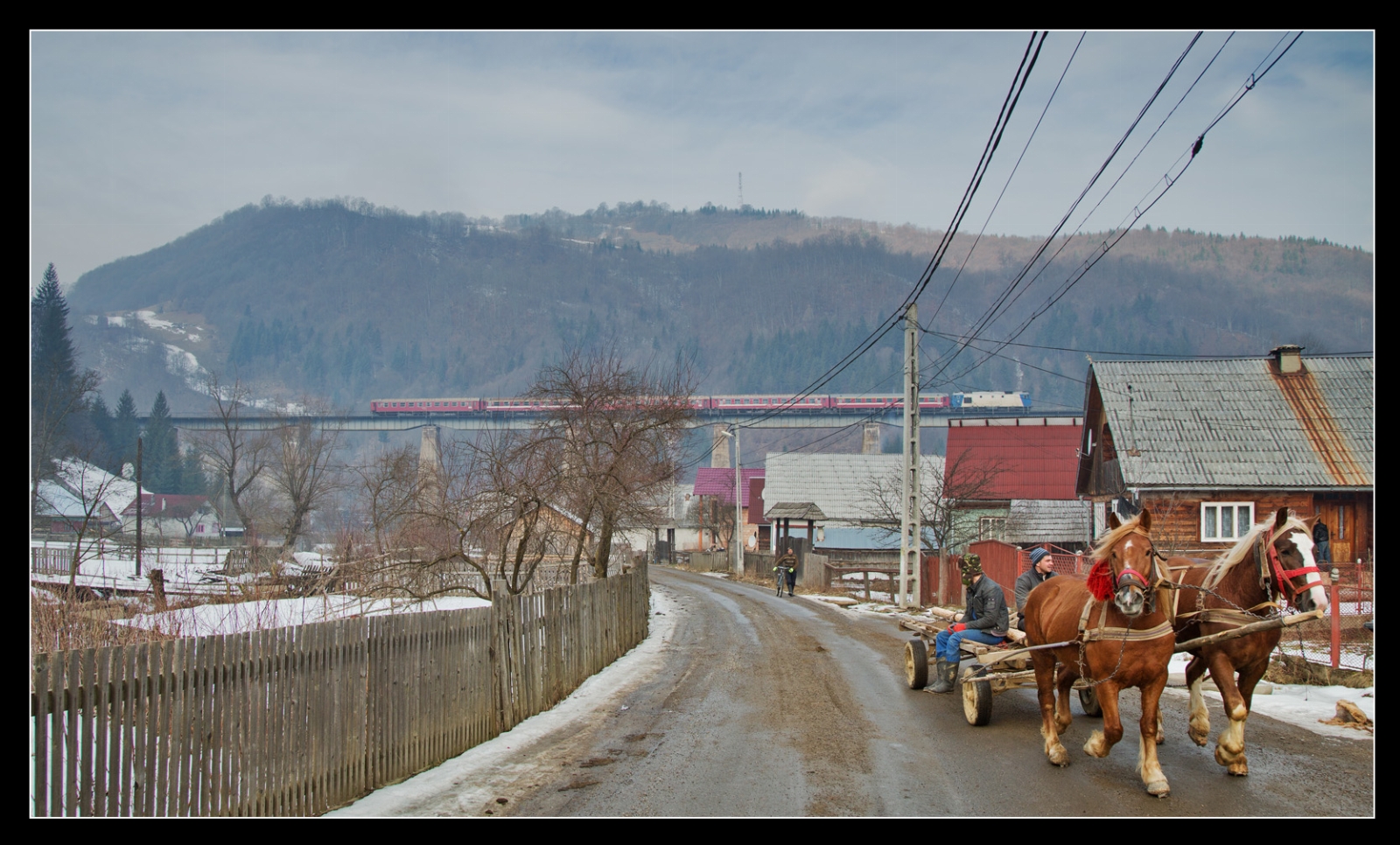 A variation with a small sawmill.
Afterwards we returned to Viseu de Sus. I gave my tripod, which had been bent and did not fit into the bag anymore, to our young tour guide – and in return received a bottle of the highly sought after homemade Afinata.
Around noon we walked into town to get something to eat. On the way we followed the outer wall of the sawmill, a modern facility where wood briquettes were produced. Narrow gauge continues on a mixed-gauge-track, two standard gauge class 85 shunters which looked flawless on the surface were owned by the sawmill. Still, we were not sure if they were in operation. The track joins the abandoned line Borsa - Viseu de Jos and did not look operational anymore. Additionally, we did not spot any loaded standard gauge wagons, everything seemed to be transported by lorry.
Backyard views of Viseu de Sus.
At first we walked towards the recommended restaurant which my companion already had tested successfully at the start of the week. But of all things the kitchen was closed due to renovation. An Austrian ex-army Pinzgauer could be found in the garage next to it. We returned through the centre, Viseu de Sus is a bigger town than the village-like suburbs let you believe. Even a quite large taxi stand was located along the main street - no wonder our ride that morning had been inexpensive.
The star pupils of the local grammar school - where the worst were sent we had experienced first hand at the lumber camp.
Modern and old in the town centre including large supermarket which was visited to sample some local beers. Next to it we discovered the most appealing restaurant around looking a bit like an American diner. Of course the main part was smoky as usual in Romania, only a small compartment for non-smokers was provided at the back. There we took our seats as only non-smoking guests next to a mother doing homework with her child. We had to wait for the food a little, but it was quite tasty despite of the fact the menu offered everything from pizza to local delicacies. Economically it was not too bad either with only about 14 pounds per person for taxi ride, shopping and lunch.
Blue-Yellow-Red lit by the sun.
Goodbye from 87-0033.
A final view from the sleeper window of the hotel train.
A rather uncommunicative young new driver took me from Viseu de Sus (Upper Viseu) to the mainline station at Viseu de Jos (Lower Viseu). After driving 5 mph below the speed limit and after I told him the route he did not even say a word if he expected some money for it. So, I gave him a little something and he drove away. Obviously it had not been enough as he later asked for more from the other group member departing later. ;-)
I experienced tough conditions for elderly people as a man battled through the mud caused by snowmelt. He lost orientation and fell into a puddle. I hurried to him and helped him up, when I thought he was standing he fell again. Finally probably his daughter emerged from a nearby house and looked after him. It makes you think about the living conditions of elderly people in such remote regions...
The weather mood improved while waiting, after sunset in last daylight R 4134 Sighetu Marmatiei - Cluj Napoca approached hauled by a classic cutter. Also notice the signalman.
After the arrival I quickly ran ahead to board the two-coach-train. Inside a modernized 2nd class compartment I took a seat next to an elderly couple constantly eating sunflower seeds. At least they spoke a few words of English to be able to communicate with me.
Right after departure we rode through darkness, at Sacel crossed a northbound passenger train. We reached the electrified mainline at Salva, at Beclean pe Somes junction I got off. Now I had to wait four hours, the waiting room was not really heated so I looked around for alternatives. Directly across from the station I found this bar, a surreal place, not just because of the revealing ads for alcoholic drinks - I have to show at least an iPhone pic:
The drunkards of the town had assembled here, I took a seat in a corner and grabbed a Drehscheibe railway journal from my backpack as I did not want to get out electronic equipment in front of this crowd. Of course some immediately took a shine to me, browsed through the railway journal and showed me what they knew and which photo had been taken in Romania (all of them were from Germany ;-)). Finally the Drehscheibe magazine was confiscated and probably still is available for reading at the station bar of Beclean (the most excellent of all towns).
Sadly the fun did not last long as the bar already closed at 9 p.m. - with the effective method of just opening all doors wide. So, I moved back to the waiting room where you could endure the rest of the time with some additional layers of clothing. After ten o'clock the big exchange of night trains took place, my travel companion arrived but continued on to Cluj. I stayed at Beclean for maximum sleeping duration as I had booked a sleeper to Budapest. After some shunting action quiet returned to the station. Finally my IR 406 "Corona" to Budapest Keleti appeared punctually at 0:23. I ran ahead to the first coach where a nice sleeping car attendant welcomed me. Once more I had a T3 compartment for three to myself. For the standard gauge part of the journey I recommend watching the video (link above) from minute 1:08:25, I did not take any pictures anymore.
At night I shortly rose to capture the Hungarian class M41 hauling us on the diesel bit behind the border, then rested nicely until Budapest. We met again next to the loco at Keleti terminal - I just had the suspicion a dog had peed on my bag while waiting - at least the bag was already old and damaged so I could discard it once back home. At first we drank coffee at the luxuriously decorated old station restaurant, then walked to the end of the platform to enjoy action including trains of many different European railway companies (also see video). Next he boarded a EuroCity train to Prague while I had to contend with a measly Railjet to Vienna...
That was it with Romania this year... or was it? :0)
Last edited by a moderator: