Hi,
During autumn of last year I decided to catch up on something I actually already had planned in 2005: Vaser Valley, the last working forestry railway in my part of the world. One tour caught my eye, also the dates were convenient for me and winter steam is something I have always preferred, so I booked the week February 14-21 2015 with Tanago tours. I knew some of the people at least via the fotocommunity.de site and one of my friends from Vienna (currently working in Munich) was joining as well.
During preparations I was not all well, I spent two weeks in bed and took my last antibiotics two days before departure. Still, I managed to stay relatively fit, only at the start I planned to rest a bit more. At least I could sweeten my sick leave with a hardware upgrade - from now on you will see almost exclusively full-frame photos from me... :0)
I booked the night train reservations at Vienna Meidling ticket counter, one domestic connection in Romania online. First, two days of shooting regular trains by myself were planned, so I already departed on Wednesday afternoon before the photo charter week was about to start.
Link to the video:
https://www.youtube.com/watch?v=7RcNqeNYQUo
The timetable for this part:
Code:
Wed, Feb 11 2015
-------------------------------------------------------------

Vienna Meidling dep 14:03 RJ 63


Budapest-Keleti arr 16:49

Budapest-Keleti dep 19:10 EN 473 "Ister"  CFR 47 / 65



Thu, Feb 12 2015
-------------------------------------------------------------

Sibiu arr 6:25

Sibiu dep 7:28  R 2512  CFR 76 (ex-DB 614) -> Fagaras


Podu Olt arr 8:01

Podu Olt dep 9:39 R 2101 Desiro +30


Sibiu arr 10:14 +37

Sibiu dep 17:53 IR 1737 Desiro


Cluj Napoca arr 21:49
February 11 2015
On Wednesday I worked until noon, gathered some last minute provisions and went home. I already had packed the luggage the day before, so still had some time to rest then took bus 9A to Vienna Meidling station. Not to carry everything I had put the main bulk of my belongings into a bag with wheels including some gumboots I had purchased the day before for a bargain of 15 Euros. Railjet 63 arrived punctually from Munich. My reserved seat already was occupied, the lady there preferred to look out for another seat with table. In my vicinity I mainly could discern travellers from Germany, on the table next to mine a woman was talking constantly to a younger guy from Bavaria. As her voice was not easy to endure I chose to wear earphones for the rest of the journey. At Komarom a large construction site - possibly for a new road - stretches along the Danube shore providing free views of the river and railway. I visited it later this year, but it proved to be very dusty and busy with construction vehicles, so it is no viable spot to take photos for longer than a few minutes. Opposite me sat another elderly female tourist communicating with her travel group via cell phone and leaving the train at Kelenföld. Shortly before she asked me if I knew the Hungarian terms for male and female toilets in order to avoid any mixups. At Kelenföld I discovered several photographers waiting along the line, in the corner of my eye I caught a glimpse of something which might have been a modern British electric in DB-Schenker-livery. However, it turned out to be a Romanian engine refurbished by Softronic, numbered as DB Schenker class 480 (not related to MÁV-Traxx class 480).
We reached Budapest-Keleti punctually and I encountered a less than welcoming atmosphere. Due to the large number of people who recently had fled from Kosovo, every train towards Austria and Slovakia was surrounded and cordoned off by the police. I withdrew a few thousand forints and took a seat in the nearest bar. I was warmed up by the tea there but not the room temperature. The waitress even wore jacket and cap and was constantly chatting with one of the costumers at the bar. Next I used one of the waiting Stadler FLIRT class suburban trains to Szolnok for a visit to the toilet, then my EuroNight 473 "Ister" was shunted to the platform. It consisted of older MÁV daytime coaches, the part towards Sofia (1 MÁV, 2 BDZ-coaches) and the CFR-rake towards Bucharest at the head of the train. My sleeper was the first car behind the loco, I had booked T3 – the lower bed 51 - yet stayed alone as expected. The sleeping car attendant welcomed me nicely, then the familiar gurgling sound approached as our CFR class 47 was coupled to the train. The night was spent comfortably, only a young child in a neighbouring compartment stayed active until midnight.
February 12 2015
Border controls were brief and polite for me, however, the lady with small child next door - a tourist from Russia - was interrogated more thoroughly. Finally the border police left the train but already a few metres further on we had to break again at the home signal of Curtici border station. Only a few minutes later a train arrived into the opposite direction and we continued the short ride to Arad with a delay of 25 minutes. My alarm clock now had been correctly set to Eastern European Time, then I managed to sleep through the 2 1/2 hours to Simeria. And voilà, the delay had been completely compensated. Trains usually ran punctually in Romania, also thanks to a very leisurely pace and long slack times. A well-known grumbling sound approached the train - the engine was changed to GM-modernized diesel class 65, although we theoretically still would proceed on an electric line up to Vintu de Jos. You almost felt like on the Lika Line – sleeper and three hours of pure GM-sound, mmmmmmmmhhh…
We climbed towards Sibiu at a steady, slow pace. Around 6 a.m. the attendant brought me my tickets, coffee, a pack of shortbread and jam. Punctually at 6:25 I jumped onto the icy, dimly lit platform at -10° C. I filmed the departure, then quickly made my way to the station building. I obviously was the only one using the underpass - but just this one time as you could not recognize the shortcuts across the rails in darkness. I dragged my heavy bag into the relatively unheated but still warmer station hall. A few characters had gathered here - on the doors there was a sign that you were not allowed to stay inside for longer without a ticket - but this was rightfully ignored under such frosty conditions. A few elderly gentlemen arrived and bought tickets to Fagaras (without special characters, here s = "sh"). The backpacks hinted at outdoor activities: a fishing rod, a corked bottle (could have been beer, could have been something stronger according to the things we got served over the coming week) and the handle of an axe(?) were poking out. In the hall you could find two ticket machines - both out of order - with monitors above them constantly looping CFR-commercials. In the centre an old column of the station had been preserved as a monument featuring various inscriptions in different languages. However, in German "Hermannstadt" was not spelled correctly. One of the elderly gentleman - carrying a Lidl-bag - called me over and told me I should rather sit on the "elite bench of Hermannstadt" instead of on the cold stone around the column. Shortly before departure I wanted to withdraw some lei, the ATM tried to connect itself to the server for some time, then spew out my card without any currency. I could not investigate further as my train was about to leave, but there was no withdrawal to be found on my account later.
R 2412 from Teius consisting of a class 60 "crab cutter" and two coaches had arrived on platform 2. Actually, my train was supposed to depart from there, and I hoped this would be my rake. It was not the case, the coaches were shunted away and instead I found my R 2512 towards Fagaras on platform 3 in form of a class 76 DMU (modernized ex-DB class 614). Inside it was nice and toasty although this class seemed to have the problem that some of the automatic doors were not closing properly. That way you encountered temperatures below freezing in the separate entrance compartments. On a neighbouring track - I think it was supposed to be "platform 5" - I spotted another cutter with two rustic coaches in old light blue livery. Three women carrying giant "Eastern bloc bags" - in former GDR also known as "Vietnamese bags" - were just climbing on board. The conductor was checking my ticket straight after the departure, at the first station people were queueing next to him trying to buy their tickets. As the next halt already was approaching, he soon came under stress.
After a half an hour ride my first stop - Podu Olt - was reached. InterRegio 74 "Transilvania" Brasov - Budapest met us on the double track line shortly before we arrived. I took a video, then checked out the waiting room - a facility very important under these conditions. Well, it was almost like at all stations I visited in Romania: there stood a giant masonry heater but it was out of service. As the door also sometimes stayed open, temperatures inside almost matched those outside. So, waiting here for a longer period of time was no option. At first there was something to do, so I marched to the level crossing next to the station, avoiding the deep snow by walking on the road. Here you can also find a bed & breakfast and a restaurant, but without more than a handful of lei this was no option for me.
Good morning, Fagaras Mountains! The mighty, over 8000 ft high mountain range welcomed me with a mighty atmosphere.
As first train I expected R 2068 Sibiu - Ramnicu Valcea at 8:25. As hoped 60-0770 with the two blue coached appeared. Also notice the Lidl-bag.
Due to icy fog everything was covered in rime.
The train continued its ride five minutes delayed.
Two lines meet here: to the left the one eastwards and up Olt River to Fagaras and Brasov, where currently night trains to Bucharest are diverted, to the right southbound and down Olt River towards Ramnicu Valcea, Piatra Olt and finally Craiova.
On the classic spot in the area I encountered the perfect mood at the perfect time as the mountain ridge was accentuated by a streak of light. First you could hear the cutter for minutes, then rumbling on the Olt River bridge, then R 2071 Piatra Olt - Podu Olt almost had completed its 100 mile and 5 hour long journey.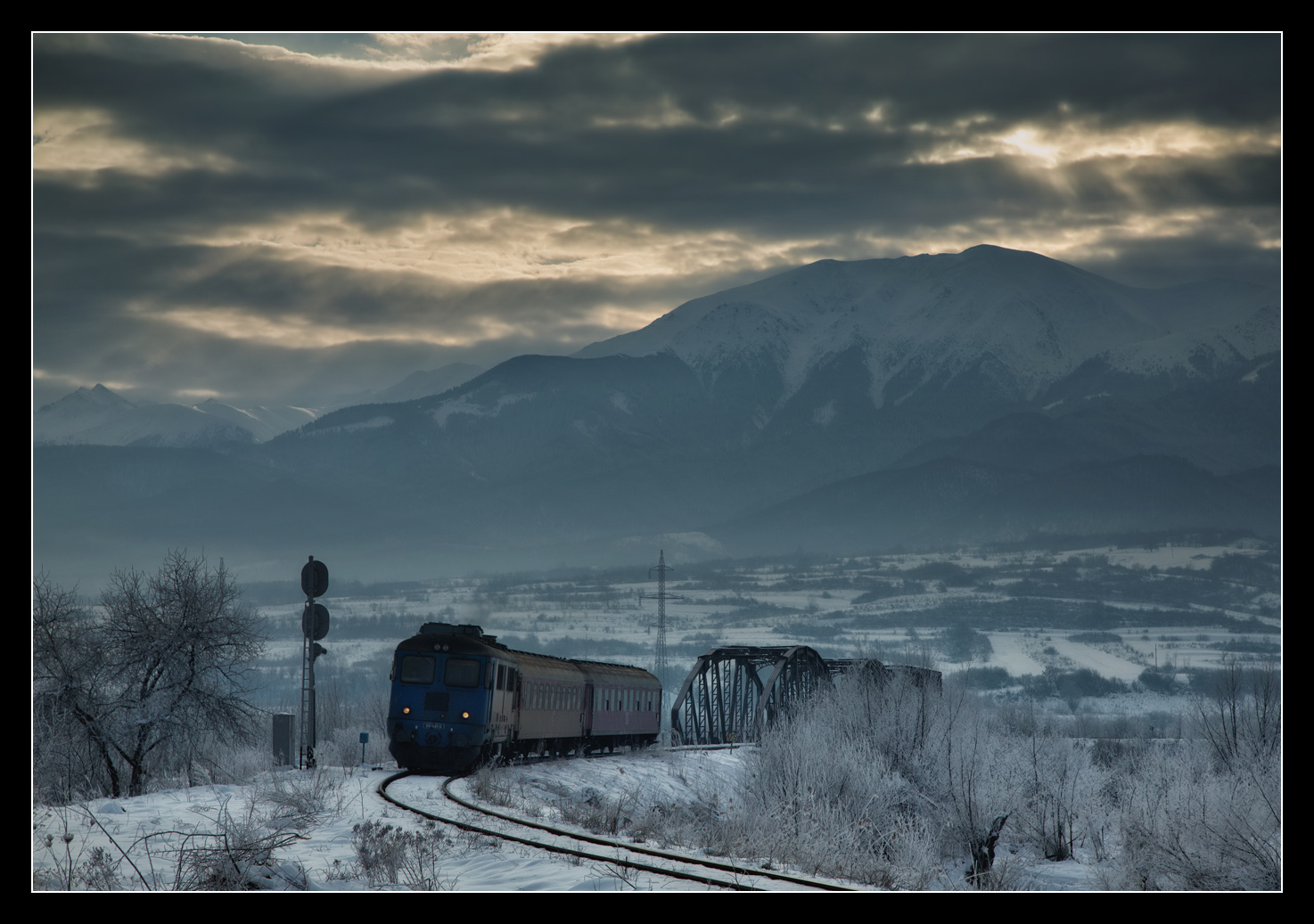 60-1191 passed my spot.
This rake now stood several hours at this junction away from any settlements before returning south.
At the platform passengers were waiting for the connection to Sibiu, next to the lady you could encounter: station dogs, Eastern bloc bag and Lidl-bag...
The engine had been completed in 1977 by Electroputere of Craiova.
The snow cover hopefully would hold out the next days, great weather was forecast with temperatures below zero in the morning and above zero in the afternoon.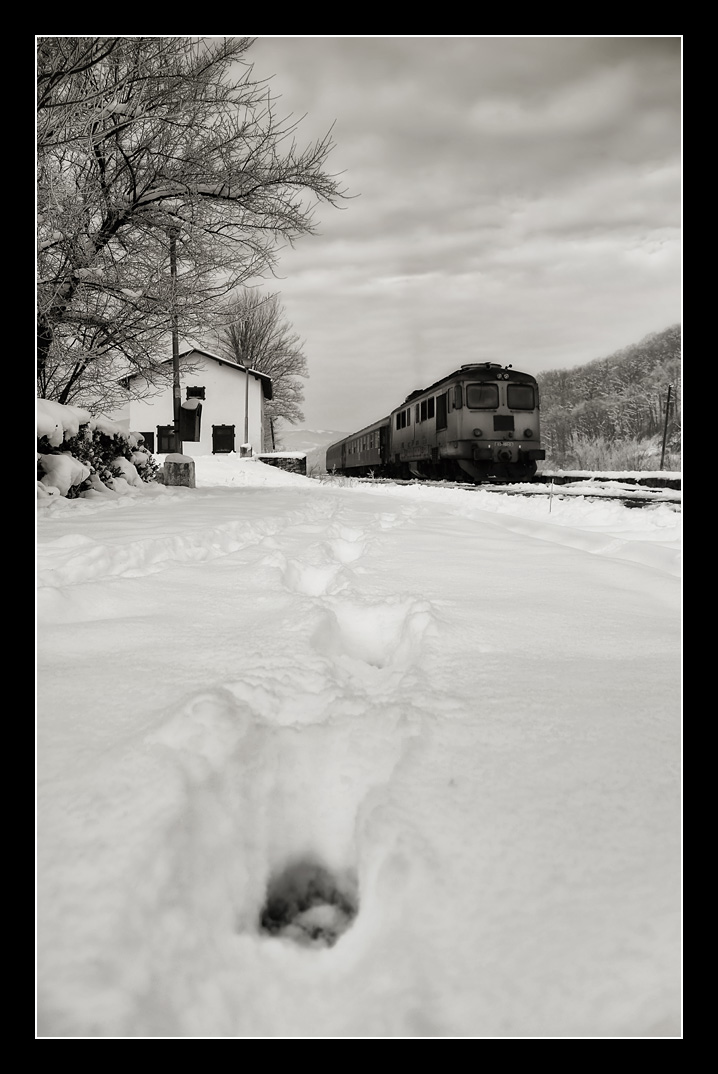 Now I had to decide what to do. As I still was reconvalescent and the following week was more important to me I was not very keen on waiting in the freezing cold. Also, the large gaps in the timetable were to consider, sometimes there would be nothing to see for hours. So, I decided to return to Sibiu although I had had another spot in mind for capturing the following train – well, it would have to wait until another time. Only - where was my train, R 2101 from Brasov? Joined by a few other travellers I tried to stay warm in the waiting room. Finally, with more than half an hour delay you could hear the train crossing the Olt River followed by a short announcement, then the double Desiro class DMUs arrived. I sat down next to a window damaged by youngsters throwing stones - as you can frequently notice - but there was no cold air rushing in. Shortly before reaching Sibiu we met IR 1736 Cluj - Ramnicu Valcea, which I was about to take into the opposite direction in the afternoon.
We arrived at Sibiu 37 minutes delayed, and I already had to hurry to catch a well-known express. Due to complete modernization of the mainline to Brasov via Sighisoara currently two sleeper train pairs to Bucharest are being diverted over the diesel line via Sibiu.
Voilà: IR 347 "Dacia" from Vienna (although it was announced as train from Budapest, but the timetable mentions "Viena" as place of departure) with scheduled departure at 11:01 a.m. It was hauled by a GM-EMD remotorized cutter, 65-1363. I have removed one giant lamp-post (or whatever it was as it did not lit anything by night) from the picture.
At the bridge "Dacia" was meeting an old Dacia car.
Going away shot in front of the wonderful backdrop of the Fagaras Mountains. To the left Sibiu depot can be seen with plinthed narrow gauge steam engines. A railway museum can also be found there, but I did not visit it that time. Along the mainline south you can spot remains of the narrow gauge line Sibiu - Agnita, which is currently being restored by enthusiasts:
http://www.sibiuagnitarailway.com
-
http://www.spurfilm.eu/agnita
Coaches out of commission at a stabling line in front of Sibiu station.
At the cash dispenser of an Austrian bank - which I usually do not like to frequent, but which at least is responsible for CFR online ticketing - I managed to withdraw plenty of lei for the rest of the trip. As I walked up the hill to the old town centre I encountered this subsidiary which would have been even more fitting for this trip.
The centre is small but lovely and interesting, soon I had reached the main square (Piata Mare / Großer Ring). In the background you can see the Catholic church and town hall. The square had undergone major rehabilitation in 2006. It almost felt like in Austria, as I could find many familiar businesses in this former city of the Austro-Hungarian monarchy.
View at the comparatively low buildings and their roofs in this city of - nowadays - 150000 inhabitants; sometimes roof avalanches were released.
The Brukenthal Palace art museum to the left is one of the most interesting baroque buildings in Romania, the town hall to the right.
The 14th century Protestant cathedral.
Subsequently I visited a few cafés to warm up, also Café Vienna, where no one of the young staff could speak any German. Overall just 2000 Transylvanian Saxons were still living in town, by the end of communism in 1989 it still had been 20000.
Back at the station the afternoon light unveiled the full beauty of the mountain panorama.
Interesting train movements, however: almost none, even the little dog laid down.
If something came by it was a Desiro: this DMU shunted from the depot to the station.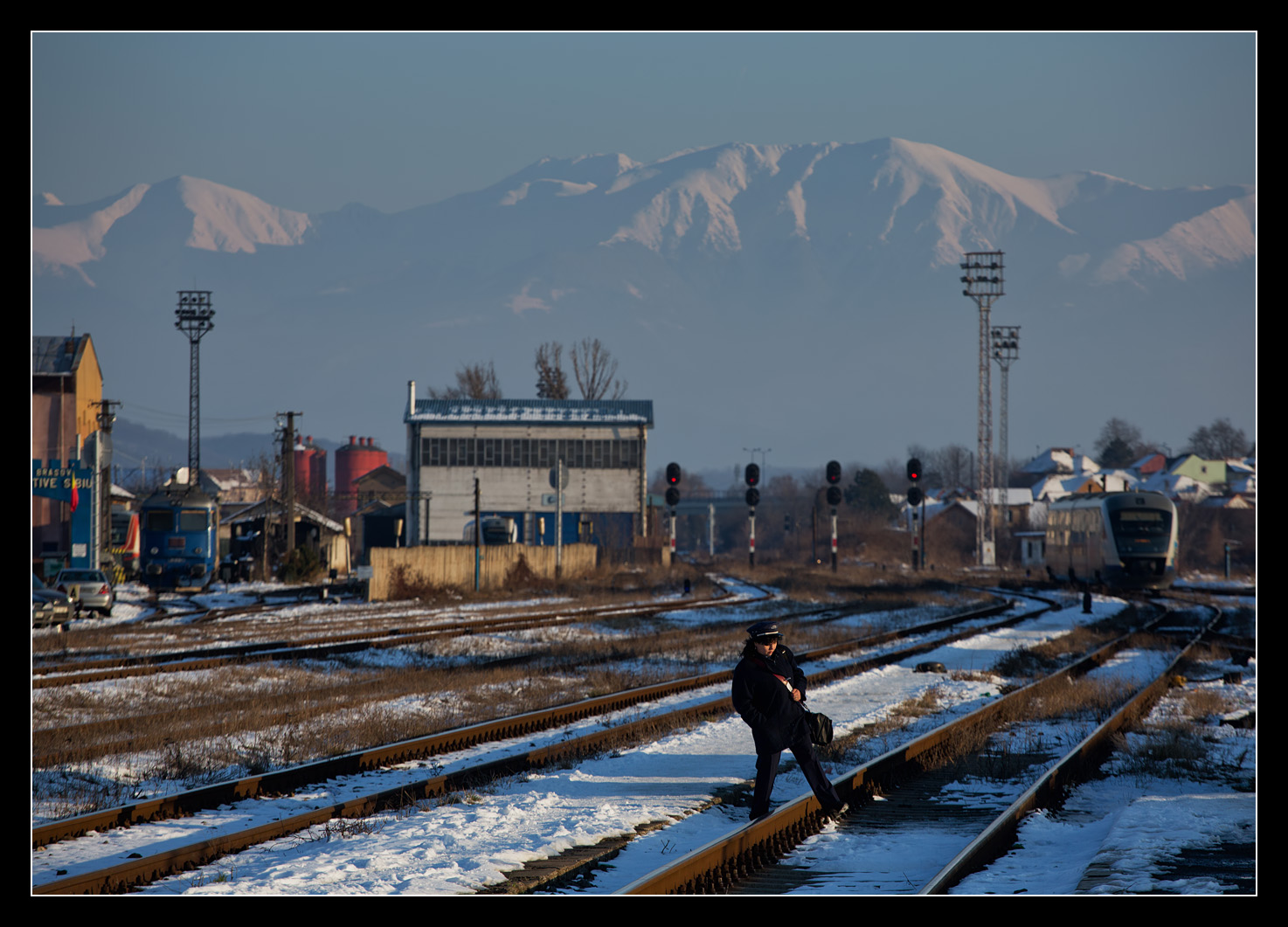 Finally some change: 76-1453 (former DB 614) arrived on time as R 2592 from Copsa Mica.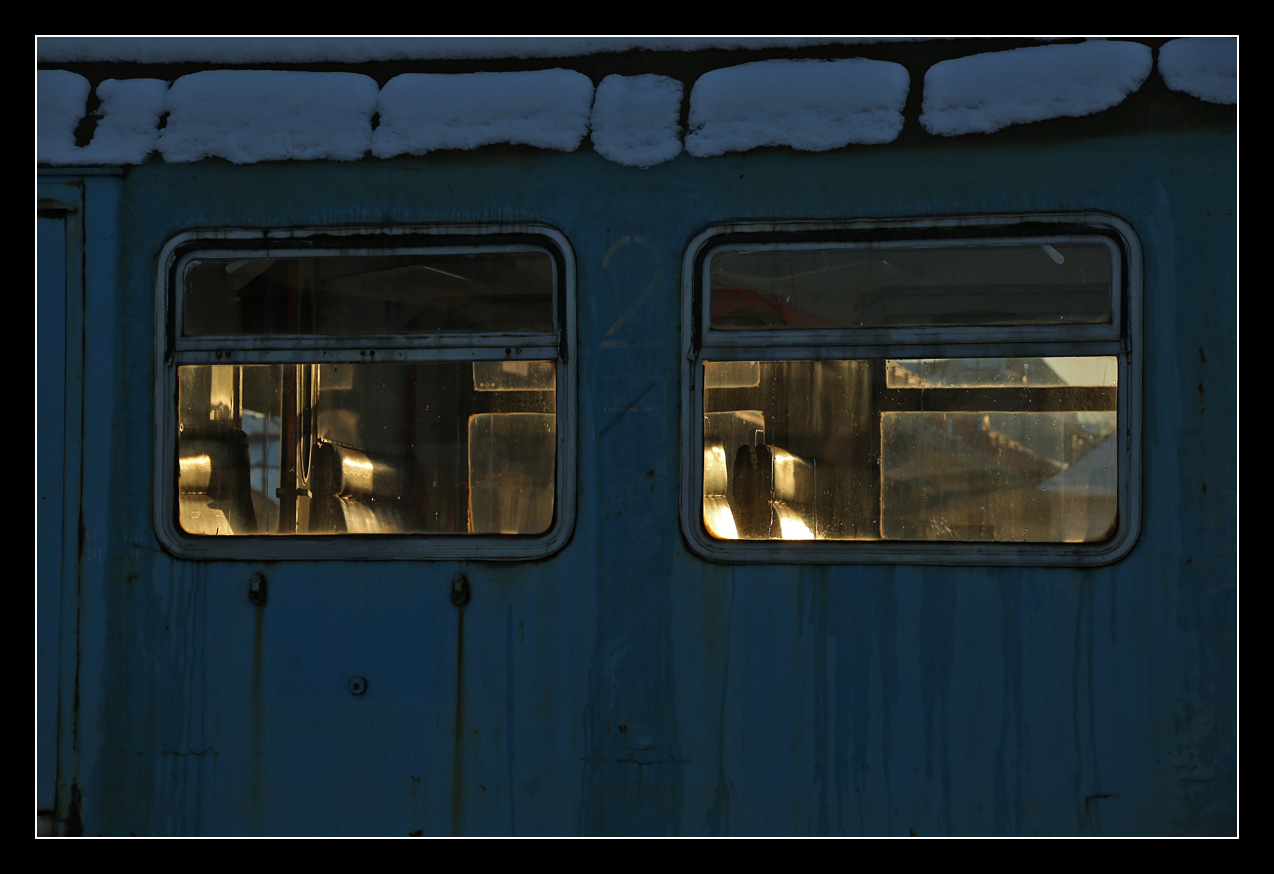 I used a last spot of light on the rails for IR 1725 to Craiova.
Next I returned to the warmer station hall, of course carrying my bag across the tracks this time. Two younger German tourists waited on the bench next to me, they also were about to take the same train.
Back at the platform I was greeted by the spectacular Fagaras-glow in last evening light. IR 1737 Ramnicu Valcea - Cluj Napoca was picking me up at exactly the right moment.
I had treated myself to a 15 Euro 1st class ticket to Cluj. It would not have mattered as the train stayed almost completely empty, apart from the two tourists mentioned before. Those were drinking their way through the complete Romanian beer assortment during the following 4 hour ride. Now and then the conductor sat down in my compartment, other than that I spent the time without any events, it became dark outside immediately anyway. It was noticeable that local trains are very well frequented in Romania, express trains not so much as bus services usually are much faster. All express trains even have been downgraded to InterRegio to make ticket prices still more affordable. Upon arrival at Cluj five passengers were leaving the DMU...
I felt that Cluj-Napoca - with 325000 inhabitants second city of Romania - seemed more lively than Sibiu. From the station I dragged my bag up steep, village-like streets to my hotel through the cold setting in again, thankfully for the first and last time. It had been a four star deal on booking.com and seemed actually quite good, but some things did not work as they should have when I arrived. At first the lift was not operational (you would have had to press the button all the time - I did not want to risk having to be rescued from the elevator), then my room door did not open and lastly I could not figure out the shower... but finally fell into bed.
February 13 2015
Next morning I decided to stay outside again just for half a day, this time in the afternoon. A morning session would not have paid off anyway as I would have had to get up very early in the freezing cold and once more would have had to endure a long gap between trains later before noon. So, simple solution: getting up at 9:05 a.m., breakfast until 10 o'clock, train departure at noon. At the breakfast buffet almost everything you could think of was available, even fish fingers. Some things were not completely fresh, but not to complain if you turn up last. At least a nice manager explained the shower to me - ah, you could not just turn the knob, but also pull and push and choose between three nozzle modes...
View from my room at 10 a.m. towards Cluj shed, a Desiro class DMU was just shunting away.
After 11 o'clock I left the hotel. The streets were reminding me of Hungarian villages apart from the typically Romanian wooden doorways. Oldtimers can only rarely be encountered nowadays, but here you could not only find some old Dacias but also a collection of Trabis.
This lady just had visited an Orthodox priest.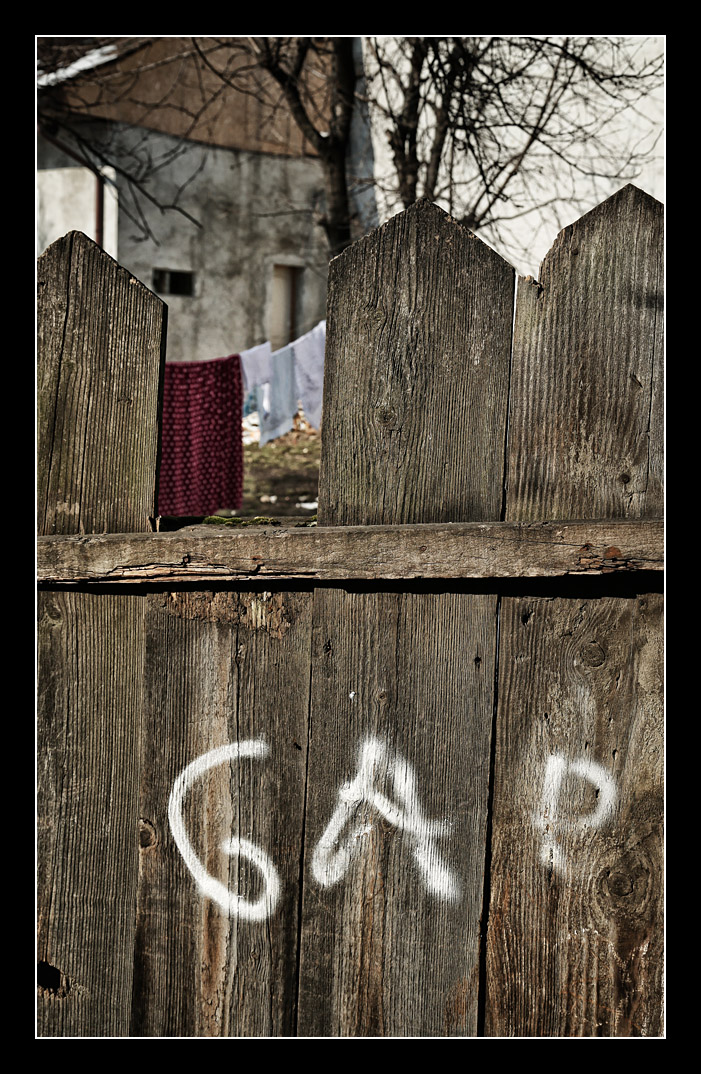 In Strada Horea, leading directly to the main station, I encountered the tramway.
Cluj-Napoca tram consists of three, actually just one line. 100 and 101 reverse on a loop next to the station, 102 is operating over the complete distance:
http://de.wikipedia.org/wiki/Straßenbahn_Cluj-Napoca
(in German, click on "Translate" if necessary)
http://www.urbanrail.net/eu/ro/cluj/cluj-napoca.htm
#83 is the third of four PESA "Swing" railcars delivered in 2012.
Probably on constant fine particles environmental alert...
A former Berlin Tatra KT4D.
An old Dacia 1310 TX, still - as you can see - Western second hand cars are much more popular in Romania.
An ex-Potsdam KT4DM followed in this highly electric street.
KT4D #19 (CKD Tatra #167681 / built 1979) with pimped rims! Line 100 is reversing northbound here …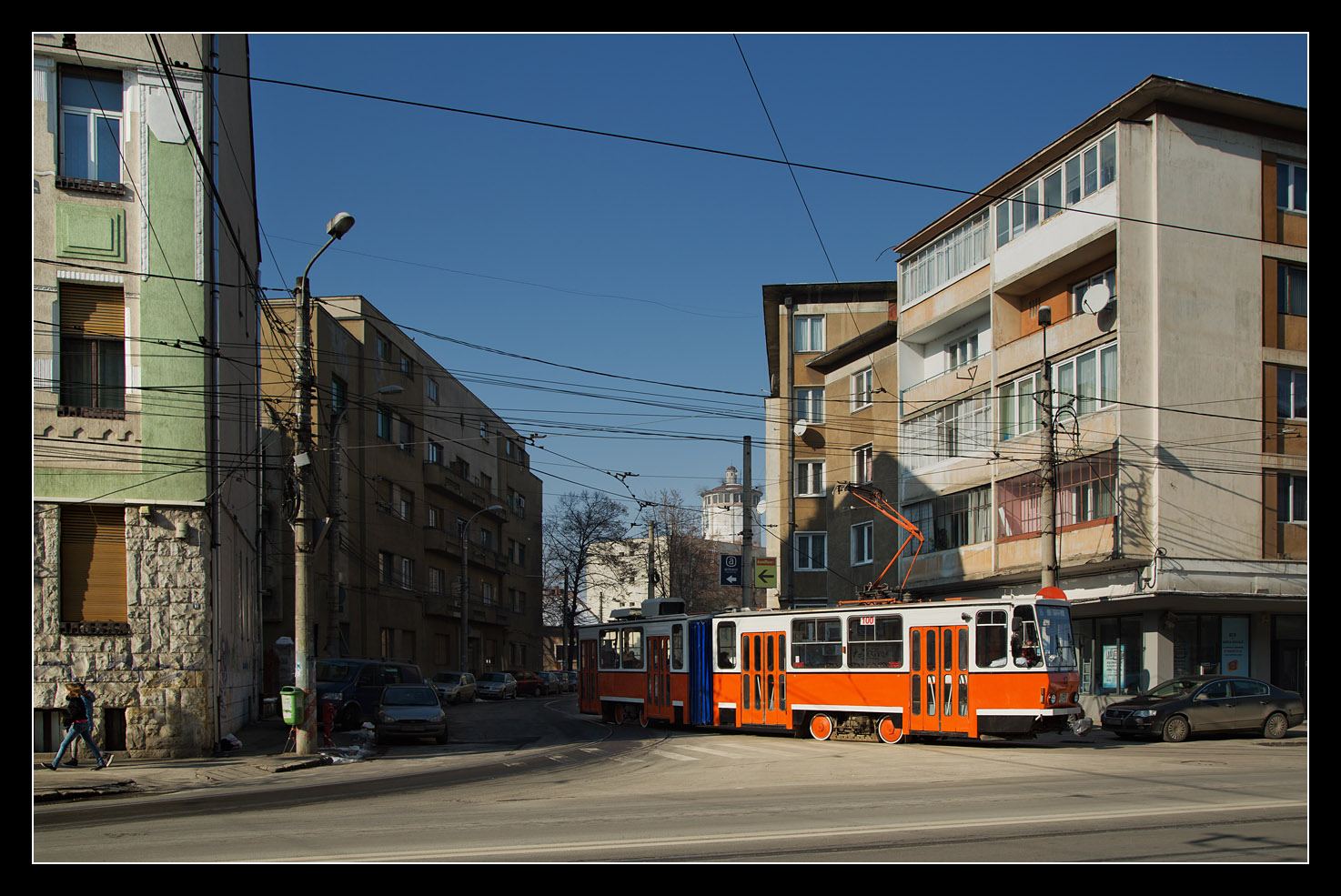 …. while line 101 is turning back south – a water tower in the background.
At the Oncos-supermarket I bought a drink for the day, then captured this panorama with station and KT4DM. Despite of three lines, intervals between trains are quite long, 5-10 minutes.
Passengers gathered at the stop accordingly.
Blue - (some) yellow - red
In front of the station stood beauty 150.139 (built after German class 50 by Resita 1946 - 1960).
41-0747 displaying a proud emblem departed at 12:07 with R 3612 to Teius.
A row of stabled light blue coaches could be found here as well, including some double-deckers.
The platform was filling gradually.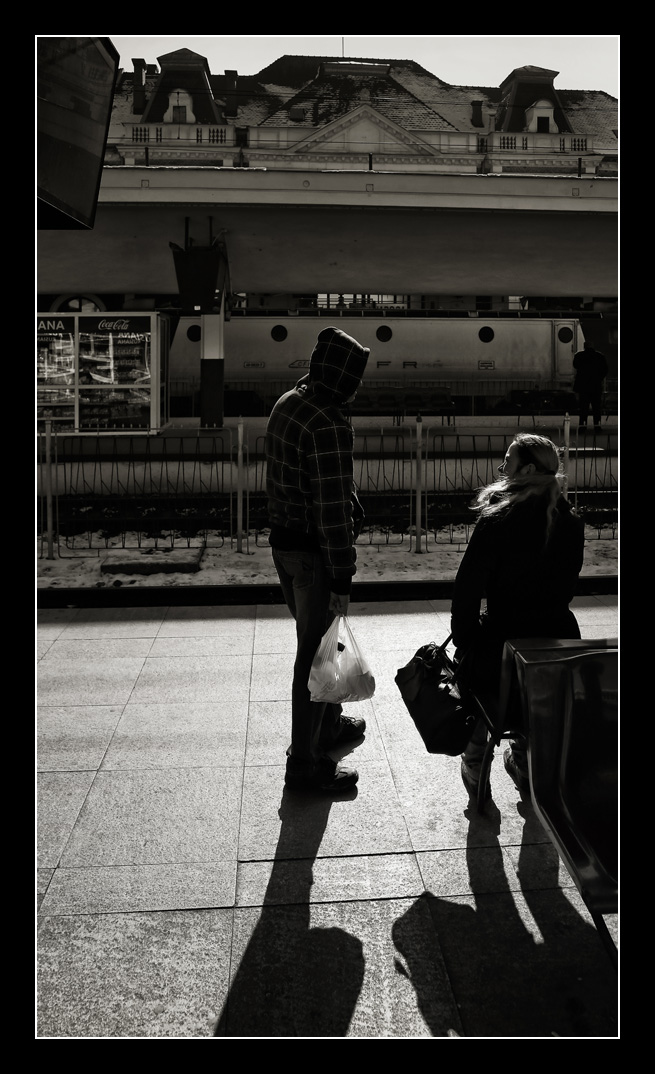 The vehicle to the right was shunting through the station with a track maintenance crew, sadly I had to settle for the vehicle to the right...
Next time I will show trackside photos west of Cluj, and we will arrive at Viseu!