The railroad contractor I work for has a ballast cleaner that is going to start working on UP soon; the machine is in UP's Denison, Texas yd.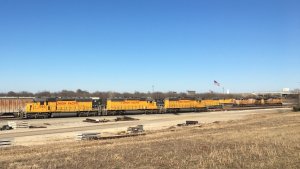 UP 1780 Built 8-73 Built As: CNW 6809 (SD40-2)
Delivered to Chicago & North Western as CNW 6809 SD40-2 in August 1973, this unit would keep this number until the Union Pacific merger becoming UP 2958 on October 1, 1998. Fourteen years and six months after entering the UP roster this SD40-2 was released from North Little Rock as SD40N 1780 looking like a brand new locomotive. Note the ATC/ATS shoe on the rear truck required for service on the former C&NW lines with Automatic Train Stop and Automatic Train Control.
UP 1775 Built 2-72 Built As: UP 3162 (SD40-2)
UP 1787 Built 2-74 Built As: CNW 6824 (SD40-2)