Hi,
To the previous part of the series:
Tuscany 2013 - 8: Deeper into the Heart of Tuscany (50 p.)
http://www.railroadforums.com/forum...13-8-Deeper-into-the-Heart-of-Tuscany-(50-p-)
The itinerary for this part:
Code:
Thu, April 18 2013
----------------------------------------------


Asciano dep 14:47  6912 ALn 668

Siena arr 15:19
Siena dep 15:41 +10 Min  23470 -> Empoli ALn 668

Castellina in Chianti-Monteriggioni arr 15:56 +10 Min


Castellina in Chianti-Monteriggioni dep 18:01  11794 -> Empoli ALn 668

Empoli arr 18:52
Empoli dep 19:32 +7 Min  23392 -> Firenze SMN WZ

Signa arr 19:46 +7 Min
Map of Tuscany:
http://raildata.info/toskana13/tos13karte.jpg
April 18 2013
We return to Aia Vecchia Di Montalceto near Asciano, here:
https://goo.gl/maps/UJG4z
As I already had learnt in the last part, no steam train would come by within the following hours on the Val d'Orcia heritage railway.
Still, a few virtually slightly improved panoramas cannot hurt in this beautiful landscape. In the centre of the lefthand third of the image the silhouette of formerly volcanic Monte Amiata can be discerned in the distance, at 5700 ft altitude it is the tallest mountain in southern Tuscany. The railway line leads past the mountain at some distance, still a station of name "Monte Amiata" exists.
See:
http://en.wikipedia.org/wiki/Monte_Amiata
and
http://it.wikipedia.org/wiki/Stazione_di_Monte_Amiata
That's how it could have looked a few decades ago... let's rather refrain from the phrase "good old times" at certain places.
The typical southern Tuscan landscape is dominating here, you can look from hilltop to hilltop, estate to estate.
The standard focal length panorama is showing the scene in more detail. Aia Vecchia Di Montalceto to the left, today running agrotourism with swimming pool and other amenities. In the background to the right Asciano, the hill in front is being traversed by the museum railway through a tunnel, from there it takes a long curve into town. The hill of Aia had also been tunnelled leading to the larger, better known viaduct on the other side. I decided to visit the spot again. This line is used by "Treno Natura" several times all year:
http://www.ferrovieturistiche.it/en/fvo/#eventi
I spent some cushy time underneath olive trees.
Not that you think I did not spot a real train all that time: R 6908 Chiusi Chiancano Terme - Siena stopped at Asciano station shortly after 10 o'clock. The heritage railway tunnel portal can be spotted in the foreground. One more train into the opposite direction passed by within three hours, otherwise nothing came from the Trenitalia side.
After half past twelve I started my walk back. At Poggio Pinci you could also get peeks at the viaduct.
Back on the main road at Oliviera I found this lovely scene.
It took me about an hour from the viewpoint to Asciano station. I chose a shortcut avoiding the road into town and was lucky to find a hole in the fence near the station water tower to slip through. I might even have caught the next connection to Siena at 13:28, but FI208 was operated by bus - not my cup of tea. At the platform I rested on a bench and cooled my feet, then explored the area. Like any respectable Italian rural station this one had to have a goldfish pond as well.
After the hours-long gap before noon two trains from Siena followed each other within half an hour. First ALn668 3146 and 3122 arrived as R 6863 passing the still existing old station infrastructure.
The station assistant was only occupied with removing tree needles from the platform by leaf blower. It seemed as if all signalling happened in a fully automatic way. There was not much work anyway, platform two was only used by two scheduled services per day, with just one train meeting a day. The town on the hillside in the background is Serre de Rapolano, the railway bypasses the hill in a loop north, although its destination Chiusi lies southeast.
I already thought only one class of vehicle could be found on this line, then was surprised by R 11761 with D445 1067.
Some facilities still might have been used by the heritage railway club, another water crane and a yellow draisine could also be found to the right in the background.
Together with a girl as only other passenger from Asciano I shortly afterwards took R 6912 to Siena where we arrived half an hour later. There I had twenty minutes to buy some local delicacies at the underground supermarket - it had to serve at least some purpose - and conviently occupy my seat inside a northbound class ALn668.
However, since we arrived at such a historic location, a short cultural interlude is called for. In summer 2003 I toured Rome, Naples and Tuscany with some friends, we also stayed overnight at Siena. Once more these photos were taken with the good old Camedia C3000Z.
July 22/23 2003
Palazzo Pubblico with Torre del Mangia at the famous Piazza del Campo certainly is the most prominent town view of Siena. When the sun is low it is not the most ideal place to photograph, as it is surrounded by houses casting shadows - it had been an ancient theatre after all.
Silhouette version.
We spent the night at a hostel inside the old city centre.
Siena Cathedral is dotted with exceptional works of art, here the eminent western facade. For more information:
http://en.wikipedia.org/wiki/Siena_Cathedral
Details of the western facade.
The inside of the dome.
13th century pulpit by Pisano.
Frescos by Pinturicchio on the ceiling of the Piccolomini library.
The font inside the baptistery, Donatello's bronze statue "faith" in the centre.
Another view at the facade.
At Palazzo Pubblico we had an encounter of a different kind.
Now back to:
April 18 2013
My R 23470 had departed Siena already 10 minutes delayed, I did not care, eating lunch. I got off at the second station - with full name - Castellina in Chianti-Monteriggioni. Here a view of my train leaving, a road-rail excavator with maintenance train was stabled to the left.
The next task: reach a viewpoint I had spotted passing by in the morning. The station was called Castellina in Chianti-Monteriggioni, yet was not located in any of those two places but at Castellina Scalo. Monteriggioni was my preferred background, a very small town still surrounded by complete medieval fortifications on top of Monte Ala. I had to cross a canal somewhat illegally, no proper way could be found in the vicinity. At a cartway-level crossing I finally arrived at a proper view. A meadow closer to town also existed, but the tracks looked overgrown along that section. So, I was satisfied with only a portion of the 620 yards long wall featuring 14 turrets. First a class D445 sped past with push-pull rake towards Siena, then R 11772 to Firenze approached.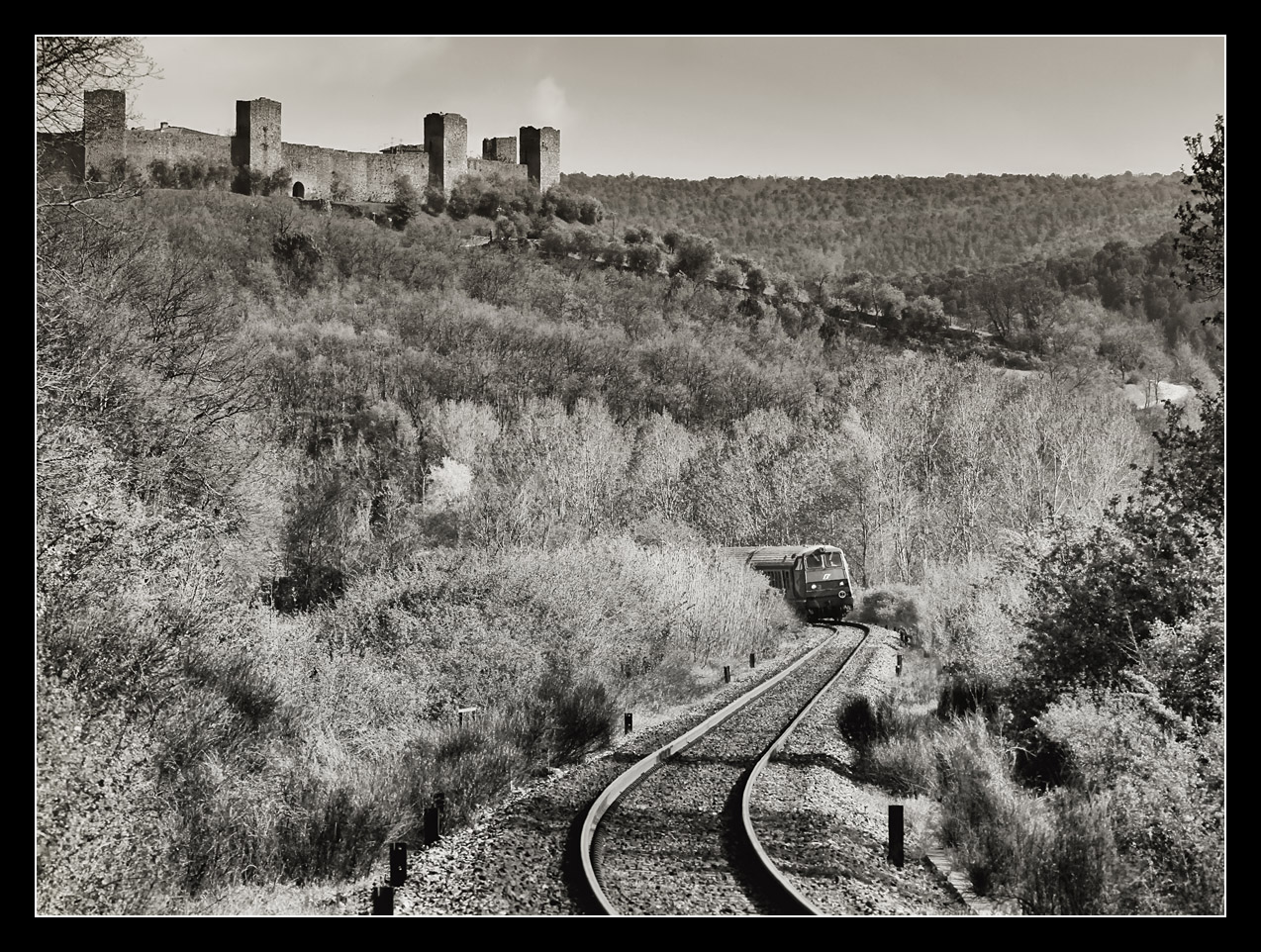 As already known, the driving van trailer always was coupled to the Florence-facing end of trains. However, these also belonged to the distinctive faces of former FS, so I was not bothered.
Next I waited at the canal bridge, for once a Minuetto class DMU came by as R 23472.
Now I was standing on a combined cycling/pedestrian way waiting for R 6887 Empoli - Siena, which departed 10 minutes delayed at 17:10.
I proceeded to a bridge across the railway at the other end of the station.
Not only beautiful spring, also industry could be found here. Next to the bridge warehouses and a turning bay for articulated lorries were located.
R 11751 sped through Castellina, semi-fast and local trains were alternating every half an hour, the former not stopping here. You can see Monteriggioni slightly shimmering through the trees, from many spots in the village it would have been the perfect backdrop if it was not constantly blocked by vegetation.
I tried to capture the power of D445 1130 hauling R 11778 to Florence by tele lens.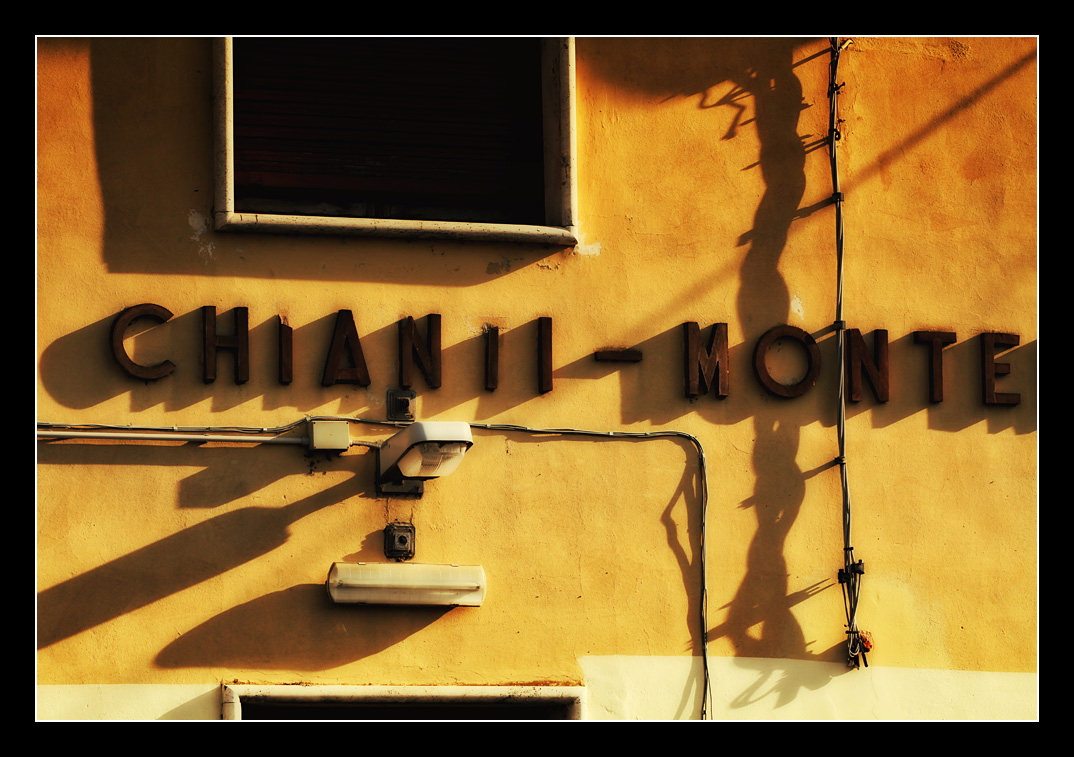 Punctually ALn668 3149 arrived as my R 11794 to Empoli at 18:01. A farmer had visited his vineyard shortly before, now, on the way back, he walked across the tracks only feet in front of the railbus buffers...
Soon after leaving Castellina a strange mishap took place: the driver had to get out of the train on the open line to turn a brake line valve - something I rarely ever have seen on western European railways.
At Ponte a Elsa we crossed D445 1143 with R 11777, which did not stop here officially.
The station was surrounded by tall reeds.
One of the more prominent sights near Empoli, otherwise the landscape was less open and more populous than south of Siena.
At Empoli a "Vivalto" bilevel train was waiting on track 2.
E464 455 pushed RV 3179 towards Pisa Centrale.
RV 3146 to Florence approached from the other direction, but since it was about to take the newly built line via Lastra a Signa I skipped it. I had walked enough for a day.
At 19:19 - 10 minutes delayed - R 23475 left Empoli towards Siena.
An electric Minuetto arrived as R 11731 from Firenze Porta al Prato at dead-end track 1E and terminated here.
Extreme tele view: featuring not only people cycling and walking conveniently across the mainline, but also the roller coaster of tracks to Pisa.
Soon afterwards a train rushed past Empoli, all regular trains usually stopped here. Long distance traffic did not use this line, sadly that evening also no freight trains which had operated at exactly that time the day before showed up.
The following D445 demonstrated that it did not have to hide from ALCOs and Co..
With R 11744 Siena - Florenz and D445 1083 we say goodbye to this class for this trip, only its smaller sister D345 will make another appearance.
Soon afterwards R 23392 took me to Signa, where I still made it in time to the grocery shop. In the next part we will visit the sea as well as the Alps.