Hi,
I have edited a few more pics, so I would like to invite you to an Alpine tour over the past year.
Shortly after returning from the Transylvanian journey I went on a day trip to Salzkammergut on
April 9 2015
. In the morning I arrived at Lake Traunsee in wonderful mood, rather late winter than early spring.
ÖBB class 1142 still can be met in some parts of Austria, particularly on the Salzkammergut Railway. Hurry to see them as long as new ÖBB Cityjet EMUs (Desiro Mainline) have not been delivered in masses.
REX 3411 leaves Ebensee towards Attnang-Puchheim.
This spot above Siegesbach-Tunnel with view at Traunkirchen and Traunstein had been nicely cleared of vegetation.
I spent the afternoon at always gorgeous Lake Hallstatt, in the shade the snow reached the lake shore.
This year, on
January 29 2016
, I returned to the Alps and caught the meeting of my REX 1506 Salzburg - Wörgl with REX 1507 from Innsbruck near St. Johann im Pongau.
I got off at Taxenbach-Rauris. Soon afterwards 1163.003 passed by with a local freight conveying narrow gauge diesel VL 7 (Gmeinder / Bj. 1940) from Murtal Railway to the SLB workshops at Tischlerhäusl.
I was headed for the Salzach-reservoir near Högmoos to catch EuroCity 163 and 164, proper successors of the legendary "Transalpin". In this direction Graz - Zürich sadly the Swiss SBB first class observation dome car was located at the rear end of the train.
On EC 163 Zürich - Graz it was coupled to the loco in this section.
I took a bus to Zell am See, where the Lake of same name looked lovely but way too ice-free for this time of year.
A class 1142 showed up on this line as well, I spotted it on Friday and Saturday.
Next morning "narrow gauge express steamer" 73-019 still rolled through fog at Walchen along the Pinzgau Railway.
However, in Upper Pinzgau Valley the fog already had cleared and left behind iced trees along Salzach River. R 3315 Krimml - Zell am See was being pushed out of Rosental halt.
Shortly afterwards the steam special approached trailing a long plume of steam in front of the Alpine backdrop.
View through Upper Sulzbach Valley towards the 10000 ft high peaks around Mt. Großvenediger.
The wonderful spectacle ended with one of many highlights.
Before returning to Vienna I walked along Lake Zell in the afternoon only now free from fog - in this picture you can also discover a narrow gauge train.
On
April 24 2015
I departed southbound from Vienna Meidling station early morning.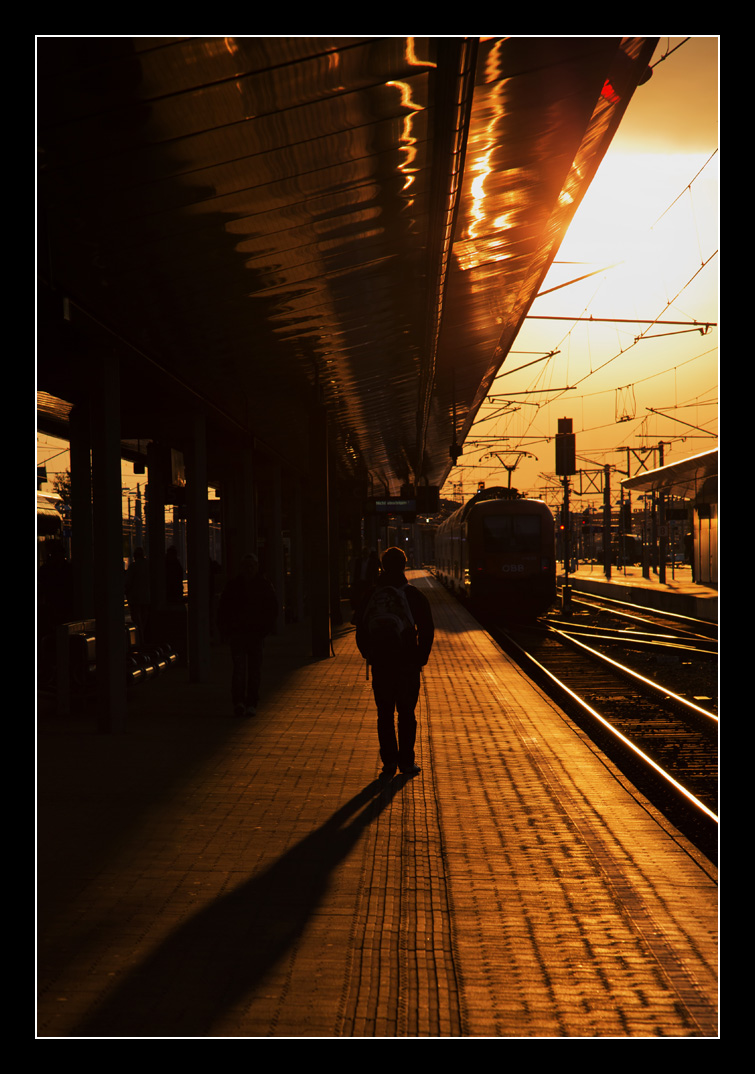 We are entering the realm of green energy.
Bohinj Railway is part of the transalpine link which in Italian is called "Ferrovia Transalpina". The loco-hauled avtovlak through Bohinj Tunnel is well-known, in this case operating the extended service to Most na Soci. Spanish MACOSA-built GM-licence SZ 644-020 crossed the river Baca near Grahovo in the last afternoon light.
I slept at Most na Soci, next morning it rained - but the mood turned out dreamy.
At this time rerouted freight trains hauled by ÖBB class 2016 still frequented the Bohinj Railway.
No photo spot for the faint-hearted - Bohinj-Tunnel nowadays is only traversed by a single track, the buffer stop was right behind me, no worry. The GM engine thunder of the class 644 hauling the avtovlak could be felt in my stomach. See:
https://youtu.be/f2aVp_q6rT4?t=5m37s
Motorized Podbrdo points operator.
After staying overnight at Ljubljana I visited a point of interest for railway enthusiasts during the past years - Borovnica with its diesel drag operation due to rebuilding the overhead wires after a disastrous ice rain in February 2014. In the meantime electric service has resumed. MV 481 Ljubljana - Rijeka had been coupled to a class 664 "Reagan" and accelerated up the grade before 7 a.m.
Apart from four international services this was the only other passenger train on the line not replaced by busses: IC 508 Koper - Ljubljana, here as the extraordinary example of a Fiat-DMU at least clean on one side.
Borovnica valley features a proper horseshoe-curve which just was being negotiated by this long Adria Transport freight train. However, it only became necessary after the massive Borovnica Viaduct had been destroyed in WWII. A remnant still is visible today:
https://en.wikipedia.org/wiki/Borovnica_Viaduct
SZ GM diesels were supported by Eurorunner locos from various companies.
On
August 21 2015
I visited Celje - the destination of the diesel service can easily be detected as well.
At Stranje the lines branch off to Rogatec and Croatia as well as Imeno.
Next morning at sunrise I encountered a great foggy mood in Savinja Valley.
Borsig 06-018 was being prepared for its regular Saturday special.
Hours later high summer heat had prevailed as MUZ 13420 steamed past me towards Imeno 45 minutes delayed at Sentvid pri Grobelnem.
During my visit to Bohinj Railway on
May 9 2015
it was also already quite hot with showers as I watched a rerouted freight crossing Solkan Bridge from the terrace of Gostilna na Prevalu inn.
Kriegslok 33-037 just had passed the probably longest stone railway bridge with its special to Bled. On the horizon you can catch a glimpse of the Adriatic.
Exactly where I was headed next. Trieste offers several railway gems, for example the unique tramway Trieste – Opicina which on a section is being operated as a funicular railway.
Two units coupled to special cable tractors at the meeting point near Sant'Anastasio halt.
I stayed at a private accommodation the female owner of which turned out to be the Villa Opicina head of police, who conjured up a wonderful espresso for breakfast. The morning became even sweeter with the morning light at Barcola Viaduct, here with Intercity 584/585 Trieste - Rome.
Morning-IC 735 Venezia - Trieste Centrale was approaching the endpoint of the Ferrovia Transalpina. Behind the viaduct white Miramare Castle and the Alps as backdrop.
One highlight was sleeper Intercity Notte 774/775 Rome - Trieste.
Frecciabianca 9716 Trieste - Turin at a city view.
I had started the journey at Venice with the train attendant of just seen ICN Rome - Trieste looking out at the lagoon.
If you look for class E402A electrics - here they can be found in masses as they also take over shunting duties from Venezia Santa Lucia terminal to the mainland. The Alps were slowly emerging from the haze in the background.
First I took pictures of the sunrise on Tronchetto Island.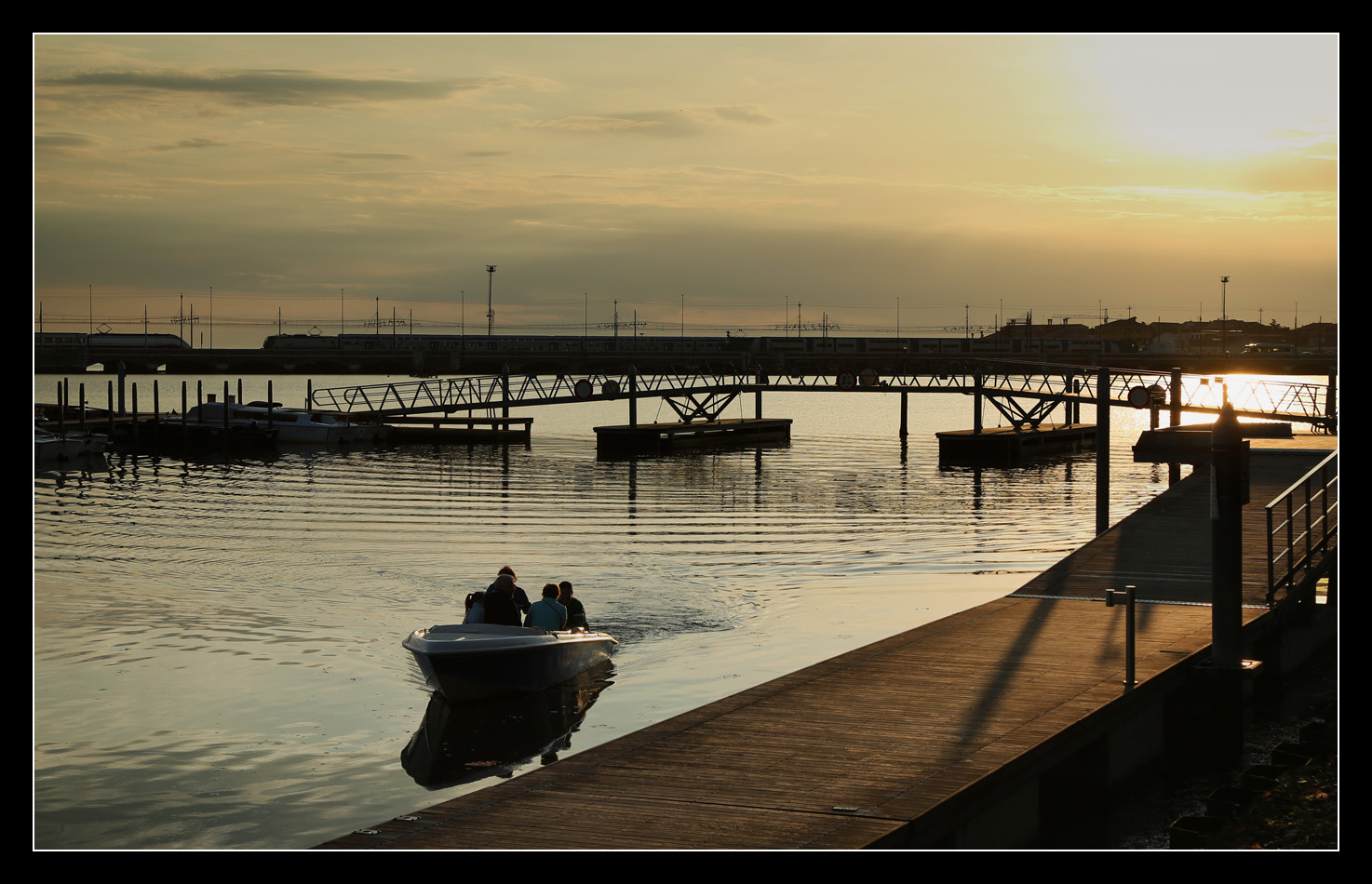 Alps, trains, boats, bustling life - Venice offers plenty of opportunities even for rail landscape photography!
More photo spots along the relatively new Tronchetto people mover.
View from Ponte della Costituzione towards a Frecciargento high speed EMU in EXPO Milan livery.
Due to traffic restrictions many deliveries still are carried out by hand.
Bella Italo-ia!
To conclude the report a panorama with the EuroNight arriving from Vienna and Munich viewed from Cannaregio Canal with Ponte dei Tre Archi to the left. In the foreground a scene which has been modernized: automated rubbish collection, not the classic dustmen of Venice anymore.