Over the past two weeks I've gotten an ATCS monitoring system operational. Radio Shack Pro-97 and a Larsen UHF whip on my trunk. This has saved a lot of time hunting down the spotty traffic here on the Speedway. After seeing what Bill Anderson has done with the Seattle area at MPs 17 and 18, and Itsed67 around San Fran, I'd like to do a similar thing in North LA along the Meridian Speedway and surrounding lines. Posting will be sporadic as assignments come up, but railfanning makes for a good break from homework. So here goes....
Grab shot from the Sparta St bridge in Gibsland on the way back up to Tech from Houston.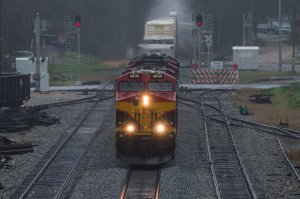 KCS local from Monroe near Start, LA. When I saw this train I thought that the lead engine was the smallest SD70M I'd ever seen. But after checking the roster the 2904 is an SD40-2. I completely missed the fact she only had 4 axles.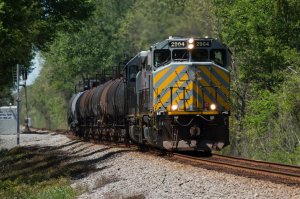 I tested the antenna the night after I installed it, and took some long exposures in the area. This is an NS stack train EB approaching Sibley, LA. 2.5s, f/8, ISO 100.