Hi,
To the previous part of the series:
Through the Alps by Steam - 1: Across Gotthard Pass (50 p.)
http://www.railroadforums.com/forum...ps-by-steam-1-across-gotthard-pass-50-p.14494
The video for this part:
Sadly an illness kept me from a planned trip, instead we continue our virtual journeys, appropriate for the current situation...
February 23 2019
I arrived Saturday morning 4:23 a.m. at Innsbruck by nightjet 466 to Zürich, a second engine was added for the Arlberg pass section.
Express 409 Moscow – Nice, which I already had spotted passing by in Vienna, arrived fifteen minutes behind me at Innsbruck:
https://www.vagonweb.cz/razeni/vlak.php?zeme=CD&kategorie=EN&cislo=409&nazev=&rok=2019
April 20 2019
We took the sleeping car of nightjet 233 to start our Easter holiday two months later. Milano Centrale welcomed us with various high-speed rakes on Easter Saturday morning.
Cigarettes still come first often in Italy.
Second: Selfie-time.
Our nightjet 233 from Vienna combined with 40295 from Munich. You can spot a patch of green paint on the engine E402B 128 which is no graffiti but the former livery shining through.
A Frecciarossa ETR 1000 in the background.
Platform access is divided into several gates for arrivals, departures and an express lane.
The "ventotto" Peter Witt-trams still are active in Milan:
https://en.wikipedia.org/wiki/ATM_Class_1500
Construction of the terminal took from 1906 to 1931 and had been bombastically expanded by the fascists:
https://en.wikipedia.org/wiki/Milano_Centrale_railway_station
"Frecciabianca" consisting of class ETR 500 power cars ("monotensione" - only for 3 kV DC) and Intercity carriages.
Our Thello EuroCity 143 to Nice shunted to the platform at 10:42 a.m.
View with Frecciabianca and one of the typical gantry signal boxes.
Traces of historic writing.
An "older" generation NTV "Italo" AGV class 575 on platform 16 next to ICN 1554 from Siracuse which had just arrived.
Our train before departure at 11:10 with E402B 121.
After almost four hours including change of direction at Genova we reached Italian border station Ventimiglia.
Thello EC 145 to Milan just received its E402B.
French SNCF TER 86045 from Grasse, Nice and Monaco meeting Trenitalia local traffic.
We took a taxi from Nice Ville station to our hotel at Villefranche-sur-Mer. Immediately after arriving I climbed the path uphill to Fort du Mont Alban. Strong winds brought Saharan dust which provided a peculiar mood.
The fort had been erected 1557-1560 after the siege of Nice in 1543. Villefranche harbour maintained strategic importance throughout history.
Thello EuroCity 147 Nice Ville - Milano Centrale came by at 6:19 p.m.
At 6:29 finally what I was waiting for: Express Moscow - Nice hauled by a béton BB 22200.
Next, I walked down to the harbour.
Villefranche is the best choice if you want to stay in a nice old town right next to Nice.
Sadly, local services are all operated by modern double deck units. Here you can find my report from 2008 featuring good old BB 25500 (currently only available in German):
Mediterranean Cruise V: Villefranche-sur-Mer - Marseille (50 p.)
http://www.mstsforum.info/index.php?topic=2162.0
But you can still encounter some things with style.
Subsequently, we indulged ourselves with local seafood delicacies.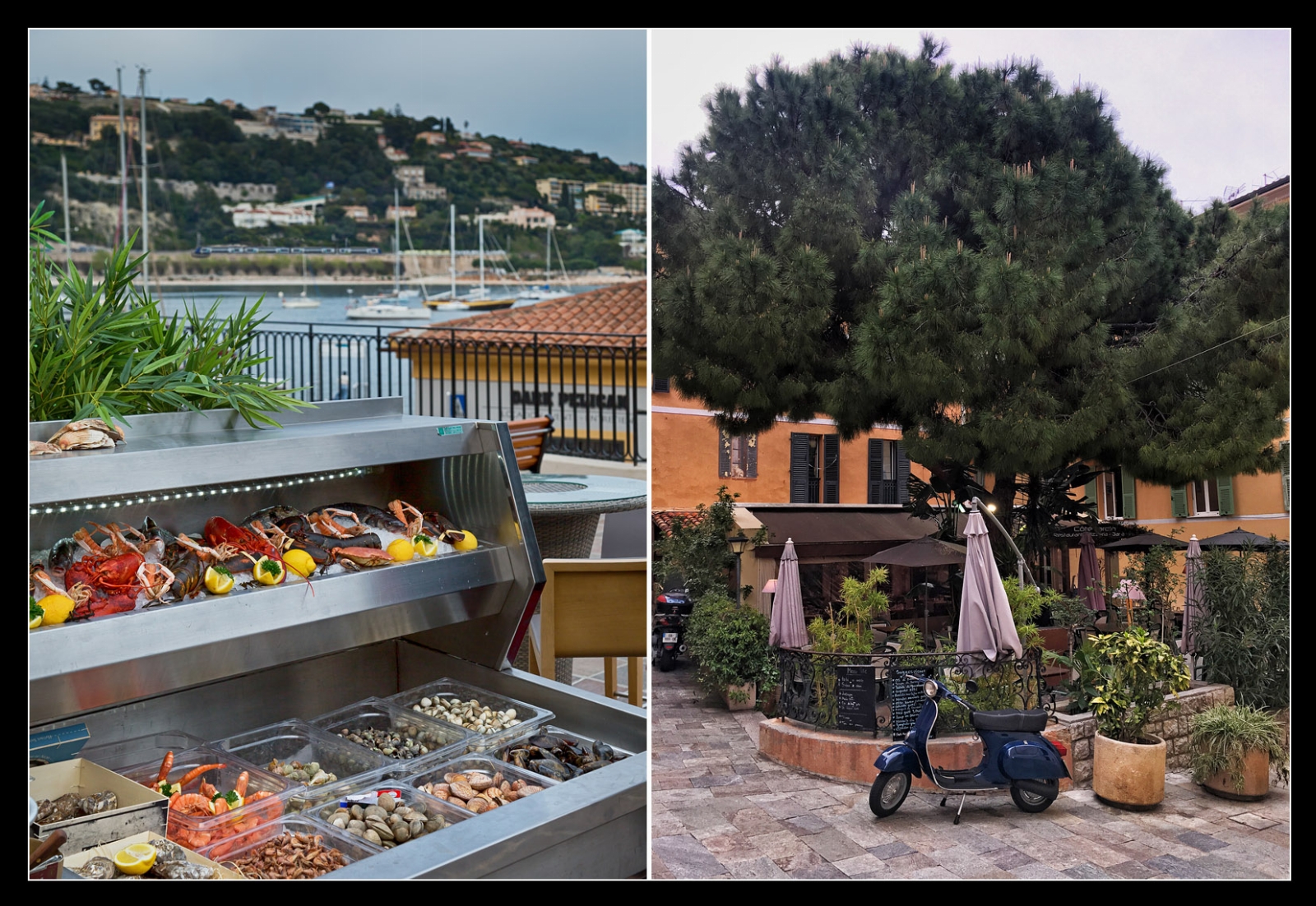 Thello EuroCity 160 Milan - Nice passed by 20 minutes late at 8:15 p.m.
To the right: the medieval covered street Rue Obscure.
April 21 2019
The view out of our nice room in Hôtel le Provençal showed a silver lining on the horizon.
Easter Sunday at the park in front of the citadel.
Through the old town to the beach.
TER 86016 Ventimiglia - Grasse reached the bay of Villefranche-sur-Mer.
Sunday-only express Nice - Moscow appeared at the station at 9:35 a.m.
BB 22318 pulled it past towards Monaco.
What valuable vintage cars can be found in this opulent area? A Škoda Rapid.
View through the tight fence of the railway station.
Such an old goods shed probably would not survive that long in other places...
TER 86022 Ventimiglia - Cannes-la-Bocca took us to Nice - more next time.