Hi,
To the previous part of the series:
Sicily 2016 - 3: Syracuse - Noto (50 p.)
http://www.railroadforums.com/forum/showthread.php?52755-Sicily-2016-3-Syracuse-Noto-(50-p-)
To the video:
https://youtu.be/L8L4FAom1hI
March 22 2016
RV 3867 had taken me on Tuesday morning at 8:20 a.m. to Giarre-Riposto (see report part 2).
This fountain seemed like it had been here since ancient times.
I asked for Circumetnea (FCE)-tickets once more at the station bar and received the reply "on the train"...
At the (too) sedate narrow gauge station I should have taken a closer look at the rails - this was about to be the only active narrow gauge vehicle I would encounter at Giarre or Riposto, viewed here with Mt. Etna in the background.
I walked down the quadratic street layout of Riposto towards the sea.
At Riposto-Villa Comunale halt the rail just looked rusty with some garbage lying around - it was clear nothing was about come. Later I learnt that this section of line had been closed for rail traffic in November 2015 due to a landslide. Still, the February timetable had been hung out on the wall.
So, I walked further downhill to Riposto terminal. At least I could take pictures of this abandoned vehicle with Etna in the background.
What to do? Travel via Catania. There was time until the next train would depart, so I explored Riposto.
At Riposto marina, grandly calling itself "Porto dell' Etna", most boats still stayed on dry land.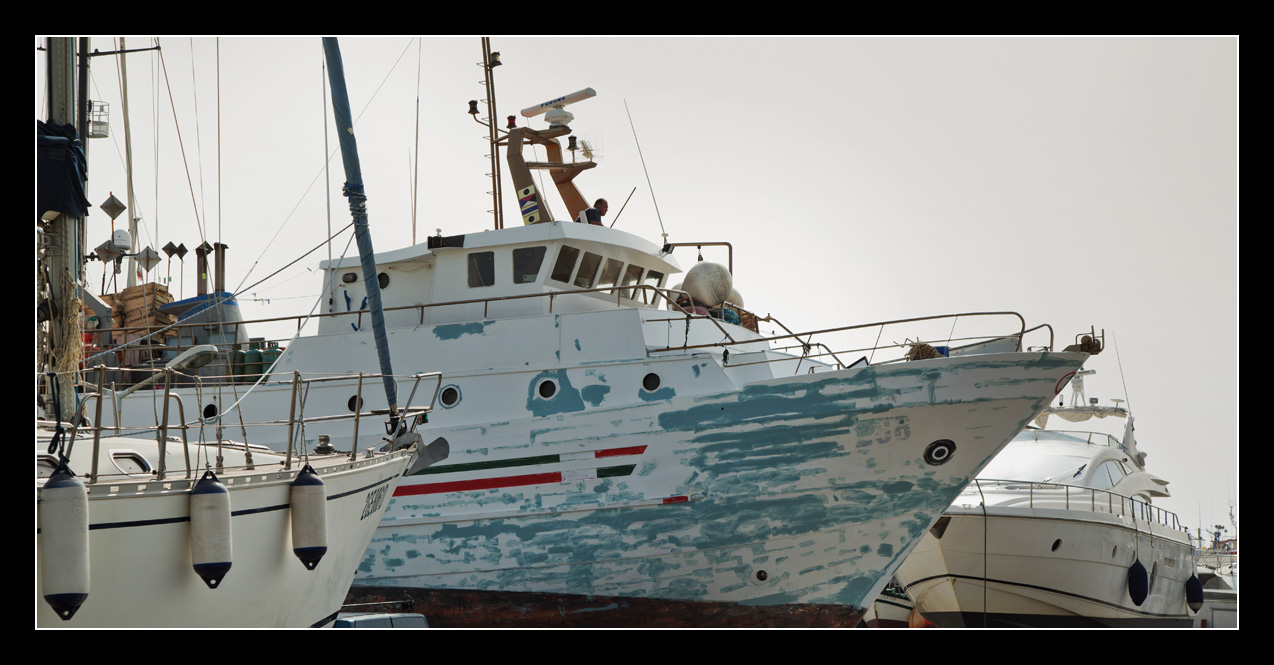 In front of the quite empty fish market.
Neoclassical Duomo San Pietro.
At about 10 o'clock I returned to the station for the train to Catania, but in this report we explore the area north of of Mt. Etna.
March 24 2016
Due to my experience on Tuesday we looked up the only bus on Thursday leaving Taormina towards Randazzo, Maletto and Bronte, departing at 11 a.m.
At Taormina we encountered this sweet, toy-like puppy.
We followed the coast to Alcantara and turned into scenic Valle dell'Alcantara - the busride allowed for non-stop sightseeing. We followed abandoned standard gauge railroad Randazzo - Alcantara which had been finally closed in 2002 after staying mostly shut down since 1994. FCE is planning to reactivate the short section Randazzo - Mojo-Alcantara.
https://it.wikipedia.org/wiki/Ferrovia_Alcantara-Randazzo
What a lovely line it had been - here a bridge with former Graniti station in the background.
The large viaduct of San Cataldo.
After several tourists got off at the entrance to Alcantara gorge and the rest of the passengers at the town of Francavilla we had the bus as a private taxi to ourselves.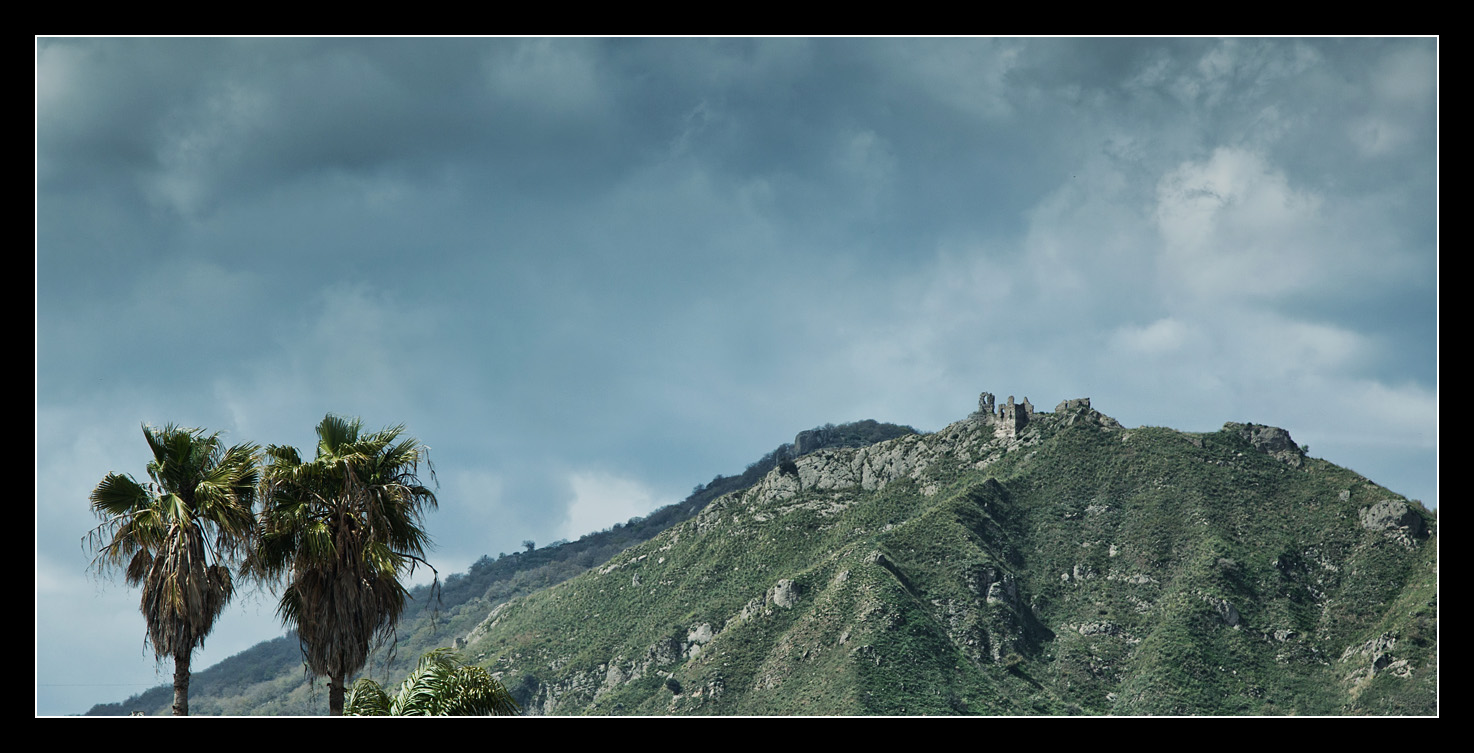 An old road bridge across Alcantara River, Mt. Etna in the background
We crossed Alcantara nature reserve and climbed several switchbacks towards Castiglione di Sicilia.
In car-mad Sicily often obstacles had to be removed from our path, once sewer workers had to coil a long cable, bring up a man and put back a manhole cover before our public transport could move on.
View at mountain town Castiglione.
We traversed a pass, then steered towards Mt. Etna and the currently active FCE-line.
More about Circumetnea:
https://it.wikipedia.org/wiki/Ferrovia_Circumetnea
Official page with timetable:
http://www.circumetnea.it
Ties at Passopisciaro-Moio station.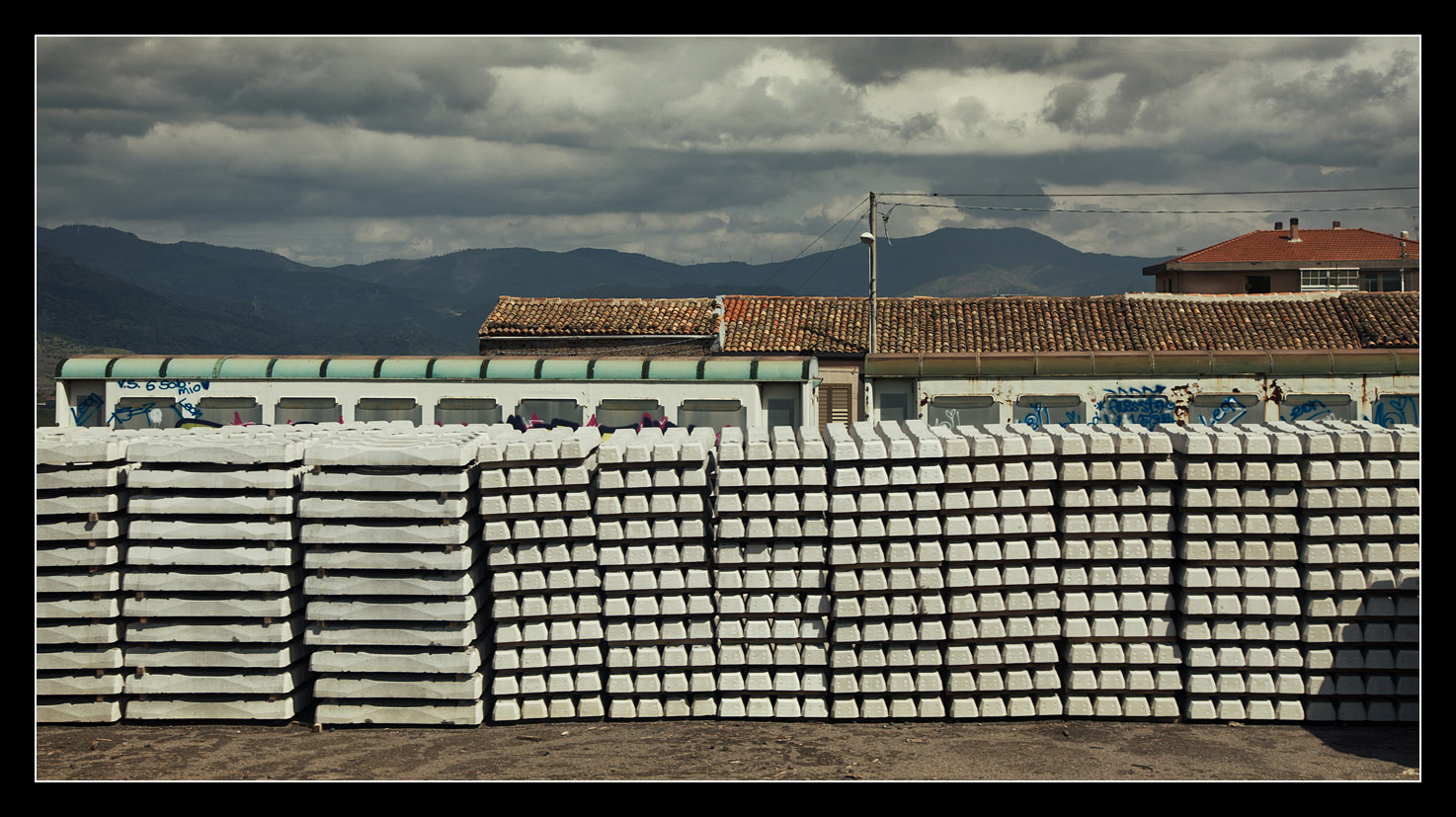 Nice spots everywhere, if only railroad traffic was available in according density.
Avalanche of artichockes at Randazzo.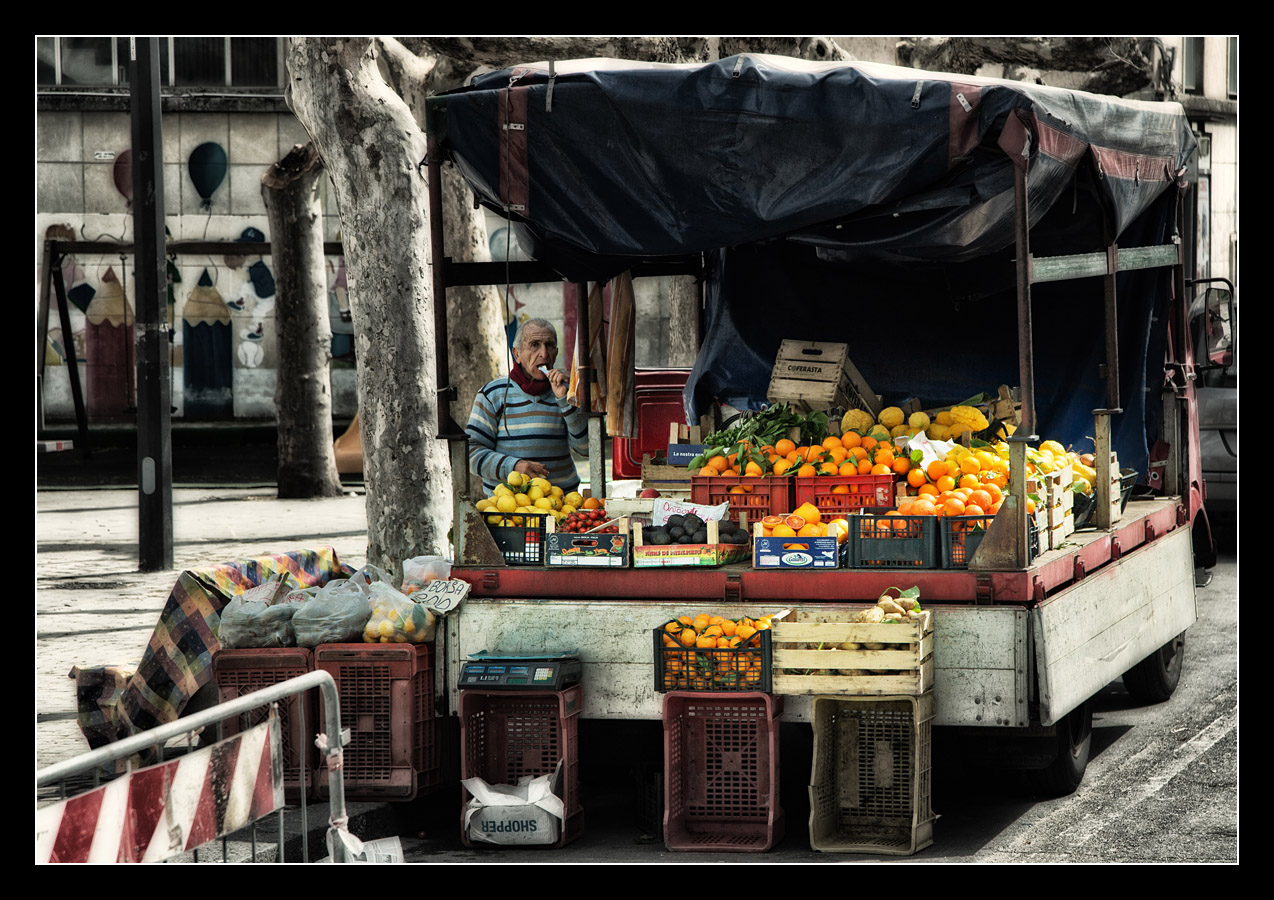 The others stayed at Randazzo as it features a nice old center, also shops to buy Etna red wine and lovely sweets made of local almonds and pistachios which we were about to enjoy later on the train.
I took the bus to Maletto. We passed Lago Gurrida, stop for many migratory birds, with a flooded vineyard in the vicinity.
After a two hour drive from Taormina the driver dropped me off at Maletto continuing alone. I walked shortly to this spot I had discovered on Google Street View and waited in the cold wind. Voilà, finally active Circumetnea: Treno 28 Randazzo - Catania Borgo punctually passed the backdrop of Maletto town at 1:43 p.m. Railcar ADe 14, built in 1980 by Officina Meccanica della Stanga, roared up the grade (see video at minute 6:40).
https://it.wikipedia.org/wiki/Automotrice_FCE_ADe_11-20
I had chosen Maletto as well due to the wonderful views of the grassy "highlands" forming the center of Sicily, once more a complete change of landscape.
Train 23 Catania - Randazzo came by punctually as FCE RALn 64.02. These railcars had been transformed 1981-84 from former state railroad FS class RALn 60 (year of construction: 1949).
https://it.wikipedia.org/wiki/Automotrice_FCE_RALn_64
I walked to the station, the sun appeared.
By chance a track maintenance train was stabled on a siding.
It was coupled to diesel T 05 of construction company Francesco Ventura having a very interesting history. It supposedly had been exported by Romanian manufacturer FAUR as class L45H to Tunisia with number 571 (still visible on both sides of the frame) and modernized (L45H are the diesels you can see in my Vaser Valley series).
Semaphore signals are partly still standing but none operational.
"An eye for an eye makes the world blind" - a Gandhi quote ("cieco", not "ceco" which means "Czech").
At 2:55 p.m. I boarded train 32 Randazzo - Catania in best spotlight.
See you next time, finally featuring views of volcano and Circumetnea, also Catania subway.