Hi,
To the previous part of the series:
Sicily 2016 - 1: Taormina (50 p.)
http://www.railroadforums.com/forum/showthread.php?52729-Sicily-2016-1-Taormina-(50-p-)
To the video:
https://youtu.be/L8L4FAom1hI
March 21 2016
Monday at noon our Flyniki flight from Vienna had landed punctually at Catania airport. We waited next to luggage belt #4 and called the company of the already ordered cab as we had been instructed. In a longer phone call we were given all details again and told to look out for "Torino 5" in the Sicilian traffic chaos outside the terminal. We asked ourselves: what was that supposed to mean? However, soon a white taxi appeared having "Torino 5" written on the side, and the mystery was solved. We took the first traffic hurdles, as observed: when as a gap opens, someone drives into it without caring about anyone else. That way deadlocks are created where no one can go back or forth anymore. We chatted with our friendly driver who offered to take us straight to Taormina for 90 euro (the official price on the website). However, since we were about to easily catch regionale 3856 from Catania Centrale leaving at 2:11 p.m. and already had booked online tickets for a fraction of the price, of course we declined. It was necessary to take this connection, otherwise we would not have much of an afternoon at Taormina left, also I would miss the scheduled express trains. Additionally, I wanted to ask at a shop inside the station if it was possible to purchase tickets for the Circumetnea (FCE - narrow gauge railroad around Mt. Etna). Information on the web was not clear, only a list of vending points is given. First information: Tickets were only available at the Circumetnea-terminal Catania Borgo, at the shop you could just buy some for the subway also operated by FCE.
My first impression of Catania Centrale: at the freight yard a southbound train was waiting hauled by "Caimano" E656.55. (last digit not readable)!
An accurate picture of the current economic situation in Southern Italy...
The subway is operating outside the station tracks along the shore, in another part we will ride it several times.
Our train approached punctually coming from Syracuse, at Catania a stop of four minutes was scheduled, appropriate for the waiting crowds. A first shock: a class E464 was only pushing three cars, the maximum on this line was four! A bit undersized for the amount of passengers, although many were just going short distances and by far the most were boarding at Catania - the second-largest city on the island.
Nevertheless we found places to sit and for our luggage in a car divided partly into an open layout, partly into compartments. Now I checked my phone for a second shock: I had counted on the Trenitalia app to check for delays of trains, however, on my iPhone I received the message: out of area - obviously it did not count Sicily as part of Europe... perhaps Africa? At least with one of my companions - same operator, other smartphone - it was no problem to purchase a data package for the week. Soon afterwards we simply installed the app on the other phone and I forwarded requests, but on the first day I had no clue what was going on.
Until now at least the train ran without a hitch, north of Catania we were speeding along a newly built double track line through a series of tunnels, when we suddenly had an unscheduled stop at Cannizzaro lasting ten minutes. Then we creeped along the track and once more stopped, now right inside a tunnel. A few minutes passed, then followed an announcement stating technical difficulties and saying that we were about to continue as soon as possible. The locals around us became impatient and started calling people awaiting them. I already thought that would be it for the afternoon, when we commenced rolling. After our first scheduled stop - Acireale - everything seemed to work again and we resumed our journey at normal speeds. At Giarre-Riposto I spotted a former Belgian GM diesel now used for maintenance trains in Italy, sadly not to be found again when I returned the next day.
Lastly we arrived at beautiful Taormina-Giardini station at 3:20 instead of 2:48 p.m.
E464.150 accelerated towards Messina.
Well, a little time still remained until the sleeper train would pass by, but I had to hurry. So, first pull the luggage to the accommodation just 1500 ft away, normally a deal of a few minutes - nope, shock #3: pedestrians are so lowly regarded in Sicily that on the short distance between important station and town there is not even a sidewalk along busy Strada Statale 114, including several narrow blind bends. I quickly hauled my suitcase to the b&b, then sprinted back to the station. In the vicinity the only existing walking path uphill to Taormina was supposed to start - nope: closed down! Probably due to danger of landslides...
What to do? Simply walk up as far as possible and hope to be able to see something, which at least was the case. A Minuetto EMU as R 12877 Messina - Catania met 20 minutes late R 12880 from Catania which had been stuck behind our train.
Obviously only the three main tracks and a siding for maintenance rolling stock still were operational.
In desperation you discover new views - this one I did not find too bad!
Without information about the scheduled express, and as we still had plans to visit Taormina, I decided to walk back to the accommodation. On the way I passed some vacation apartments advertising for "patients and relatives" of the nearby hospital "just 5 minutes' walk away" - yes, if you survive and don't become an emergency on the way yourself! ;-)
Just as I returned to the station I noticed the humming of an arriving Caimano - and voilà: 30 minute delayed ICN 1584 (train number differs on Mondays) Syracuse - Milan.
The going away shot was enhanced by an almost Indian-style colorful old truck.
This palm-pot was not about to survive our stay here. Just as we waited on the platform to depart the last day it became victim of a failed parking maneuver.
The prettiest and best-kept station building on Sicily, erected in art nouveau style.
In this section it is also planned to replace the line with a double-tracked one through a tunnel, the projected demolition causes controversies due to the cultural heritage.
http://operecis.gov.it/site/cis/home/opere-in-corso/messina-catania-palermo/scheda2742.html
I reached our b&b with very friendly owners, generally it is very noticeable that people in Sicily are extremely friendly and helpful. The main road through Giardini-Naxos is divided into two one-way streets (at least with sidewalks) between which this oasis of a courtyard was situated. At least there was practically no traffic during the night, so we only had the noise of the waves as lullaby.
The stop for busses towards Taormina could be found directly in front of our balcony on the shore. A few fishing boats were lying on the beach, with Giardini town center in the background.
I waited, and just as the bus to Taormina was already approaching it finally appeared 20 minutes delayed: the first daytime express from Rome, IC 721 Roma Termini - Siracusa.
Panorama of the bay, Taormina town on the hill and station down below in the center.
That evening we returned in moonlight.
March 22 2016
After my Isola Bella morning photos session (see previous report) I reached the station before 8 a.m. with some time to spare as it did not pay off to take R 12861 to Giarre-Riposto: it was about to be overtaken on the way there by RV 3867 towards Siracusa departing 10 minutes later.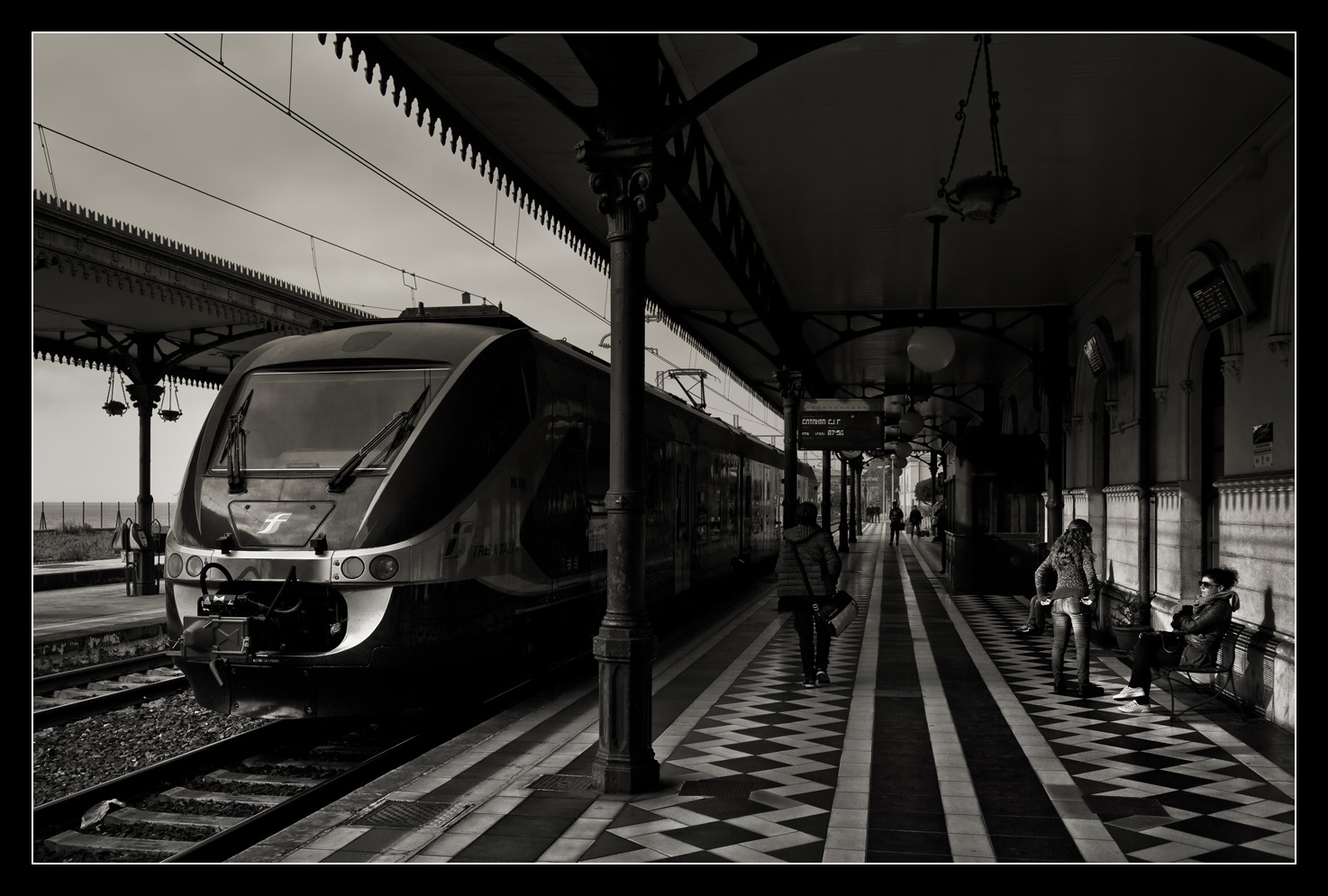 I did not look closely for a ticket machine and went to the counter right away (picture from another day, it was open). After a short time someone came and I confronted him with my request for tickets to Giarre and back. Well, no problem, he just did not have 5 euro change, so I was given a stack of 50-cent-coins. ;0)
RV 3867 with even 4(!) cars approached and the overtaking along the way worked as scheduled, but more about this excursion another time.
The same evening I had squeezed into a Minuetto at Catania during rush hour - and alighted from it in a slightly thinner state.
March 23 2016
The following day the worst weather of the trip was forecast, so we planned a day trip to Siracusa. This report will be next, two parts treating the Circumetnea following afterwards.
A first view from our balcony at 7:30 a.m. revealed this scenery (who discovers the ICN from Rome?):
Yes!! :0)
Dawlish? What's Dawlish?
R 12861 arrived on time. Our beach temporarily had disappeared below the waves.
After an extensive breakfast the sun even came out a little. This typical narrow street connected our accommodation to the shore.
Surreal view across the bay.
Almost punctual IC 722 Siracusa - Roma braved the storm.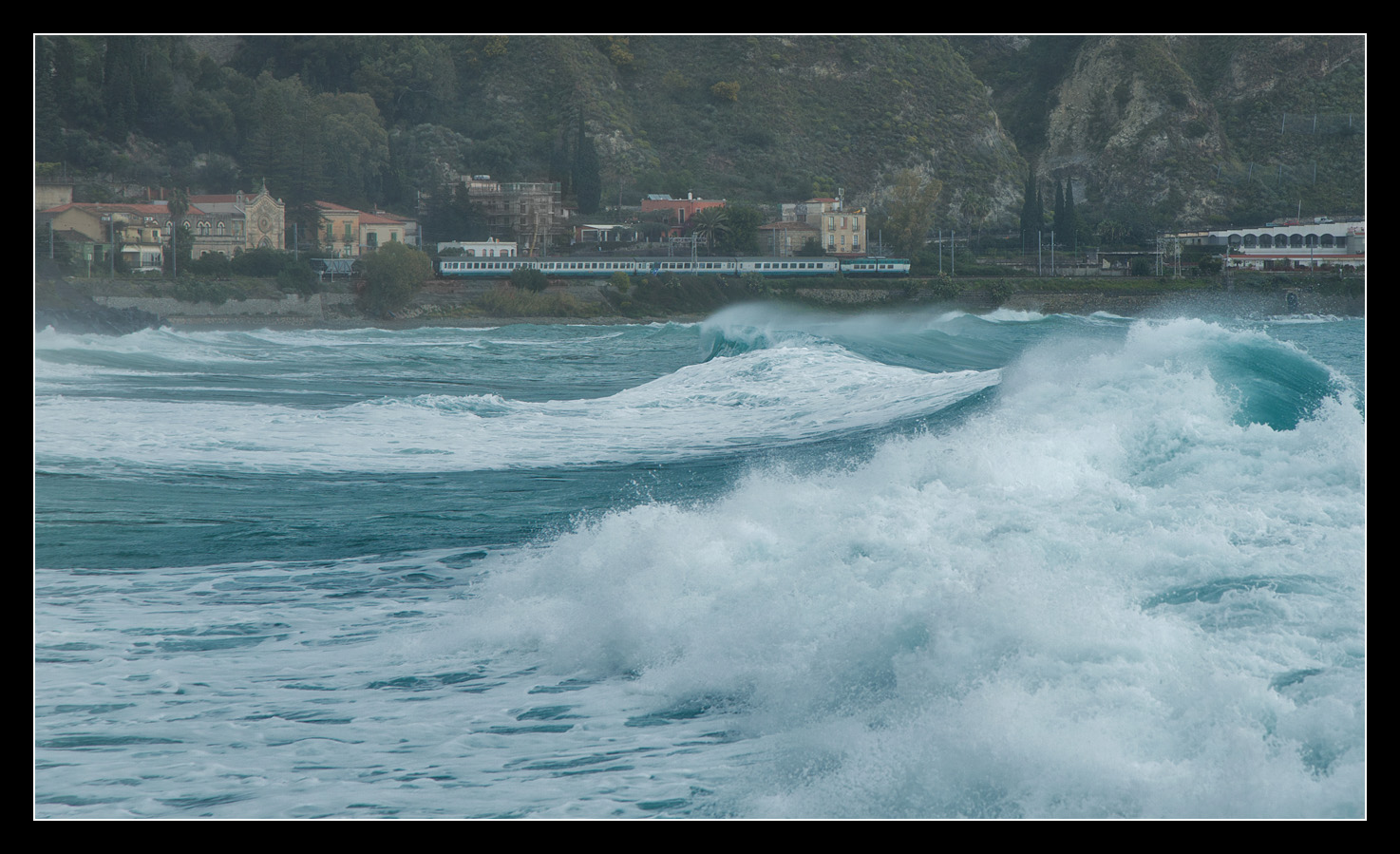 Not a chance of fishing that day.
We waited for our train to Syracuse at 10 a.m.
Upon return I took a picture of the lovely ticket hall art nouveau ceiling.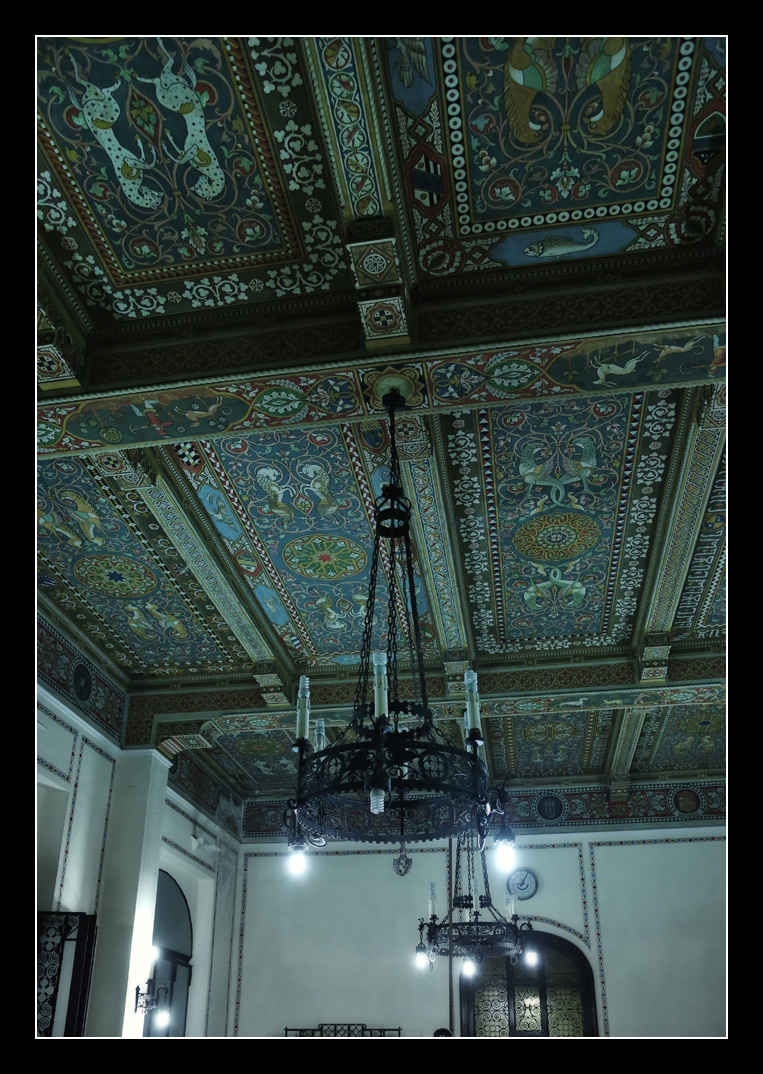 March 24 2016
Thursday presented itself calmer, even if the sea still was rough.
I took a bus to Capo Taormina and immediately caught overnight express ICN 1955 from Rome (see previous part). Since it was early I saw it again waiting at the station when I walked downhill to Isola Bella. In the background you can spot the snowy slopes of Mt. Etna.
After the second night train at 8:30 had passed I returned to this side. What happened now was a mystery and probably forever will be: first, the night train stopped at the station for half an hour without apparent reason. Then, two local trains arrived from both directions and after that - nothing was moving anymore for 20 minutes. Suddenly the push-pull-train which had arrived from direction Catania reversed and went back the same way. In my head I was constructing various scenarios for reasons why and already speculated no trains were about to pass my spot anymore - where it had become nice and sunny. When finally, almost an hour after the whole situation had developed, an unscheduled Minuetto arrived from Catania (as replacement for the other train?) and continued towards Messina.
All colors have stayed unchanged, by the way.
At 9:50 a.m. finally the train I was waiting for arrived: IC 722 Siracusa - Roma. Soon afterwards the second EMU standing here for 50 minutes at last continued to Catania.
The spot itself next to a busy road sadly is not as idyllic as the view. Several tourists came by to take pictures, also a girl with a painting canvas.
RV 3851 Messina - Siracusa arrived 10 minutes late.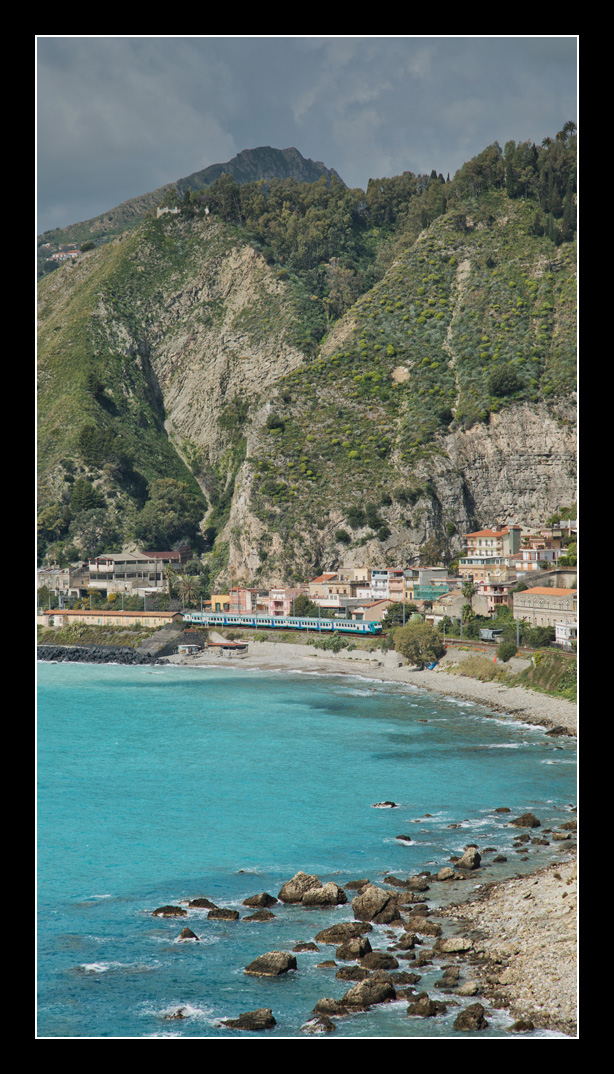 I waited a little longer for a potential freight train, but this became more and more unlikely due to all the delays.
The members of this "biker-(roller)-gang" insisted on being photographed, sadly I had to leave to reach the bus.
Soon I met the others for the second Circumetnea excursion.
Evening at Giardini-Naxos.
Finally we found a small trattoria serving home cooked meals, I took a fish platter.
March 25 2016
Last morning at Giardini the sea finally was calm enough for fishermen.
We took our luggage by bus the short way to the station to avoid the narrow road. I had seen a freight train arrive, and it was still standing there! I quickly ran ahead, when suddenly I thought hearing shouts behind me. A laughing loco driver was looking out of the door and pointed behind me. The station master and head of station police had run after me. I waved my camera above my head, then they gave up and turned around. I don't know what they were thinking, that I would mistake the freight for a passenger train and hop on? Seems unlikely judging by the state of this run-down class E656, which departed right away while the drivers were sounding the horn joyously.
Next time we will explore baroque and antiquity around Syracuse.