Hi,
To the video:
https://youtu.be/L8L4FAom1hI
We decided to use the Easter holiday for a trip to Sicily - I only had one week off, so it would have stay a first taste. I had gone on yearly sightseeing holidays to Northern Italy and Rome during my youth, but the South apart from the Naples region still was a blank sheet for me.
On Monday,
March 21 2016
, we boarded a Flyniki plane in Vienna and flew past the Dalmatian coast towards the tip of the Italian Boot. Sadly we were not seated on the side of Mt. Etna during landing at Catania, but on the taxiway I caught a first glimpse.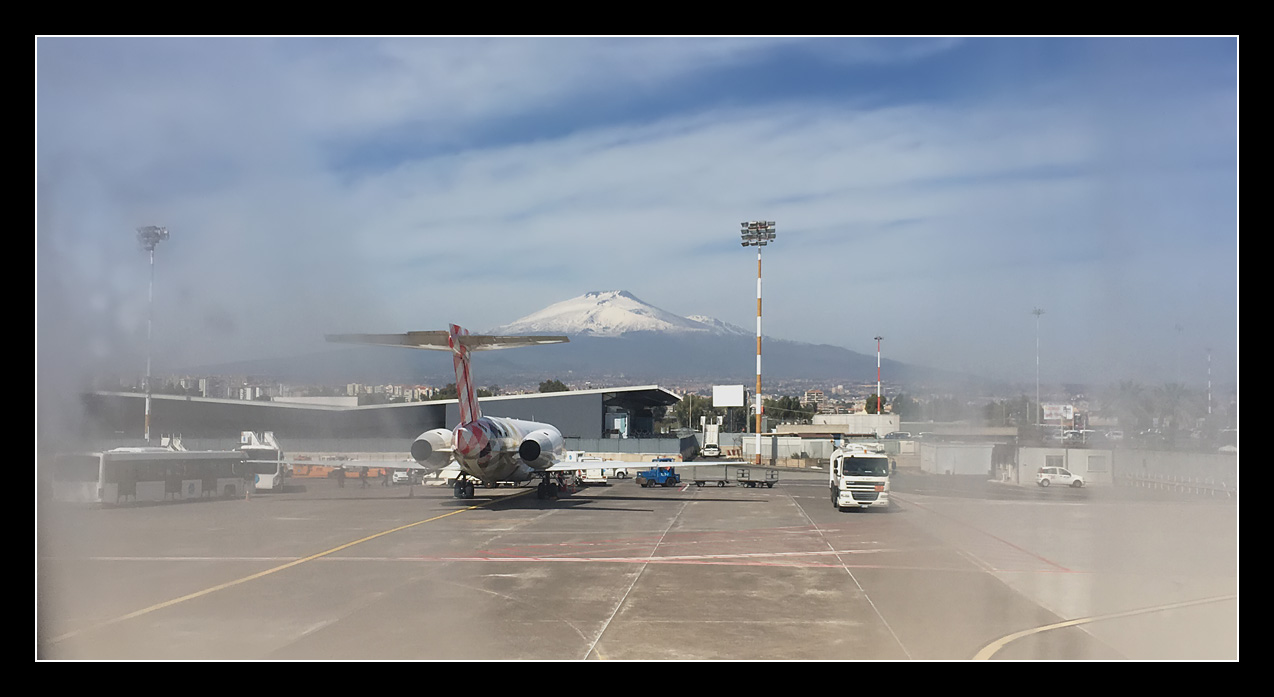 We took a cab to Catania Centrale station as soon as possible - more about the first experiences will be included in other reports as I want to sort them geographically, otherwise we would jump around a lot. Our first accommodation was located at Giardini-Naxos, on the coast below Taormina, in convenient proximity to the railroad station for daily excursions. Tuesday morning I left early after 5 a.m. to catch the sunrise walking along still empty roads - a fact which was about to change during the day.
March 21 - 25 2016
We start our Taormina series with an almost India-like hazy sunrise at Isola Bella. The small island is connected to the larger island by a strip of beach flooded most of the time.
Early local R 12868 Catania Centrale - Messina Centrale was passing the bay of Isola Bella at Mazzarò below Taormina. These short push-pull trains with class E464 traction are typical of the Sicilian east coast mainline, sharing traffic with class ALe501 "Minuetto" EMUs.
Anarchy in beauty.
Another regional passenger train being pushed towards Messina.
A dream terrace.
Next I walked up a few serpentines towards Taormina for a view at Giardini-Naxos bay and the joint station called Taormina-Giardini. Naxos had been founded as first Greek colony on Sicily in 735 BC. A Minuetto EMU can be spotted at the station reversing here as R 8579 to Catania.
In the background volcano Mt. Etna is rising from the shores of the Ionian Sea to an elevation of 10,922 ft.
The first Regionale Veloce (semifast train) of the day from Syracuse, RV 3866 Siracusa - Catania Centrale - Messina Centrale, arrived at 7 a.m. with class E464 electrics top-and-tail.
You can also spot our bed&breakfast, the pink villa with steep roof in the bottom left corner.
The overall view including RV 3866, Taormina to the right. It has been a top tourist destination for centuries, the most visited town in Sicily.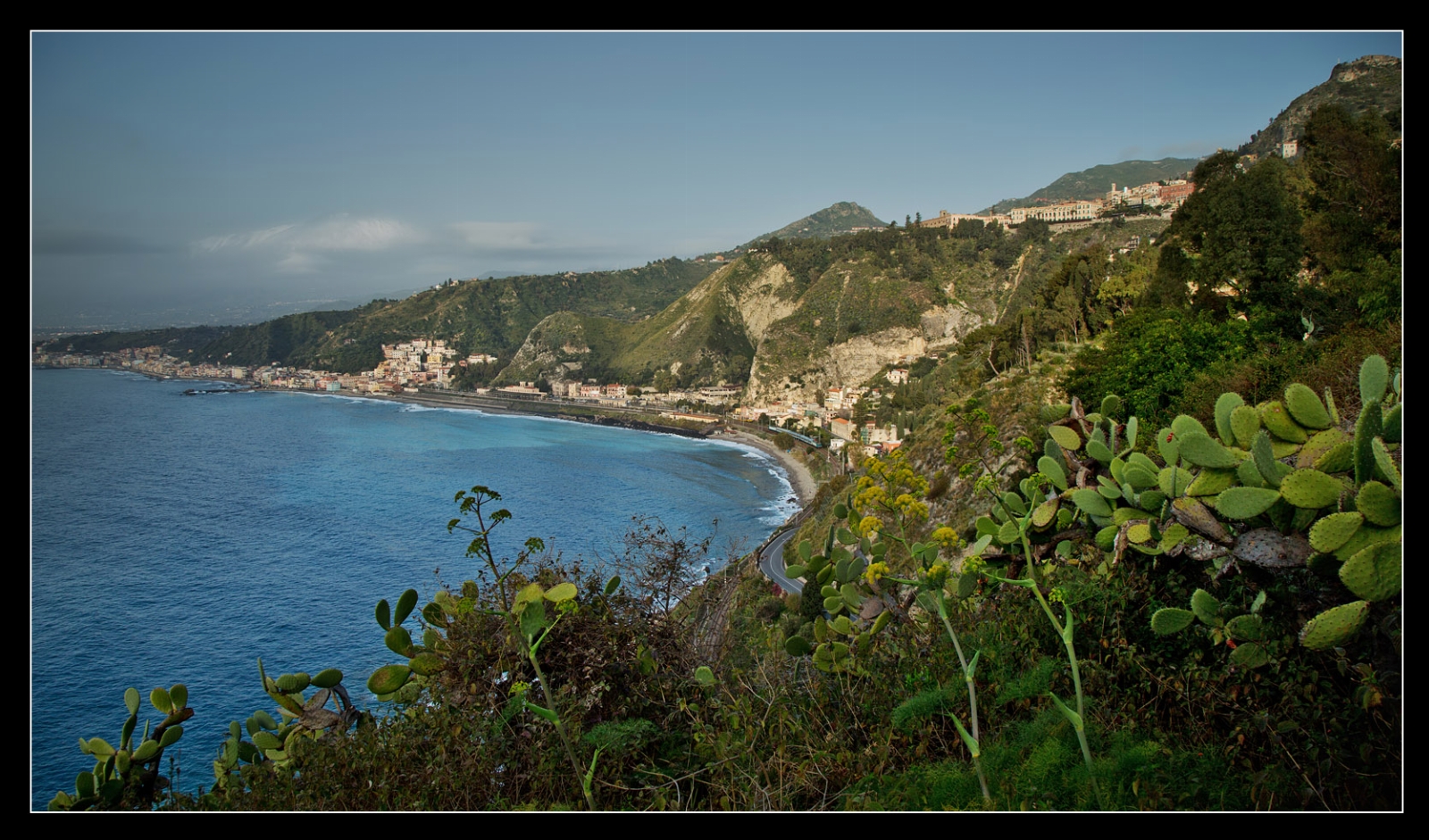 We return to the Isola Bella side, viewed from top, even if a few villas and ugly concrete blocks are trying to spoil the view. With a few I was suspecting certain "typically Sicilian" activities as background… ;-)
R 12780 was on the way to Messina.
A ferry had recently departed from just there.
Overnight express Intercity Notte 1955 Roma Termini - Siracusa appeared punctually. The long distance trains to Sicily are split up after leaving the ferry at Messina into a part to Siracusa and another to Palermo.
Afterwards I left for a daytrip to the Circumetnea narrow gauge railroad – more about it in the following reports.
On Thursday I returned by bus to Isola Bella - as traffic on the narrow roads already was too dense - and caught ICN 1955 right away at the "dream terrace" situated next to the Capo Taormina bus stop.
Then I captured this view of Isola Bella from Mazzarò with R 12861 Messina - Catania consisting of a Minuetto EMU in current Trenitalia local train livery.
Within ten minutes I had fought my way onto the beach partly through deep gravel to catch RV 3867 Messina - Siracusa. In summer you could easily wade to the island, but in March temperatures still were too low.
Immediately I sprinted uphill again for the second sleeper train of the day just passing 5-star-bungalows. ICN 1959 from Rome followed one hour behind the first express, like all long distance trains on Sicily hauled by good old class E656 "Caimanos". The island is the last reserve for these old-timers in passenger traffic.
We say goodbye to Isola Bella...
... and continue with sight #1 of Taormina: the Greek Theater, of course later modified by the Romans, discovered again by the Romantics and still used for concerts during summer.
On my last morning in Taormina I was lucky with the sun, soon afterwards it started raining. The weather around Mt. Etna stayed inconsistent all the time, sometimes differing completely every few miles.
Sadly the view at the station is blocked from the theater, but you can spot a train next to the big modern pilgrimage church.
The first daytime express, IC 722 Siracusa - Roma, arrived at Taormina-Giardini ten minutes late.
Impressions from the narrow streets of Taormina.
View towards Letojanni and Messina.
And to conclude, actually the beginning: on Monday we arrived at Taormina after 5 o'clock.
I rushed towards lively Piazza IX. Aprile.
And was rewarded with this sight, as I had planned as first image of Mt. Etna and Sicily. It is a panorama composed of seven portrait format photos. Below at the coast you can spot R 12879 Messina - Catania, San Giuseppe church to the right.
Slightly smoking Etna in the evening light.
Another panoramic picture with R 12882 Catania - Messina.
Next we took a bite at a restaurant in one of the typical streets. It was quite good, but nothing compared to what we were about to get served later off the tourist path. Almost every guest here seemed to be either from Austria or Germany.
Night-time images from the touristy place.
Two nights before the full moon.
Porta Messina, the northern town gate.
Two lions, a tiger and a zebra.
Next time we continue our tour of Sicily, but first only at Giardini-Naxos where I took plenty of pictures during our stay.