Hi,
To the previous part of the series:
ScanRail Tour 2004 - 8: Narvik - Bodo (50 p.)
http://www.railroadforums.com/forum/showthread.php?50014-ScanRail-Tour-2004-8-Narvik-Bodo-(50-p-)
ScanRail-map featuring the former and current itinerary:
http://raildata.info/sca04/sca0409k.jpg
July 13 2004
Before 12 o'clock our express 462 to Trondheim hauled by Di 4.654 stood ready at Bodo passenger and freight terminal.
Shortly before our departure this maintenance train arrived.
We left the station in driving rain, just as a Hurtigruten (express shipping line along Norway's coast) - with its back then newest vessel, 2003-built "Midnatsol" - entered port. So, no connection was given, but I don't know if it was a north- or southbound course.
The interior of our classic NSB car, a mixture of long distance and commuter layout. A feature noticed in all trains was the use of just a plastic bag for garbage disposal, which sometimes proved annoying around your legs.
We already had driven along the first (or rather most recently constructed) section of the Nordland Line to Fauske into the other direction by bus, it follows the shores of Skjerstad- and Saltfjords.
The route and history of the line can be learnt in detail here:
http://en.wikipedia.org/wiki/Nordland_Line
The images from the train were once again taken by old compact digicam. Only slight problem: it did not contain any button cells, so the time was reset every time you changed batteries until it had been connected to a laptop - which does not make classifying the pictures any easier...
The seashore is followed up to Rognan at the end of Saltdalfjord.
Subsequently the train climbs the western side of Saltdalen valley.
View back from Lonsdalen, where Lonselva and Junkerdalselva rivers meet.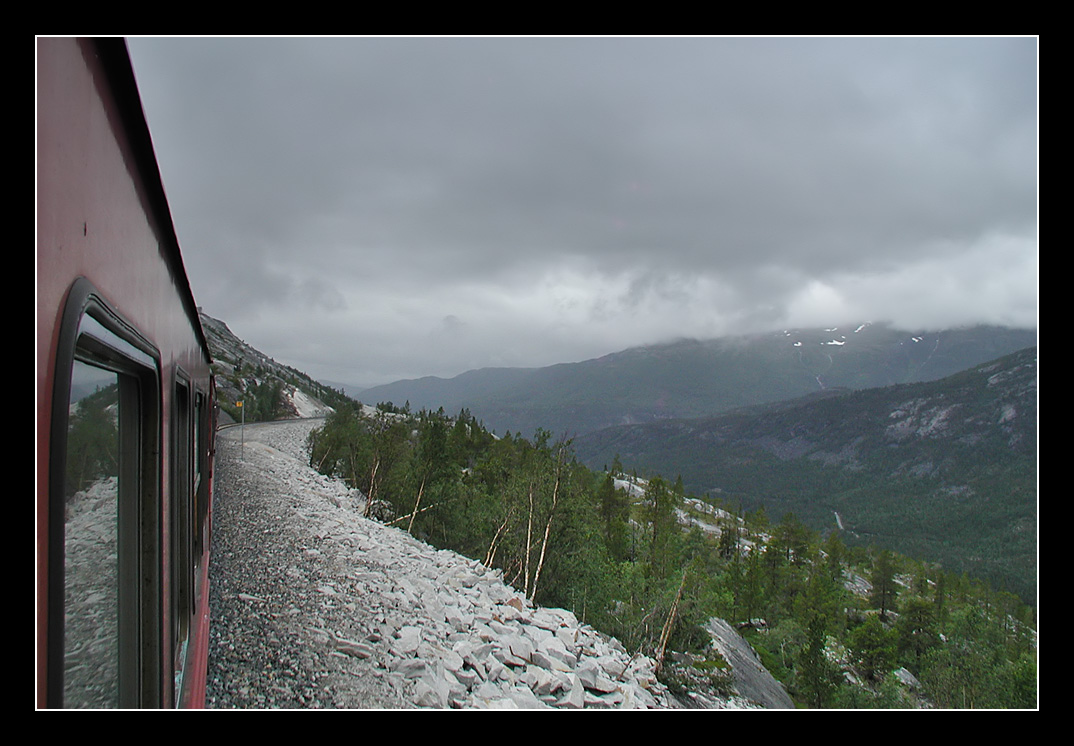 Lonsdal switchwoman used a bike to get around.
Break around 2 p.m. at Lonsdal, unlike Central European railroads even NSB mainline trains sometimes stop for a couple of minutes so passengers can stretch their legs.
The reason for our stop: this northbound freight hauled by CargoNet CD66 406.
The switchwoman had cycled to the other end of the station, but no hurry was necessary, timetables allowed plenty of slack time.
We traversed Saltfjellet plateau, the summit and highest point of the line is situated at 2230 feet above sea level.
After four days up north we crossed the polar circle again and passed the "Polarsirkelsenteret" after a 15 minute ride from Lonsdal. Until that year (2004) a request stop could be found here as well.
We descended into Randalen.
Ranelva was crossed on Raufjellforsen bru, the first larger bridge in the north.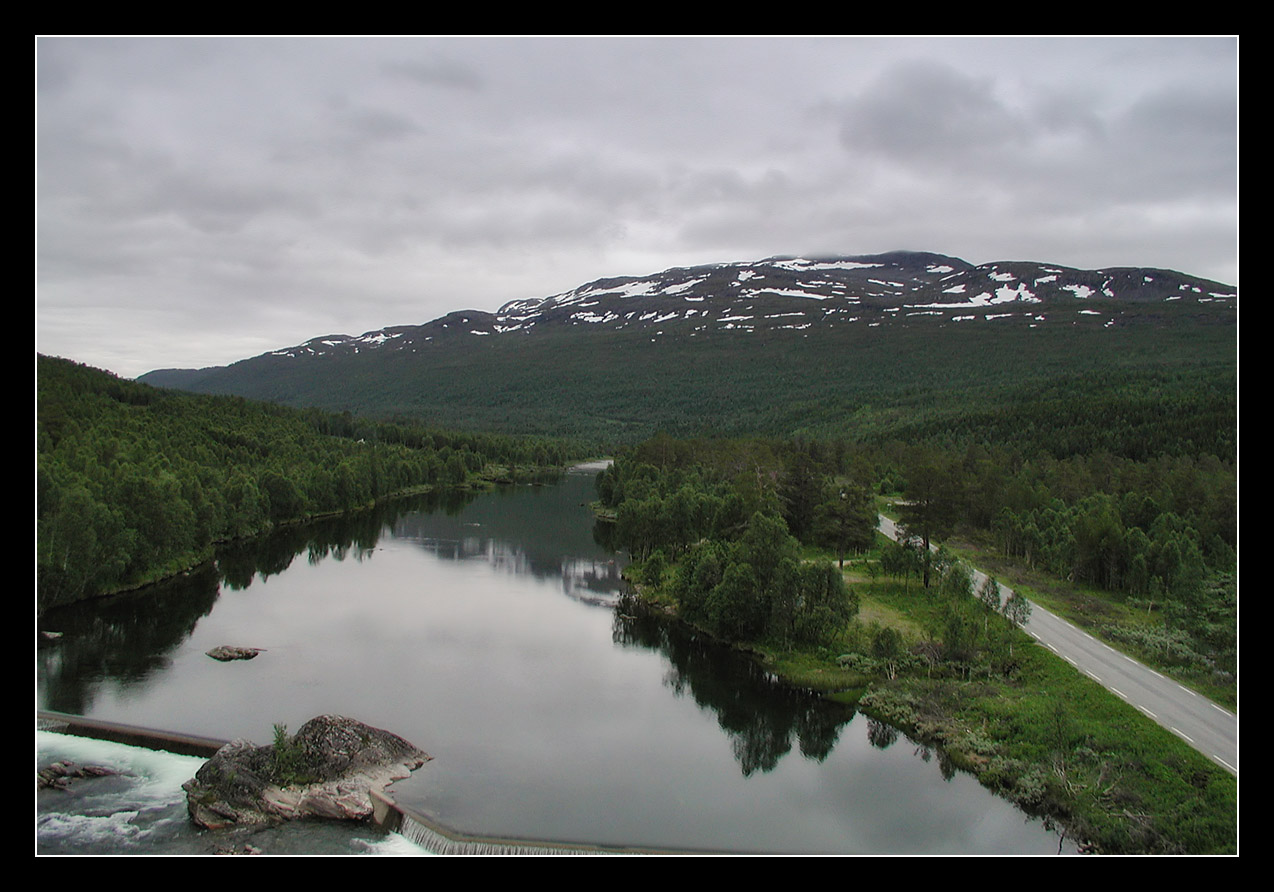 Along Ranelva behind Dunderland - actually this is the Dunderland Line which had been built at the beginning of the 20th century to convey iron ore. During the construction of the Nordland Line by the German occupying force it was incorporated as part of the mainline in 1942.
More about it:
http://en.wikipedia.org/wiki/Dunderland_Line
At Skonseng we met the other daytime train Trondheim - Bodo hauled by Di 4.655.
We followed the final miles of Ranelva to its mouth at Mo (pronounce: "Mu") i Rana.
Mo i Rana is the largest but also thanks to heavy industry due to the mineral-rich surroundings most unsightly town of this region called Helgeland.
After leaving Mo i Rana we followed the shores of Ranfjord.
We changed fjords, passed Bjerka and were now riding along the steep coast of Elsfjord.
Lovely Drevvatnet - a lake for a change.
Spectacular, 40 miles long Vefsnfjord.
At the end of the fjord we passed through Mosjoen, also an industrial town and home of one of the largest European aluminum mills (not shown ;-)).
We followed Vefsna river valley and crossed Trolldalen trestlework viaduct.
Even at smaller stations like Trofors several passengers were waiting, and moving farewell scenes took place.
South of larger lake Majavatnet we passed through Namdalen. Here we were crossing the torrential river Namsen.
10 minutes stop at Harran.
Where the inspiration for design and livery of these engines might have come from? ;-)
At 6:45 p.m. a class Bm 93 approached as train 477 Trondheim - Mo i Rana.
Fifteen minutes later we arrived at the livelier Grong station, junction of the railroad to Namsos where passenger traffic had seized in 1978.
We have reached the part of the railroad completed in 1905, then known as Hell–Sunnan Line. Steinkjer was terminal of Tronderbanen commuter trains, operated by class Bm 92 on the 80 miles to Trondheim at two-hourly intervals. At stations from here our train could only be used to disembark.
Pretty mood above Beitstadfjord, already connected to Trondheimsfjord.
The sun shone shortly.
At Bergsgrav we met Bm 92 09.
Behind Levanger this CargoNet CD66 double header thundered past us.
We passed nicely decorated Stjordal station 10 minutes early.
Past Vaernes - Trondheim airport - we reached Hell, junction of the already known Meraker Line to Östersund.
Evening colors above Trondheimsfjord, next evening I was about to return here.
Arrived at the rather dark platforms of Trondheim S - who needs lamps while the sun hardly sets at night? We had reached the station a few minutes earlier than the scheduled time 10:15 p.m. and walked to our nearby hotel.
Next time we will enjoy the return to Trondheim's civilization.