Hi,
To the previous part of the series:
ScanRail Tour 2004 - 7: Ofoten Line (50 p.)
http://www.railroadforums.com/forum/showthread.php?49981-ScanRail-Tour-2004-7-Ofoten-Line-(50-p-)
ScanRail-map featuring the former and current itinerary:
http://raildata.info/sca04/sca0408k.jpg
July 12 2004
Early next morning we left Narvik at 7 o'clock by Nord-Norge Ekspressen bus to Bodo. We followed the only coastal road E6 across Beisfjordbrua, from where views towards the container terminal opened up. The houses of Ankenes to the left, to the right in the background Narvik ore harbor.
Two Green Cargo Rc class locomotives were mirrored in the glassy fjord water.
A last glimpse of an IORE class and a Dm3 class at the iron ore terminal.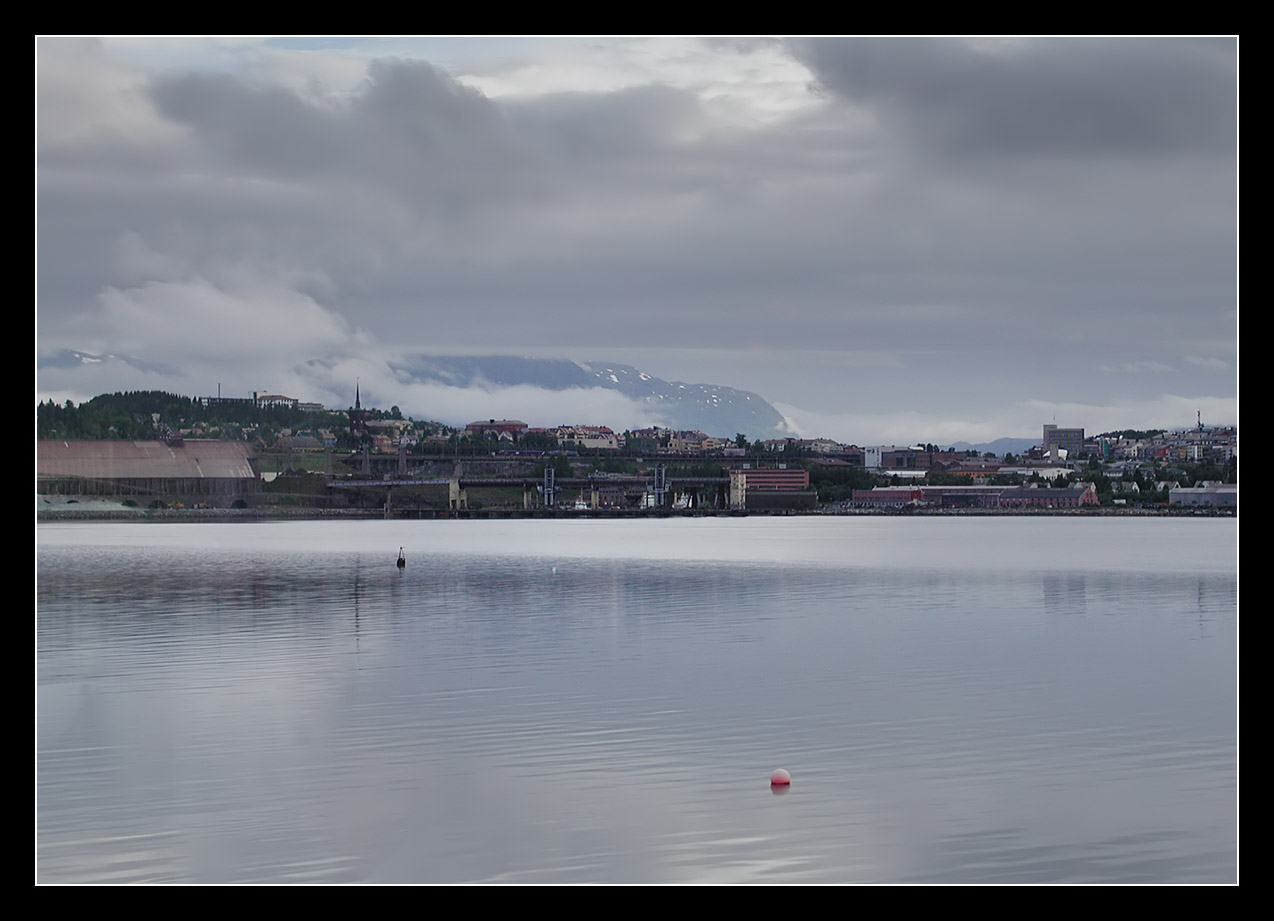 Ore loading facilities at Malmkaia.
Now we followed Ofotfjord westwards.
The next fjord crossing on Skjombrua.
Behind Ballangen we left Ofotfjord coast, time and again traversing lush green landscapes, thanks to Gulf Stream and maritime climate. The variety of scenery reminded of Scotland or New Zealand.
The Ejfjord bridges - a series of three bridges across several islands - were reached in rainy weather.
On the way to Skarberget we passed rugged mountains.
At Skarberget E6 meets its largest obstacle - Tysfjord stretching far inland - and terminates at a ferry link.
The ferry "Tysfjord" took us into its entrails.
This fjord is one of the reasons why no inner-Norwegian rail connection to Narvik - the so called Polar Line - exists. Already from the beginning of the 20th century until today plans to realize this project were in circulation - only once it was tried, by the German occupying force in WWII. Some of the former bridges and tunnels were later used during the construction of the E6.
More about the history of the Polar Line and alternative routings can be found here:
http://en.wikipedia.org/wiki/Polar_Line
Refreshment for our driver - probably one of those cholesterol bombs we saw advertised.
After half an hour on the boat we left the ferry in our rear view mirrors at Bognes.
Distances are vast here as well, after an overall 155 miles we reached Fauske on the Nordland Railroad Line Trondheim - Bodo at 11:40 a.m. However, no propelled rail vehicles were in sight.
On the last 30 miles to Bodo, following the shores of Skjerstad- and Saltfjords, no train showed up as well. This stretch of line was only completed in 1962.
In the capital of Nordland province we took a look around the harbor.
We found a food alternative: 2 pounds of freshly caught shrimps in a plastic bag for about 10 dollars.
Finally some culture could be visited again, at the imposing modern cathedral more ancient artefacts were encountered.
At 5 p.m. I explored Bodo station, the northernmost terminal of the Norwegian NSB network. A Bombardier Talent Bm 93 class DMU was just arriving.
Wrong subtitle! ;-)
The long distance train pairs Bodo - Trondheim, one sleeper and one daytime train, were traditionally hauled by locomotives, in this case by class Di 4. These obviously are no ALCOs, but were built in 1980 by Henschel using the well-known GM EMD 16-645E3B engines.
Daytime express 471 Trondheim - Bodo was approaching its destination after almost 10 hours travel time.
The remaining services - not that many existed - were operated by Talent DMUs.
Train 464 departed at 6:30 p.m. towards Mosjoen, 200 miles away.
Di 4 was shunting its overnight train while a CargoNet class CD66 (theoretically class Di 9) EMD waited for departure.
At 6:50 p.m. CD66 403 thundered up the hill from the station.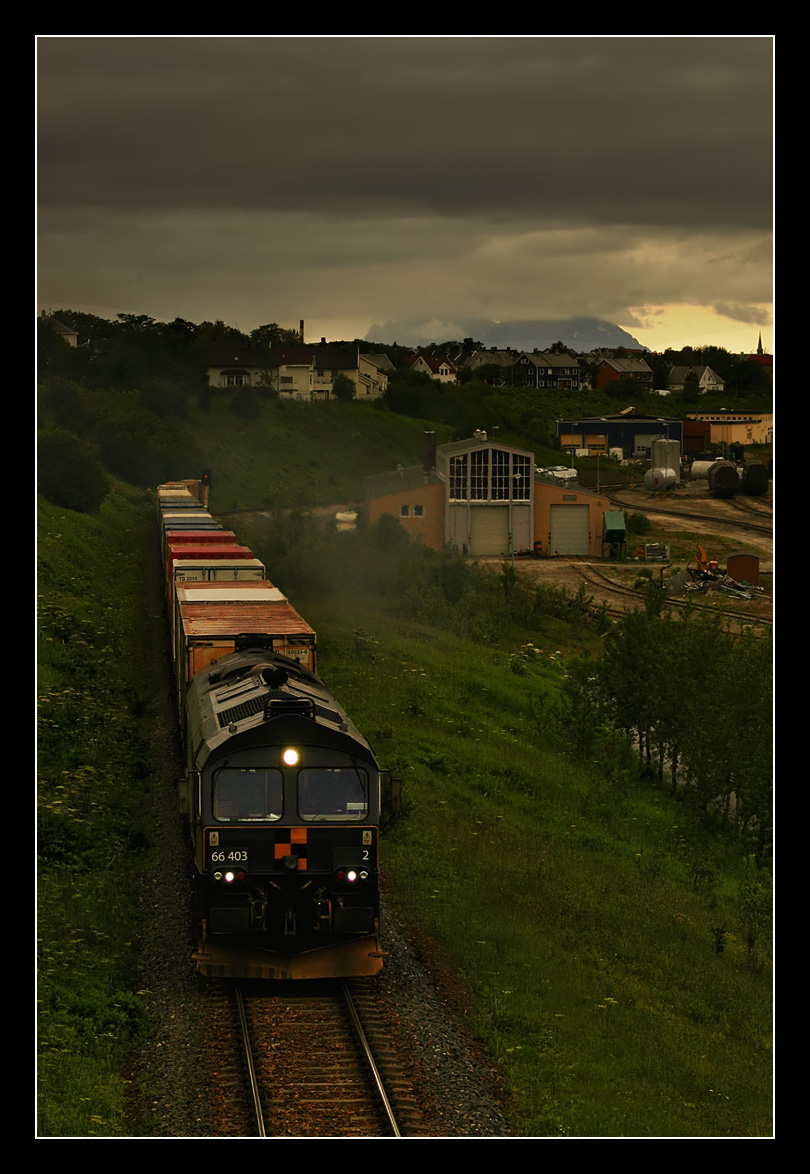 A wonderful mood had set in and a view across the skerry landscape opened up.
From this side the landscape looked Lofoten-like.
That evening I returned to the station for the sleeper departure at 9 p.m., always a special atmosphere when overnight trains prepare to leave.
Punctually Di 4.653 accelerated out of the station under a diesel smoke cloud and GM-thunder hauling express 476 to Trondheim.
Full throttle up the incline.
July 13 2004
Next morning at 9 a.m. I was on the spot again as train 475 from Trondheim rolled into the station, awaited by a CargoNet class CD66 double header.
Di 4.654 had hauled the express 450 miles safely through the night.
Soon afterwards the southbound freight led by CD66 405 departed.
We spent the rest of the morning stretching our legs at the harbor...
... as the next long train ride awaited us!