Hi,
To the previous part of the series:
ScanRail Tour 2004 - 6: To the Midnight Sun at Narvik (50 p.)
http://www.railroadforums.com/forum...-2004-6-To-the-Midnight-Sun-at-Narvik-(50-p-)
ScanRail-map featuring the former and current itinerary:
http://raildata.info/sca04/sca0406k.jpg
July 11 2004
Ofoten Line overview map:
http://raildata.info/sca04/ofotbahnk.jpg
After our midnight sun excursion we had time to eat breakfast comfortably next morning and then head to Narvik station. The first train of the day, Connex 95 Narvik - Lulea, only departed at 11:15 a.m.
The train quickly climbed along Rombaksfjord, soon valley views opened up. Between Rombaken and Rombaksbotn, Rombaksbrua - a 2500 feet long suspension bridge - had been opened in 1964. Currently a longer bridge is under construction at the fjord entrance near Narvik, supposed to serve as a short cut for main highway E6 saving 10 miles.
View into Rombaksbotn, the railroad route can be spotted on the mountainside to the right.
View towards Ofotfjord and Narvik.
At the end of the fjord near the mouth of river Rombakselva you could find sea water colors ranging from darkest deep blue to Caribbean turquoise on sandbanks.
Trainride below waterfalls and across wild creeks.
Even a dining car was conveyed on the "local" train taking 6 1/2 hours for 300 miles - distances up north simply are different.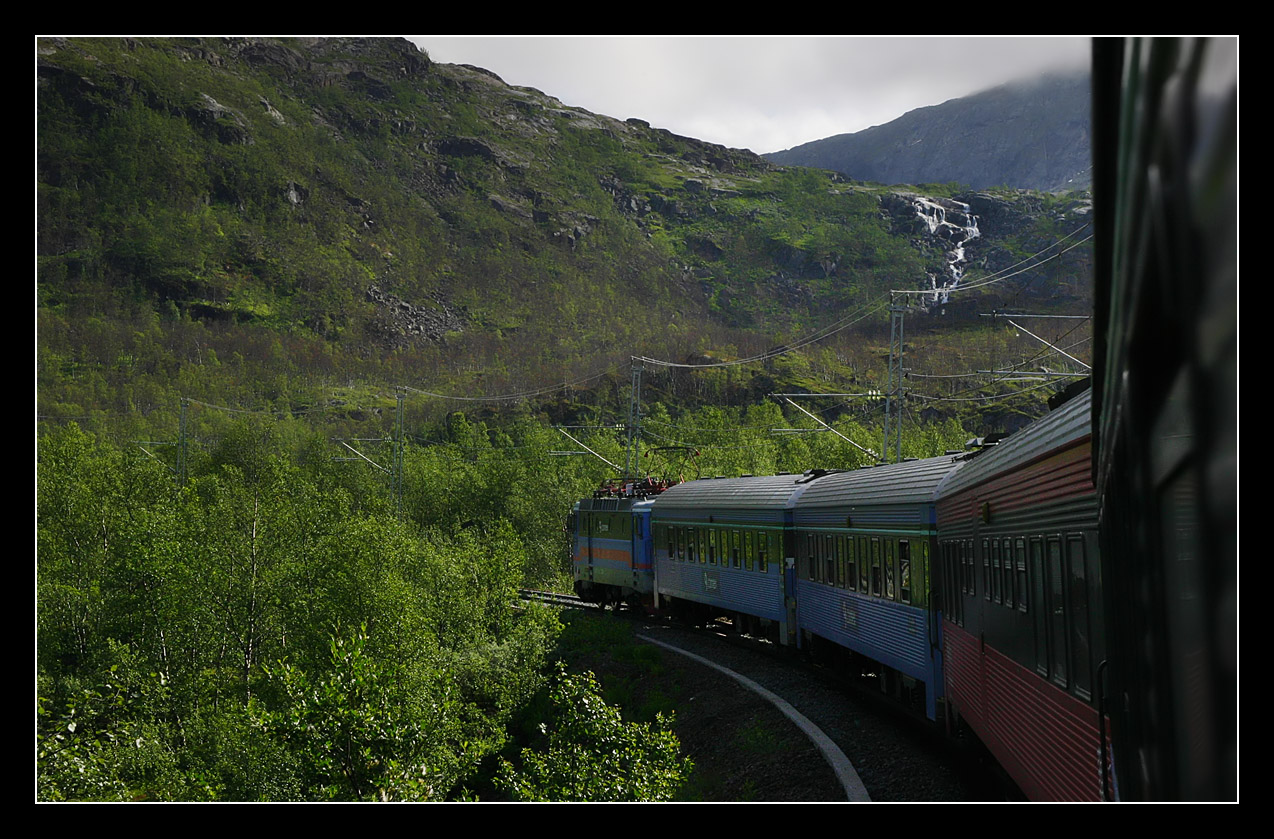 A hiking paradise, but not that easy to reach.
Which is one of the reasons why the most spectacular section of the Ofoten Line, Narvik - Katterat, is also one of the least photographed.
Near Sosterbekk you can find the old Norddalsbrua - to be barely spotted in the background here, for a closer image see the previous report part - which had been supposed to be blown up in case of invasion. Norwegian troops trying this during WWII had failed due to frost. In 1988 this more modern and efficient routing avoiding the bridge had been opened.
At Björnfjell, shortly before the Swedish border, we got off the train. The station is sheltered on both ends by snow protection tunnels.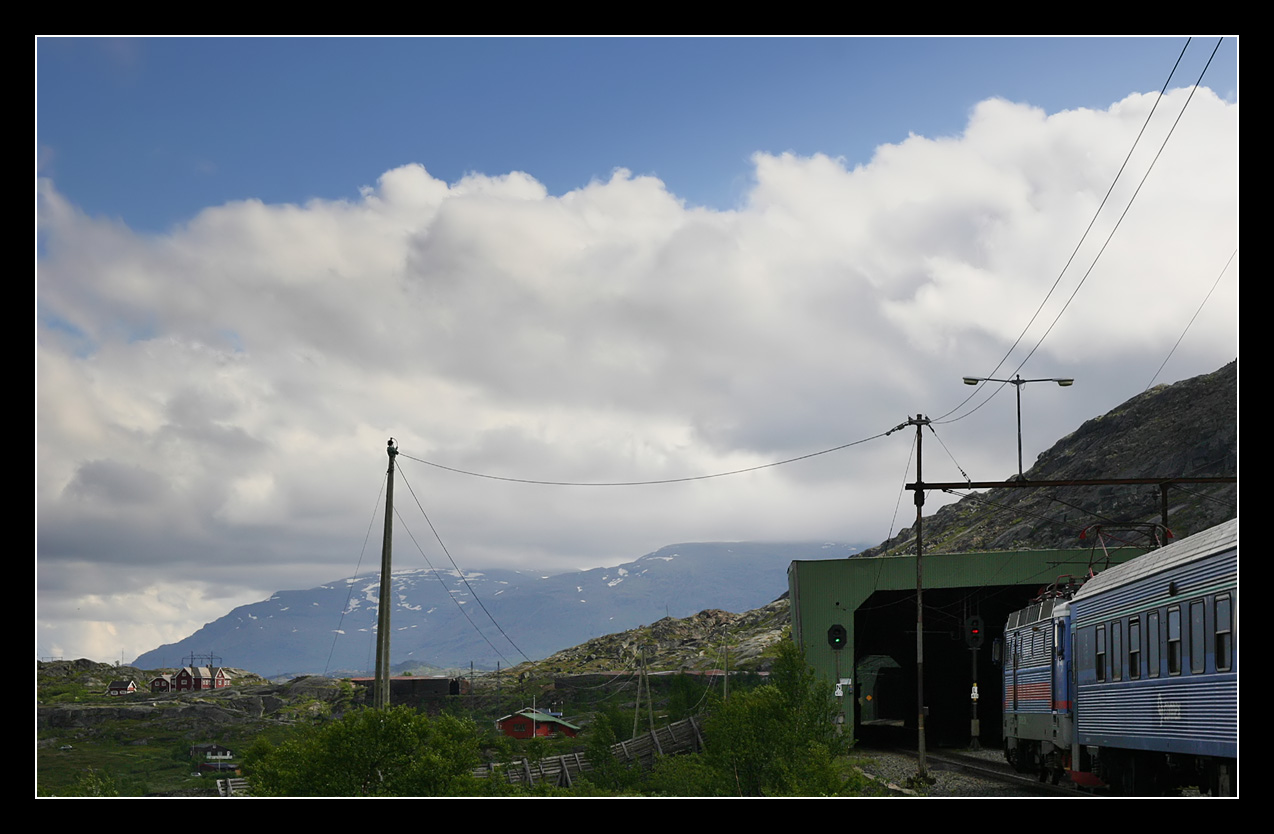 I immediately climbed up the next hill, a wonderful view across Stasjonsvatnet lake and the landscape dotted by holiday huts opened up. My instinct did not fail me: the first empty iron ore train Narvik - Kiruna followed the passenger after twenty minutes - of course hauled by class Dm3!
Snow fields could be found in July at this altitude of 1600 feet, the snowy "peaks" in the background were up to 5000 feet tall. Lille Haugfjell (2195 feet) can be spotted in the vicinity.
The train was hauled by Dm3 1227-1243-1228 "Kapten".
View towards Riksgränsen, Sweden, partly hardly any space was spared between protective buildings to capture a complete locomotive - especially since we are dealing with those ore-hauling monsters... ;-)
Cotton grass - reminded me of Ben Nevis. Both regions are also geologically related, as they had been on the fault line between the Eurasian and North American tectonic plates.
Down at Stasjonsvatnet.
I stayed at the station as Connex overnight train 94 from Stockholm - which we had arrived with the day before - was due to pass.
It appeared punctually at 12:56, pulled by Connex Rc6 1336.
We followed the railroad west, the lovingly furnished holiday homes could be seen all the way.
In the next curve, at Grusgropa, we came across this rock monument.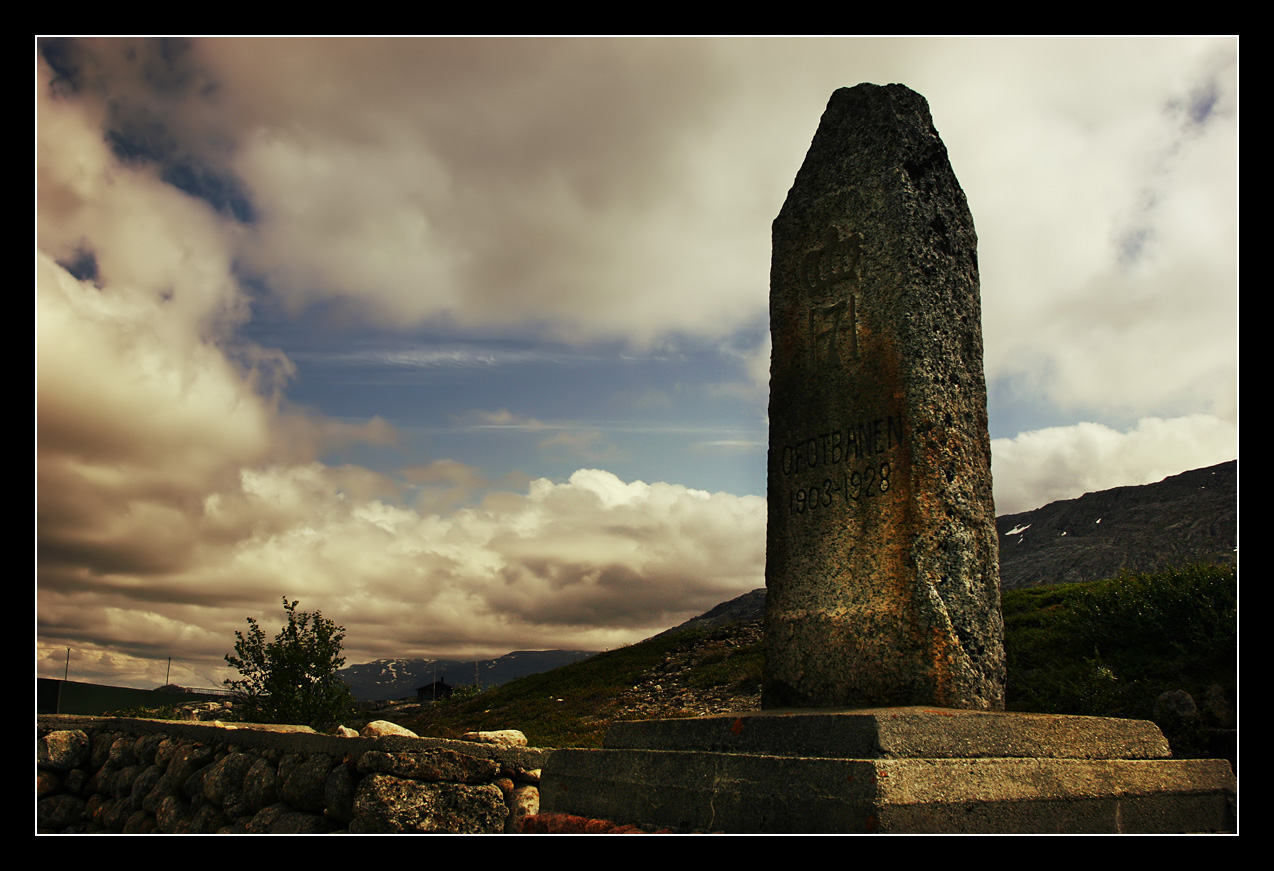 Soon Dm3 1246-1247-1248 "Oskar" followed with the first full ore train to Narvik we spotted.
Holiday hut on the railroad - literally.
Only small gaps could be found between snow shelters.
The Ofoten Line educational trail offered old photos, information and maps. By the way, this curve probably is the northernmost section of the Ofoten Line, the northernmost section of the European standard gauge network and the northernmost section of our ScanRail-Tour. The stone building was called Solheim barracks, in 1940 it has been used briefly as headquarters by a German commander, capitulation documents had been signed here.
The path now lead away from the railroad into lovely Oladalen.
After some time the line appeared again.
Near Sosterbekk along the newly built track, a nice spot for lunch, and the next ore train to Narvik was not long away!
Dm3 1211-1236-1212 "Konsuln" in front of an imposing backdrop.
Soon the second new bridge was traversed, behind it good old Norddalsbrua.
I walked as far as classic photo spot above the bridge, but it was tainted by a building site.
This perspective turned out to be also quite nice, ore trains followed each other hourly.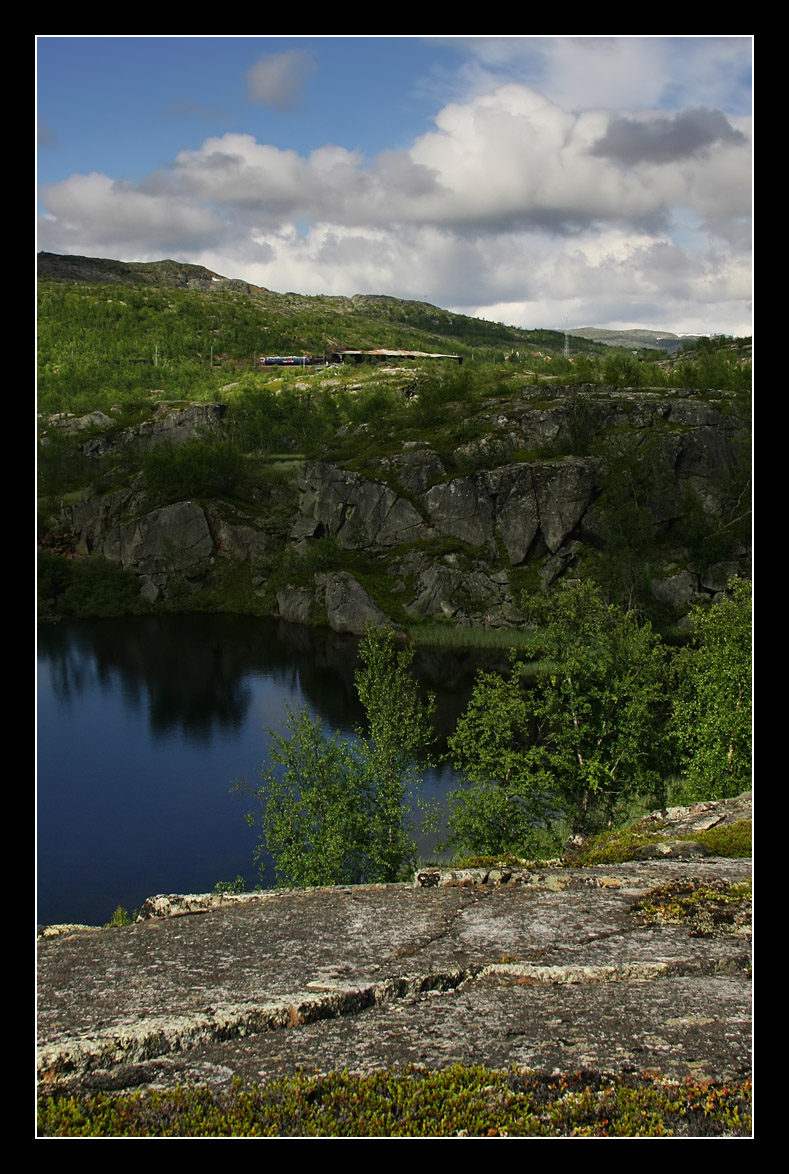 Sosterbekk was passed.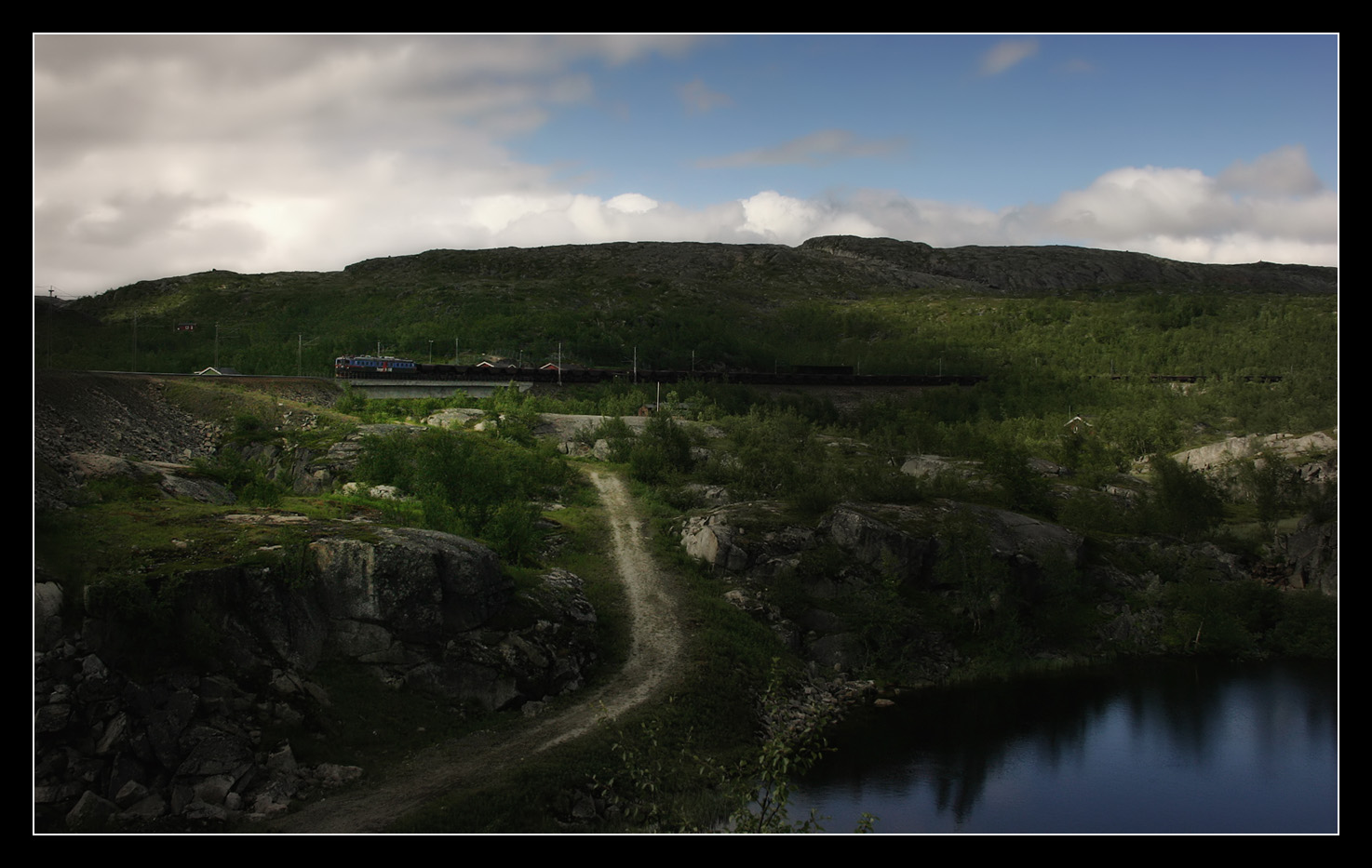 Dm3 1201-1231-1202 "Kunigunda" jolted past me with the typical noise of these giant rod-driven engines.
Next it was time to return to Björnfjell. I only missed one empty to Kiruna pulled by an IORE which could be seen blinking through trees between tunnels.
Connex sleeper train 93 to Stockholm in the last curve before the station.
Rc6 1336 had started its long journey back and passed my spot at 4:25 p.m.
Back at the station the next ore train to Narvik approached through the snow shelter protecting the eastside switches.
Once more IORE 105 "Narvik" and 106 "Kiruna", the first and last spotted on this journey.
We took a closer look at the wooden station building.
Everything you might need for duty up north, including cooking plate.
In the waiting room this historic picture could be seen.
Punctually before half past five Connex train 96 Lulea - Narvik picked us up.
And overpunctually we arrived in sunny Narvik after six o'clock.
Rc6 1328 was an engine hired from SSRT.
With this image we temporarily say goodbye to the domain of this locomotive class.
The next stage was about to follow by bus - out of a simple reason: until now people only had tried to build a railroad here...