Hi,
To the previous part of the series:
ScanRail Tour 2004 - 5: Jamtli - Northern Inland Line (50 p.)
http://www.railroadforums.com/forum...ur-2004-5-Jamtli-Northern-Inland-Line-(50-p-)
ScanRail-map featuring the former and current itinerary:
http://raildata.info/sca04/sca0406k.jpg
July 10 2004
After an overnight stay at Gällivare - the hotel apparently was equipped for cross-country skiers, photos and trophies could be admired on the walls of the breakfast room - we returned to the station at half past nine. Exactly at that moment a full iron ore train from Kiruna towards Lulea entered the passing loop, fittingly hauled by IORE class electrics 105 "Narvik" and 106 "Kiruna".
More about the Iron Ore Line and IORE locomotives, some of the most powerful worldwide, can be found here:
http://en.wikipedia.org/wiki/Iron_Ore_Line
http://en.wikipedia.org/wiki/Iore
Local shunting duties were performed by Green Cargo Z70 724, Ue 290 (ASEA / 1935) electric sadly already stood abandoned on a siding and was scrapped there in 2007.
View along the monstrous snake of hopper cars.
That's what it's all about: iron ore pellets, you could find them strewn around along the length of the whole line.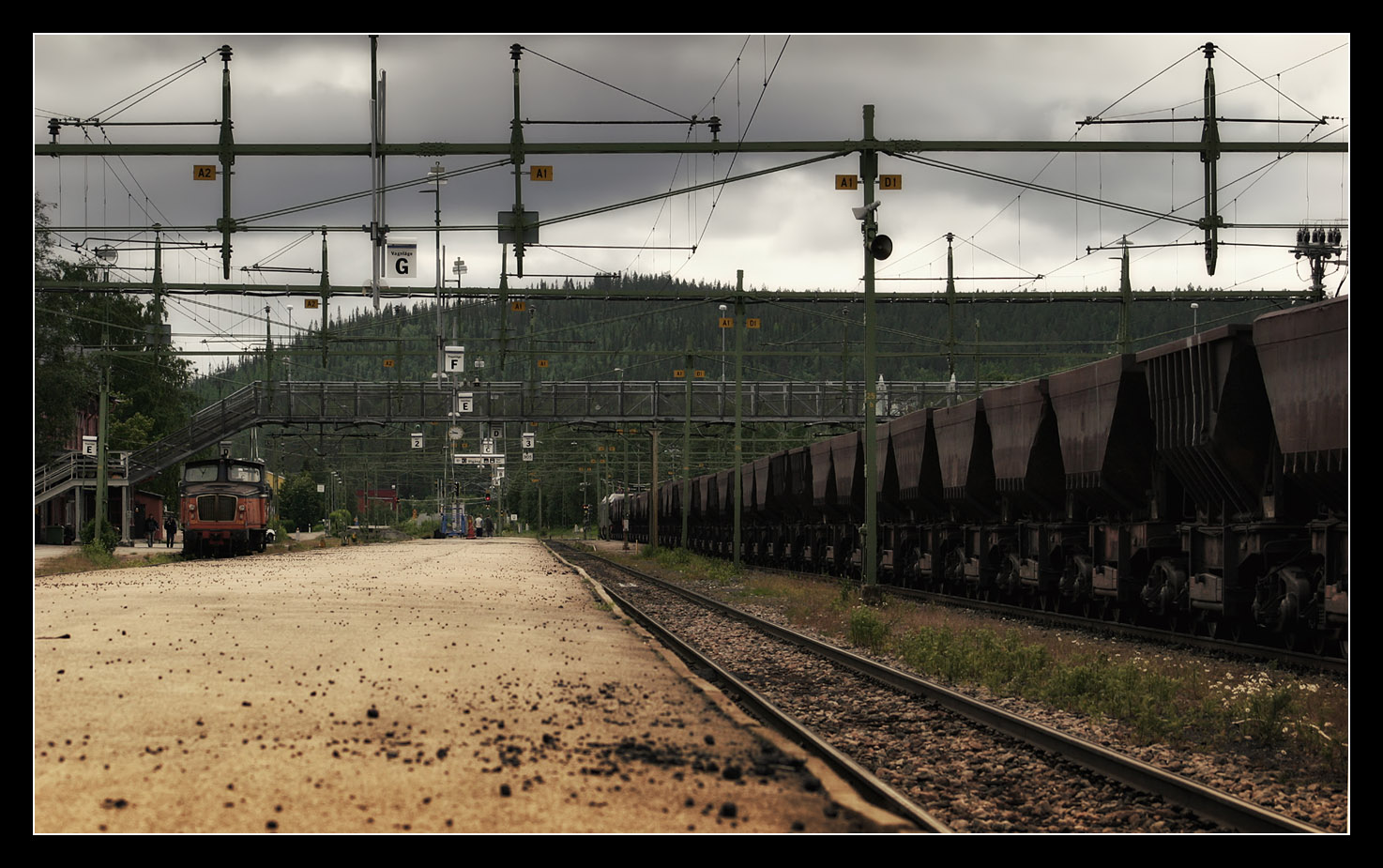 Connex-train 94 had departed Stockholm at 5:27 p.m. the day before and now arrived punctually at 9:59 a.m. We took our seats in a daytime car stale from the overnight journey, of course some passengers had made themselves comfortable.
After an hour Kiruna C was reached.
As soon as you depart you are passing Kirunavaara underground iron ore mine, the largest of its kind in the world:
http://en.wikipedia.org/wiki/Kiruna_Mine
The images from the train were taken by compact camera.
Subsequently I could spot the first old Dm3 class triple locos of the journey at the shed, one in brown livery.
View back at the mine across lake Luossajärvi.
Finally we had left the flat landscape of forests and lakes behind us and entered an ever more exciting mountainous tundra-like scenery. We stopped at the tourist station Abisko and rode for some time along lake Torneträsk - exactly in front of this background I managed to capture IORE 108 of same name, together with 107 "Svappavaara", as we were overtaking an ore train to Narvik.
Later we met the only other passenger service on this line, Connex 95 Narvik - Lulea.
At Riksgränsen ("National Border") the final Swedish station of the tour was reached.
It is partly situated below a snow protection tunnel - and had a surprise in store for us: some participants of a cruise simply had been abandoned here and told to board the train. No one seemed happy, but at least it took only 45 more minutes to Narvik.
We reached Norway and Björnfjell station. Soon afterwards a disused rail bridge came into view, the line had been rerouted and modernized. If you expect more pictures from the Iron Ore Line, on this section also called Ofoten Line, don't worry: we were about to visit it the next day!
Entering our destination Narvik, Dm3 1211-1236-1212 "Konsuln" expected us.
We had spent almost four hours in this open-plan car, others up to twenty.
Our hotel was located on a hill above the station, close to the funicular lower terminus. After we had checked in, we walked to a nearby waterfall featuring a view across town. Left of the center the passenger station can be seen, to the right the iron ore railroad terminal and port. Narvik is situated on the Ofotfjord between two bays: Beisfjord to the left, Rombaksfjord, which the Ofoten Line is following, to the right.
At a station I took photos of an
Ofoten Line map
and put them together:
http://www.raildata.info/sca04/ofotbahnk.jpg
Tele view of the iron ore railroad terminal, where an IORE class was just being cleaned. Norwegian class El15 had been in operation until the end of 2003 and were about to be sold on to Hector Rail by the end of 2004. Behind them you can spot a few NSB Di3 NOHAB-GM roundnose diesels and stabled passenger cars.
At the station the night train to Stockholm and a special hauled by a Rc class in orange livery stood ready for departure.
Sadly everything was gone until I had walked downhill. Steamer #5 "Bifrost" had been built in 1882 for the Höör-Hörby Railroad and transferred to Narvik in 1901. An Ofotbanen former NSB class Bm68 EMU could also be spotted.
We looked around the rather lifeless town for an opportunity to replenish provisions and entered a shopping mall. After a visit to the supermarket we sat down at a pizzeria - we would notice this chain more often further along the trip. After our meal a waitress, who probably noticed we were new to Norway, took us to the side and said: "You know there are cheaper places for dining in Norway..." - I have never experienced anything like this at a restaurant before or after! ;-D
Dm3 1219-1239-1220 "Dennewitz" departed from the ore terminal.
An IORE electric waited with the next empty, in the background MTAS diesel shunter #5, an ex-SJ class T44.
Another old Swede could be encountered.
Welcome to Norway!
The Connex passenger rake for the next day had been stabled around the corner to the station, the weather for the evening clearly was improving.
Next to the station this cemetery can be found, of course also a final resting place for a "lokförer" (loco driver).
"Svappavaara" and "Torneträsk" had completed their tour and returned to Kiruna hauling a train of empty ore hoppers.
Ofoten Line and Ofotfjord.
Unluckily nothing approached from this direction, so I chose "Bifrost" as photo subject, waterfall in the background.
Shortly before 11 p.m. it looked like this on Northern Norway's most popular ski resort:
Let's go, up Fagernesfjellet mountain!
View south towards Beisfjord, once more the map for orientation:
http://www.raildata.info/sca04/ofotbahnk.jpg
Main road E6 was leading across the bridge, you may also notice the non-iron ore CargoNet container train sidings, terminal of the Arctic Rail Express.
Iron ore port in the foreground, in the background Ofotfjord stretches out 50 miles southwest towards the Gulfstream - that's exactly the reason why Narvik was founded here as terminal of the Iron Ore Line and all year round ice-free harbor.
Fascinating mountainside structures.
Funicular ride into the night.
View northeast towards the end of Ofotfjord. To the right Romsbaken fjord cuts into the mountains, route of the railroad.
A closer look at the ore loading plant.
A class Dm3 - always ready for duty.
View towards Lofoten islands.
Mountain restaurant terrace above the harbor.
View of the sun at 24:00 - then it disappeared behind the mountains and we returned to the hotel. Of course midnight takes place at 1 a.m. during daylight savings, but we had to sleep some time... ;-)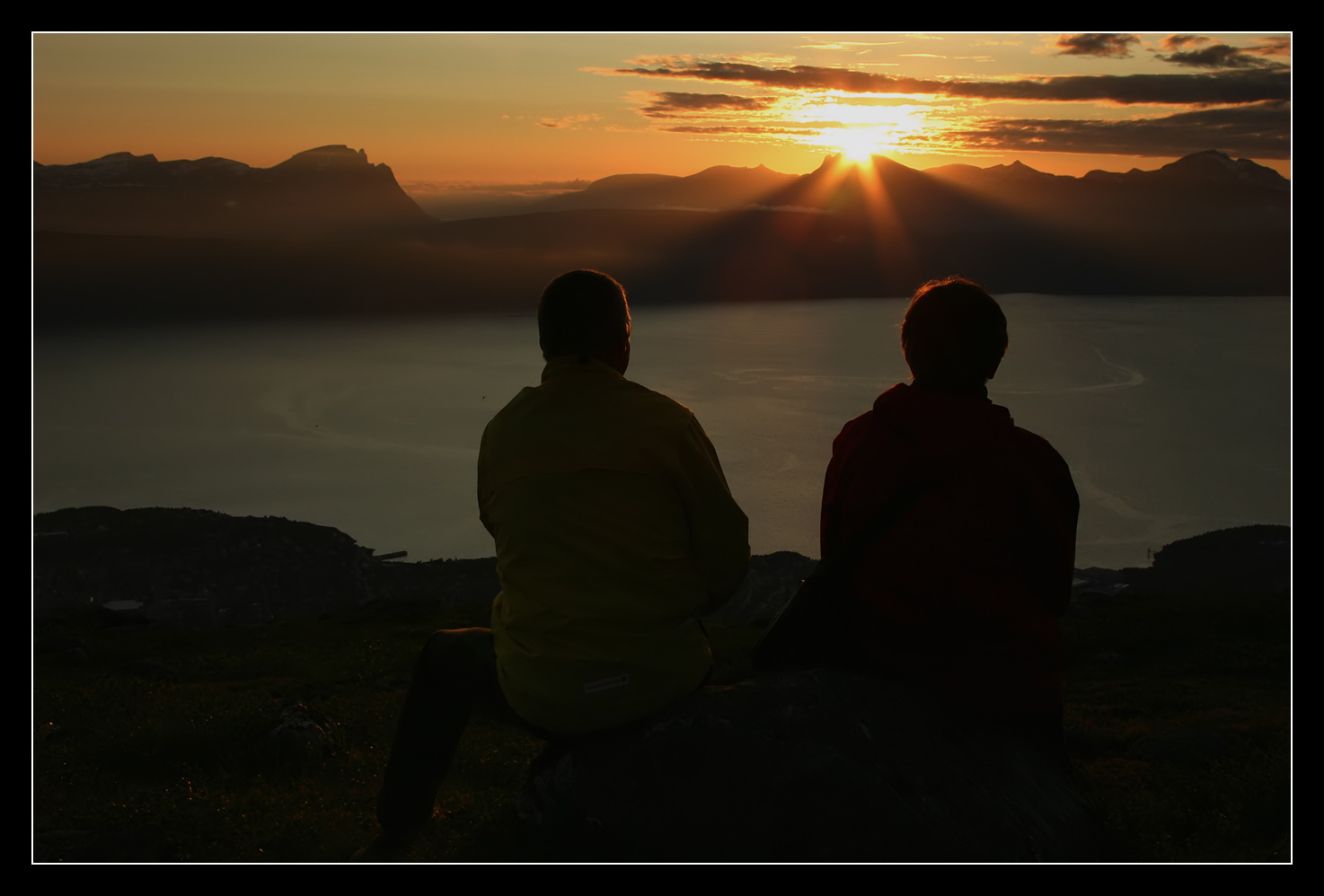 Next day we will do a trip on the Ofoten Line!