Hi,
To the previous part of the series:
ScanRail Tour 2004 - 4: Stockholm - Östersund (50 p.)
http://www.railroadforums.com/forum...ail-Tour-2004-4-Stockholm-%D6stersund-(50-p-)
ScanRail-map featuring the former and current itinerary:
http://raildata.info/sca04/sca0405k.jpg
July 8 2004
Around noon we walked from Östersund along Storsjön promenade. The railroad parallelled it and was already double track from here - the right-hand, diesel track branching off to the Inland Line. On it we saw several shunting moves that day. At the level crossing to Köpmangatan we spotted NSB BM92 04 DMU on an international service from Trondheim.
Across the rails we reached the main attraction of the day, open air museum "Jamtli". More about it:
http://en.wikipedia.org/wiki/Jamtli
Here we encountered dedicated amateur actors living inside the historic buildings for a season and reviving history.
Black subtitle: "Where did the other four go?" ;-)
The railroad line can be spotted in the background.
Snout off my waffle!
The Far North sometimes looks like that as well...
Inland Line Jamtli station also can be found on the compound, plus some stabled historic vehicles.
Steamer E2 905 - owned by the Inland Line - stood there, mothballed. Built in 1907 by Motala as 0-8-0 class E, it had been modified in 1937 as 2-8-0 class E2.
Draisine rides were on offer.
In the evening we returned on the promenade as Tagkompaniet local arrived at Östersund C from the east.
Evening mood on Storsjön, home of Swedish Nessie "Storsjöodjuret".
July 9 2004
We left early with full luggage next morning, as a great trip lay ahead: we would ride a train more than 450 miles over the course of 14 hours. Shortly before 7 a.m. the northbound Inland Line class Y1 DMU triple approached Östersund C. A description of the whole line can be found here (in German):
http://de.wikipedia.org/wiki/Inlandsbahn
As the day before, tour groups boarded at Östersund V. The second hand railcars still wore liveries of former regional railroad owners, posters from their operational days could also be found inside.
We paused at many stations, meals could be ordered in advance from the train. Ulriksfors, about 70 miles along the way, served as breakfast halt before 9 o'clock.
I took many pictures on the southern part of the journey, but of course they are similar for most stops. The landscape invoked what we had called "Mixed forest-lake-delirium" on a previous trip to Canada... ;-)
At noon we had crossed the border from Jämtland/Angermanland province into Lappland and stopped at Storuman for a longer break and walk. Shunting diesels could be found at several stations, but no mainline freight.
An hour later, at Sorsele, we visited the Inland Line museum.
Most passengers had reached retirement age, but the train staff was lowering the age average. Our attendant was a female student from Germany, and the youngster in glasses, jacket and sandals served as our driver over the whole distance - here at Sorsele.
Center of operations in the north is Arvidsjaur, where we had arrived before 3 p.m.
Steamer E2 1241, built in 1915 by Atlas, rebuilt 1937, was just being fired up.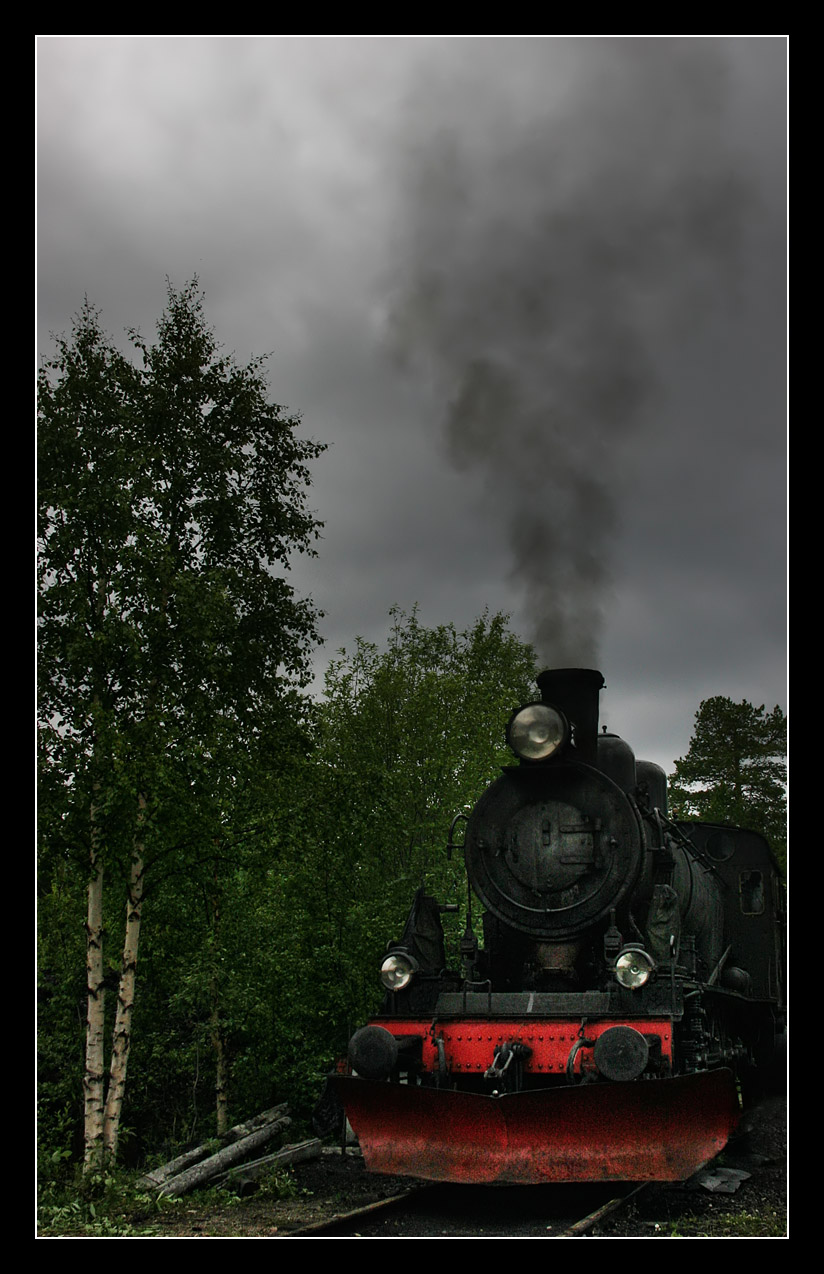 Several heritage railcars could be found.
Also three T21 class diesel shunters built by MaK and ASJ-F in the 1950s.
We met the southbound train, ours was shortened to two units for the trip north.
New livery for an old railcar.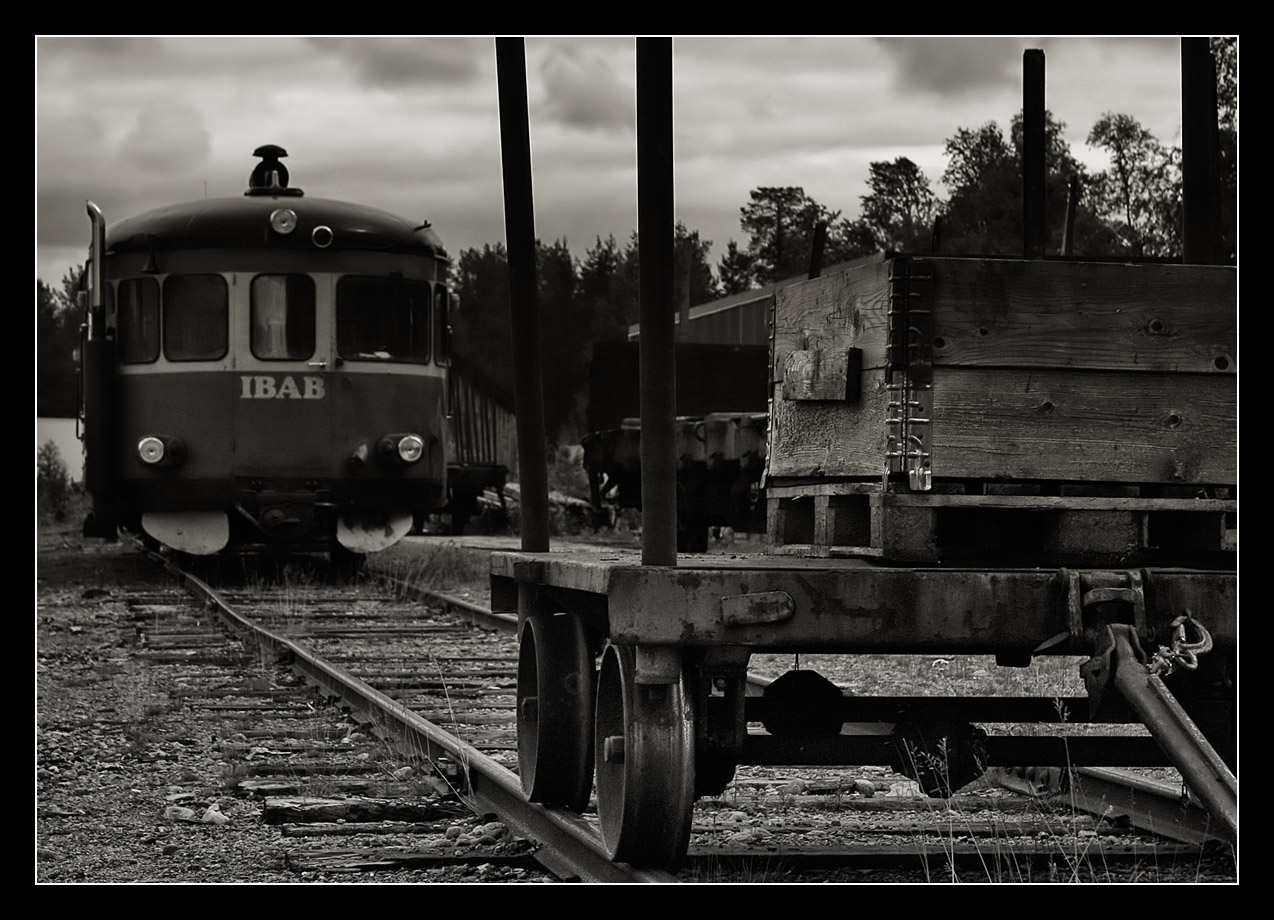 Our Y1 "Onkel Adam" had emptied substantially, also the rear cab stood open, so you could enjoy the ride from a cabview perspective.
Signals, traffic, no problem up here - but one thing the engineer had to be careful about: reindeer! We had to stop twice shortly because of animals on the rails - as promised earlier, a wildlife image:
The stations became more and more idyllic.
At Moskosel another small historic display could be found.
One highlight of the trip is Piteälvsbron, a combined rail/roadbridge, which you could cross as passenger on foot in front of the train. The weather in the months before had not been good, which together with melting snow resulted in floods and raging torrents.
What to do when no train is passing (so, almost always)? Fish, of course!
View along the typical trackbed on the northern part, we accelerated up to 50 mph here.
At half past six we finally had reached the polar circle. Next to it just a small wooden platform from where you could climb up the hillside.
It's just a short ride - through the only, tiny alibi-tunnel of the Inland Line - to Jokkmokk, a place on the polar circle well-known from school geography lessons.

A break on the shores of Lake Vaujkijaure.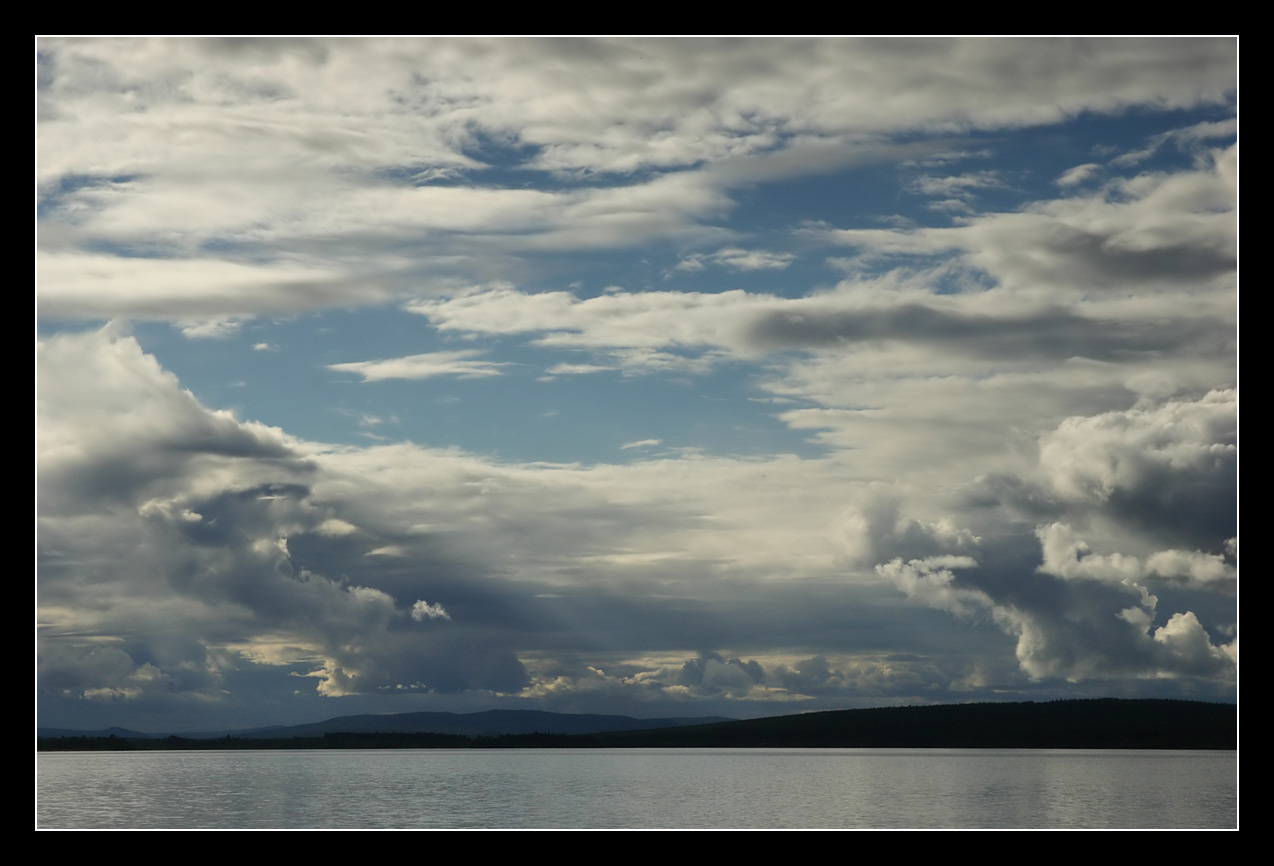 Relaxing up north.
Porjus was reached at 8 o'clock.
The station is situated next to Store Lulevatten reservoir.
The absolute highlights of the northernmost Inland Line: the naked violinist at some rapids in Muddus national park - however, the best came half an hour before reaching our destination: the mosquito-museum on Sweden's most mosquito-rich spot!
At nine in the evening we finally arrived at still busy Gällivare (pronounce "G" like "Y") station on the Iron Ore Railroad.
Made it, after a full day on the move.
We walked through the empty town which reminded us already a little of an outpost of civilization. A friend of mine once worked as a doctor here. We just met a drunk German tourist on the way to the hotel, not another soul.