Hi,
To the previous part of the series:
ScanRail Tour 2004 - 3: Stockholm C - Saltsjöbanan (50 p.)
http://www.railroadforums.com/forum...our-2004-3-Stockholm-C-Saltsj%F6banan-(50-p-)
ScanRail-map featuring the former and current itinerary:
http://raildata.info/sca04/sca0404k.jpg
July 6 2004
After our excursion around Södermalm we passed by Södra Järnvägsbron in the afternoon, here X1 3014 as Pendeltag J36 towards Märsta on the bridge.
A mix of class X1 and X10 EMUs traversed Norra Järnvägsbron on the same line to Södertalje into the other direction.
As promised in the previous report we were about to visit Stockholms stadshus.
Before we managed to reach it a northbound Green Cargo-freight train passed by the city center.
City hall tower provided a wonderful 360° panoramic view of the surroundings. Uppsalapendeln 2245 approached the northern end of Centralstation at 3:45 p.m., above it the bus station.
Turning right we were facing Gamla Stan, Norra Järnvägsbron in the foreground. The small island in front is called Strömsborg, behind it the Riksdag, Imperial Palace and Djurgarden.
On the other side of the tower we enjoyed this railroad-less view of Riddarfjärden and the other waterways forming lake Mälaren honeycombed with islands.
Next up was a former German class X420 rake. The old city island in the foreground is Riddarholmen, Gamla Stan behind it.
A few excursion steamboats were always moored at city hall dock.
The southern end of Stockholm C.
A northbound Arlanda-Express departed.
Class X52s were the only newly built trains to be (rarely) spotted in Stockholm back then.
Next the dream composition for any Rc class enthusiast entered the stage: a triple headed mail train!
Full length.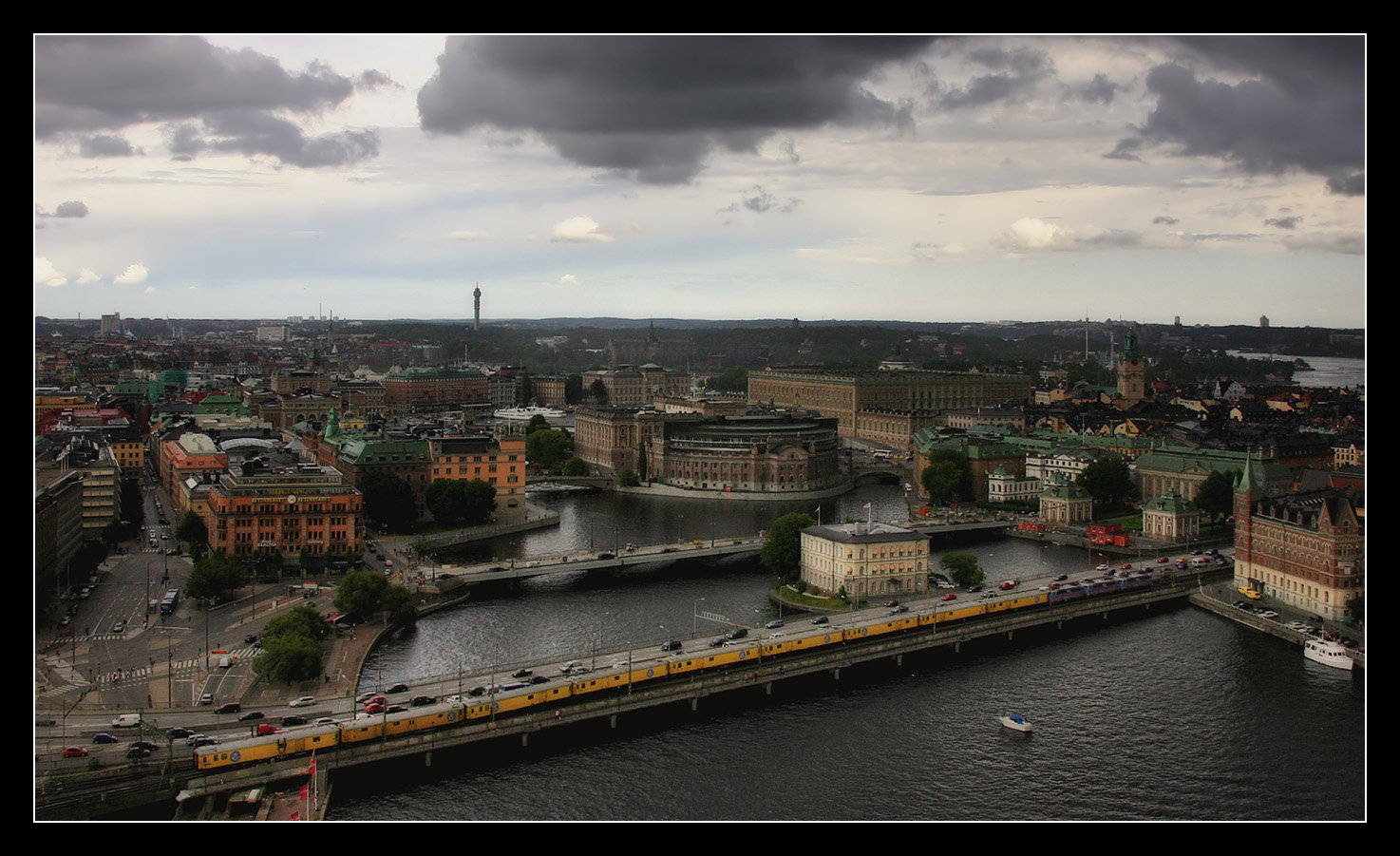 Rain showers racked across the city, but I still waited for X2000 441 to Göteborg at 16:10.
X2 highspeed trainset in front of the Riksdag.
Once more a subway at the sluice, which you can recognize in this picture. A ferry also just had arrived.
Södermalm has been reached - view into the rainy landscape.
July 7 2004
Next morning we had to clear our hotel room for the first time that trip.
Around 9:45 a.m. we arrived at Centralstation.
Crowds of passengers just had disembarked from an Uppsalapendeln service.
Classic Rc-design.
Rc6 1418 was in charge of our InterCity 82 at 10:15 a.m. to Östersund in noble dark blue livery.
An Arlanda-Express X3 next to our train.
Our seats for the journey, which was about to take 5 1/2 hours for 300 miles on the Ostkustbanan, Norra stambanan and Mittbanan railroad lines.
Through the windows photography clearly was not optimal, I still captured a couple of impressions with the compact digicam. Uppsala soon was reached, before I already had spotted the Inland Line (Inlandsbanan, IBAB)-NOHAB-GM roundnose. At Gävle junction we met an X2000 from Sundsvall. One highlight was the old Tagkompaniet electric Da 15, formerly SJ Da 941, which we passed at Ljusdal.
Images taken 90° out of the window looked better, without reflections. I snapped the idyllic station hut of Holmsweden north of Gävle. Härnebosjön can be seen in the background, one of thousands of lakes on the tour.
Lovely Swedish landscape complete with nostalgic Volvo.
Swedish roadmovie taken out of the train.
We arrived at Östersund before four o'clock, residential city of Jämtland province. It is situated almost in the geographical center of Sweden, although more than 90% of the population is living south of it.
More information:
http://en.wikipedia.org/wiki/Östersund
It was possible to change here to a class Bm 92 DMU of NSB, which was about to continue on Mittbanan to Storlien, then following unelectrified Merakerbanan across the Norwegian border to Trondheim. It would have been a drastic shortcut of our tour, and of course unwanted.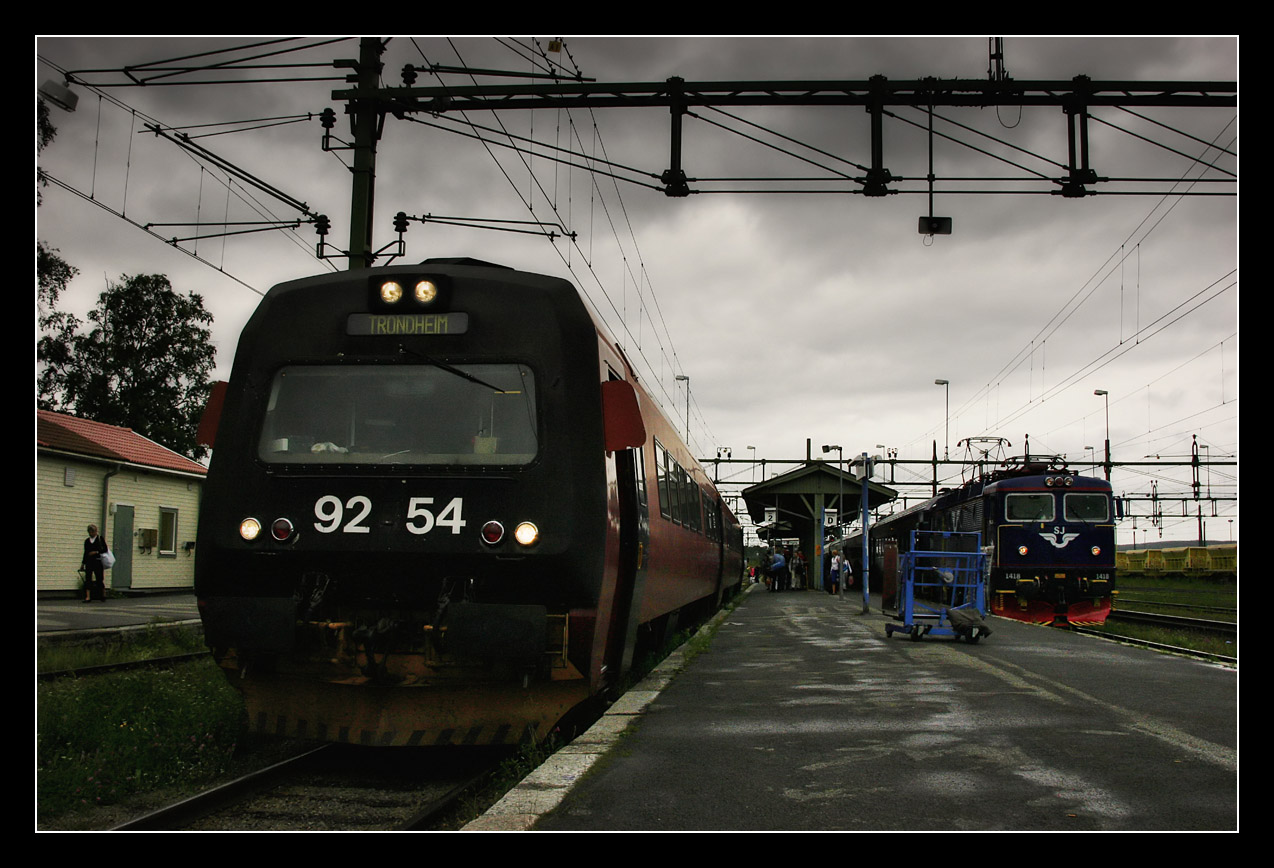 Shunting at Östersund C.
July 8 2004
Next morning I walked early to the station to capture the departure of IC 81 to Stockholm.
Rc6 1420 was about to haul the train the long distance to the capital, Rc3 1047 stood stabled to the left.
There still were 1 1/2 hours left until the train to Trondheim would depart.
I walked on to Östersund Västra (Western station... OK, -halt...), the railroad stop closer to town.
Highlight of the line was SJ sleeper train 76 Malmö - Stockholm - Storlien, leaving Stockholm at midnight. Rc6 1346 led the double header past me at 6:38 a.m. in slight rainfall. Storlien is situated at the border to Norway near the best known Swedish alpine ski resort, Are.
View along the massive chain of cars.
Shortly after seven o'clock the northern Inland Line train to Gällivare reached the halt where already large tour groups were waiting. We will get to know the Inland Line more closely in the next report. To the right you can spot Storsjön lake, Östersund lies on its shores.
Green Cargo Rc4 1099 passed by.
Next on schedule was the Kit-Kat-train... errrrmmm, Tagkompaniet-train hauled by El 16 24 - note the pantograph. These Norwegian locomotives were operated by Tagkompaniet from 2002 until 2007.
For this service at 7:25 a.m. the level crossing barriers stayed open as it reversed here - take another look at the pantograph.
Ten minutes later a single class Y1 unit for the southern branch of the Inland Line arrived - clearly less in demand than the northern colleagues.
No danger here, this train also reversed - it was about to run on Mittbanan up to Brunflo where the southern Inland Line to Mora branches off.
Along this single track line diversity of trains provided plenty of entertainment - even back then I would not have thought to spot an old class Y railcar still in service - if only as track maintenance train. The sliding door had been somehow brutally cut into the side of the vehicle...
The Bm 92 to Trondheim passed by to conclude the session - however, we would see plenty of those later on.
Childhood memories far north...
After breakfast we visited the central station once more, lovely antique platform displays could be found here.
A Tagkompaniet train had reversed - into both directions Östersund V was the terminal of services, inbetween the loco ran around the train at Östersund C, then pushed the rake back again to V.
Green Cargo T44 412 was on shunting duty at the central station.
While orange T44 415 hauled local freight on Inland Line tracks, here between Östersund C and V.
We would spot it going back and forth several times that day.
Next time we first visit "Jamtliland" then start our odyssee north!