Hi,
To the previous part of the series:
ScanRail Tour 2004 - 2: Stockholm Djurgarden (50 p.)
http://www.railroadforums.com/forum...Rail-Tour-2004-2-Stockholm-Djurgarden-(50-p-)
ScanRail-map featuring the former and current itinerary:
http://raildata.info/sca04/sca0402k.jpg
July 6 2004
The second Stockholm morning I took a walk from the hotel towards centralstation and soon reached its northern end. Shortly after 6 a.m. the first two long distance trains of the day left Stockholm C: an X2000 highspeed southbound service and an InterCity northbound - both with destination Gothenburg. The latter took a route via Mälarenbanan north of Mälaren, which extended westwards from Stockholm 75 miles as Sweden's third largest lake. Journey times amounted to about 3 hours by X2000 and almost 5 hours by IC stopping for example at Västeras and Örebro before joining Västra stambanan - the mainline Stockholm-Gothenburg - at Hallsberg junction.
From the north you could enjoy a parade of classic colorful SJ-era Rc class locomotives in beautiful morning light (although it never became completely dark that time of year).
I immediately captured an older specimen, Rc3 1059, which had been built in 1970. Class Rc3 are Rc2s rebuilt for speeds of 100 mph, more information about the rather confusing history of this universal engine class can be found here:
http://en.wikipedia.org/wiki/SJ_Rc
A Linx X2 was rolling towards its first service of the day. This class is also known as X2000 - the name of the highspeed train platform - , SJ highspeed connections at the time were called X2000, nowadays SJ 2000. It had been planned to export the concept into the whole world, but nothing came of this except one trainset for China.
Commuter trains from Uppsala ("Uppsalapendeln") were often operated "top and tail", like arriving 2207 with Rc6 1353 and 1364 built in 1984.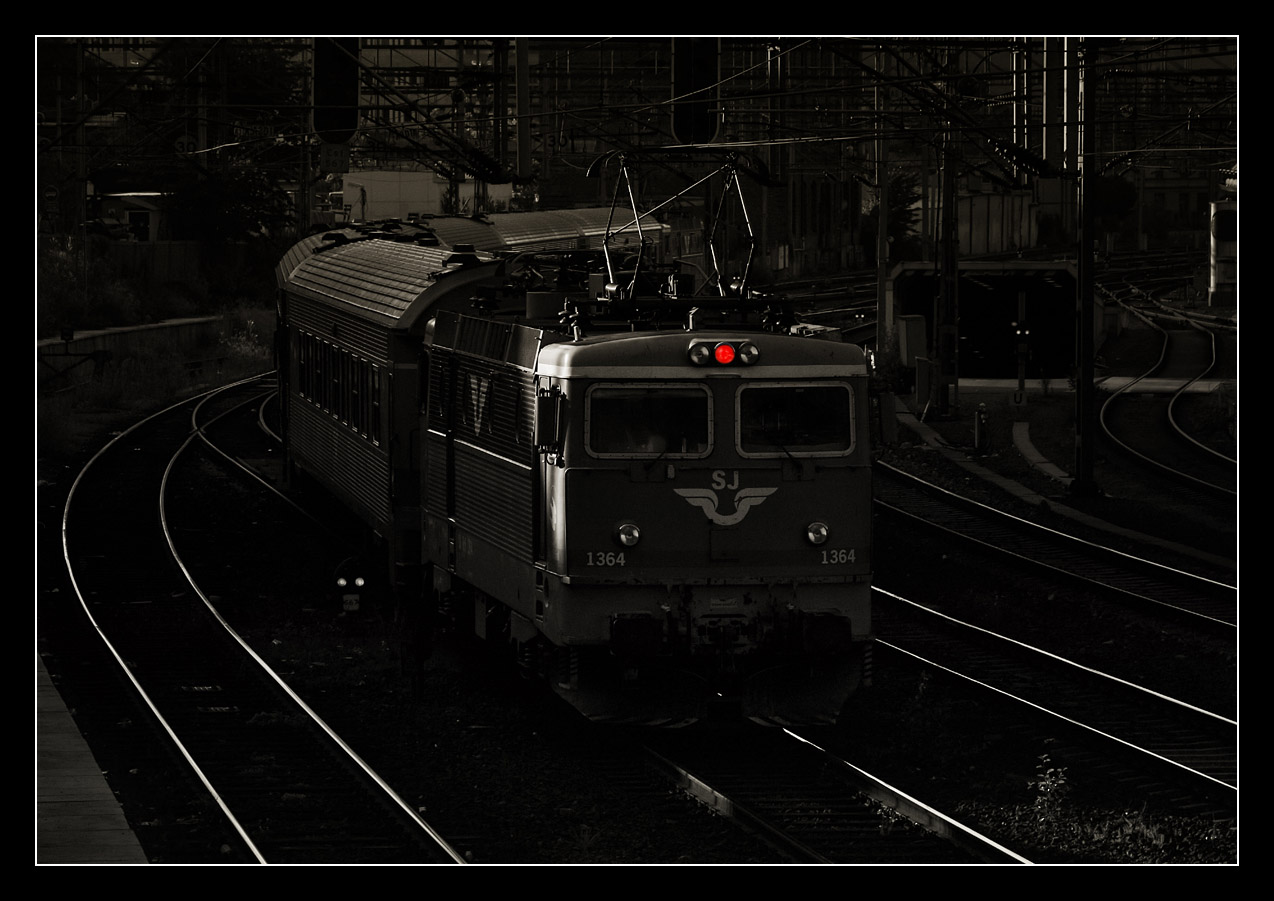 An Arlanda Express class X3 departed northbound at 6:19 a.m. across the maze of switches.
X2000 520 to Sundsvall followed at 6:25.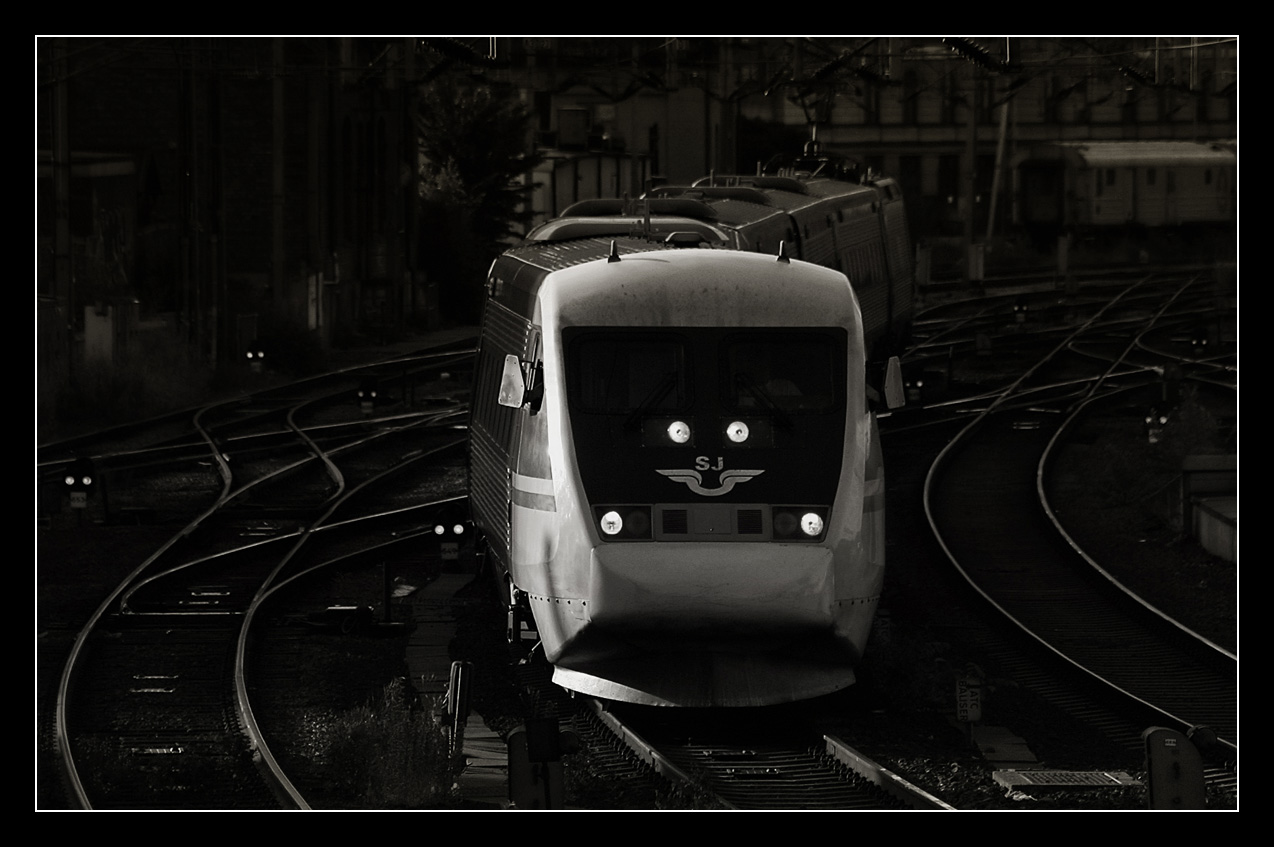 A rendezvous of X2-liveries at the maintenance platform. Many SJ-engines wore the logo for the "Bra Miljöval" ("good environment")-campaign of the Swedish association for ecological conservation.
Stabling lines, now viewed from the northern end of platforms.
An Arlanda Express arriving in front of the unemployment insurance building.
At 6:40 Rc6 1364 emerged into daylight and commenced its journey back north to Uppsala.
Soon afterwards Rc6 1369 arrived pulling 2209 from Uppsala.
I moved to the southern end of the station, where the first Linx service of the day at 7 o'clock to Oslo rang in the final half year of this joined SJ and NSB operation until it was ceased on December 31 2004. Background information can be found here:
http://en.wikipedia.org/wiki/Linx_(railway_company)
Into the other direction X1 3038 as Pendeltag of line J36 to Märsta traversed Norra Järnvägsbron.
X2-meeting at the platforms of Stockholm C, one waiting to depart to Gothenburg, the other to Malmö.
Next to the station on the shore of Riddarfjärden - the easternmost bay of Mälaren - Stockholms stadshus (city hall) was situated. We will visit it in the next report part.
At 7:10 a.m. X2000 423 departed to Gothenburg.
From 2001 till 2006/8 up to 15 class X420 - fromer German DB class 420 - were operating as Pendeltag-services.
Next highlight was the arrival of Connex sleeper train 7083 from Lulea and Umea at 7:30. Soon afterwards Rc6 1328 hired by Connex from SSRT was shunting at the southern end of the station.
Class X10 double in front of city hall.
Freight trains also occasionally passed through the city center, here pulled by Green Cargo Rc4 1138. Green Cargo had taken over the freight sector of SJ after privatization, but still is owned 100% by the Swedish state. On the bridge above some freight competition showed up...
The overnight train cars were still standing on platform 12.
Platforms 1-7 at the northern end served departures on Ostkustbanan and Mälarbanan, 1-2 were reserved for Arlanda Express.
Various shades of blue, view north.
Unimaginable in other countries, but in Sweden the whole second class mail is transported exclusively by rail since 2001. Separate postal platforms existed at the main station, shunting was performed by electric oldtimer Uf 858, built in 1955 and once again modernized in 1990.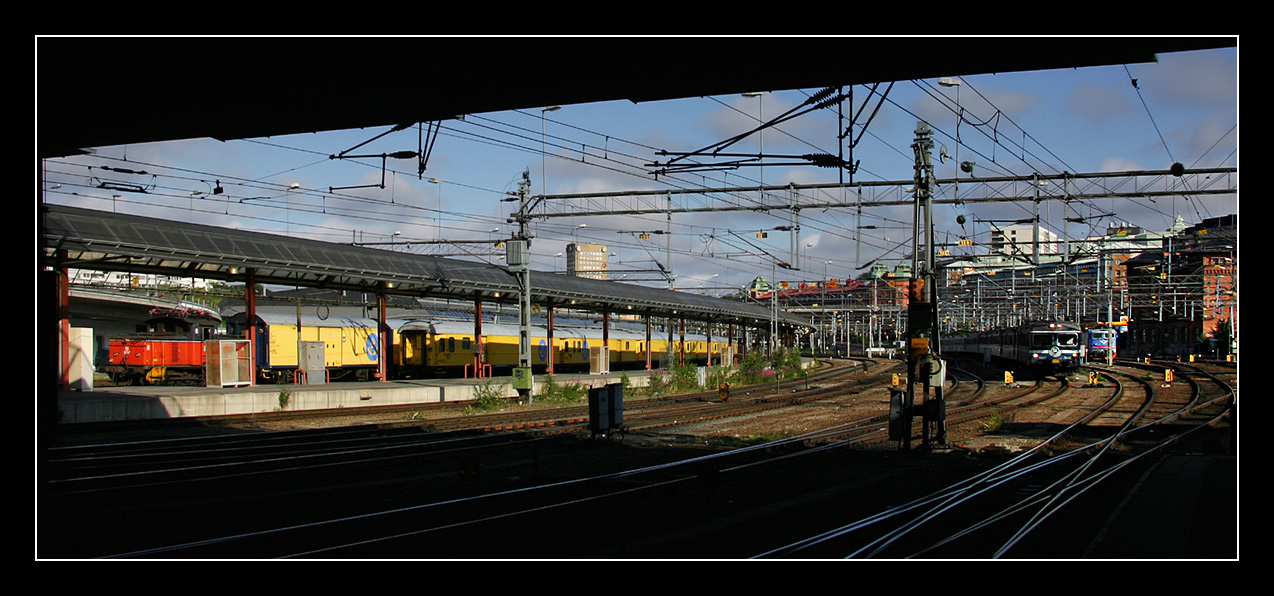 Uppsalapendeln 2213 arrived at 7:50 a.m. led by Rc6 1370.
Rc6 1381 had pushed.
We conclude with weekdays-only 225 from Uppsala, this time double headed by Rc3 1060 and a sister engine. Next I walked back to the hotel for breakfast.
We started our day once again at home subway station Odenplan.
We took line T18 towards Farsta strand to Slussen station in Södermalm district. You should know that Gamla Stan is surrounded by two different bodies of water - although it does not look like it at first glance: Mälaren to the west and the Baltic Sea to the east. To compensate the difference of water levels from the 17th century on a sluice ("Slussen") existed at this spot. At the same time it is the main traffic junction south of the city center. On the other side of the bridge Gamla Stan station immediately is reached by two parallel subway lines, with even more branches in the suburbs. For orientation once more the t-bana network:
http://en.wikipedia.org/wiki/Stockholm_metro#mediaviewer/File:Stockholm_metrosystem_map.svg
So you don't think the previous image was a fake: a few seconds later it looked like that! That's called Scandinavian solitude... if you wait the whole day you will probably catch a fitting four-fold meeting. It definitely had been no coincidence that I had captured a train on this bridge the second I had flown by (see first part).
I only spotted 1997-built class C20 trainsets in operation.
Here you notice best that Stockholm is not flat.
View towards Djurgarden, the well-known Nordic Museum to the left.
Gamla Stan to the right, Lake Mälaren island Riddarholmen in the center, in the shade to the back city hall and central station. Famous historic Viking settlement Birka is also situated on a Mälaren island. Sadly Södra Järnvägsbron was constructed lower than the road bridge next to it, so no clear view of Sammanbindningsbanan is possible.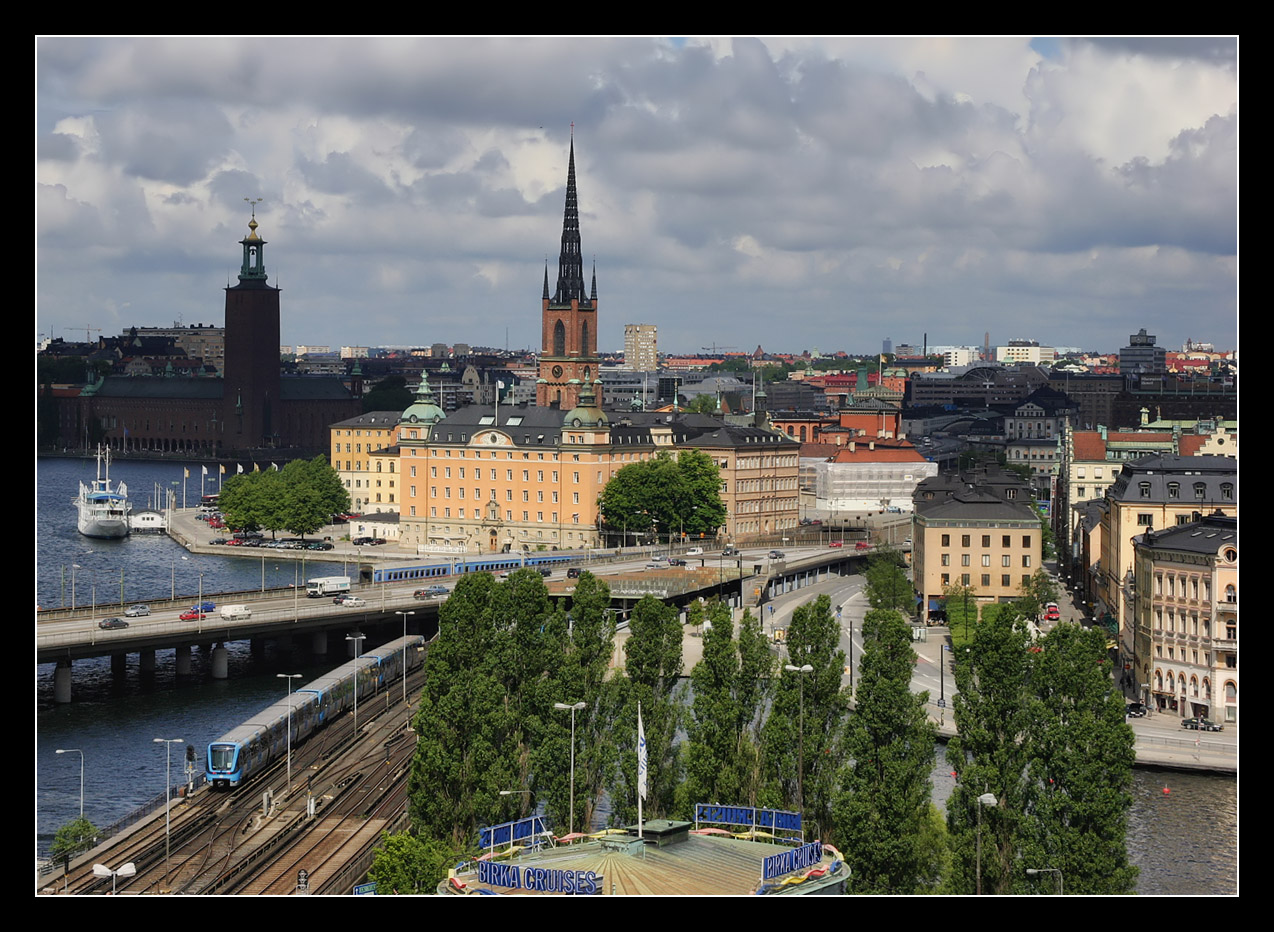 Old phone booth in Södermalm.
Katarina kyrka originates from the 17th century, but was rebuilt several times following fires.
Next highlight of the day: Saltsjöbanan, the mainly single track line Slussen – Saltsjöbaden with short branch to Solsidan. This railroad recently gained unwanted worldwide fame through the "cleaning lady accident".
Apartment block view:
We climbed panoramic hill Fafängan ("vanity"), the railroad line led past it, once a station and tunnel through the hill existed here.
The next train towards Slussen approached the easternmost tip of Södermalm featuring a lift bridge.
Services were formed of class C10 (motor car) - C11 double units. These were former subway trainsets transformed to 750V DC overhead wire operation.
View towards Östermalm with "Viking ship". To the right you can discern Vasa-Museum and the old icebreaker we had visited the day before. The photo into the opposite direction can be found in the previous report.
One day before Viking Line "Mariella" had been moored at the terminal, now it was "Gabriella". Gamla Stan in the background.
A train from Slussen passed the lovely ensemble - you could almost forget the freeway was running right below it.
Wooden houses created a rural mood.
Later that day we came by the Imperial Palace in Gamla Stan a second time, the mounting of the guard was just taking place.
As former guardsman I might remark that proper visibility probably is essential for duty.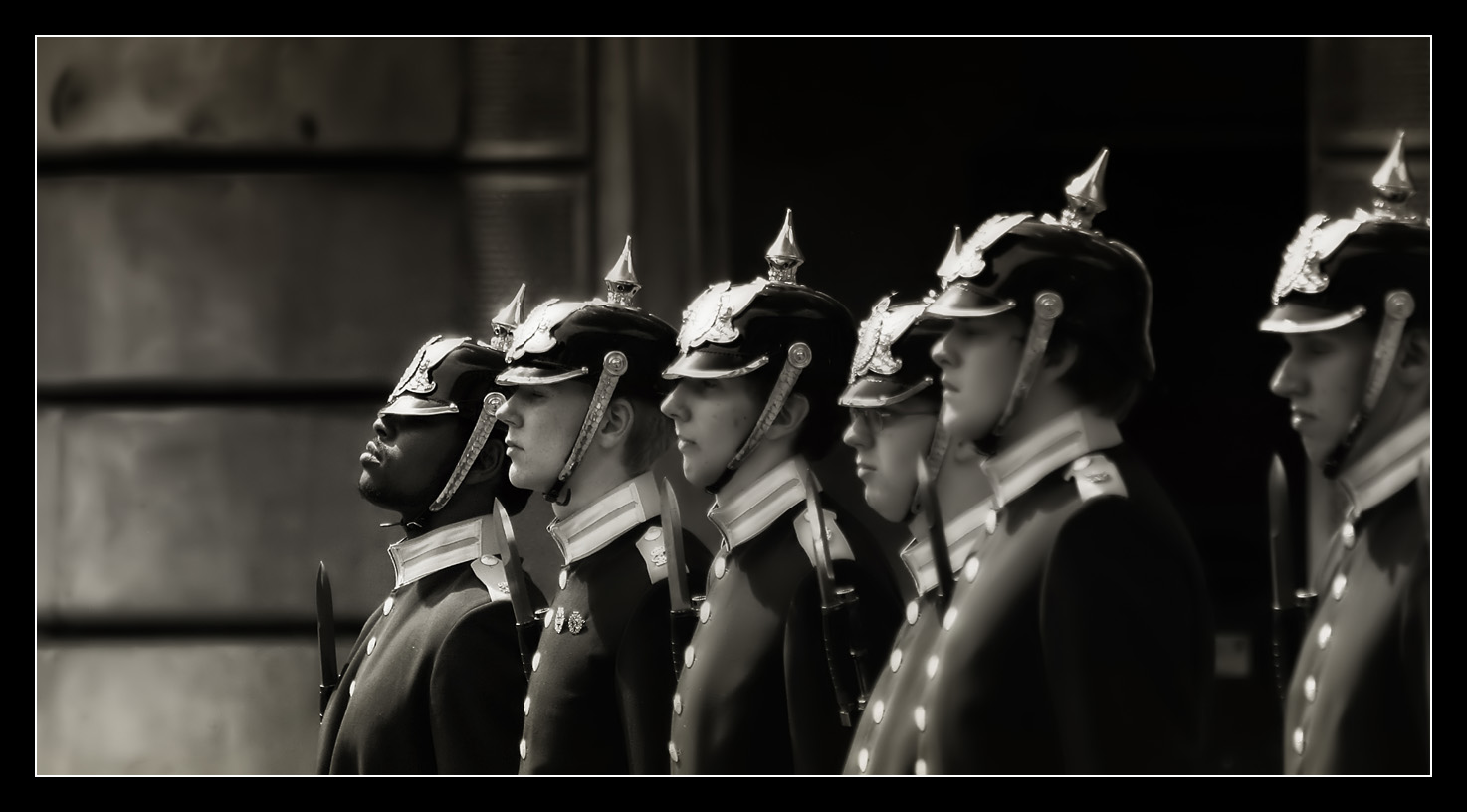 Come on, no reason to run away...
Next time we conclude our Stockholm visit with panoramic vistas and start our grand tour of Scandinavia with the first long distance train ride!