Hi,
To the previous part of the series:
ScanRail Tour 2004 - 19: Malmö - Gothenburg (50 p.)
http://www.railroadforums.com/forum...nRail-Tour-2004-19-Malm%F6-Gothenburg-(50-p-)
August 29 2004
We return to Göteborg C with waiting X2000 EMUs.
Colourful local traffic.
We boarded another "rubber nose".
Our Öresundståg arrived at Malmö C around 8:30 p.m.
At 9:30 p.m., our couchette coach of "Berlin-Night-Express" was ready to board.
SJ Rc3 1061 took over for the first short part of our journey.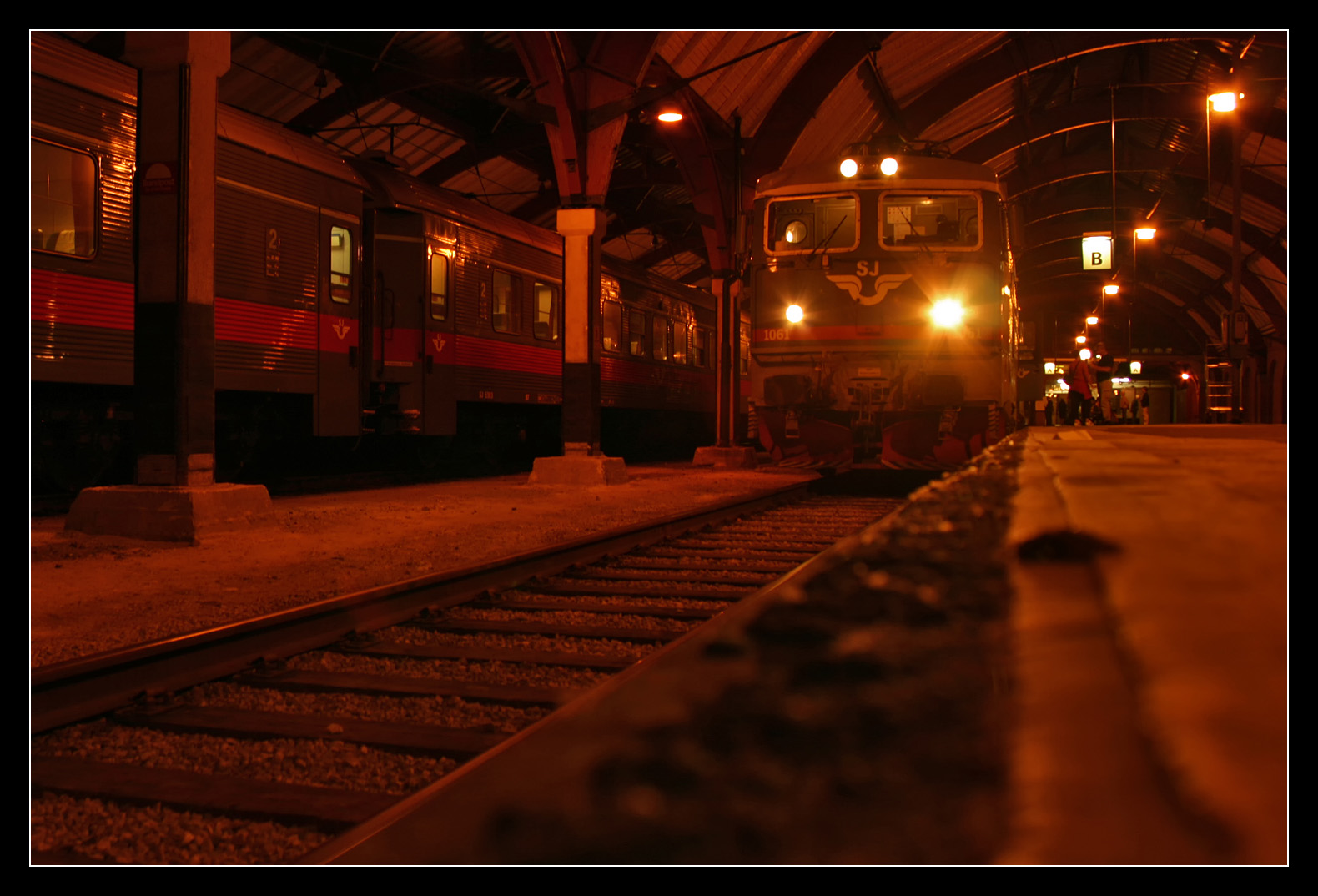 I stood at the open window to enjoy the last Scandinavian impressions. We were supposed to take the branch line to Trelleborg, ferry port to Sassnitz on the island of Rügen, Germany.
Malmö suburbs went past, Malmö Syd... wait a moment... Malmö Syd? That's not the way to Trelleborg, it's the way to the Öresund Bridge!
Soon, this was also noticed by the railway staff, and we stopped. After a while the train pushed back to the junction.
This is the only time I ever have been on board a train taking the wrong line.
Finally, we arrived at the ferry terminal Trelleborg after 10:30 p.m.
The ferry still was waiting, a diesel shunter took over from the class Rc electric.
We were pushed into the interior of the ship next to trucks. I stayed in bed as it would only be dark outside during the crossing.
August 30 2004
Shortly after 6 a.m., GVG (Georg Verkehrsorganisation GmbH) 109-3 in Scandlines ad livery had hauled us into Berlin Eastern Station.
August 16 2010
Six year later, I also stayed in Berlin and captured the then current edition of the train.
Empty coaching stock including slight rainbow at Greifswalder Straße.
August 30 2004
Back to Ostbahnhof for the morning mood.
We started a day of sightseeing in Berlin, for me it was the first time here.
Trams near Marienkirche.
Memorial for the victims of war and tyranny at the Neue Wache.
"Erich's Lampenladen" was just standing before being torn down.
It's the West here, not the East! ;-)
Around noon we returned to Hackescher Markt.
Lunch next to cross traffic.
S-bahn station Westend.
Charlottenburg castle.
With nutria.
We took the underground back from Jungfernheide.
DB headquarters at Potsdamer Platz.
In August 2004, demonstrations each Monday in Berlin and Olympic Games in Athens were taking place.
Before seven o'clock, we returned to the Eastern Station.
At 7:15 p.m., EuroNight 229 "Spree-Donau-Kurier" to Vienna via Nuremberg departing at 7:21 approached.
I took pictures of the city from the ÖBB sleeping car windows.
A last sunset photo with new Berlin main station under construction.
That was it, ScanRail Tour 2004, I hope you liked it!
Our rail route using ScanRail Pass - not available anymore nowadays - was:
Vienna - (flight) - Stockholm - Östersund - Gällivare - Narvik - Björnfjell - Narvik - (bus) - Bodø - Trondheim - Åndalsnes - Oslo - Bergen - (boat) - Flåm - Myrdal - Bergen - (boat) - Stavanger - Oslo - (flight) - Vienna and
Vienna - Hamburg - Westerland - Copenhagen - Malmö - Gothenburg - Malmö - Berlin - Vienna.