Hi,
To the previous part of the series:
ScanRail Tour 2004 - 1: Across Vienna to Stockholm (50 p.)
http://www.railroadforums.com/forum...our-2004-1-Across-Vienna-to-Stockholm-(50-p-)
ScanRail-map featuring the former and current itinerary:
http://raildata.info/sca04/sca0402k.jpg
July 5 2004
We started our first full day in Stockholm before 10 o'clock out of the beautiful old hotel in Västmannagatan.
We took t-bana from Odenplan station to Östermalmstorg changing lines at T-Centralen.
More information about the Stockholm subway and a network plan can be found here:
http://en.wikipedia.org/wiki/Stockholm_metro
90% of t-bana stations are featuring works of art, the concrete wall reliefs at Östermalmstorg were created by Siri Derkert.
One topic of the reliefs: women's rights.
We returned to the surface, our destination that day was Djurgarden ("zoological garden") island, offering numerous cultural- and leisure-facilities.
Apoteket Storken ("stork's pharmacy") was situated at the junction of Storgatan and Styrmansgatan. It featured an office still mainly in original turn-of-the-century condition.
Subsequently we followed Styrmansgatan downhill to Strandvägen promenade. There we encountered the only Stockholm inner city tram line, "Djurgardslinjen" #7 between Norrmalmstorg and Waldemarsudde on Djurgarden. At that time it still was exclusively operated by heritage streetcars. 2010 it was extended by newly built line "Sparväg City" to Sergels torg, since 2011 modern vehicles are in regular service. Bus #47 which we still can frequently spot on these pictures has been put out of service. The new line is carrying number 7 nowadays, museum traffic has been renamed to 7N.
More info:
http://en.wikipedia.org/wiki/Djurgårdslinjen
One of our regulars for the day, motor tram #335, class A12, built by ASEA in 1924.
A database of all Scandinavian museum streetcars can be found here:
https://www.sparvagssallskapet.se/vagnhallen/museivagnar.php?ling=en
Some historic vehicles featured these photogenic mailboxes.
View towards Djurgarden, you can see the interesting building of the Nordic Museum completed in 1907. Only part of it had been erected for the Stockholm Exhibition in 1897 - a cultural and industrial world fair -, initially it had been planned as a national monument three times the current size.
A clearly American-looking "Mustang" #71 from Malmö, built by GM in 1946, with fitting trailer car #196 followed next.
We approached Djurgardsbron under a magnificent cloud backdrop.
#335 returned downtown across the bridge.
View at Östermalm and Norrmalm, Djurgarden to the left.
Former Oslo tram #210 in advertisement livery - originally painted blue - in front of the Nordic Museum. It had been built in 1953, later modernized.
Streetcars were operating frequently on the relatively short loop, busses also passed by often.
Djurgardsbron is the highlight of the line, four granite pillars are carrying Nordic gods.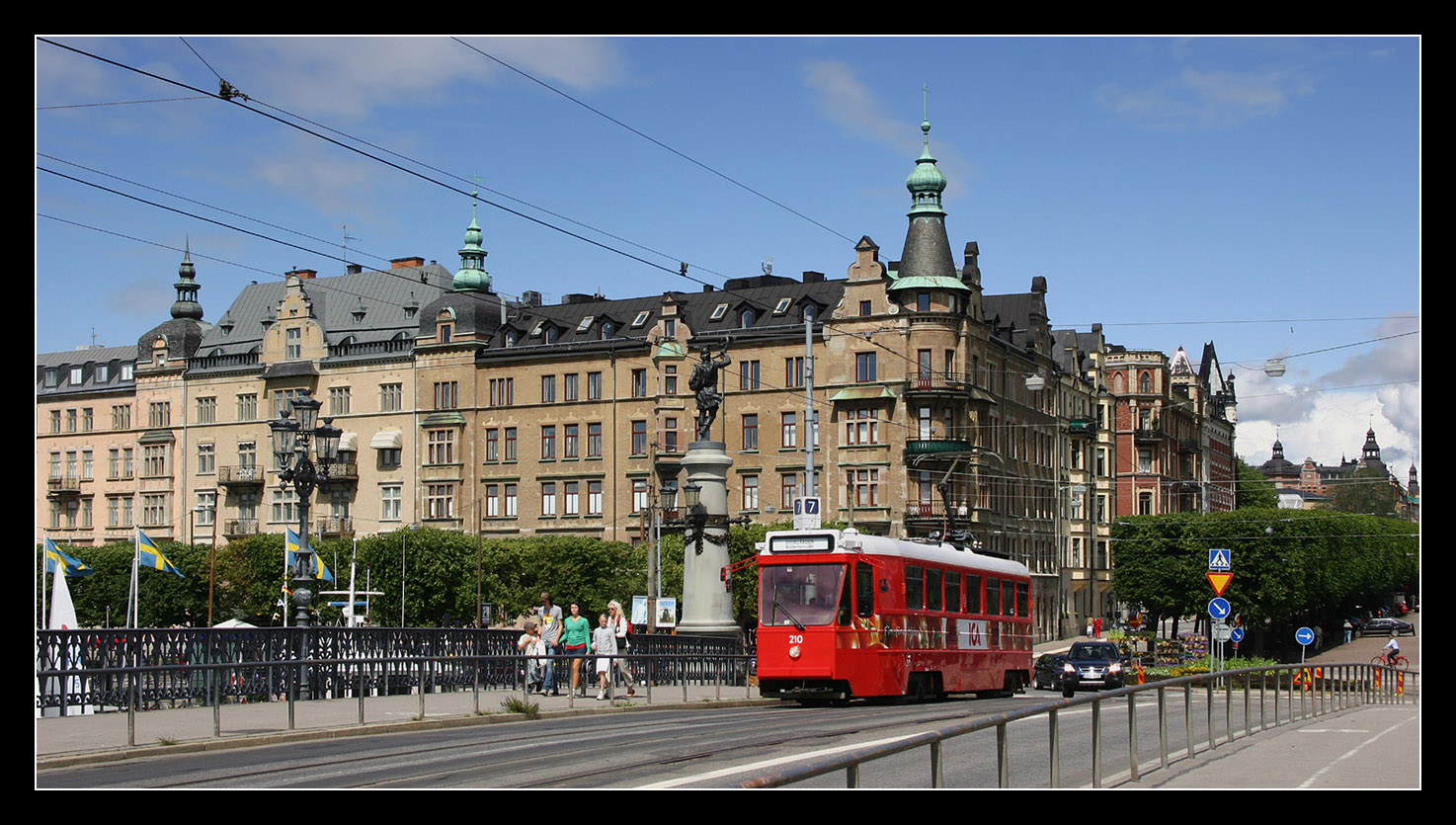 Already in the 17th century bridges at this spot have been mentioned in texts, the current one has been constructed in 1897 for the Stockholm Exhibition.
We left the street and walked around the Nordic Museum.
The Estonia-monument, much smaller than the one in Tallinn.
Our first point of visit was the Vasa-Museum with its unique exhibit. Excessively oversized Swedish galleon Vasa - a vanity project of the Thirty Years' War - sunk in 1627 less than a mile into its maiden voyage at Stockholm harbor. It only was rediscovered in 1956 and raised in 1961. Since 1990 the very well conserved wreck can be visited in its own museum.
More about Vasa:
http://en.wikipedia.org/wiki/Vasa_(ship)
Model of the original condition.
The ship - especially its stern - had been decorated with over 700 carved wooden statues.
Two figures have been restored in its original paint for visualization purposes, but even more interesting were the grotesque faces below.
In front of the museum you could visit the bridge of historic icebreaker SS Sankt Erik, next to it the light vessel Finngrundet was moored.
A preview at the next part: Viking Line terminal in Södermalm, Saltsjöbanan suburban railroad leading past it.
In the meantime streetcar #71 was running solo.
We passed the tram depot, in front of it the former emergency vehicle of the line, a Volvo Duett from 1968.
View into the remise, amongst others trailer car #521 was stabled there.
Me moved on to Skansen, Stockholm's open air museum - the first worldwide opened in 1891 - , occupying a large part of the island. It would be the first of several similar museums on this trip, which form the main cultural attraction of many larger Scandinavian towns. In a sparsely populated region it makes more sense to amass cultural goods at a single place, especially if most structures are made of wood. This idea is even enhanced by amateur actors supposed to bring life to the historical settings. More about Skansen:
http://en.wikipedia.org/wiki/Skansen
Very basic turntable.
Whole historic landscapes have been recreated.
Animals can also be found in Skansen.
Barnacle gooses - let's say: close enough to the graylag goose, even if they are black geese...
Reconstruction of Sami buildings in front of downtown Stockholm.
They cannot be missed!
Sadly we were not about to encounter any in the wild along the trip, but at least other animals - you can guess which...
Church with priest in historical outfit.
Skansens bergbana funicular was opened in 1897, closed in 1959 and reopened in 1973 on an extended route.
To conclude the excursion in style we rode #335 back to the center in front of the Royal Dramatic Theater, an example of Swedish art nouveau.
Next time we explore morning commuter traffic at Stockholm C and visit Södermalm.