Hi,
To the previous part of the series:
ScanRail Tour 2004 - 11: Trolls in the Mist (50 p.)
http://www.railroadforums.com/forum...nRail-Tour-2004-11-Trolls-in-the-Mist-(50-p-)
ScanRail-map featuring the former and current itinerary:
http://raildata.info/sca04/sca0412k.jpg
July 16 2004
The day faded away with the last light on the rocky mountain peaks ...
July 17 2004
... and greeted us next morning again with sunlight. I walked along Romsdalsvegen two miles into Rauma Valley to scout some photo spots. Near Mjelva camping I found a view. It was Saturday, the first train of the day - 2342 - only departed Andalsnes at 9:38 a.m. and passed Isterdalen entrance at 9:44. At the end of this prime example of an ice age trough valley you can see already known mountains Bishop, King and Queen which we had admired more closely from Trollstigen.
While I was on tour, the "third hand" walked past the marshalling yard and took this only close-up pic of class Di 8 switchers on this trip.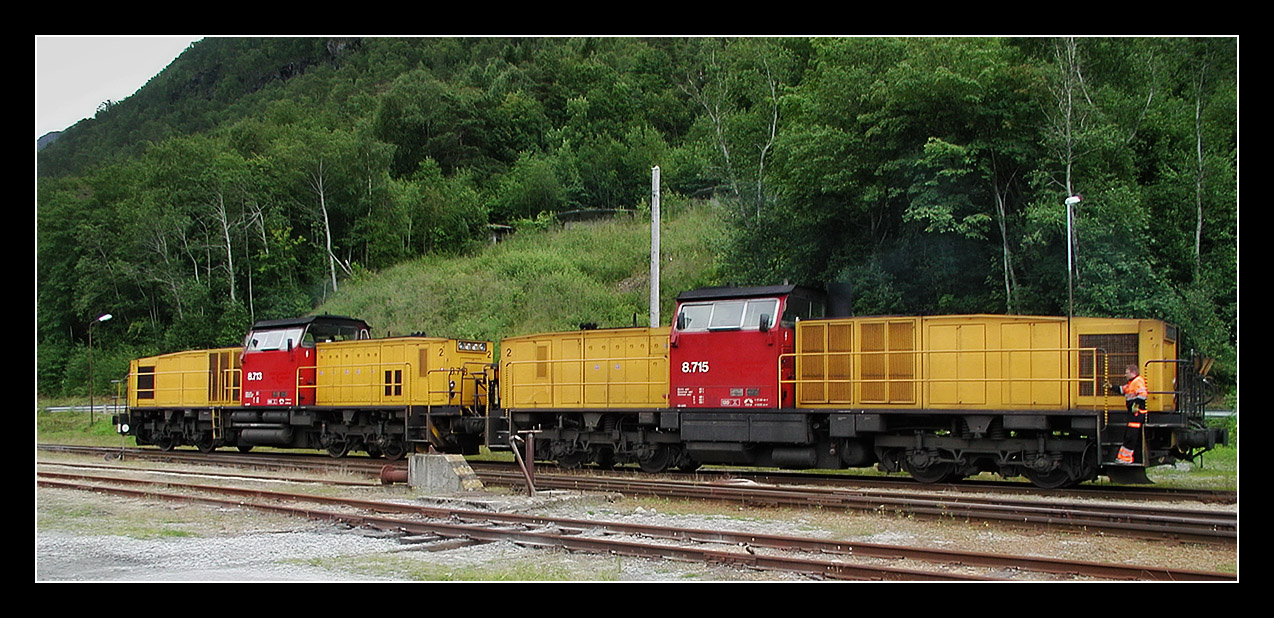 The next passenger train was only scheduled for 1:32 p.m., so I returned to town for lunch on a restaurant terrace. MS "Adriana" had been launched in 1971 as first Greek purpose-built cruise ship named "Aquarius" and later - 1987-97 - served as "Adriana" with Yugoslav/Croatian Jadrolinija. Nowadays it sails the Caribbean and the Black Sea.
At 12:20 p.m. 63a 2770 (Henschel #28322 / built in 1944) left the depot.
It seemed as if the loco was walked along the fjord by its crew... ;-)
To capture train 2341 I marched ahead to a spot I had discovered in the morning near Akeshjellen - a picturesque short tunnel situated in an s-bend.
In the background: the massif of 6076 feet high Store Venjetinden.
The rear cab was manned as well.
In the meantime the 3rd hand took pictures of steam preparations at Andalsnes.
Viewed through flowers.
As soon as the DMU had arrived, the magnificent special departed.
I awaited it at a road bridge near Akeshjellen.
The train continued through wild Rauma Valley to Bjorli.
The Gulfstream is noticeable here as well.
As we had plenty of time to spare we hired a cab, drove around Isfjord and reached Rodvenfjord past a few lakes.
Our destination was Rodven stave church which has been preserved without recent renovation. More about it here:
http://en.wikipedia.org/wiki/Rødven_Stave_Church
Next to it a newer church had been erected at the start of the 20th century, since then the old stave church is owned by the Society for the Preservation of Norwegian Ancient Monuments.
Cattle at the shores of Rodvenfjord.
Diagonal support beams are an especially noticeable feature of this building.
The interior had been painted in the 17th and 18th centuries, the cross dates from the 13th century.
We came across a vehicle from back home.
Back at Andalsnes we could relax in the warm sun, our train 2346 was only about to depart at 5:22 p.m.
The steamer returned at 5:09 p.m., sadly the turntable at Bjorli was not used.
The conductor in front of his proud train.
Patient waiting until the special had cleared the path.
We departed on the 71 mile long Rauma Line which had been completed in 1924. This poster could be found at an interior door of our class Bm 93 DMU.
Exact route:
http://en.wikipedia.org/wiki/Rauma_Line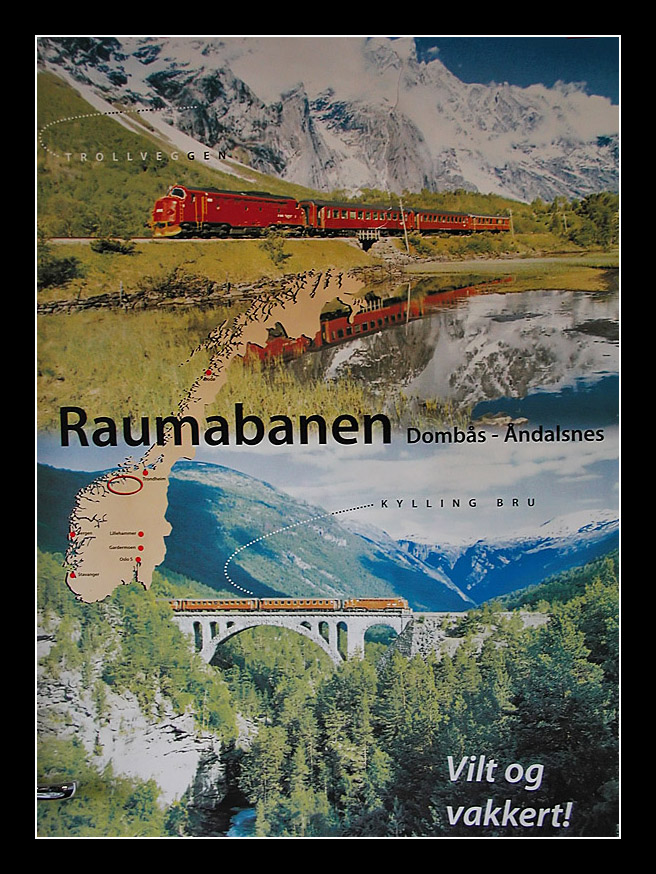 The following photos were taken mostly on the day before by compact camera.
Rauma Valley is starting in a spectacular way with 3600 feet tall Trollveggen (Troll Wall).
Often massive rock walls tower along both sides of the valley.
Railroad and road are often leading close to each other in this section.
Sometimes waterfalls straight out of a fantasy world are appearing.
On Kyllingbru Rauma river is being crossed, then the line quickly gains altitude through loops and a loop tunnel - on the left side you can see the line where we came from.
After Bjorli we leave the Rauma river and follow Lagen river to Dombas on an altitude of 2162 feet.
Bm 73 005 picked us up as express 46 to Oslo at 6:52 p.m.
Around 8:45 p.m. we took a short break at Lillehammer. On occasion of the Olympic Games in 1994 the station had received a modern extension.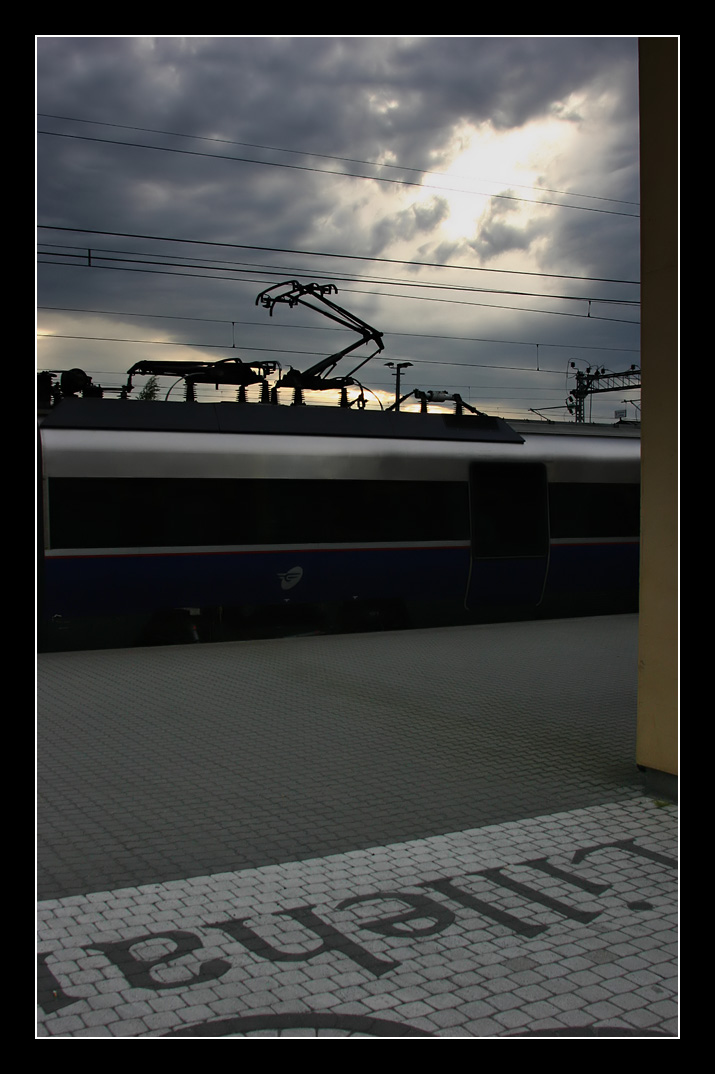 From Hamar it was not "tid for tog" (time for train) anymore, but "tid for buss"... during summer season the lines around Oslo were undergoing massive maintenance work, we never arrived by train in the capital city. Rail replacement traffic was of course well organized, from Hamar we followed the largely empty southbound partly double lane highway. We almost had the road to ourselves - almost, as a couple of pensioners in a station wagon travelled ahead of us. And they were driving extra slowly on single lane stretches of road, while putting their foot down on double lane sections so our bus never could reach the necessary speed to overtake. This game repeated itself a few times until our bus driver had enough: he closed the gap to the car in front until the bumper was only inches away, then lit the interior with those mighty Scandinavian headlights. Strangely overtaking posed no problem anymore afterwards...
At quarter past eleven - half an hour after the scheduled arrival of our train - our bus stopped directly at platform 1 of Oslo S. Our nice hotel was not far away, the only negative experience was that we had to fight our way through the relatively aggressive red light district in front of the main station.
Next time we will only stay shortly in Oslo, then continue our tour!