Hi,
To the previous part of the series:
ScanRail Tour 2004 - 10: Trondheim (50 p.)
http://www.railroadforums.com/forum/showthread.php?50071-ScanRail-Tour-2004-10-Trondheim-(50-p-)
ScanRail-map featuring the former and current itinerary:
http://raildata.info/sca04/sca0411k.jpg
July 16 2004
Morning of departure at Trondheim S, the rake of our train 42 towards Oslo was being provided at the platform.
The interior of our 2nd class car.
In beautiful weather we crossed lovely wild Dovrefjell, past several wooden structures.
Punctually - at 11:05 a.m. - El 18 2247 had arrived with our express at Dombas.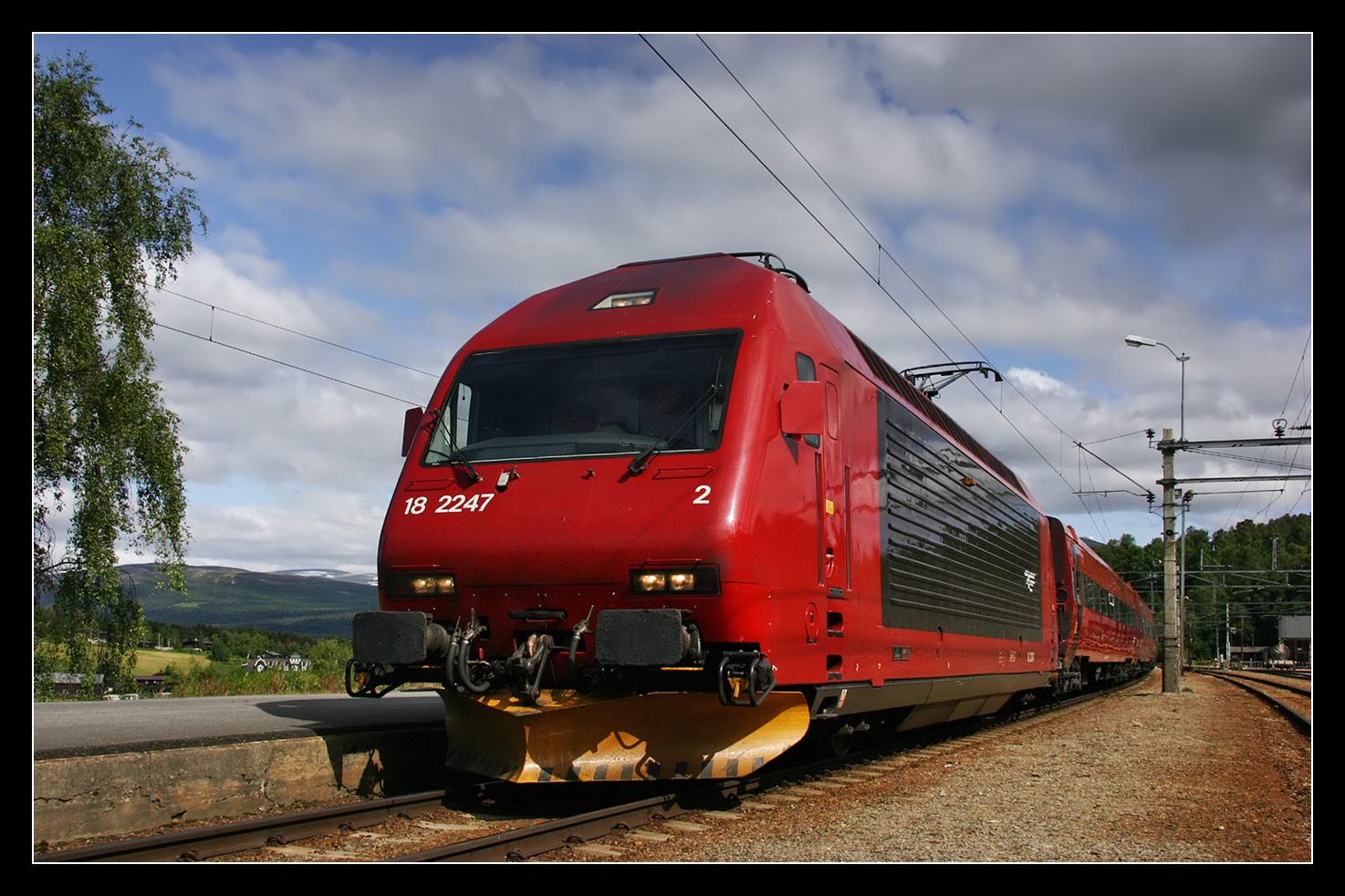 NSB-vehicles usually are well maintained.
We had an hour to look around. The church of Dombas had been constructed in 1939 reminding of regional stave churches.
Our Rauma Line Talent DMU stood ready as service 2341 to Andalsnes, but we still needed to wait for the express from Oslo.
Railroad ads amidst the landscape of Upper Gudbrandsdal.
Train 41 from Oslo consisting of a class Bm 73 double also arrived punctually to the minute at 12:05.
Trains stopped here for 10 minutes, we also saw our conductors again as staff from Trondheim on southbound services changed back to northbound trains home at the next station, Otta. Amongst them were two funny characters who were reprimanded by their boss as they used longer stops for their personal smoking breaks.
Change from service 41 to 2341.
Towards the north Dombas is left by the Dovre- and Rauma Lines through two tunnels. You can also spot a wooden catenary mast which still are in use on the Dovre Line today.
After a beautiful ride on the Rauma Line - we will see more of it in the next report part - we reached Andalsnes at 1:32 p.m. Our "Grand Hotel Bellevue" was situated near the station. At five o'clock I walked past the station again and witnessed this spectacle of nature. If you look closely, you can also notice a nice piece of technology...
The harbor panorama.
An interesting vehicle stabled harborside - a train chapel.
I waited for the departure of train 2346 at 5:22 p.m.
View into Romsdalsfjord.
And only just caught the bus to Geiranger. Shortly after leaving Andalsnes we turned into short Isterdalen, at the other end bordered by the mountains Bishop (not in view), King and Queen.
We climbed up Trollstigen ("Troll Ladder") mountain pass, gaining 1330 feet altitude past Stigfossen.
The road was opened in 1936 and is only negotiable during summer.
We got off at the top, wafts of mist were sometimes passing through, here in front of Kongen (King).
A glacier could already be found on nearby 5860 feet high Finnan.
Views towards Andalsnes and Romsdalen through Isterdalen opened up.
According to the title. ;-)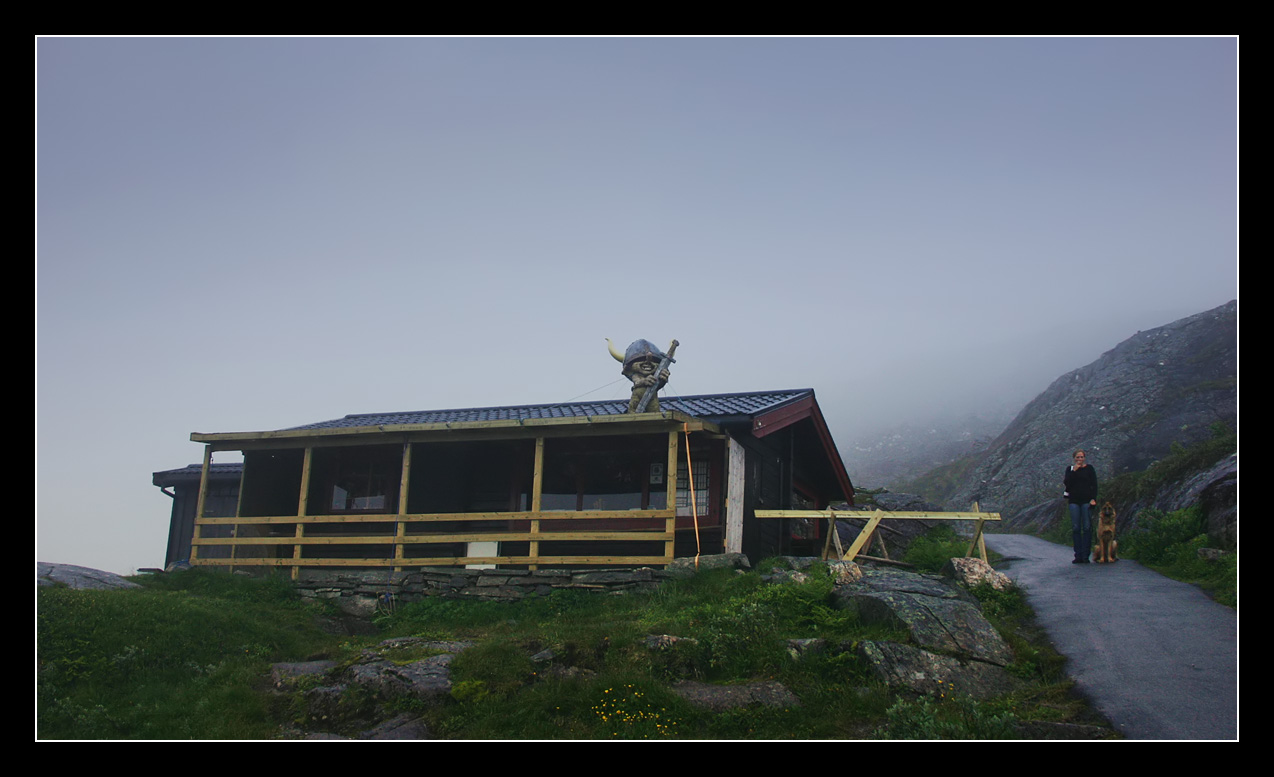 Viewpoint.
It is one of the most popular tourist routes in Norway, half a million tourists passed through here in summer 2004.
Looking up at Bispen (Bishop).
Fog- and waterfalls.
Attention, downgrade!
A bus running empty took us back to Andalsnes. Here we are viewing from Rauma estuary into Romsdalen.
At the station the lovely wooden heritage rake was stabled in perfect evening light.
But there was more to discover...
Beach inhabitant on rail ballast.
Steam locomotive with view at Isfjord and village of the same name.
German class 52 WWII steamers - where can't they be found? The engines left with Norwegian NSB were designated class 63a, also nicknamed "Stortysker" - "Big German".
63a 2770, ex DRG 52 2770 (Henschel #28322 / built in 1944).
The locomotive shed is reached via a turntable.
Let the loco under steam rest - until next day!
Final rays of light, our hotel in the background.
Sundown at the harbor, train chapel to the left.
See you next time at the Rauma Line!