Hi,
To the previous part of the series:
ScanRail Tour 2004 - 9: Nordland Line (50 p.)
http://www.railroadforums.com/forum/showthread.php?50022-ScanRail-Tour-2004-9-Nordland-Line-(50-p-)
ScanRail-map featuring the former and current itinerary:
http://raildata.info/sca04/sca0410k.jpg
July 14 2004
We awoke in Norway's third largest community of 180000 inhabitants, it awaited us with sweet strawberries - also called Tronderbaer in that area - as well as smelly fish.
Gothic Nidaros Cathedral (an earlier name of Trondheim) had been massively renewed in the 19th century. Norwegian kings were crowned in here during the Middle Ages and 1818 to 1906.
The interior of the Lutheran church.
Tower view at the - compared to further north - lively city.
Towards the sea you can spot Market Square, center of town, featuring a column with statue of city founder and Viking king Olav I Trygvason, behind it the railroad and Munkholmen island.
View across the Trondheimsfjord.
In the evening before seven o'clock I entered the station.
I took a Tronderbanen class Bm 92 to Hommelvik.
Soon I had to leave the comforts of the DMU built by German Duewag and was left in the rain at the shores of a fjord.
Oh well, clench your teeth, tuck the umbrella under the arms - no problem!
Bm 92 15 with driving trailer 92 91 approached in Nabotaget-livery as connection from Östersund. The service continued to Heimdal at the Dovre Line south of Trondheim.
I had chosen Hommelvik because it featured an almost perfectly horseshoe-shaped bay which the railroad follows mostly directly next to the sea. So, I had a heads-up for any train from the Trondheim direction. As expected from the publicly available graphic timetables, a CargoNet double header was approaching on its first miles of a long journey north.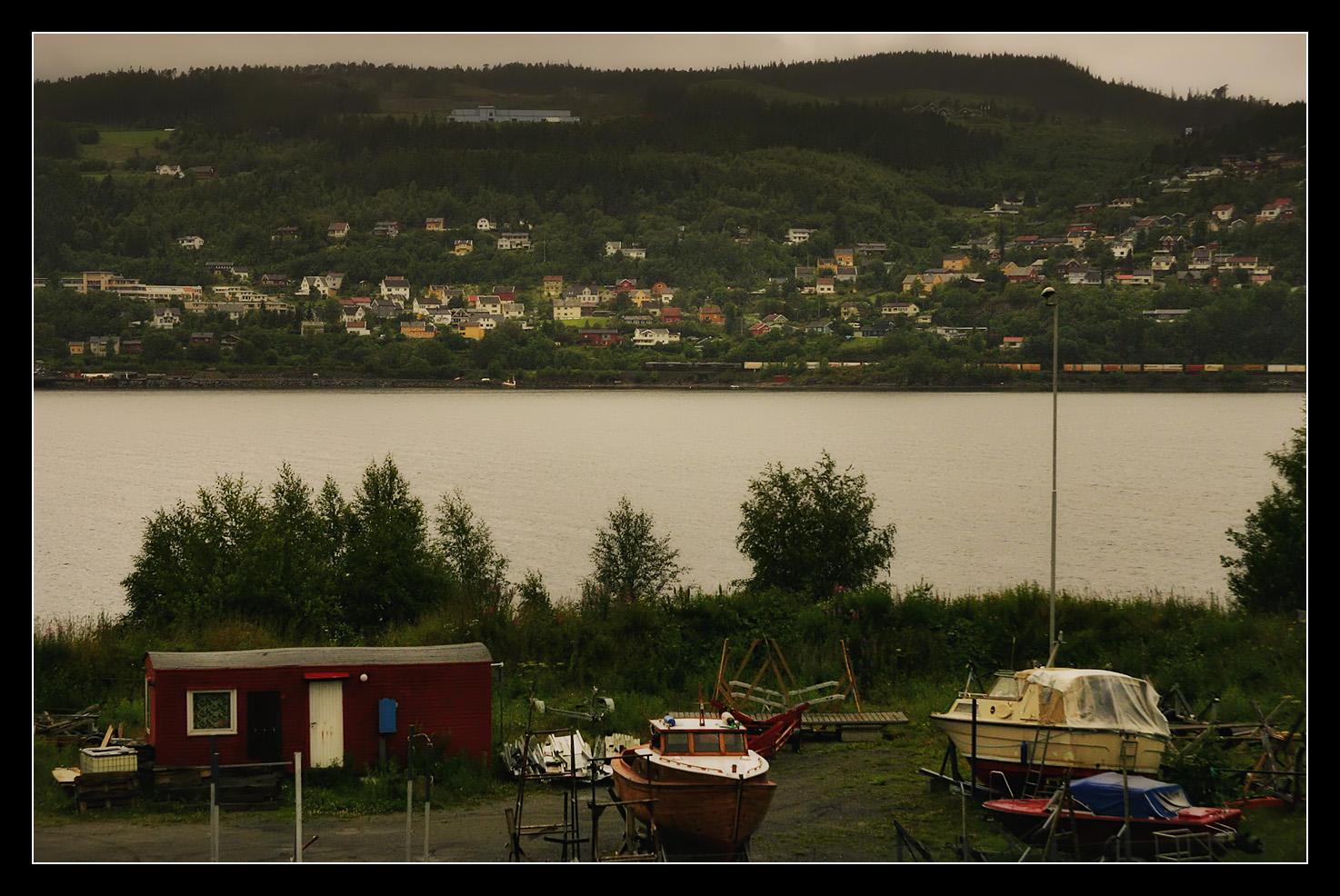 The long line of cars snaked through the atmospheric fjord landscape. CD66 406 was heading the train, I had captured it northbound at Lonsdal the day before.
I took a look around the beach, it was horrible how littered everything presented itself. Garbage from up to Florida seemed to be washed ashore here so not even a rich country like Norway could afford cleaning up. Suddenly a freight train to Trondheim surprised me.
Luckily the train came into sight once more, a class CD66 double header plus a Di 8 shunter.
At 9:30 p.m. the next Tronderbanen train to Steinkjer was scheduled.
Class Bm 92 and new boat harbor.
Next I waited for the daytime train from Bodo which had arrived early the day before. At 9:50 p.m. Di 4.653 rushed past me on the last few miles of its 453 mile journey.
Full horseshoe fjord view.
With overnight train Trondheim – Bodo, hauled by the loco of our daytime train yesterday - Di 4.654 - , at 10:38 p.m. I reached the physical limits of my EOS Digital Rebel.
Bm 92 07 had returned me to Trondheim safely at half past eleven.
Trondheim S is situated at Nidelva canal port north of Trondheim inner city peninsula. It did not get darker at night even hundreds of miles south of the polar circle. The light in the sky raised hope for spells of better weather over the coming days.
July 15 2004
Next morning well-known Di 4.653 prepared for the daytime service to Bodo - the scenery hardly could be any better color-matched!
M/K "Bjugnskjaer", which had been transformed into a fishing vessel in 1952, is just up for sale for 200000 crowns by the way, if anyone is interested. ;-)
Shunting work at Trondheim S.
El 18 2261, second last of its class, arrived over-punctually at 6:58 a.m. with its sleeper train 405 from Oslo. El 18 were delivered 1996-97 by Swiss SLM and ABB based on the loco 2000 concept (nowadays SBB Re 460), with slightly reduced top speed and adaptations for the Nordic cold.
If you have looked closely so far you could have detected Swedish SJ sleeping coaches in other overnight trains - the consist of train 405 from Oslo included one as well.
Connection to the Bodo service is given.
The destination of Bm 92 02, Lerkendal and the adjacent stadium, is situated at the freight bypass east of Trondheim and can be reached from the main station via Stavne track triangle.
The rake of the sleeper train was shunted by Di 2.832, the first six locos of the class were produced by German MaK from 1954, the rest of the overall 54 engines by Thune in Oslo until 1973.
Di 4.653 thundered out of the station at 7:40 a.m.
The overnight train from Bodo hauled by Di 4.652 arrived a few minutes later.
The evening before I had caught CargoNet El 14 2190 at the same spot.
I looked around the canal port in the morning just as another class El 14 came by across the slightly arched bridge.
Sometimes everything fits together perfectly - sun, a nice spot plus a class El 14 hauling a contrainer freight - what more could you want?
"The Last of the Vikings" about the industrialization of fishery around the Lofoten islands is the most famous novel by Johan Bojer written in 1921.
I left the canal port for a refreshing breakfast at the hotel.
We start the second sightseeing day at the most prominent place of interest in Trondheim, old city houses built on stilts along Nidelva river.
Next we visited - what else in Scandinavia? – an open air museum, Sverreborg Trondelag Folkemuseum situated in the outskirts to the southwest. 80 historic buildings had been collected here, we are viewing across forest, meadows and houses (although that does not make much of a difference in this case ;-)) towards Trondheim. The old Norwegians knew how to build and insulate in an ecologically sustainable way.
How does the bread receive its holes?
A ski workshop of course is part of the ensemble as well.
We walked back to the center - I usually am an art lover, but the meaning of seals spouting water at someone's behind stayed hidden to me... ;-)
We came across the 3ft 3 3/8in (meter-)gauge tramway of Trondheim, 5.5 miles long Grakallbanen into rural Lian. As soon as you see Scandinavian fog lights attached to a streetcar you know it's serious business.
Car 100 is one of 11 vehicles built by German LHB/Siemens in 1984/85. Soon afterwards the route was in danger of being closed, but the community saved it in 1989. Until 2005 it was operated by AS Grakallbanen, since then by Connex (today Veolia).
The line owns several historic streetcars like #29 produced in 1958 by Strommen/NEBB.
The train including side car #71 built in 1951 by Hasselt was quite full and worked its way uphill past wooden villas. Below the tracks of the Dovre Line alongside Nidelva river can be spotted.
I stayed at the waterside for a while.
Bm 92 DMUs from central station to Trondheim's south passed by.
Time for another type of train: a distinctive class Bm 73 "Krengetog" (tilting EMU) arrived punctually as express 41 from Oslo.
At the western exit of the canal harbor you could find 1918 opened bascule bridge Skansenbrua, here I captured train 44 towards Oslo shortly after departing Trondheim S.
Bm 93 shunting movement for the already known train 477 to Mo i Rana past Skansen halt directly at the foot of the mighty bridge.
I took shelter there from the following heavy rain shower and waited for train 46 to Oslo at 4:10 p.m. formed of Bm 73 010 / 73 810 / 73 210 / 73 110. The green signals probably only indicate a passable bridge.
Next time we will continue our trip south with a famous detour!