Hi,
To the previous part of the series:
Romania 2015 - 14: Monastery-Express (50 p.)
http://www.railroadforums.com/forum/showthread.php?51013-Romania-2015-14-Monastery-Express-(50-p-)
Link to the video:
https://youtu.be/f2aVp_q6rT4
April 4 2015
Saturday morning we reached Sibiu station at 7:15 a.m., the silhouette of the Cross Chapel on the station square next to the bus terminal stood out against a lovely morning mood. Suddenly I heard the rumbling of a GM engine and an unknown train arrived behind a class 65.
Viewed from the platform the station building was glowing in the early sunlight.
Which mysterious express had stopped? - Well, the almost an hour delayed EuroNight "Ister" from Budapest! However, this remained the only witnessed case of a long delay on this journey.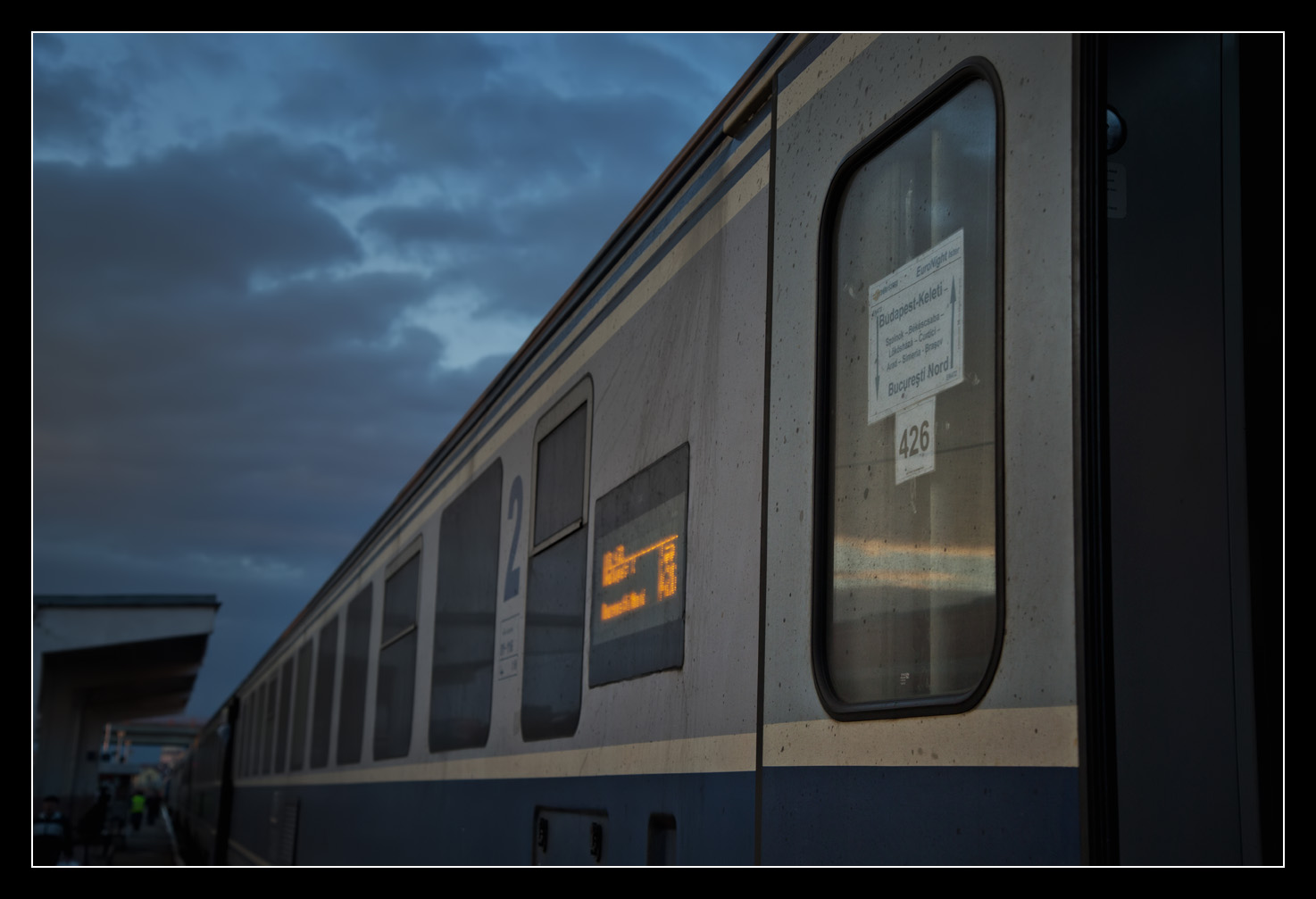 65-0943 continued to Brasov at 7:19 - please remember this loco for future endeavours... :0)
To the right you can spot two former DB class 614 units ready to depart into opposite directions as R 2561 to Medias and already known R 2512 to Fagaras. R 2068 with strangely liveried coach in the consist stood once more on track 5.
That day we ventured northeast, by R 2561 to Medias (German: Mediasch), from Sibiu via line 208 towards Copsa Mica (Kleinkopisch). We traversed the open landscape in a modernized ex class 614 which suffered from the already experienced problem of some automatic doors not shutting tightly. That way you sometimes had to endure the shrill door beeping sound all the time between halts, occasionally the doors managed to close completely.
At Copsa Mica we reached the main line to Brasov - where the diverted night trains regularly would run - which according to a billboard is currently being renewed for 4.989.141.626 lei, about 2/3 financed by the EU. A construction train hauled by 80-0532 stood in front of the since 2008 only maintained non-ferrous metal works, one of the reasons why this town counts as one of the most poisoned places in Europe.
At Medias reconstruction of platforms is on the way as with most stations along the line, we arrived at an improvised platform 1.
Someone seemed to have played around with the strange, western-style lettering on the station building...
From the platform we had to descend via steps to the station square where we immediately steered towards the taxi stand. We arranged an excursion for 80 lei (about 13 pounds) including a 50 km ride and 2 hours waiting time with a friendly elderly driver.
We drove to Biertan, in German carrying the curious name Birthälm, with its prominent UNESCO world heritage fortress church.
More about it can be found here:
https://en.wikipedia.org/wiki/Biertan
A 3D-sketch of the fortress church:
http://raildata.info/rum15/rum151500.jpg
At 9:30 a.m. we still had half an hour until the castle was about to open for visitors, so we explored the interesting village streets.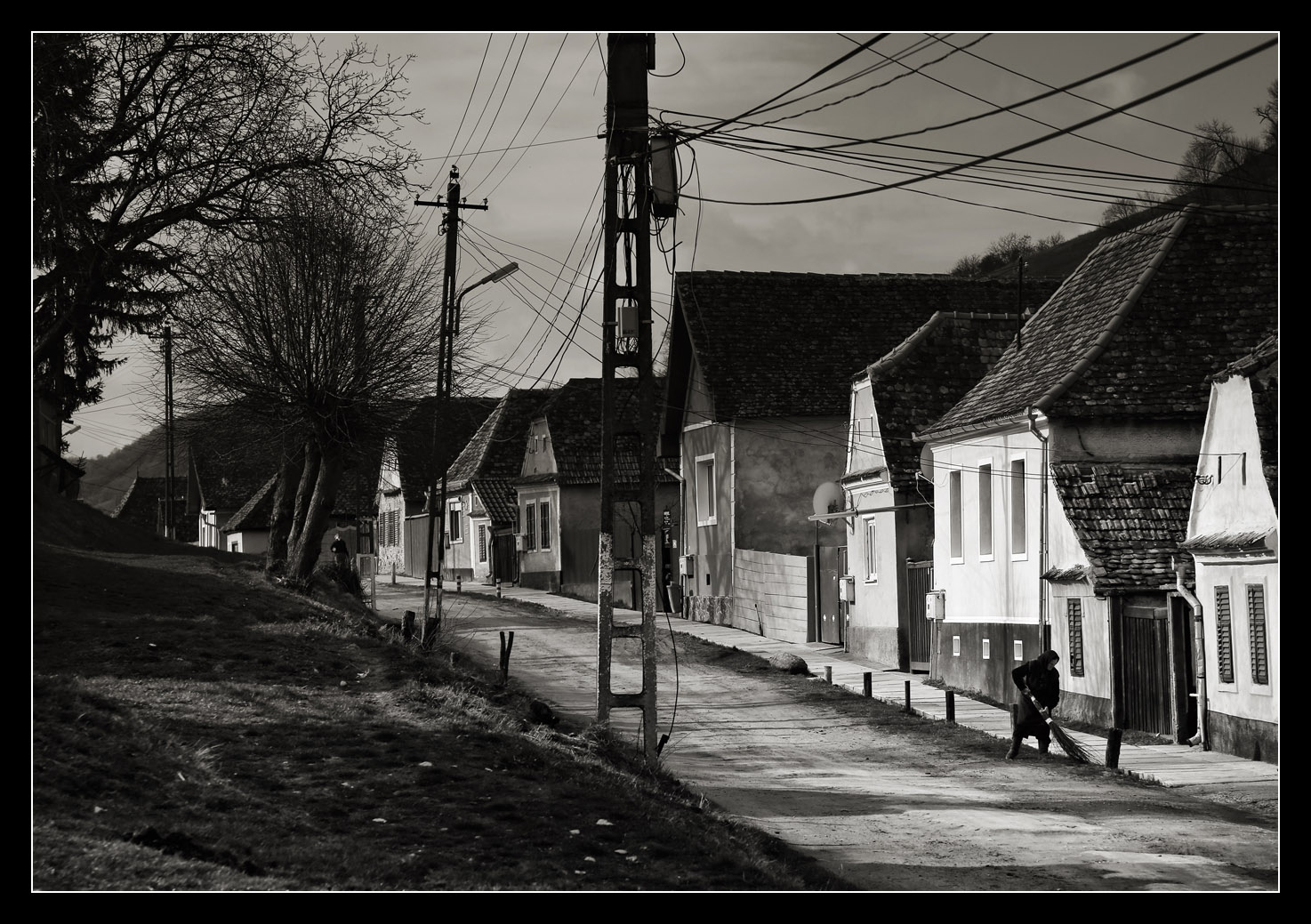 The fortress church in its full glory. The towerless late gothic church had been constructed 1492-1516, the majority of the castle as well during the 16th century when Birthälm was in its heyday. At the time with 5000 inhabitants more people lived here than in today's town Mediasch, 1572 - 1867 the Protestant Church of Transylvania had its seat at Birthälm.
We did not manage to shake this small, limping companion, only when entering the castle it stayed back. The brightly coloured dustbins could be found on every corner - independent of street state. The main square of the village, however, is well-maintained and offers touristic amenities, even a pizza shack.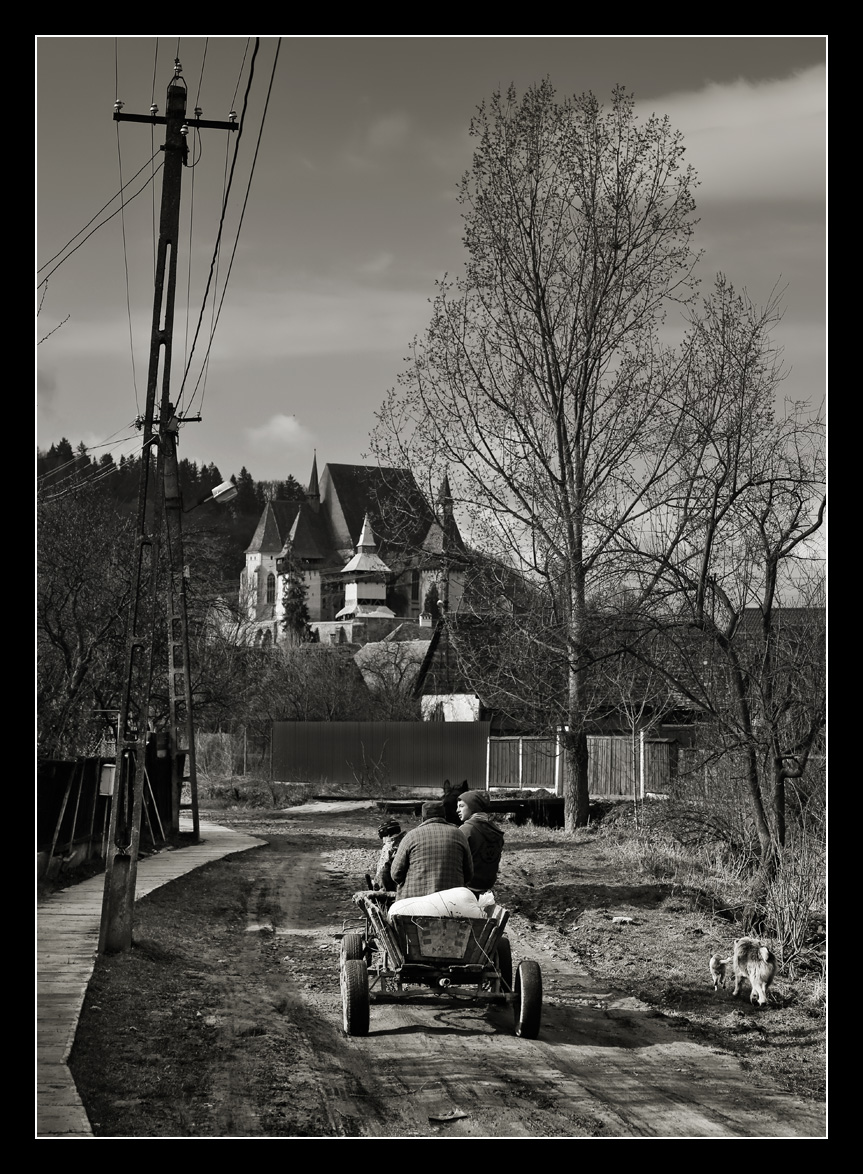 Punctually at 10 o'clock we arrived at the entrance, right next to the bookshop "Sachsenbischof" - "Saxon Bishop". Through this covered wall-walk we climbed the castle.
On the eastern fortification a small museum is located, in medieval times supposedly serving as "marriage prison". Married couples wishing to divorce were locked here with only one of each item: bed, stool, table, down to plate and cutlery. Some others tourists also took cover from a sudden snow shower as we had experienced the days before, too.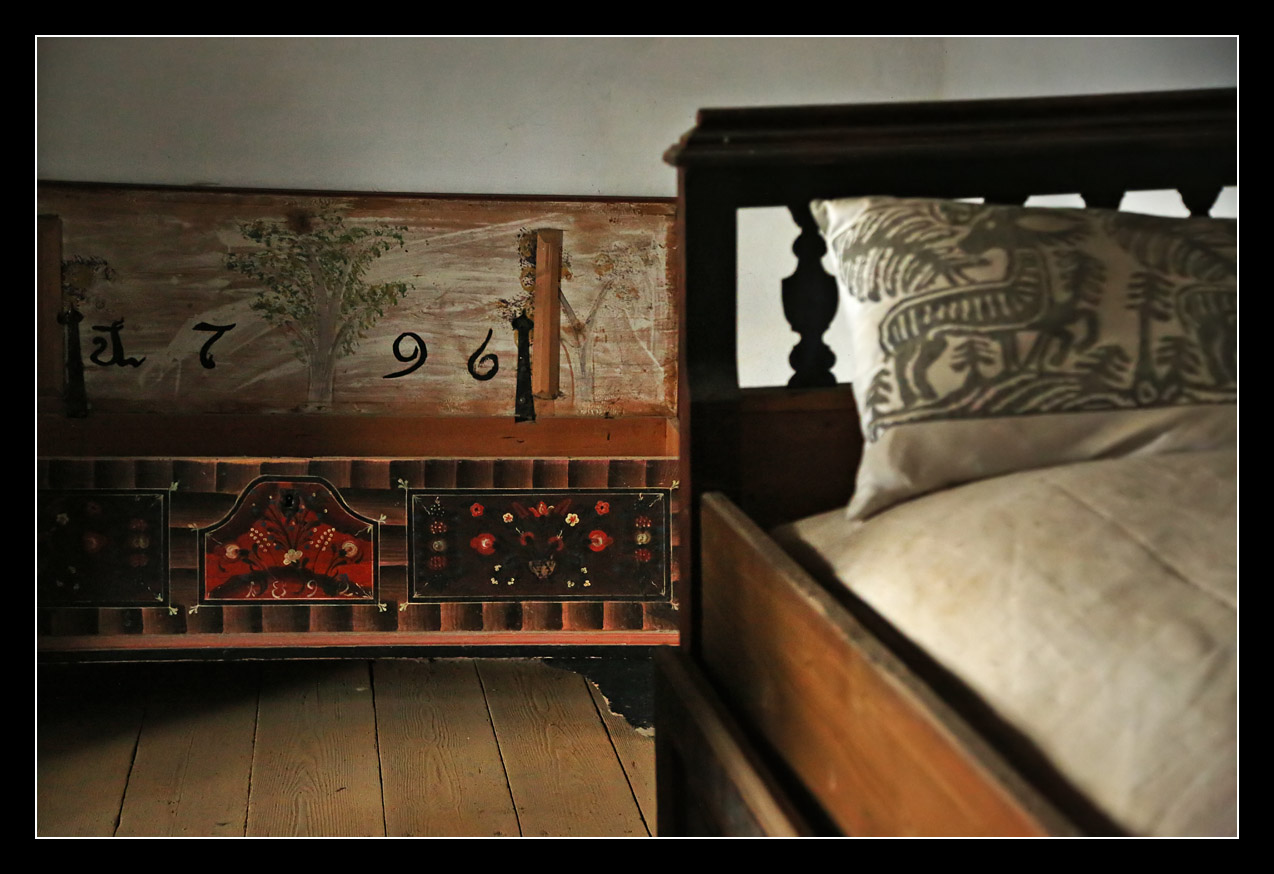 Next we visited the church. The door of the sacristy from 1515 features a lock operating thirteen bolts. It even had been displayed at the Paris world exhibition in 1900.
The massive winged altar with 28 panels had been created in Transylvania 1483 - 1525 and always stays open.
The Renaissance choir stalls and unusually clownish decorated arches were interesting as well.
The stone pulpit had been made in 1523/24 at Brasov (Kronstadt).
Wonderful village views opened up from the hilltop.
At half past eleven we returned to Medias. Everywhere in Romania you can find these anti-corruption posters, the strict campaign seems to have positive effects.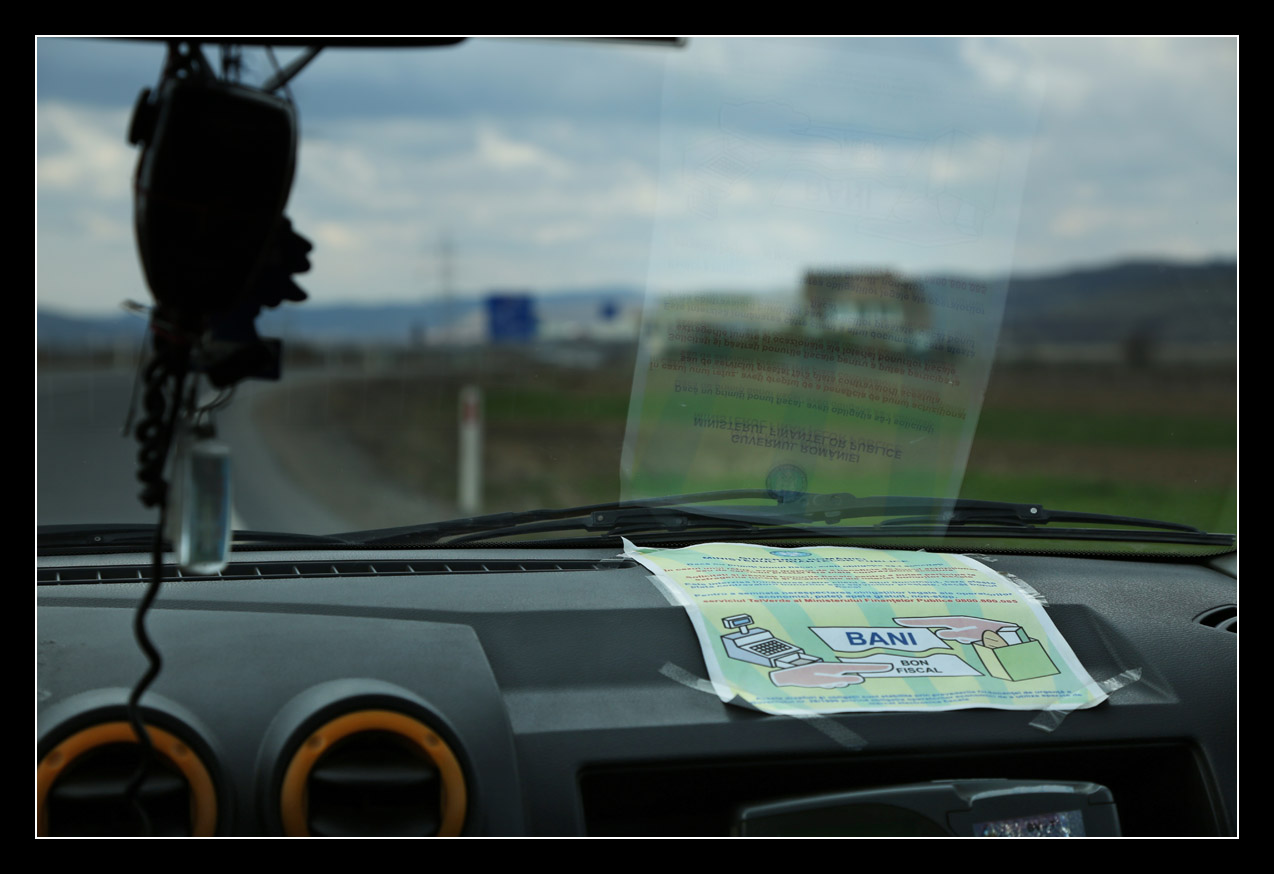 The main road to Medias follows the railway from Brasov, construction work was happening on and next to the line.
At Medias the taxi driver set us down on the main square - Piata Regele Ferdinand I.
As in Sibiu the little turrets on the (leaning) Trumpeter's Tower of St. Margaret indicated the status of the town.
More about town and church can be found here:
https://en.wikipedia.org/wiki/Mediaș
Window-find.
Stonemason's Tower at the largely preserved town wall.
Next we looked around for a place to eat, but Medias offers quite little in that regard for a town with touristic ambitions. One restaurant already was fully booked, so all we had left was Trattoria Roma on the main square (of course not only offering Italian food). Sadly it suffered the for Romania still typical problem of missing non-smoker protection, the main room was smoky like you could only find it in Central Europe decades ago.
We waited for a rain shower to pass and then dared to return to the streets despite free-roaming axe-buyers.
Now we hoped for the next highlight at St. Margaret's - one of the most important Romanian sacred buildings - but only encountered utter disappointment instead. From Good Friday until Easter Sunday church and parish office were closed - so practically at the highest Christian holiday! - this showed how little a role the Protestant Church still played in daily life and how few Transylvanian Saxons were left.
We continued our sightseeing tour slowly towards the station. To the south of the old centre a longer section of the town wall still was standing, directly inside Blacksmith's Tower on several floors the Art Café was located. Due to still wet weather we sat down, the homemade lemonade as well as white drinking chocolate both turned out to be delicious. Subsequently we followed a trolleybus-line without traffic past the synagogue to the train station where already crowds of passengers were waiting.
Behind the new platform under construction I discovered running trolleybuses on another line.
Most people carrying various supermarket-bags thankfully headed for the one-coach-local R 3502 Copsa Mica - Brasov. For us once more a former class 614 arrived from Sighisoara as R 2568 to Sibiu.
Even this cannot be done without a cigarette...
New routing of the railway near Târnava, at Copsa Mica the old station signals had been disposed of nicely grouped.
We waited until R 3513 Medias - Teius had caught up with us, ...
... as well as the crossing with R 2565 Sibiu - Medias consisting of 60-0908 and six coaches.
Country life at Agârbiciu.
We reached the highlands around Sibiu featuring views of the Fagaras Mountains, at Ocna Sibiului we met IR 1737 Râmnicu Vâlcea - Cluj which I had taken in winter.
Once more magnificent natural light spectacles were caused by moving showers in the open landscape.
Next time we will explore previously unknown parts of Sibiu and encounter our favourite express - Dacia - several times!