Hi,
To the previous part of the series:
Winter in Romania 2015 - 10: Multimedia-Slideshow + Goodbye from Viseu (50 p.)
http://www.railroadforums.com/forum...ltimedia-Slideshow-Goodbye-from-Viseu-(50-p-)
Link to the video:
https://youtu.be/f2aVp_q6rT4
The timetable for this part:
Code:
Tue March 31 2015

Vienna Meidling dep 20:03  EN/IR 347 "Dacia" -> Bucuresti Nord Gara A

------------------------------------------------------------------------------
Wed April 1 2015

Sibiu arr 10:59 -7

------------------------------------------------------------------------------
Thu April 2 2015

Sibiu dep 6:35 +10  IR 1720 -> Craiova

Talmaciu arr 6:53 +10
Where will our next journey lead us? I had fallen for the area around Sibiu / Hermannstadt, so I definitely wanted to explore it again around Easter that year. This time in company, so it would not be a pure railway holiday, we also were about to visit historical sights in Transylvania. Another incentive is the current rerouting of sleeper trains to Bucharest on the diesel line to Sibiu, among them my favourite express, EN/IR 346/347 "Dacia". We boarded it on
March 31 2015
occupying a double sleeper compartment from Vienna Meidling, it was the evening when a heavy storm front approached over Central Europe. The network information site of ÖBB showed many interruptions west of Vienna, connections even were completely cut off to Bavaria. Luckily our path eastwards stayed clear despite of the constantly howling wind.
April 1 2015
Passport control at the Hungarian/Romanian border was brief, at Vintu de Jos we changed to a class 65. Originally I had planned to get out and capture it, but we stopped at a construction site without platform, so I chose to stay inside. Shortly before 11 a.m. we reached Sibiu comfortably slightly ahead of time. There was constant cold wind here as well, but unlike throughout most of Europe it provided sunny outlooks for the coming days.
After a short chat between crews 65-1392 soon departed from Sibiu towards Brasov and Bucharest. That day IR 347 still consisted of five coaches, one restaurant car, sleeper, couchette and two 2nd class daytime express coaches. The corresponding scenes can be watched on video (see link above) from minute 42:30.
We moved into a nice private room inside Casa Astronomului ("House of the Astronomer") and were welcomed by the nice landlady. From the roof windows of our room we directly looked out at the Liar's Bridge in the centre of old town.
The roofs of downtown Sibiu into the other direction, from the bathroom window.
The 15th century building had been freshly renovated, in the steep staircase you came across preserved old frescoes. The concept was apartment-like, without breakfast. A general kitchen area downstairs was only about to be completed.
You reached the courtyard on a wooden balcony with access to another flat, in the background you can spot a glimpse of the Infirmary Church (Siechenhauskirche) nearby.
Further steep wooden stairs led down to the courtyard, the access from Strada Azilului was not very easy to find.
We soon started our first sightseeing walk.
First we climbed the 1224 to 1241 built Council Tower (Turnul Sfatului / Ratsturm). From its top there is a wonderful overview of the city and its surroundings into all directions, albeit through window glass. Towards southwest you see the main square Großer Ring / Piata Mare ("Piaza") with the Catholic church. As you can notice Sibiu is located exposed on an elevated plain, winds always were strongest here.
Southeast - ahhhh, our favourites, the Fagaras Mountains!
We were about to dine at Restaurant Weidner to the bottom left of the image on the final day of the trip.
Northeast you could look along Strada Avram Iancu at the extension of which the railway station is situated (centre right).
Northwest lay Kleiner Ring / Piata Mica square, behind it the Protestant parish church started in the 14th century still including the tallest building in town, the 240 ft tower. The Transylvanian Saxons, whose political and religious centre Hermannstadt had been, took on Protestantism in the mid 16th century. The four little turrets on the tower roof hint at the status of the town, by the way.
Welcome to Sibiu, Latin: Cibinium, on the Cibin River.
View from the gate of late baroque Brukenthal-Palais onto the town hall at the main square.
You had to pay a small admission fee at the Protestant Cathedral. Memorial slabs of various citizens are on display.
We ate at the already-known Café Vienna opposite the church, then I left for the railway sightseeing part of the day.
Overview of Sibiu station including the blue coaches shown in the first report part from February. To the left you can spot the remains of abandoned narrow gauge line Sibiu - Agnita which currently is being partly rebuilt for museum operations by volunteers:
http://www.sibiuagnitarailway.com
65-1363 and 65-1280 were just shunting when I traversed the road bridge across the station.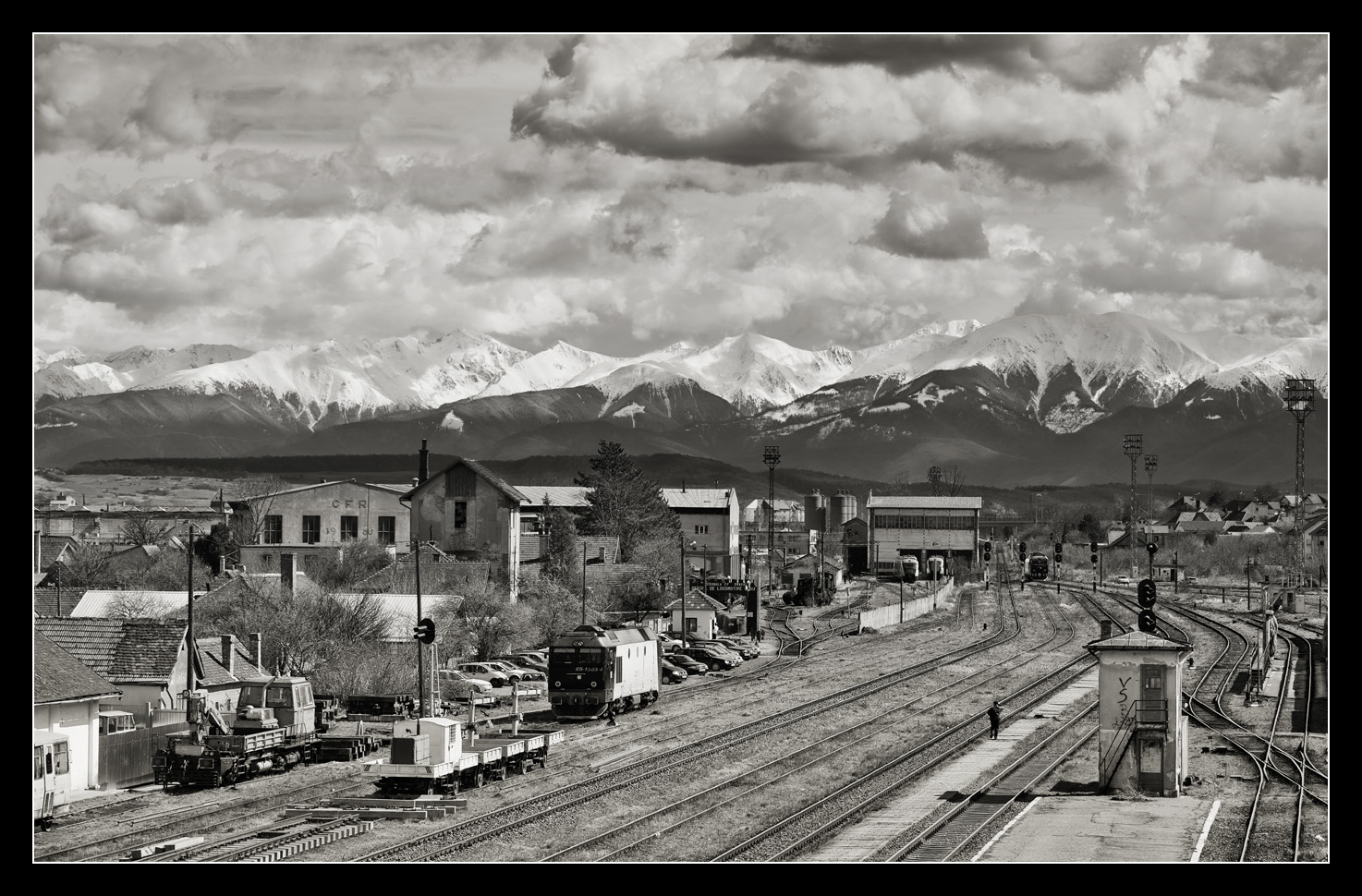 All these engines would become very familiar during the following days.
Tele shot from the bridge towards the platforms.
View from the entrance into the depot: 76-1413 - a modernized former DB class 614 - and a Desiro DMU were awaiting their duties in front of the snow-covered Fagaras Mountains.
Parade of two renewed and one shabby, old cutter 60-1308.
Trapped behind depot walls.
Long-distance-IR 1622 Timisoara - Bucharest had received two additional coaches at Sibiu, then 65-1280 accelerated out of the station.
It stormed properly manifesting itself in interesting cloud formations. I set up my video tripod as low as possible onto the ground. The video scene including GM-sound can be watched from minute 43:50 (link see above).
Entrance into depot / steam-"museum" Sibiu. However, a sign restricted access to authorized persons - the whole affair seemed a little schizophrenic. The feeling was reinforced by an old school railwayman who told me that I could take pictures of the black things inside, but was forbidden to take photos outside. As experienced traveller to various countries such types can go sit on a tack - but allowing photography inside a depot and not outside was new to me as well... ;-)
Until now it was the only such occurrence for me in Romania, usually railwaymen and -women are very friendly.
CFR 40.004 is exhibited next to the gateway, one of seven standard gauge rack steamers built in 1908 by the Viennese Locomotive Factory, Floridsdorf, for the line Subcetate-Boutari.
I have discovered an informative page about the museum:
http://bda-train-blog.blogspot.co.uk/2009/09/steam-locomotive-museum-in-sibiu.html
The hedges surrounding the locomotives were much better looked after than the mostly rusty engines themselves, like narrow gauge CFR 6845 to the left. Produced by Borsig, Vienna, for Russia in 1908 it had been captured by Austrian troops in WWI and operated in Galicia. Transferring into CFR-ownership the builder's registration number simply was used as identification.
763.148 stood in front of the turntable, it had been built by Orenstein & Koppel in 1923 and was in service on the Curtea de Arges logging railway until 1972.
2-6-0 130.569 to the front right (numbered as 130.503) built in 1921 by Skoda. The engine had been first exhibited at the 100-year-anniversary celebrations of Bucharest Northern Station in 1972 and had been transferred to Sibiu in 1994.
Kriegslok CFR 150.1105 (ex DR 52 196, BMAG - Schwartzkopf 1943), formerly used for heritage specials.
The year displayed on the building is 1960.
View past steam crane WMA 65.4 from 1939.
Line-up of cutters at well-maintained Sibiu roundhouse (f.l.t.r.): 60-0838, 60-0749, 60-1328, 88-0001 and 60-0813.
Steamers at the turntable (f.l.t.r.): CFR 1493 (Henschel 1894), CFR 077 (Hanomag 1915) and fireless CFR 20.064 (Henschel 1924).
1981-1984 81 engines of two-axled shunter class 88 had been built, but they are now almost all replaced by newer classes.
At the other end stood 760mm 0-6-0 388-002, produced in 1896 at Wiener Neustadt for the Sibiu - Agnita narrow gauge line.
I enjoyed a last ray of light...
... before a rain shower arrived. Waiting for IR 1621 on the bridge had to be skipped.
We used the rain break to purchase a few reservations for the coming days, the lady at the counter was especially pleased about the reservation just one stop to Talmaciu. What can you do if there are trains with obligatory seat reservation... The queue behind us rerouted itself to the other open counter, only a couple of tourists stayed a while longer until they gave up. At least the two ticket machines were working now - other than in February - but the two LCD screens running ads were out of order.
The second least fitting use of a Shinkansen-logo after the platform signage at Ukrainian Cernivtsi.
Freak weather over Sibiu.
The Liar's Bridge next to our accommodation (the renovated house back at the corner, our room was behind the first two roof windows), a cast iron bridge from 1859. It is supposed to collapse once a liar crossed it - I think that's just a rumour... ;-)
We shopped and got some rest. I had planned to take shots of Dacia express in the evening, but the weather was too unstable and I would have to get out early the next day, so I postponed it to another day. Due to the change to daylight savings time the weekend before and the Eastern European time zone everything felt like 2 hours earlier.
April 2 2015
On Thursday morning after 6 a.m. I reached the platforms of Sibiu central station typically dark for CFR. My Desiro as IR 1720 towards Craiova already was waiting.
The sky boded well for a full rail photo day.
But first a headlight approached in the distance...
CFR 65-1204 entered the platform hauling IR 473 "Ister" Budapest - Bucharest seven minutes late at 6:32.
Subsequently I took my seat inside the Desiro DMU opposite an Orthodox priest chewing sunflower seeds. I already had to get off at the next station, Talmaciu.
I was left at the station in beautiful mood, albeit cold wind.
Next time we will return to a full load of lineside shots from the diesel triangle around Talmaciu and Podu Olt.
Last edited by a moderator: