Hi,
To the previous part of the series:
Regional Rail Express - 7: Zagreb III (50 p.)
http://www.railroadforums.com/forum/index.php?threads/regional-rail-express-7-zagreb-iii-50-p.13602
Videos for this part:
August 17 2018
We start with current summer pictures from the ÖBB Eastern Railway near Sarasdorf. D 344 "Avala" Belgrade Centar - Budapest-Keleti - Vienna Hbf approached fifteen minutes late slowing down for a signal showing halt.
D 347 "Dacia" double headed by MÁV class 470 departing Austria towards Budapest and Bucharest.
August 27 2018
Recently at Vienna main station: Boarding Nightjet 40/233 to Roma and Milano. "Avala" arrived on time.
Nightjet departure to the right.
"Dacia" met "Avala" on the way to/from Matzleinsdorf depot.
Juli 13 2018
In June towards Balaton and in mid-July I took EC 147 "Hortobágy" Vienna - Záhony formed of Slovak InterCity carriages and a through sleeper coach to Kiev at the rear. Reservations are advised, as always on the Budapest - Vienna route.
Short stop at Győr: class M62 628.311 hauled GySEV Schlieren coaches as 9206 to Szombathely. Behind it passed CER 753.609 "Bizon" (CZ LOKO EffiLiner 1600, based on the frame of a former Czech class 750 "diving glass" diesel) with diverted freight towards Komárom and Székesfehérvár.
Komárom also was my destination, due to a nice weather forecast I decided to venture out on a photo session until dusk and again from dawn on the only stretch of railway directly along the Danube. All in all I spotted five goods trains pulled by class V63 (630) during that time.
IC 938 "Sopron Bank" Budapest-Keleti - Sopron arrived in last sunlight. GySEV Vectron engines present a lovely new picture, especially in combination with the newly rebuilt GySEV coaches (formerly ÖBB) which I will show in a future report when fitting.
The already known container freight at 8:30 p.m. The port on the other riverside is Slovak Komárno, ships also moored overnight in the centre of the Danube. From the Slovak shore you could hear a rave party going on for at least ten hours the whole night - I am sure to the delight of the sleeping sailors. I took nearby Hotel Tulipán to get some sleep.
Juli 14 2018
At 4:50 a.m., I was back on location and captured a nice Sulzer-preview of the upcoming tour. The line towards Székesfehérvár branches off to the right behind the curve.
D 346 "Dacia" Bucharest - Budapest - Vienna passed by on time two hours later.
Colourful DB Cargo Hungária/România freight yard including Softronic Phoenix 471 002 to the left, IC 919/939 "Savaria-Scarbantia" Szentgotthárd - Szombathely - / Sopron - Csorna - Budapest-Keleti in the centre and 469.116 (ex German V 90 062, ex 290 562, Deutz #58126, built in 1967, in Hungary since August 2017) to the right.
Luckily noticed: a Metrans Eurorunner diesel hauling containers into Slovakia.
EuroNight 463 "Kálmán Imre" Munich - / 40467 Zürich - Budapest concluded the morning session at 8:28 a.m.
Juli 28 2018
We are starting the regional express summer tour 2018: Saturday morning, I took Railjet 41 Vienna Hbf – Budapest-Keleti. We arrived simultaneously with IC 1406 "Corona" from Braşov conveying three additional Wagonservice couchette coaches that day. More from Budapest will be shown as part of some city specials.
I avoided the underground due to rail replacement bus services, but you can take trolleybus number 73 directly to Nyugati (Western Station) anyway. The square next to the station has been transformed into a convenient urban oasis (financed by the EU, but the accompanying sign stood completely shattered - an insight into Orbán's Hungary). I continued straight away to the station hall designed by Eiffel. I could have taken IC 614 "Nyírség" to Debrecen but already had booked the connection an hour later. By the way, I only use online tickets on my mobile in Hungary - it works perfectly and you are completely flexible.
After procuring drinks, I sat down in the shade. The station is less hectic than Keleti (Eastern Station). IC 627 "Délibáb" from Záhony arrived 15 minutes late.
Ghostly hands quickly closed each door and changed the signs. After the cleaning staff had finished with my carriage, I boarded IC 1656 "Kócsag".
We reached Debrecen at 3 p.m. five minutes delayed. You can still spot many old push-pull rakes with class M41 diesels and class Bzmot railcars.
The tramway in front of the station, however, is dominated by brand new Spanish built CAF class Urbos 3 units (2013-14).
More about the tram operation:
https://en.wikipedia.org/wiki/Trams_in_Debrecen
A Ganz KCSV–6 (1994-97) approached - that's all classes in regular service.
I checked into "Szív Panzió" on equally called Heart Street, cooled down for a bit inside the room and returned to the interesting station hall to purchase international tickets of the trip.
International Sz 6823 Satu Mare - Debrecen with towering clouds behind it threatening to become a thunderstorm. Until now I had been lucky...
I subsequently boarded 136.001, a prototype rebuilt railbus from 2005. Its A/C is similar to a bus with single blowers above each seat. It waited for delayed intercities from Budapest and Nyíregyháza. At 5:20 p.m., we departed.
My destination for this evening was Vámospércs, which Sz 6836 Debrecen - Nyírábrány reached at 5:45.
At least the first half of the name looked rather like an Ibiza summer party - and actually one took place in a garden behind me, fuelled by hits from the 90s. "Coco Jambo" stayed with me as earworm for the following days.
418.177 sporting an original engine offered another beat hauling Sz 6811 Oradea - Debrecen, plus the railcar I had arrived with coupled to the rear from Hungarian border station Nyírábrány. The accompanying soundtrack:
Half an hour later - at 7 p.m. - I awaited diverted IC 1366 "Hargita" Braşov - Cluj - Oradea - Valea lui Mihai - Debrecen - Budapest-Keleti on the other side of the station. My trip fitted perfectly the maintenance work on the direct line Oradea - Püspökladány, which would be open again for my return journey a week later.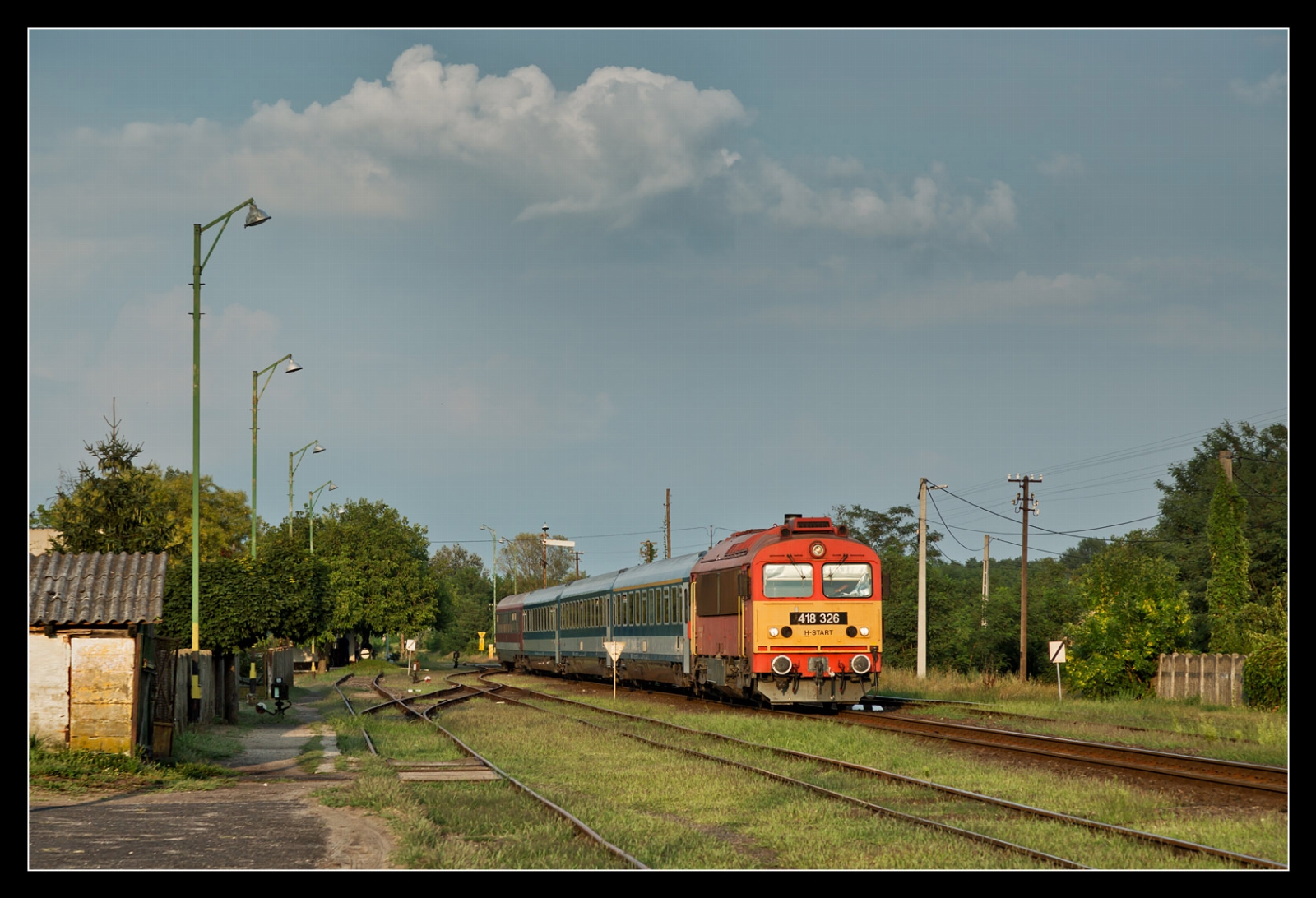 The sun just made it.
Valea lui Mihai - Vámospércs is a pretty slow affair, the rest of the tracks to Debrecen allowed relatively decent speeds.
Before the final expected train approached, Sz 6818 formed of 416.036 - built by Russian Metrovagonmash 2002-04 - departed towards Nyírábrány.
An old shed for rail trolleys.
At 8:11 p.m., at last IC 1407 "Corona" Budapest-Keleti - Braşov, sleeper and couchette coaches behind 418.326.
Very close to the thunderstorm.
However, it never reached the station. At 8:45, lights approached from both directions: a Train Hungary Sulzer hauling tank wagons to Romania...
... met my Sz 6821 to Debrecen.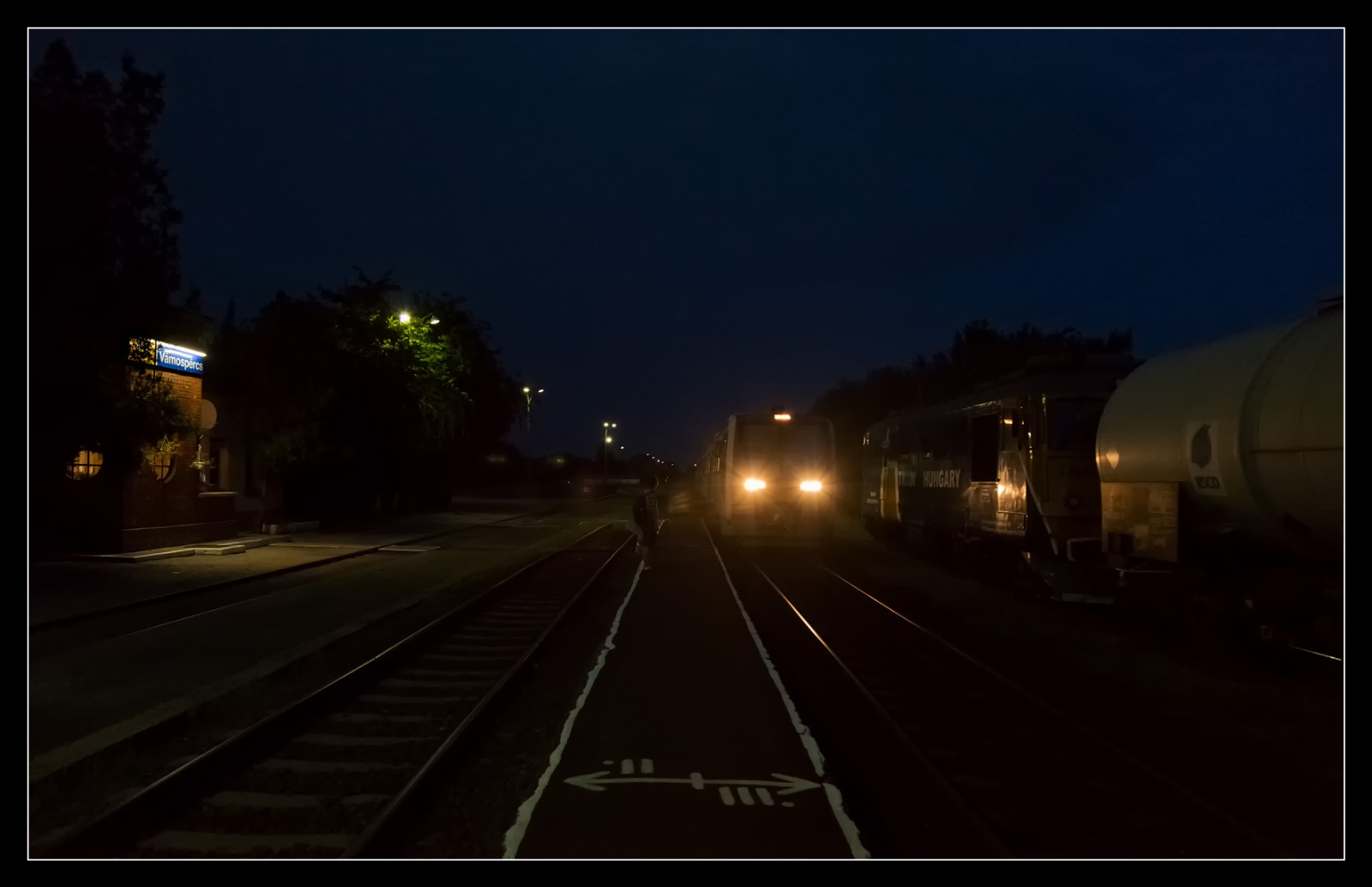 Juli 29 2018
Next day, I left my accommodation at 4:30 a.m. carrying the full luggage.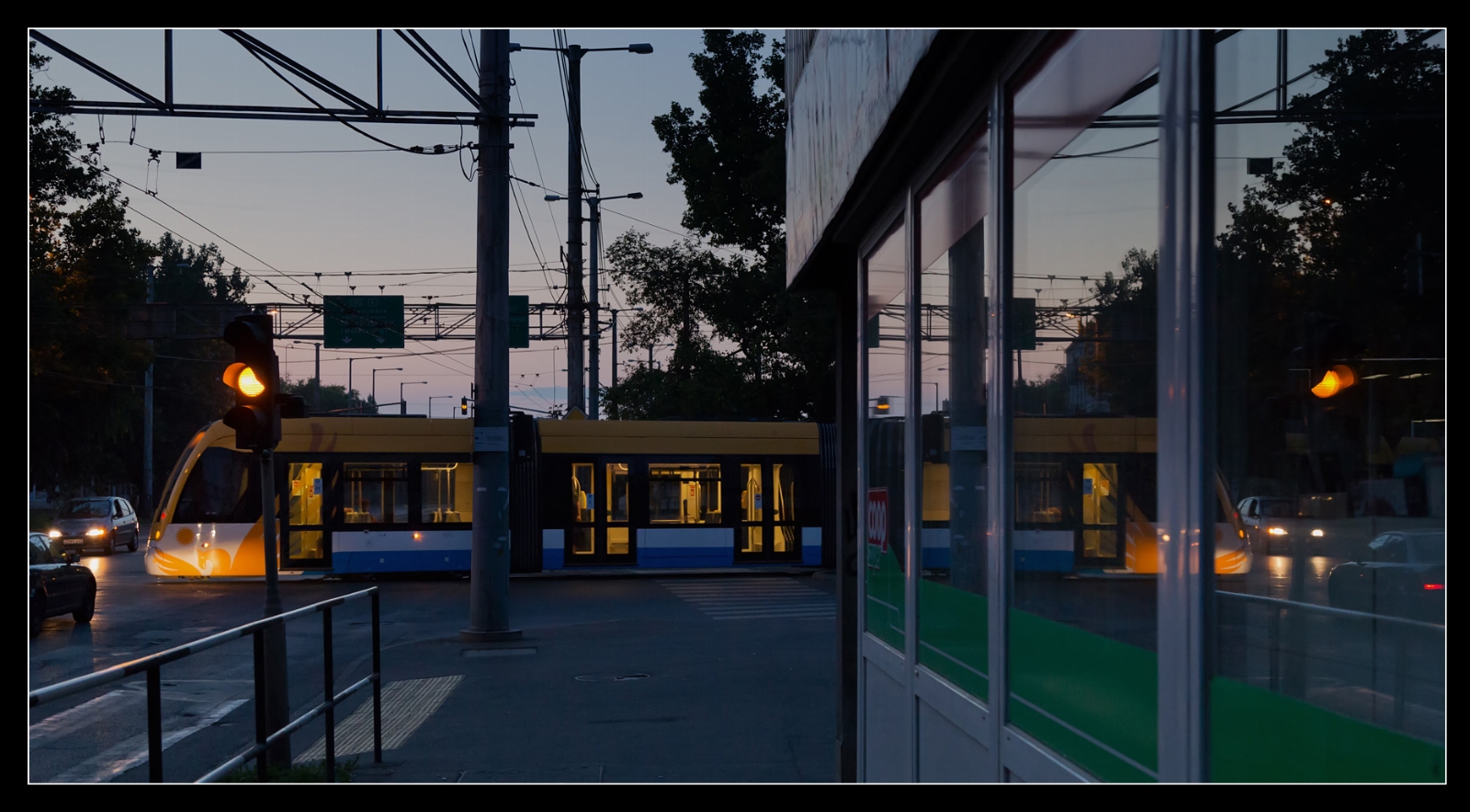 Bustling tram traffic in front of the station early Sunday morning.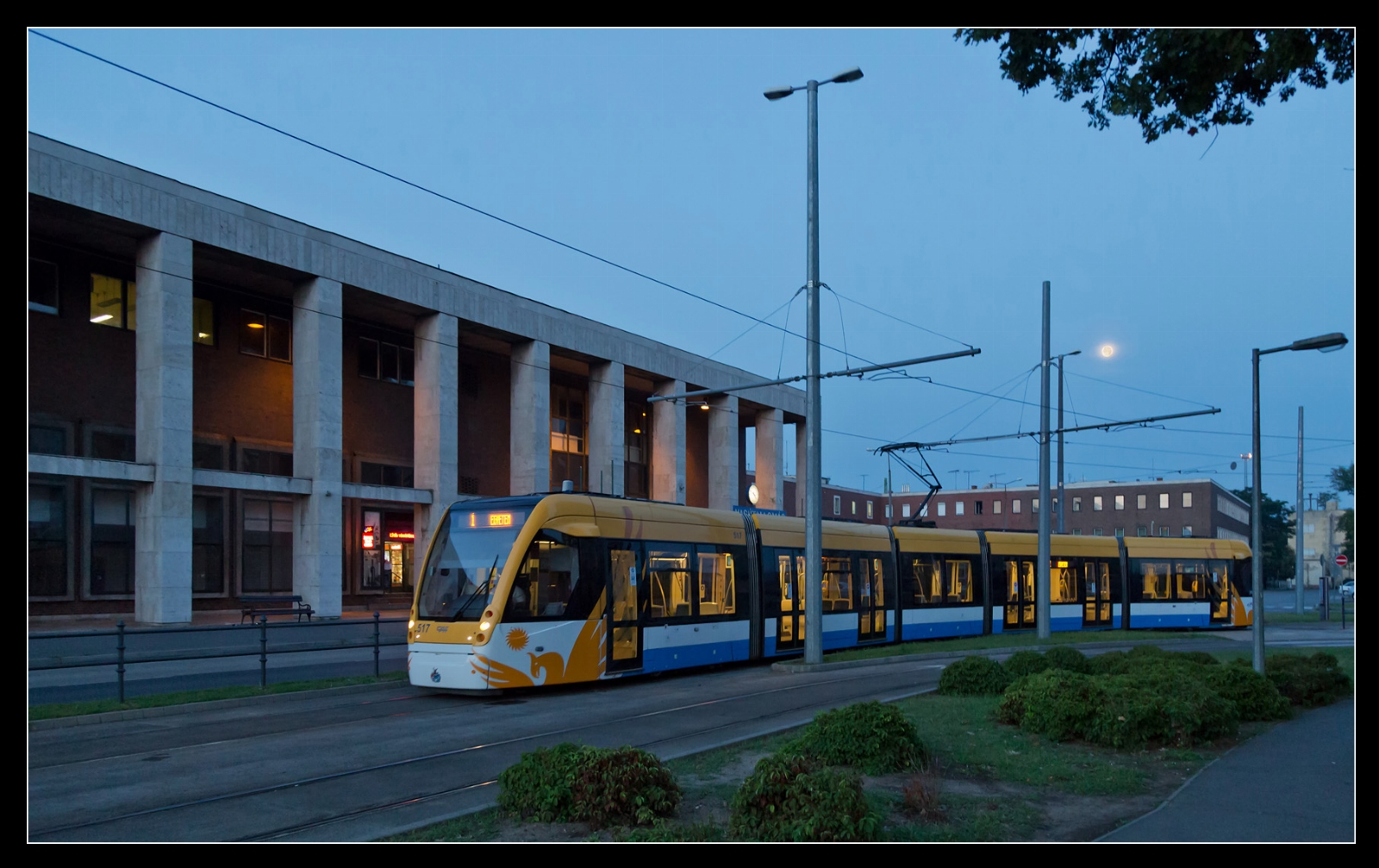 What would Sz 6810 Debrecen (dep 5:07) - Nyírábrány consist of? A push-pull rake and class M41 double header!
An ECS movement with 418.153 provided additional action. In the background, VESz (Vidéki elővárosi vonat = "rural suburban railway") 6119 from Nyíregyháza arrived punctually at 4:56.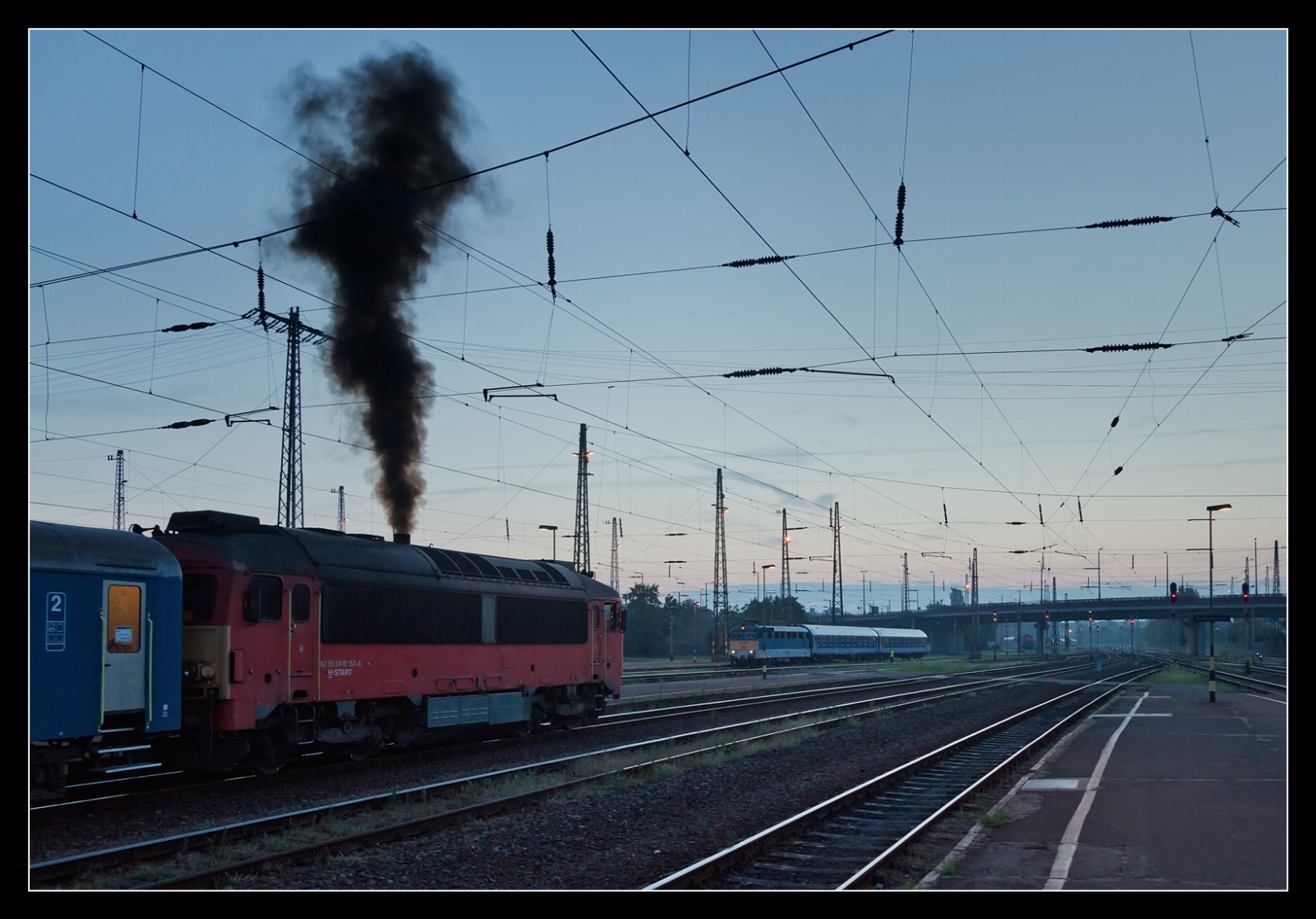 These rustic compositions often remind me of BR blue. The images have not been overly edited, by the way: tropical heat and humidity after thunderstorms provided haze above the ground.
Parade of Romanian, Czech/Slovak and Hungarian built engines, two of which we will see again in the next part.
Ready to depart behind 418.321 and 418.198 under a full moon.