Hi,
To the previous part of the series:
Regional Rail Express - 6: Zagreb II (50 p.)
http://www.railroadforums.com/forum/index.php?threads/regional-rail-express-6-zagreb-ii-50-p.13557
Videos for this part:
Parallel arrival at Sopron/Ödenburg by EURegio 9942 Vienna - Mattersburg - Szombathely to the left and E 2817 "Blaufränkischland" Vienna - Ebenfurth - Deutschkreutz to the right,
July 12 2006
.
Once more the interesting combination of heritage green ÖBB 2143.40 and GySEV coaches.
Sopron international platform,
April 16 2015
.
Class 2143 from Wiener Neustadt were dominating ten years earlier, on
April 28 2004
.
Slovak coaches also came to Sopron,
July 12 2006
.
V43 321 wore blue/yellow livery in 2004, we will spot it again later.
All modes of traction assembled in 2015.
Shunting...
Class M44 (for a time class 2044, nowadays class 448) in service.
Sopron is also home to single copy 442.001 (M42 001) - built as prototype for MÁV in 1994, but production was not continued further due to lack of funds.
ÖBB Schlieren coaches were being renewed for GySEV on
July 8 2010
, the vehicle to the left served as reserve according to the writing.
Shunting operations from the goods yard often reached this level crossing.
By
April 16 2015
, the level crossing had been replaced by an underpass.
Diversions on the GySEV line Sopron - Szombathely took place in April 2015 due to the electrification of the Csorna - Porpác section. Both parts of the InterCity trains to Sopron and Szombathely were jointly conveyed to Sopron instead of being parted at Csorna. IC 910 "Borostyánkő" ("amber", also the Hungarian name of Bernstein, a town in Burgenland where a part of my family originates from) Budapest-Keleti - Szombathely departed Sopron behind Ludmilla 651 002 (former East German DR/DB 1/232 543 / #0803 / built in 1978).
A new Stadler FLIRT EMU operating as passenger train Sz 9162 took me to the first passenger stop, Kópháza.
On
July 8 2010
, I still encountered the star train of this series, IC 285 "Zagreb" Vienna - Zagreb hauled by original M41 2185 (today 418.185). The GySEV coach and first two Croatian HŽ coaches would continue from Gyékényes to Pécs.
From the road overpass, you had a view of Burgenland Railway towards Deutschkreutz, Neckenmarkt-Horitschon, Oberpullendorf and Oberloisdorf in the background (in German):
https://de.wikipedia.org/wiki/Burgenlandbahn_(Österreich)
We caught a charter hauled by 2143.051 (instead of booked steamer 919.138) on the section otherwise only used by the "Sonnenland Draisinentour", Neckenmarkt-Horitschon - Oberpullendorf,
April 5 2009
. For the draisines, barriers had been installed across the rails around level crossings.
Back to GySEV with IC 922 "Savaria" (Roman town in the area of today's Szombathely) Budapest - Szombathely around noon of
April 16 2015
.
Ahead of the Burgenlandbahn junction, Harka station is situated on both lines. A single Ludmilla arrived - somehow it reminds me of a very similar sounding place on the German/Polish border... ;-)
Harka is not served by passenger traffic.
Smoky Ludmilla-meeting of 651.002 and 651.004 (ex-DB 232 598, not with GySEV anymore), here on video: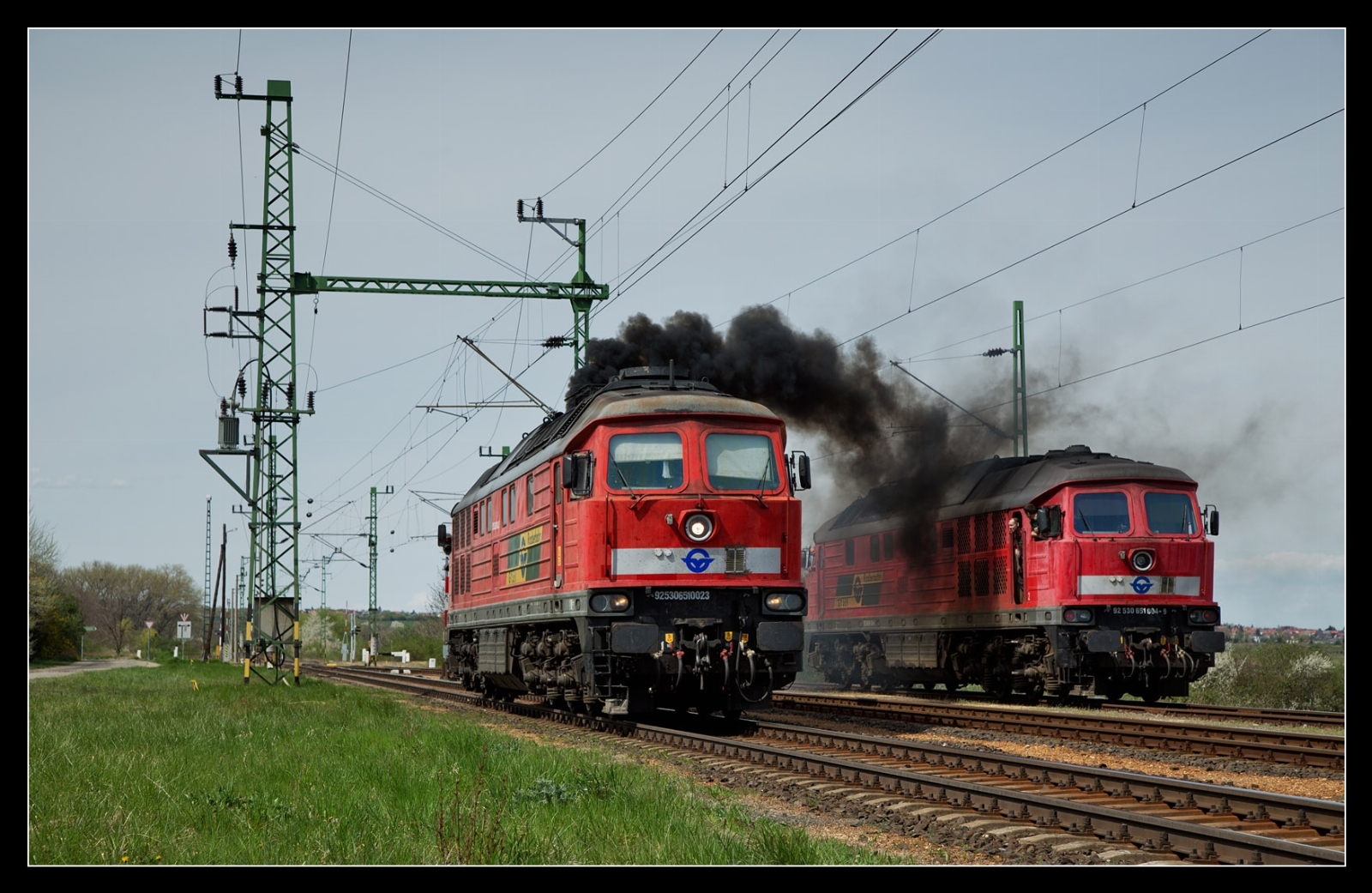 IC 913 "Isis" Szombathely - Budapest traversing Harka vineyards. Behind the hills in the background lies Lake Neusiedl.
Sz 9153 Szombathely - Sopron followed as Schlieren-composition.
430.327 hauled freight towards Sopron.
651.002 with IC 923 "Borostyánkő" to Budapest.
Saharan dust was dimming the sunlight for IC 924 "Alpokalja" (region around Sopron) from Budapest at Kópháza halt.
On
April 11 2015
, we were on a weekend excursion a station further, at Nagycenk. IC 923 conveyed two class 430s.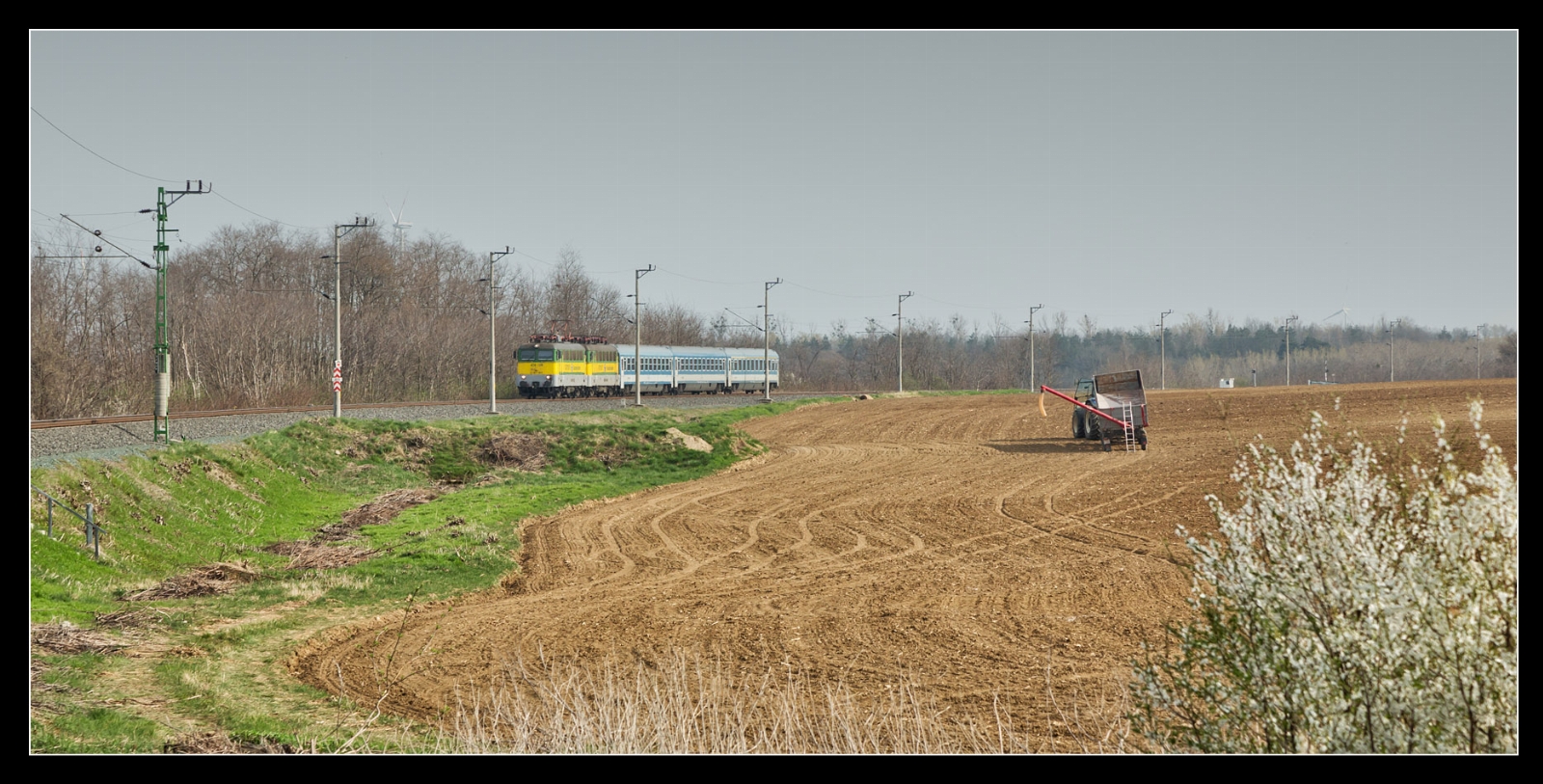 Instead, a Ludmilla came along with a freight train.
You can see both GySEV lines: Sopron - Szombathely in the foreground and the original mainline Sopron - Győr in the background. In front IC 924, behind it IC 923 now combined with IC 943 "Tűztorony" ("firetower", a Sopron landmark) Sopron - Budapest. Regularly, they would have been joined at Csorna. Since electrification to Szombathely and no need for engine change, the combined two-hourly ICs from Csorna to Budapest have been switched to hourly ICs mostly alternating from Sopron and Szombathely.
On the mainline, we met express 995 Sopron - Győr with through coaches to Budapest-Keleti,
May 18 2013
.
Sz 9934 Győr - Sopron in front of the decorated former station building Nagycenk-Hidegség,
April 11 2015
. I had discovered it on a horse-drawn carriage ride when an uncle celebrated his birthday at the Széchenyi castle of Nagycenk.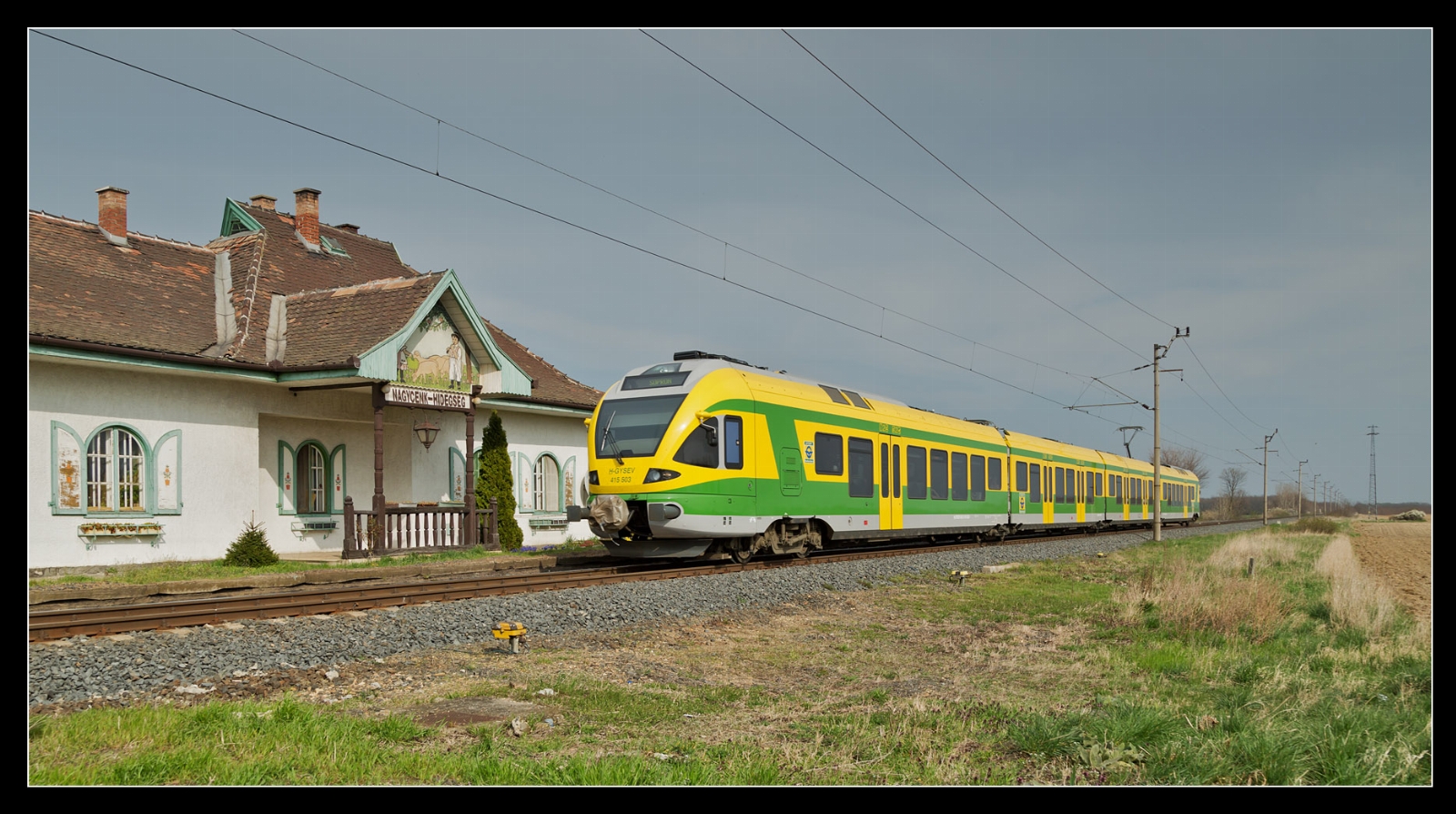 The active station on the GySEV line nowadays is Fertőboz, in this picture during diversions with IC 937 "Soproni Közgáz" Sopron - / IC 317 "Rába" Graz - Szombathely - Budapest which we will follow in a later part of the series.
Something smaller can be found next to it - a double meaning as the 2,2 miles long 2 ft 6 in gauge Széchenyi museum line is also the GySEV children's railway. The line is being renewed this year, operations are supposed to pick up again in spring 2019.
Official page (in Hungarian):
https://www2.gysev.hu/muzeumvasut/a-nagycenki-szechenyi-muzeumvasut
2092.001 "Kiscenk" - probably the tiniest GySEV loco - met its bigger relatives on
September 10 2011
.
On
April 11 2015
, we coincidentally spotted it with a weed-killing train - at the same time railway staff family excursion.
Trains have to reverse in the middle of the line, at Barátság station.
A map can be found here:
https://www2.gysev.hu/muzeumvasut/muzeumvasut-kapcsolat-terkep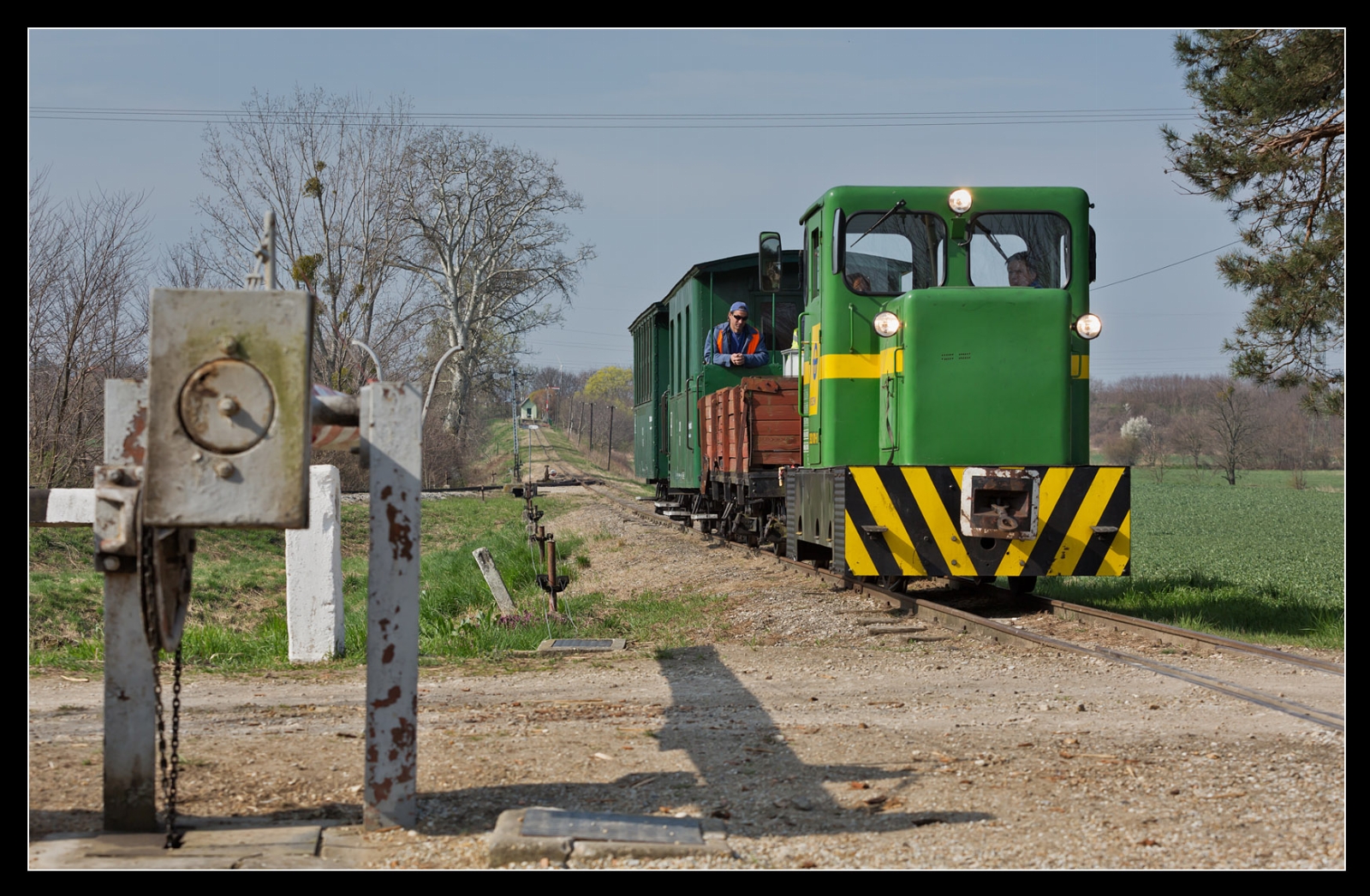 We caught regular steam operations on
October 22 2011
.
Uphill to Barátság.
All cool at Nagycenk castle station, Kastély.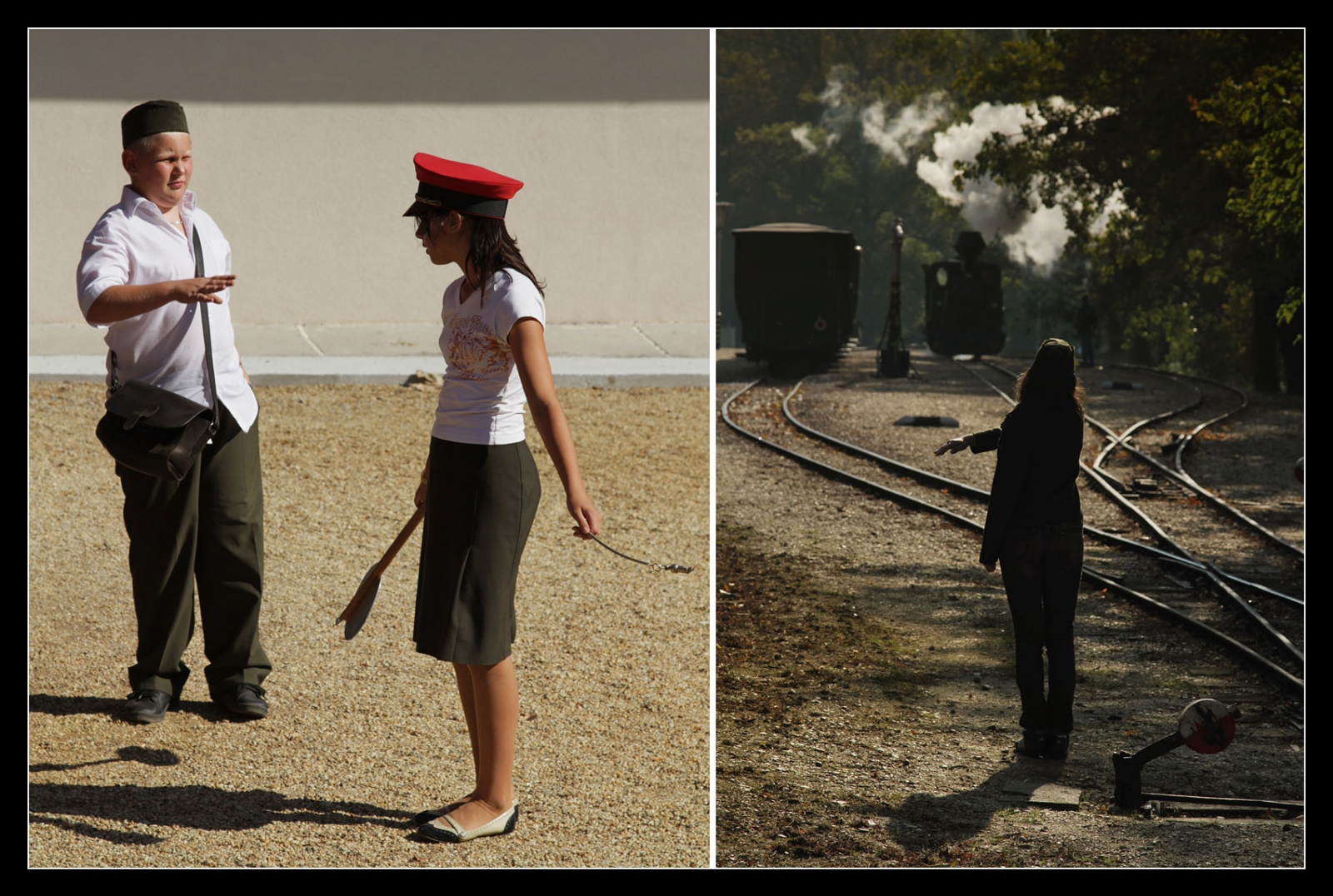 Exactly here.
Greeting steamer "András".
Evening departure from Kastély.
After a Romania and Croatia trip during Easter 2011 (see reports), my final stop was Sopron on
April 23 2011
.
Like V63 144, we will continue next time towards Budapest and further east with current pictures of the 2018 summer tour, picking up the trail of the "Zagreb" again later on.