Hi,
To the previous part of the series:
Regional Rail Express - 5: Vindobona V/Zagreb I (50 p.)
http://www.railroadforums.com/forum...ail-express-5-vindobona-v-zagreb-i-50-p.13543
Videos for this part (2000s quality):
We follow the "star train" of this series along the Südbahn line south of Vienna: Shortly before its cancellation during timetable change 2012, I wanted to take a last pic of D 285 to Zagreb. At first try visibility was almost nought due to dense fog, the second time - on
November 3 2012
- the late autumn light favoured me at Busserltunnel in the Pfaffstätten vineyards. The MÁV through coach behind the class 2016 diesel was being conveyed to Pécs.
EURegio 7763 Wien Süd - Sopron passed through Busserltunnel on
December 12 2006
.
On
April 5 2009
, ER 9950 to Sopron was hauled by triple traction.
We have arrived at the diesel junction Wiener Neustadt,
August 8 2004
.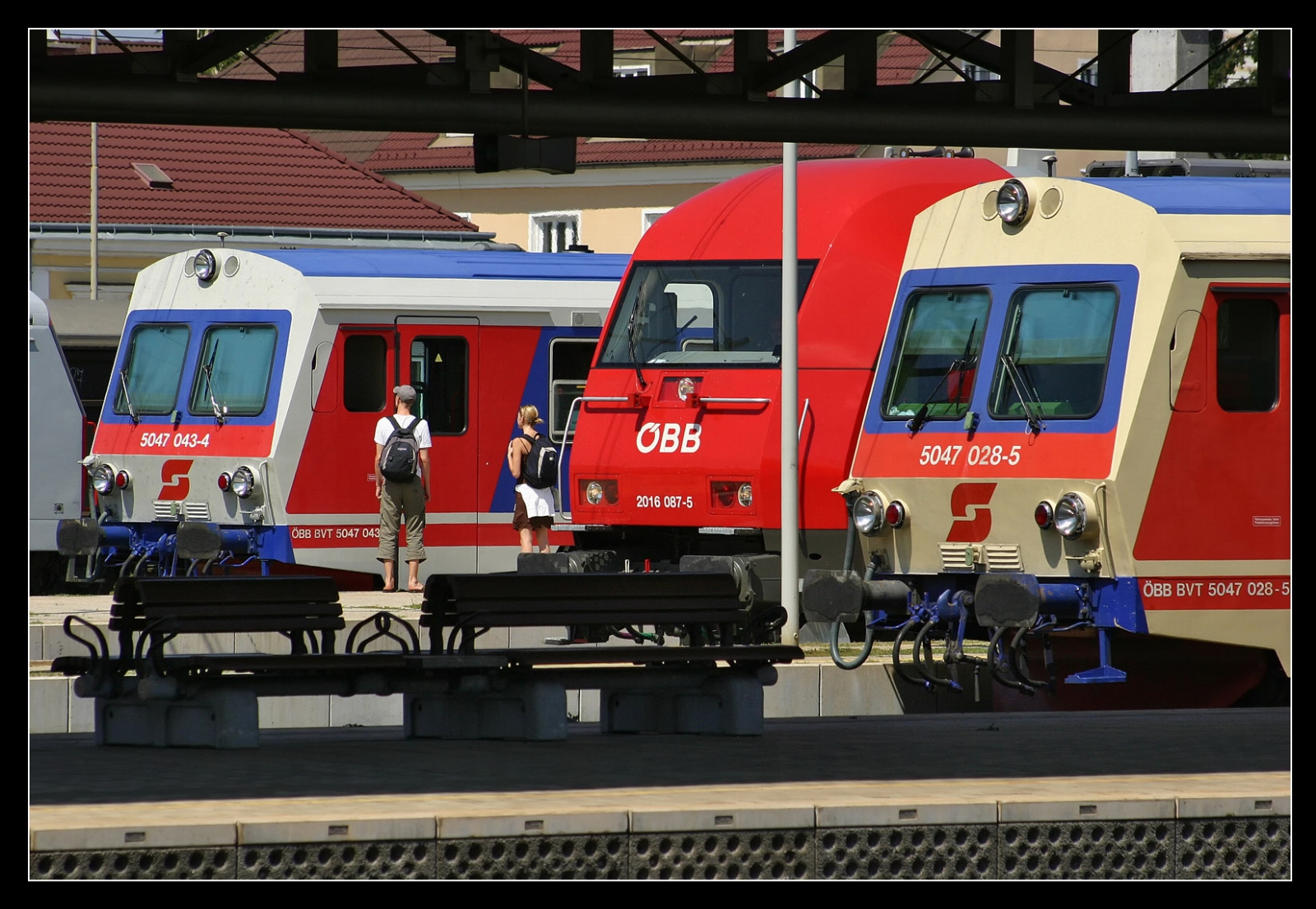 In this report, we will mainly take a look at the Mattersburg Railway Wiener Neustadt - Mattersburg – Sopron. The section of the line on Hungarian territory is owned by the Raab-Oedenburg-Ebenfurt Railway (RÖEE) or Raaberbahn / in Hungarian: Győr-Sopron-Ebenfurti Vasút (GySEV). 5147.512 originally delivered to GySEV was in service on
16. 9. 2010
. ÖBB sold their remaining class 5147 double units to GySEV in 2012.
(in German)
https://de.wikipedia.org/wiki/Bahnstrecke_Wiener_Neustadt–Sopron
https://en.wikipedia.org/wiki/Raaberbahn
(in German)
https://de.wikipedia.org/wiki/ÖBB_5147
ER 7740 "Therme Bük" was ready for departure to Vienna on
June 12 2005
behind GySEV leased engine 1116.061 under a rainbow.
Erlebniszug 6451 "Schneebergland" Wien Süd - Puchberg am Schneeberg conveyed a MÁV through coach of IC 910 from Budapest-Keleti / EZ 7712 from Sopron,
March 3 2008
.
Before the introduction of IC 981/982 "Corvinus" Vienna - Pécs (2005-2008) and 284/285 "Zagreb" Vienna - Zagreb (2009-2012), several InterCities daily operated on the route Wiener Neustadt - Sopron - Budapest with GySEV rolling stock, here IC 931 on
May 29 2003
.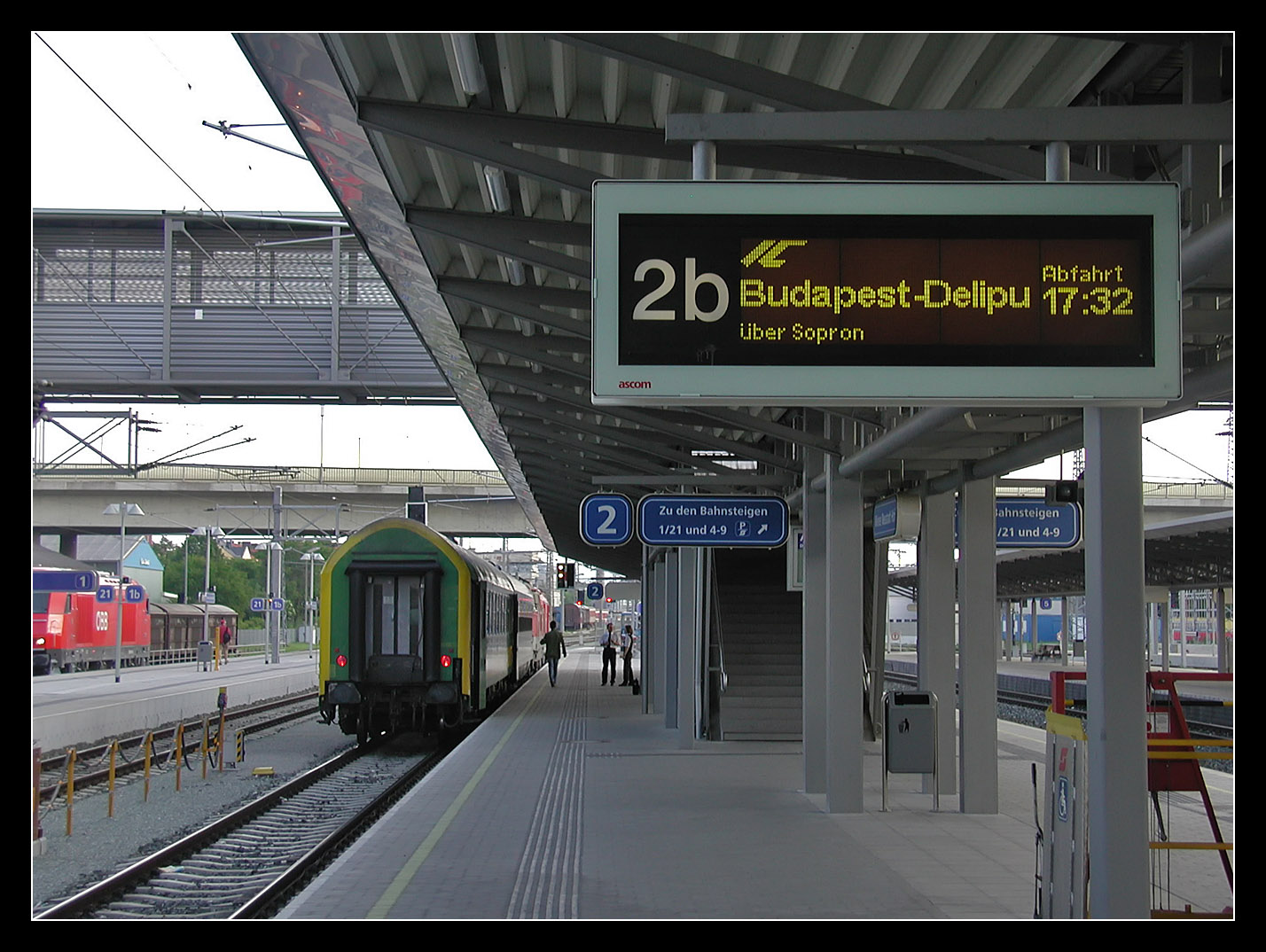 I visited Wiener Neustadt in the icy morning of
January 27 2010
.
It was so cold, even diesel vehicles started to steam. R 7708 Sopron - Wiener Neustadt near Katzelsdorf.
What I had come for: IC 285 "Zagreb" with Schneeberg alpenglow in the background.
Departure from Wiener Neustadt: IC 285 under more humane conditions on
June 13 2009
. It looks like a double-track diesel line - non-existent otherwise in Austria - but the Aspang Railway to the left and Mattersburg Railway to the right actually are led parallel to each other.
First steam after my China trip: 33.132 hauled a charter on
March 30 2008
. Observe the old 1950s type colour light signal and level crossing safety system.
Only two weeks later -
April 11 2008
- new safety equipment was in place if not yet operable. I virtually shortened the time gap between the local Aspangbahn freight and ER 9942 Wiener Neustadt - Szombathely.
In the morning, class 2143 diesels swarmed out from Wiener Neustadt into all directions. On
April 11 2008
, it was heritage green 2143.40 with local freight on the Mattersburg Railway.
Next halt is Katzelsdorf, I liked this gravel road level crossing for the special effect - InterCity 931 to Budapest-Keleti in the afternoon of
October 5 2004
, the Schlieren coach behind 2143.059 continued from Sopron as R 7757 to Deutschkreutz.
ER 7724 Szombathely - Wiener Neustadt at the same spot,
March 29 2004
.
Above: ER 9942 left Wiener Neustadt behind "blood orange" 2143.35 on
April 17 2008
. Below: IC 934 Budapest - Wiener Neustadt passed through Neudörfl station,
October 5 2004
.
R 7733 Wiener Neustadt - Sopron reaches Neudörfl.
We take a detour to the original GySEV line starting at Ebenfurth - it is reached from Vienna via the Pottendorf line which is currently being transformed into a double track high speed line. 1014.018 hauling R 2861 Wien Süd - Wiener Neustadt departed from Ebreichsdorf on snowy
November 16 2007
.
A little later, ER 9952 "Therme Bük" Wien Süd - Szombathely rushed past station and local freight with 2143.052, up to Ebenfurth pulled by 1142.595.
At Ebenfurth a GySEV class V43 (nowadays class 430) took over, on
March 10 2007
near Wulkaprodersdorf.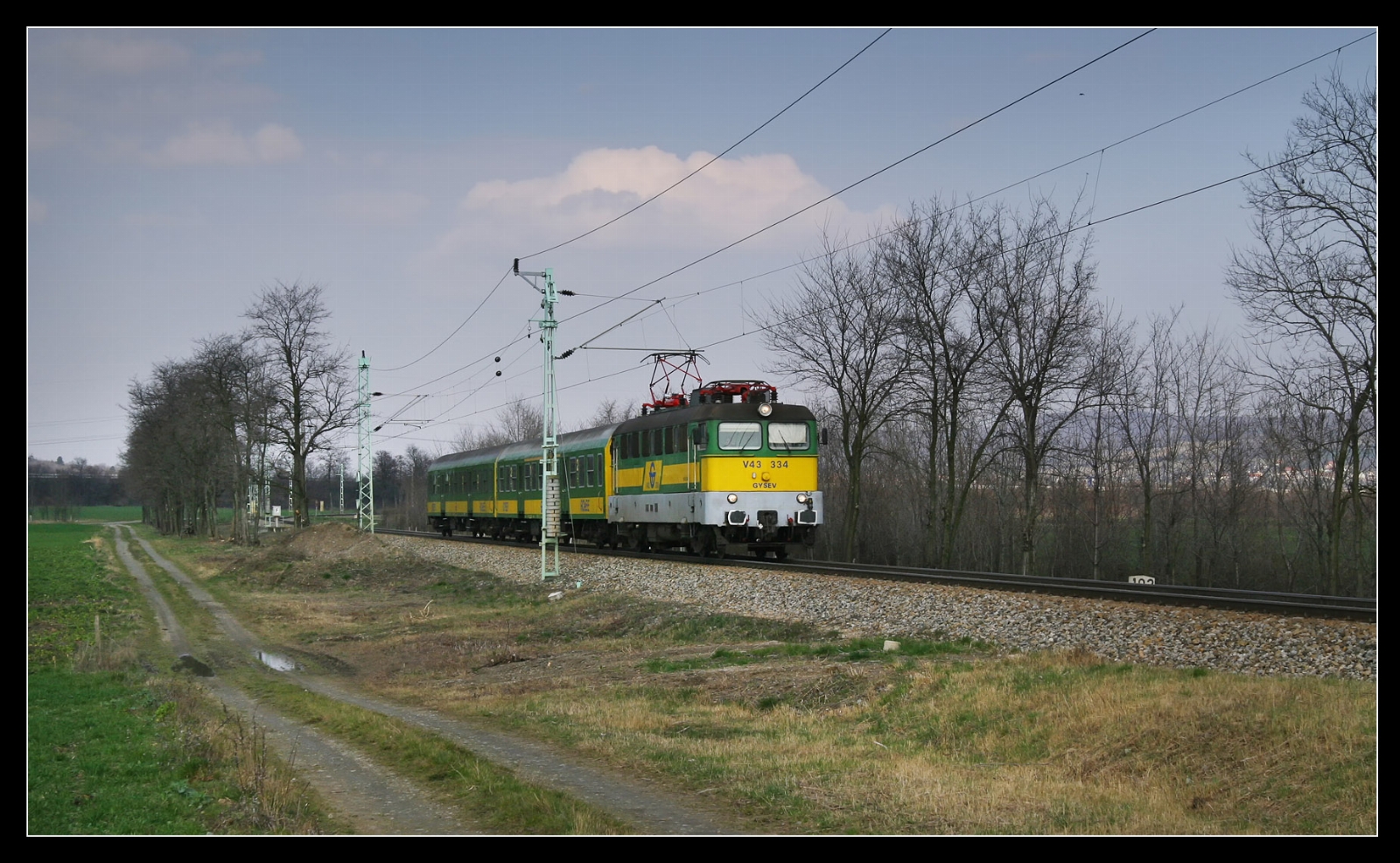 ER 9947 "Therme Bük" Szombathely - Wien Süd at noon in front of the Leitha Hills near Müllendorf, in the background the state capital of Burgenland, Eisenstadt.
ER 9952 on
July 6 2006
at Draßburg.
"Time is flowing" across the A3 motorway at Müllendorf in the afternoon of
November 15 2006
with R 7827 Neusiedl am See - Wiener Neustadt.
Due to a goods train derailment at Gramatneusiedl the day before, Eastern Railway trains were rerouted via the GySEV line on
May 24 2011
. In the morning, I captured GySEV 1047.504 with freight at Baumgarten.
Above: EuroNight 463 "Kálmán Imre" Munich - Budapest near Draßburg. Below: Railjet 64 Budapest - Munich near Müllendorf.
D 346 "Dacia" Bucharest - Vienna in full length - back then including through coaches from Sofia and Belgrade behind the engine - concludes our short visit to the GySEV.
Only a few miles away, ER 7763 Wien Süd - Sopron and on as IC 937 to Budapest passed by Bad Sauerbrunn on
May 15 2008
.
2143.050 with ER 9942 Wiener Neustadt - Szombathely shortly broke the peace of the spa town a little later.
We continue to Wiesen-Sigleß known from Jazz Fest Wiesen on
November 1 2007
. 2016.001 hauled its double-deck rake as ER 9940 "Schönbrunn" from Wien Süd via Szombathely and Szentgotthárd in Hungary to Fehring in Styria.
ER 7763 shortly afterwards on the viaduct.
2143.35 hauling R 7708 Sopron - Wiener Neustadt,
April 17 2008
.
We move on, past Mattersburg ...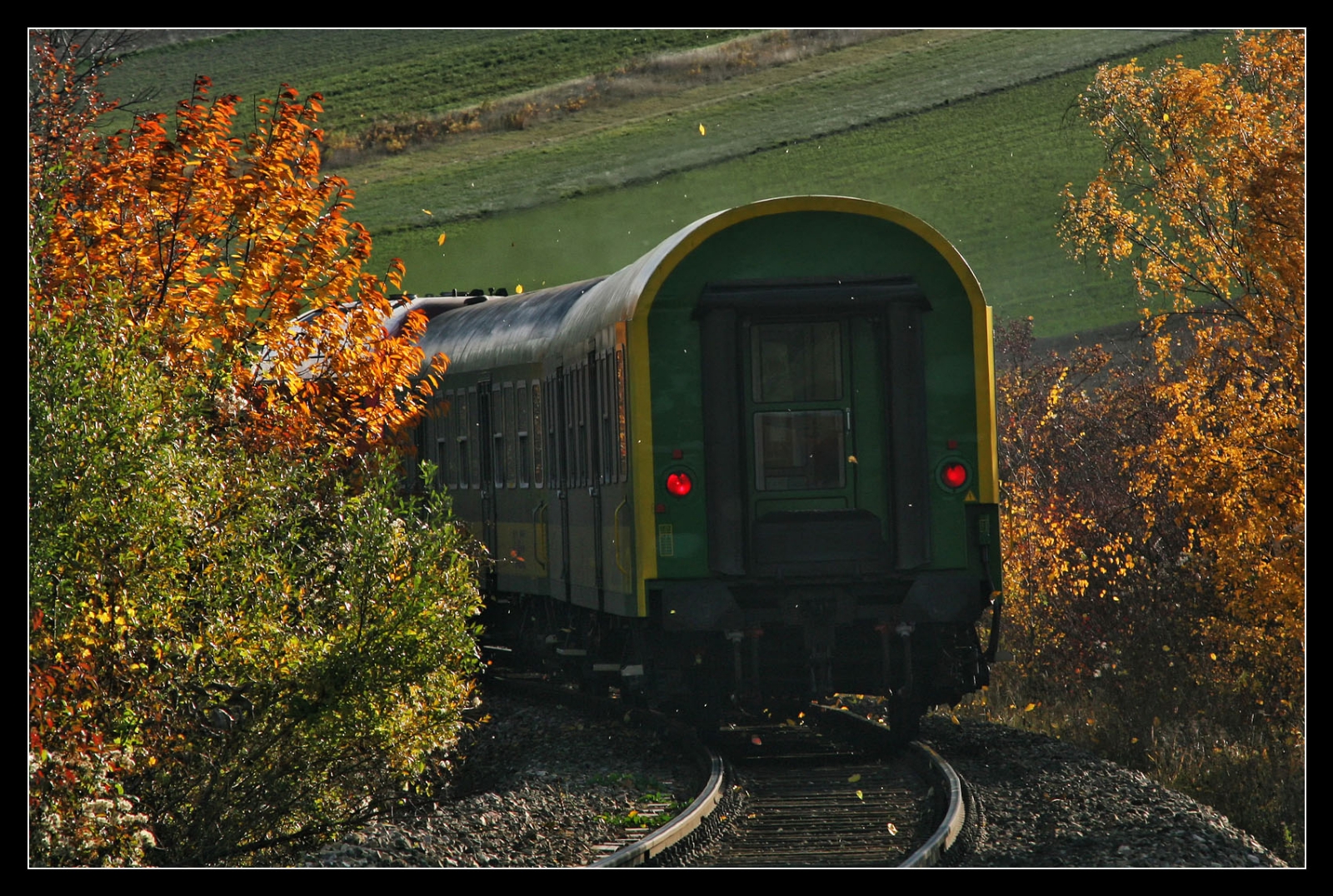 ... as the most scenic part of the line starts behind Marz-Rohrbach. R 7719 Wiener Neustadt - Sopron thrashed uphill on
April 11 2008
.
ER 9945 Szombathely - Wiener Neustadt including class 5047 railcar at the rear.
Flowers and ER 9946 to Szombathely,
April 9 2008
.
2143.40 also was in service that day, here with R 7765.
R 7747 Wiener Neustadt - Sopron in the evening light of
May 20 2009
.
Probably a unique rail photo scene in Europe: the baseball field of the Rohrbach Crazy Geese, with ER 9941 to Wiener Neustadt.
R 7765 in autumn afternoon light,
October 13 2008
.
Steamer 919.138 brought historic express flair to the line, in the background Forchtenstein Castle peeked through the layers of mist,
September 16 2010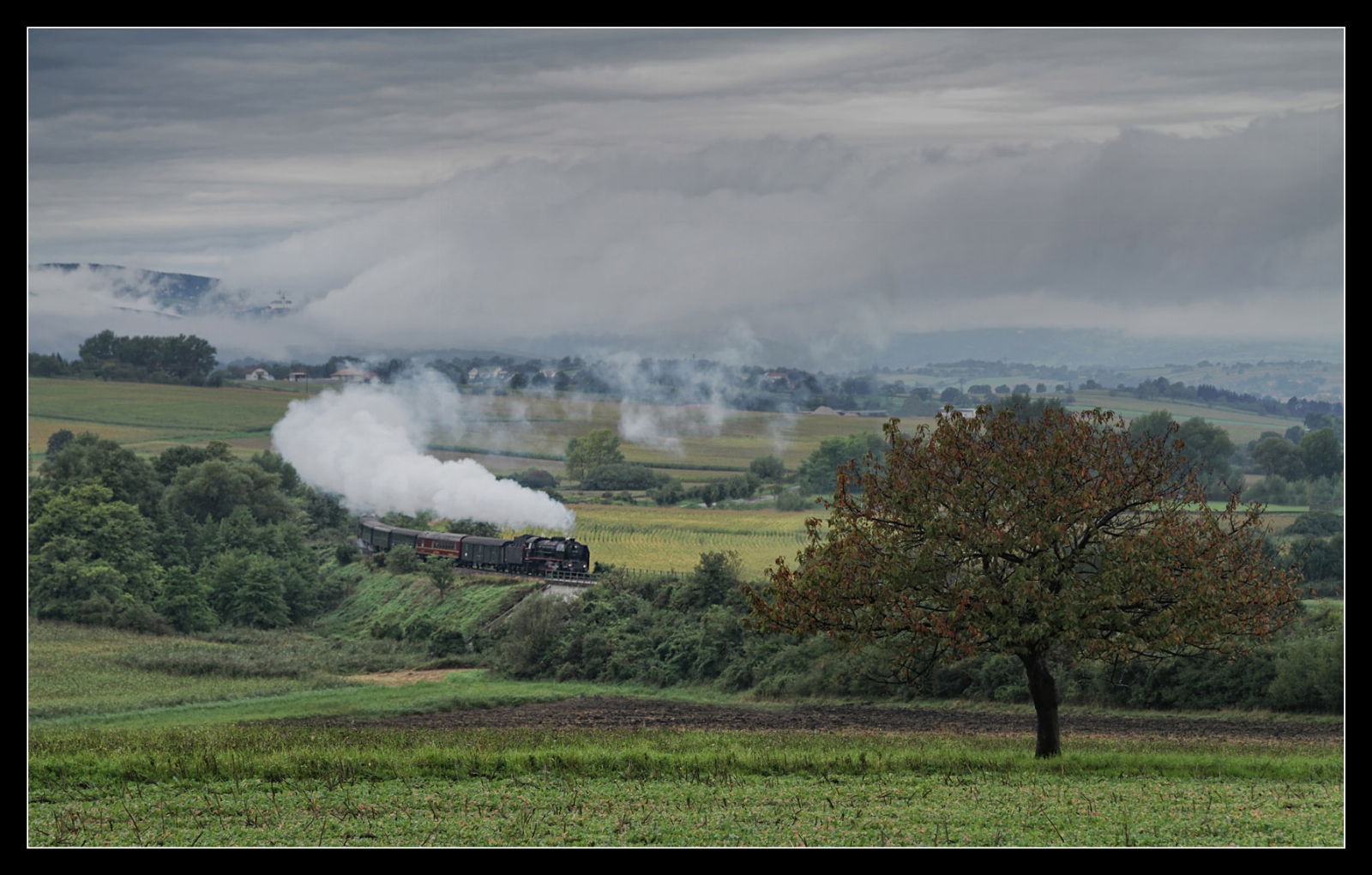 A rerouted freight approached exactly at the right time on
May 20 2009
.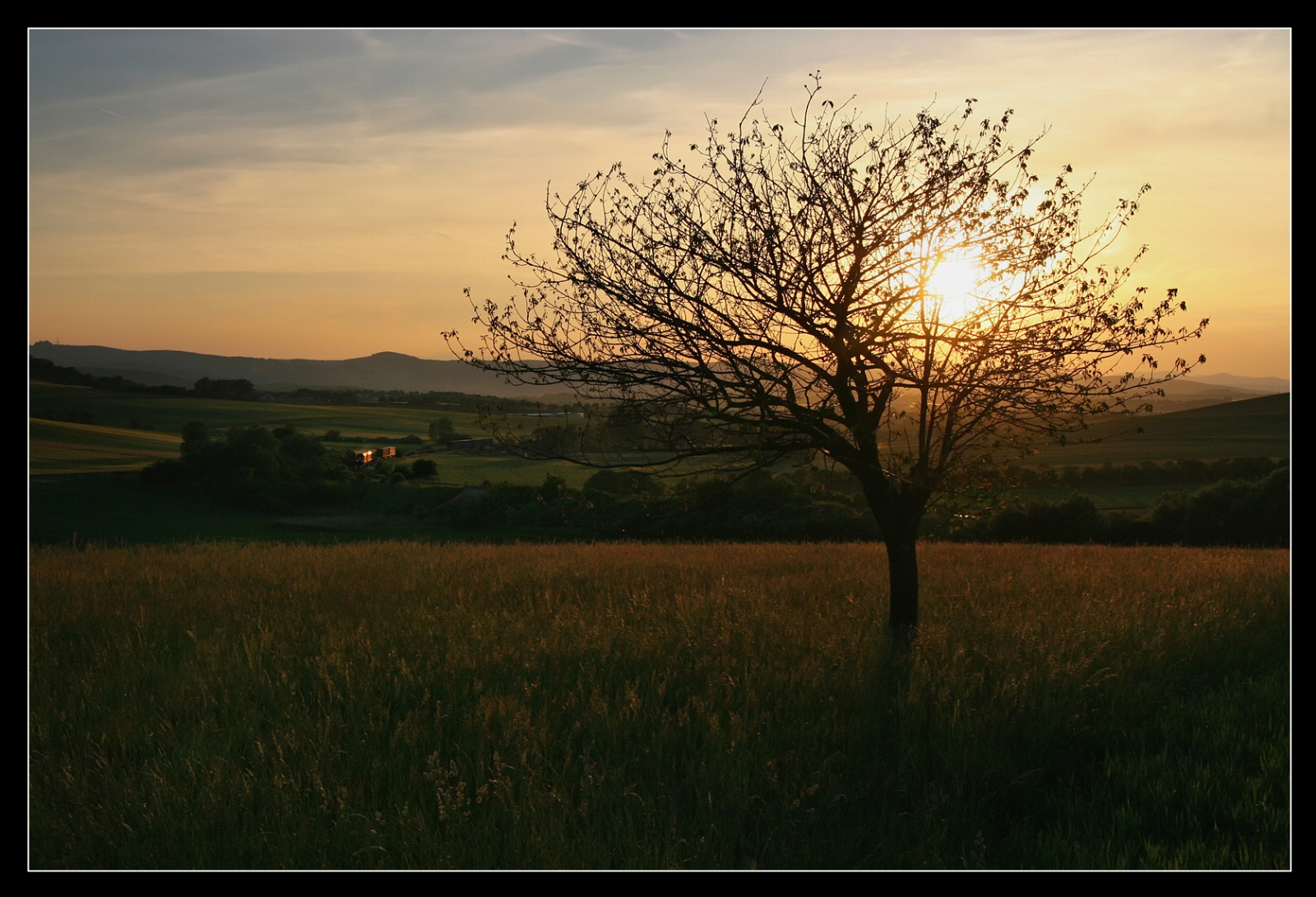 To the left: R 7709 Wiener Neustadt - Sopron on
July 12 2006
, to the right: R 7757 from Vienna via Sopron to Deutschkreutz and Neckenmarkt-Horitschon on
October 13 2008
.
IC 981 "Corvinus" Wien Süd - Pécs approaching Loipersbach-Schattendorf on
July 12 2006
.
R 7708 departed from the station towards Wiener Neustadt on
May 15 2008
, the hills in the backdrop are already situated near Sopron in Hungary.
Soon afterwards, IC 981 "Corvinus" followed into the opposite direction.
The moon was shining for ER 9953 Szombathely - Wiener Neustadt on
October 13 2008
.
For now, we say good-bye to Austria - next time we will continue in and around Sopron...