Hi,
To the previous part of the series:
Regional Rail Express - 57: Lake Balaton IV (50 p.)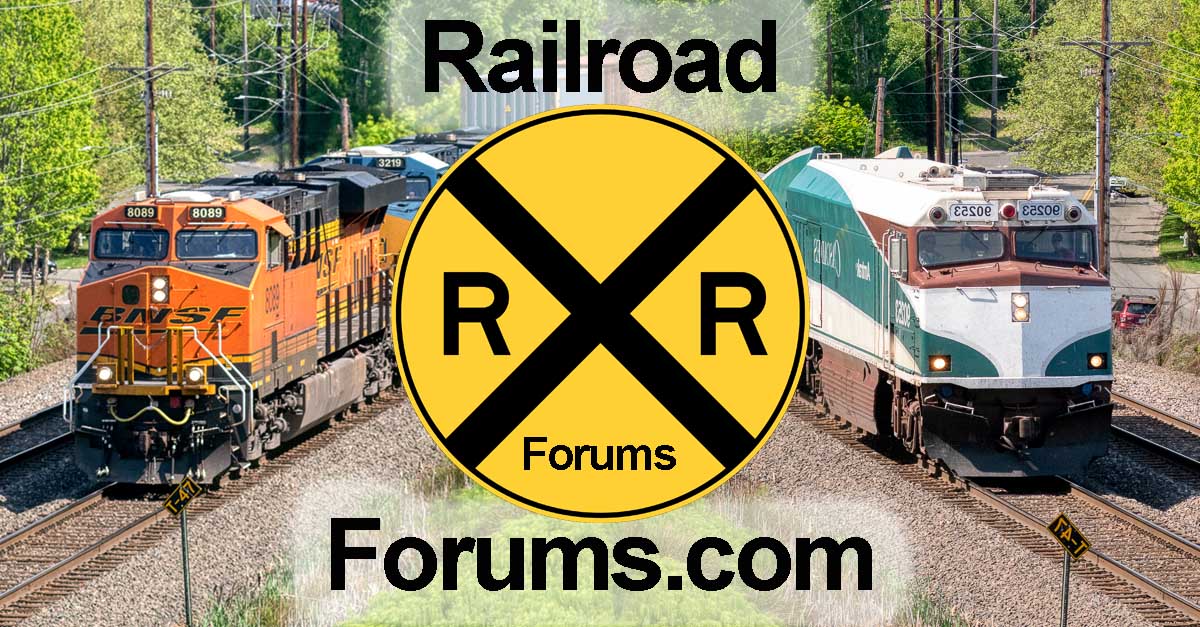 Hi, To the previous part of the series: Regional Rail Express - 56: Lake Balaton III (50 p.) https://railroadforums.com/forum/index.php?threads/regional-rail-express-56-lake-balaton-iii-50-p.20903 Video for this part: July 9 2021 We return to the slopes of Badacsony table mountain above...

railroadforums.com
Video for this part:
July 11 2021
We return to Tapolca, M61 006 was stabled in front of the engine shed.
418 330 running around its train.
Bzmot 343 in heritage livery about to operate VESz 19735 towards Balatonfüred.
The cleaning crew took over.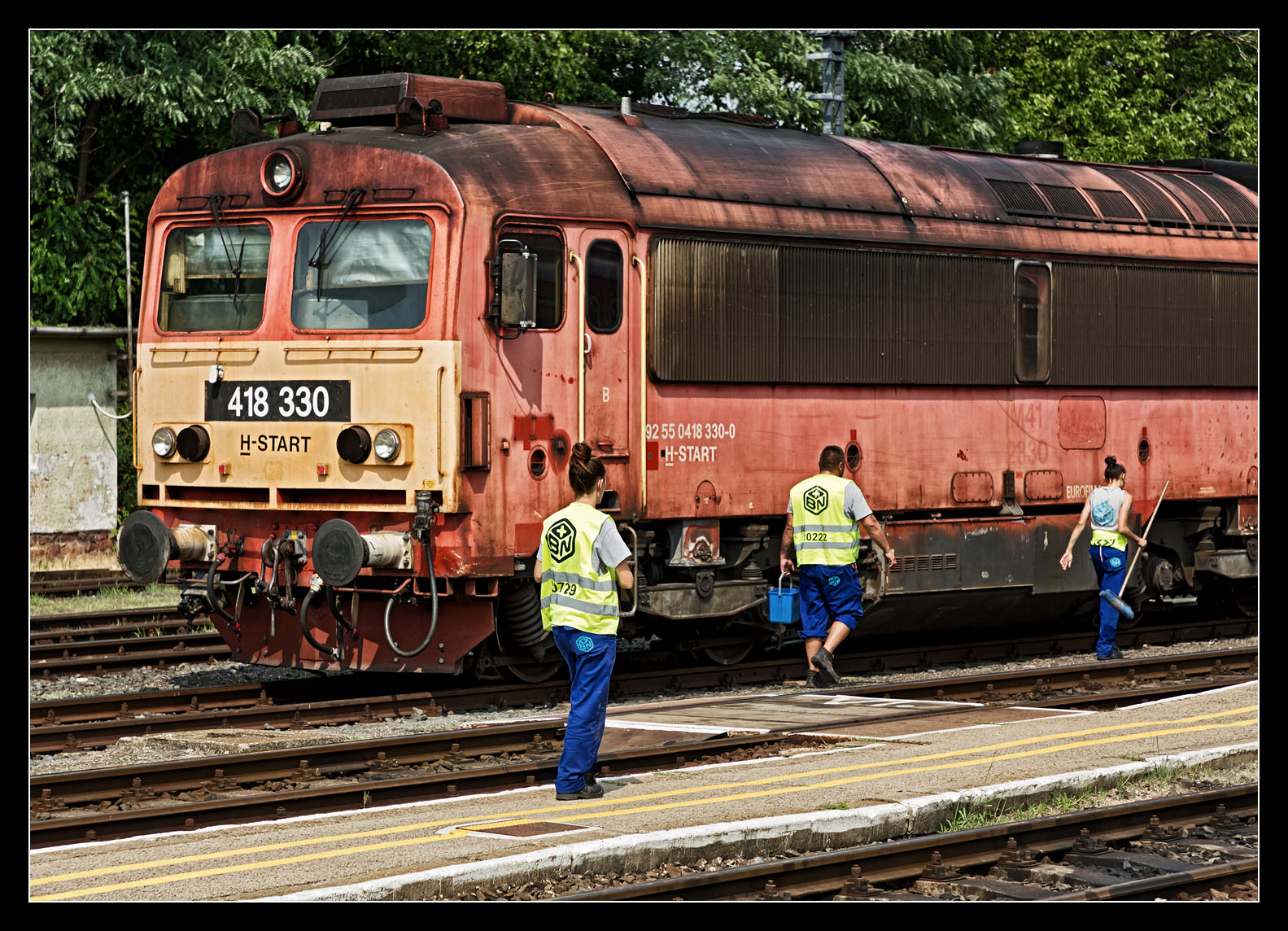 Switching after arrival of the "Kék Hullám" express from Budapest.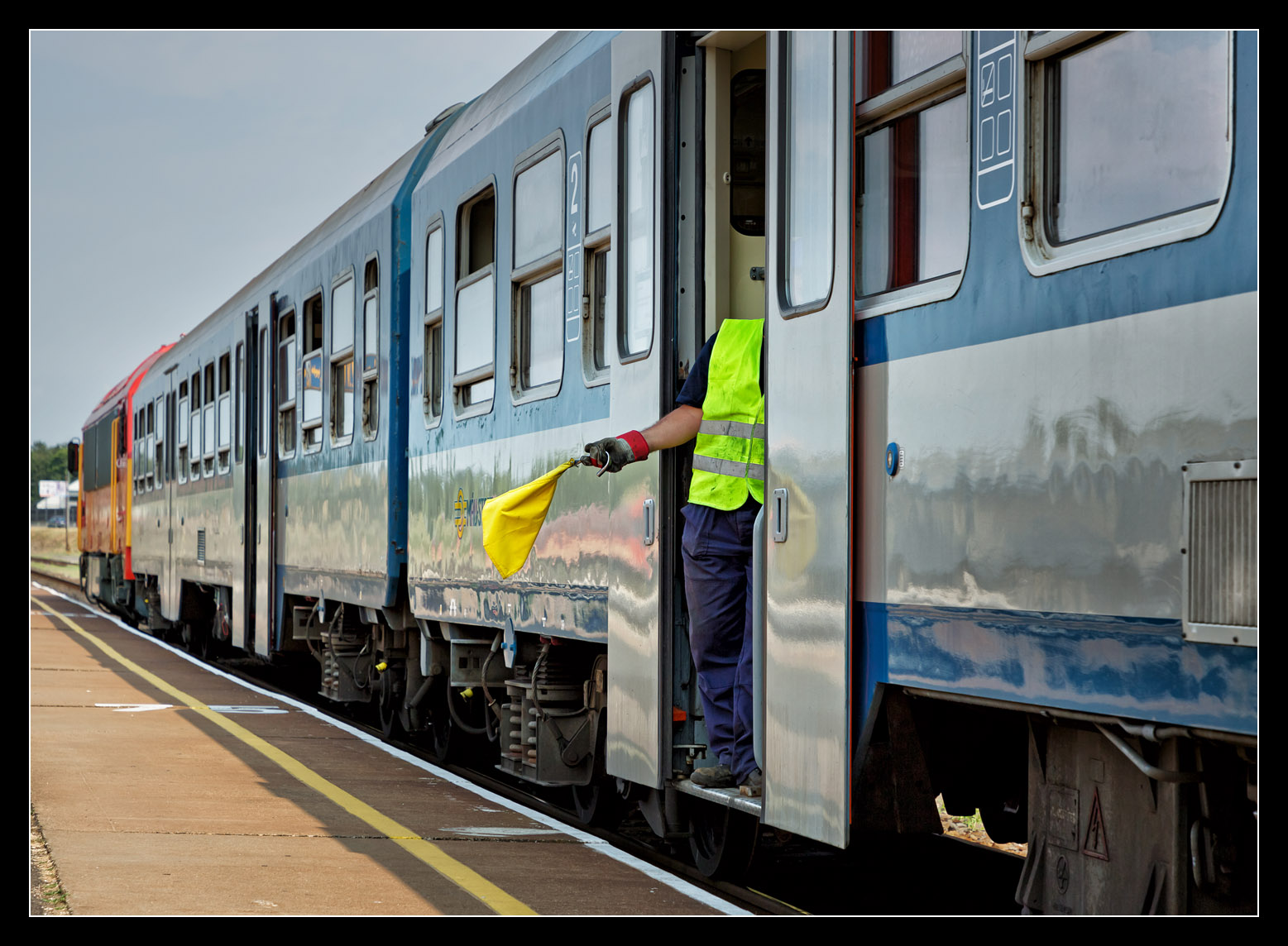 S 19607 Szombathely - Keszthely was hauled by M62 302.
Ultimate meeting of classics still in regular service, my IR 9602 "Helikon" Kaposvár - Győr soon arrived at the narrow platform to the left.
July 11 2015
We chased Gy 19807 Szombathely - Keszthely exactly six years prior: next to Sümeg castle and at Becehegy on the western shore of Lake Balaton with Szigliget castle in the background.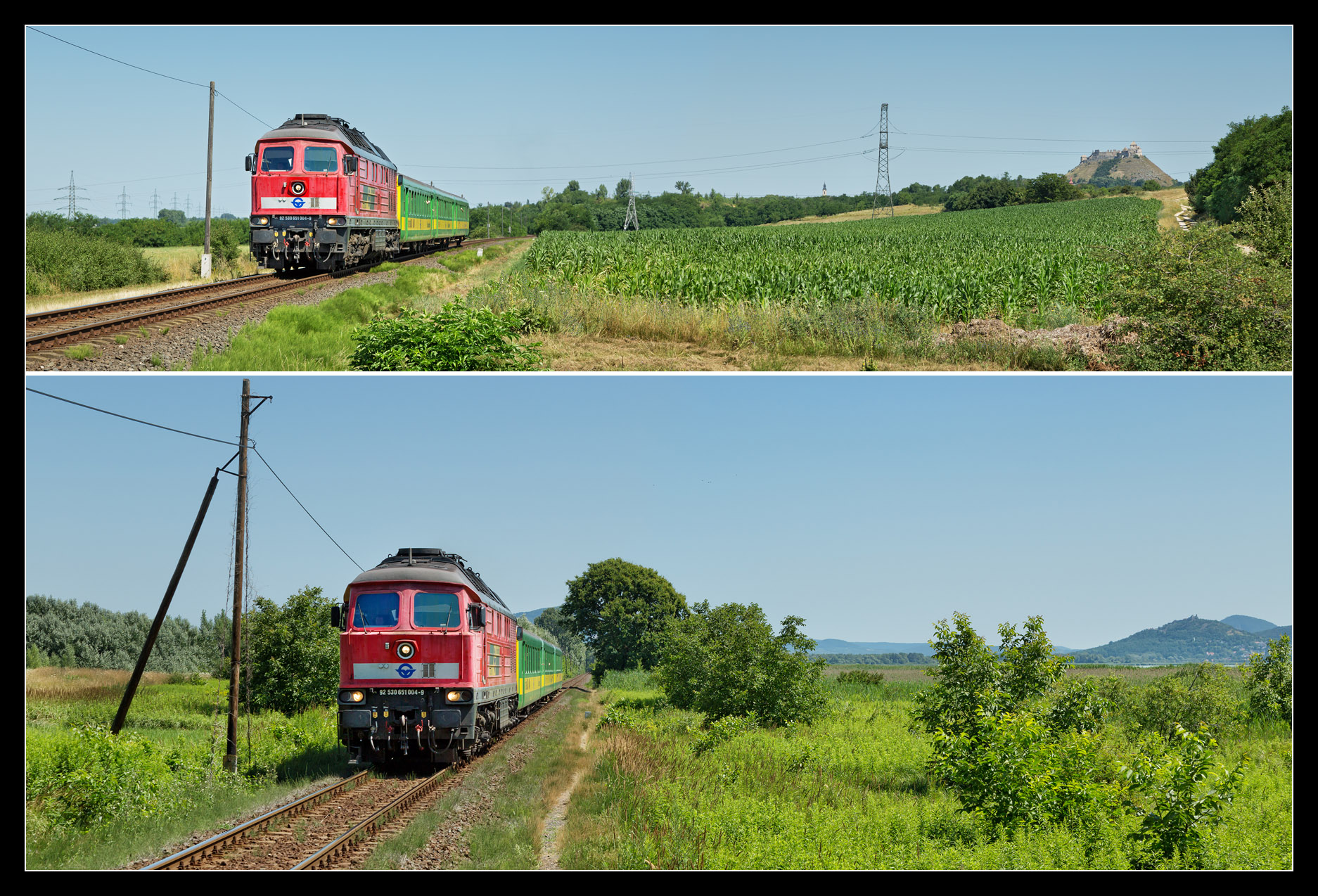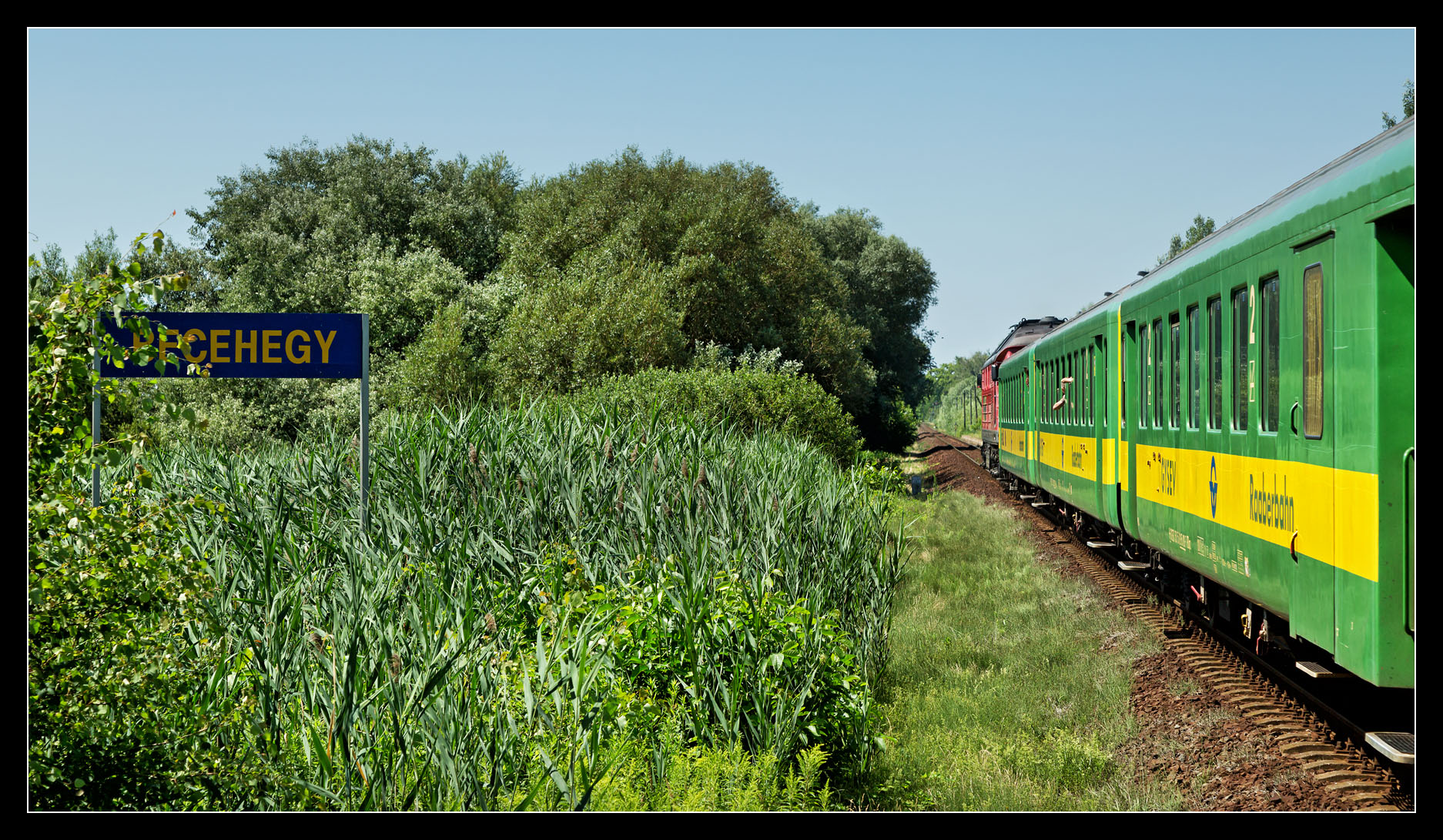 Nostalgic festival at Tapolca.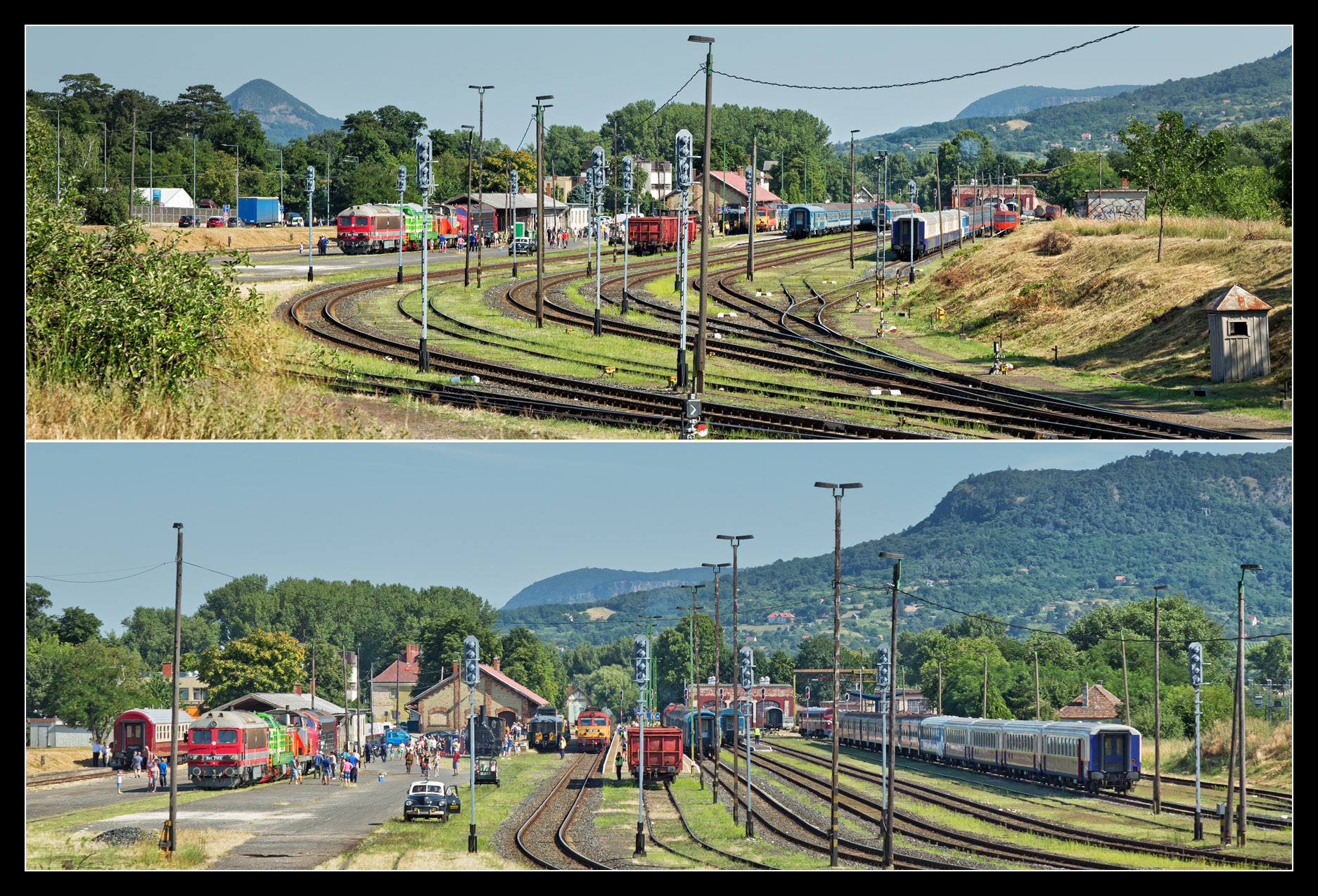 The colors match well.
Sz 19626 Balatonszentgyörgy - Ukk at 4:36 p.m. approaching from Keszthely.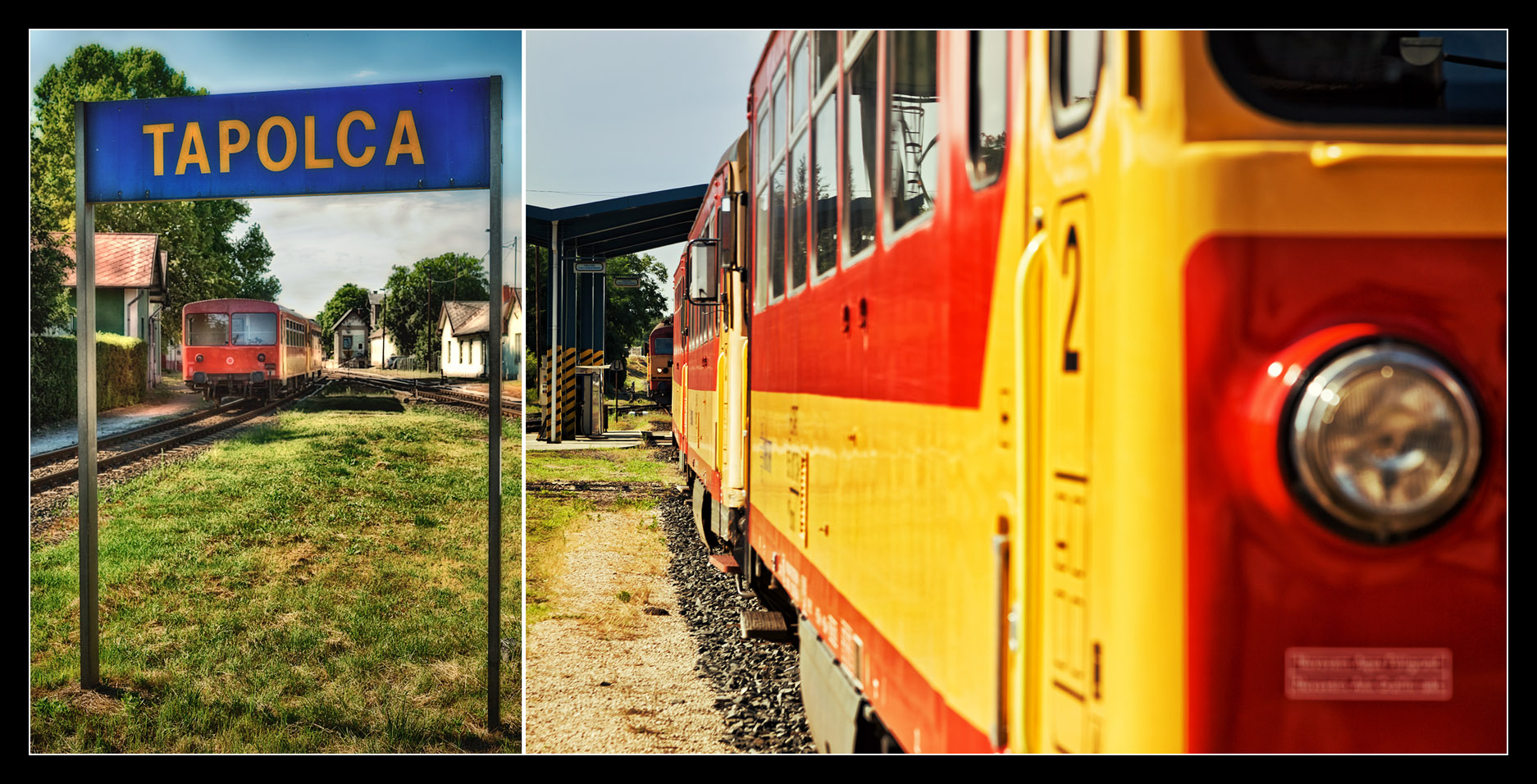 At the engine shed.
Gy 1973 "Tekergő" to Budapest pulled by two freshly-painted original M62s.
The Ludmilla returned hauling Gy 19804 Keszthely - Szombathely near Kalicsmajor after five o'clock.
August 18 2004
We continue following the traces of "Istria": D / MV 1459 Vienna - Koper / Rijeka operating twice weekly in summer, 1:44 a.m. at Maribor.
Nighttime photography with my old Olympus Camedia C3000Z, the feet are not mine... ;-)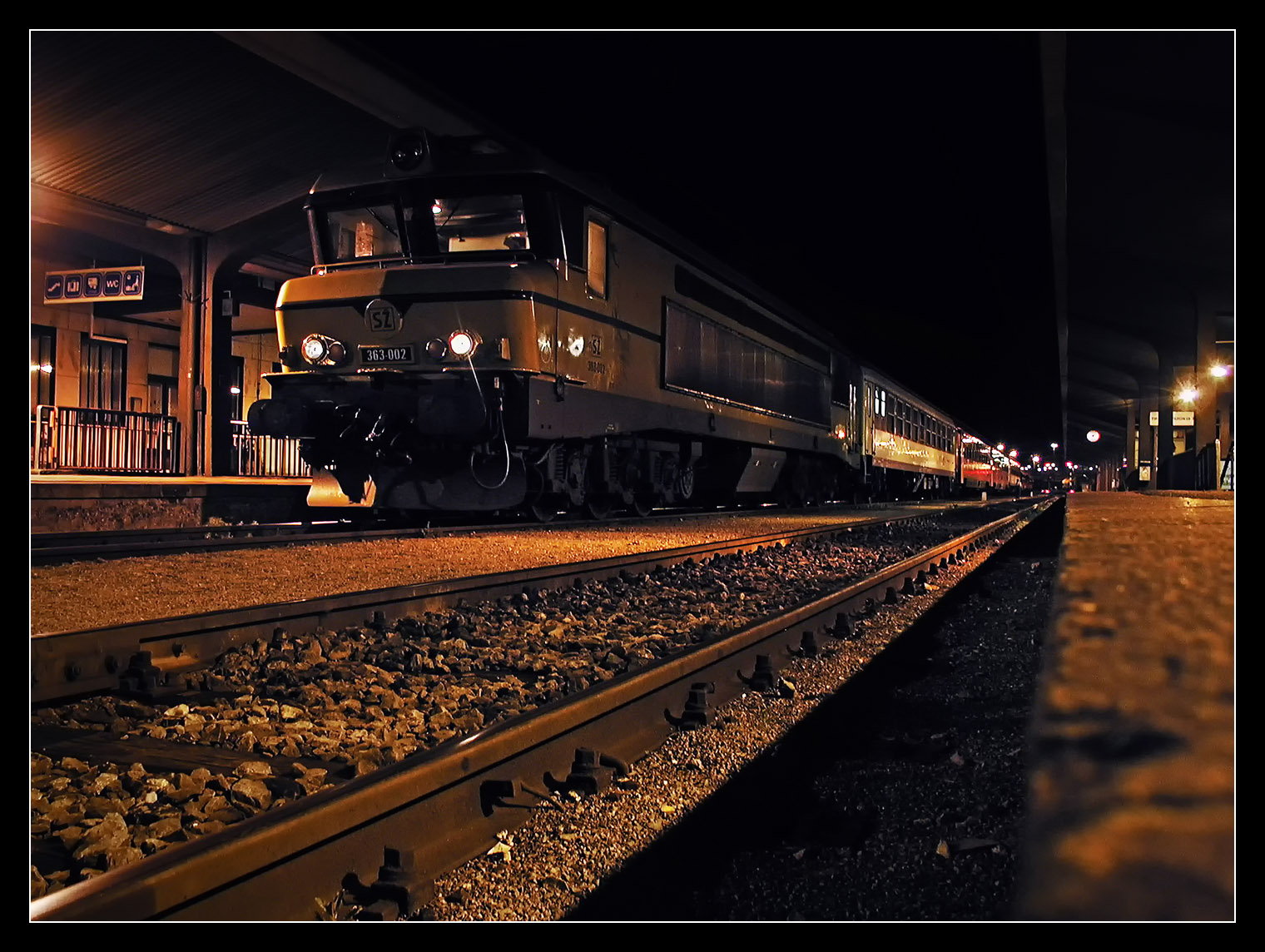 The train consisting of car carriers, couchette- and daytime cars departed.
August 8 2022
IC 502 "Pohorije" Koper - Hodoš traversing the whole country southwest - northeast had been the longest loco-hauled domestic express in Slovenia for a long time. Now it is formed of two Stadler FLIRT 4 EMUs.
Along Savinja river at Celje, facing Celje castle.
August 23 2022
IC 503 "Pohorje" Hodoš - Koper on one of the stone viaducts across Savinja joining Save river at Zidani Most junction.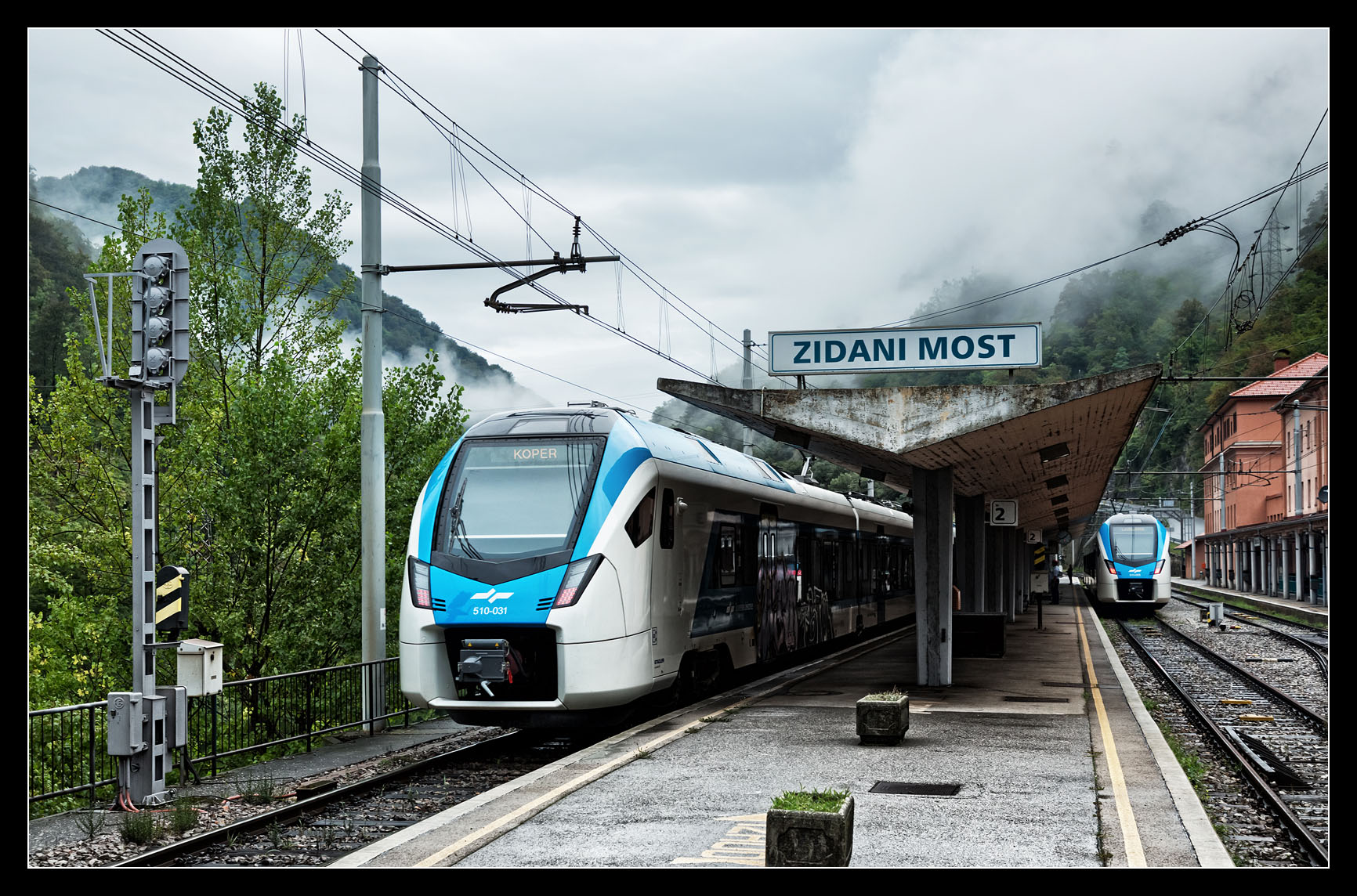 August 9 2022
MV 482 "Ljubljana" arriving at its destination from Rijeka.
The strange railroad station layout at Ljubljana with the main building far away from the main tracks is supposed to be replaced by a hypermodern complex until 2025.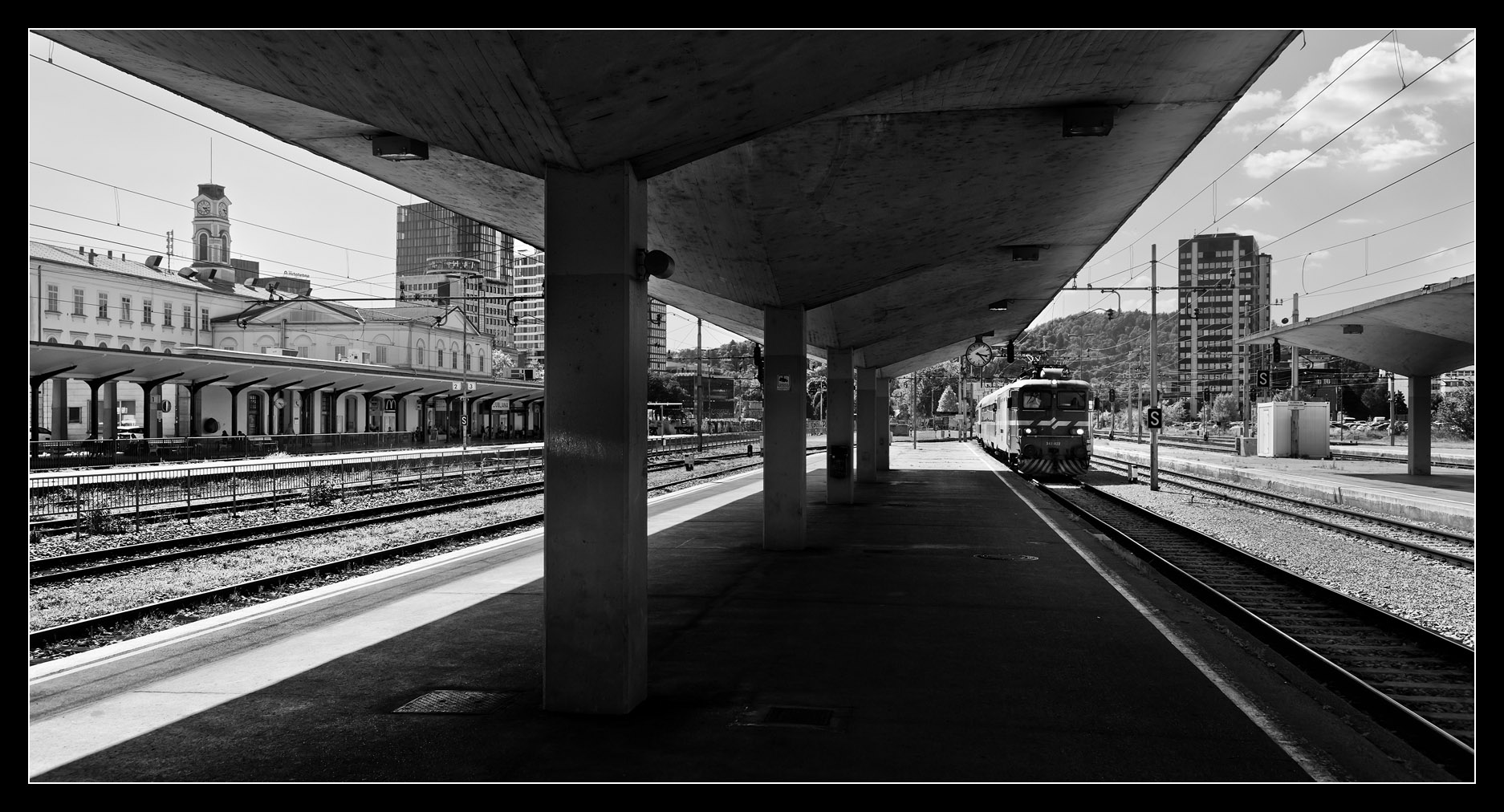 August 7 2018
Switching of through sleeping car Budapest - Rijeka from MV 1246 "Istria" to MV 481 "Opatija" behind a class 642 diesel in the morning.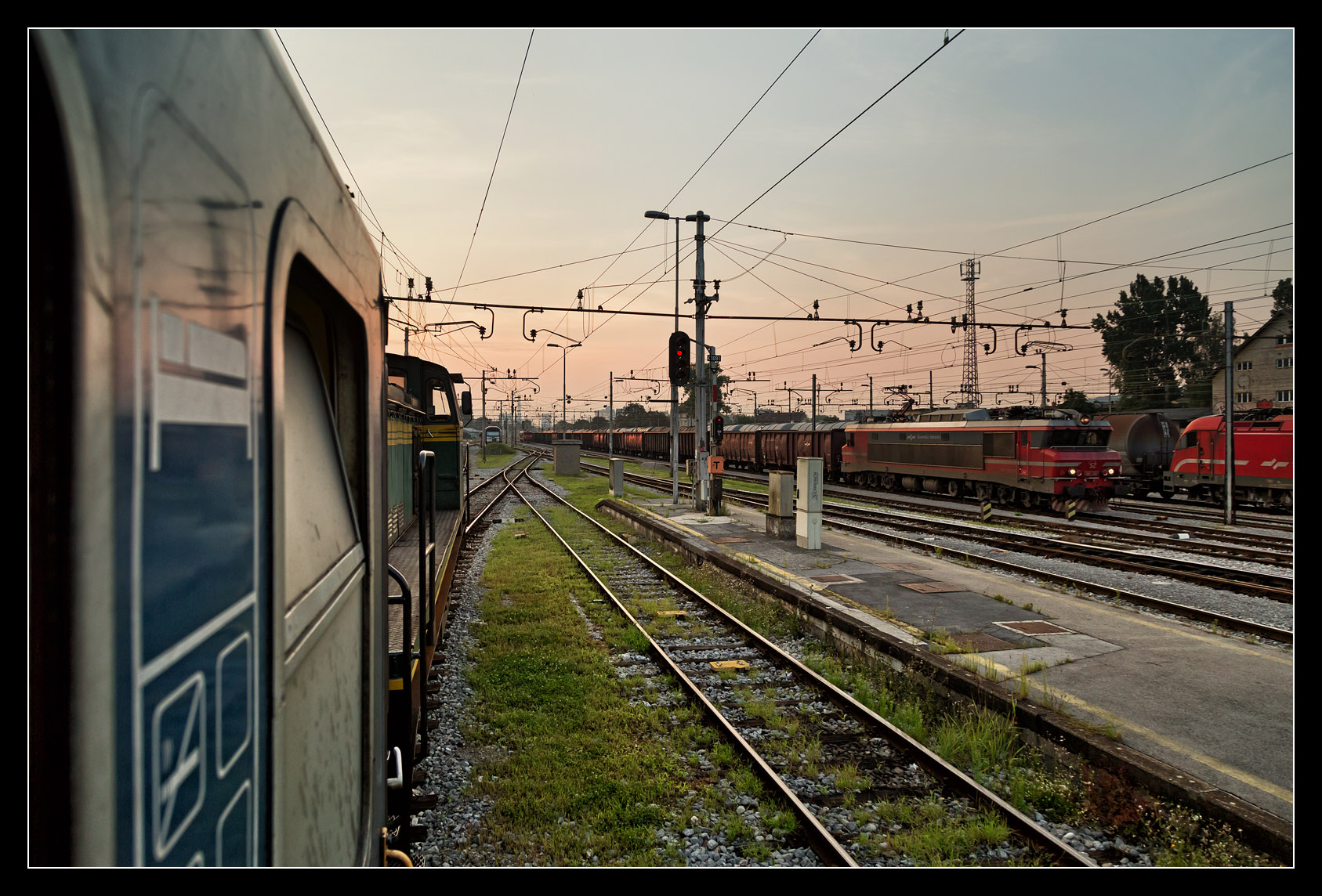 August 11 2019
RG 1605 Maribor - Koper with through cars of "Istria" from Budapest on the viaduct across the freeway near Vrhnika.
August 7 2018
Branching off at Pivka towards Rijeka.
Riding B 481 behind a blue HŽPP 1141, Opatija-Matulji will be reached soon.
August 9 2018
I took pictures nearby two days later, featuring 1141-302.
August 13 2022
Last summer inbetween rain showers with 1141-303.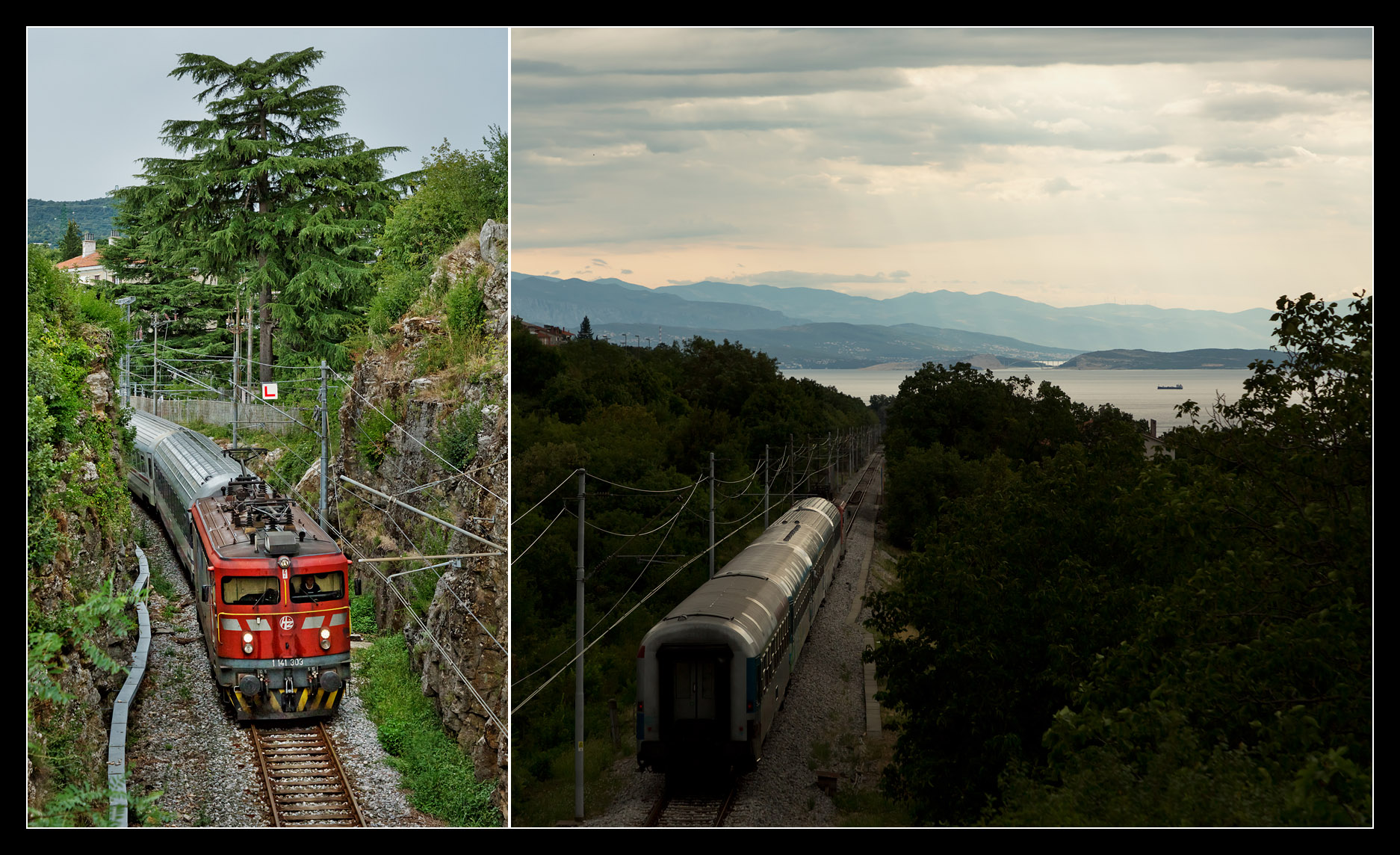 The foot path from Matulji town center to the station leads past a vegetable garden.
The obligatory maintenance vehicle.
B 482 "Ljubljana" approached slowly from Rijeka in front of Kvarner Bay.
Panoramic view including the island of Cres to the right.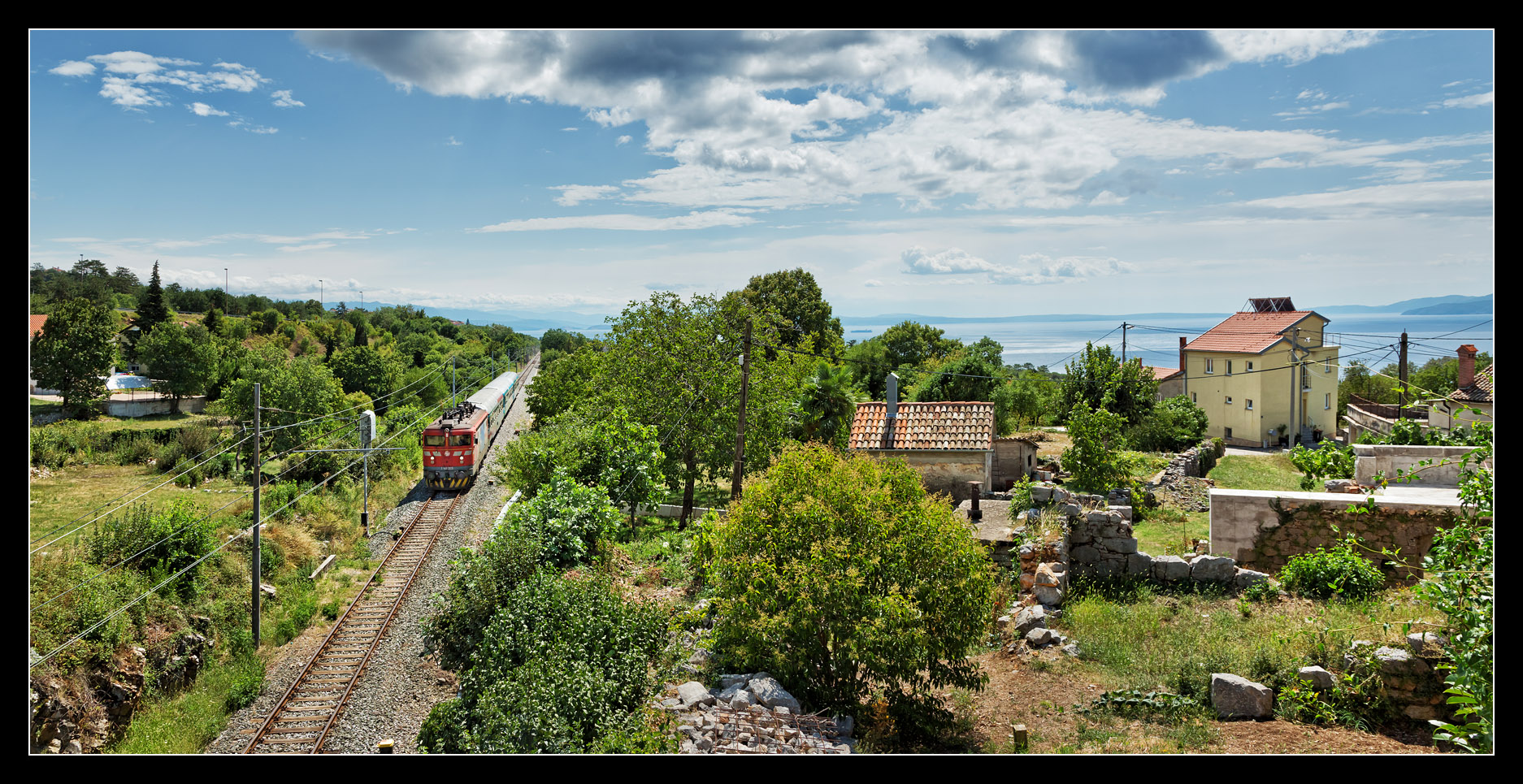 August 16 2022
Sleeping car after arrival from Munich at Rijeka station.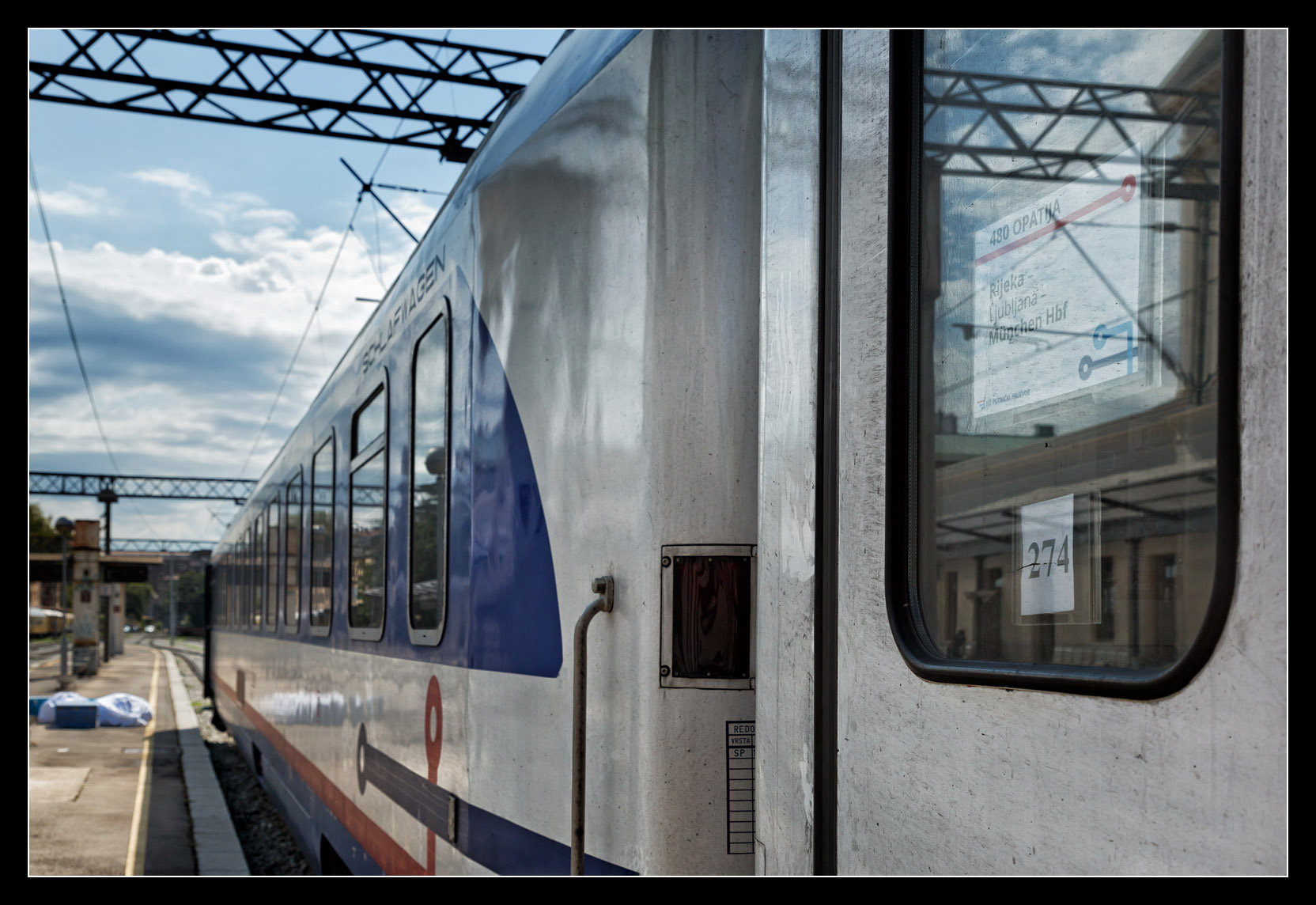 The obligatory maintenance vehicle.
Regional services have been reintroduced on the line towards Slovenia - up to Permani, one station before reaching the border.
Pu 4802 next to B 482 "Ljubljana". The two daily express pairs were formed of the same consist which led to some delays reversing at the terminals. In 2023, the timetable is even more ambitious as Croatia has joined the Schengen area and passport checks have become superfluous.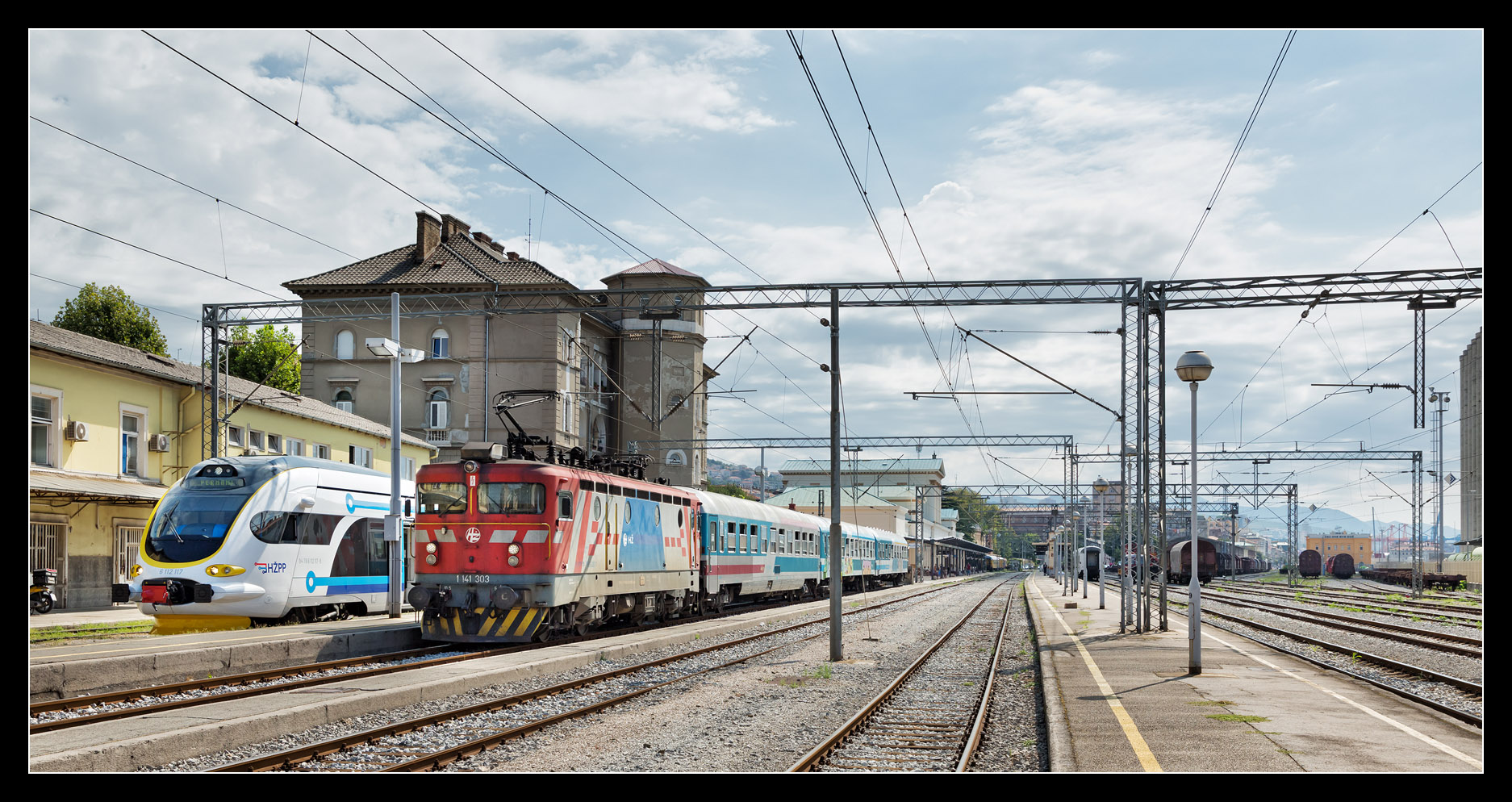 HŽPP 2132-328 fetched the overnight train cars from Munich, in the back a local train for the neglected line to Ogulin.
Pu 4802 departed, we left an hour later by "Ljubljana" - but it was not about to be my only stay in Croatia that summer.