Hi,
To the previous part of the series:
Regional Rail Express - 49: Rába I/Venezia II (50 p.)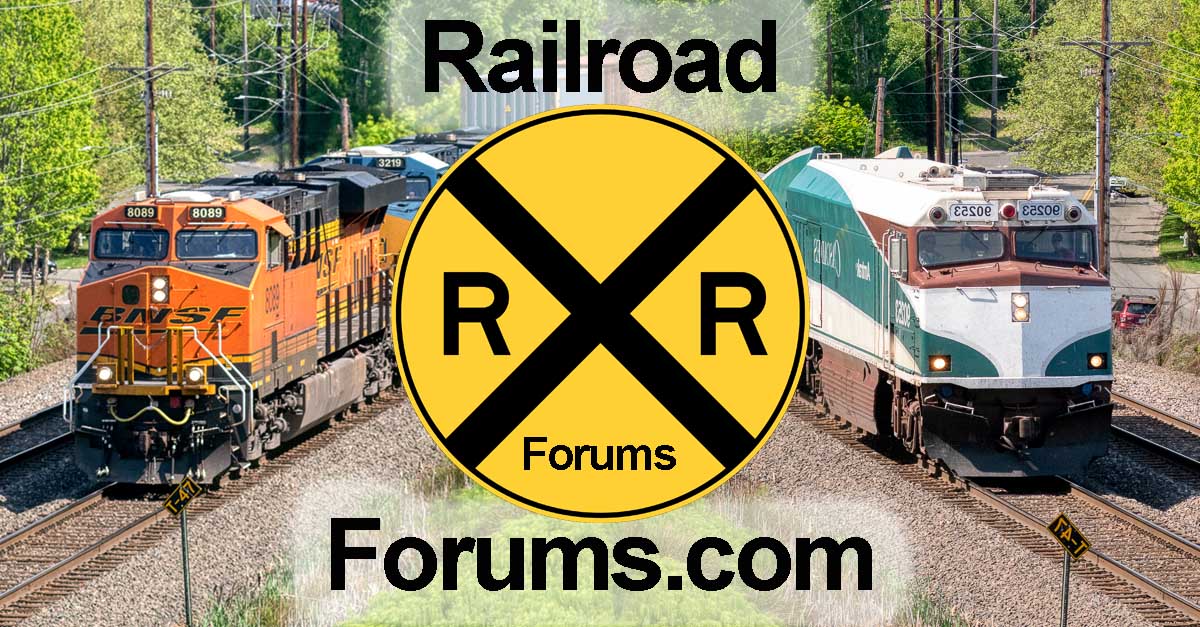 Hi, To the previous part of the series: Regional Rail Express - 48: Split II/Istra (50 p. + 1 v.) https://railroadforums.com/forum/index.php?threads/regional-rail-express-48-split-ii-istra-50-p-1-v.18862 July 12 2007 We continue following EuroNight "Venezia", the express had been taking...

railroadforums.com
April 11 2015
We accelerate towards Szombathely near Acsád.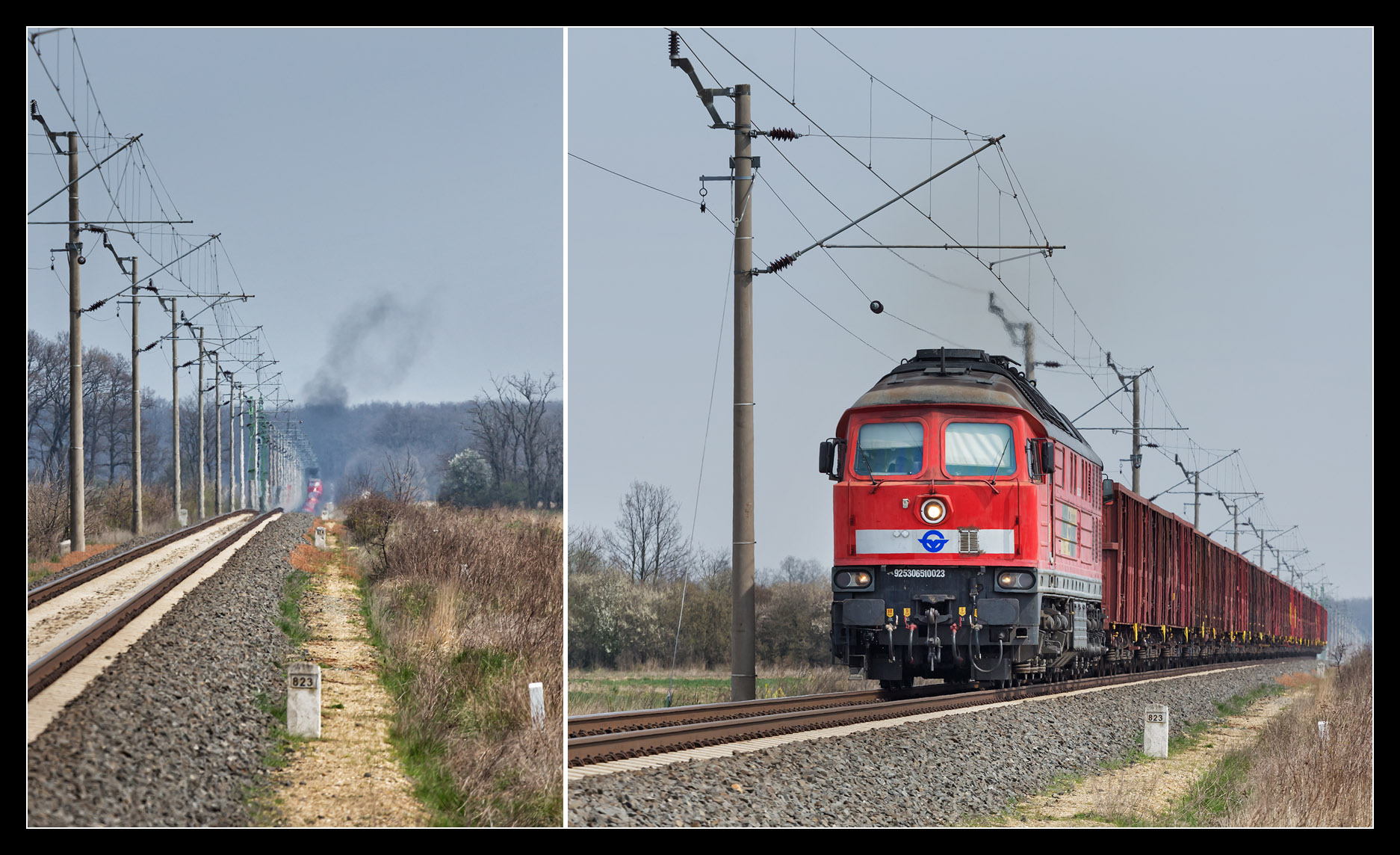 June 24 2015
Sz 8902 Sopron - Pécs took me to Szombathely at 9 a.m., a few weeks before diesel traction ended on the line from Csorna.
Only M41s hauled the express trains to Csorna that day, GySEV-Ludmillas operated services on the line towards Nagykanisza (see
Regional Rail Express - 41: Zagreb V (50 p.)
).
IC 910 "Borostyánkő" from Budapest-Keleti arrived over-punctually. Due to a special MÁV pilgrimage train to Krakow and Częstochowa, InterCities consisted of a colorful mix including former ÖBB cars for a few days.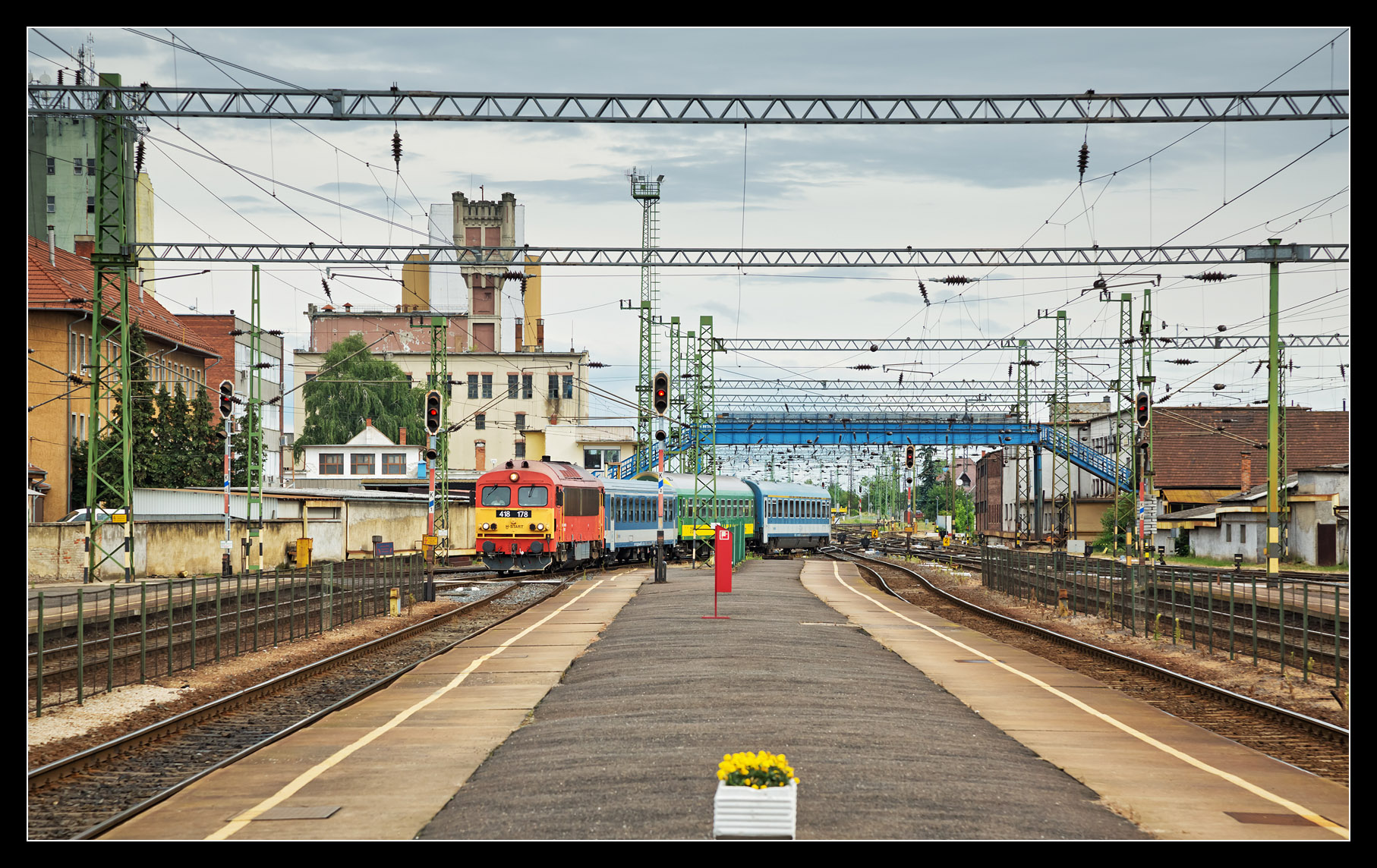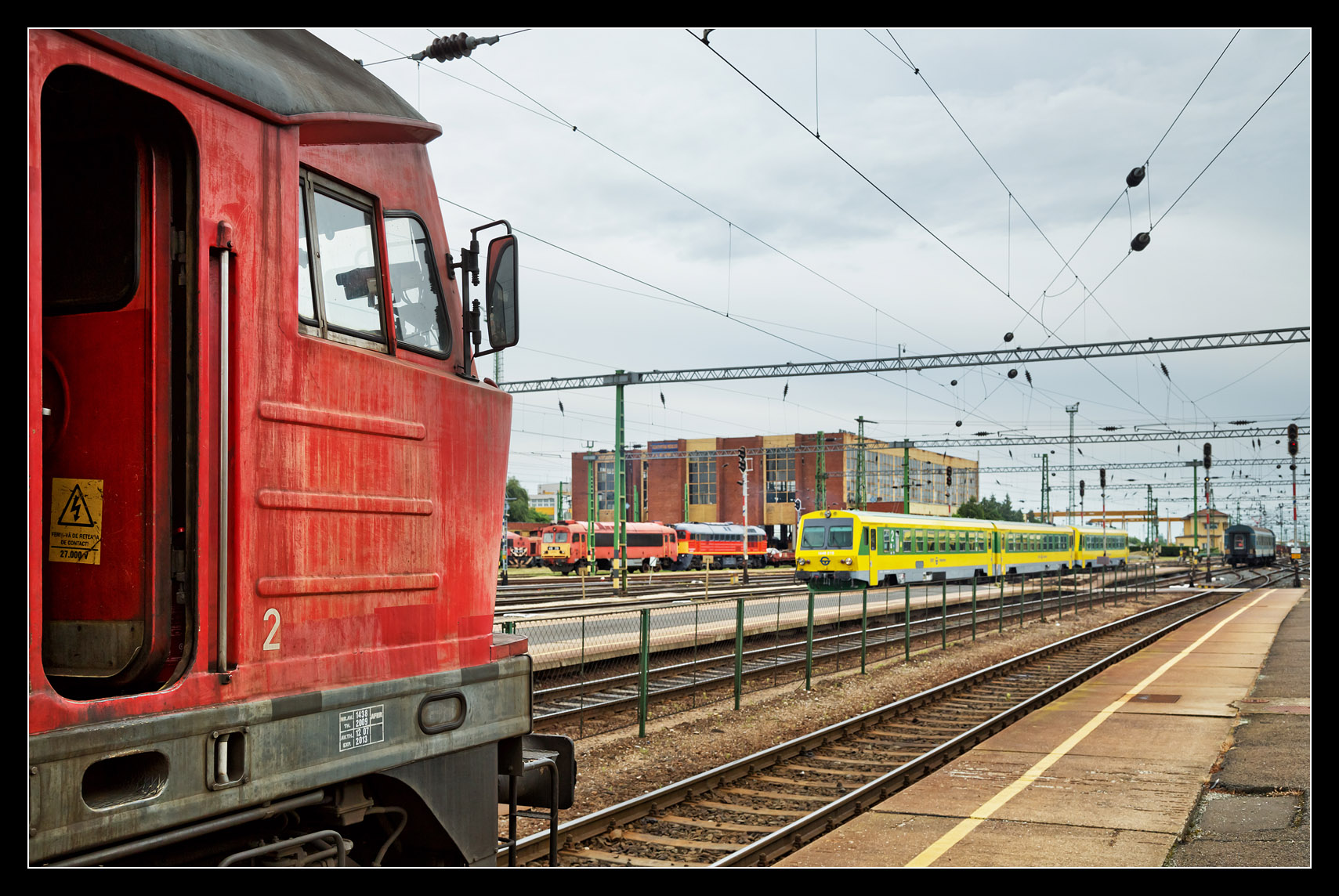 Red flowers for Ludmilla, yellow for classic electric engines.
The nicely renewed station building.
Still during renovation to the left on
July 23 2006
.
October 27 2019
Short break at Szombathely upon return from the Gleichenberg railway (see previous report part).
V46/460 051 switching as usual also on Sunday.
Classic GySEV V43s and road/rail tractor at the engine shed.
Modern EMUs already omnipresent.
IC 925 "Szent Márton" to Budapest-Keleti ready for departure in full electric operation via Csorna.
April 23 2011
The same tracks at the same time of day, 8 1/2 years earlier. Sz 9145 was about to take me to Sopron.
MÁV and GySEV engines next to each other.
We already know V46.051.
July 23 2006
Some connections existed that are only possible by changing trains nowadays: EURegio 9940 Retz - Wiener Neustadt - Sopron - Szombathely - Jennersdorf for example.
MDmot 3015 pushed its rake to Nagykanisza, see report part 41.
Many details have been modernized since.
April 28 2004
My first photo visit to Szombathely took place shortly before Hungary joined the EU. ER 7705 Wiener Neustadt - Szombathely arrived on schedule at 8:40 a.m., EuroNight 241 "Venezia" was supposed to depart at 8:37 towards Budapest... It actually was 8:41, and I managed this picture by sprinting ahead. Remotorized M61 301 plus generator car hauled the express on the Szentgotthárd – Szombathely - Csorna section.
Why close doors?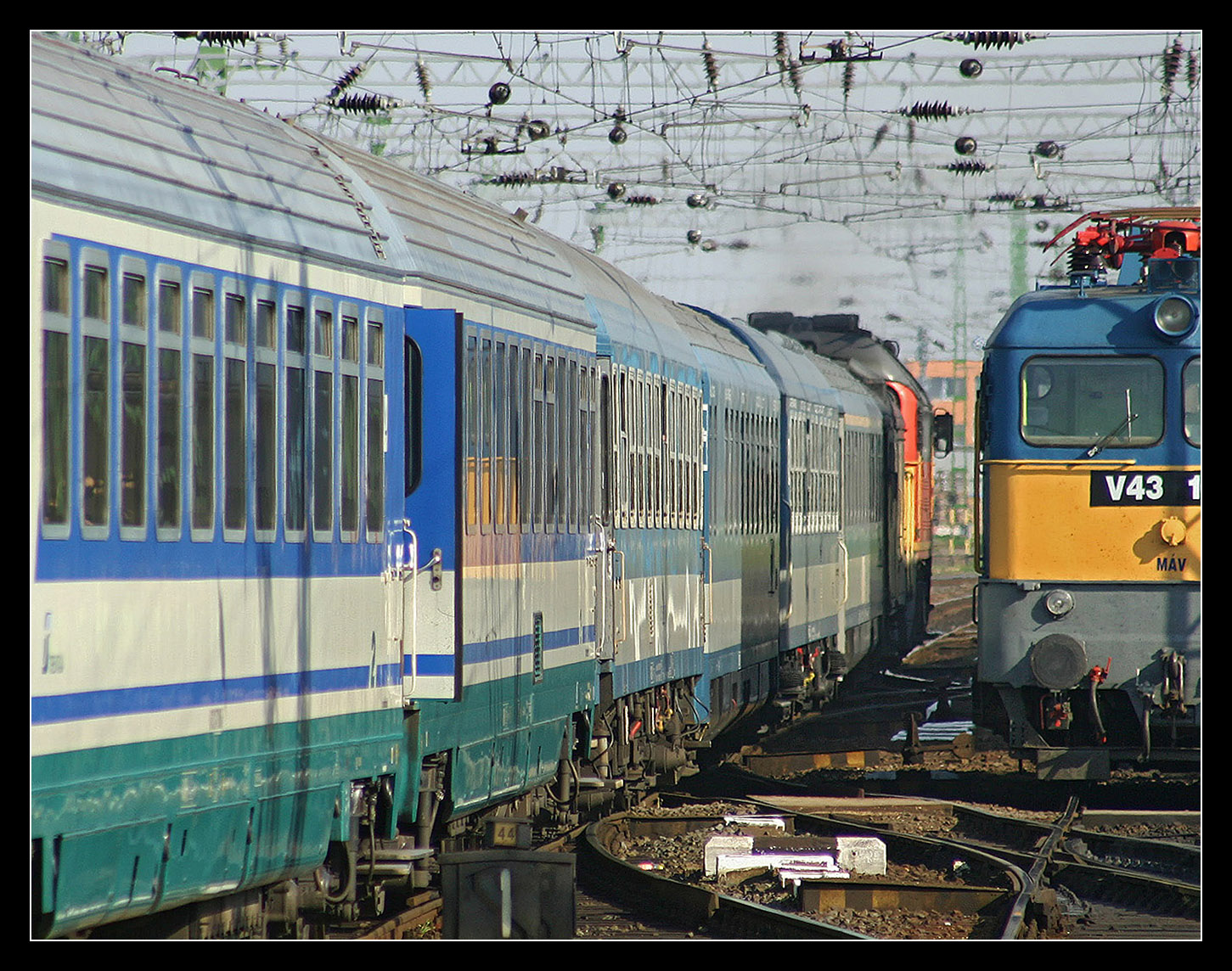 Through cars to Bucharest.
I took updated EN 240 "Venezia" via the Lake Balaton southern shore line departing Budapest on
June 17 2009
: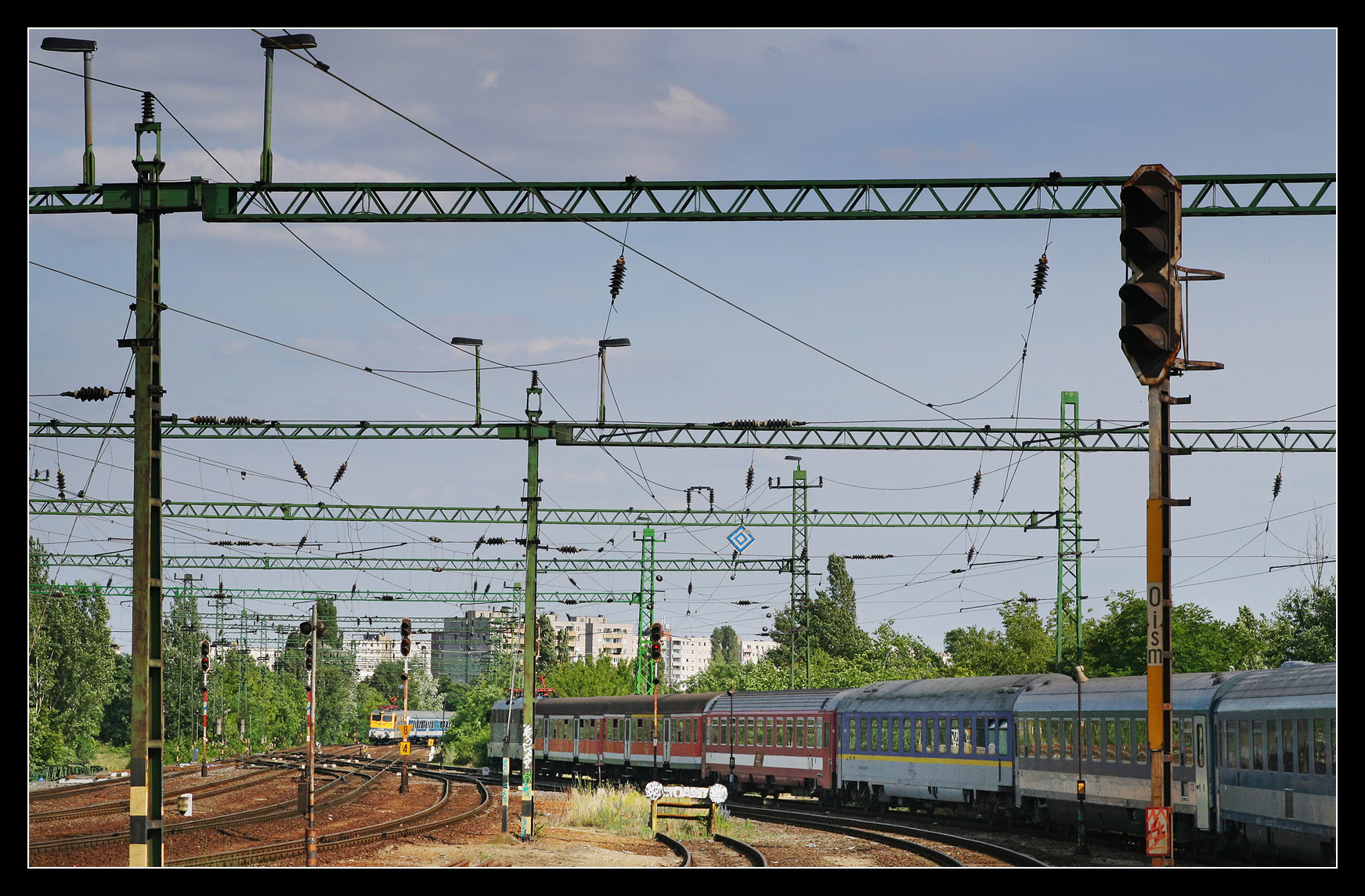 Replacement photo during daylight: EC 1204 "Goldoni" Budapest - Venice was expected on
July 8 2007
at Nagykanisza.
EC 53 into the other direction on
July 23 2006
.
April 28 2004
We return to Szombathely by MDmot.
"MÁV" in various fonts and colors.
The diesel InterCity collection.
IC 917 "Répce" ready for departure at 9:04 a.m.
IC 910 "Savaria" arriving soon afterwards.
June 24 2015
I waited for IC 915 "Répce" Szombathely - Budapest at Vép on the electrified Hungarian western railroad eleven years later.
Delayed IC 922 "Savaria" approaching the same minute for this slightly virtual meeting.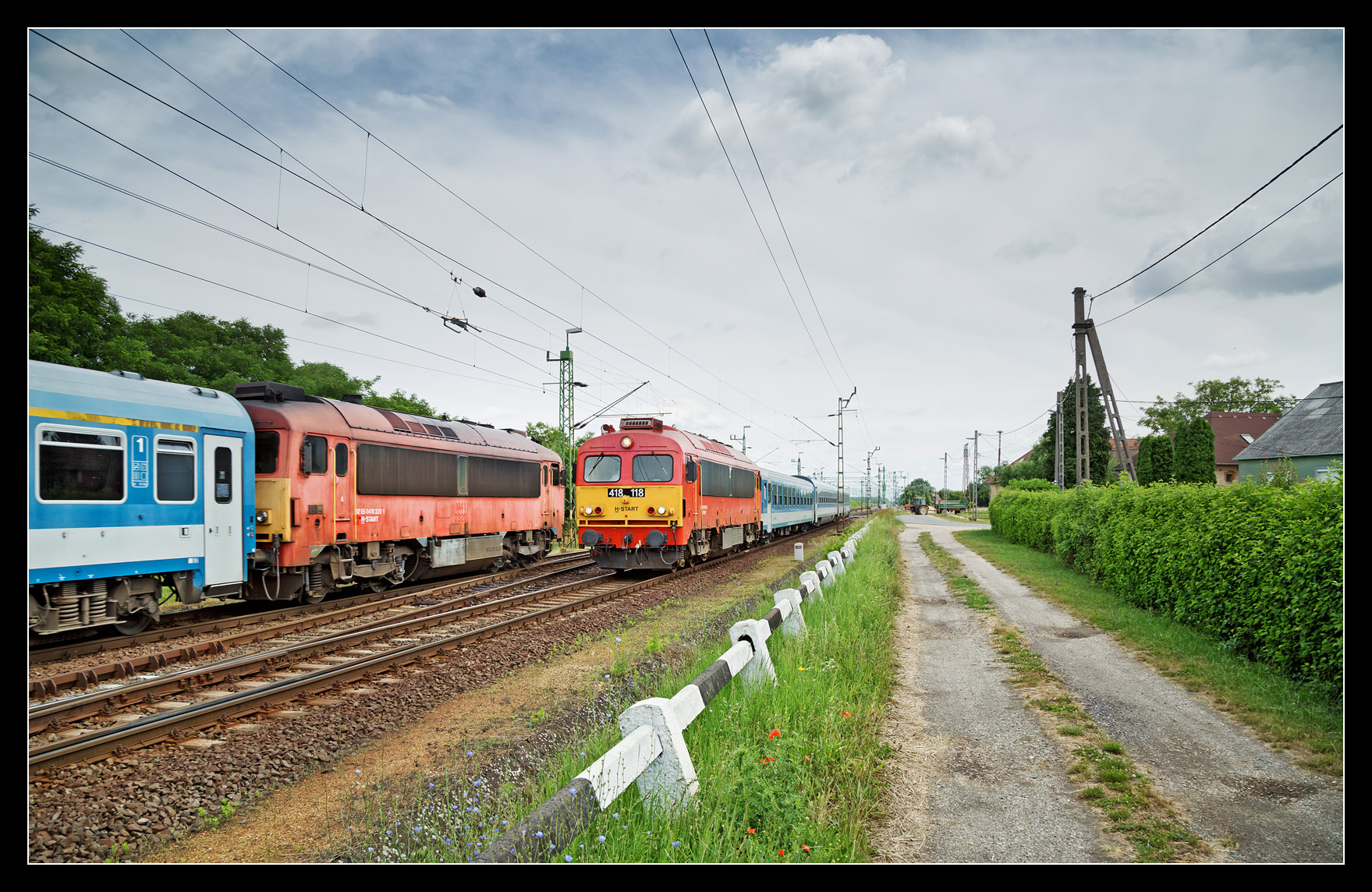 Typical colors and shapes.
May 26 2013
IC 915 rolling through Porpác, junction of the line northwards to Csorna.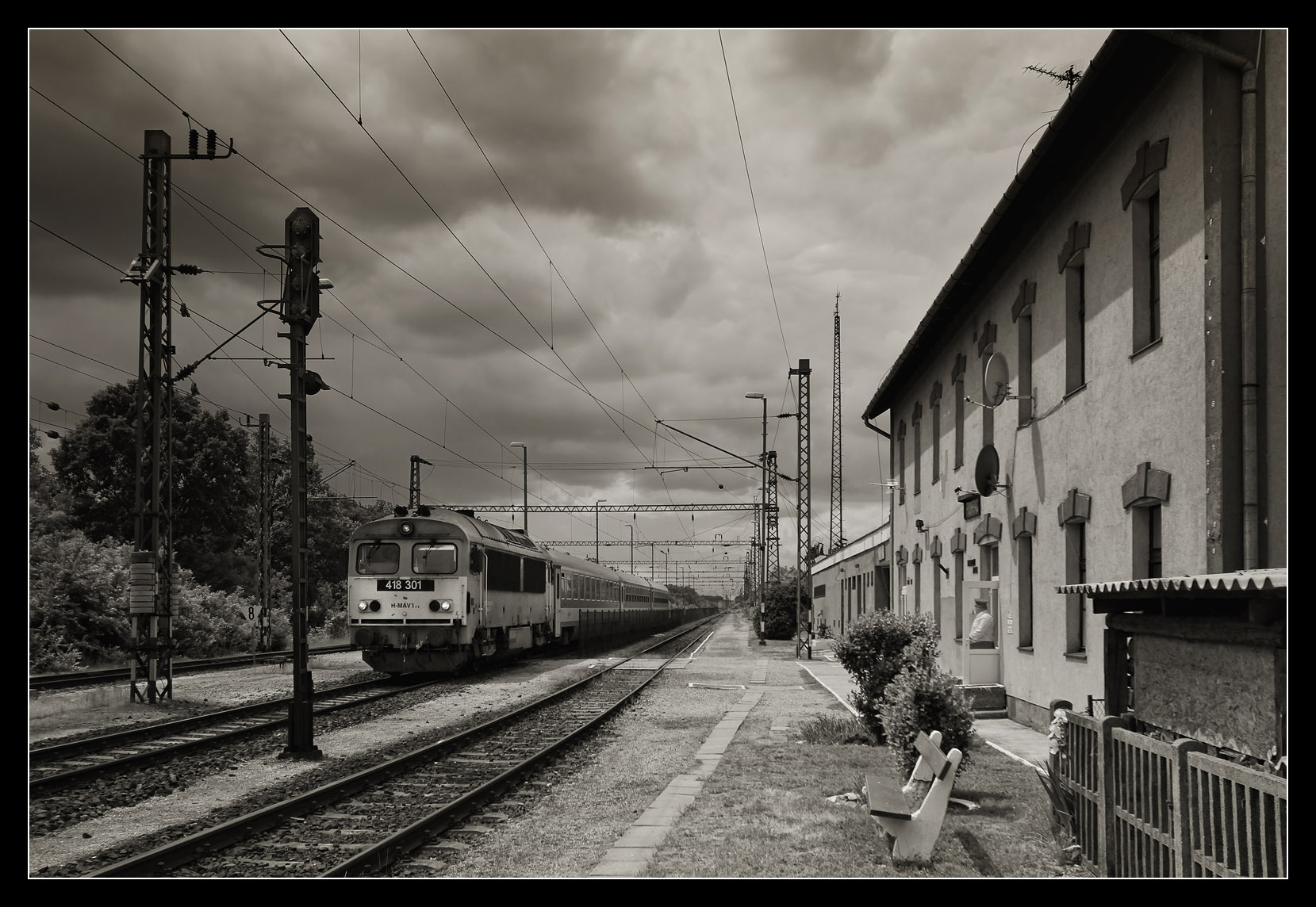 We waited at a grade crossing of highway 88. First, M62 307 approached single engine from Csorna.
Then, 651 003 followed with IC 922.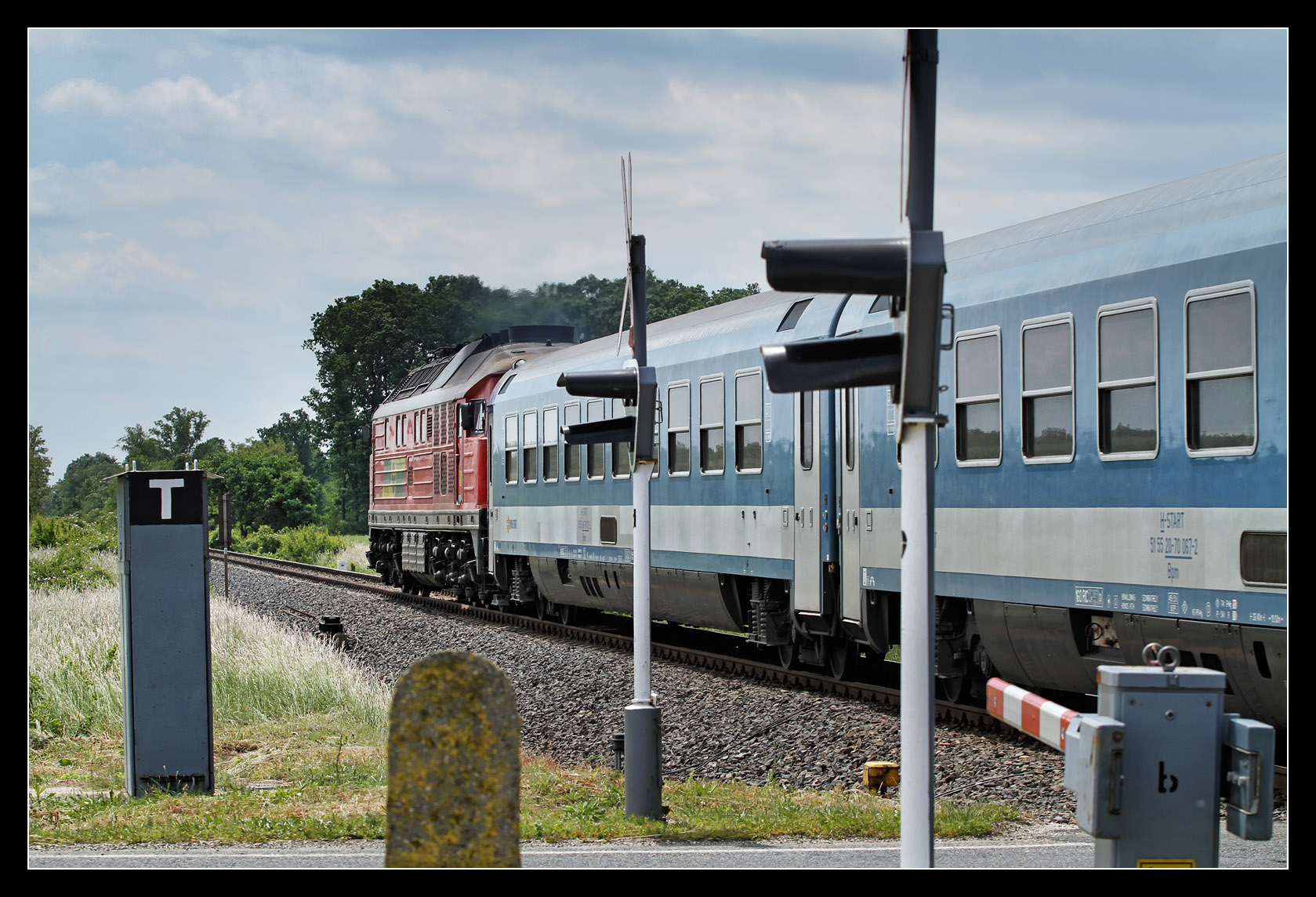 July 11 2015
IC 910 "Borostyánkő" to Szombathely behind 651 002 at the same spot shortly before the switch to electric traction.
On our way to Lake Balaton, we caught 19807 Szombathely - Keszthely at Ostffyasszonyfa.
More from that day soon to come! :0)
We stopped again returning from the lake in the evening. The second featured express of the series: IC 316 "Rába" Budapest-Kéleti - Graz Hbf.
We concluded the evening session with IC 911 "Claudius" to Budapest. More from Csorna next time.