Hi,
To the previous part of the series:
Regional Rail Express - 4: Vindobona IV (50 p.)
http://www.railroadforums.com/forum...gional-rail-express-4-vindobona-iv-50-p.13542
As finale of the "Vindobona" series we will visit the eponymous city of the train and then move on to our next modern day regional rail long distance express.
EURegio 2116 "Silva Nortica" Wien FJB - Budweis passed by Greifenstein-Altenberg halt on
August 18 2007
.
Heritage EMU 4030.210 on a
September 10 2008
charter, viewed from the snack-bar ship "Gernot" in a cut-off Danube meander at Greifenstein.
ER 2100 "Hopfen & Malz" to Pilsen passed the alluvial forest at Kritzendorf on
March 23 2007
.
1042.05 hauled R 2126 Wien FJB - Gmünd NÖ past the Kritzendorf fishing pond,
May 15 2006
.
Austria's top steamer 310.23 sped through Klosterneuburg-Kierling on
April 16 2011
.
These images were only possible for a short period of time as a new bypass road was being built: ER 2119 "Silva Nortica" Budweis - Wien FJB on
May 25 2007
in front of Klosterneuburg monastery.
1044.40 - nowadays still in "blood-orange" livery - pulling REX 7115 from Krems an der Donau, Klosterneuburg-Weidling,
July 31 2007
.
View from Leopoldsberg vineyards onto Kahlenbergerdorf, Vienna and ER 2100 on
April 6 2007
.
1042.02 approached Vienna in first sunlight with REX 2109 from Sigmundsherberg.
4010.10 as R 2161 from Sigmundsherberg reaching Wien Nußdorf in the morning of
January 9 2006
.
E 2100 "Urquell" to Pilsen arriving at Heiligenstadt on
March 20 2006
from Wien FJB, to the left the tracks of the Vorortelinie ("suburban line") from Wien Hütteldorf and Penzing on the Western Railway. In the background the waste incineration plant Spittelau designed by Hundertwasser.
E 2100 took me to the "Vindobona" photo charter on
May 28 2006
.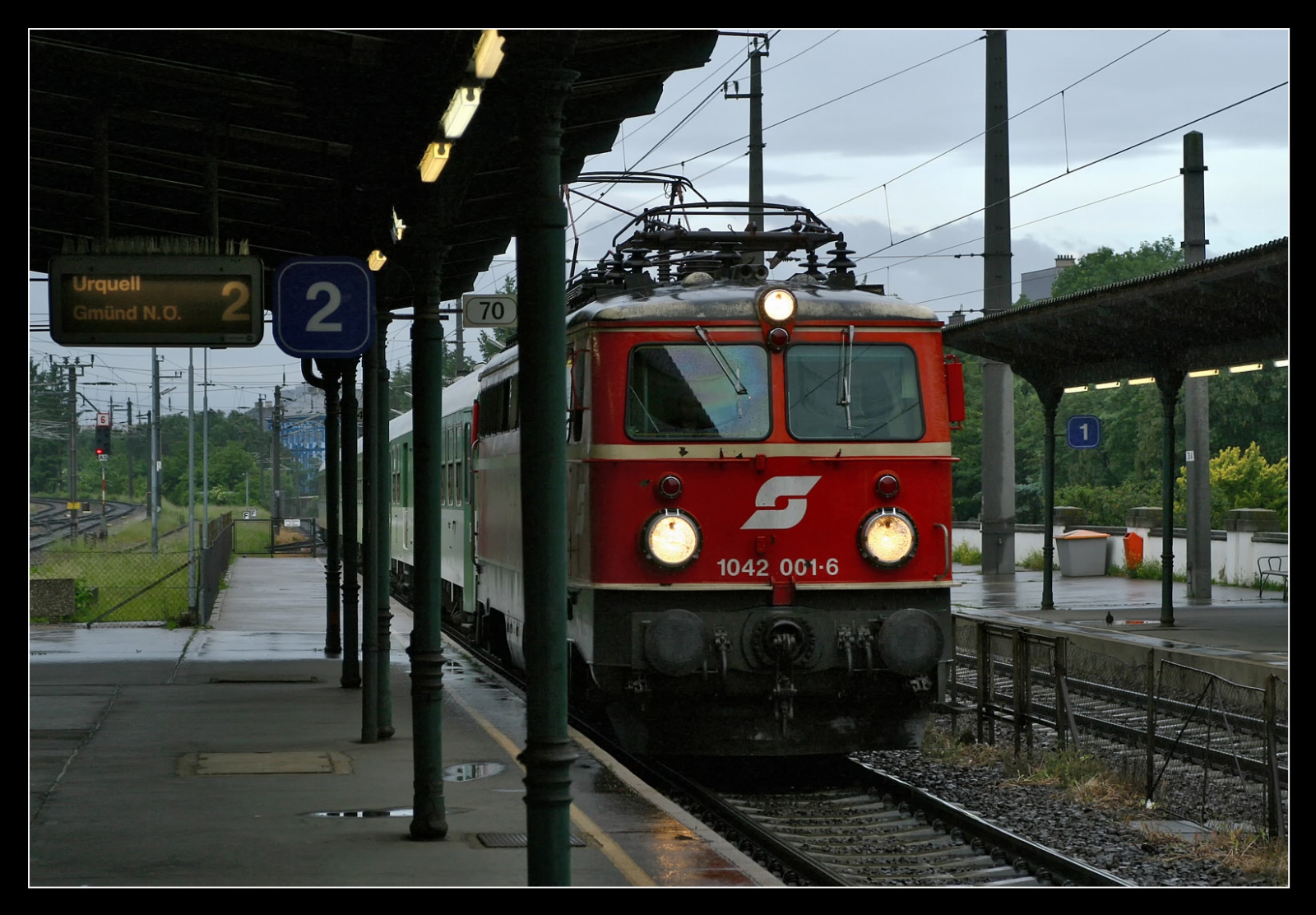 Class 1042 meeting on
September 9 2005
at Wien Heiligenstadt.
Which since then has been - at least not destructively - renewed, keeping the old Otto-Wagner-style platform rooves - picture from
September 24 2010
.
Spittelau panorama from
June 13 2006
- including some Viennese specialties: Next to E 2100 you can spot red class E6 units on the U6 line in the background, "Silberpfeil" ("silver arrow") units with old destination boards on the U4 line below, a blood-orange class 1142 engine, a class 2070 diesel shunter with local freight, arches below the old Stadtbahn line...
We change to the Viennese Schnellbahn "Stammstrecke" ("trunk line") which occasionally served ÖBB Northern Railway long distance trains. In the morning of
July 8 2012
EC 378 "Carl Maria von Weber" arrived empty to depart from former Northern Station, Wien Praterstern.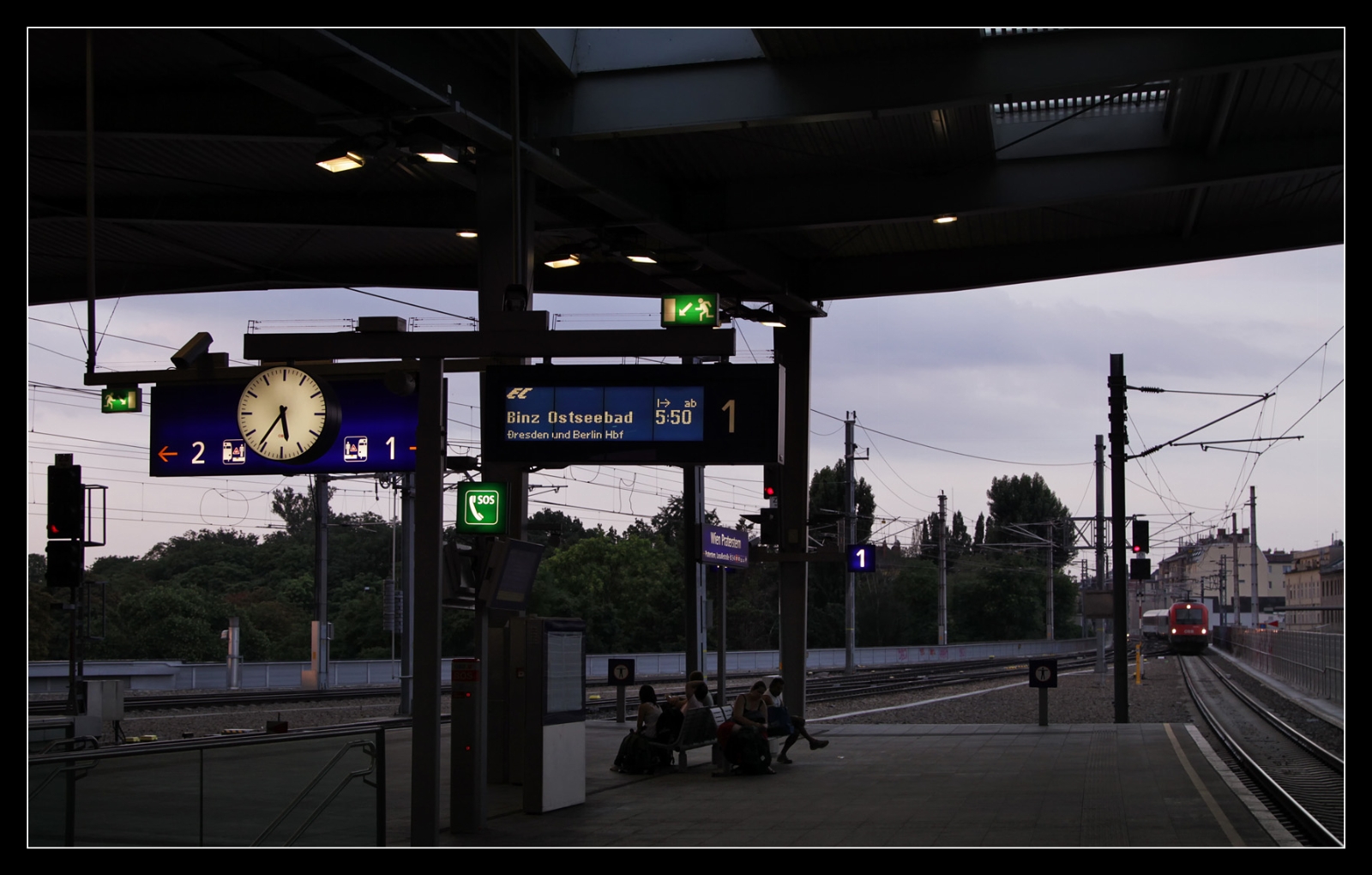 EC 378 on
June 11 2009
.
Around this time, several express trains were rerouted via the Stammstrecke: EC 76 "Gustav Klimt" to Prague crossed the Danube on the Northern Railway Bridge past U6 stop Neue Donau. As the Franz-Josefs-Station was being rebuilt in 1975, "Vindobona" also took this line and terminated at Wien Mitte.
On to the Stadlau Eastern Railway Bridge used by current Northern Railway long distance traffic: "RailCargoAustra" 1014.011 with EC 70 Wien Südbf. (Ost) - Praha-Holešovice on
November 23 2006
passing by Wien Lobau halt abandoned in 2014 since the new part of the U2 line was opened in the vicinity.
EC 104 "Sobieski" Wien Süd (Ost) - Warshaw at Wien Erzherzog-Karl-Straße station on
April 26 2009
.
EC 70 "Johann Gregor Mendel" Vienna - Prague in the evening of
May 25 2005
on "the bridge", as it is known to Viennese rail photographers.
EC 172 "Vindobona" Wien - Hamburg on
July 31 2008
- one month after the Euro 2008 football final in Vienna - pulled by Euro Taurus in Polish livery 1116.087.
Only few minutes passed between a meeting of EC 173 Hamburg-Altona - Wien Süd (Ost) and hydrofoil "Meteor IV Modra" from Bratislava built in 1990 at Russian Zelenodolsk shipyards,
May 30 2004
.
Strong winds on
April 8 2018
produced spectacular waves on the Danube with EC 103 "Polonia" Warshaw - Vienna main station.
Green dominated the bridge at Wien Praterkai halt with EC 75 "Alois Negrelli" Prague - Vienna in the afternoon of
March 10 2005
.
Nowadays, you can find more yellow: Regiojet 1033 from Prague on
April 8 2018
.
Vienna is once more the destination of a diesel-hauled "EuroCity", REX 2519/20 from Bratislava via Marchegg consisting of through cars conveyed by IC 510/513 from Košice.
This composition continues via Wien Hbf as EC 140/147 "Hortobágy" to Záhony with Ukrainian sleeper to Kiev,
February 19 2018
.
GySEV class 4744 Siemens Desiro ML "Ventus" reflection at the main station in 2018...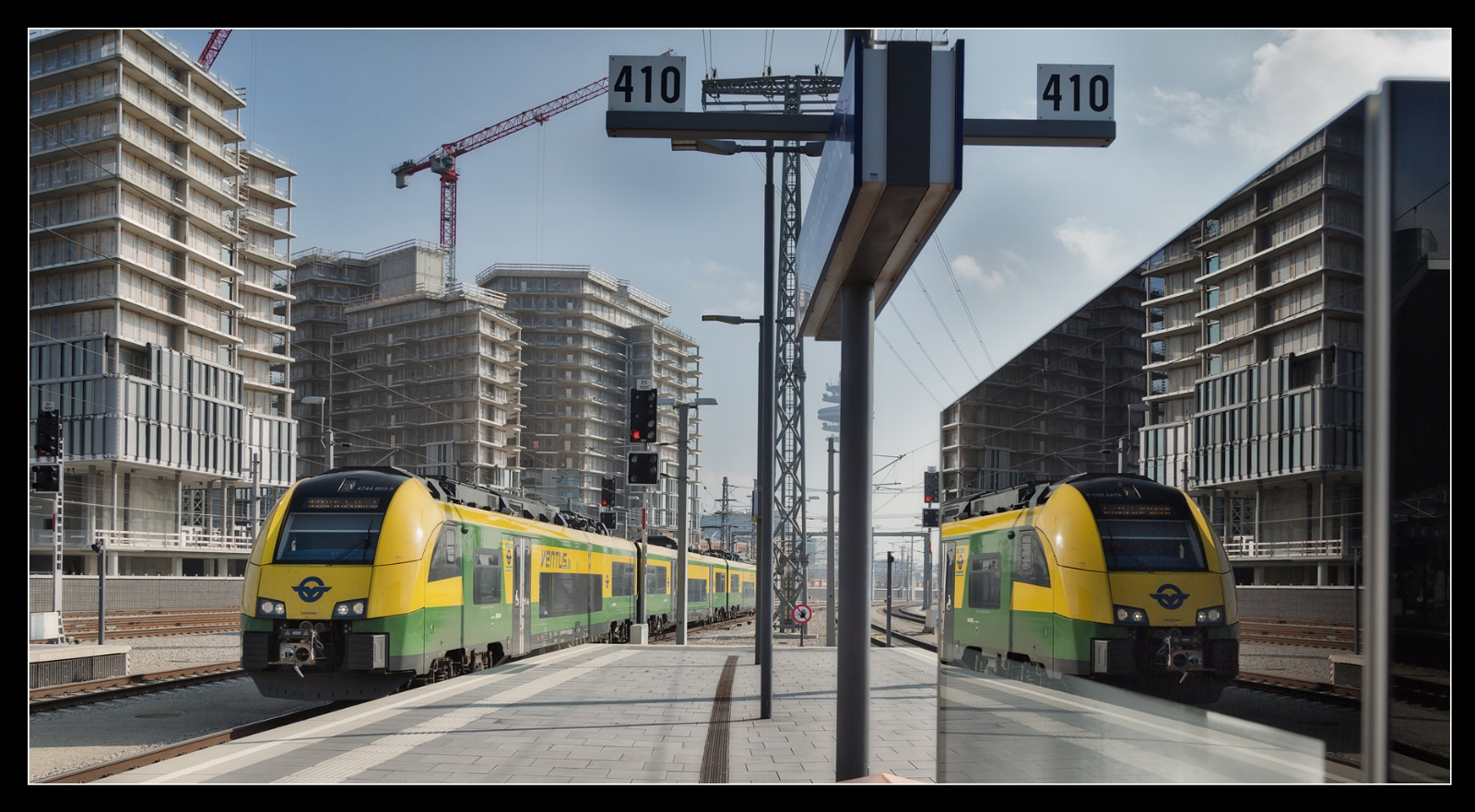 "Vindobona" reflection almost on the same spot at the Eastern Station a decade earlier,
August 6 2008
.
Diversity at Vienna Southern/Eastern and Meidling stations.
To the right, the route of "Vindobona" on
September 17 2003
, prior to the inauguration of the Berlin main station. Almost ten years later, the Viennese main station was opened in the vicinity.
Departure of EC 172 "Vindobona" on
November 23 2006
.
A back then nameless EC 172 shortly before departing on
March 31 2004
.
Strange meeting of vehicles at the Eastern Station yard on
June 22 2007
, including steamer 33.132 on a private charter - even the driver of the Talent EMU to the left had to take a picture.
Around the corner - at the Southern Station - we meet the star train of the following parts: IC 285 "Zagreb" Vienna - Wiener Neustadt - Sopron - Szombathely - Nagykanizsa - Koprivnica - Zagreb in the morning of
April 5 2009
. 284/285 operated during the 2009 to 2012 timetables.
919.138 should have gone to Oberpullendorf that day, but eventually a class 2143 diesel hauled the special.
The predecessor of "Zagreb" on the route: IC 981 "Corvinus" Wien Süd - Pecs with through coaches to Keszthely at Wien Meidling on
July 17 2007
.
Before the course of the train was extended from Hungary to the Croatian capital, the early train from Vienna to Zagreb was (O)EC 156/157 "Zagreb" via the Südbahn and Slovenia, to the left on
November 2 2007
. From these two train pairs, nowadays only EC 158/159 "Croatia" remains leaving Vienna in the afternoon.
On
August 14 2009
, we started our seaside holiday already with the diesel version of "Zagreb" to the right.
EC 157 on
July 27 2008
.
EC 102 "Polonia" Villach - Warshaw reaching Meidling on
January 21 2010
.
D 407 "Chopin" Warshaw - Wien Westbahnhof at sunrise on
April 24 2015
.
2010 "Zagreb" was hauled from Wien Meidling to Wiener Neustadt as rear part of IC 553 to Graz, at Wien Liesing on
February 1 2010
.
Also, on
January 24 2011
.
Another predecessor: EURegio 7761 "Plattensee" Wien Süd - Szombathely on
May 2 2004
at my long-time home station of Wien Atzgersdorf, back then named Atzgersdorf-Mauer.
GySEV trains also started diesel-hauled from Vienna, here R 9950 to Sopron via Mattersburg in the first sunrays of
February 1 2010
.
Next time, we move on towards Sopron in Hungary...