Hi,
To the previous part of the series:
Regional Rail Express - 47: Split I (50 p.)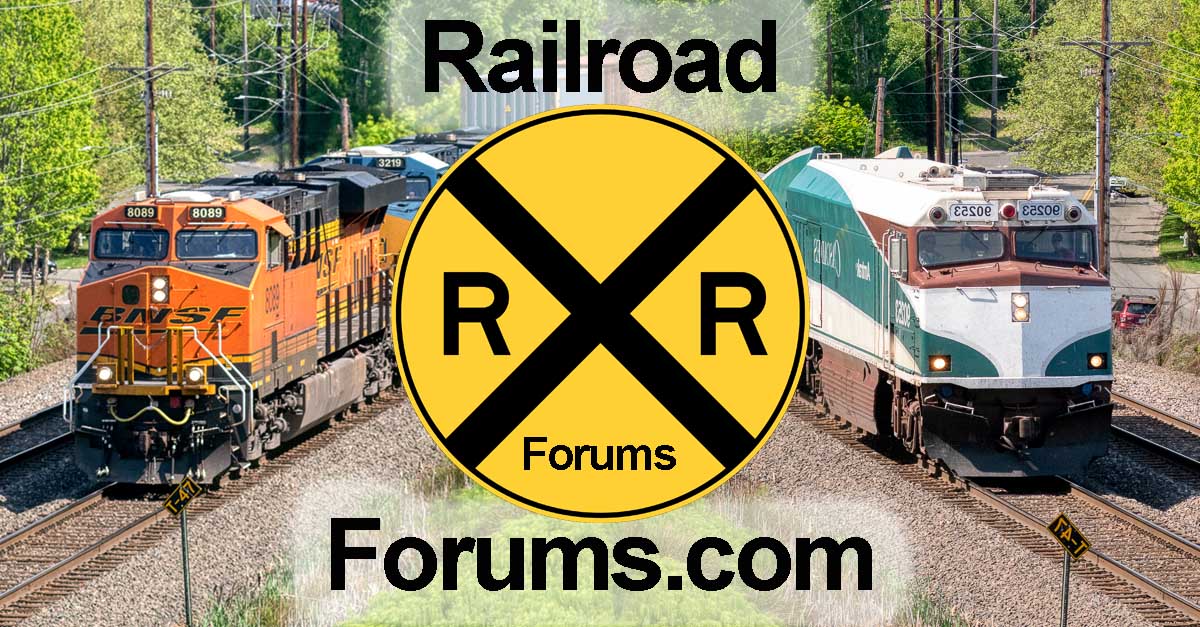 Hi, To the previous part of the series: Regional Rail Express - 46: Jože Plečnik (50 p.) https://railroadforums.com/forum/index.php?threads/regional-rail-express-46-jo%C5%BEe-ple%C4%8Dnik-50-p.18534 August 27 2021 We start this year's seasonal express train summer after a heavy rain...

railroadforums.com
New
: This exclusive video feature follows EuroNight 1252/1253 "Split" from Austria to Croatia and back, including GM-sound, ÖBB old electrics and diesels:
August 14 2021
EuroNight 1252 "Split" Split - Bratislava Saturday evening on the Oton Bender viaducts.
We left the village at sunset and two days later continued to our usual beach holiday stay at Opatija. This time, I especially took a fancy to the flambéed octopus...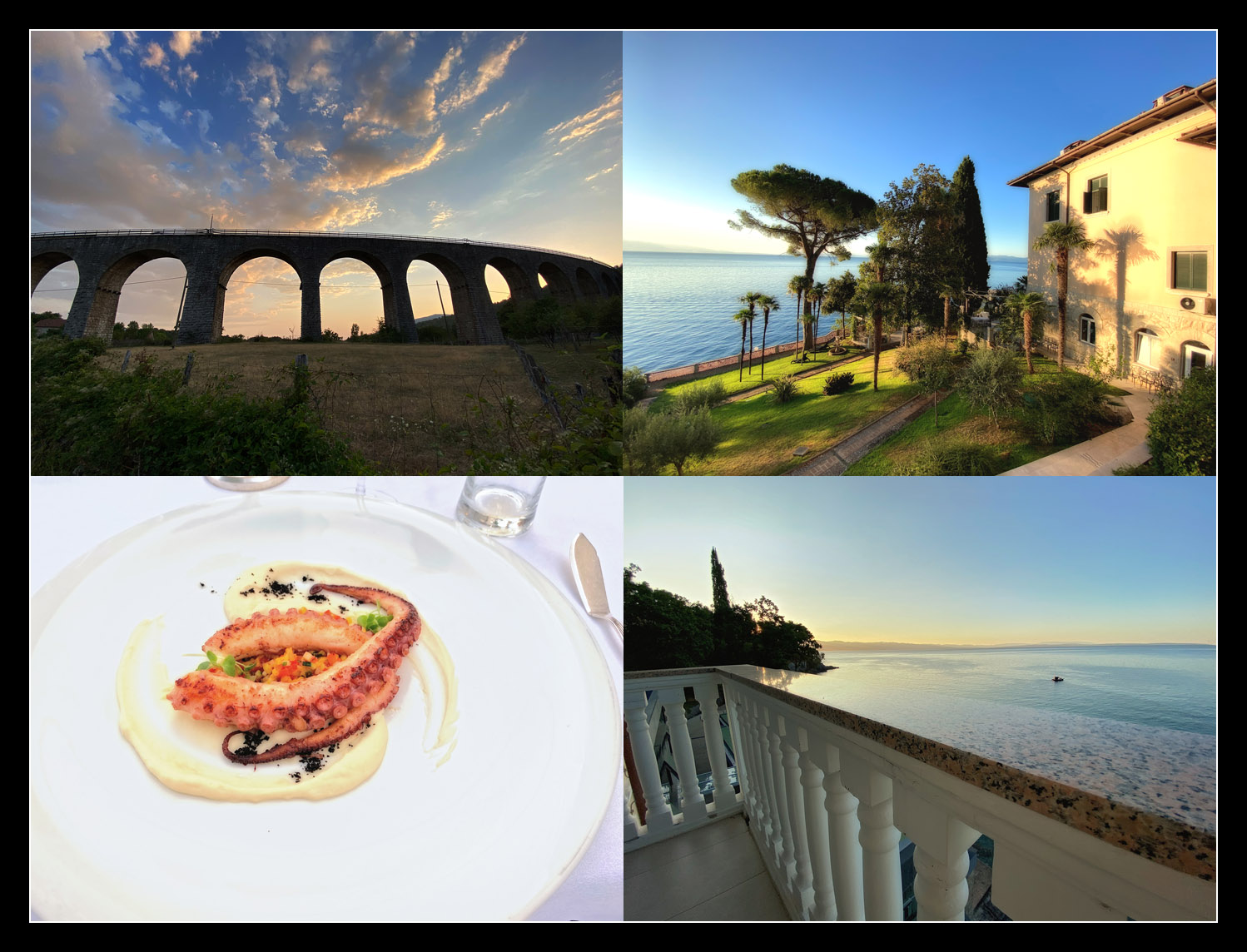 August 19 2021
As travel warnings had shortened last year's vacation, we caught up on the Istria excursion this year.
Let's introduce the next express of this series, MV/B 1272/1273 "Istra" Divača - Pula:
It had always been indicated as punctual online the previous days - now the green train appeared 15 minutes delayed, already close to departure time from Buzet.
The spot at the cliff near the Croatian border station did not have any chance for sun that time of day and year, but the plan was to drive ahead to Roč which should have been possible.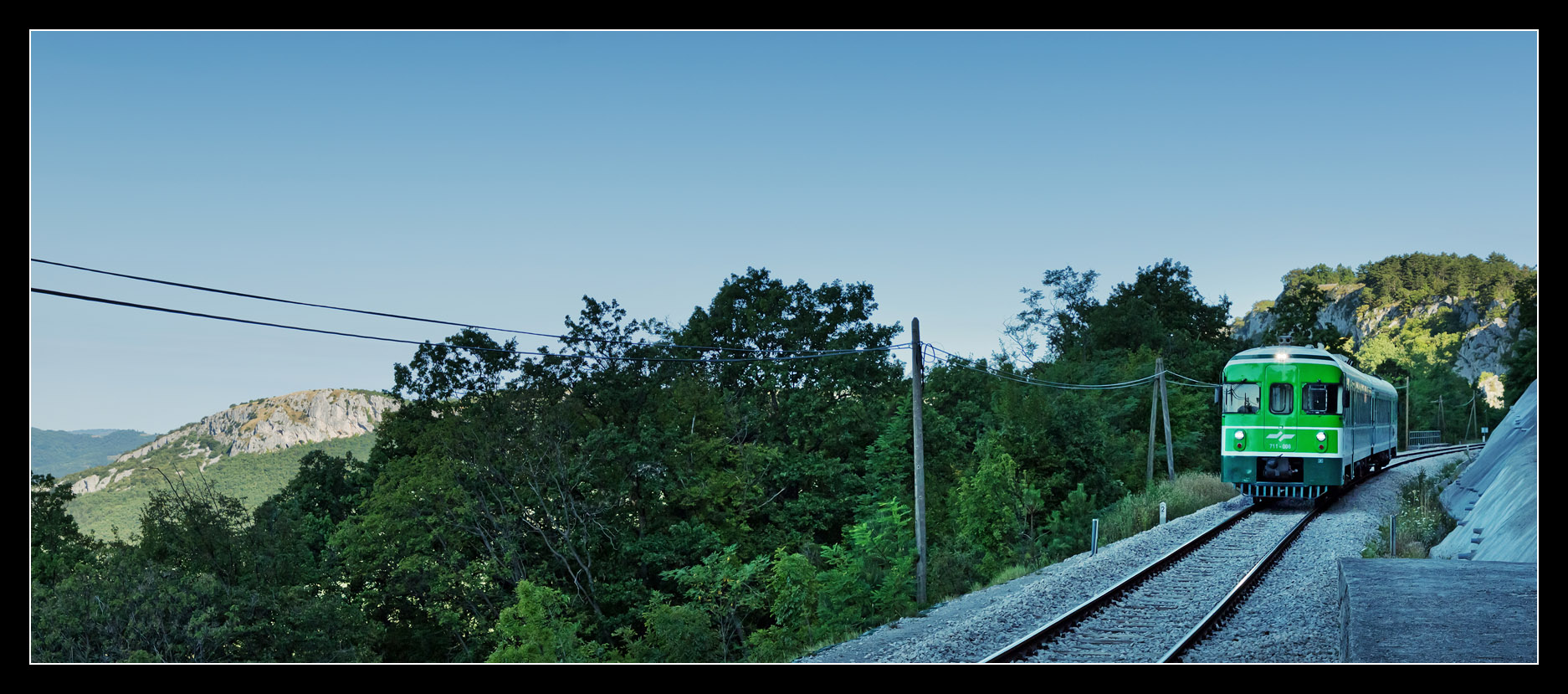 I also liked the view back towards the typical Istrian old town of Buzet. We started the chase, but a view at the online display showed: the train had stopped much shorter than scheduled at Buzet, departing almost on time. We missed it by three minutes at Roč.
August 22 2021
At a distance of only twenty miles from the hotel, the choice was easy to return another morning. B 1272 approached punctual to the minute this time. Thanks to the "third hand", I managed maximizing the number of pictures.
I waited at the grade crossing in front of the former station. The semaphore signals had been disabled and telegraph wires replaced by a cable.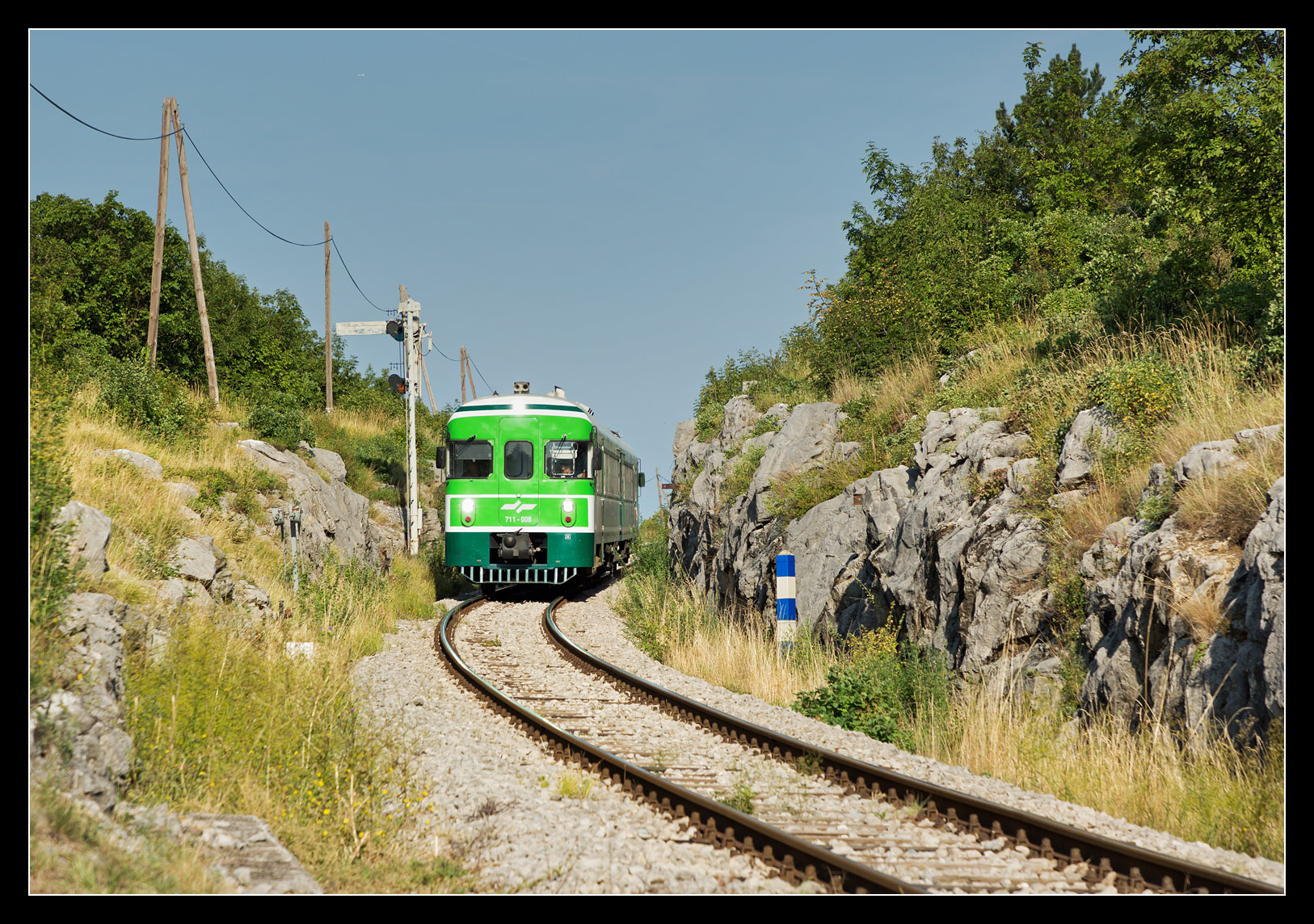 However, the old barrier still was operational.
August 10 2010
Istria has been neglected by me until now, rarely visiting the railroad between usual destinations like Koper or Rijeka. On a trip with Miško, we stopped one morning at Ročko Polje halt.
Then loco-hauled B 1472 "Istra" Maribor - Pula approached.
We followed to Pazin.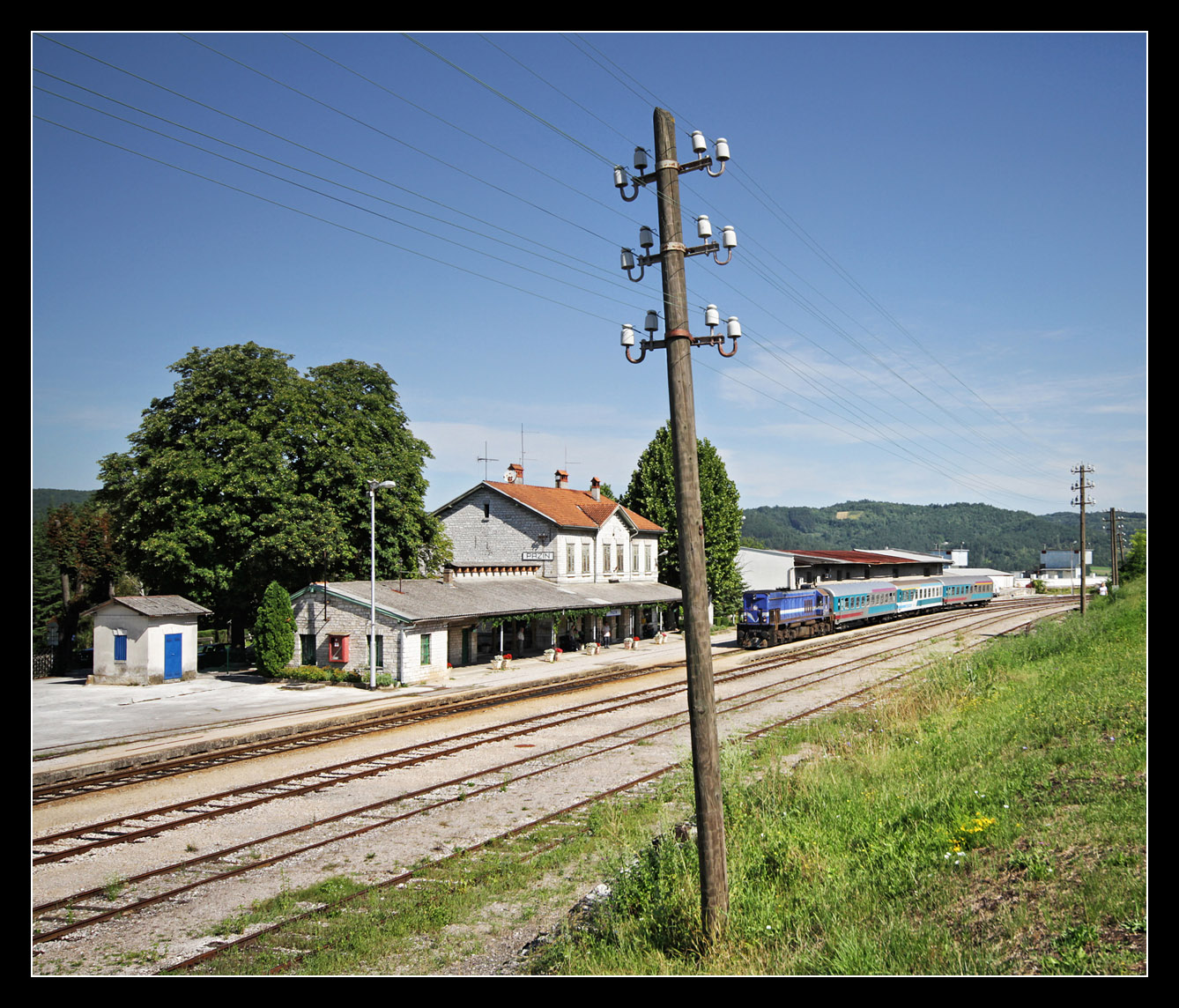 2062-036 departed after crossing a local, you can enjoy the GM sound here:
We planned to meet friends for lunch at a Konoba near Pazin after sightseeing on
August 19 2021
. I caught Pu 4707 Buzet - Pula in the vicinity.
The moon looked especially beautiful that week, seen from my balcony on
August 21 2021
including Jupiter to the top left.
August 23 2021
The first part of the ride home fell on the only rainy morning of the vacation. Through a small corner of Italy we reached Lipica where the horses outside had huddled together to a large herd in the rain. Next, I spontaneously decided on Gostilna pri Hribu at Povir for lunch. It turned out to be a great culinary choice, plus you crossed a stone bridge across the mainline right next to the restaurant. By chance, newly introduced EuroCity 135 Trieste Centrale - Ljubljana (- Vienna) was about to pass by in five minutes:
A short walk to the tracks later, the rain was already dissipating - you can spot the mountains in the distance already.
Our accommodation had been booked at Solkan. We drove up the steep mountain road to Sveta Gora along with some pilgrims before checking in.
LP 4213 Jesenice - Nova Gorica came by more than ten minutes delayed, so I managed to capture it on Solkan Bridge. The view into the distance showed freight ships and freight trains at Nova Gorica station including three "Reagan" GMs and an Italian D.345 while the DMU was arriving.
You have to walk along the mountain ridge to reach the viewpoint at a St. Franciscus statue, but then you get an unhindered panoramic view from Triglav mountain to the Adria Sea.
After our hosts had welcomed us with a glass of wine, we continued the stone bridge tour of this series with a walk to Solkan viaduct:
RG 601 Jesenice - Nova Gorica crossed the bridge 25 minutes late.
WWI battle cemetery next to the rails. A picture from Kobarid the following day to the right.
A footpath into town along the river Soča/Isonzo leads through the arch, international kayaking events are being held here.
Next morning,
August 24 2021
, the moon was reflected in the Soča. The new suspension bridge carrying a cycling path had not been opened yet.
We captured early morning Avtovlak 850 Nova Gorica - Bohinjska Bistrica from the cycling path. On video, also taken by the "third hand":
April 28 2006
Just a minute - are these really proper express trains? Alright: trains were diverted fifteen years ago, MV 297 "Lisinski" Munich - Zagreb at seven o'clock in the morning.
Soon afterwards the shutter of my Canon EOS 300D broke after two years of intensive use - the first and only among my DSLRs not working anymore. Luckily, Miško lent me his Powershot G6, so I captured Optima Express Edirne (Turkey) – Villach (Austria) at half past nine in best spotlight.
I already have shown pictures from here - half way up the mountain at Gostilna na Prevalu - in the report "Transalpina 2015/16 (50 p.)".
August 24 2021
The trip home led past Kobarid town and Mangart mountain across Predil Pass.
We drove on the federal highway, no one checked anything at the borders. I turned off the road for a short break at Thörl-Maglern.
I always wanted to come here early on a pretty summer morning so the rock faces would be lit. Now, with good timing and not a bad mood, Railjet 132 "Gondoliere" Venice - Vienna came along just having departed Italian border station Tarvisio at noon.
August 25 2021
We stayed overnight at Dienstl Gut with a room view of Hochosterwitz castle. I drove to a spot featuring the same before breakfast: Railjet 532 Villach - Vienna between Launsdorf and Pölling.
Practically meeting Railjet 639 Graz - Villach.
Railjet 131 "San Marco" Wien Hbf - Venezia S.L. passing St. Klementen church before 10 a.m.
September 5 2021
I drove to Breitenstein on the Semmering line early Sunday morning, sadly no very early public transport connection available anymore from Vienna.
Having arrived at the Spießwand panoramic spot, EC 104 "Porta Moravica" Graz - Przemyśl came by in first light across Kalte Rinne viaduct, the tallest of the Semmering railway:
Freight was rolling mostly at the same time, Rax mountain to the right.
No freight, but seasonal Nightjet 1234 Livorno Centrale - Wien Hbf ARZ.
I had heard "Split" had been pulled by a class 1142 the previous week... That did not sound like a 44... Yes, it was an 1142!
August 14 2021
Going to bed on the stone viaducts of Oton Bender,...
September 5 2021
... waking up above Kalte Rinne! Definitely a great overnight journey.
Sunlight filled Krauselklause gorge just in time for EN 1252. Around equinox, the early and late sun shines right into the Semmering valleys following an east-west-direction.

To the left a real encounter of NJ 1234 on Krauselklause viaduct and RJ 551 Vienna - Graz on the Kalte Rinne viaduct, to the right Nightjet 235/40294 Milano Porta Garibaldi / Roma Termini - Wien Hbf, also just meeting RJ "San Marco" to Venice.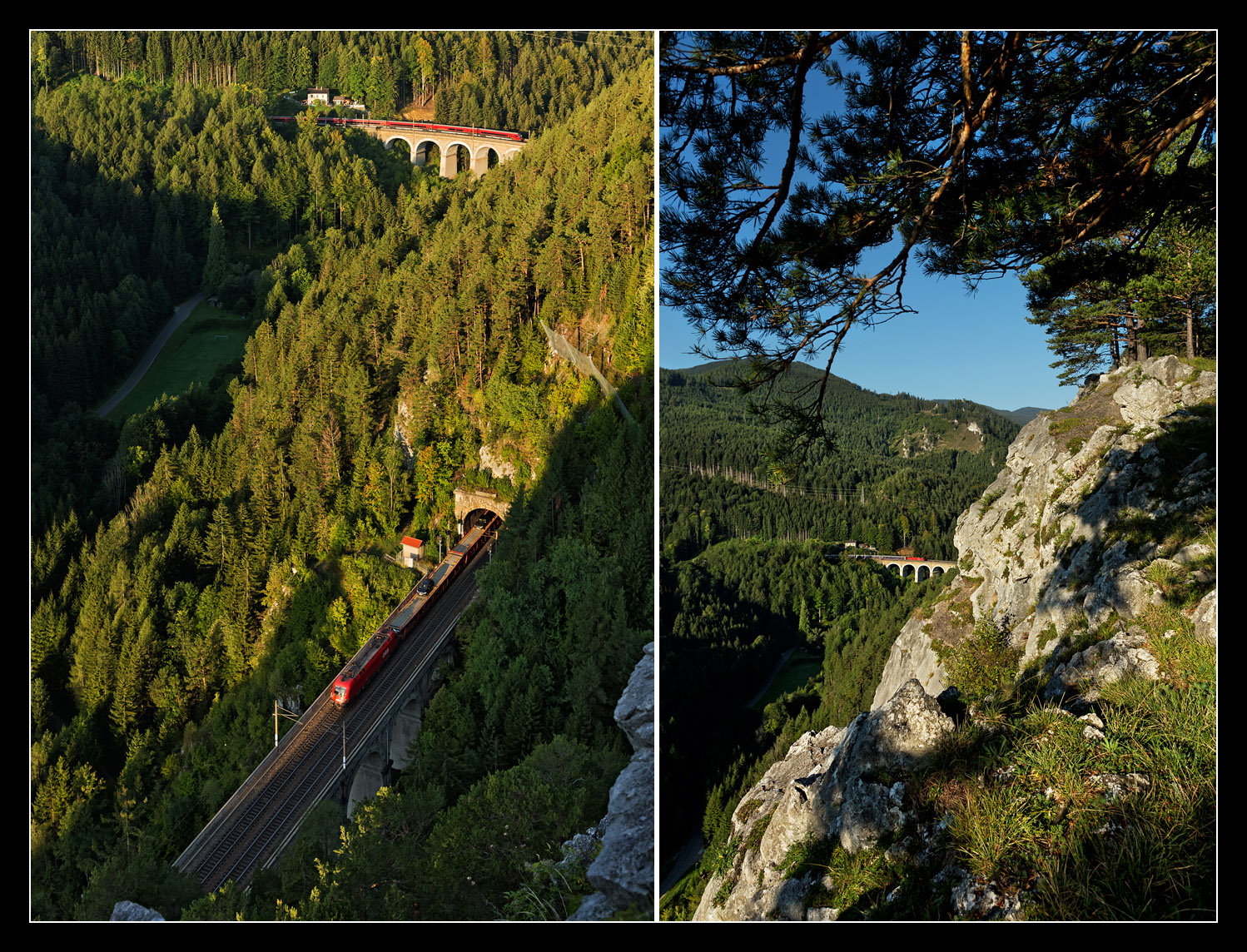 August 29 2021
Still nice old-style grade crossing barriers remaining at Stüber-Gunther-Gasse on the connecting curve to Wien Meidling. I played around with Gorillapod and iPhone one Sunday morning:
By chance, "checkerboard" 1144.092 hauled EN 1252 that day.
REX 7616 to Deutschkreutz with a typical Viennese ensemble.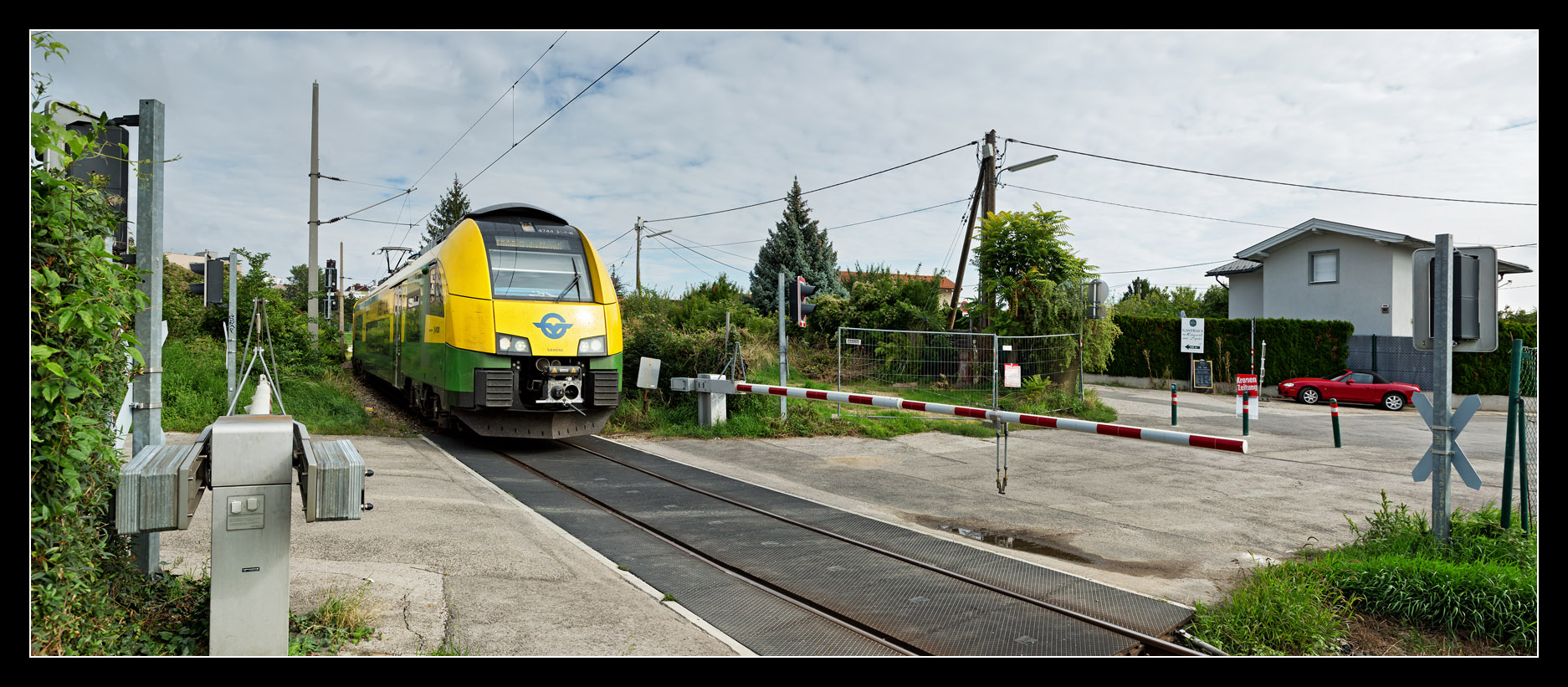 September 12 2021
A fully booked NJ 1234 departed Meidling past Matzleinsdorf yard.
The last "Split" of the season traveling to Vienna behind 1144.066, MÁV 480.010 switching in the background.
The large construction site in the background had been the now abandoned Wiener Lokalbahnen depot Wolfganggasse.
Railjet 72 Graz - Prague passing this colorful mix in front of Matzleinsdorf enginehouse.
June 20 2021
Any more idea for this series? How about "By subway through open fields"? Sure, where do you want to go? To Seestadt?
U2 subway meeting REX 2507 Bratislava hl.st. - Wien Hbf at Vienna Aspern Nord. Streetcar #26 in the background, coming from Hausfeldstraße station to the left where now no REX trains are stopping anymore.
I walked along the line into Marchfeld to a wobbly construction site pedestrian bridge replacing the former grade crossing Telephonweg still within Vienna city limits.
First ever EuroNight 1252 "Split" Split - Bratislava approaching from the Vienna skyline, during the weeks of June not yet diverted via Gänserndorf. Porta potty removed.
Marchfeld panoramic view, to the left center U2 terminal Seestadt. Porta potty and massive mobile crane removed (the bike was not mine but stayed in the picture).
Next time, we will continue with 2016s and international cars! :0)