Hi,
To the previous part of the series:
Regional Rail Express - 45: Venezia I/Citadella IV (50 p.)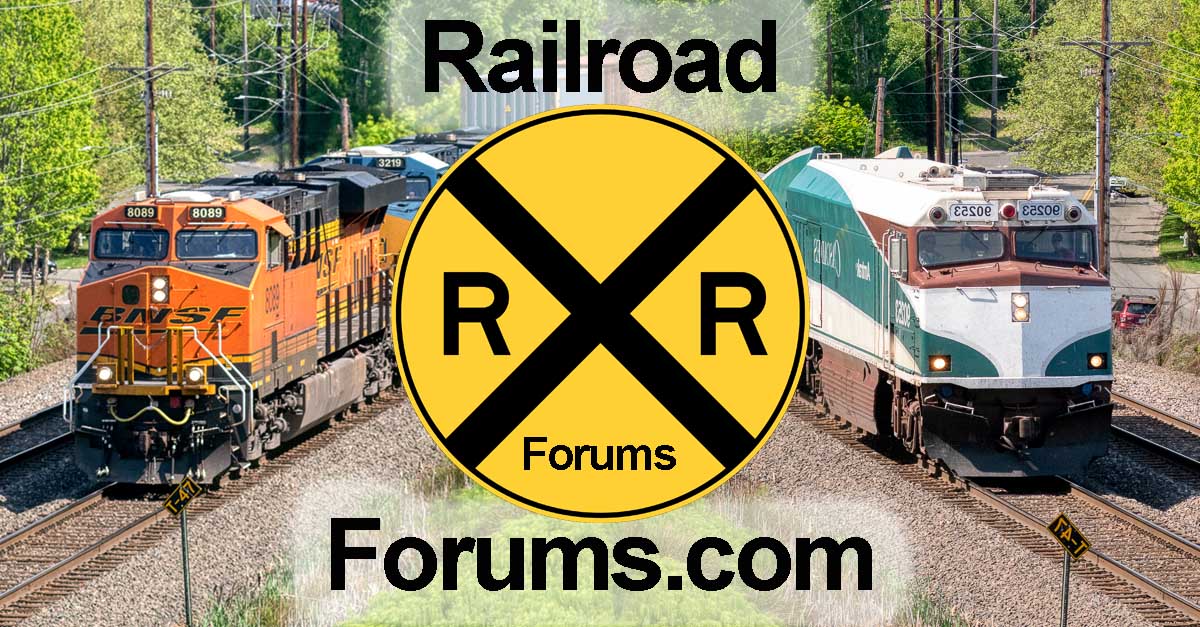 Hi, To the previous part of the series: Regional Rail Express - 44: Citadella III (50 p.) https://railroadforums.com/forum/index.php?threads/regional-rail-express-44-citadella-iii-50-p.18287/ August 19 2004 After visiting Pragersko, I had spent a short night on board the newly featured...

railroadforums.com
July 12 2007
Something approached behind "Brigitte Bond" in Slovenia...
April 23 2008
... EuroCity/Ex 100/101 "Jože Plečnik" Ljubljana - Prague - Ljubljana which operated 2006-2008, in 2009 only Prague - Salzburg.
EC 100 at noon on the Drava bridge in Maribor.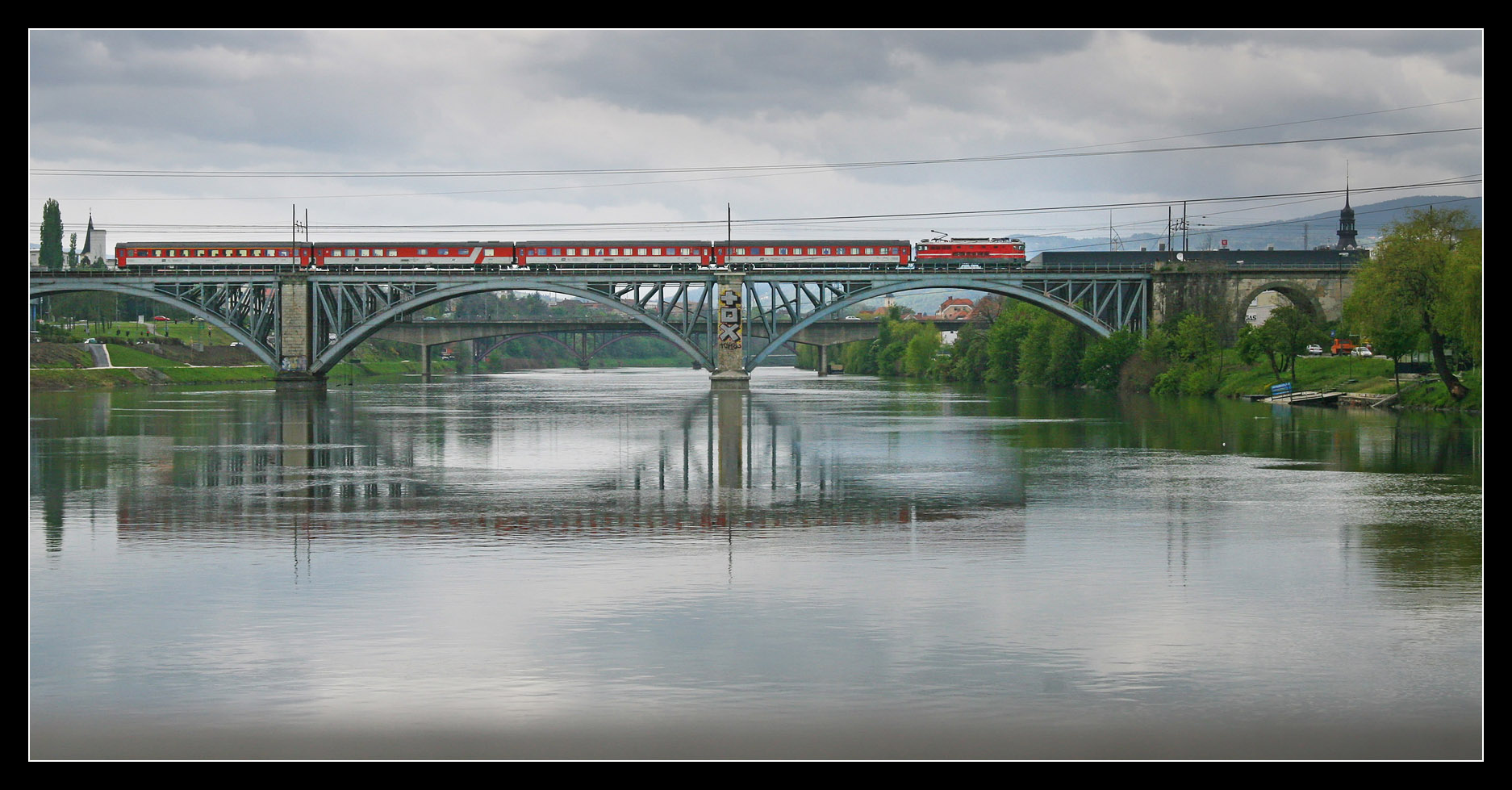 ICS 17 departing to Ljubljana.
June 21 2009
One year later, I captured the "Slovenian Španka" tour with "Reagan" and sun.
Maribor old city.
Plinthed 151-001 (Wiener Neustadt #4536 / built in 1903) in front of the main station.
Not very busy on
May 3 2019
, the local to Spielfeld was being replaced by bus despite the display.
Waiting time can be spent in the splendid Pendolino bar.
June 21 2009
ICS 14 arriving perfectly in front of its namesake.
342-006 had hauled (Ö)EC 253 Wien Süd - Maribor.
September 24 2003
Up till 2003, EC 151 "Emona" towards Ljubljana (to the left) conveyed through cars to Zagreb continuing as MV 437 "Zagreb" (to the right) 20 minutes later.
Switching towards "Emona" on the return trip,
October 1 2003
.
August 21 2015
Arrival at Austrian border station Spielfeld-Straß, changing engines from "checkerboard" to "broken nose".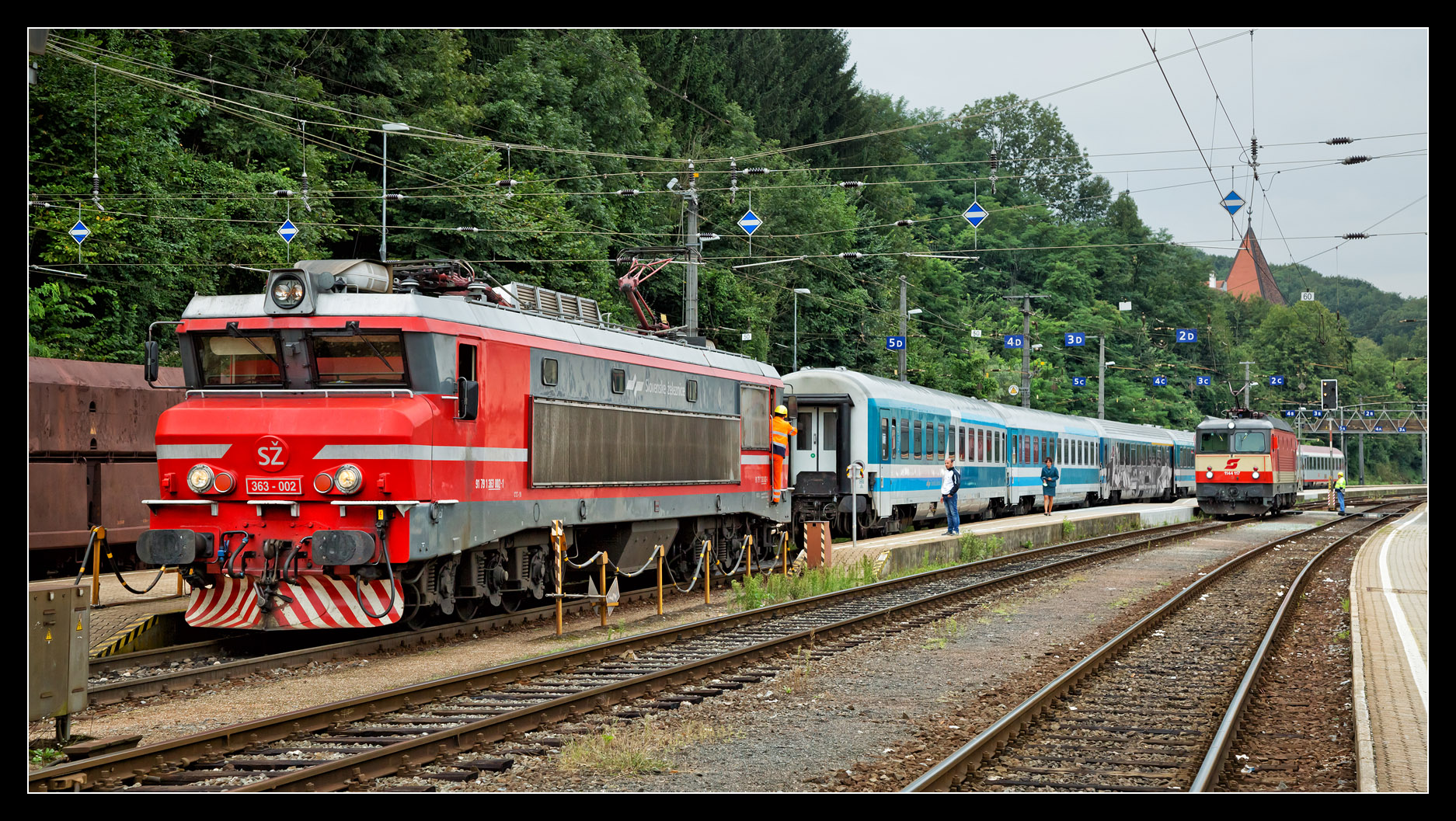 September 1 2003
362-042 and 342-006 pulled "Emona" to Spielfeld.
However, something was not right. The train did not move, pushing power was tried out but failed.
In desperation, DC power came to help - but to no avail. That way this unique combination of all three mainline ÖBB electrics plus an SŽ "Moped" could be captured...
The real reason for the power cut had been a car colliding with a catenary mast - so we changed to a replacement bus to Graz main station where we just reached the last InterCity of the day to Vienna - 654 "Ferdinand von Saar" consisting of 4010.019 - at 9:23 p.m.
Better prospects on
April 23 2008
.
April 7 2006
"Zagreb" bonus: EC 156 "Zagreb" to Vienna at Wildon, this express operated 2004-2006 into each direction two hours ahead of "Emona".
Another unique traction combination: DB 103.245 hauling charter D 13222 Ljubljana - Utrecht.
Modern Graz main station,
Oktober 26 2019
.
July 22 2008
I undertook cycling tours through Mur river valley to catch some of the last 4010s in service. Bycatch were the "Plečniks" at Stübing halt which has changed significantly since then.
First, EC 101 to Ljubljana slightly delayed at 1:56 p.m.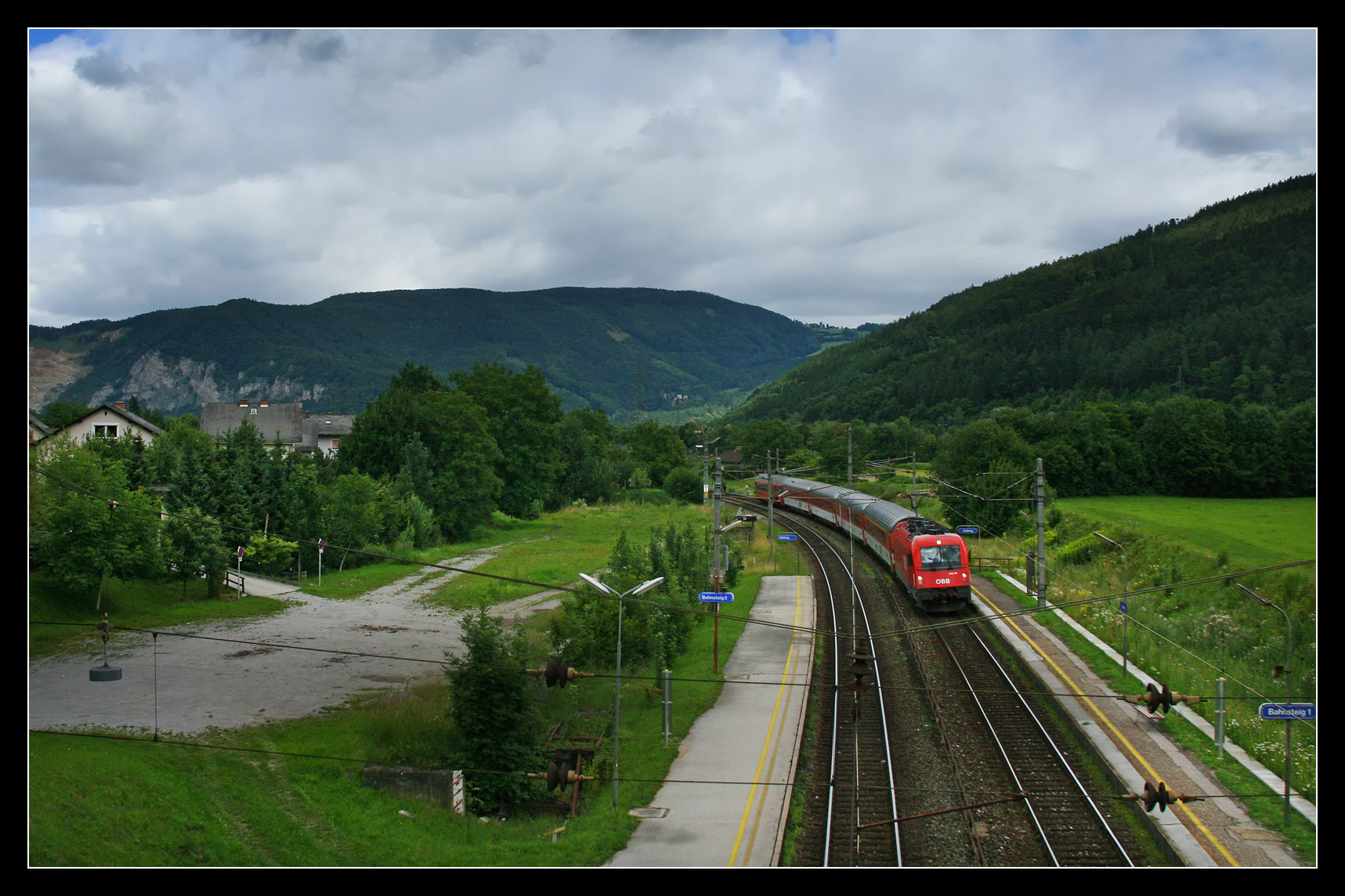 Almost meeting EC 100 to Prague exactly at two o'clock.
July 27 2008
Another sunnier tour five days later with EC 101 at the classic Stübing spot. Nowadays, a huge noise protection wall blocks the view here.
EC 151 "Emona" with additional Schlieren cars at the rear passing this rural idyll near Pernegg.
Something else in the same region,
April 27 2007
.
EC 100 "Jože Plečnik" Ljubljana - Prague arriving at Leoben main station on
July 15 2006
.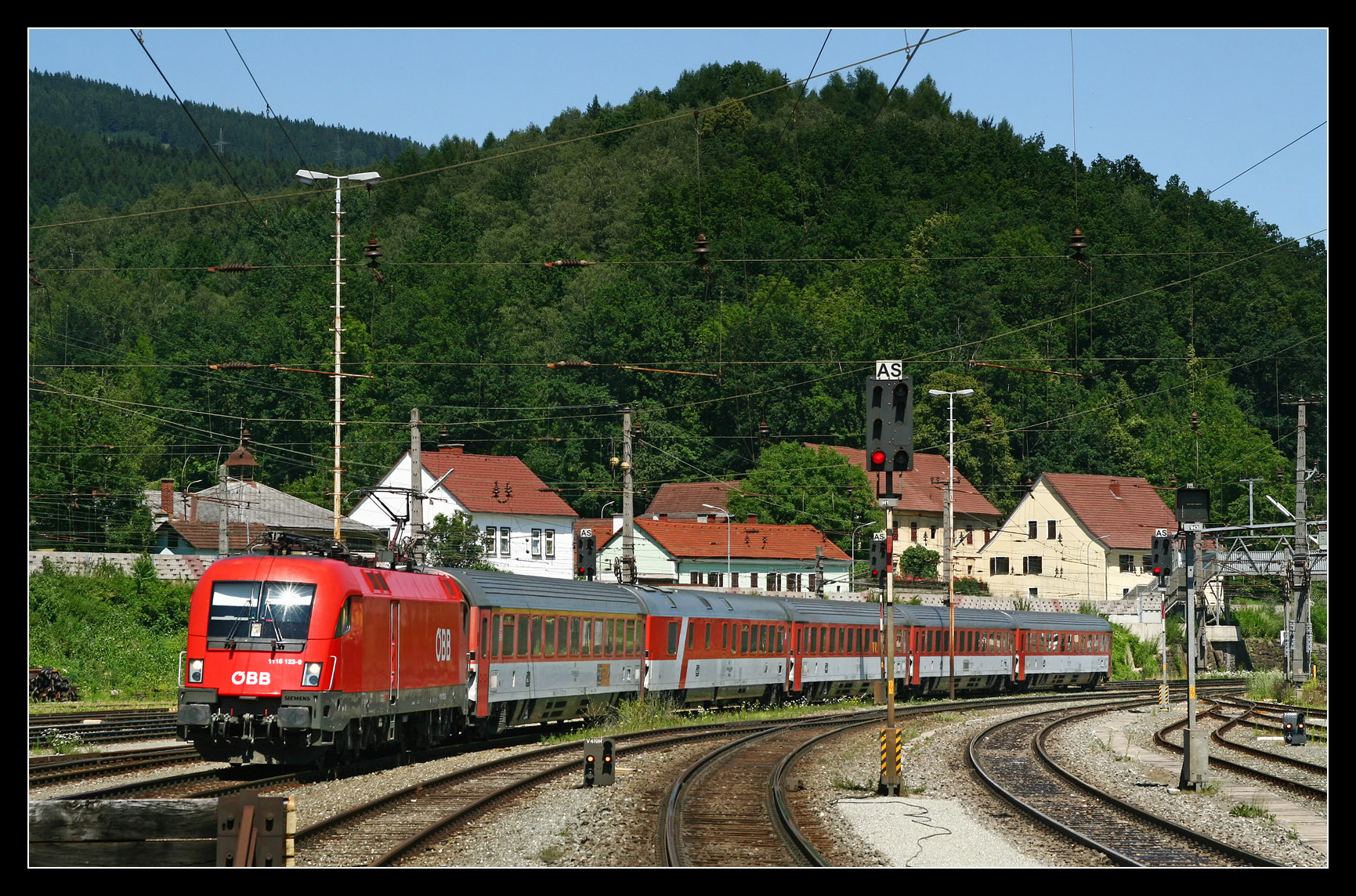 Quickly across Schober pass near Edlach,
July 19 2008
.
You will think: these were all mainlines until now! Well, sometimes "Jože Plečnik" was rerouted through Gesäuse during works on the Pyhrn line - for example EC 100 near Admont with pilgrimage church Frauenberg an der Enns in the background on
September 1 2007
.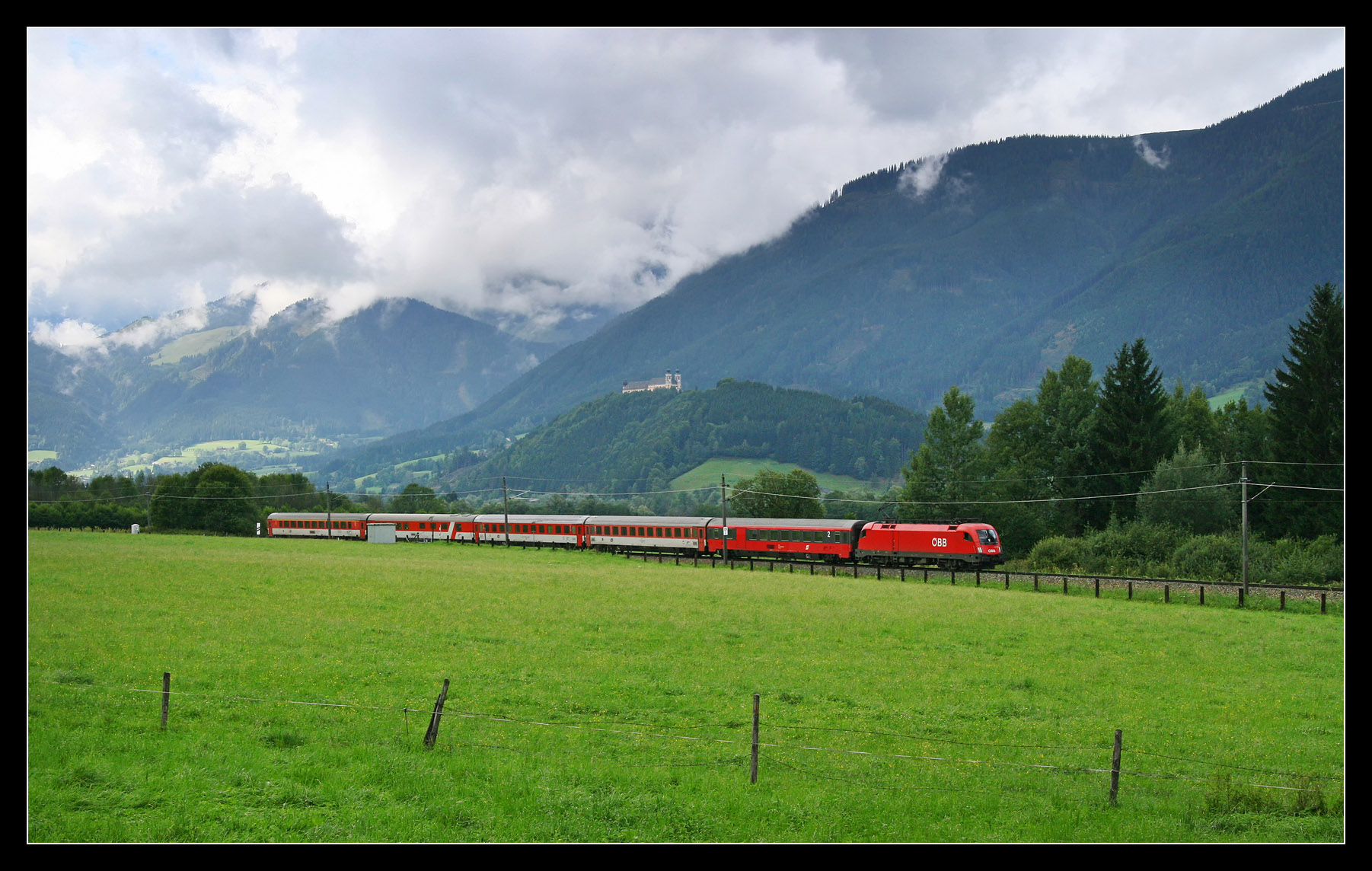 April 19 2008
EC 101 along dammed up river Enns near Weißenbach-St. Gallen.
We chased a special featuring 52.7612 and former GKB 50.1171 with big smoke deflectors. At the former station Gesäuse Eingang (start of Enns river canyon), nowadays only one track is left here. "Plečnik" was involved as the engineer of EC 100 stopped at this position and even allowed us to climb onto the loco for the pictures.
EC 101 with more distant view of Gesäuse Eingang at Krumau,
September 1 2007
.
EC 101 reached Selzthal regularly via the Pyhrn line on
May 2 2007
, Rudolfsbahn through Gesäuse in the foreground.
April 14 2016
I stayed overnight at a 1950s style, unrefurbished inn on Pyhrn pass for trains diverted from Semmering. IC 600 Graz - Linz approached in perfect afternoon spotlight.
April 15 2016
Rising early paid off.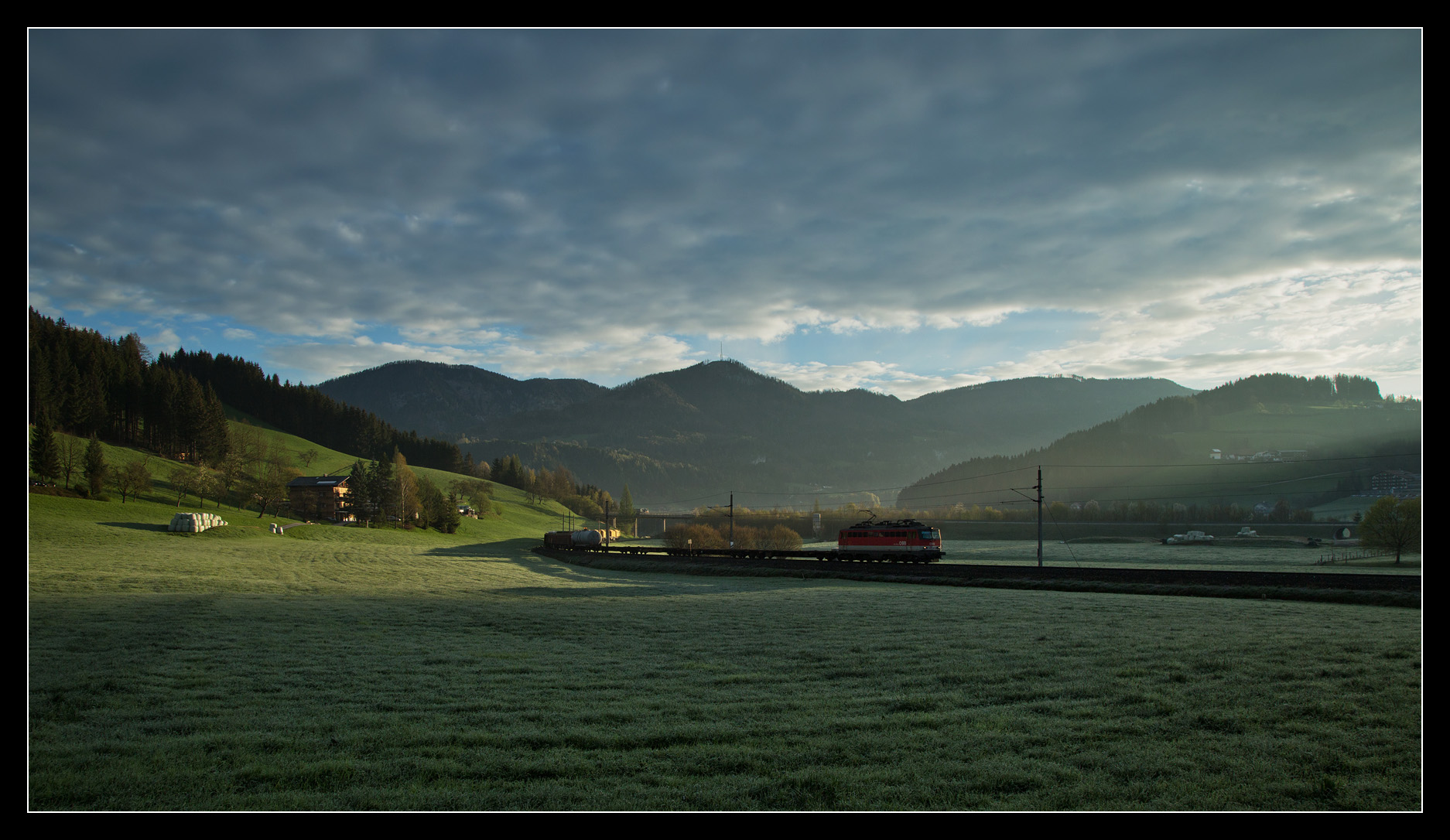 EuroNight 1238 from Livorno was followed at 8:20 a.m. by EN 234 from Rome under blue skies, near Spital.
November 5 2007
An afternoon excursion led me to Traun river bridge in the town of Traun, REX 3909 Linz - Selzthal.
EC 100 to Prague met me at 4:41 p.m.
August 9 2010
We spent a photo charter day on the Summerau railroad with 1141.21 and 1020.37 hauling regular freight, here at Nöbling.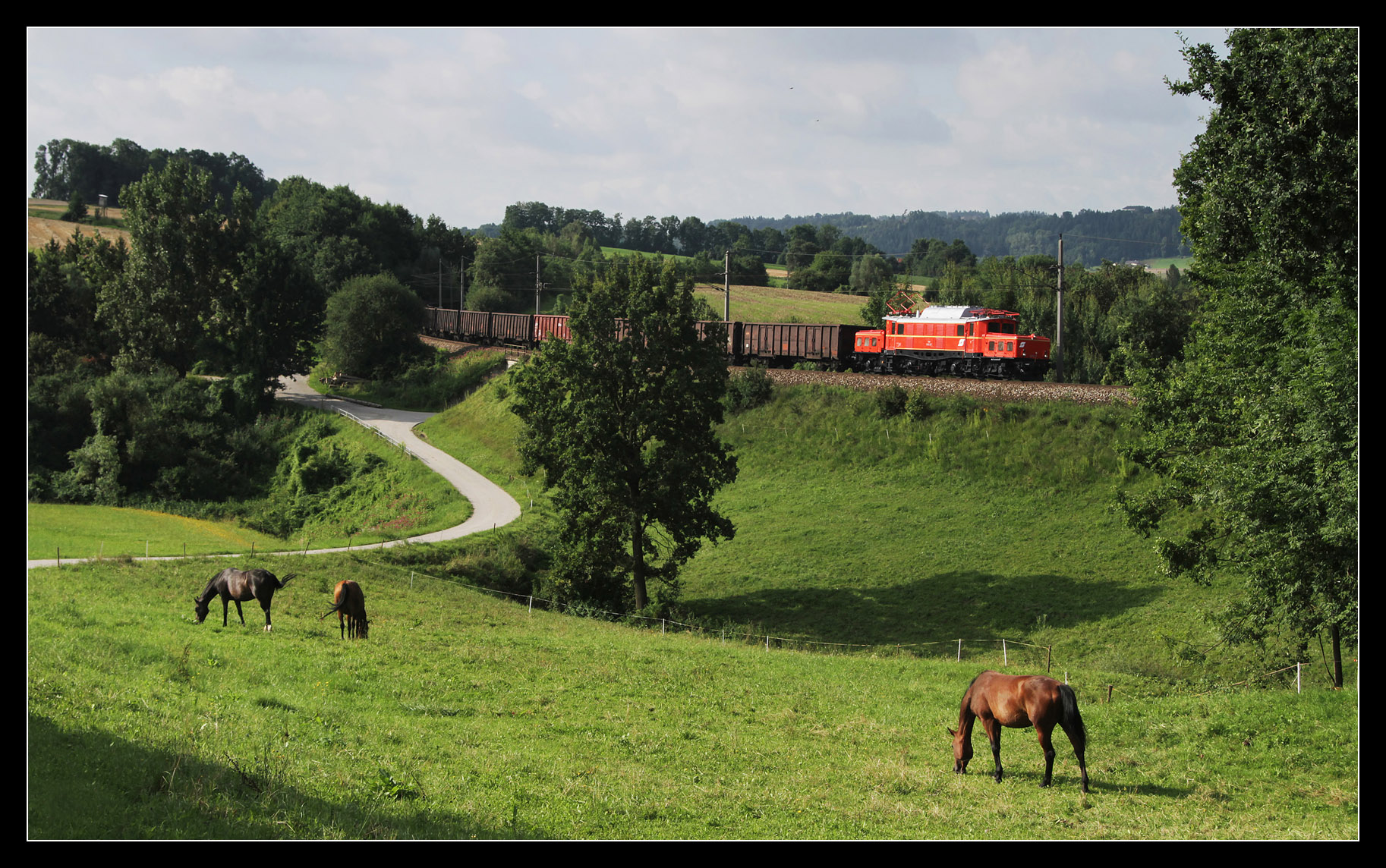 A virtual photo sandwich at Ledermühle south of Kefermarkt. Nowadays, this curve is not that freely visible anymore, but still a good spot.
EC 101 did not exist anymore that year - so, as replacement IC 101 "Anton Bruckner" Prague - Linz hauled by "fire department"-1116.250 through "Semmelbauer curve" at Freudenthal near Summerau.
A real sandwich including "Siemens" ad Taurus 1116.038 and REX 1935 České Budějovice - Linz at Wörgersdorf.
IC 100 "Anton Bruckner" to Prague had crossed it at Pregarten.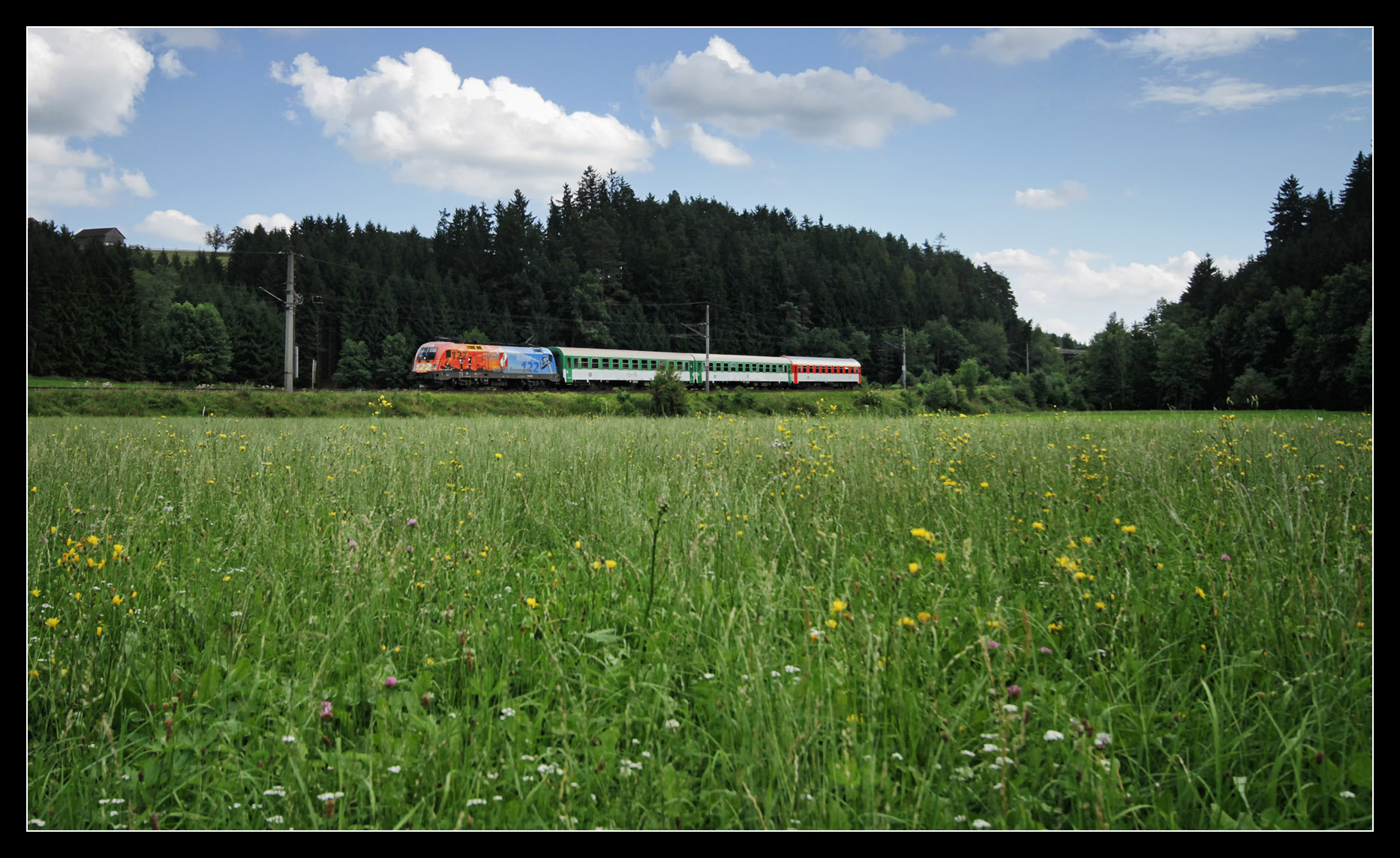 Last photo freight of the day at Lest.
Evening meeting at St. Georgen an der Gusen.
I boarded the through sleeping car to Zagreb of D 207 "Matthias Braun" Prague - Salzburg at Linz and traveled to Ljubljana - photos from the following excursion in the next report part: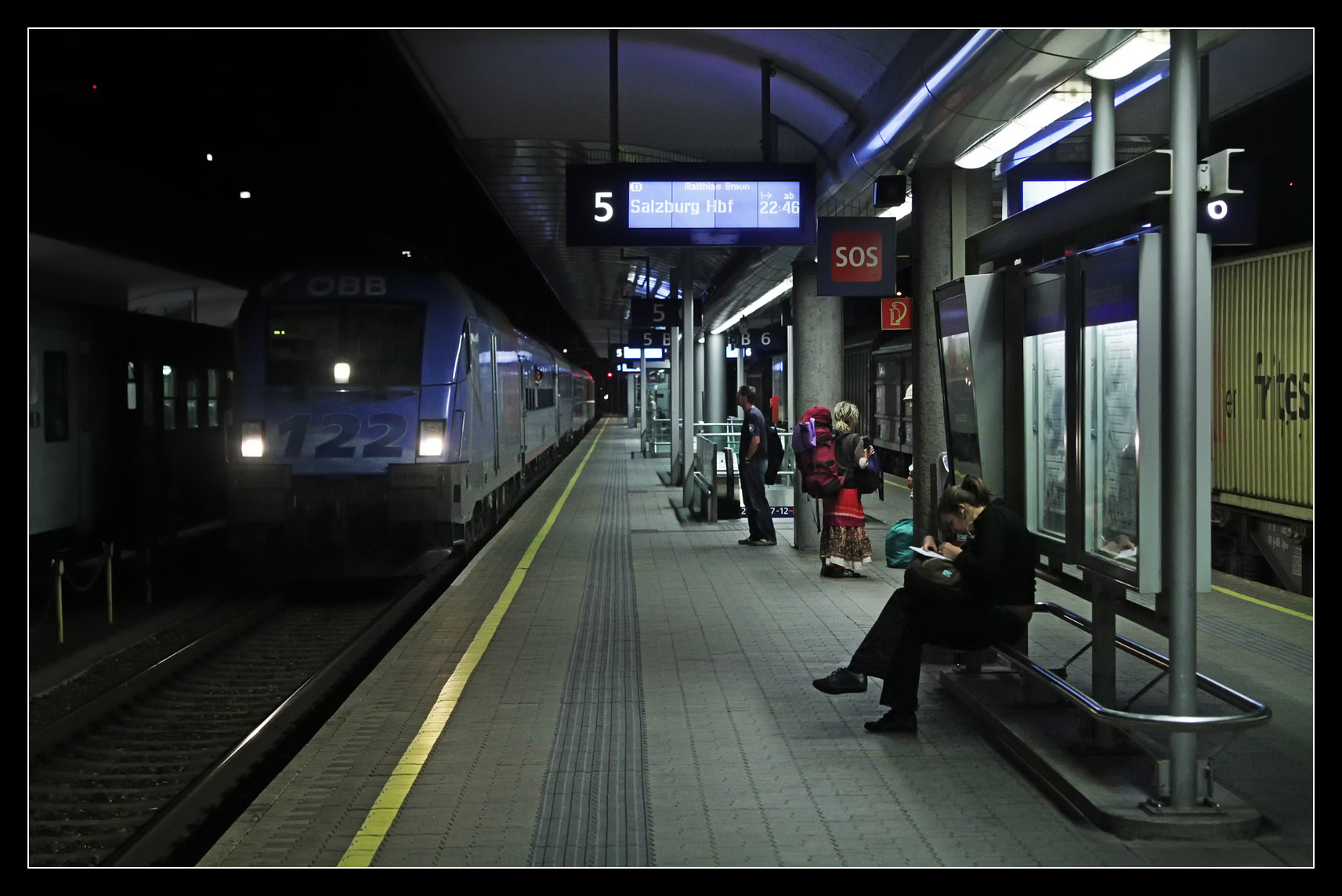 June 2 2019
We spent a comfortable weekend with beer at České Budějovice/Budweis, I used the Sunday morning walk along Malše/Maltsch river for rail photos.
Ex 1541 "Jižní expres" ("southern express") Prague - Linz as "time flows"-image.
Half an hour later, Ex 1540 "Jižní expres" Linz - Prague with a proper Czech foreground: a nohejbal square (footballtennis which had been invented in the Czechoslovakia of the interwar years).
Next time, we will roam around more southern realms! :0)