Hi,
To the previous part of the series:
Regional Rail Express - 44: Citadella III (50 p.)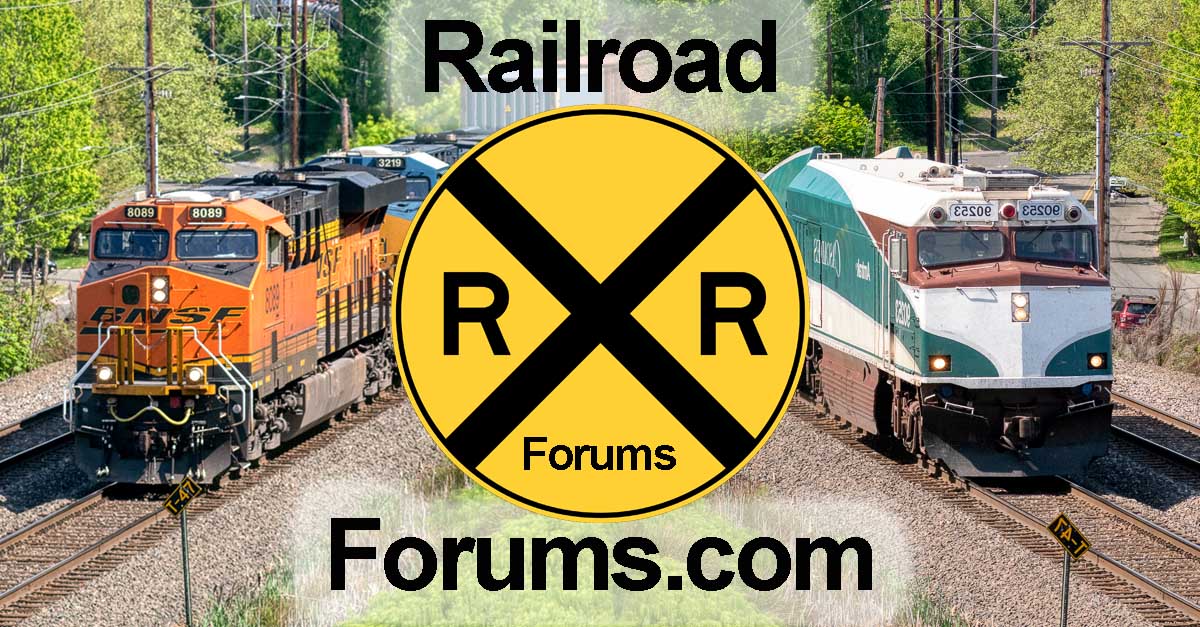 Hi, To the previous part of the series: Regional Rail Express - 43: Citadella II (50 p.) https://railroadforums.com/forum/index.php?threads/regional-rail-express-43-citadella-ii-50-p.18227 August 18 2004 I got off at Hajdina halt as first stop on my first visit of the line. IC 517 "Mura"...

railroadforums.com
August 19 2004
After visiting Pragersko, I had spent a short night on board the newly featured train of this series - EuroNight 240 "Venezia" Budapest - Venice - on its longest inner-Slovenian journey Maribor (dep. 0:25) - Sežana (arr. 4.28).
This trip took place shortly before Slovenia joined the EU, a 45-minute-stop for border checks at Sežana.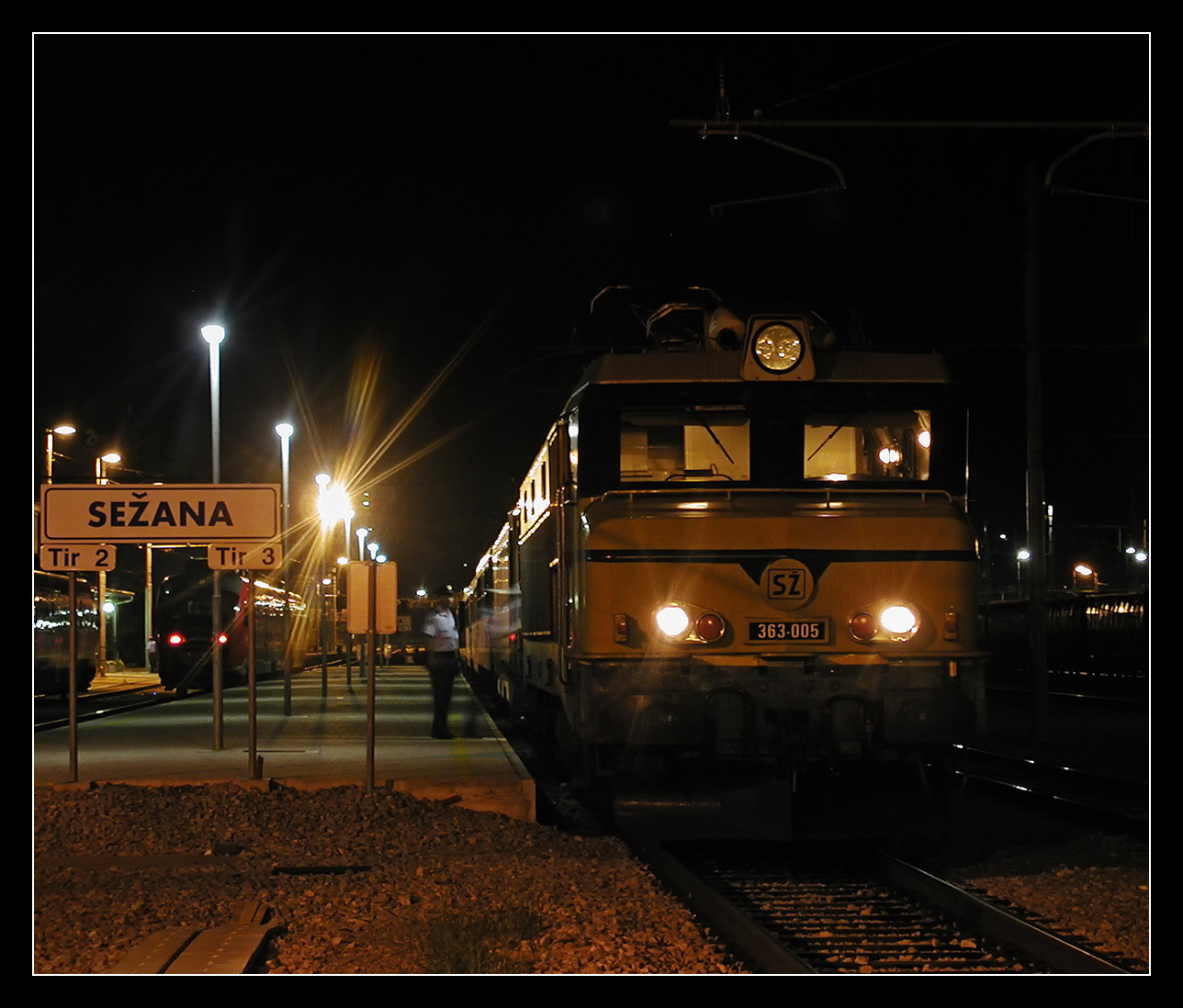 The engine was about to be changed 8 minutes later at the Italian border station Villa Opicina.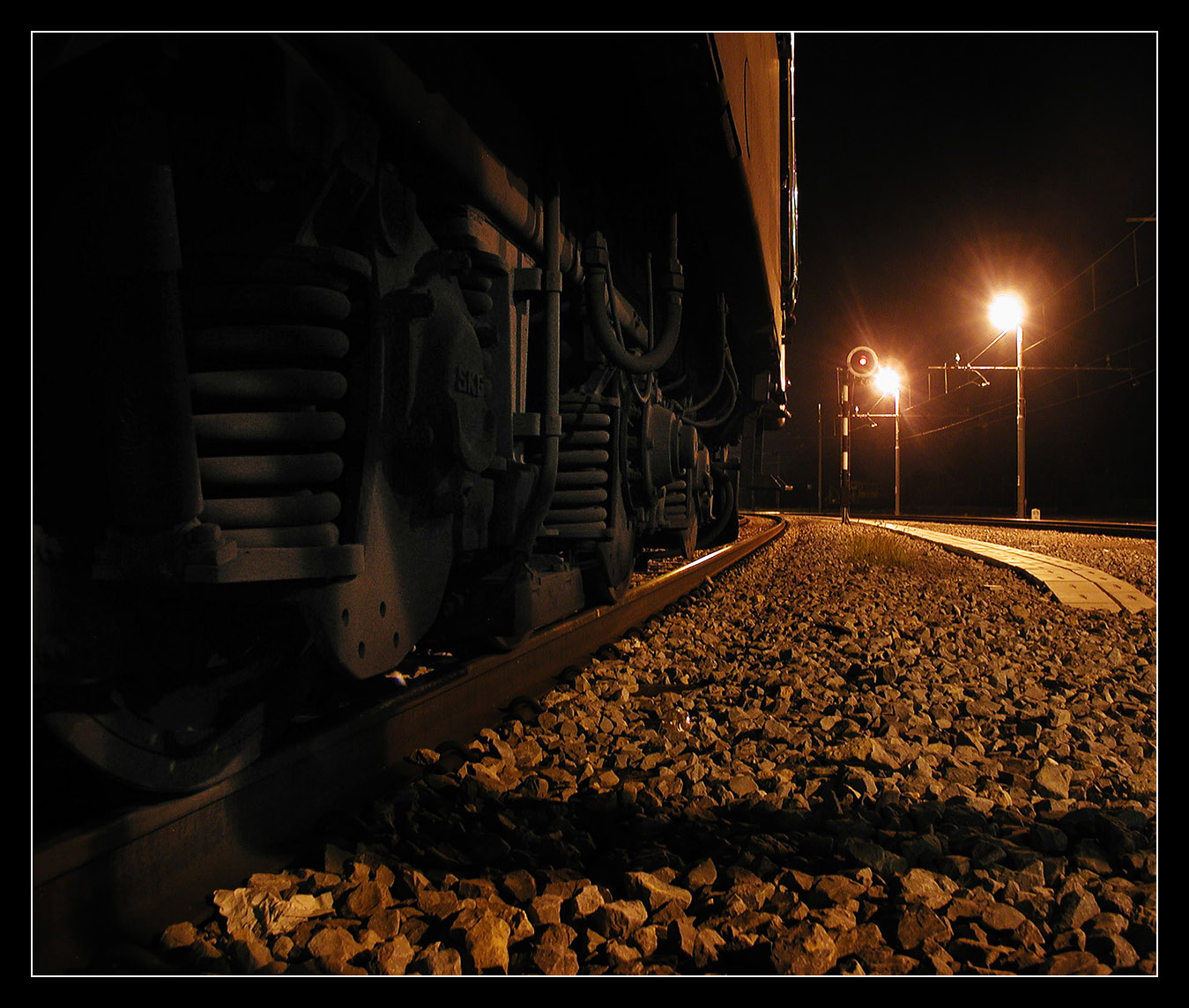 Punctual departure at 5:12 a.m. of the express conveying Hungarian, Italian and Romanian through cars from Bucharest. Its route at the time was even more preposterous - we will follow it in future report parts.

September 1 2003
My first rail photography visit to Slovenia took place in 2003, with a friend I traveled by "San Marco" Wien Ost - Villach - Jesenice - Nova Gorica - Sežana - Ljubljana - Zidani Most - Vienna.
IC 245 "Dráva" Venice - Budapest behind "Moped" 342-001 (Ansaldo / built in 1968) arrived at Ljubljana 15 minutes late: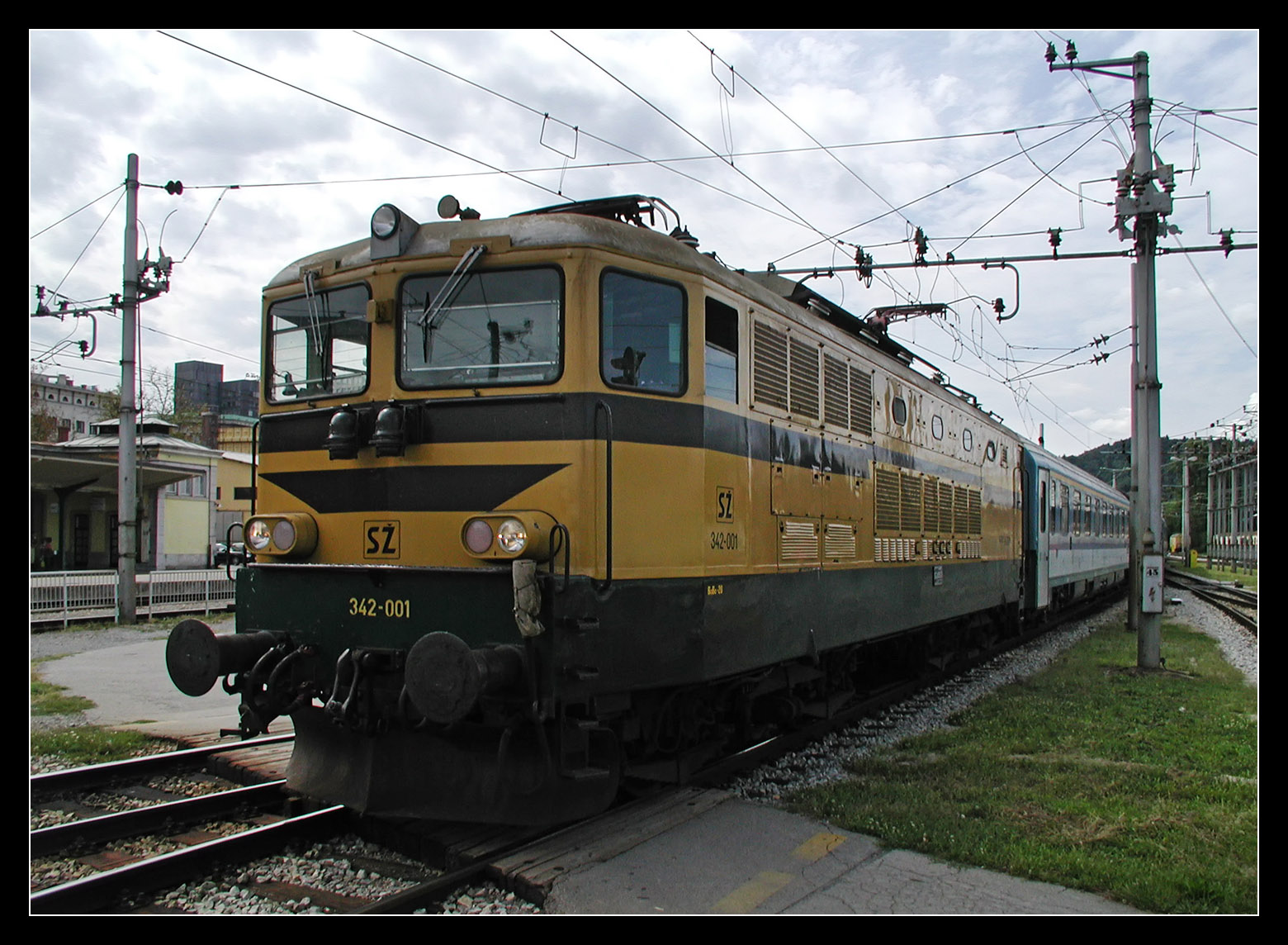 JŽ through coaches Venice - Belgrade were uncoupled at the back.
362-032 (Ansaldo #406 / built in 1964) waiting for departure with MV 483 "Ljubljana" to Rijeka.
A couple of class 713 DMUs at the dead-end tracks behind platforms 1 and 2.
I purchased additional reservations to our Interrail passes for a luxurious Pendolino ride to Zidani Most.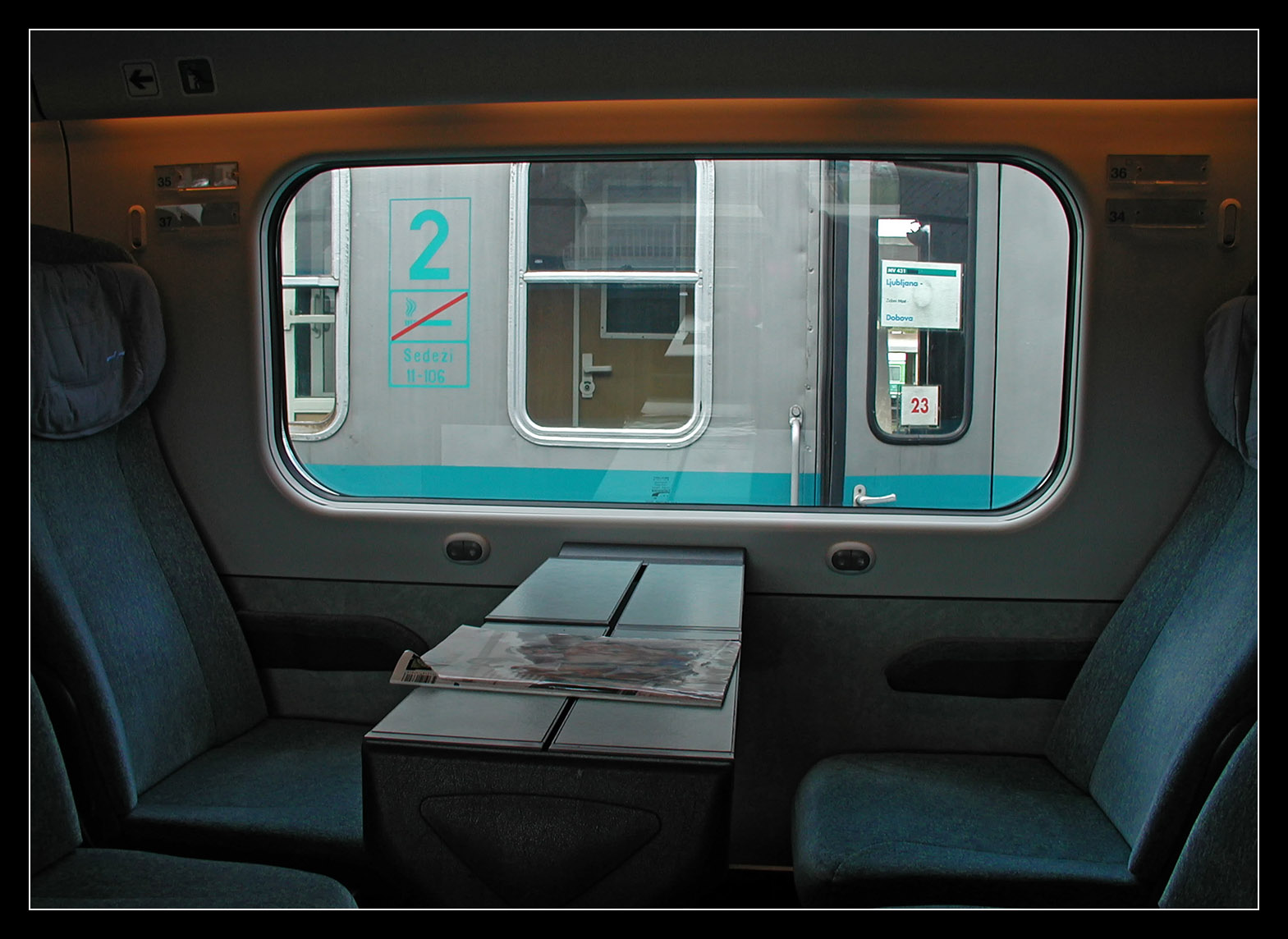 September 8 2008
On the way, you pass the tallest chimney in Europe - 1180 ft - at Trbovlje.
September 1 2003
Arrival to the classic junction Zidani Most at the confluence of Savinja and Sava rivers. I experienced my last memory of Yugoslavia at Easter 1991 here. The evening before, the incident at Plitvice Lakes had been shown on TV in the apartment of my grandmother in Sarajevo. We spent the night as lone passengers on the sleeping car towards Ljubljana. A polite attendant said good-bye to us at Zidani Most early in the morning. Soon, we continued towards Vienna. It took twelve years until this first visit back to former Yugoslavia.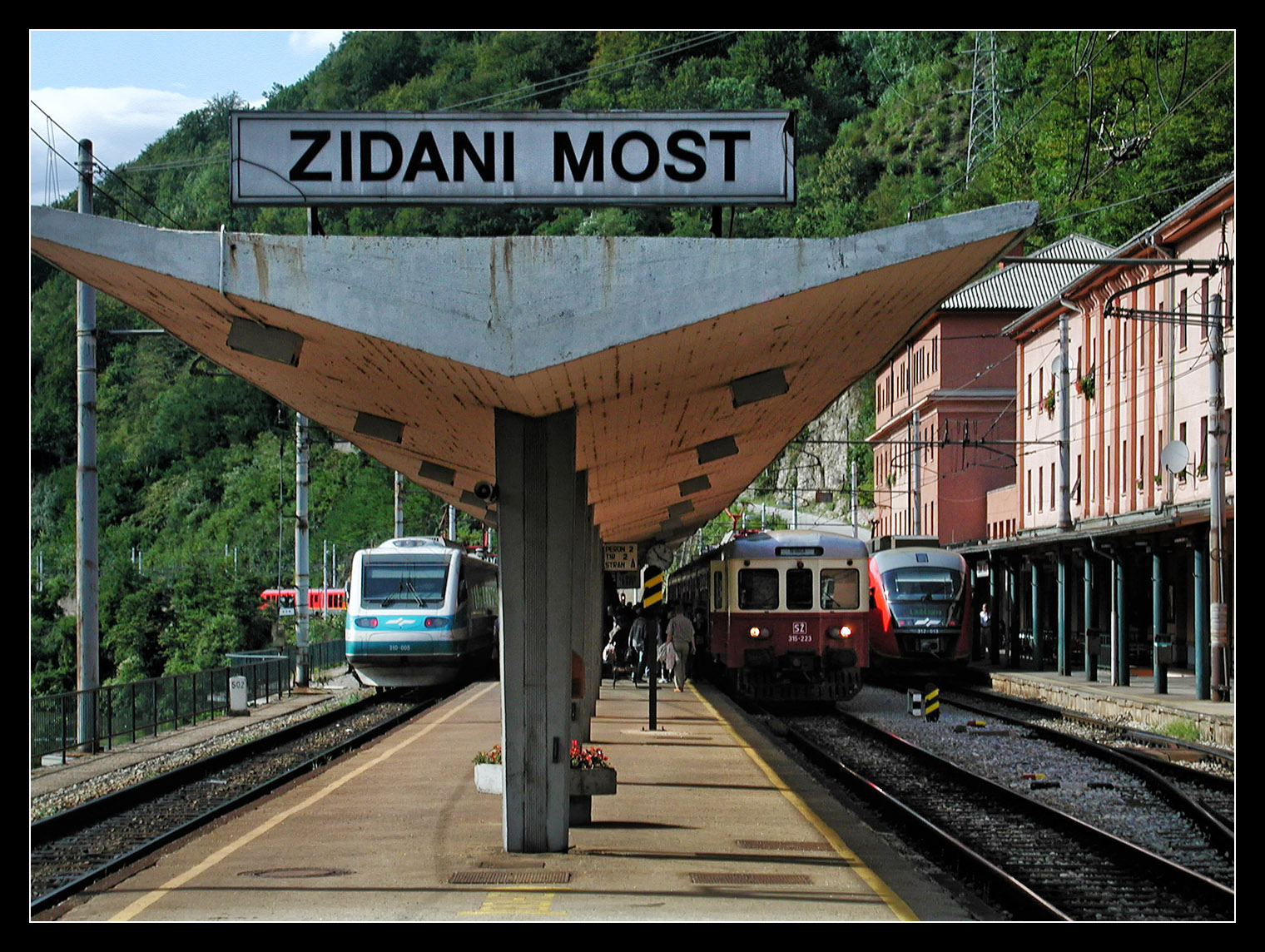 Almost new-looking SŽ 311/315 "Gomulka" (similar to PKP class EN57, Pafawag / built 1964-66) crossing one of the two Savinja bridges forming the Zidani Most track triangle.
Sava reflection.
Punctual IC 518 "Ptuj" Ljubljana - Hodoš.
July 26 2015
ICS 17 at the Maribor end of the track triangle.
An ore train from Koper approached, having followed Sava river from Ljubljana.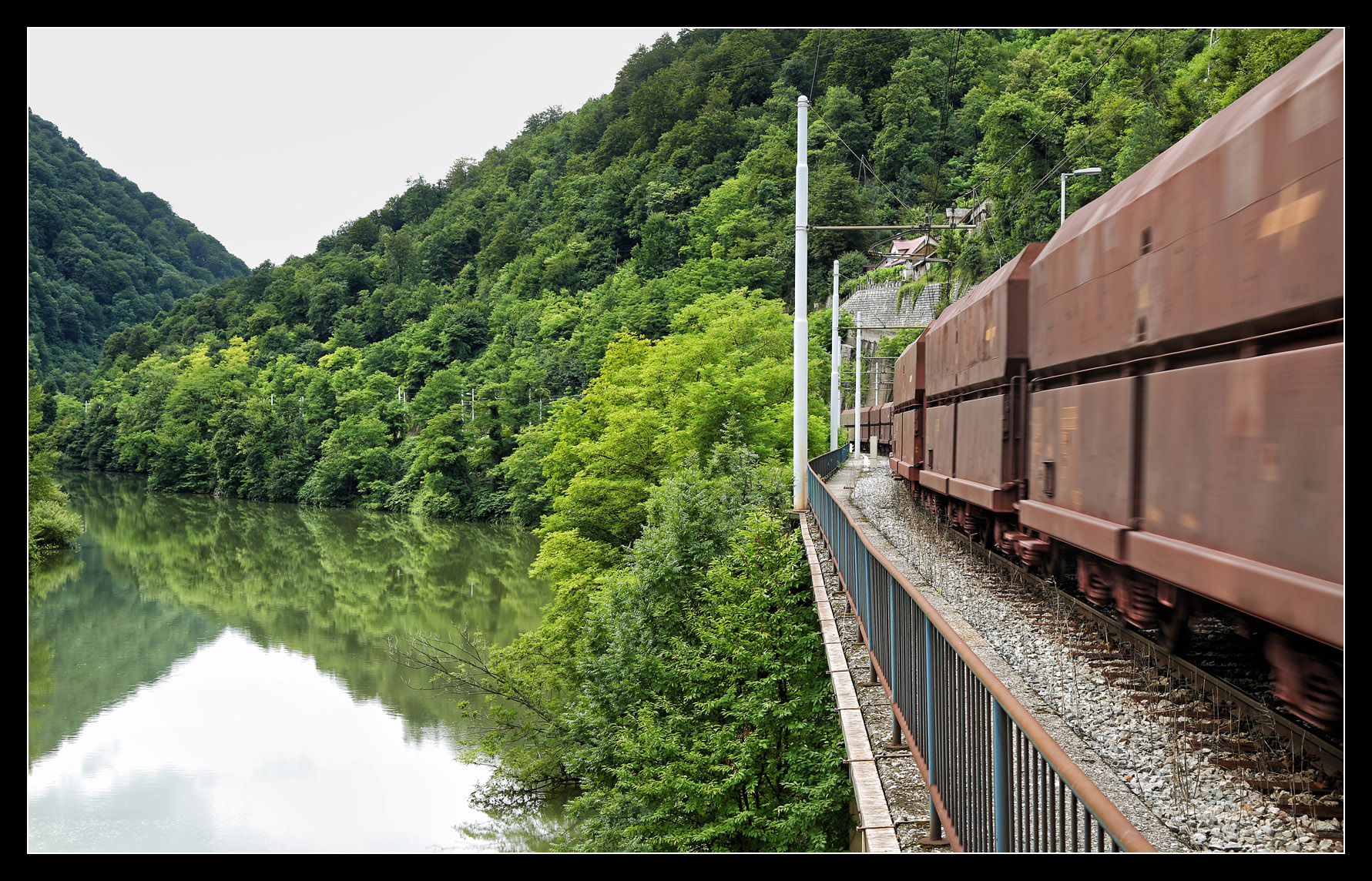 EC 210 "Sava" Vinkovci - Villach hauled by SŽ 541-101 in "Leonardo Da Vinci" livery.
Innovative lampshade at the station master's office.
"Brigitte" 363-017 (similar to SNCF CC 6500, Alstom / built 1975-77) on sunny
July 12 2007
.
Four years earlier - on
September 1 2003
- , the same engine still wore the "Adria Kombi" design and hauled EC 150 "Emona" Ljubljana - Vienna together with 362-024.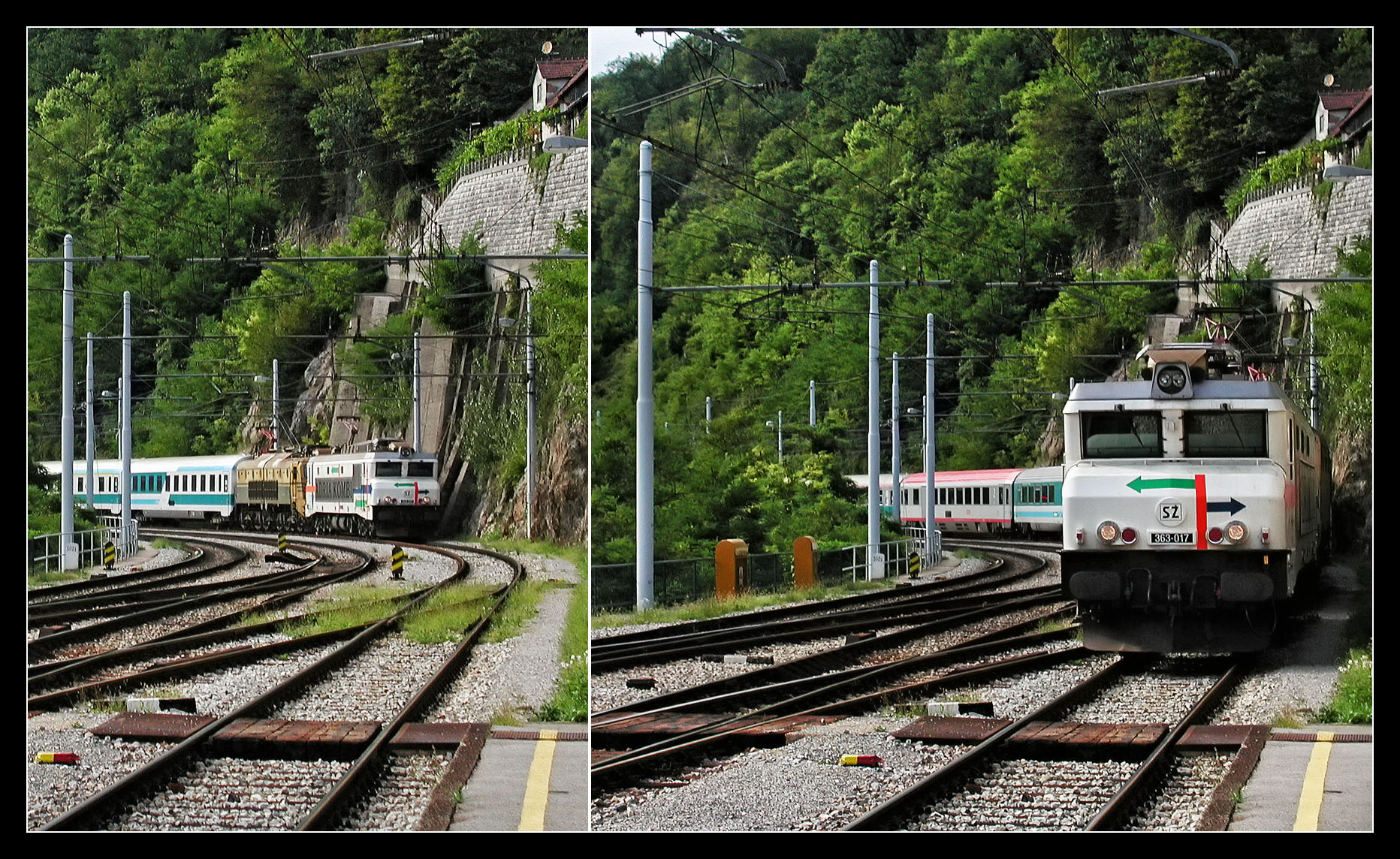 As monument a former industrial engine of Hrastnik glass factory in the vicinity (Vulcan works Hamburg and Stettin #2907 / built in 1913),
July 26 2015
.
August 21 2015
That summer, I undertook another trip by "Emona" to Celje.
Vehicles of different ages.
Old livery meeting in 2015. 363-005 remained the only of its class in nostalgic colors.
August 22 2015
The main reason for my stay can be spotted to the left, but first an excursion in morning fog. ICS 12 had been replaced by a Desiro EMU.
The fog was lifting as IC 503 "Pohorje" Maribor - Koper passed by Grobelno.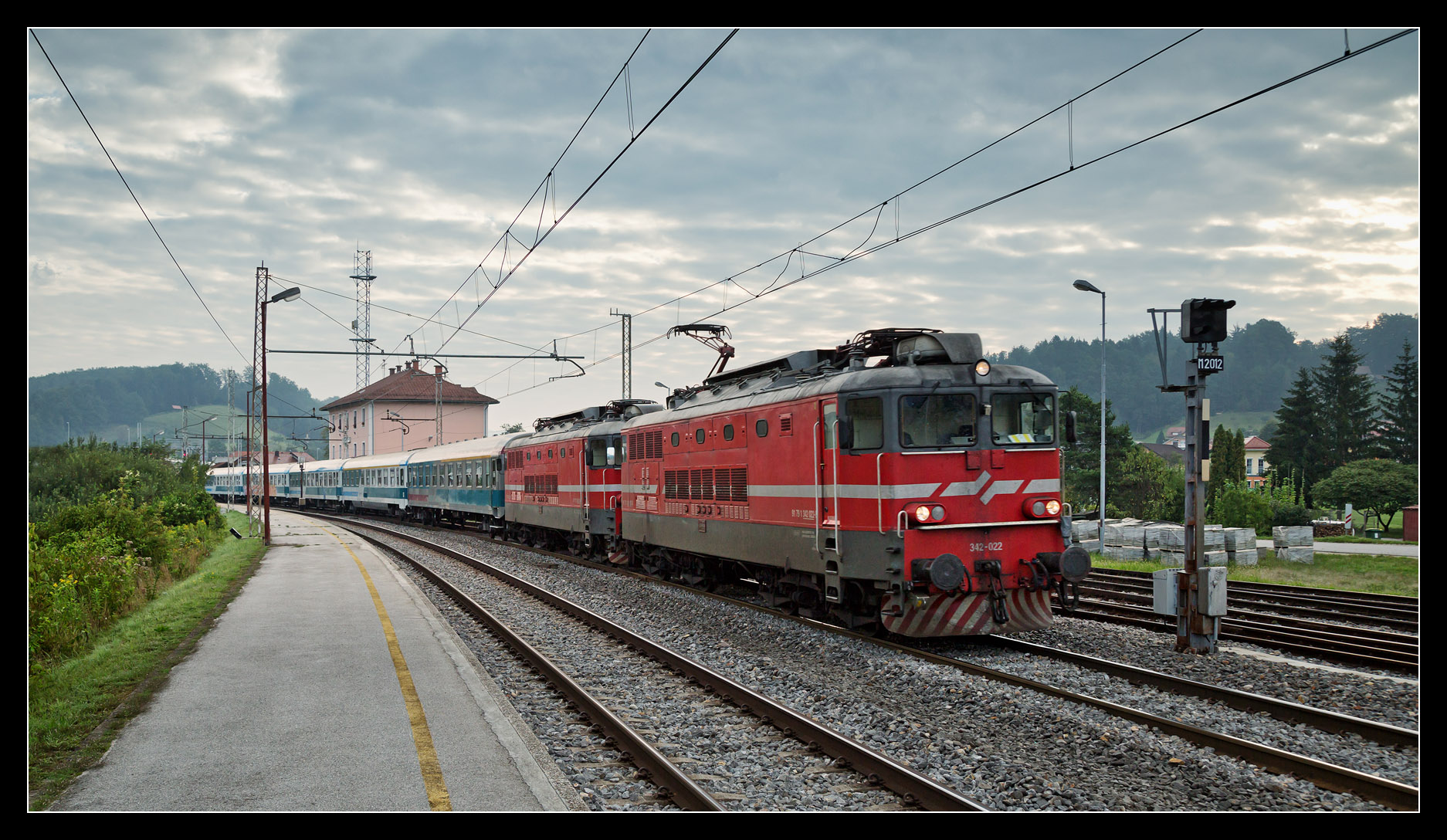 ICS 13 Maribor - Ljubljana already in sun at Završe pri Grobelnem.
MV 247 "Citadella" arriving to Celje at noon.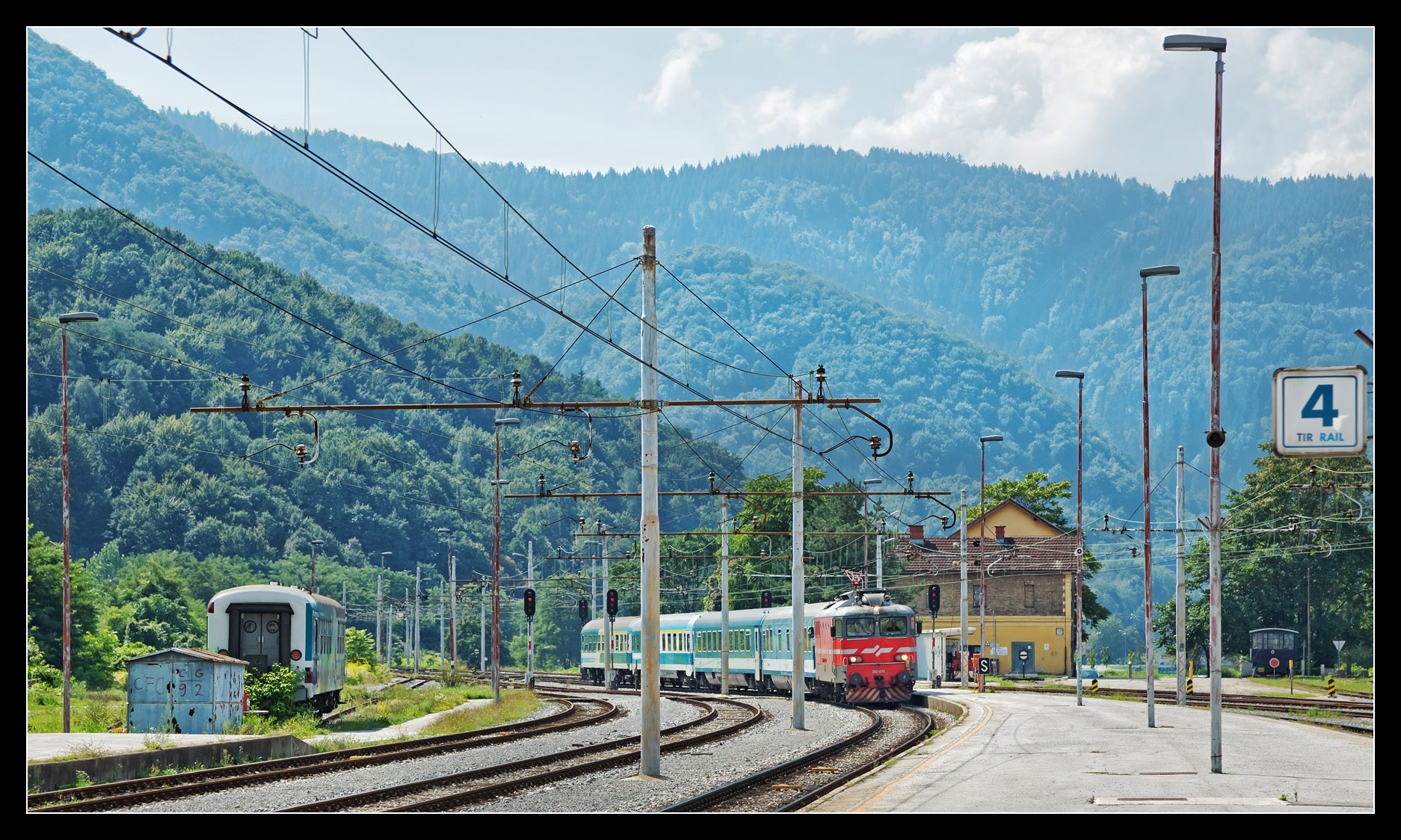 Plinthed 25-002 (Wiener Neustadt #5721 / built in 1922).
Spotlight at Pragersko on the tracks towards Hodoš.
664-106 thundered eastwards eight minutes later.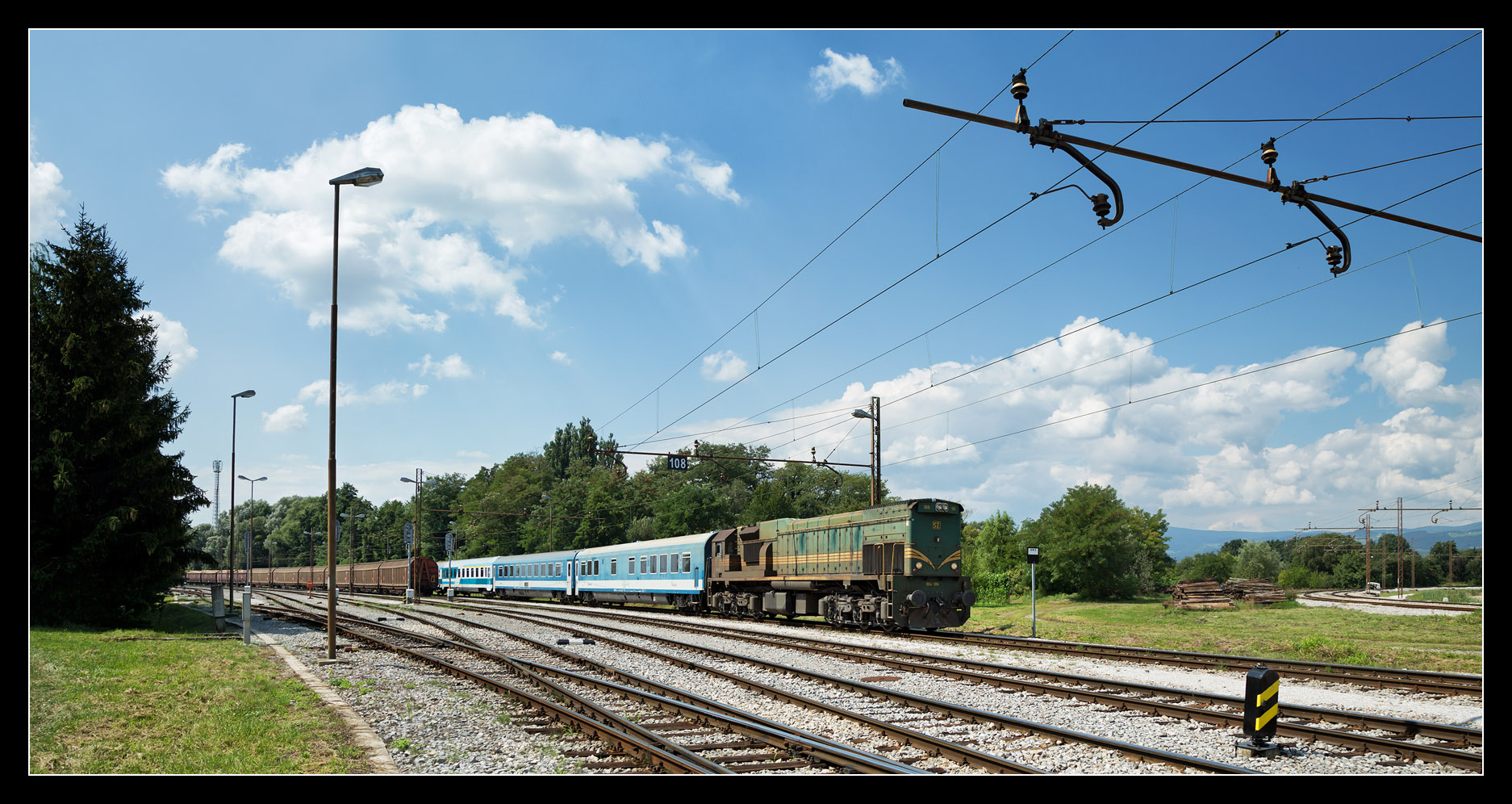 Some "Brigittes" waiting for freight trains.
August 18 2004
Shortly before sunrise eleven years earlier.
Busy track triangle.
My first photo from Pragersko passing it onboard "Emona" on
September 1 2003
with smoking 643-008 (Brissonneau et Lotz / built in 1967).
643-028 (Đuro Đaković #1082 / built in 1977) at the rear of a freight train towards Maribor,
August 22 2015
.
Southbound at the same spot on
June 21 2009
, the steamer is 125-037 (ex MÁV IIIe 2549, MÁVAG #514 / built in 1893).
"Citadella" Budapest - Ljubljana engine change in the evening of
August 18 2004
.
June 21 2009
Changing engines of RG 640.
No chance to hide.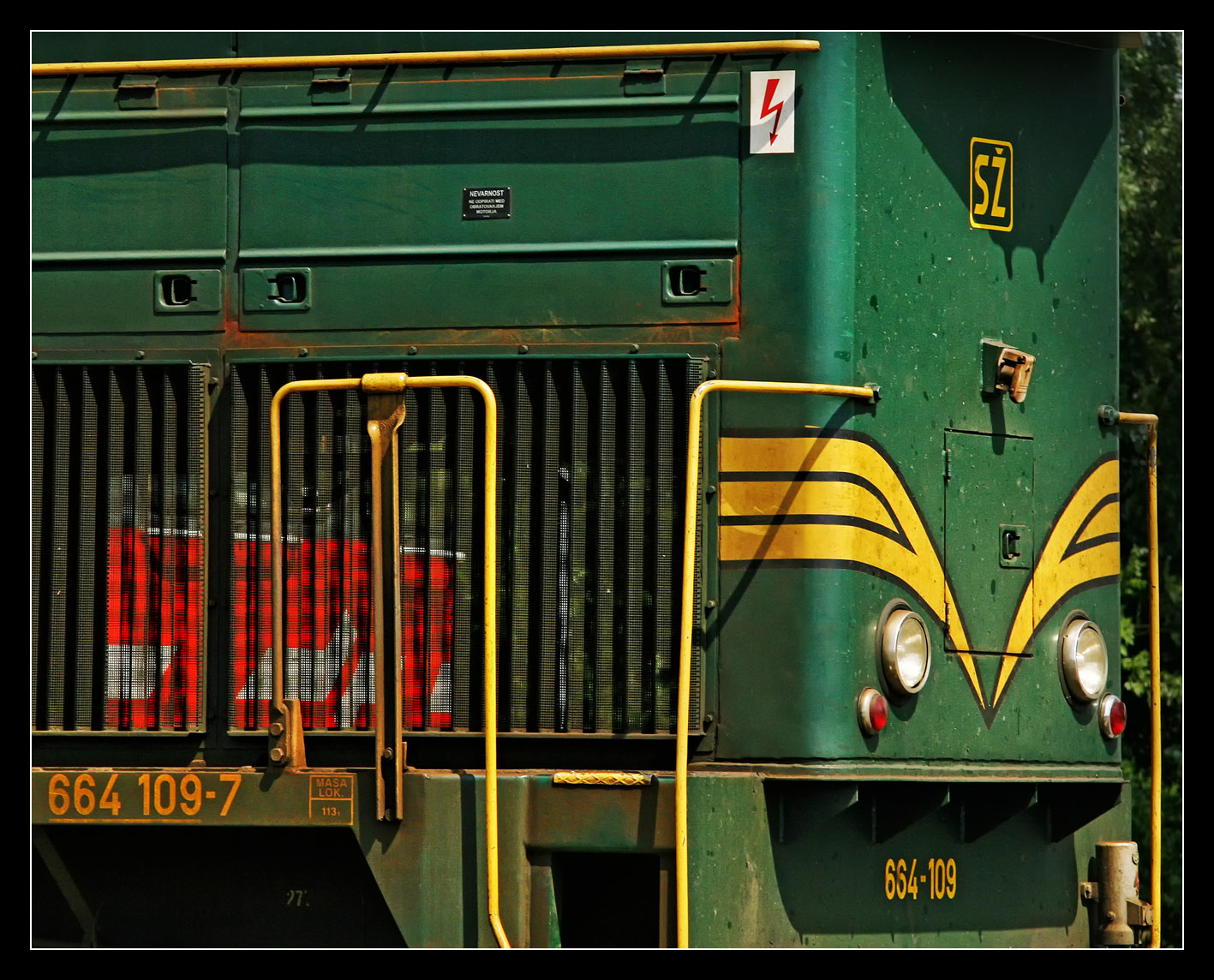 GM vs. fly.
EC 151 "Emona" Wien Süd - Ljubljana with through car to Rijeka behind the locomotive.
Saying good-bye to Pragersko with mount Boč in the background.