Hi,
To the previous part of the series:
Regional Rail Express - 42: Citadella I (50 p.)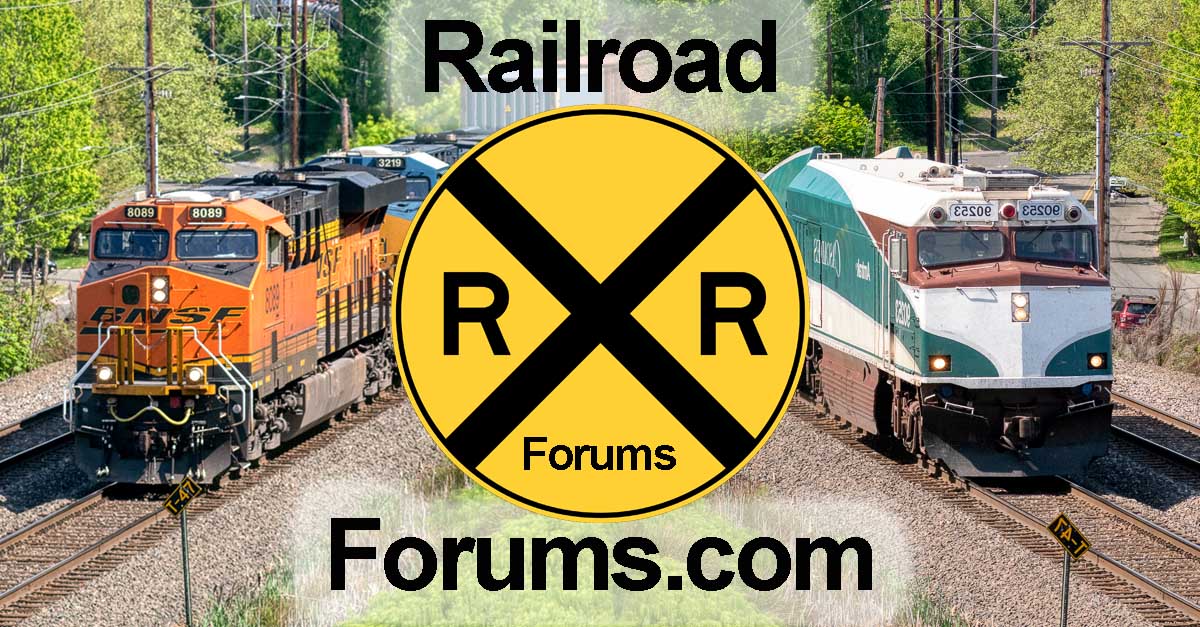 Hi, To the previous part of the series: Regional Rail Express - 41: Zagreb V (50 p.) https://railroadforums.com/forum/index.php?threads/regional-rail-express-41-zagreb-v-50-p.18045 July 17 2007 I boarded loco-hauled train 39215 conveying through cars Budapest - Zalaegerszeg at...

railroadforums.com
July 9 2021
Finally, some current photos for this series:
Friday morning, I took an IR "Helikon" from the well-known "DB castle" at Győr towards Lake Balaton. On the way to Kaposvár, these Desiro DMUs operating every two hours via Pápa reverse direction a full three times. The old infrastructure of the Pápa line still remains intact, however, most loco-hauled passenger trains have disappeared.
I took a break on the way to the lake at Jánosháza. Soon, Romanian-built DB Cargo Hungária Softronic "Phoenix" 478.001 came by hauling northbound freight, a prettier perspective was being blocked by a parking juggernaut.
Another ÖBB Taurus with container train followed soon as I had crossed busy highway 8. IR 9604 "Helikon" Kaposvár - Győr could be captured in a nearby field, extinct volcano Somló in the background.
IC 954 "Göcsej" Budapest-Déli - Zalaegerszeg in the opposite direction, then I returned to the station due to thunderstorm clouds gathering overhead.
The semi luckily had continued on the road, so I managed to capture this top view of the village with VESz 9525 Zalaegerszeg - Celldömölk.
What do clever storks do during looming thunderstorms? No, they don't wait to get roasted in their nests, they move out of the way.
VESz 9524 Celldömölk - Zalaegerszeg reflection in the station timetable board.
Our punctual star train: IC 247 "Citadella" Ljubljana - Budapest-Déli. A fire had broken out on the embankment of the highway in the bone-dry landscape, firefighters arrived soon afterwards.
July 11 2021
Returning home, I took one of the two long-distance IR pairs on weekends, IR 19602 "Helikon" Pécs - Kaposvár - Győr. I had expected an a/c DMU, but was pleasantly surprised by an M41 hauling cars with windows to open. You could follow two GPS-dots on the map in the MÁV app converging near the Boba track triangle: my IR still had to negotiate corners north of Jánosháza, the other approached at 60 mph westwards. Nothing could be spotted at the junction of the lines - but then, from a distance: IC 246 "Citadella" to Ljubljana.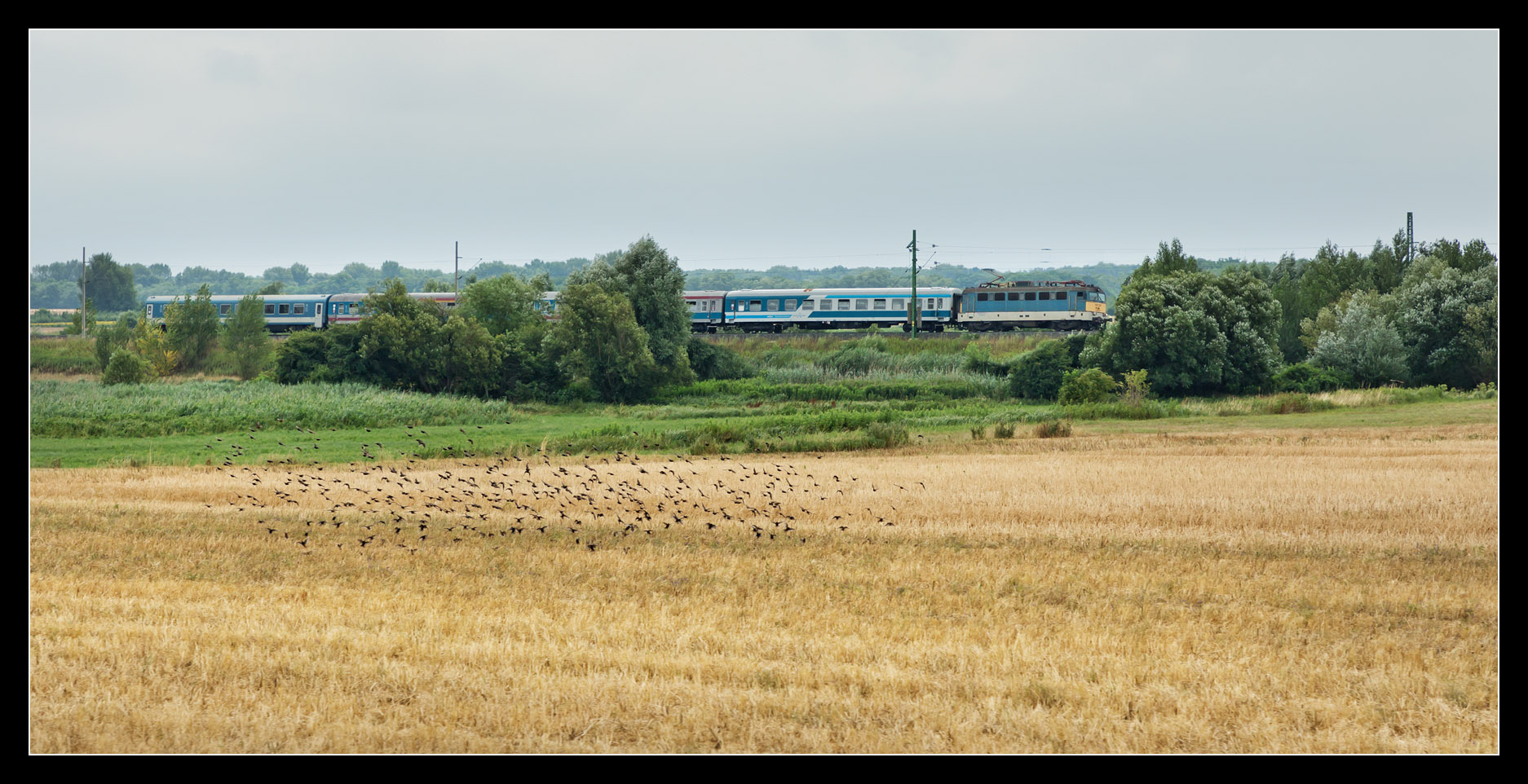 November 5 2011
I had taken pictures of "Citadella" previously during excursions to Bakony forest, here G 246 at Veszprém.
The same on foggy
November 19 2011
.
April 23 2008
Let's return to Ormož which at the time faced major construction works. Telegraph lines already had been removed, light signals were in place.
Some old infrastructure still remained.
Rail replacement buses operated towards Ljutomer, however, I continued my journey to Varaždin (see report part 22 "Maestral II").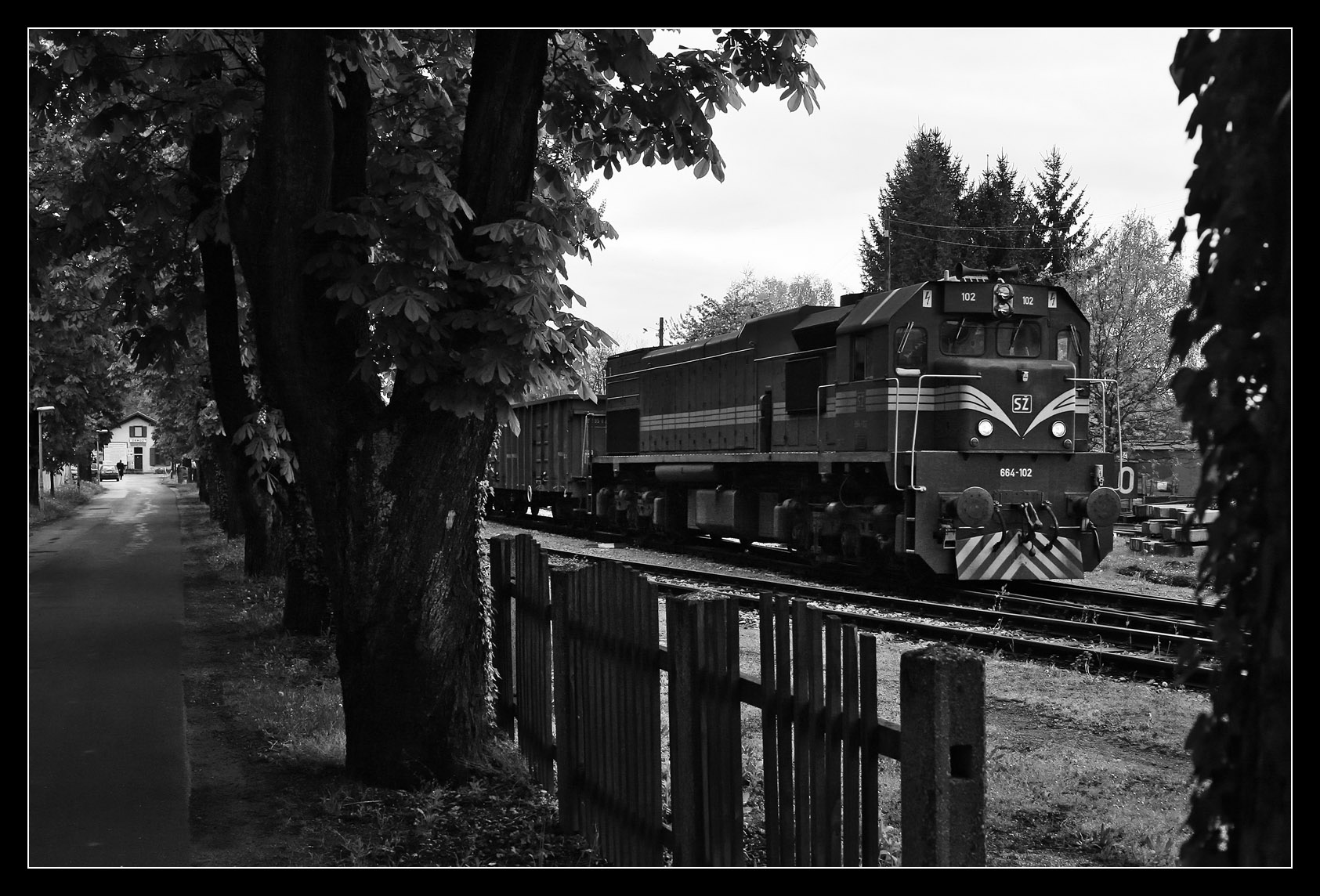 Green-yellow diesel meeting (picture from the video camera), the GM departure sound:
June 20 2009
One year later, 644-005 reversed here on the "Slovenian Španka" tour.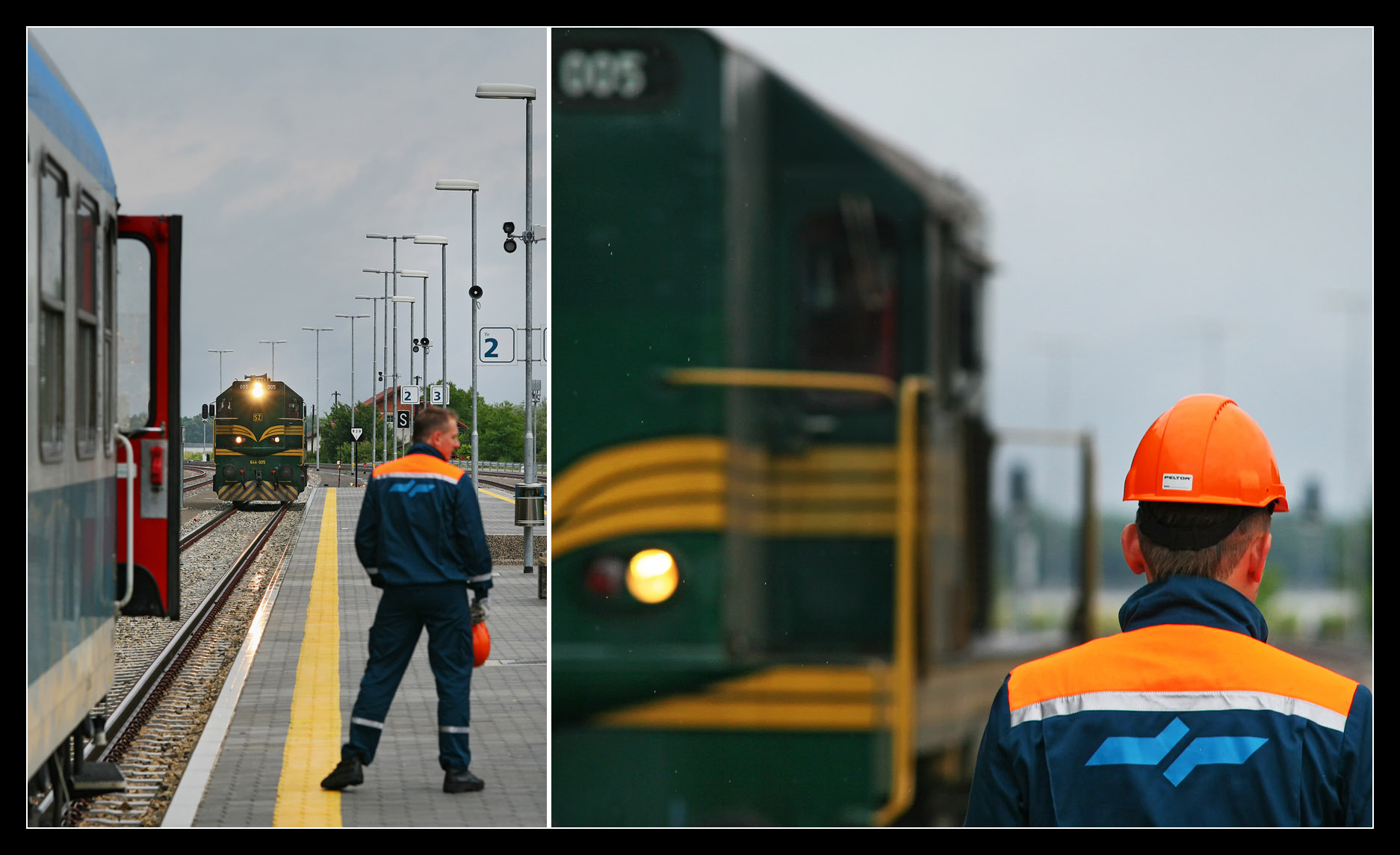 Et voilà: 664-102 again, stopping with MV 247 "Citadella" to Budapest at the now modernized platform.
May 1 2019
The same view a decade later, after electrification.
The green train subsequently took me to Čakovec (see part 21).
August 18 2004
Back to my first stay here in beautiful evening light.
IC 247 arrived and took us to Pragersko.
Departure from Ormož behind GM-power, only with a single telegraph mast remaining on
July 17 2007
to the left.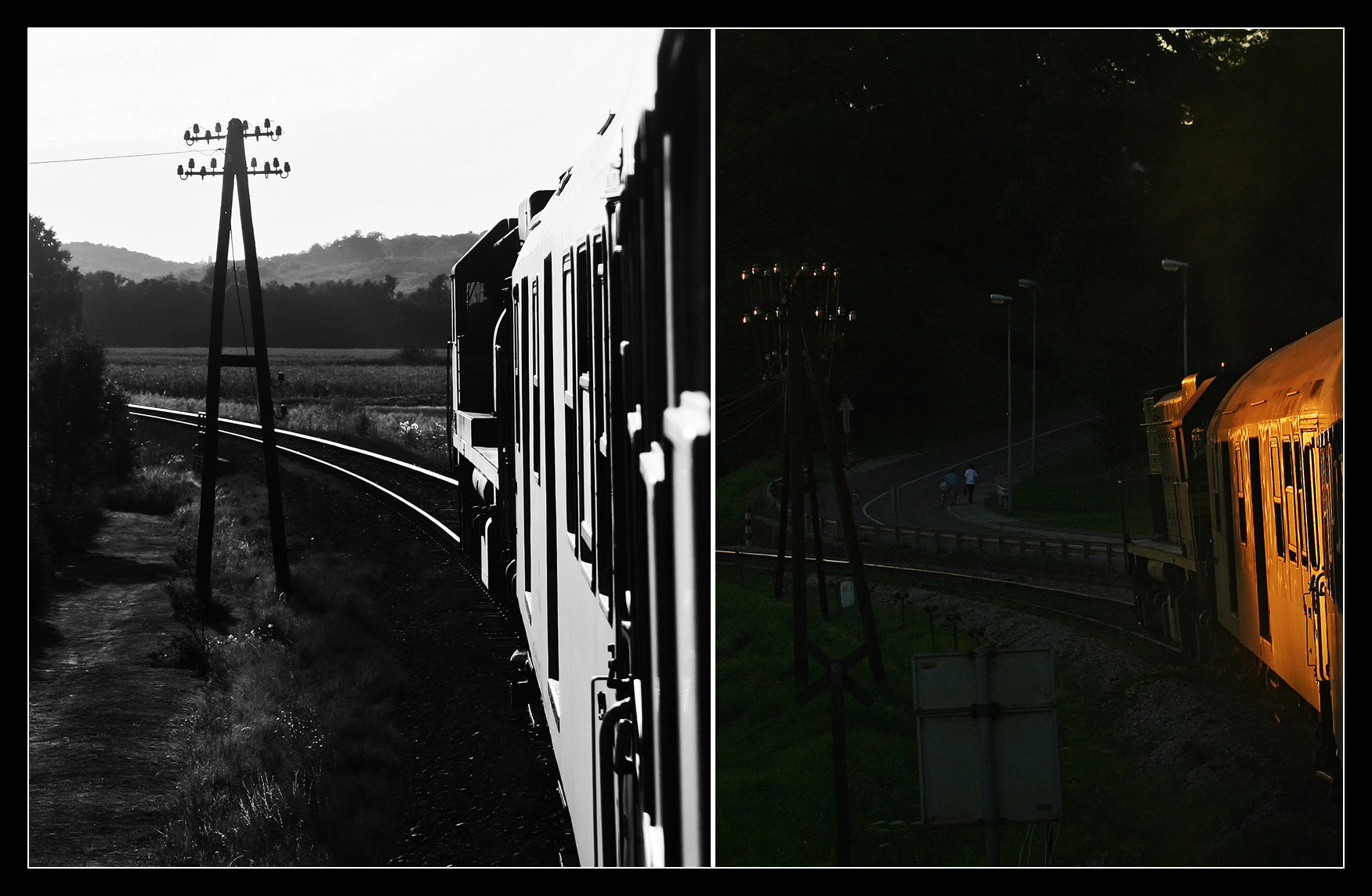 A new siding was being constructed near Velika Nedelja in 2007.
May 3 2019
Even in the electric era you could still experience a meeting of DMU-classics here, featuring 711-004 as RG 640 Maribor - Murska Sobota.
October 12 2006
During our fall tour, we captured this top cultural background at Velika Nedelja/Großsonntag:
I removed graffiti on the Fiat railcars virtually.
It still had been quite foggy an hour earlier, freight from Pragersko approaching on the straight at Osluševci.
The fog was lifting exactly in time for IC 247 at 10:40 a.m.
"Citadella" passing Podgorci in tractor country.
Previously, we had followed Miško in a convoy to Moškanjci, exactly in time for a "Reagan"-meeting. The soundtrack:
July 17 2007
Not even a year later, and the stationmaster of Moškanjci was a prisoner in his own domain.
For timetable reasons, I took "Citadella" ahead to Ptuj, then returned by local to Zamušani stop below a road bridge.
A single GM was approaching on the now telegraph-mast- and semaphore-signal-less line from Moškanjci.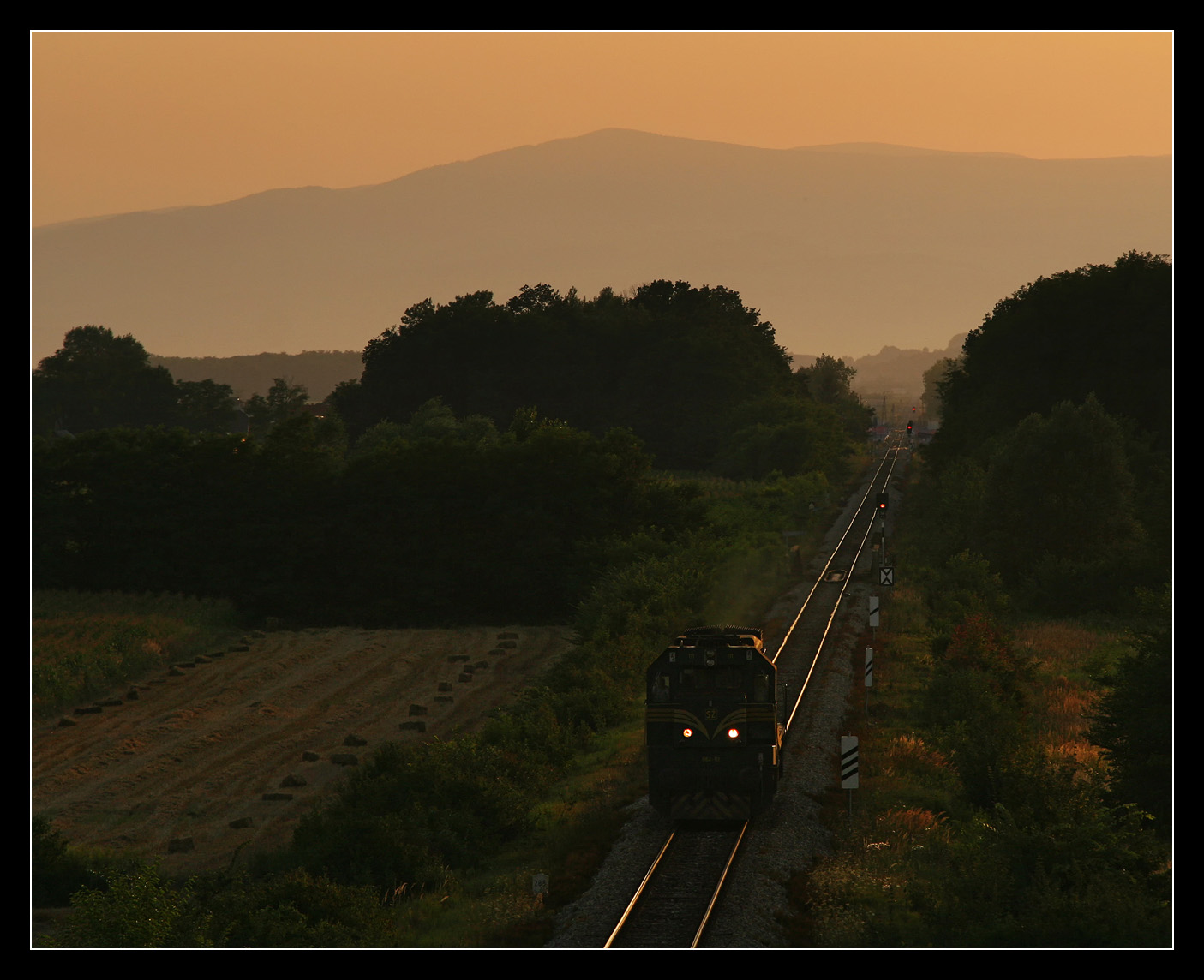 Yes, it is 664-111 "Roni Reagan"! ;-D
Osluševci stop and the siding being built at Velika Nedelja in the background.
Worth the wait: IC 516 "Mura" Koper - Hodoš at 8:26 p.m. during sunset.
I was not alone waiting for the local.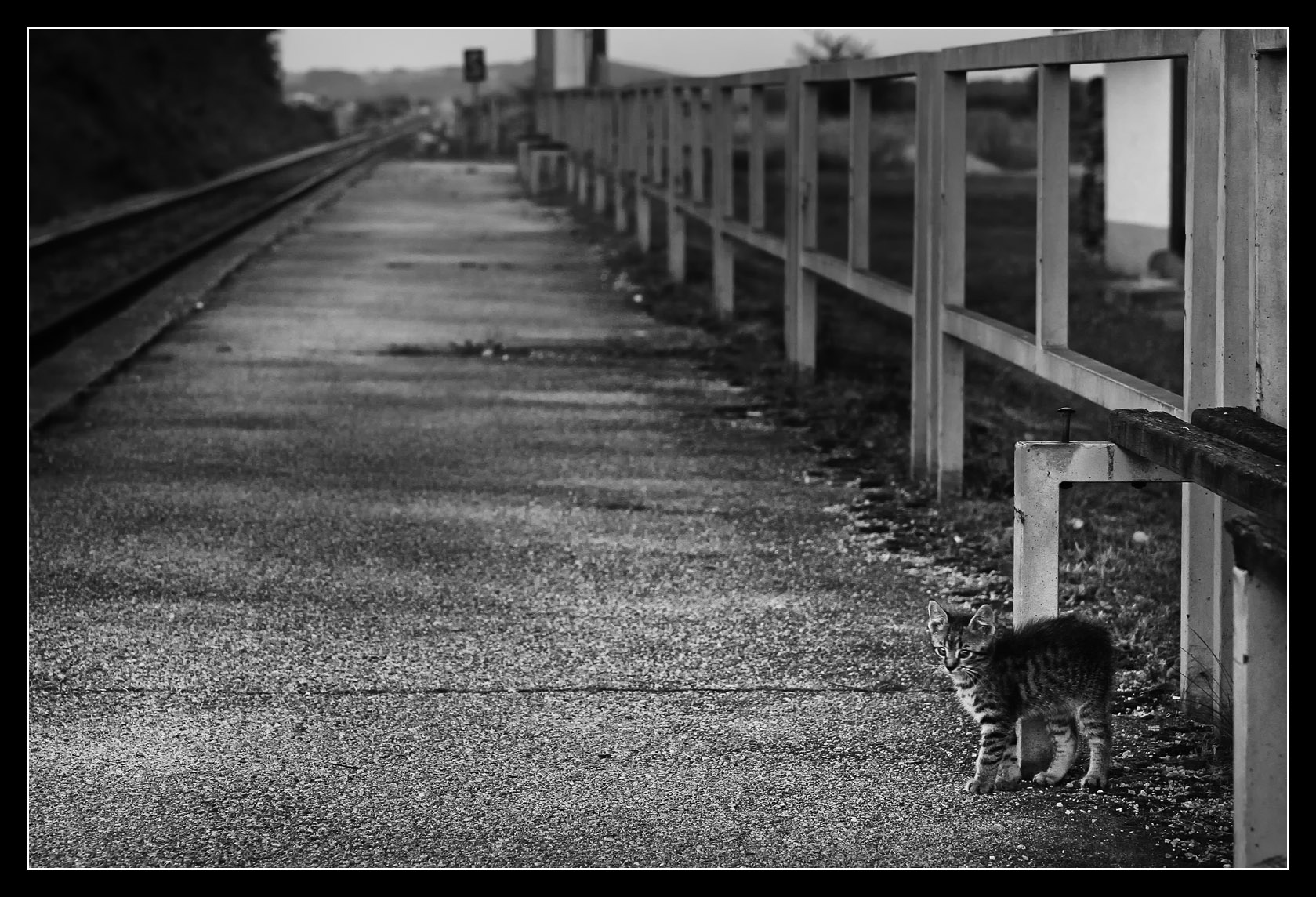 An old Fiat railcar took me into a short night - more from the following morning next time.
June 20 2009
Sunset meeting with freight at Moškanjci on the "Slovenian Španka" tour.
Last edited: