Hi,
To the previous part of the series:
Regional Rail Express - 3: Vindobona III (50 p.)
http://www.railroadforums.com/forum...ional-rail-express-3-vindobona-iii-50-p.13533
We return to Břeclav on
March 28 2007
. Back then, express services Vienna - Brno operated between the EuroCities, like D 270 hauled by class 1014 Vienna - Břeclav. Change to...
... Laminatka.
Departure towards Brno.
I first visited Břeclav on
April 23 2004
, just before Czechia joined the EU on May 1. EuroCity trains were hauled by Slovak class 350, above: EC 78 "Csárdás" Budapest-Nyugati - Praha-Holešovice was approaching from Kúty.
EC 277 "Slovan" Prague - Budapest passed by Bratislava-Vinohrady,
October 31 2015
.
Virtual double-decker with EC 276 - also "Slovan" - from the other direction.
We change to the ÖBB Nordbahn where I captured D 100 "Moravia" Wien Hbf - Bohumín for the last time in daylight at Helmahof on
September 30 2017
. The now discontinued Russian through coaches were conveyed to Moscow, the last carriage to St. Petersburg.
We have reached Strasshof on
April 18 2004
with delayed EC 279 Dresden Hbf - Wien Süd (Ost).
D 203 "Chopin" Warschau - Wien Süd (Ost) including coaches from Moscow, Krakow, Prague and Cheb in the morning of
September 9 2004
.
EC 104 "Sobieski" to Warszawa Wschodnia was approaching from Vienna. The first part of the train continued from Břeclav to Prague, the rear part from Petrovice u Karviné to Krakow.
Nostalgic interlude next door: 109.13 and the stabled "Blauer Blitz" ("Blue Lightning") DMU on the open museum night of
October 6 2012
at Strasshof railway museum.
On
September 22 2012
, despite the poor condition of some rolling stock, a decent parade for the 175 year anniversary of railways in Austria was put together. As guests from neighbouring countries amongst others: 475.101 hauling carriages not fit for the mainline met "Mazutka" 555.3008.
"Blauer Blitz" just under renovation also showed itself on the museum tracks.
This class had been operating "Vindobona" express 1962-64:
https://en.wikipedia.org/wiki/Vindobona_(train)
(in German):
https://de.wikipedia.org/wiki/ÖBB_5145
In the 2000s, motor coaches 5145.11 and .14 hauled charters with up to three intermediate carriages, for example passing by old Westbahn station Rekawinkel on
June 16 2007
.
5145.14 with three instead of four front windows and a divider between cab and engine room on the way from Götzendorf to Mannersdorf,
April 24 2005
.
On
December 4 2005
, approaching Bad Fischau-Brunn junction from Wöllersdorf.
1969-72, ČSD used its new M 296.1 DMUs which still are in service today as ČD class 854 (in German):
https://de.wikipedia.org/wiki/ČSD-Baureihe_M_296.1
A stroke of lighting luck below Brno cathedral on
April 13 2018
.
Preparations in the evening of
April 14 2018
with EC 283 "Metropolitan Slovenská strela" Prague - Bratislava in the background.
Os 4118 from Uherské Hradiště left Nemotice towards Brno on
March 3 2015
.
Railway Day took place on
September 29 2012
, impression from Střelice u Brna.
We move on...
"Vindobona" started in winter 1957 with pre-WWII German express DMU class SVT 137, here of type "Hamburg" at Leipzig Hbf. After the war, over time most remaining vehicles had been transferred to East German DR.
In modern times, some new diesel highspeed units found their way onto the route of the "Vindobona": a Danish ICE-TD passed through Berlin Hackescher Markt station on
August 16 2010
.
Test runs of a Siemens DH4-1 "Paradise" DMU destined for Iran on a virtually deelectrified ÖBB Northern Railway near Jedenspeigen,
September 9 2004
.
Diesel on scheduled express trains could be witnessed after flooding along the Northern Railway in April 2006. Long distance trains were rerouted from Břeclav via Devínska Nová Ves, Marchegg and Gänserndorf.
Sunlight hit the morning fog on
April 8 2006
with D 203 "Chopin" and RŽD through coaches at Stripfing.
Long EC 104 "Sobieski" Vienna - Warshaw/Krakow exclusively formed of PKP carriages was approaching three hours later.
And of course our train, EC 172 "Vindobona" Wien Süd (Ost) - Hamburg-Altona.
Modern railways also operated highspeed units on this route. Newly introduced for the 2007 timetable: ČD-Pendolino class 680 as SuperCity 73 "Johann Gregor Mendel" Praha-Holešovice - Wien Süd (Ost), here at Popice on
March 28 2007
.
We continue to the Southern Railway south of Vienna, next time all current threads will be linked in the city itself.
A Pendolino passed Gumpoldskirchen as EC 72 "Smetana" Wiener Neustadt - Prague on
January 12 2010
.
Snowy action at Leobersdorf with southbound EC 73 "Smetana" on
January 26 2010
. These trains terminated at Wiener Neustadt during the erection of the Vienna main station and adjacent Matzleinsdorf depot.
EC 70 "Gustav Mahler" Wiener Neustadt - Prague consisting of ÖBB class 1216 and ČD coaches sped through Wien Liesing the same day.
EC 172 "Vindobona" Villach Hbf - Berlin Hbf passed through Guntramsdorf-Thallern halt in the morning of
December 24 2013
, Schneeberg mountain shining in the sun to the right.
"Vindobona" Villach - Hamburg reached Busserltunnel ("short kiss tunnel") near Gumpoldskirchen on
October 22 2010
.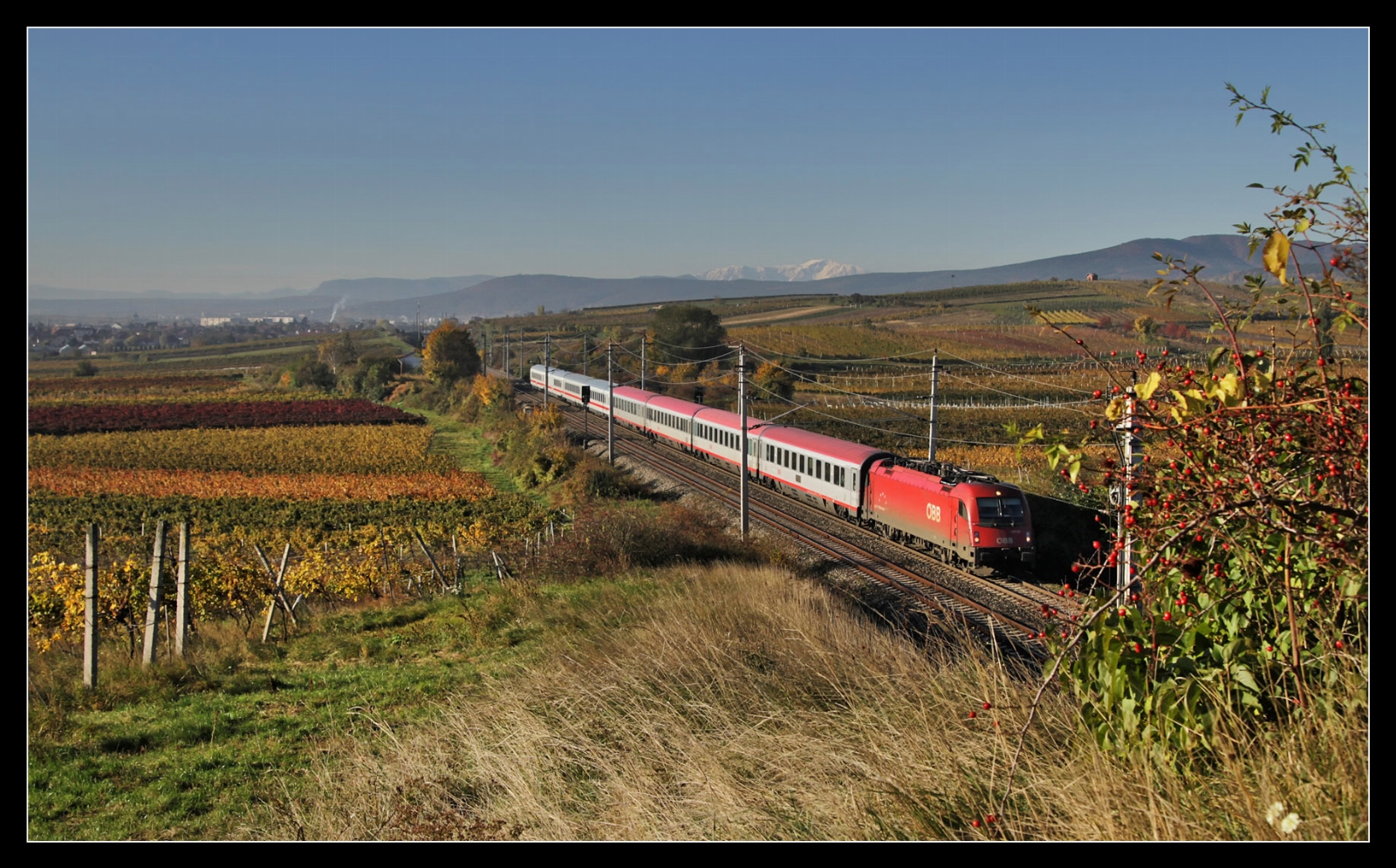 A stand-in as its timetable on ÖBB tracks was more photographer-friendly: EC 102/103 "Polonia" Warshaw - Villach, here 103 on
December 20 2009
at Gumpoldskirchen.
EC 102 Villach - Warshaw in Schlöglmühl panoramic curve with Rax mountain in the background on
January 29 2011
. I had to climb across steep, icy forest floor for this photo - nowadays it is futile, since trees in the foreground became too tall.
EC 103 passing by Klamm-Schottwien on the Semmering Railway,
March 31 2012
.
OIC 531 "Sonnenstadt Lienz" Wien Matzleinsdorf - Lienz conveyed an additional CityShuttle composition SaO, on Wagnergraben Viaduct in front of Klamm Castle. EC 103 on
October 19 2013
to the right.
This view of the castle from across the valley is possible at a farmhouse next to the Schottwien motorway bridge.
EC 102 "Polonia" Villach - Warshaw crosses Adlitzgraben...
... and soon afterwards Krauselklause, to the left of Pollero/eswand cliff the Kalte Rinne Viaduct, in the background Rax and Schneeberg.
"Vindobona" on the Kalte Rinne Viaduct, seen from the top of Polleroswand in the morning of
May 11 2011
.
Into the southernmost federal state, Carinthia: virtually slightly elongated OIC 531 approached Friesach in Kärnten on the Rudolfsbahn from Neumarkter Sattel passing Dürnstein castle and St. Stefan,
August 17 2013
.
During holiday on Wörthersee, I took a day to capture rerouted freight due to a Tauern Railway closure. A "zebra" passed by St. Klementen church next to my namesake community of Kappel am Krappfeld.
In front of Hochosterwitz Castle.
EC 103 reaching St. Veit an der Glan at the end of the day.
EC 102 in the morning on the Wörthersee shore.
Our favourite Wörthersee swimming spot, Kropfitschbad.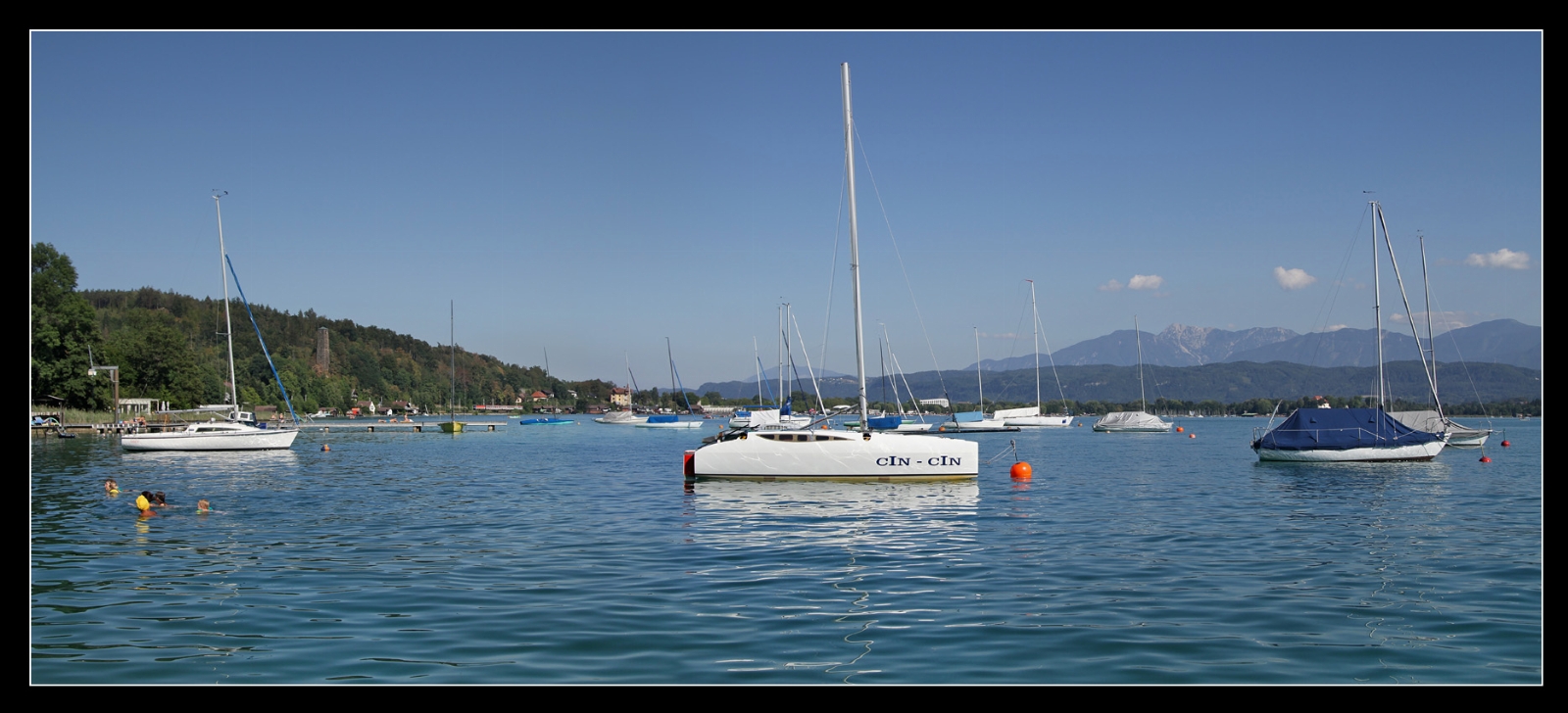 Terminal station: Villach,
August 23 2013
.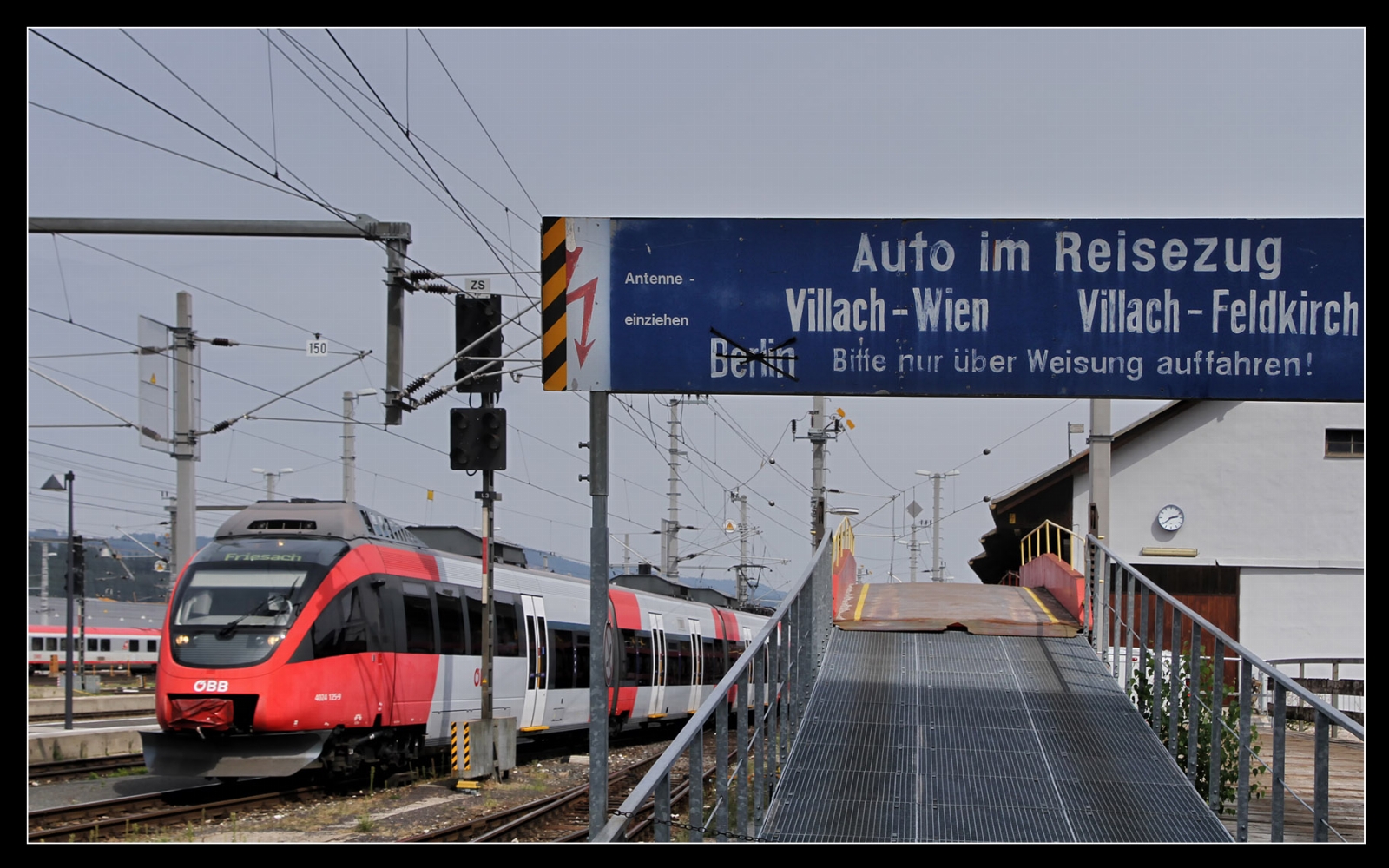 Evening parade at Villach Hbf on
August 23 2012
.
To conclude this part: my last picture of the "Vindobona" on
November 11 2014
at Schlöglmühl, hauled by ČD class 380. You can spot it once more in the background near Küb.
Next time, we will conclude the "Vindobona" series in Vienna and move on to our next regional rail express.